Leah Galton: Casey Stoney's Protean Trump Card
Since its inception, The FA Women's Super League has undergone several different phases of growth and has today rightly become a huge entity in the world of football. From world-class wingers to rock-solid centre backs, the players who have been part of this league for a while now, have only gotten more positionally versatile over the years. 
The likes of Manchester City's Alex Greenwood – who can play anywhere in the defensive line and is also in charge of set pieces or Chelsea's Ji So-Yun – who has basically been operating all over the final third under Emma Hayes, have through their versatility, induced more freedom in the way their teams play. However, there are very few players who can be depended on both defensively and while attacking. 
In my prior analysis of Casey Stoney's Manchester United Women, we came across the importance of a high number of circumstantially flexible players in the team – footballers who can play in multiple positions as and when needed. One of them was Ella Toone, who is naturally a central attacking midfielder but can play on either wing relatively effortlessly. 
Manchester United Women: The WSL's High-Flying Title Contenders
Even so, there is a piece of this Red Devils' puzzle that can fit in whatever way you place it – and that piece is Leah Galton. The 26-year-old Englishwoman is one of the most tricky and unpredictable wingers in the league but what makes her special is her ability to play anywhere on either flank.
During the initial weeks of the season, Galton was deployed on the right wing when USWNT superstar Tobin Heath was playing on the left. In due course, she was seen adapting to the left wingback role and even as a left attacking midfielder after Heath suffered an ankle injury ahead of a January 17 match against Chelsea, an injury that will keep the former Portland Thorns player out of action for up to 12 weeks.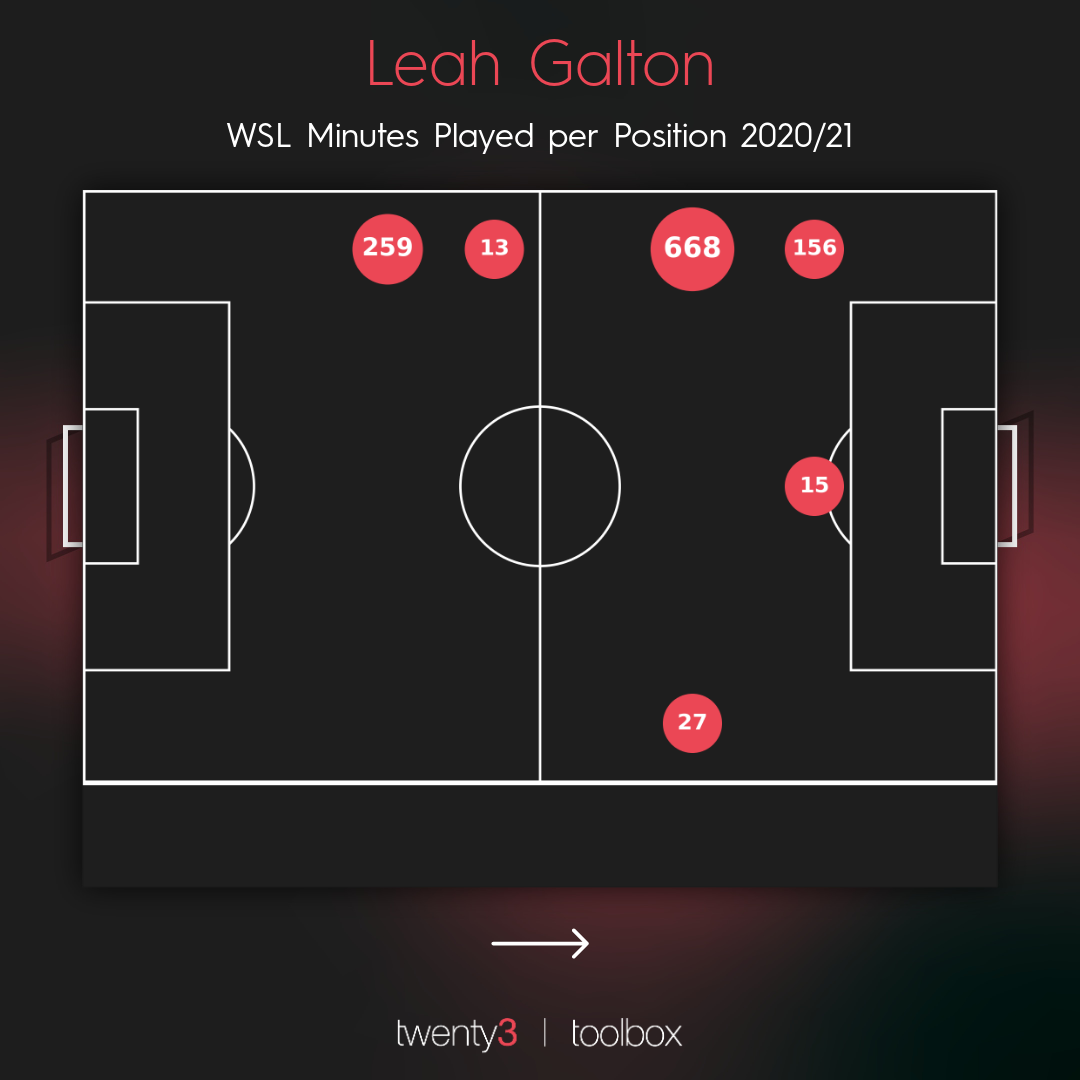 Photo: Twenty3/Wyscout
Positional Adroitness and Statistical Brilliance
Whether it's intentional or coincidental, it's very interesting to note what responsibility Galton has been tasked with in the past against certain opposition. Her combined heat map clearly portrays a more defensive role against the bigger names while she attacks much more against mid and lower table teams, with all due respect.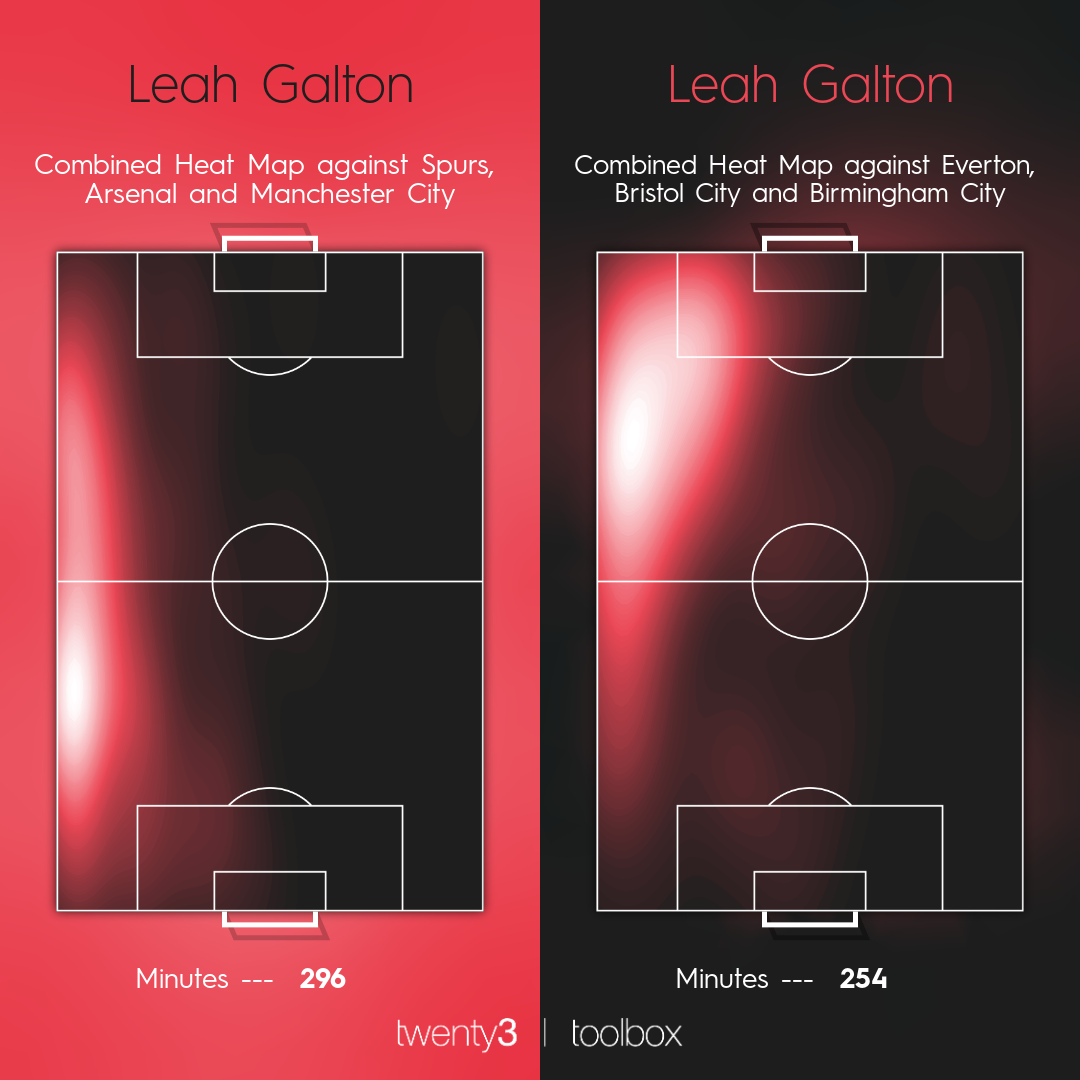 Photo: Twenty3/Wyscout
As is evident in the graphic above, Galton largely played as a left wingback against City, Arsenal, and Spurs while performing as an out-and-out winger in the games against Bristol City, Birmingham City and Everton. She had more successful defensive actions (40 to 25), interceptions (22 to 12), and ball recoveries (34 to 17) in the former whilst having more goals (3 to 0), successful dribbles (14 to 9) and touches in the opposition box (19 to 3) in the latter.
In spite of playing in a variety of positions, Galton still possesses some of the best statistics in the league. She has made the most progressive runs (36) and has won the second-highest number of attacking duels (81). With a dribble success rate of 72.82% (second highest in the league), having scored six goals and assisted 2, she's also United's joint top scorer alongside the aforementioned Ella Toone. 
And it doesn't end there. Stunningly, Galton also has some of the most outrageous numbers when ranked in a combined Manchester United men's and women's list. She has won more attacking duels than Bruno Fernandes (81 to 61) and has completed the second most dribbles (67), second only to Marcus Rashford (77). Both Fernandes and Rashford have been nothing short of monumental for United in the Premier League, which speaks volumes about her sheer quality in the Women's Super League.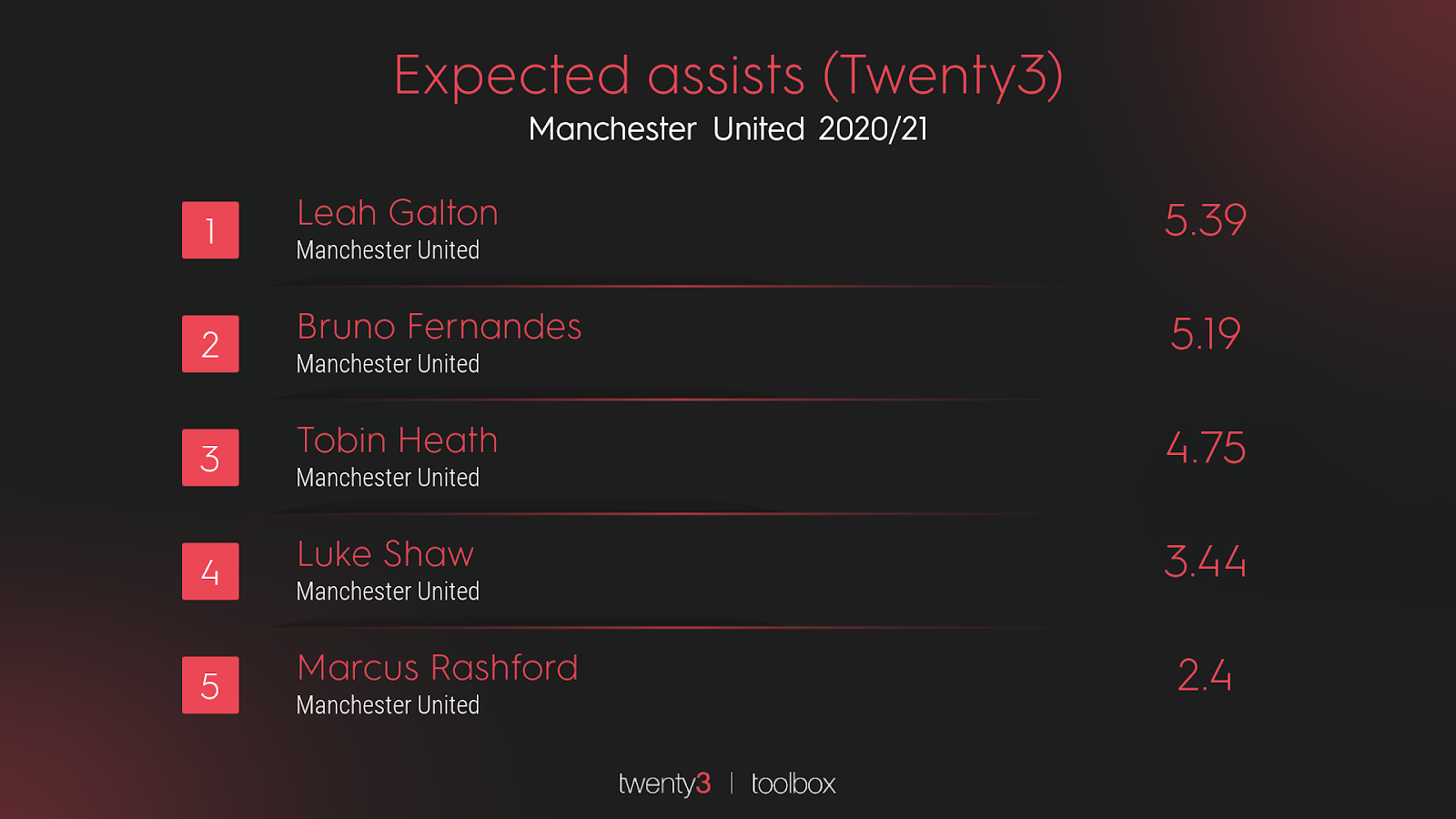 Photo: Twenty3/Wyscout
A Unique Style of Inversion
Given that Galton mostly plays on the left flank, be it as a winger or a full back, "Inversion" becomes a natural feature of her playing style. Inversion might sound like fancy footballing syntax, but it just means pushing inside into the centre of the pitch. It's usually observed in possession-dominating systems but can also be present in systems that are flexible in terms of their shape and formation. The fact Galton can do both of the following things makes her terrifying to face on the pitch.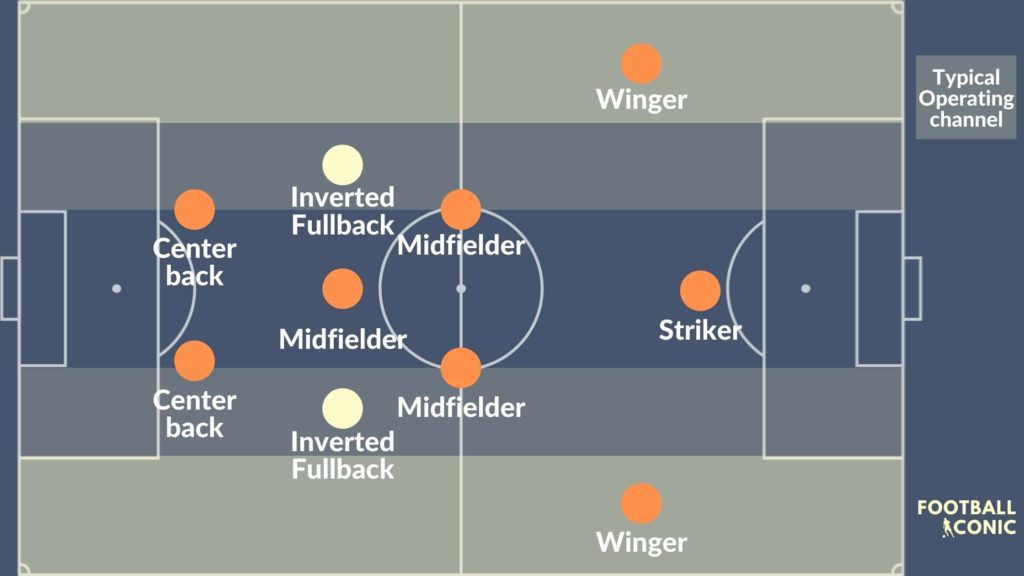 Photo: Football Iconic
From a full back perspective, inversion comes into play when a team needs more numbers in midfield to cause an overload. The fullbacks move higher up and inwards into the defensive half-spaces, joining the holding midfielders – hence opening up more passing options as well providing defensive cover if there is a turnover of possession.
This gives Manchester United a superior numerical advantage in the middle of the park, hence forcing the opposition to drop off in order to neutralize the midfield overload. On the defensive side of things, the centre backs are provided with more protection as there is a robust line in front of them and this reduces the danger of getting hit on the break.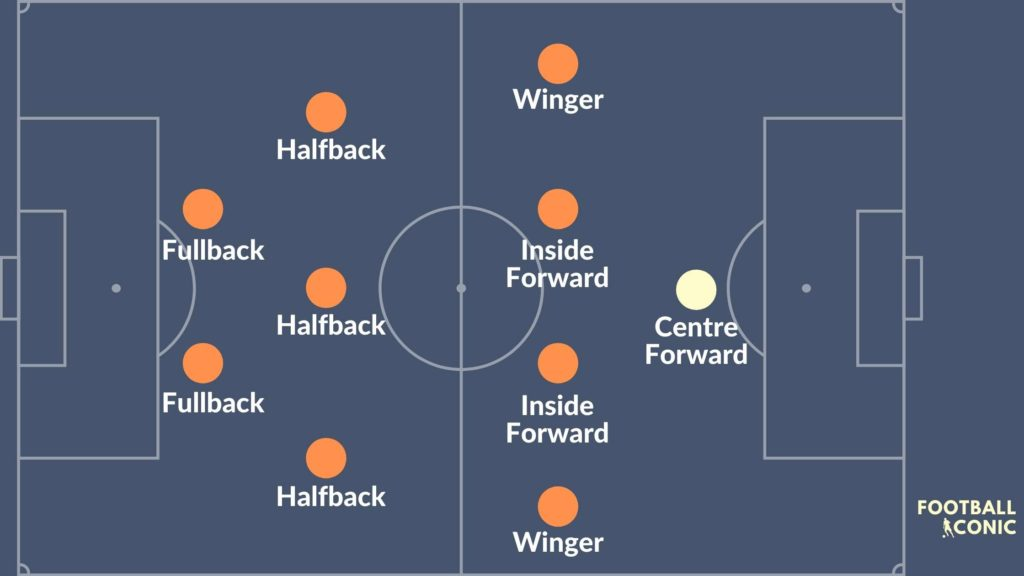 Photo: Football Iconic
On the other hand, winger inversion is more niche and is observed more rarely. This might also be the case owing to a lot of teams tending to play with wingers who stay wide and dribble in and around the flanks.  Just like the fullbacks moving into the defensive half-spaces, an inside forward or an inverted winger moves into the attacking half spaces to open up space on the flanks. This space can then be exploited by the fullbacks to create attacking overloads in their favour.
However, what makes Galton more deadly is her superb 1v1 ability and passing skill. Moving into the half-space, she can receive the ball in tight areas and dribble past defenders with her confidence and physicality. Combine this with the clever movement of the forwards and you have the opposition defense on the tips of your fingers. 
Looking at Galton's player radar, the first thing that catches the eye is the unusually high amount of corner points. This is extraordinary because it goes to show how ridiculously she outperforms every player similar to her. She has the highest per 90 stats in terms of shots assisted (1.5), final third passes completed (2.4) and interceptions (2.5), and sits near the top in successful defensive duels (0.9) and passes completed (24.9) too. The only inference from this, and an important one too, is how Galton only plays on the left flank although she is a complete mix of immense flair and perfect technique.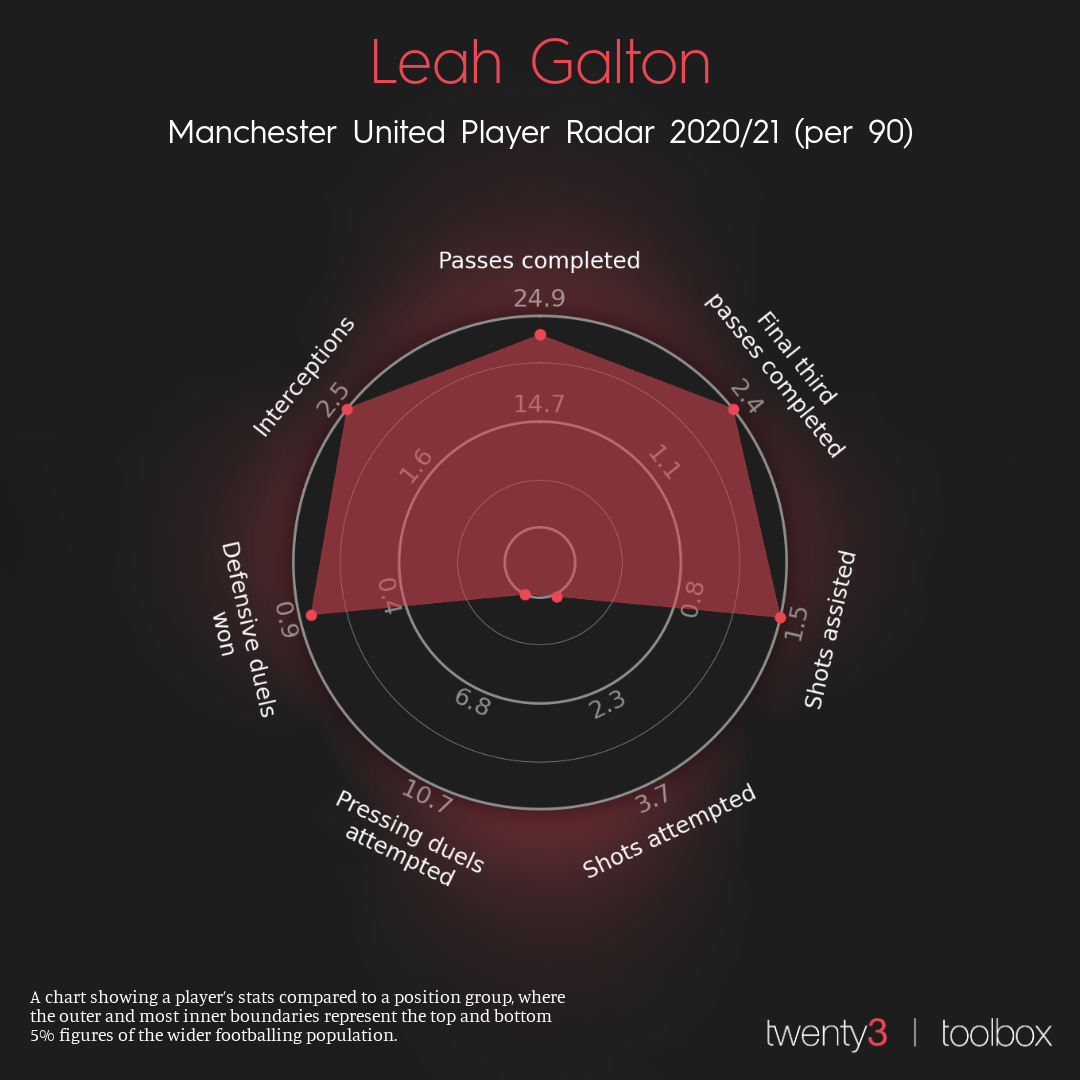 Photo: Twenty3/Wyscout
Conclusion
Ahead of a jam-packed week of action in the Women's Super League which will see Chelsea take on Arsenal on Wednesday and Manchester City host their crosstown rivals on Friday, Casey Stoney's Manchester United currently sit level on points with Chelsea at the top of the table, although the Blues have one game in hand. Having lost 0-2 to Reading at home on Sunday, United will need to dust themselves off as they prepare to take on the Cityzens at Manchester City Academy Stadium, and they'll be counting on a big performance from Leah Galton.
After bouncing around from New Jersey to Leeds to Bavaria, Galton is delivering the best performances of her career for Manchester United at 26 years of age. Starring alongside the likes of Christen Press and Ella Toone in the attack, Galton is playing an increasingly vital role in United's title challenge, and with 6 goals and 2 assists in 14 appearances this season, the winger is proving to be an attacking talisman for Stoney's side.
By: Rahul Agarwal
Featured Image: @GabFoligno / John Peters – Man Utd