Using Data to Find a Morgan Gibbs-White Replacement for Sheffield United
The use of data-led scouting is rapidly increasing as the use of numbers in football becomes more and more relevant. Data collated from sites such as Wyscout allows for comparison between players from different leagues across the globe without clubs having incur the cost of sending scouts.
This provides football clubs with the facility to draw up a longlist of potential signings based on the metrics required to fit their style of play. Of course, a signing would rarely be made purely based on numerical comparisons, once the longlist has been whittled down to become a shortlist, a club will then most likely begin the process of sending scouts to watch the player in person and determine whether her/she would be an ideal fit for their team. 
This article aims to use data to highlight possible replacements for Morgan Gibbs-White who was key to the success of Sheffield United's 2021/22 campaign. The on-loan Wolves man was at the heart of all things good about Paul Heckingbottom's team, it's fair to say at times he carried the Blades during some tough games throughout the season.
With Wolverhampton Wanderers set to offer Gibbs-White a new contract, a return to Bramall Lane appears to be out of the question. United must look elsewhere to boost their attack, as good as Billy Sharp is scoring 14 league goals, it can't be overlooked that he is 36 years old and is more suited to a role from the bench than starting on a weekly basis.
MK Dons and Scott Twine: A Club and a Player Ready for the Next Step
Looking at Sheffield United's other attacking players Iliman Ndiaye had a breakthrough season, scoring 7 league goals and cementing a place in Heckingbottom's squad throughout the season while Oli McBurnie featured in 28 league games and failed to score a single goal, coupled with some off the pitch incidents there are question marks over his future at United.
Rhian Brewster managed 3 goals in 14 league appearances, without the 11 league goals from Gibbs-White, Sheffield United would have struggled and possibly not made the playoffs. During the 21/22 campaign, Heckingbottom's preferred formation was a 3-5-2 with Gibbs-White occupying the right-sided striker position. He would often drift out onto the right wing and was exceedingly proficient operating in the half-spaces.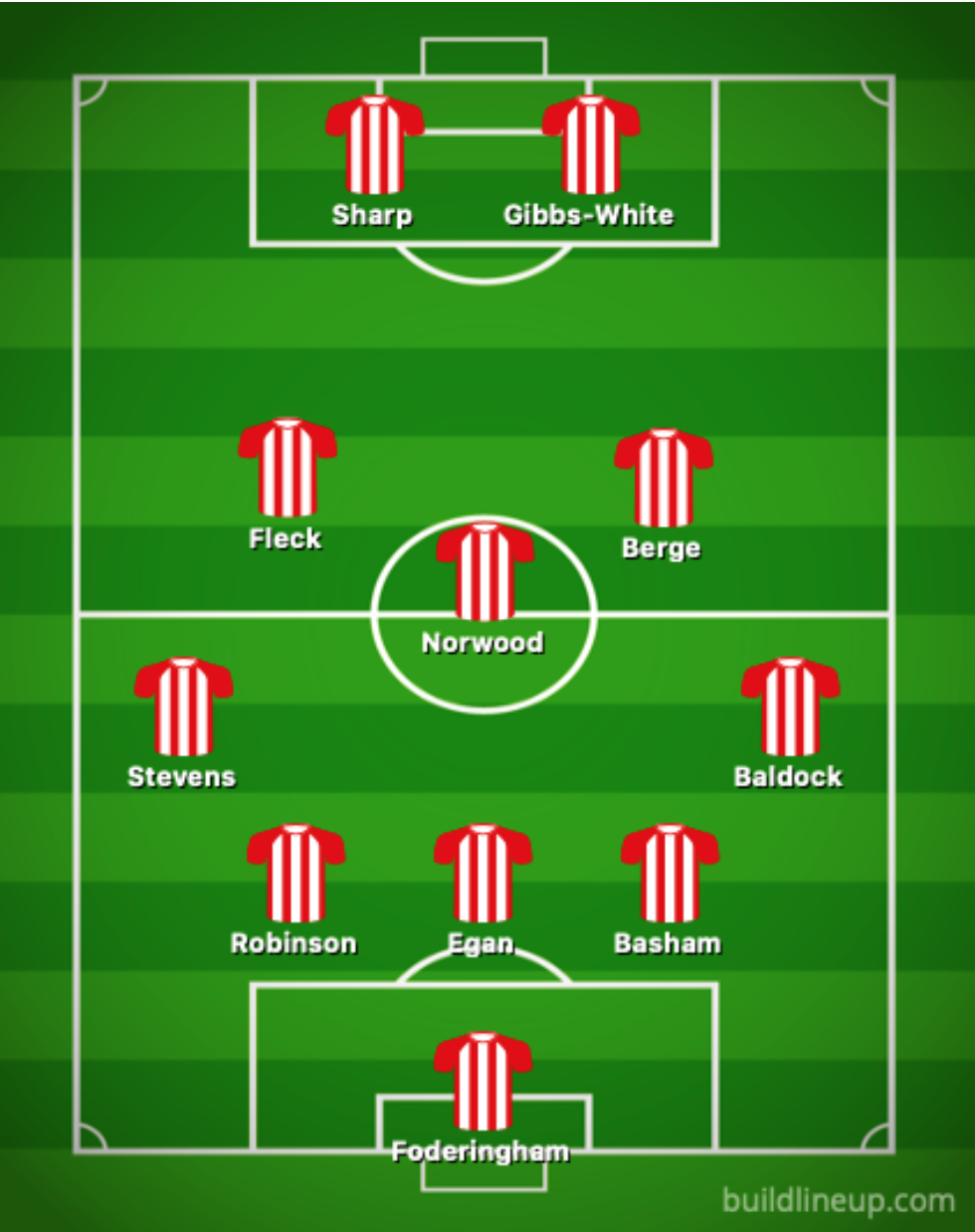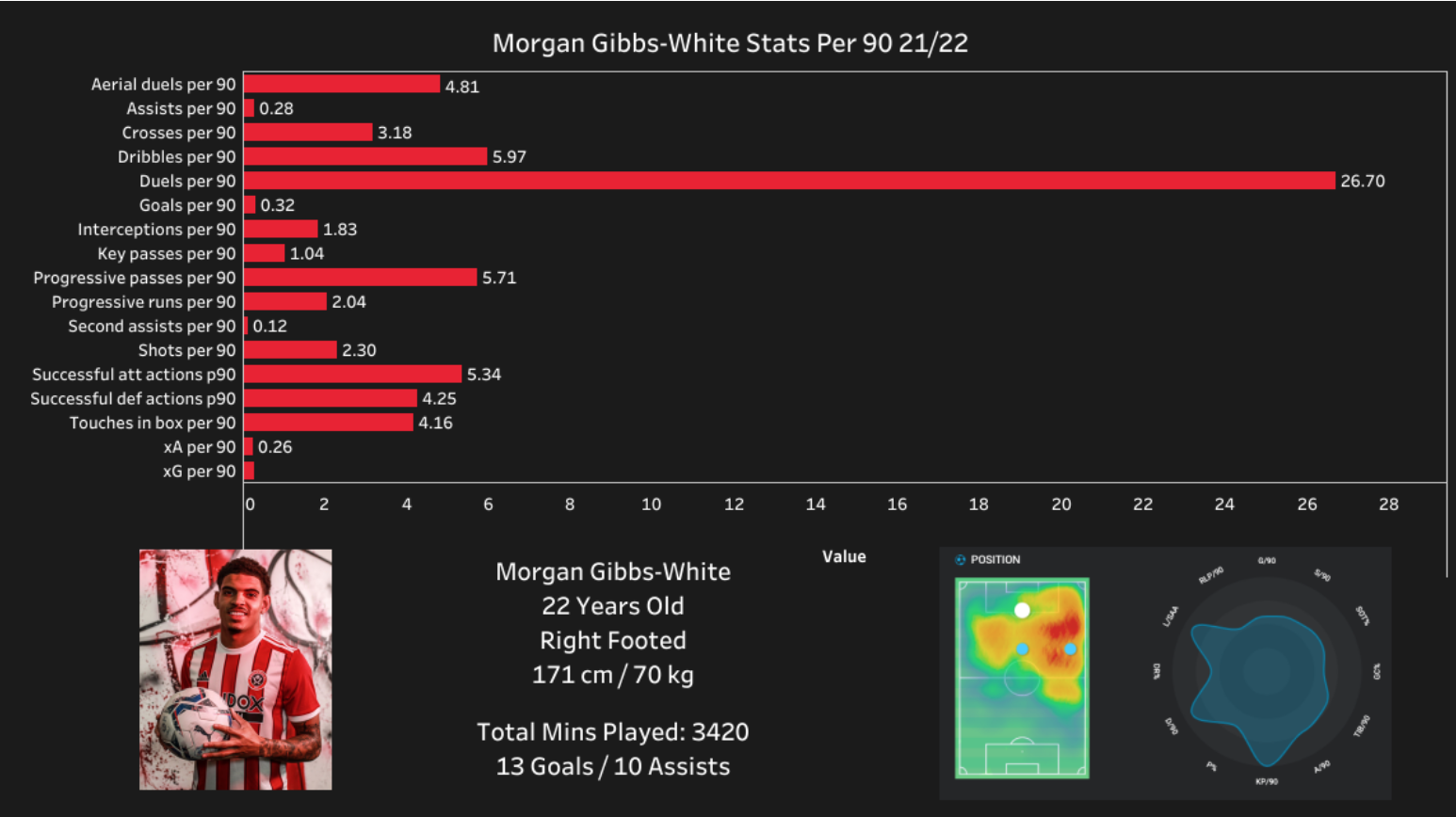 The long list (loan signings in green)- After searching Wyscout and filtering the data based on Gibbs-White output and factoring in the way Heckingbottom likes his side to play, this is the list of players that could be considered as good replacements.

Data Analysis
A good place to begin would be to assess the output from the players, for that we need to look at the number of goals and assists. Cameron Archer is the standout player as he has 23 goals to his name.
The second player to garner attention is Callum Lang of Wigan Athletic as he has scored 18 goals and assisted 8, demonstrating he has creativity similar to that of Gibbs-White. On-loan Westerlo man Ján Bernát has 15 goals and 7 assists while Ronan Curtis scored 10 and assisted with 8 for Portsmouth.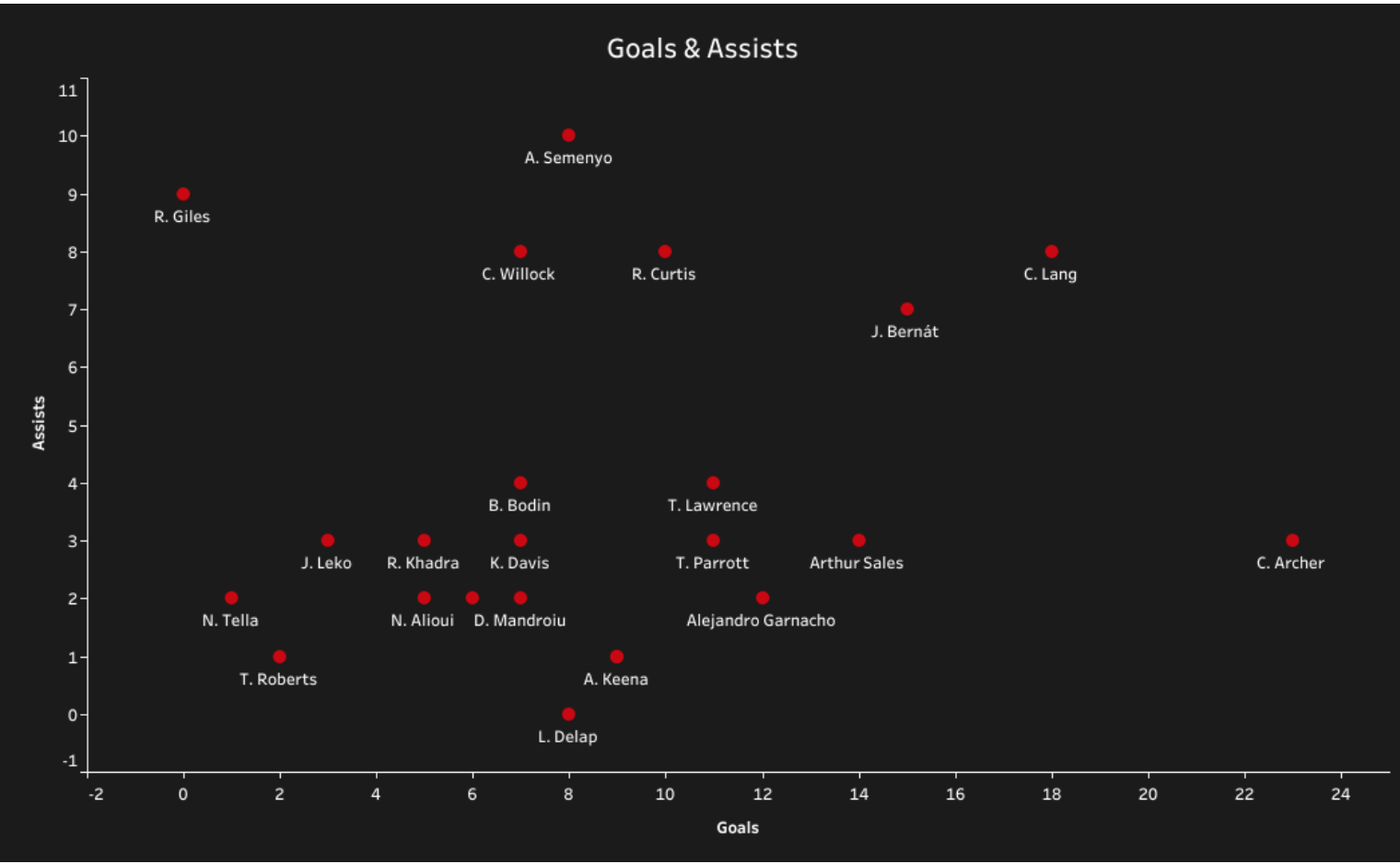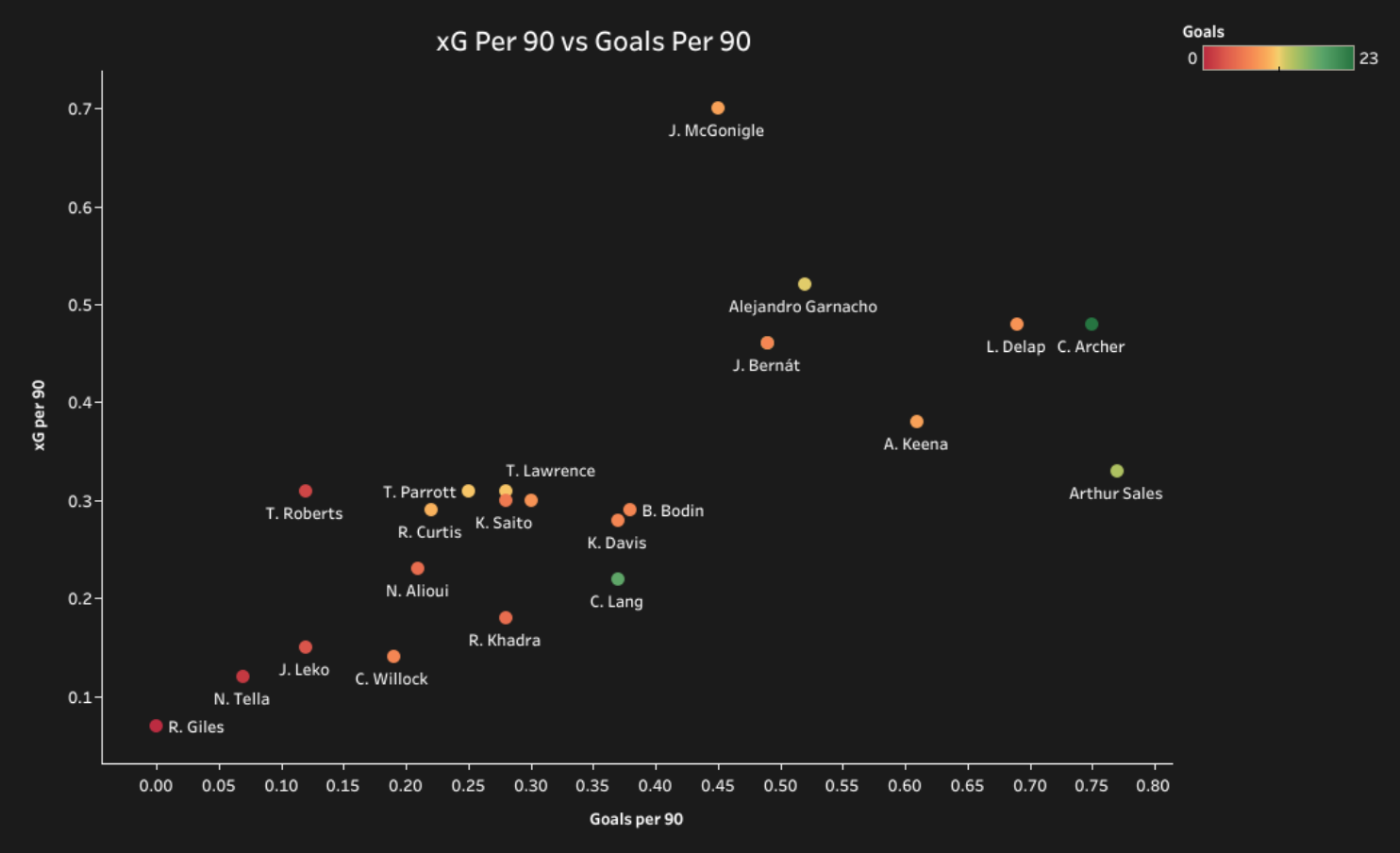 Continuing to scrutinise the goal-scoring output of the players, Cameron Archer stands out once again. The Aston Villa man spent six months on loan at Preston North End last season, and the season prior he was loaned to Solihull Moors, so he is experiencing plenty of first-team football.
Seven of his 23 goals came for Preston while the remaining goals were scored in Premier League 2 and the League Cup. Whilst this must be considered when assessing whether he is an appropriate replacement for Morgan Gibbs-White, it must also be acknowledged that he scored half the number of the United player's goals in half of the time. A full season in the Championship would likely prove effective for both player and team.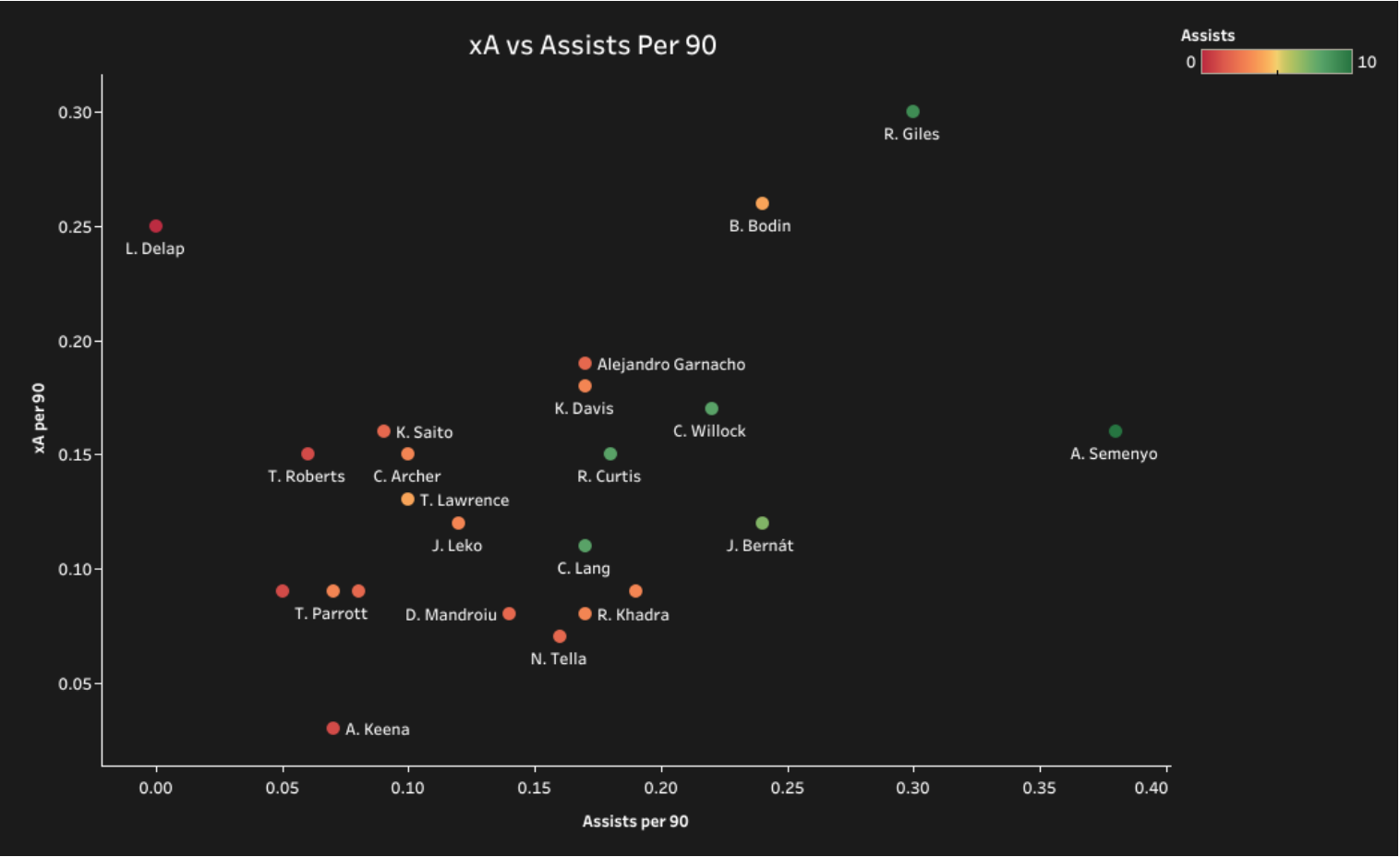 Look at expected assists per 90 and how that translates into actual assists per 90 and overall assists throughout the season, Bristol City man Antoine Semenyo comes into his own with, 0.38 assists per 90. This is a very good creative output, one that is comparable to that of Gibbs-White. Ronan Curtis, Callum Lang and Chris Willock all had very productive seasons with 8 assists each.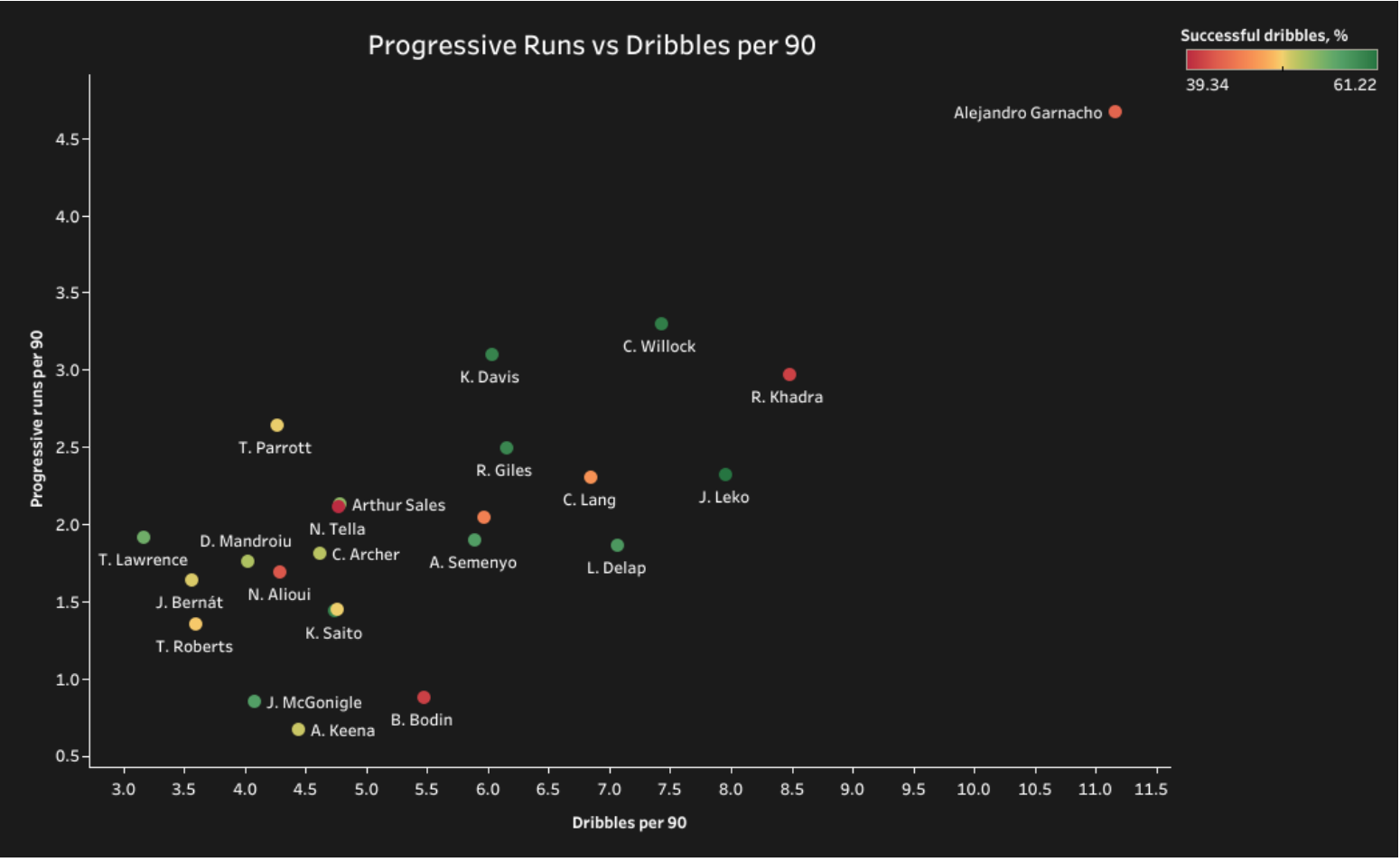 Sheffield United don't simply require a typical centre forward as in, simply a goal scorer. One of Gibbs-White's most effective contributions during the 21/22 season was his ability to carry the ball, averaging 5.97 dribbles per 90 and making 2.04 progressive runs per 90.
Assessing the selected group of players Garnacho is incredibly willing to run with the ball and be progressive, however, he is not very successful with his dribbling. Semenyo, Leko, Davis and Willock stand out as being progressive as well as being successful with the ball at their feet.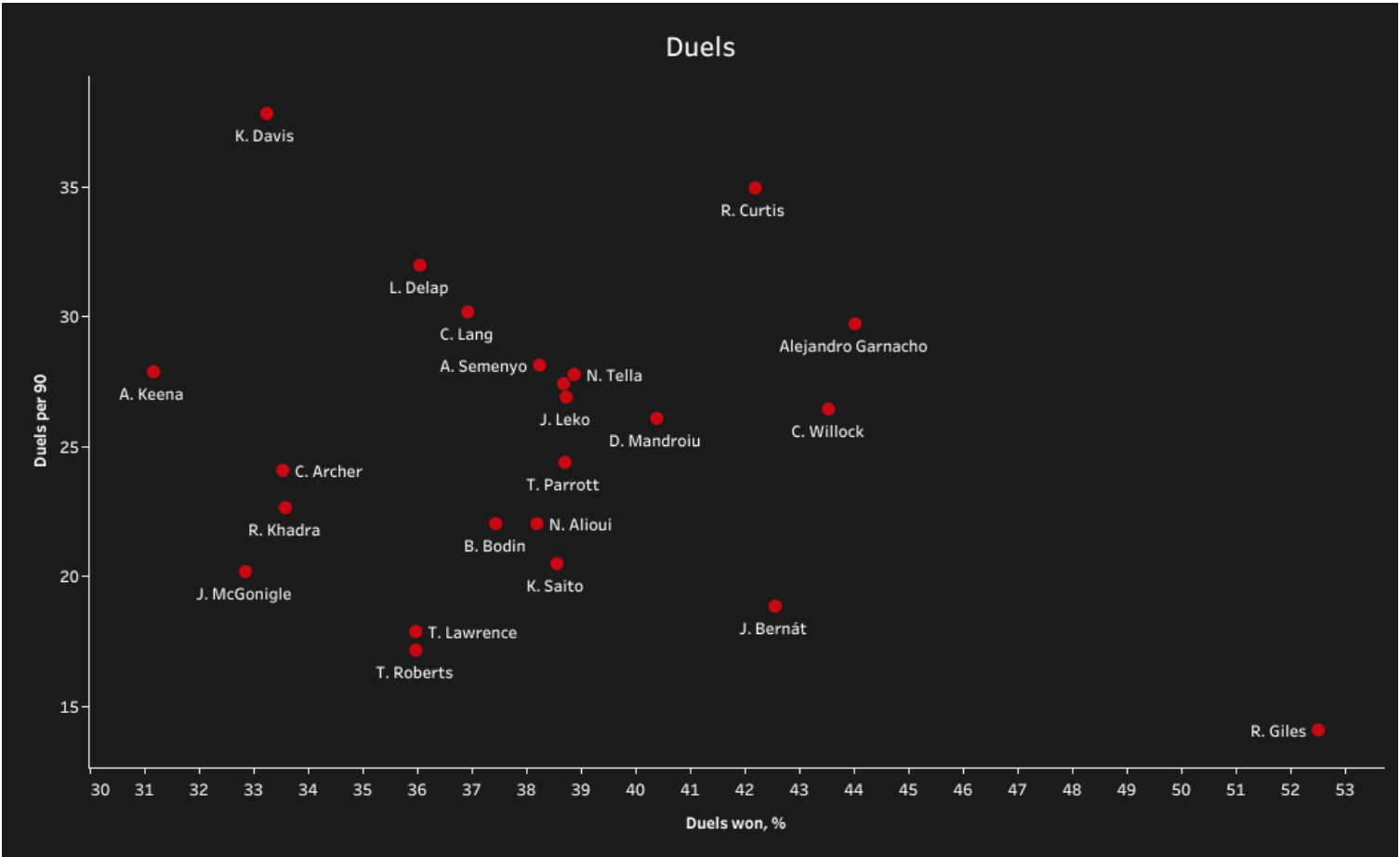 Morgan Gibbs-White is a very tenacious player, entering into 26.7 duels per 90. This tenacity is important to ensure that the Blades win the ball back reasonably high up the pitch to counterattack.
Whilst is it clear that Giles wins a high percentage of his duels, he doesn't actually enter into that many. Ronan Curtis on the other hand, averages 34.94 duels per 90 and wins approximately 42% of them which is a very good success rate for a forward player.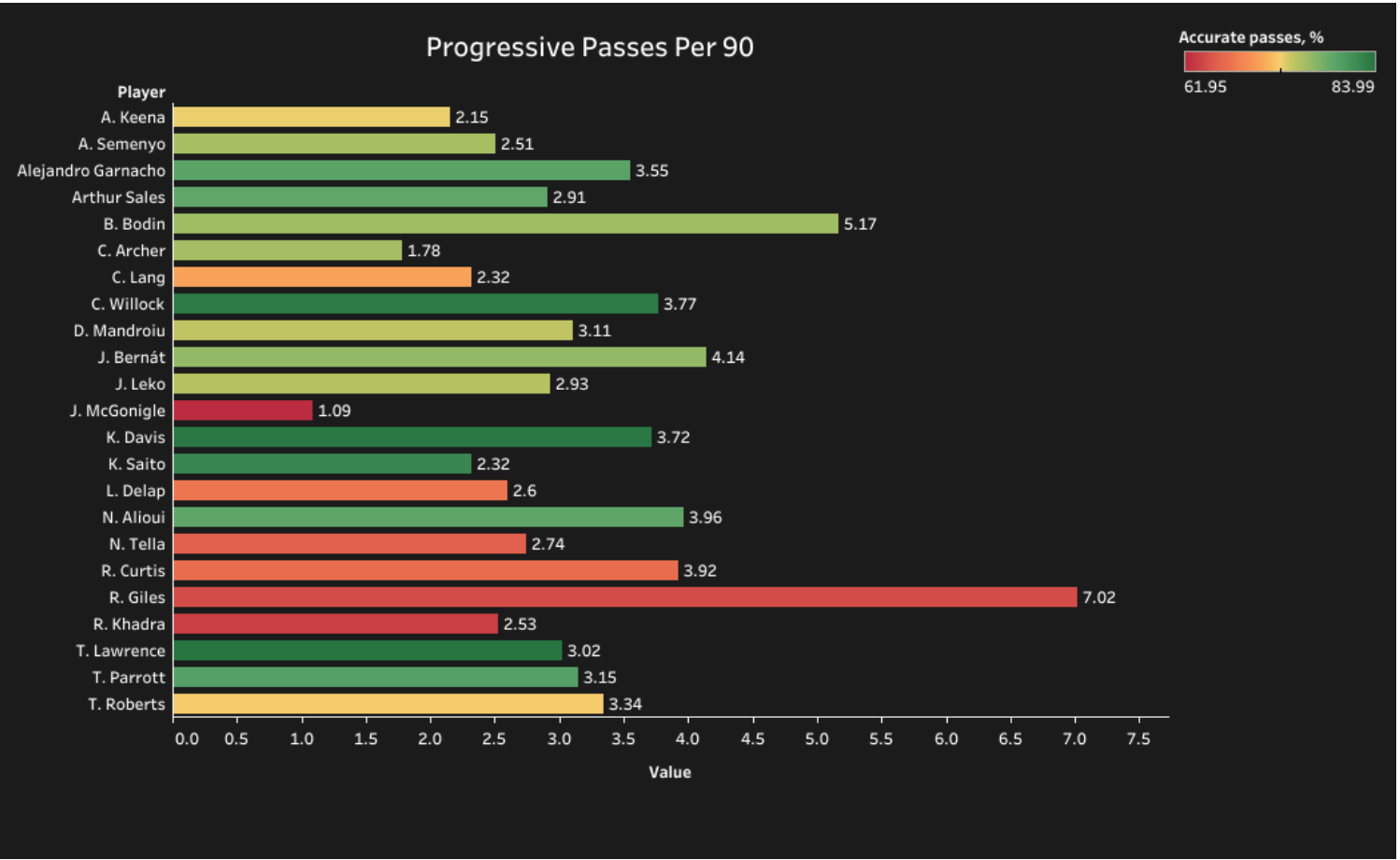 A hallmark of Sheffield United under Heckingbottom's stewardship is that they are very pass-heavy. So, any attacking signings must be able to play progressive passes which can carve open defences and create plenty of goal-scoring opportunities.
Bodin obviously stands out as the most progressive passer from the selected players, Keinan Davis, Chris Willock, and Ronan Curtis are all very good passers despite the latter lacking in accuracy. Cameron Archer has good accuracy but only makes 1.78 progressive passes per 90, this however is dependent on the style of play of the team (Aston Villa/Preston) therefore it is not a reason to discount him.
This stat simply demonstrates that he has been playing more of a typical centre forward role rather than being asked to be a runner and creator for the team as well. With training and guidance, it is something he could learn and improve on without question.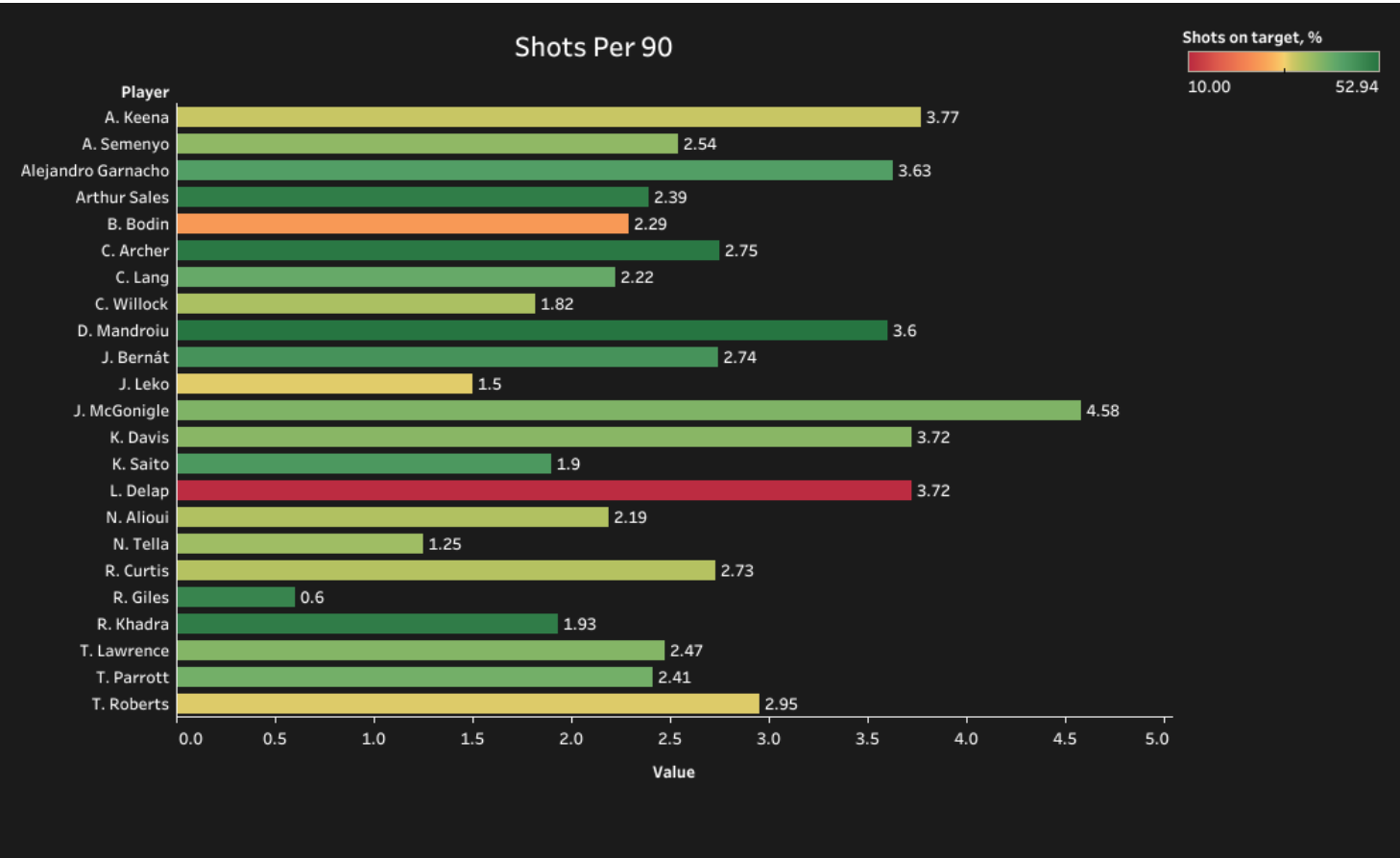 Archer does excel in his shooting ability as he averages 2.75 shots per 90 but is on target with 52.94% of them, the highest accuracy rating from the group. Irishman Danny Mandroiu and Keinan Davis are also very accurate with their shooting. Portsmouth man Ronan Curtis is also very good in terms of both shots per 90 and accuracy. 
After assessing the pool of 23 players, it's fair to say that some players can now be discounted. This is due to the fact that statistically there are indications that they will not fit with the Sheffield United way of playing. This then can create a shortlist of players which can be used to determine who would most likely be a suitable replacement for Morgan Gibbs-White.
The Short List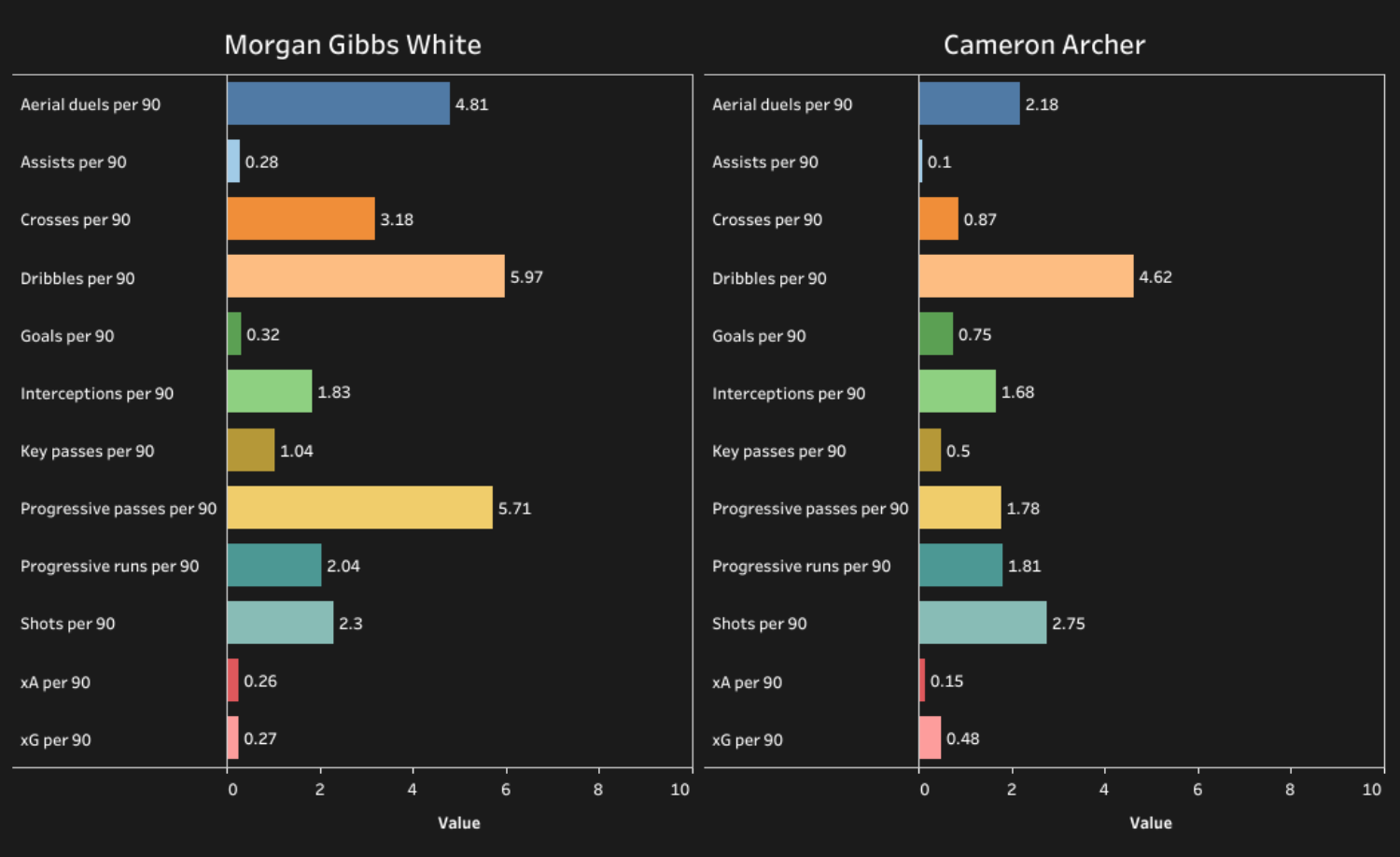 Firstly, Cameron Archer, this signing would suit Sheffield United and Heckingbottom's desire to utilise the loan market again. It is unlikely that Archer will get first-team football at Aston Villa so it is highly probable that both the club and player would be open to a loan move.
Archer is two years younger than Gibbs-White however he has experienced a fair amount of first-team football with his loan moves in prior seasons. He is a very tenacious player and comfortable on the ball, willing to work hard for the team.
Despite operating more akin to a 'typical' centre forward who fits the goal scorer mould, Archer would be able to run the channels and manoeuvre in the half-spaces to press the opposition and create space for fellow teammates.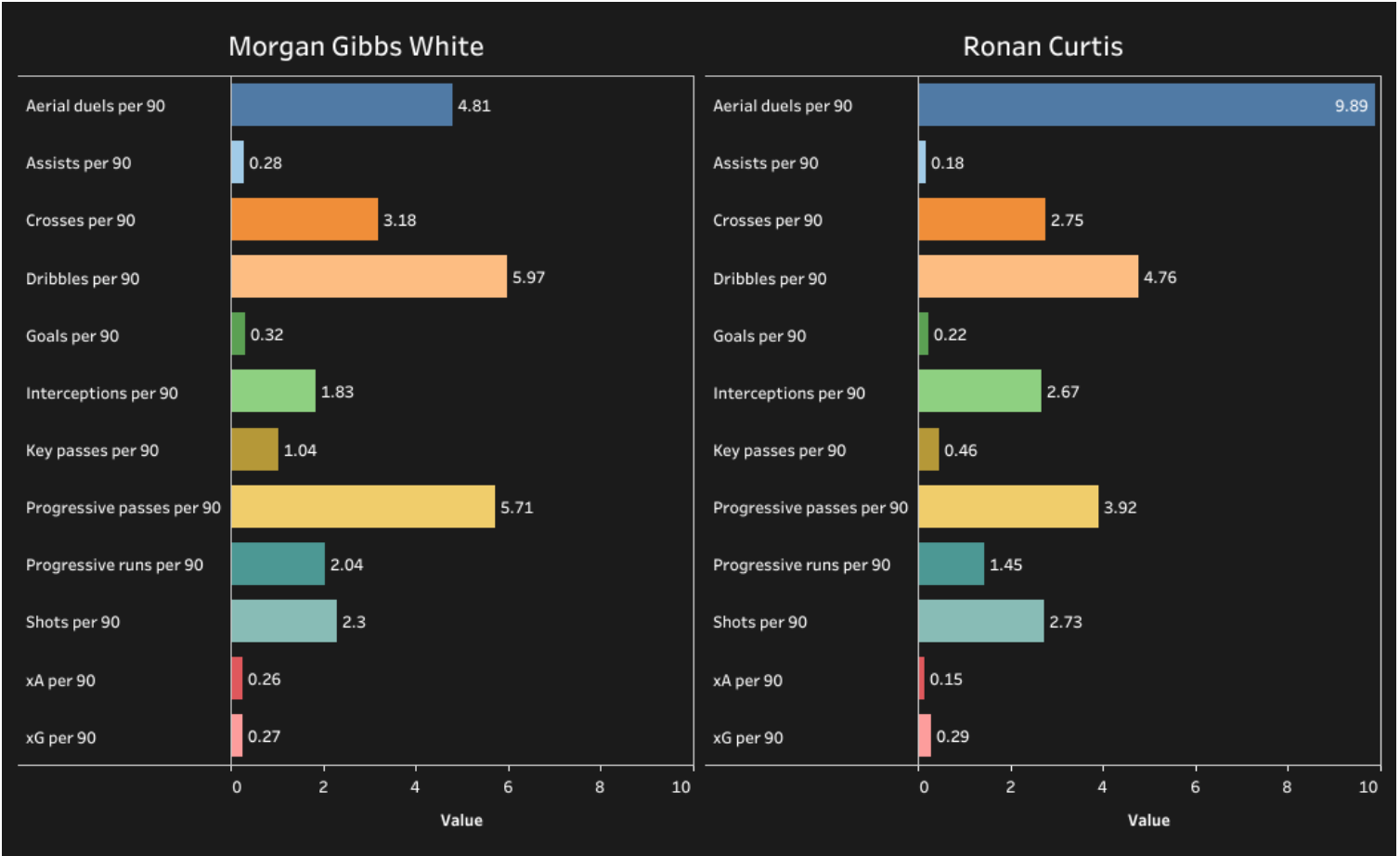 Should Sheffield United be willing to make a permanent transfer, Ronan Curtis could be a possible candidate as his contract with Portsmouth expires in 2023. If he is unwilling to extend his contract, he may be available at a reasonable price.
Curtis is currently drawing interest from the likes of Cardiff City and Hibs. A very talented player he is not only a proficient goal scorer, but he also possesses Gibbs-White's ability to turn provider.
The biggest issue would be that Curtis has primarily played on the left side for Portsmouth so he would either have to adapt to play on the right or Sharp/Ndiaye would have to move across to play on the right side of the front two.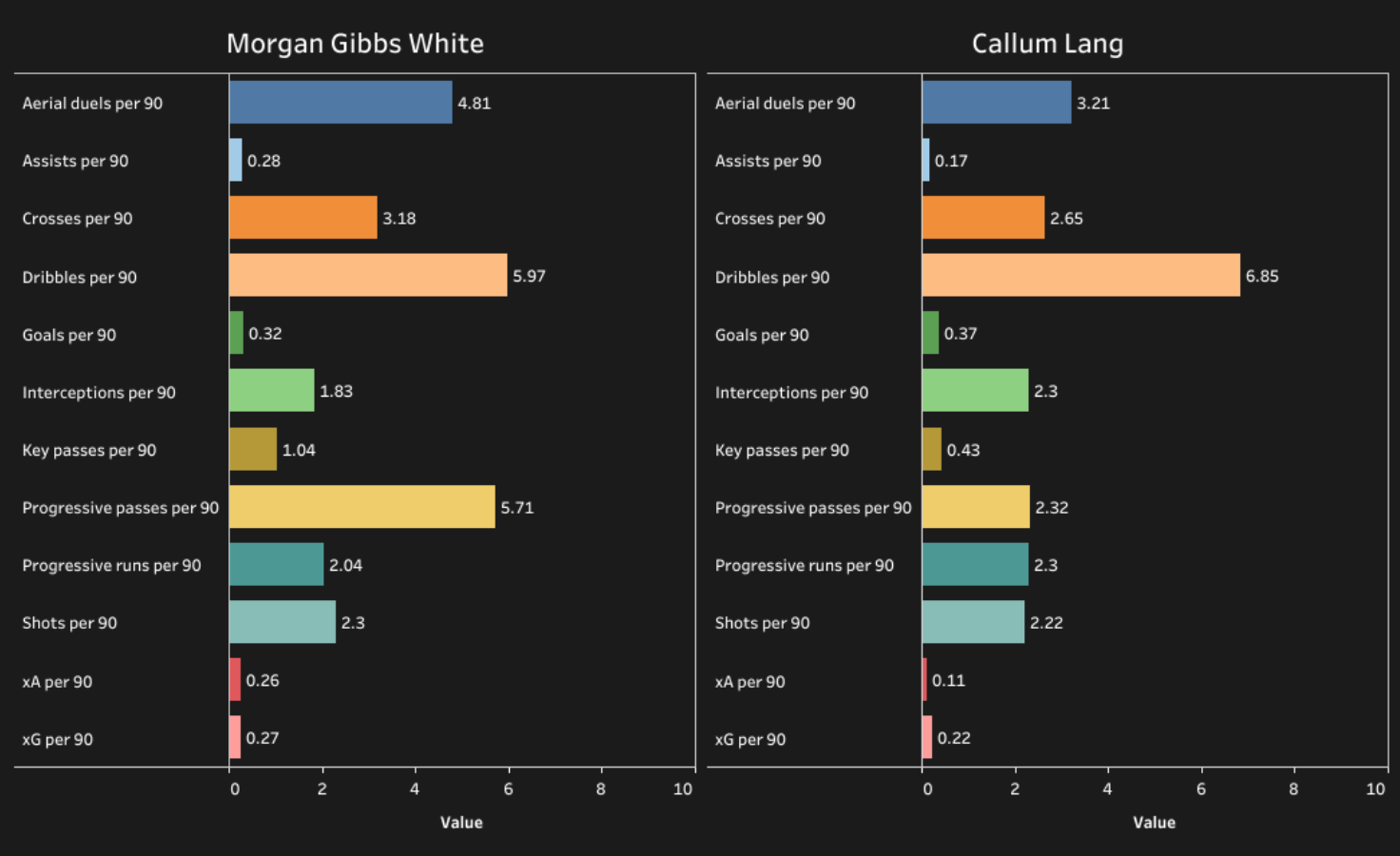 Callum Lang cemented his place as a first-team regular for Wigan Athletic during the 2020/21 season. He has gone on to have a great 21/22 campaign ending the season with 18 goals to his name having helped the Latics win promotion back to the Championship.
He is very competent on the ball and is able to operate well in the half-spaces on the right side, akin to Gibbs-White. He is a very talented player both with and without the ball, he demonstrates a willingness to work hard for the team both defensively and in attack.
In many ways, he would be an ideal replacement for Gibbs-White and would likely be able to slot into this Sheffield United team very well. The biggest issue is that Lang signed a new contract with Wigan Athletic last summer and as they gained promotion there is no reason for the player or club to be open to a transfer. 
Overall, Cameron Archer, Ronan Curtis and Callum Lang would all be great replacements for Morgan Gibbs-White. Each could offer something unique to this Sheffield United side while improving it, nonetheless.
Archer would be a loan signing which fits more with the club's current transfer philosophy, Curtis would likely be available for a reasonable fee while Lang is more unattainable. Gibbs-White enjoyed a very successful loan spell in Sheffield and has left a huge mark on the team, whoever United bring in to replace him, they have big shoes to fill. 
By: Bethany Limb / @bethlimb
Featured Image: @GabFoligno / Christian Hofer – The FA