Using Data To Identify A Readymade Championship Centre Back From League One
In today's write-up, we will be identifying a ready-made centre-back for the Championship for the 2022/2023 season based purely on the use of data from League one (2021/2022).  Disclaimer: I am not suggesting the players mentioned are better than the rest of the centre-backs in the league, this is purely based on research of data/stats.
As time has passed, the quality of the football being played in the Championship has increased and the league has become very competitive. The level of the football being played in League One compared to the Championship is very different, such as in the Championship the teams have become more tactically aware, which means the requirements for a defender are different to how it once was. Such as the days of finding a 6ft 4 centre-half who can win headers isn't so much of a requirement now in the higher leagues, due to many reasons. 

Data Analysis
With the use of data from Wyscout, I have produced a series of scatter graphs measuring multiple metrics which will help narrow down the end result, in terms of who is a ready-made Championship centre half from League One clubs. As briefly mentioned, the game has changed over time and the type of metrics we need to use today is very different to how it was say 10 years ago, such as now many teams want to play from the back, rather than just hit it forward to a target man. 
Finding the Best Championship Centre Midfielder Purely From Data
I must point out that, in doing this data gathering, I had to ensure that the centre-backs had played at least 10 games in the league which would produce a more fair result. When initially building the data for a few metrics, some players were ranked the highest, but upon further investigation, it appeared that these players only had actually had a couple of games for the whole season, therefore not a true reflection over a season if we want to make comparisons. 
Duels
Firstly, we will be looking at the duels per go vs duels won for the centre backs. As we can see, Forino of Wycome is looking like the front runner here however, Chey Dunkley has actually played 6 more games and also won more duals which would make him the top-ranked here. Duels are of course an important part of the defensive game however, does not paint the whole picture just yet.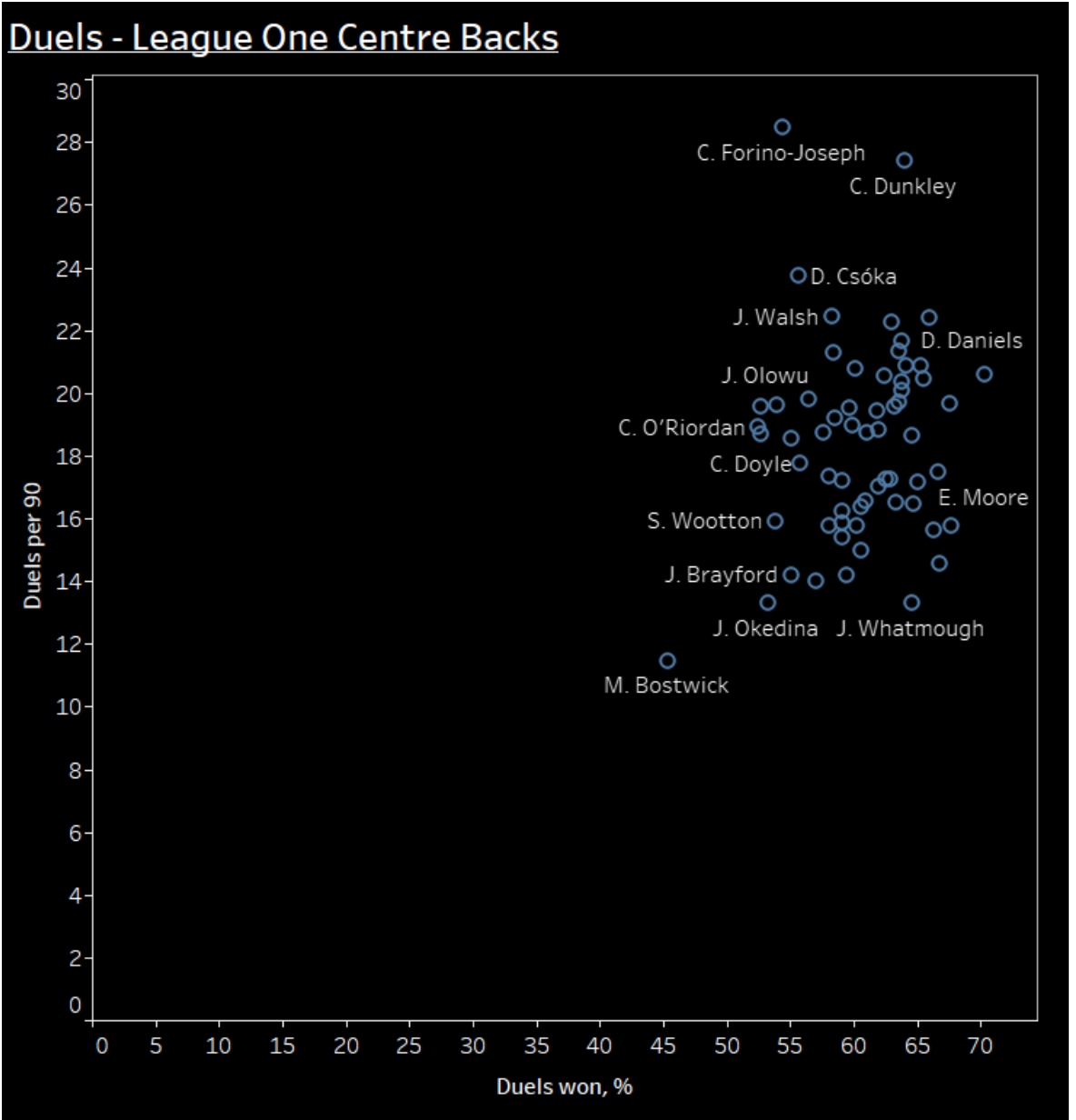 Aerial Duels
For the aerial metrics, Dunkley looks to be the leading player when it comes to dominating in the air. Being strong in the air is still considered a big part of a center-back's game and Dunkley is showing he is a player who can deal with any threats aerially which is useful when dealing with set pieces, an opposition target man & crosses into the box, etc.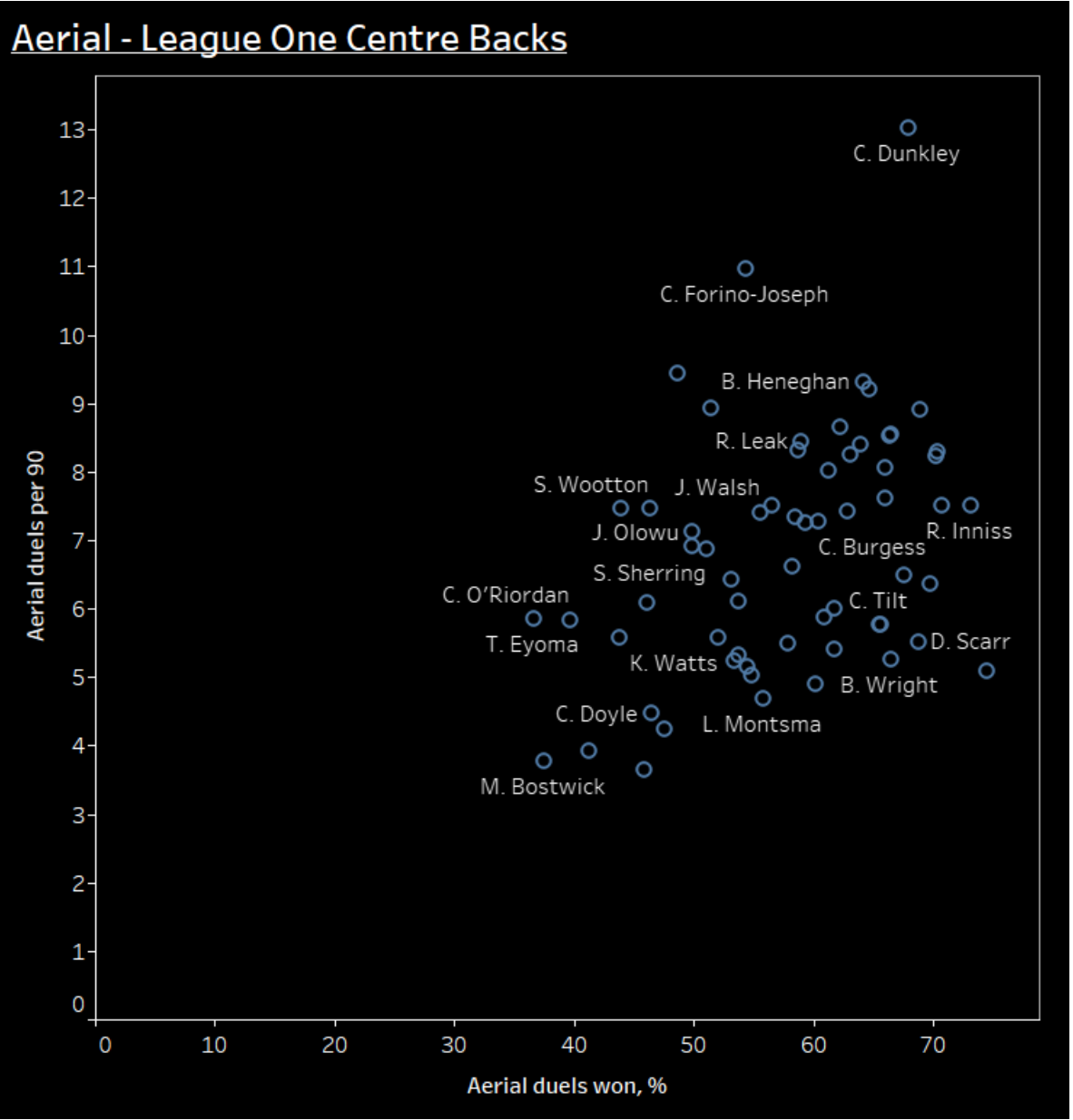 Ball Carrying
The next metric for review is ball carrying from the centre-backs. This is something that is becoming more of a requirement for the higher quality sides in the Championship and above, due to many factors such as how a team are tactically set up and how they progress their build-up play. 
Luke McNally clearly is someone who appears to be confident in carrying the ball out and making a high number of progressive runs per game. Burnley's new manager Vincent Kompany is already an admirer of the Oxford man, as they look to change the way they play their football. This metric is one that many teams in the championship will look at more so than the first two, despite them still being important.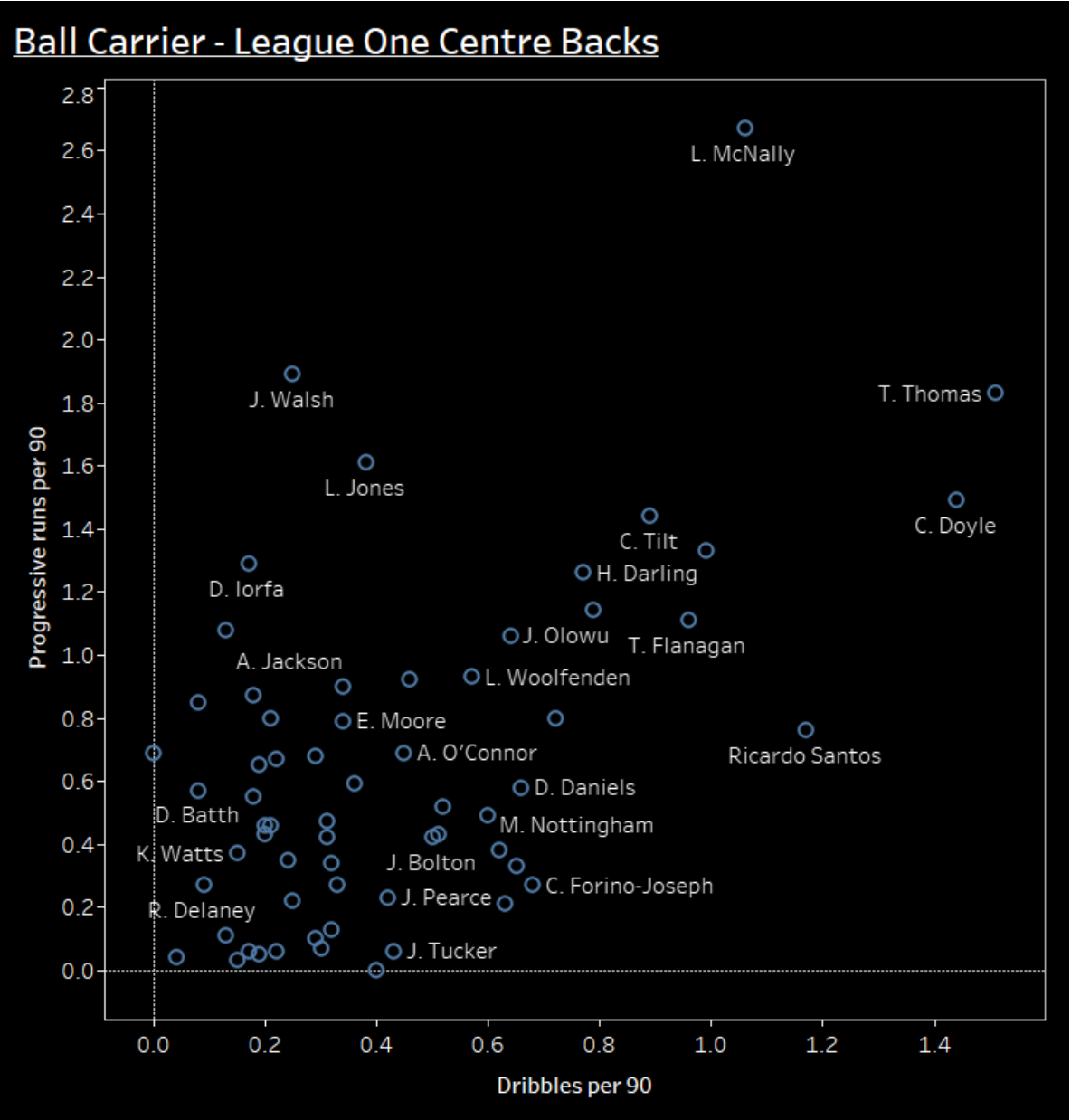 Passing
Passes per 90 alone will not paint the full picture here hence adding progressive passing as part of this review. Harry Darling has recently joined Swansea, which according to this metric will be a great partnership as Swansea are a team who enjoys passing the ball and retaining possession. However, Cameron Burgess from Ipswich appeared to make more progressive passes over the 90.  As we can see, it is pretty close in terms of who came out on top, Darling and Burgess lead the way here.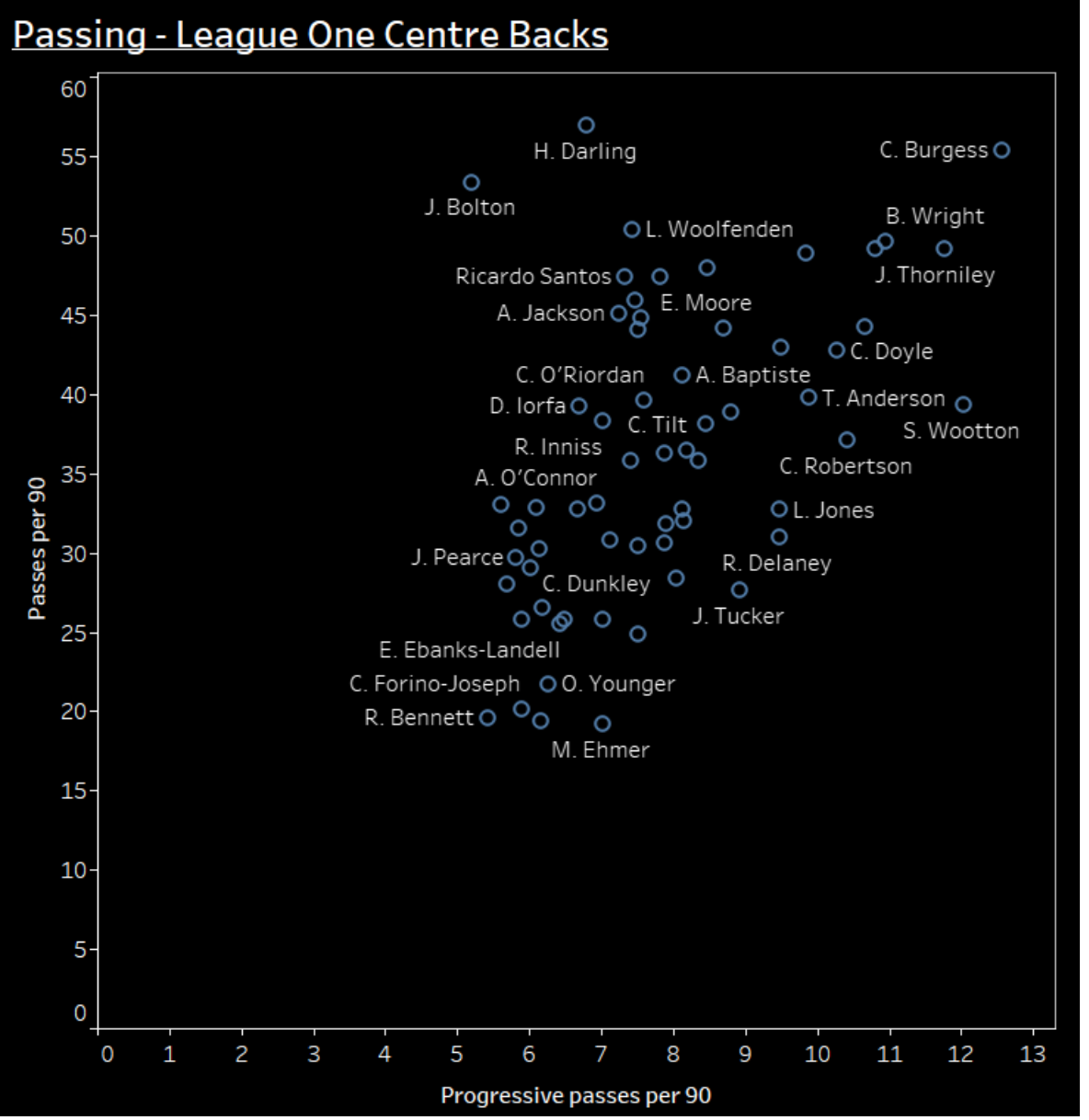 Goals
Although this is a metric that technically isn't something that we can make a clear judgement on to decide if this makes a defender outstanding, it does show how much of a contribution a centre-back can make to a team, such as from set-pieces.
Darling came up top here, contributing to 7 goals last season for MK Dons which is as high as some midfielders who had similar game time. Adding 7 goals to your team over a season could provide to become crucial come to the end of the season such as goal difference.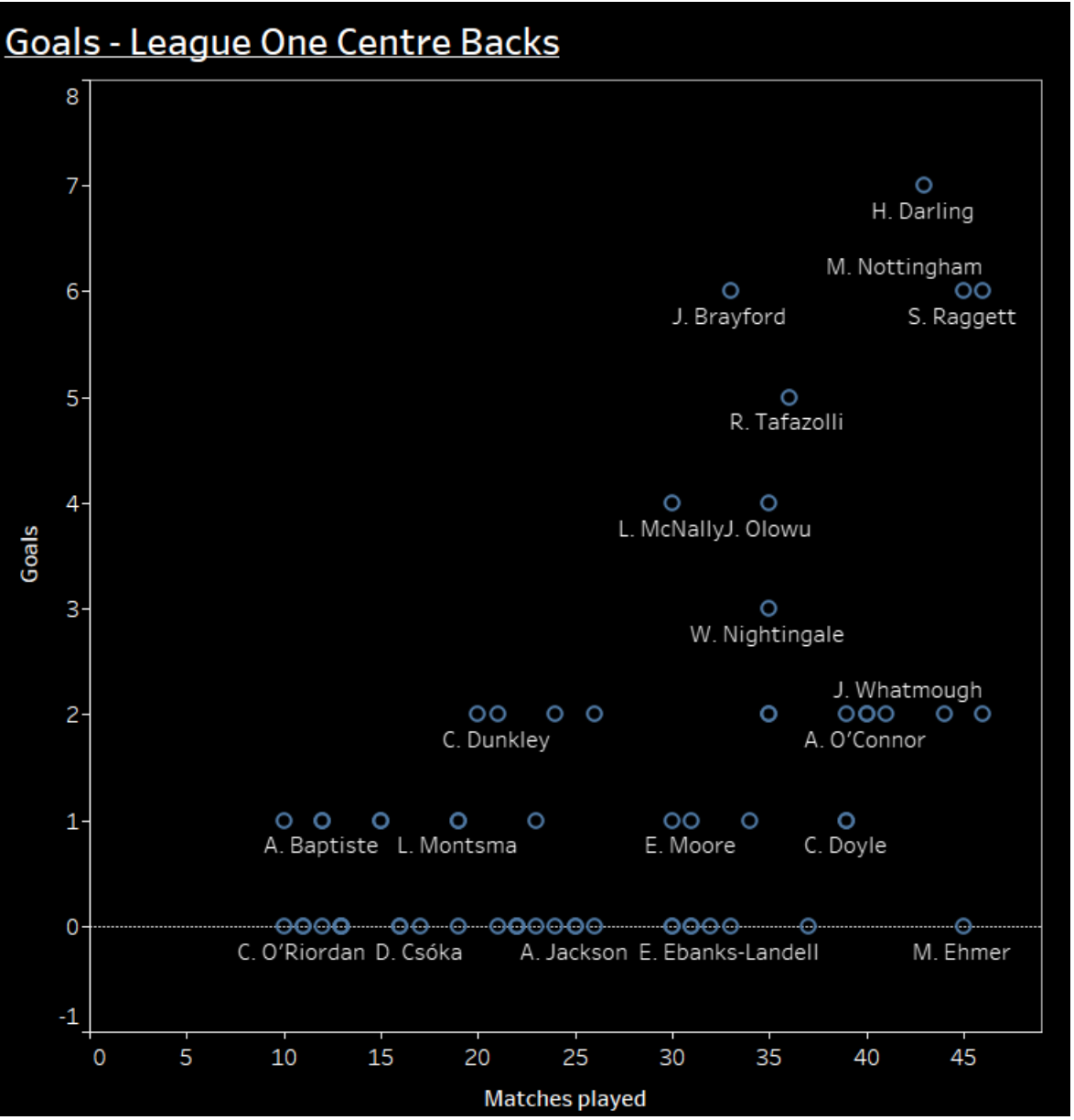 Miscellaneous Defensive Metric
Lastly, I wanted to just highlight successful defensive actions vs PAdj interceptions for the League One centre-backs. As we can see, a few players we can mention here such as Donervon Daniels who overall ranked well here but Burgess was able to make more PAdj interceptions. If we combine this metric with some of the previous ones, this does support Burgess well, as not only has he ranked well here but also he was highlighted in the passing section.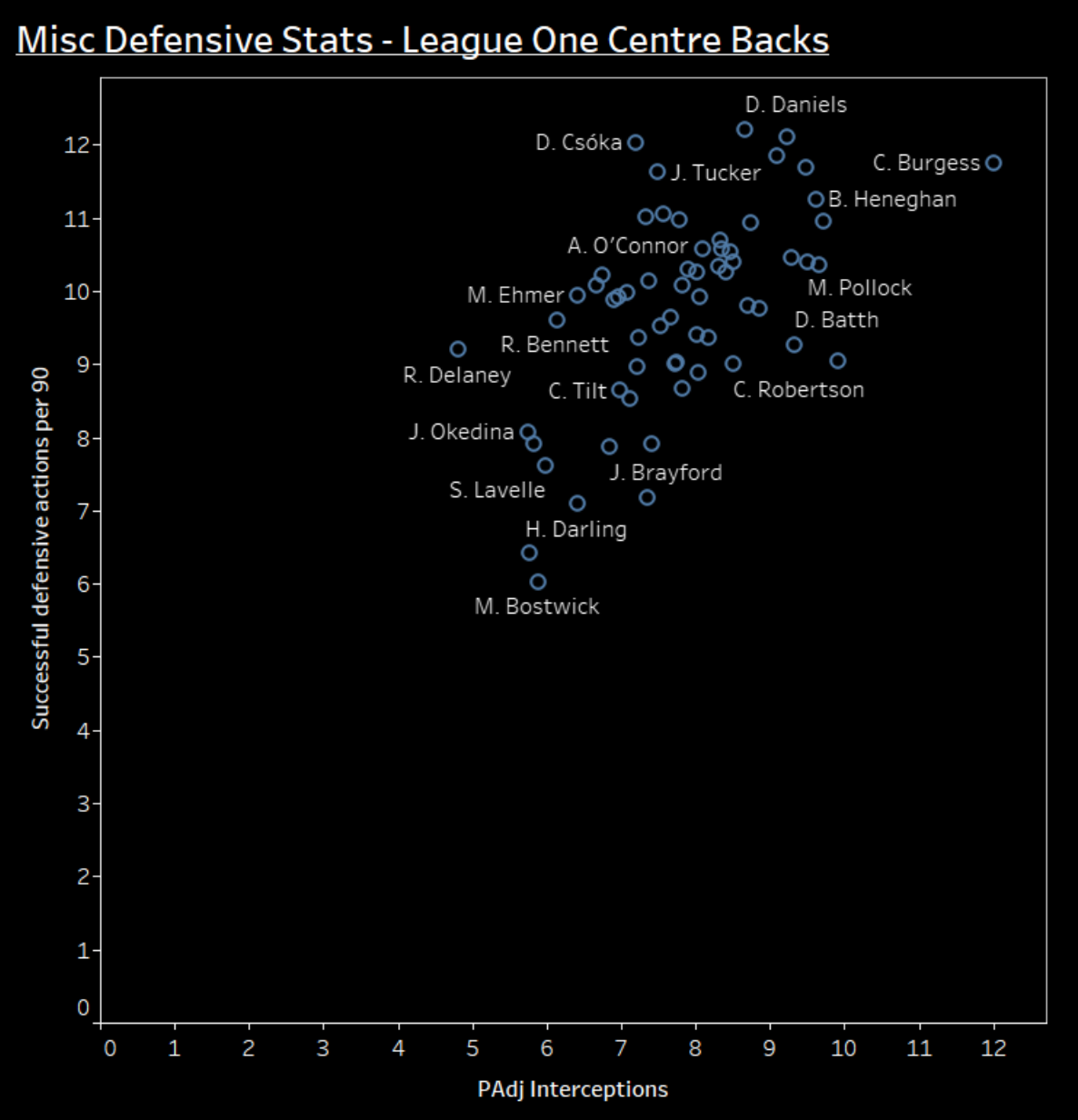 Best Centre Backs By Playing Style
As we have seen by covering various metrics, we were not always finding the same players in each section. Identifying the overall best centre half is not as simple, therefore rather than just highlighting 1 player overall, I will be highlighting a few defenders passed on the Championship team's style of play. 
Route One
If the Championship team in question prefers to play Route One, direct, vertical football, and does not play out from the back as much and heavily relies on set pieces then Dunkley is the player to select here. As we have seen, his duels won along with aerial duels won were the key indicators which made Dunkley stand out well. 
Playing Out From The Back
In terms of teams who like to play out from the back, which is more of a theme in today's game, we can highlight a few players here. Darling and Burgess would be the players to highlight here, not just for their passes per 90 but also for their progressive passes per 90. Then, we can also look at  McNally, who according to the stats is a great ball-carrying centre-half, which is a great quality to have.
Personal Best Centre Back In League One Overall
If I had to choose one player as an overall fit for the Championship, I would go with Burgess. Not only did he stand out in terms of his passing as previously stated but also he ranked well in terms of successful defensive actions along with interceptions. Although the Ipswich man was not mentioned in the aerial metrics, we still were on the graph and ranked fairly well bearing in mind he came out well in the others mentioned. 
Special Mention
Although I opted for the Ipswich man personally, I still rate Darling and think his move to Swansea was well deserved and think he will be a very good fit for the club/league.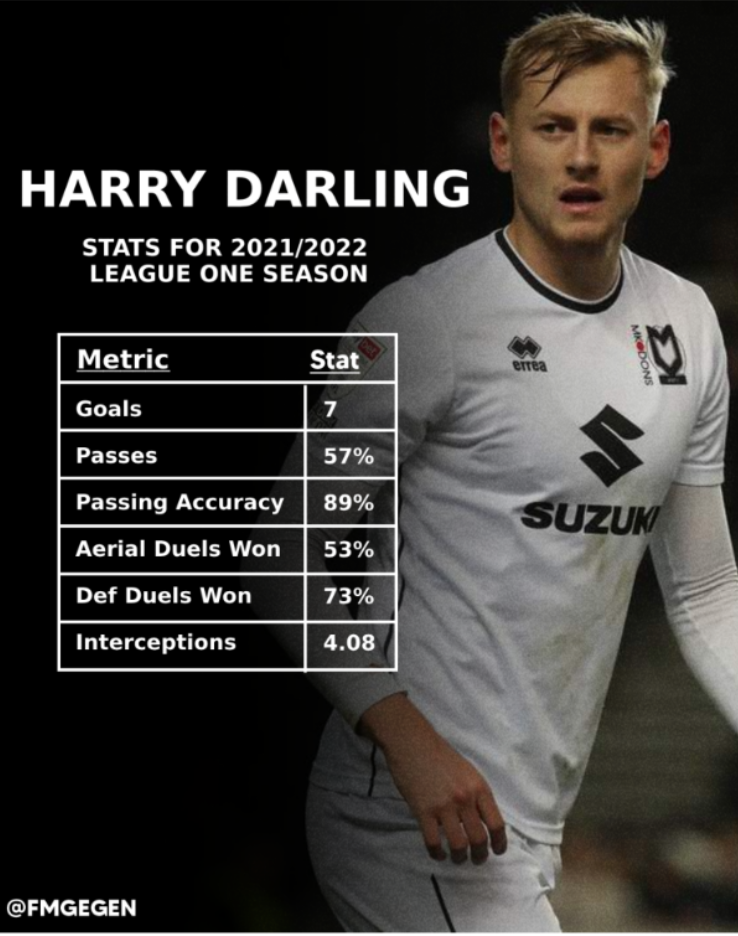 Conclusion
As we have seen, it was not as simple as just selecting one player but we managed to cover different types of centre-backs and various reasons why they would suit the championship according to the teams playing style. 
I enjoyed writing this one today, similarly to the championship data review I did in terms of an all-rounded central midfielder. I especially love the way with the use of data you can identify the style of the players such as when we found the suitable players for a team who prefers to play from the back.  I will continue to do these and maybe look at different leagues which are less familiar. 
By: Dhillon Gill / @FMGegen
Featured Image: @GabFoligno / Chris Vaughan – CameraSport