Why Tomáš Souček Has Been Crucial To West Ham's Success This Season
It is easy to suggest that in Tomáš Souček, David Moyes has 'found his Fellaini' due to the Czech Republic international's stature and presence in the final third from set-pieces, and in a sense it's true, Souček has mirrored Marouane Fellaini's role that was clearly so effective during Moyes' tenure at Everton, often arriving late in the box to grab West Ham important goals when needed, just as Fellaini did for Everton.
However, the Czech Footballer of the Year also brings a sense of rigidity to West Ham's midfield that has been missing for so long; it has been years since the Hammers have had a midfield partnership as strong as Declan Rice and Souček, and the pair have propelled them to within three points of 3rd place as we come towards the half-way mark of the Premier League season.
In a sense, Souček is the embodiment of West Ham's success this season under Moyes. Like the team as a whole, he has gone under the radar, and pundits and fans of the Premier League have only just started to give the midfielder the credit he deserves.
Like many of his West Ham teammates, Souček is a grafter and it is the fighting spirit shown by the likes of Jarrod Bowen and Vladimír Coufal as well as Souček that was the missing ingredient in Manuel Pellegrini's failed spell at the club which was based on flair players who weren't always willing to do the dirty work. Souček represents Moyes's new approach which has led to a reformed West Ham United.
Made in Morocco, Flourishing in France; Is London Calling For Nayef Aguerd?
West Ham signed Souček from Slavia Prague last January on an initial loan deal, opting to sign the 6'4 midfielder in the summer for a fee of around £19 million. Moyes had talked of West Ham's lack of midfield options during punditry a few months before, stating that during his first spell at the club in 2018 he had wanted to sign Axel Witsel from Tianjin Quanjian before being replaced by Pellegrini. When he was reappointed just days before the 2020 January transfer window, it was therefore clear where he thought West Ham needed strengthening.
The Hammers initially looked to sign Benfica's Gedson Fernandes on an 18-month loan deal, but the midfielder opted to join José Mourinho's Tottenham Hotspur instead, prompting Moyes to move for Souček who was relatively unknown in England. The Portuguese midfielder has been used sparingly during his time in London, having played just 63 minutes in an EFL Cup fixture against Chelsea this season, and there are rumors that Benfica will cancel his loan this month.
Relatively is perhaps the best word to use, as three months prior to signing for the Hammers, Souček had starred against England for the Czech Republic in a 2-1 victory, dominating a midfield consisting of Jordan Henderson and Rice alongside his then Slavia Prague teammate Alex Král, who is now heavily linked with West Ham having joined Spartak Moscow in the summer.
Souček had also impressed heavily in the Champions League and had scored against Borussia Dortmund and Inter Milan, while he had scored 10 goals in 18 appearances in the Fortuna Liga (the Czech first division) and Cesko-slovensky Superpohar (the International Supercup) combined.
Prior to the UK's COVID-19 lockdown, Souček was bedded into a West Ham side that had the prospect of relegation looming over them. From the offset, it became clear that the Czech international was a real danger in the air. During a game against Liverpool in which West Ham lost 3-2, Souček was particularly impressive and demonstrated what he could do both on and off the ball to help his team before he was injured just before half time.
After the lockdown, Souček brought his game up a level though, and if it wasn't for him and Michail Antonio, West Ham would definitely be playing Championship football now. He came up with three vital goals against Chelsea, Newcastle, and Watford and began to develop his partnership with Rice which has excelled this season.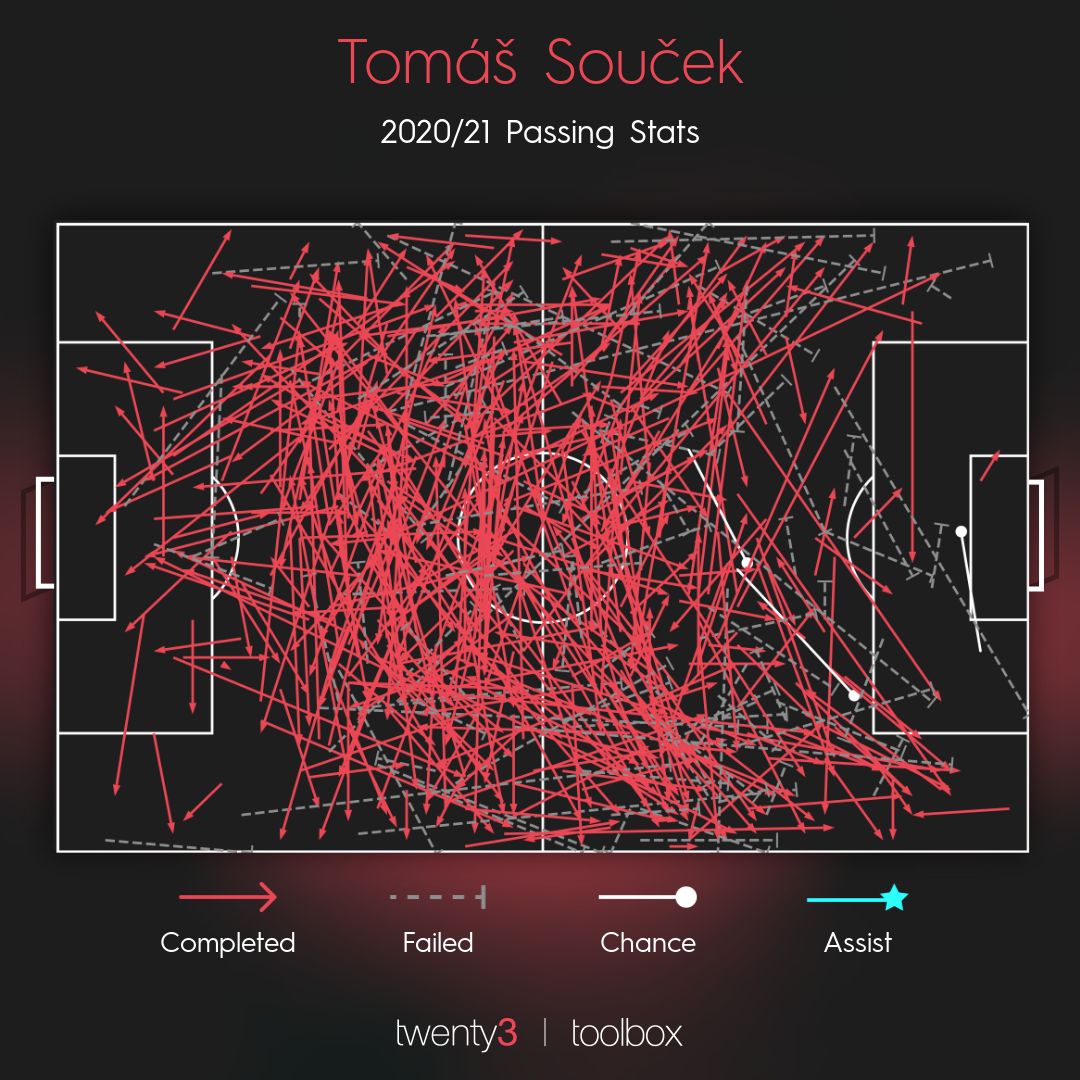 Photo: Twenty3/Wyscout
The image above shows Souček's passes this season and from it, we can gauge that he doesn't tend to play balls into the box or many attacking areas. His role is rather to play the ball sidewards to Rice who can then distribute, or to the wingers who can then carry the ball forward. This can be seen as a simplistic, stable role, but it is vital to West Ham's balance.
This image backs this up by showing that Souček rarely passes or moves towards the forwards when on the ball. Instead, he tends to pass to Rice, Coufal, Bowen, or Angelo Ogbonna who can then progress the ball. Although this is simple, his steadiness in midfield has been a crucial asset to Moyes's side.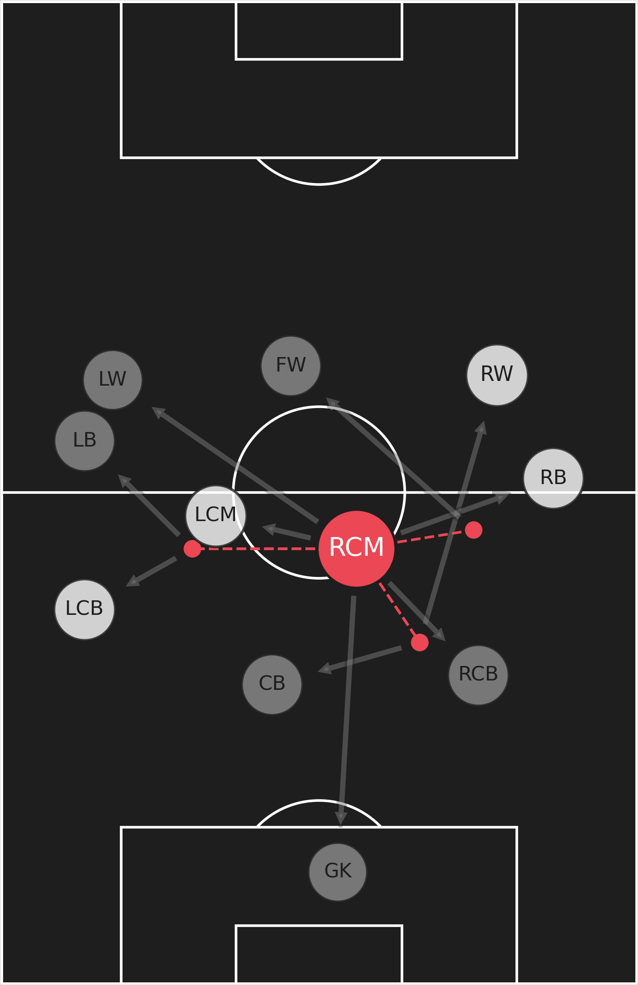 Photo: Twenty3/Wyscout
In terms of attacking, Souček has arguably been West Ham's most vital component in the final third this season. He is their top scorer in the Premier League with 5 goals while he has taken the 2nd most shots in the side (27) after Bowen (34). Furthermore, he has the third-most touches in the opposition box in West Ham's side which is surprising for a defensive/central midfielder.
This shows the presence he has in the opposition's box and the high xG of all the goals he has scored shows his fantastic ability to get in the right positions. His xG shot map shows the great positions which he has taken up in the box while in certainly displays that the goals he scores are all from similar areas.
All of his 5 goals from this season have been crucial: he scored the only goals in 1-0 wins against Everton and Fulham, while he scored an important equaliser against Leeds meaning West Ham could go on and win the game while he equalised late on against Brighton to secure the Hammers a point. Without his goals, West Ham would hence be 7 points worse off (on 19 points) which is exactly where they were at the same stage last season. Souček has clearly been a difference-maker for West Ham United.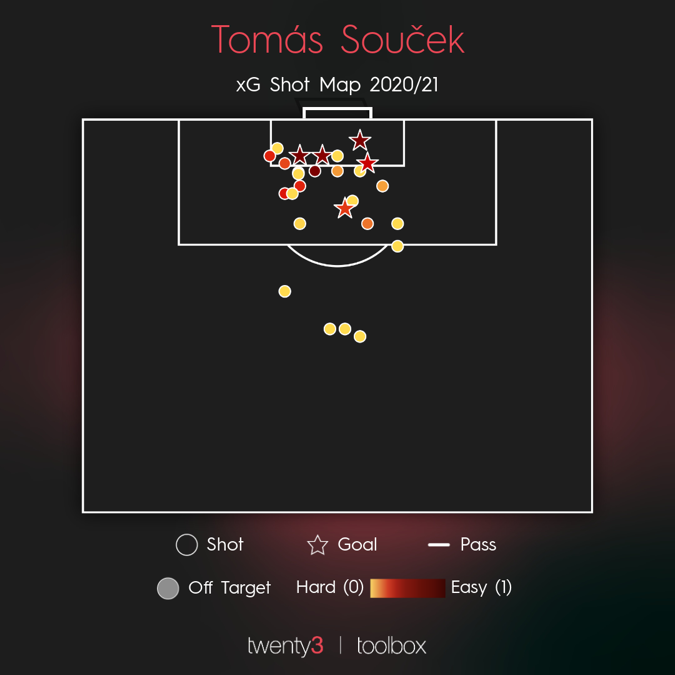 Photo: Twenty3/Wyscout
The below image indicates where Souček's defensive actions have taken place. As you'd expect, they are mostly centred around the midfield, but on the whole, it is clear that Souček is very active defensively as well as in attack. The former Slavia man completes 4.72 interceptions p90 while he wins an incredible 6.04 of his 9.93 attempted aerial duels p90.
On top of this, he completes the second-highest number of ball recoveries in the West Ham side per 90 minutes with 9.66, after only Ogbonna who completes 10.21. This shows that Souček is also sound defensively as well as a danger in the final third.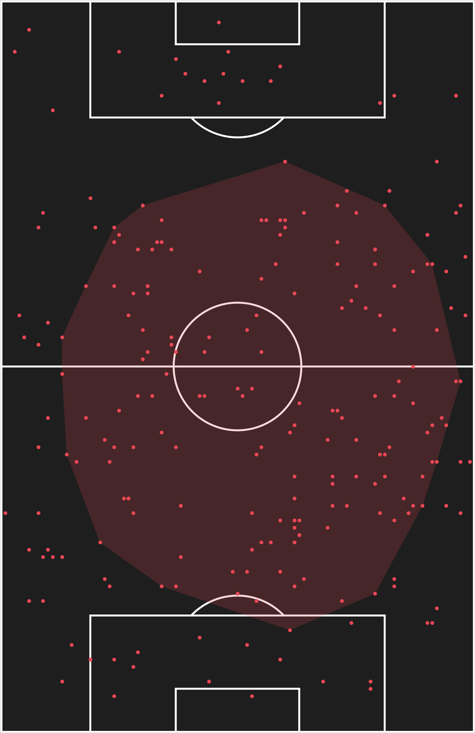 Photo: Twenty3/Wyscout
Tomáš Souček has become a game-changer for David Moyes and West Ham ever since his arrival from Slavia Prague a year ago. In the Premier League, he has become famous for his headed goals and he arrives in the box with an expert positional sense in a similar fashion to Marouane Fellaini who was so successful for Moyes at Everton.
Souček has also been a vital component of West Ham's midfield though and he is the perfect partner to Declan Rice who has been freed up by the 6'4 Czech International, allowing him to distribute into the final third more effectively and roam forward more.
He isn't afraid to do the dirty work and he covers an incredible amount of ground every game and as a whole, Souček has been a large part of West Ham's surprising success story this season which will hopefully lead to at least a top-half finish for the Hammers.
By: George Grieve
Featured Image: Juan Castro / Mike Egerton