Trouble in West London – What Next for QPR?
Queens Park Rangers, a Championship club based in West London have begun the 23/24 campaign in a dismal fashion. A team stocked with talent that has failed to put up a playoff push in the last few years currently sit 23rd in the Championship after accumulating 10 points from their opening 16 games, six points away from safety. Fans started to get quietly confident under the leadership of Michael Beale in his six-month stint at the club. The football began to improve and he was getting the best out of the talent at his disposal before he was cherry-picked by Rangers and the start of their downfall began. This began under the management of Neil Critchley. 
New QPR Boss Gareth Ainsworth Combines Vintage Style With Modern Methods and Should Not Be Underestimated
Critchley took the job after success at Blackpool and fans had the right to be excited. However, after an extremely disappointing two-month stint in charge of the club, he was relieved of his duties. From bad to worse for The R's. Gareth Ainsworth was the next man at the helm. An appointment that lacked ambition with QPR needing stabilisation. This proved to be the worst appointment yet. During his six-month reign at W12, QPR only managed one home win. They managed to claw themselves to safety in the 22/23 campaign but showed no signs of improvement going into the 23/24 season. With Ainsworth recently being sacked, QPR will hope their fortunes are about to change but what is next for The R's? 
Managerial Improvements – What to Expect
A quick turnaround in management at Loftus Road sees a new heir to the throne in Spanish coach Marti Cifuentes. With managerial experience in Denmark, Spain and Sweden, Cifuentes takes his biggest job yet, one in which he will have to show his tactical prowess quickly for QPR to get themselves out of trouble. 
Cifuentes is a young coach (41) who is widely remarked as a 'Miracle Worker' which in harsh reality suits the nature of the job he has taken on. A coach with a high pedigree in his jobs within both Sweden and Denmark; his most impressive work coming at Sandefjord. A Norwegian club that was regarded as a consistent relegation candidate was transformed into a mid-table team. All of this was done with the bare minimum resources whilst adopting an extremely attractive style of play. 
Michael Beale – The New QPR Boss Ready to Transition From Assistant to Head Coach
The Catalan coach also had success in Sweden with Hammarby IF after being appointed in January 2022. He guided the side to a third-place finish and narrowly missed out in a cup final after losing to Swedish giants, Malmo, on penalties. During his time at Hammarby, he typically set up in a 4-3-3 or a 4-1-4-1, with the use of inverted full-backs, allowing wingers to have isolated 1v1s, a big shift from the three/five at the back formations Ainsworth employed during his time at Loftus Road. This tactical approach was taken as Cifuentes likes his sides to be possession-based style which would allow Hammarby IF to control games. A great analysis explanation can be found here:
Marti Cifuentes at Hammarby: In Possession Principles [Video]

– Isolating wingers 1v1
– Use of FBs (inverting + attacking runs)
– Wide triangles/Rotations
– Access Between the Lines

(Video is too long to post so can be accessed via the link) #QPR https://t.co/AWKhUkkZSC

— Dan (@danlambert__) October 30, 2023
Another big feature of Cifuentes' tactical principles is the use of deep build-up from the goalkeeper, allowing his sides to create a numerical advantage. The current goalkeeper at QPR is veteran, Asmir Begovic and this may be a cause for concern with the implementation of the Spanish coach's playstyle with Begovic being a traditional keeper, more adept in shot-stopping. 
A big pro of Cifuentes' tactical approach was the drastic improvement in goals scored, a stat QPR need to majorly improve in. QPR are currently averaging 0.7 goals per match contrary to Hammarby who averaged 1.39 goals per match under the reign of Cifuentes, an improvement that is greatly desired for The R's with them scoring just 11 goals — only newly promoted Sheffield Wednesday (7) have scored fewer.
QPR began the Cifuentes era by drawing 1-1 at Rotherham with Ilais Chair giving them the lead after the break, only for Georgie Kelly to equalize in the 70th minute for Rotherham, whilst the following match would see them share the spoils in a 0-0 draw at home against Bristol City and claim their first clean sheet since September 22.

Hammarby IF 22/23 compared with QPR 23/24 [stats from footystats.org]
Cifuentes' teams also create a high volume of shots. Another stat where QPR are struggling and with a vast range of attacking talent with players such as Ilias Chair, Chris Willock, Lyndon Dykes and Sinclair Armstrong, this will be at their beneficiary. The R's currently average 7.21 shots per 90 whereas Hammarby averaged 12.86 per 90. Understandably, stats aren't always the biggest indication of success but football can be simple at times and the more shots a team is taking, the more opportunities a team has to score; ultimately leading to decisive moments where points can be won or lost. 
Stats from footystats.org
Players to Watch
With joy much needed back at W12, certain individuals need to hold themselves accountable and perform at a level that matches their talent. Despite the big departures of key players Rob Dickie and Seny Dieng in summer, QPR still possess a whole host of high-level stars. Their main attacking talent being Ilias Chair. The Moroccan attacking midfielder is arguably their best player; someone who has the ability to provide decisive moments of excellence in order to change the shape of a game. 
In his previous two campaigns, Chair has hit 14 G/A respectively. This is undoubtedly why he was linked with a big-money move to Leicester in the summer however that did not materialise. If QPR want to start picking up wins, Chair will be instrumental in making this happen. The R's number ten who has been a consistent high-volume dribbler has under-performed in this metric so far this campaign. QPR need that spark of excellence and if Chair can begin completing more take-ons and achieving higher dribbling number they will possess more of an attacking threat. 
Despite his underwhelming start, Championship fans know his quality and he is still amassing high progressive carry numbers in a side averaging the lowest amount of big chances created and the second lowest for possession. He's a dynamic attacking midfielder who likes to pick the ball up from deep positions and carry his side up the pitch. If he can regain confidence and begin to perform under Cifuentes, the goals will start to flow. 

Stats from FBRef.com
Despite this, debatably their best player so far this season has been Kenneth Paal. The Dutch fullback has started the campaign like a man reborn. Surprisingly, he is QPR's current top goalscorer which increasingly highlights the importance of attacking improvement at Loftus Road. Take nothing away from Paal as he has shown his ability in abundance so far. 
The defender had mainly operated in the wing-back role under Ainsworth which allowed him to flex his attacking muscles. Although Paal's main qualities are presented when put under defensive responsibility; a good one-on-one defender who has proved to be difficult to dribble past, ranking in the upper percentile for dribblers tackled in the division. 
With QPR's underwhelming start to the season, they have been put under a lot of pressure from some great attacking sides such as Leicester, Blackburn and Southampton. Despite this, Paal has still recorded 2.96 clearances per 90, again ranking in the upper 13th percentile for defenders in the league.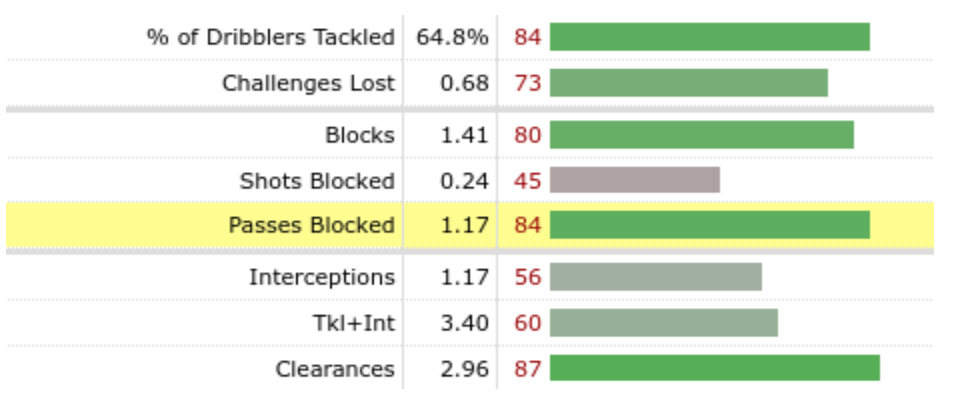 Stats from FBRef.com
Now with Cifuentes at the helm, Paal's role may change into that of an inverted full back to suit the system the Catalan coach wants to employ. This will allow Paal to showcase his on-the-ball ability more and may prove to be a key player once again for this new-look QPR team. 
Key Problems That Need Solving
QPR have faced many problems this season, most of which have been created by no fault but their own. A big issue so far has been disciplinary. The R's have received the most red cards in the division (4) which is double the team in second place. This almost ties into their defensive frailties as playing with 10 forces the squad to sit back and absorb pressure. The suspensions of key players also create a big problem with the manager having to constantly rotate the squad meaning he will struggle to find his strongest eleven and may be forced into tactical alterations. If QPR can work on the disciplinary issues and start to find their strongest lineup, defensive solidity will form and allow them to stop chasing games, especially at Loftus Road. 
Despite struggling in defence, their main woes have come in attack. The R's have created the lowest amount of big chances in the league averaging a big chance created every 1980 minutes. This raises a huge cause for concern as the team are struggling to break down opposition defences and having to work low percentage chances for goals. QPR will more than likely be expected to be in the market for attacking options come January with a lack of options and depth in that department and this could change the course of their season. 
The R's will hope the gamble on Cifuentes pays off and they can begin to stabilise. A big club that should be challenging for playoff spots not struggling in relegation places with fans starting to lose hope. Just keep an eye on QPR, change is coming at Loftus Road. 
By: Ben Sheldrick / @benshlrz
Featured Image: @GabFoligno / Jan Christensen / FrontzoneSport