Michael Beale – The New QPR Boss Ready to Transition From Assistant to Head Coach
For many clubs, appointing a head coach yet to take charge of a first-team game can be seen as a huge gamble. That gamble is more so for a side trying to weave their way out of the EFL Championship, which many would describe as the most difficult league in the world.
For Queen's Park Rangers they have rolled the metaphorical dice with the appointment of Michael Beale. However, there are few safer hands than the Bromley-born coach who has obtained 17 years of experience in the coaching industry with some of Europe's most elite clubs.
Background
His playing career only lasted until the age of 21, beginning at Charlton Athletic, he was released in 2021 and trialled at FC Twente along with clubs in the USA before calling it a day. Beale had always been fascinated by the idea of development, and shortly set up a futsal club in his hometown of Bromley, using some of the money he earnt as a youth player.
Futebol de Salão is a Brazilian brand of the game which aims to teach players close control using a smaller, lower bounce ball. Beale was fascinated by the manner in which players would use individual tricks to spin out of tight situations on the smaller pitch. The club was held in a church hall and three children turned up to his first session, despite only charging £4 per session.
"When young kids get out their mum or dad's car, and they run to the pitch to start training, if after 15 minutes they don't have the same energy that's you that's got it wrong. It's the same for a professional footballer." – Michael Beale.
It was whilst coaching here that he alerted the attention of Chelsea, who offered him a part time role with children in the community. He would find his love for player development here, eventually becoming full-time with the Blues.
Whilst progressing through the ranks at Cobham he would coach under the stewardship of the likes of Carlo Ancelotti, Jose Mourinho and Guus Hiddink.
In doing so, he would cross paths with future England internationals Callum Hudson-Odoi Mason Mount and Tammy Abraham, who would be mentored by Beale during their movement through the Chelsea ranks.
All of this would take what Beale would later describe as 'the stairs' through their footballing pathway which involves loan moves down the pyramid. Meanwhile, after a move to Liverpool, he would coach a unique prospect in Trent Alexander-Arnold whose dramatic rise through the ranks to the first team which was described by Beale as 'the lift' route.
After Returning to the Premier League, How Can Scott Parker's Cherries Beat the Drop?
This particular prospect's rise to the first XI proved to be what he would aim for in future, with him leaving Stamford Bridge following Roman Abrahmovicb's move to the club. Beale eventually grew frustrated at the lack of academy players progressing into the first team, and felt Anfield would bear more fruits in that respect.
It was in his role with the Reds under-23's where he'd first meet Steven Gerrard, who he'd follow to two assistant manager roles, but not before a stint in Brazil with Sao Paulo.
Beale had always been a long-time admirer of South American football and the street football culture it developed specifically, hence his futsal club back in Bromley. Working as an assistant to first-team manager and Tricolor Paulista legend Rogerio Ceni, Beale learnt Portuguese and gained the invaluable skill of being able to coach in a second language.
He also learned to add the trickery and skills from street football into the more complex and cohesive game. Beale was heavily influenced by his roles in development coaching and teamed up with Gerrard when he took his first managerial role at Rangers, becoming the former midfielders assistant.
In three years in Glasgow they helped to win Rangers' first Scottish Premiership title for over 10 years, preventing Celtic from doing so in the process – the best way to win over the 'Gers faithful.
Gerrard grew fond of Beale, and at both Ibrox and afterwards with Aston Villa he was given the responsibility of planning training with specific sessions based on core principles set out by himself and the manager.
West Bromwich Albion's 2021/22 – A Lesson in Footballing Philosophy
The boss had more of an eye on the recruitment side of proceedings at the club, whilst looking for players with the specific characteristics needed to coach them up to the level required. Speaking with Coaches Voice, he detailed his vision and style in a lengthy interview. "It would take me 15 to 20 years to become as good as Michael Beale" – Steven Gerrard,
Vision
It's fairly difficult to understand what Beale's vision is considering it's unknown how much of the philosophy set out at both Rangers and Villa is down to him. However, Beale's methodical approach will translate to QPR, with him aiming to coach the game in different stages.
Building the game comes into his philosophy easily, aiming to coach in-possession, transitional and out-of-possession phases separately to give a greater understanding of the different frames of matches.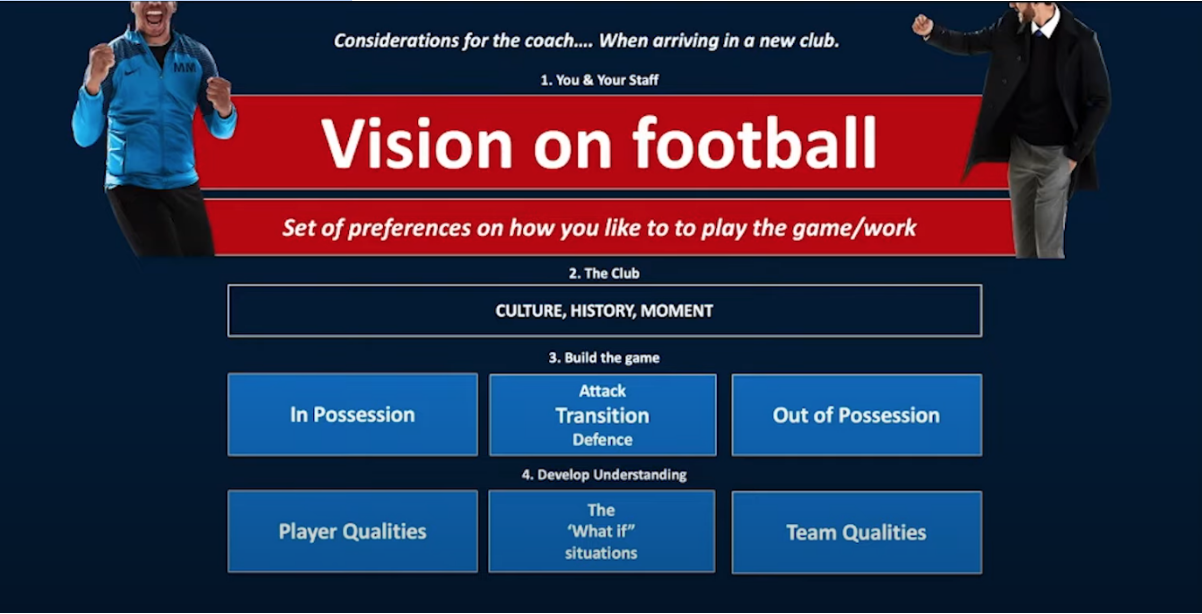 Photo: Coaches' Voice
All of this in Beale's mind has to relate to club culture, history and the moment of the club, with all of this in consideration to his coaching style. This in his managerial career will come in handy, this shows the ability to adapt to different situations. He finds himself with pre-season and almost a clear set of expectations in order to implement a philosophy with the QPR.
Beale's Core Principles of Play
Own the pitch
Own the ball
'Win inside the area'
Right mentality/ character
Style of Play
Beale describes his playing style as high energy and attacking football that is also exciting to play in and exciting to watch, but he also believes that his philosophy can easily relate to the players that he works with.
He uses the idea of 'the core' which involves a back four and midfielders in front, these are the positions that are inflexible. However, in front are three forwards that are completely flexible and interchangeable with each other.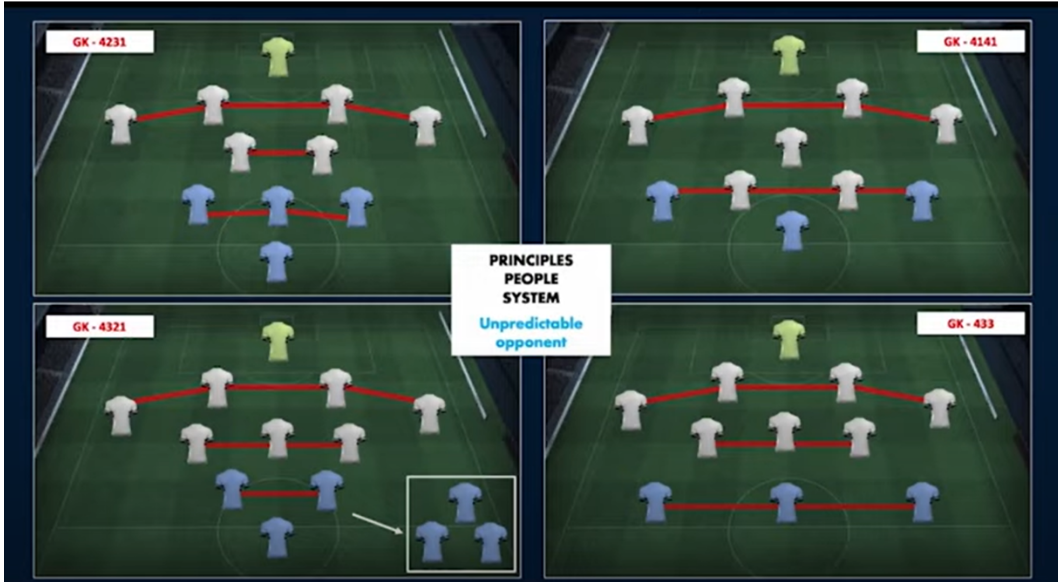 Photo: Coaches' Voice
Beale prides himself on being 'unpredictable' to the opponent, and this is exactly what the front line can bring. This also can add a better defensive structure to the side, with Beale fully in the belief that better defensive organisation leads to moving possession of the ball.
This can work through a variety of different formations, whether it's a 4-3-3, 4-2-3-1, 4-5-1 or 4-3-2-1 there's flexibility in attack and solidity in defensive positions. Beale will have the time to implement his philosophy at QPR, but if successful, could inspire a new wave of younger coaches transitioning to a managerial role.
By Louis Bent / @louisbent_
Featured Image: Bryn Lennon – Getty Images