L'última Dansa: Pep Guardiola's Final Season in Barcelona: Part 2
In Part One of this series, I went over Pep Guardiola's Barcelona's success leading up to the 2011/12 season, in addition to the disappointing transfer window and injury problems, which led to tactical and structural alterations. Although this gave Barcelona an element of unpredictability, it led to a lack of consistency in performances and results and forced Barcelona to rely more heavily than ever before on a 24-year-old Lionel Messi.
La Pulga had one of the greatest individual seasons in the history of sport, scoring 50 goals in La Liga and 73 goals in all competitions, both of which are records for players in Europe. He also broke another Champions League record for the most goals scored in a single match, putting 5 goals past a 20-year-old Bernd Leno, who was starting in goal for Bayer Leverkusen during the second leg of their Round of 16 tie. That record would last just two years, when Shakhtar Donetsk's Luiz Adriano matched his feat by scoring five goals in a group stage match against BATE Borisov.
There are plenty of individual accolades and accomplishments that Messi racked up during the 2011/12 season (for a complete list of his achievements, read this), but the most impressive feat was his availability. Messi appeared in 60 of the 64 matches that Barcelona took part in, nine more than goalkeeper Victor Valdés. He was the lifeblood of the Blaugrana side's attack; while Messi scored 73 goals in all competitions, the second-highest scorer on the team — a tie between new arrivals Alexis Sánchez and Cesc Fàbregas — mustered just 15.
Eventually, Leo's half-century of league goals wasn't enough to lift Barcelona to a fourth consecutive league title. While Barcelona did amass an astonishing 91 points (the 12th highest points tally of all time), their efforts were superseded by José Mourinho's Real Madrid, who finished with a league record 100 points, 121 goals and a goal differential of +89, and dazzled with one of the deadliest counterattacks in football history.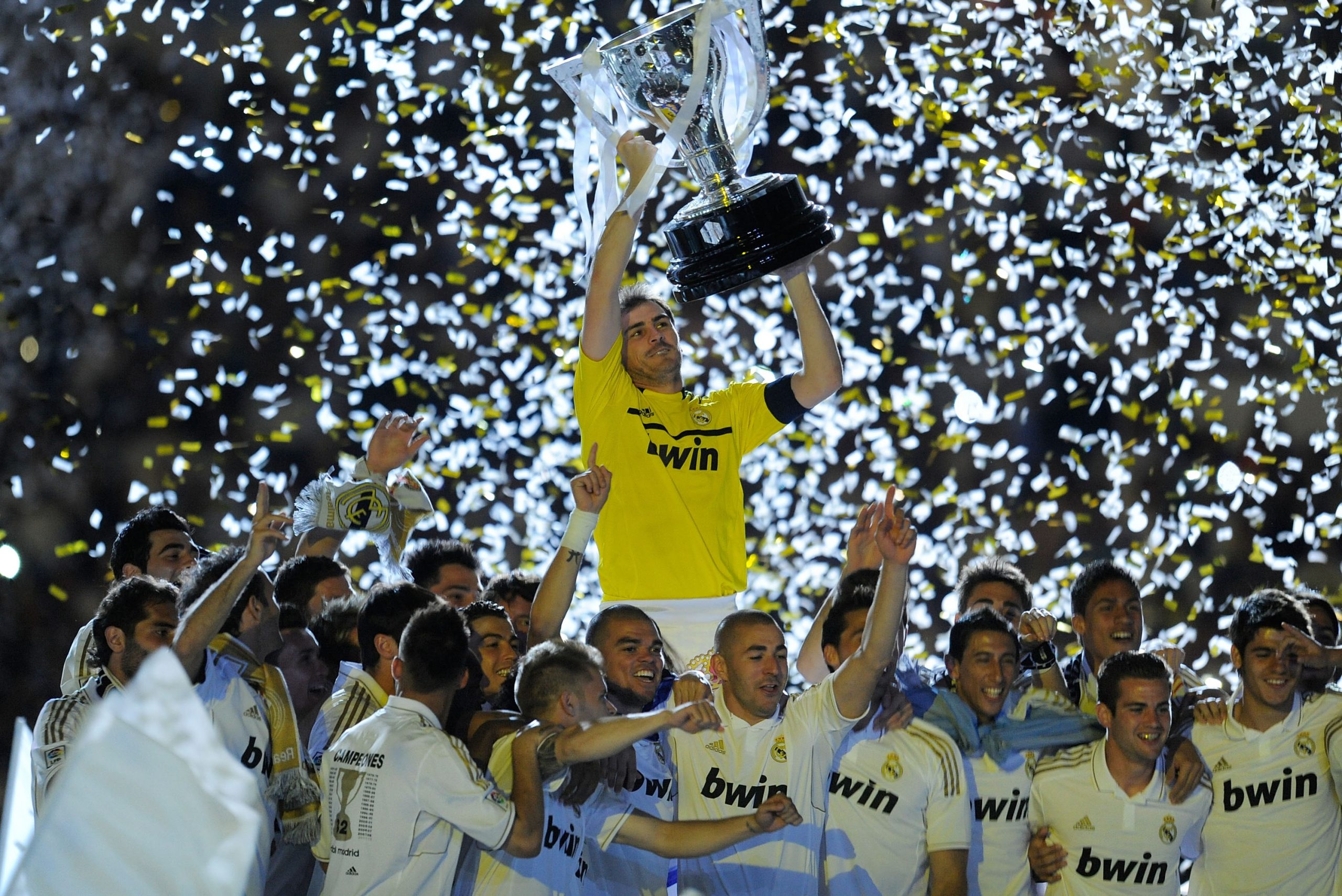 Photo: Denis Doyle / Getty Images
Barcelona began the season well, going undefeated through their first 13 league matches and winning five of their six Champions League group stage matches. However, their fortunes took a turn for the worse on November 22, just a day before they faced Massimiliano Allegri's Milan at the San Siro. Tito Vilanova, who had served as Guardiola's assistant since their time together at Barcelona B, announced that he had been diagnosed with a tumor in his salivary gland.
The 44-year-old assistant manager was forced to undergo surgery, but after a successful operation and chemotherapy, he returned to his position a few weeks later. Vilanova would assume the head coach position following Guardiola's departure, leading Barcelona to a league title in which they too amassed 100 points. However, he resigned from his position at the end of the season after his cancer's relapse, and passed away on April 25, 2014.
To make matters worse, Eric Abidal, who was diagnosed with a tumor in his liver a year prior, was forced to undergo a liver transplant due to unresolved problems from the previous operation. Abidal received a transplant from his cousin in May 2012, and returned to training in October.
All of this can take a toll on a manager's well-being and peace of mind. In his 2012 biography "Pep Guardiola: Another Way of Winning," Guillem Balagué said:
"The health problems of Abidal and Vilanova left Guardiola shaken; they hit him very hard. It was an unforeseen, uncontrollable situation, difficult to deal with for someone who likes to predict and micromanage what happens in the squad and to have a contingency plan when things come out of the blue."
Before assuming his first ever managerial job at the top level, Guardiola would spend hours talking over dinner with Johan Cruyff, who advised him to not 'stay longer than you should,' as even the legendary Dutchman himself lamented he should have left the Barcelona job two years earlier than he did. For a club that is not only expected to win every trophy, but do so by playing a visually enthralling style of football, the demands of perfection can leave even the greatest manager contemplating their own merits.
Trouble was brewing in the boardroom as well. While Guardiola enjoyed a trustworthy, if not unstable relationship with former president Joan Laporta, Sandro Rosell, who replaced the outgoing Laporta on July 1, 2010, wove a spider's web of deception and lies that caught Guardiola in its traps.
In his book "Pep Confidential: The Inside Story of Pep Guardiola's First Season at Bayern Munich," Martí Perarnau writes, "Sandro Rosell was different and Pep quickly discovered that the new president's smiling demeanour concealed the cold, treacherous heart of a bureaucrat. He coped with Rosell's sanctimonious posturing by injecting an overdose of his own energy."
Perarnau also states, "The gulf between president and coach became unbreachable when Rosell persuaded the club's general assembly of members to vote in favour of taking legal action against Laporta. Rosell was smart enough to abstain from the vote himself, but for Guardiola it was the beginning of the end."
After one of the most dominant and captivating reigns in sport history, an ugly divorce was brewing for Guardiola and Barcelona.
By: @YoPixrre
Featured Image: @GabFoligno / Matthew Ashton