Como in the 1970s and 80s: When the Team by the Lake Became a Football Nursery
Known for the lake it shares its name with, the city of Como in northern Italy is a tourist attraction and a place where celebrities have their holiday houses, none more famous than American actor George Clooney.
Photo: Hello Magazine
From a footballing perspective, Como does not resonate a lot. The Lariani were last in Serie A in 2002/03 when current Genoa president Enrico Preziosi owned the club and it was re-founded twice after declaring bankruptcy in 2005 and again 2017.
Although they had been in Serie A between 1949 and 1953 and finishing as high as sixth in their first season in 1949/50, the Comaschi have not featured in Italy's highest division as much as their Lombard rivals. They did feature more regularly in the 1970s and 80s, and they also reached the Coppa Italia semi-finals in 1985/86.
Similar to Preziosi's Genoa of today, Como in that period under presidents Alfredo Tragni and Benito Gattei would develop players before they went on to bigger clubs and achieve greater things. Some of the coaches of the Comaschi from that era would also go on to achieve success elsewhere after doing the hard yards in Lombardy. 
Tragni had been on the Lariani board since the 1960s and he became the president of the club in 1971. He appointed Giancarlo Beltrami as the sporting director and Eugenio Bersellini – also known Il Sergente di Ferro or the Iron Sargent – as head coach, and the duo became known as "B-B" after their second initials. 
Another key director in that era was Mino Favini, who was responsible for scouting and managing the youth sector. Il Mago di Meda – the Wizard from Meda – developed a great eye for spotting young talent during his time at Como but his reputation became greater when he moved to Atalanta in the 1990s.
Photo: CiaoComo
Thanks to Favini's knowledge and wisdom, the club from Bergamo boasted the best youth academy in Italy and he remained in charge until 2015, when he retired at the age of 79. Favini passed away in 2019 at the age of 83.
Como was in Serie B in the early 1970s and had finished eighth in 1970/71, but the Comaschi came close to Serie A promotion in the following season, missing out by two points. With Tragni and "B-B" involved, it seemed that the Lariani were close to reaching Italy's football summit, but they finished 11th in 1972/73.
It didn't help that most of their key players from the previous campaign had moved to other teams. One of those players was Renzo Garlaschelli, who became a goal-scoring right-winger for Lazio in the 1970s and starred for the Aquile when they won their first Serie A title in 1973/74.
Bersellini left for Cesena in Serie A after his second season at Como, but his best years as a tactician came at Inter and in his second spell with Sampdoria. 
Photo: FC Internazionale Milano
Beltrami eventually became the sporting director of the Nerazzurri, hired Il Sergente di Ferro as coach, and B-B were fundamental to the Nerazzurri winning the Serie A title in 1979/80 as well as the Coppa Italia in 1978 and 1982. Bersellini coached Sampdoria from 1984 to 1986, winning its first major trophy the Coppa Italia in 1985.
Tragni hired Giuseppe Marchioro for the 1973/74 season and Como once again missed out on Serie A promotion, finishing in fourth place and four points behind Ternana. Finally, in 1974/75, the Lariani earned promotion after finishing second in Serie B behind Perugia. Some of the protagonists of that side were young defender Silvano Fontolan, and midfielders Alessandro Scanziani and Marco Tardelli.
Fontolan eventually transferred to Hellas Verona in 1983 and played in the club's historic 1984/85 Serie A triumph. Scanziani was not at Como when Bersellini was the coach but he did play under him at Inter when it won the Coppa Italia in 1978 and when Samp won the trophy seven years later.
Tardelli had an illustrious career after leaving Como, winning numerous trophies in a decade-long spell at Juventus, and scored six goals in 81 internationals for Italy, including the second goal when the Azzurri won the 1982 World Cup against West Germany 3-1.
Photo: Getty
Como's stay in Serie A was brief, finishing 15th in the league and two points from safety. Marchioro had left for Cesena before the season started and the Sea Horses qualified for the UEFA Cup with him as coach.
Marchioro had been replaced by Beniamino Cancian but he lasted 12 rounds before being replaced by Osvaldo Bagnoli. It was his first coaching job in Italy's top flight but he could not help the club avoid relegation. Better days came for the tactician, winning the 1984/85 Serie A title with Hellas Verona, taking Genoa to the UEFA Cup semi-finals in 1991/92, and finishing second in Serie A with Inter in 1992/93.
It was also a season to forget for a young forward called Paolo Rossi, who was on loan from Juventus. He played six times in the league without scoring for the Lariani and the Bianconeri sold him to Lanerossi Vicenza. 
At the Biancorossi, he was converted from a right-winger to an out-and-out striker, earned them promotion to Serie A, and they finished second in Italy's top flight in 1977/78. He returned to Juventus in 1981, won many honors with La Vecchia Signora, and he starred for Italy at the 1978 and 1982 World Cups, winning the latter and also finishing as leading goalscorer with six goals.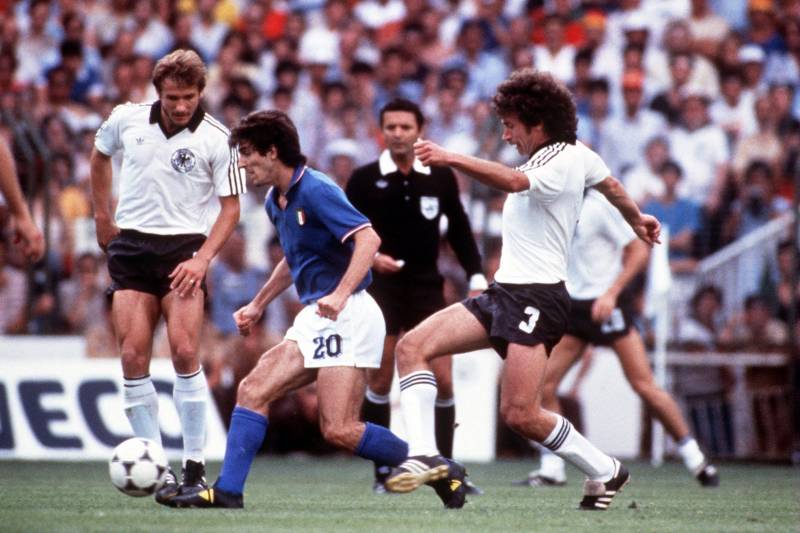 Photo: Tony Duffy / Getty
After the sojourn in the Serie A, Como spent two seasons in Serie B, and had been relegated to Serie C1 for the 1978/79 campaign. Giancarlo Beltrami left the Lariani at the end of the 1976/77 season for Inter and he remained at the club until March 1993.
In addition to reuniting with Bersellini and witnessing success with him at the Nerazzurri, Beltrami was also important in the construction of the 1988/89 Scudetto-winning side known as the "Inter dei Record." The Biscione won the title with 58 points in 34 matches, a record when two points were awarded for a league victory.  
Marchioro returned as coach in 1978 after flopping at AC Milan and the Comaschi bounced back after by earning back-to-back promotions, finishing first in Girone A of Serie C1 in 1978/79 and earning top spot in Serie B in 1979/80.
Tragni was then succeeded as Como president by Mario Beretta, who had been vice-president under his reign. This time, the Lombard club was able to achieve safety, finishing 13th in Serie A and they finished third in the Mitropa Cup – a competition which by that stage was for winners of second divisions – due to an inferior goal difference in the standings.
The star of the campaign for the Comaschi was a promising defender called Pietro Vierchowod. It was his fifth season at the club and he also earned his first two caps for Italy while he was a Lariani player.
Photo: Como Calcio
After leaving Como, Vierchowod was instrumental for Fiorentina when it finished second in Serie A in 1981/82 and he won the 1982/83 scudetto with Roma before spending a successful 12 seasons at Sampdoria. He also won the 1995/96 UEFA Champions League with Juventus, was included in Italy's triumphant 1982 World Cup squad, and played at the 1986 and 1990 editions for the Azzurri. 
Vierchowod played until his early 40s and Argentine legend Diego Maradona considered Lo Zar (The Tsar) to be his hardest opponent.
Marchioro was dismissed in the middle of the 1981/82 season and Como finished 16th and dead last in the Serie A. Young utility player Roberto Galia, who had scored a goal in the final round of the 1980/81 season to secure the club's safety, was purchased by Sampdoria at the end of the campaign and he would go on to win a Coppa Italia with Il Doria, then winning a Coppa Italia as well as the 1990 and 1993 UEFA Cups with Juventus.
A return to Italy's top flight was almost a swift one as the Lariani finished fifth in Serie B with 45 points in 38 games but had lost in the play-offs which had to separate them as well as Catania and Cremonese. Benito Gattei then replaced Beretta as Comaschi president and the club earned promotion after finishing second in 1983/84.
One of the stars of that Serie B campaign was right-back Moreno Mannini, who played 36 times and scored three goals. Like Vierchowod before him, he would join Sampdoria and win numerous trophies with the Genoese club from 1984 until 1999. 
Photo: Getty
Surprisingly, coach Tarcisio Burgnich did not take the reins in Serie A for the 1984/85 season, and Ottavio Bianchi was hired. The club also purchased two foreigners; Swedish centre-forward Dan Corneliusson, who had won the 1982 UEFA Cup with IFK Göteborg and the 1983/84 West German Bundesliga title with VfB Stuttgart, and West German midfielder Hansi Müller, who had spent the last two seasons with Inter and had won the 1980 European Championship with his country.
Corneliusson would remain at Como until the end of the 1988/89 season while Müller flopped, playing 14 times and scoring once. Under Bianchi, the Lariani finished 11th despite scoring just 17 goals in 30 matches – Serie A Capocannoniere Michel Platini scored 18 for Juventus – but they had the sixth-best defence, conceding 27 times.
More changes would occur in the summer though. Müller would leave for Austrian club Wacker Innsbruck, goalkeeper Giuliano Giuliani was sold to Hellas Verona, midfielder Gianfranco Matteoli went to Sampdoria, and Bianchi was hired by Napoli.
Photo: Juha Tamminen
Giuliani spent three seasons with the Gialloblu before transferring to Napoli, winning the 1989 UEFA Cup and the 1989/90 Serie A title with the Partenopei.
Matteoli spent just one season with the Blucerchiati but he then switched to Inter, starring in its 1988/89 Scudetto-winning side, and featured in Cagliari's run to the semi-finals of the 1993/94 UEFA Cup. Meanwhile, Bianchi etched his name into Napoli's history, winning the Italian league and cup double in 1986/87 and the 1989 UEFA Cup. 
The 1985/86 campaign was arguably the best of this epoch for Como. In Serie A, the Lariani finished in ninth place with veteran Brazilian midfielder Dirceu providing some inspiration, Corneliusson scoring seven times, and young striker Stefano Borgonovo was a revelation with 10 goals, and they also came close to reaching the Coppa Italia Final.
Como had defeated reigning European champions Juventus in the Round of 16 2-1 on aggregate and triumphed 4-3 against reigning league winners Hellas Verona in the quarter-finals. Waiting in the semi-finals were the previous year's winners Sampdoria.
Photo: UltrasTito
After drawing 1-1 in Genoa, the Lariani took a 2-1 lead in extra time in the second leg and 3-2 on aggregate, but referee Giancarlo Redini was hit by an object from the crowd and Il Doria were then awarded a 2-0 win.
Coach Rino Marchesi left for Juventus, who would finish second in the following league campaign under him, and defensive midfielder and youth team graduate Luca Fusi joined Sampdoria after five seasons with the Comaschi.
Fusi would win the 1988 Coppa Italia with the Doriani and he also won it with Torino in 1993. He also starred in the Granata's run to the 1992 UEFA Cup Final, which they lost to Ajax, and he was in the Juventus squad when it did the domestic double in 1994/95.
Borgonovo was then purchased by AC Milan at the end of the 1985/86 season but he would stay another two seasons on loan at Como and also play for Fiorentina in 1988/89. He formed a lethal partnership with Roberto Baggio in Florence and also earned selection for the Italian national team. 
He achieved hero status at Milan when he scored the decisive goal in the 1989/90 European Cup semi-finals against Bayern Munich to put the Rossoneri in the Final, which they won 1-0 against Benfica. Sadly, his life was cut short and he passed away in 2013 after a battle with motor neuron disease.
Photo: Studio Fotografico Buzzi SRL
Another ninth-place finish in Serie A followed in 1986/87 despite scoring a paltry 16 goals in 30 matches, but the Lariani were a resolute defensive unit under Coach Emiliano Mondonico, conceding just 20 times and only Inter conceded less with 17.
Mondonico decided to drop down to Serie B though and coach local rivals Atalanta in 1987/88. Not only he did he guide La Dea back to Serie A, he also took them to the semi-finals of the European Cup Winners' Cup, losing 4-2 on aggregate to eventual winners Mechelen from Belgium.
After his first spell coaching Atalanta, Mondonico was in charge of Torino from 1990 until 1994, reaching the 1992 UEFA Cup Final and winning the Coppa Italia in 1993, which is also the last time the Granata have won a major trophy. He coached La Dea again from 1994 until 1998, earning Serie A promotion again and developing strikers like Christian Vieri and Filippo Inzaghi.
One of his defenders at Como would eventually reunite with him at Torino. Hardman Pasquale Bruno spent four seasons at the Lombard club, played for Juventus from 1987 to 1990, and then switched to the Granata part of Turin from 1990 until 1993. 
Photo: Daily Record
Defender Antonio Tempestilli, who had been at the club for six seasons, also left after the 1986/87 season to join Roma. The Giallorossi finished third in the following season, they reached the 1991 UEFA Cup Final, losing to fellow Italians Inter over two legs, and they also won the Coppa Italia in 1991.  
Back-up goalkeeper Simone Braglia left at the end of the season without playing a minute in Serie A in three spells at the club but he eventually had some fine moments during his time with Genoa.
The Grifone finished fourth in the 1990/91 Serie A season with him between the sticks, and Braglia was instrumental in their run to the 1991/92 UEFA Cup semi-finals, starring in a shock 2-1 away victory against English giants Liverpool in the quarter-finals.
Tarcisio Burgnich returned during the 1987/88 season to replace Aldo Agroppi after 13 rounds and Como finished 11th in Serie A. Another foreign player was acquired, Argentinian forward Claudio Borghi from AC Milan.
Borghi had won the 1985 Copa Libertadores with Argentinos Juniors and was a part of Argentina's World Cup-winning squad in 1986 but the Rossoneri sent him on loan to the Comaschi. Borghi was a disappointment, failing to score in seven league outings.
Photo: Getty
Eventually the bubble burst and Como finished last in Serie A in 1988/89, when the league switched to 18 teams. On a positive note, young striker Marco Simone emerged with six goals. He would go to play for AC Milan for eight seasons before having successful spells in France with Paris Saint-Germain and Monaco.
With that relegation, Giovanni Invernizzi also left the club after coming through the youth ranks and representing his hometown club. The midfielder joined Sampdoria in 1989 and remained at the club until 1997, collecting a few trophies with the Ligurian side. He has also worked at Samp in different coaching roles since his retirement.
Defender Enrico Annoni spent five seasons with Como, but he left after it was relegated from Serie B at the end of the 1989/90 season, and he would reunite with Bruno, Fusi, and Mondonico at Torino. 
Since those spells in the 1970s and 80s, the Lariani went into a rapid decline. They would spend most of their time in Serie C1 and bringing back former coaches Bersellini and Burgnich could not change the club's fortunes for the better. Scanziani and Tardelli returned as coaches but they were not able to make the impact that they did as players.
Gattei vacated the presidency in 1993 and aside from that 2002/03 season with Preziosi as president, the Comaschi have not come close to returning to Serie A. Como is best known for the glamorous lake that is beside the city but there was once a time when its football team featured among Italy's elite and also provided them with future icons.
By: Vito Doria
Featured Image: @GabFoligno