Panathinaikos 2003/04: The Toppling of Olympiakos's Empire
Empires have been a constant through human history, but there eventually comes a time when the empire falls. Whilst the Byzantine Empire, which now encompasses present-day Greece, fell at the hands of the Ottoman Empire in 1453, Greece's footballing empire Olympiakos was toppled by their bitter rivals Panathinaikos in 2004.
Since the Greek football league's inception in 1927, Olympiakos have built a domestic hegemony in Greece. The 'Gavroi,' as disparagingly referred to by rival fans, have hauled in 44 league titles; Panathinaikos, their closest rivals, have won 20.

Whilst Panathinaikos were the first of the two to get their hands on silverware, Olympiakos soon followed with a dominance that would be a consistent pattern throughout history. Six league titles between 1931 and 1938 asserted the port city of Piraeus as the home of Greek football. 
By 1959, when the Panhellenic Championship was converted to the Alpha Ethniki, Olympiakos had won 15 titles of the 23 that were contested. During the same time period, they had also won 8 of the 13 editions of the Greek Cup. This period of dominance by Olympiakos earned them the aforementioned nickname of Thrylos, which translates to The Legend. 
Photo: Gavros.gr
However, when the Panhellenic Championship dissolved and the Alpha Ethniki was born, it was Panathinaikos who started chipping away at the empire. Throughout the 20 years that the Alpha Ethniki ran, Panathinaikos won 9 titles, whilst Olympiakos settled for 5, thus proving that no team would sit atop of Greek football forever.
To lead the Prasini's first revolt against Olympiakos, they turned to one of the greatest Yugoslavian players of all-time — Stjepan Bobek — as manager. Known as Bobek's rejuvenation, Panathinaikos churned out impressive players through their fruitful academy. Titles and Greek Cups soon followed, and the Prasini were thriving until Greek society was shaken to its core.
The military coup d'etat in 1967 forced both Bobek and legendary Olympiacos manager Márton Bukovi out of the country. However, the success of Panathinaikos was not halted, and they managed to deal with the change of leadership much better than cross-city rivals.
Three titles followed, including a surprising run to the 1971 European Cup final, which they would go on to lose in Wembley to Johan Cruyff and Rinus Michels's renowned Ajax side. Under the guidance of another legend, this time Ferenc Puskás, Panathinaikos became the first and only Greek side to appear in a European Cup final.
Photo: Fotocollectie Algemeen Nederlands Fotopersbureau (ANEFO)
The yo-yoing of domestic dominance was clear as ever during the Alpha Ethniki years. Olympiakos appointed Nikos Goulandris as club president in 1972, and he appointed ex-Panathinaikos manager Lakis Petropoulos. Together, they delivered three consecutive titles as Olympiacos bullied their way back to the zenith of Greek football.
A four-year barren spell for Olympiakos soon ended when the Alpha Ethniki became a professional league in 1979. But while they took home the next four titles under Polish coach Kazimierz Gorski, they would win just 1 league title in the 13 years after the four-peat. Holding onto power in Greek football was the goal for Olympiakos, but they lacked the consistency to win. When they were bad, they were bad.
The Tryfili would take advantage of Olympiacos' financial demise, winning 4 out of 7 league titles from 1990 to 96. Their most successful coach of the period was Argentine Juan Ramón Rocha, who delivered 2 league titles, 2 Greek Cups and 1 Super Cup. He also guided them to a Champions League semi-final in 1996, but they would face a similar fate to Puskás' men, losing to Louis van Gaal's Ajax.
In 1993, Sokratis Kokkalis took over as Olympiacos's president and cleared their crippling debt. Under Kokkalis's reign, they remained competitive during the mid-90s, but failed to convert their quality to a league title. This would change in 1996, when Dušan Bajević, fresh off eight phenomenal seasons at AEK Athens, was appointed at the helm in Piraeus. Three consecutive league titles followed, and the pillars for Olympiacos's modern dynasty were put into place.
Coaches came and went, but winning was a mainstay. The Thrylos nickname became justified again as Olympiacos would win 7 consecutive titles, a league record to this day. Their record-breaking 7th conquest came down to the finest of margins, a day to forget for every Tryfili fan.
One of the most infamous matches in the eternal enemies derby history took place on the penultimate game of the season. On May 11, Olympiacos beat Panathinaikos 3-0 on the back of a brace from Stylianos Giannakopoulos, giving them a 2-goal head-to-head advantage over Panathinaikos. Olympiacos won the title the following Sunday, achieving 'seven heaven' despite finishing with the same amount of points as their rivals (70).
Photo: Gazzetta.gr
Panathinaikos winger Jonas Kolkas recalled what happened following their horrible derby defeat to Olympiakos. "The president of the team came to the training ground the next day and told us we were all cowards and we couldn't play football. The fans thought we had been paid by Olympiacos. We were all disappointed and the whole curse fell on us."
Vengeance was brewing amongst the Prasini, and they would do anything in their power to stop Olympiakos from winning their eighth. Nevertheless, the task was daunting. 
In order to inject fresh blood into a dejected team, Panathinaikos president Argiris Mitsou appointed Israeli manager Itzhak Shum as head coach and signed 15 players in a move to overhaul the squad, spending around £2 million in the process. His notable signing was Dimitrios Papadopoulos from Burnley for £300,000, and Papadopolous would go on to pay off the investment and then some.
However, by November, things had grown sour in Athens. Local newspaper Eleftheros Typos reported that the players believed "enough is enough," and called for Mitsou to sack Shum. Panathinaikos, at this stage, were out of their Champions League group and were sitting in 2nd place, well below Olympiakos. It was said that Shum had two weeks to save his job – and he did just that.
Photo: Action Pictures Press Agency
Mitsou stood by Shum, and rightly so, as Prasini won 12 league games in a row which saw them climb to the top of the table, ahead of Olympiacos. Deploying a 4-4-2, Papadopoulos partnered alongside record-signing Michalis Konstantinou, which proved pivotal in Panathinaikos's run-in. 
The derby of eternal enemies would once again take centre stage, this time on the biggest stage of them all. For the 11th time, and to this day, the last, they faced off in the Greek Cup Final. In the league, they were neck and neck for the title, meaning whoever won the Greek Cup would be on for the domestic double. 
Right from the start, the game was fiery and tense. Olympiacos's Stelios Venetidis lunged at Giourkas Seitardis, provoking fisticuffs within the first couple of minutes. However, Panathinaikos got their revenge as Papadopoulos headed home a cross from Markus Münch in the 3rd minute, giving Tryfili an early lead. 

Tempers flared again as Grigoris Georgatos stamped on Papadopolous as he lay on the floor. He escaped with a yellow (no doubt a red card in today's game) but did not escape a substitution as he was brought off minutes later by Nikos Alefantos, as they looked to change the shape and turn around the momentum.
Photo: Sportdog.gr
The rough challenges kept coming Papadopolous' way, as Georgios Analotakis got away with a nasty foul worthy of expulsion. Seconds later, Brazilian striker Giovanni headed the Piraeus side back on level terms with 25 minutes to go, and red flares were sparked from the Olympiacos end at the Nea Smyrni. 
The Prasini would respond with flares of their own, as minutes later Papadopolous flicked his head into the path of Konstantinou, who toe-poked home past Olympiakos goalkeeper Kleopas Giannou and restored Tryfili's lead. The newly lit green smoke overpowered the fading red smoke, foreboding the eventual conclusion of the 2003/04 season.
Panathinaikos would secure their 16th Greek Cup victory, as Christian Karembeu's interception fell to Konstantinou, who grabbed his second goal to seal a 3-1 victory. He proceeded to circumnavigate the stadium and celebrate in front of the sea of green supporters. Revenge had been enacted from their 1999 cup defeat to Bajević's Olympiacos.
Despite all the celebrations, the league was still not won. A late winner from Panathinaikos's Emmanuel Olisadebe against Proodeftiki on Matchday 29 sent the title race down to the final game of the season. Olympiacos were hosting 5th-placed Egaleo, whilst Panathinaikos visited Paniliakos Pyrgos, who were fighting for survival. 300 kilometers away, the Prasini faithful gathered in at pubs and houses and watched as their club fought for the league title.
75 minutes had passed, and Olympiakos were winning 3-1 whilst Panathinaikos were held in a stalemate to relegation battlers Paniliakos Pyrgos. The title was slipping from their hands, until one man stepped up.
Olisadebe controlled a loose ball from the air and with three clever touches he set himself up to strike into the bottom corner. As Olisadebe hoisted himself over the advertising boards and onto the running track at Dimotiko Stadio Pyrgou, a wave of green swarmed the Polish-Nigerian striker.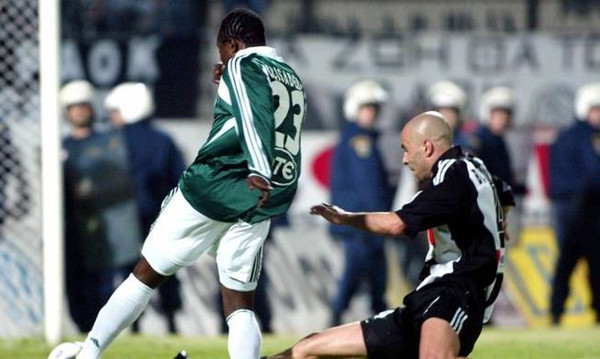 Photo: PAOKVoice
The Tryfili astutely held on for 15 minutes, and then the celebrations ensued. Their 7 years spent in the shadow of Olympiakos' success had finally vanquished. Panathinaikos were champions for the 19th time and with that league win, they completed their first double since 1995.
After 7 years of playing second fiddle to Olympiakos, Panathinaikos finally stepped into the limelight. It was a moment for all of Greek football to take solace in, as Olympiakos were knocked off their perch.
Throughout the 91 years that these two nemeses have clashed horns, it has often been Olympiakos reigning supreme. Thrylos, in 2004, had 32 titles to their name, whilst Panathinaikos had achieved their 19th in that year. The margin was still wide, but it gave great hope for Panathinaikos that they could reincarnate the sides of 1960s and 1990s and great a dynasty of their own.
Unfortunately for Panathinaikos, their breakthrough in 2004 didn't signal the fall of the empire. If anything, it made the empire strike back. 
By: Taylor Toney-Green
Photo: @GabFoligno