The Mercurial Talents of Jean-Pierre Papin, a Forward of the Highest Quality
The best forwards have it all in their locker. They know where to be, what to do, and how to convert chances into goals. In the box, they are predators, lurking and finishing opportunities with all their prowess, whether it's their best or weak foot, a chance in the air or having to beat a few defenders on their way to goal.
Not all forwards can stake claim to be able to do all of that, but the ones that can are celebrated eternally, for their skills are unique and their talents revel on the biggest nights under the brightest lights. 
One such player who is so highly revered amongst a group of supporters is Jean-Pierre Papin, who, while representing Marseille, became one of the world's finest in front of goal. With the ability to make one's mouth water and cause fear amongst opposition defences, Papin was of an exclusive breed. 
Very often, it's the second phase of his career that disregards the first, but when he was at his best, he was an unstoppable force that forged his name in French history books. As a testament to his greatness, many of his records, most of which were set in the late 1980s and early '90s, are yet to be touched, and that only provides an indication of how good he was. 
Photo: France Football
Papin's passion for football, just like so many others in France, is indubitable. Right from a very young age, football was all he wanted his life to be, and as a child born and raised in Boulogne-sur-Mer, a picturesque coastal town in the north of France, he would go to frantic extremes to take part in the game as much as he good. Having made it clear at a very young age that he wanted to play football professionally, he would often fake illnesses to avoid going to school just to play and fine-tune his skills as much as he could.
The son of a footballer himself, his father, Guy, enjoyed a respectable career and it comes as no surprise that Jean-Pierre was so enthusiastic about the game. Early in his youth, Papin's incredible prowess and dominance in front of goal saw him join the National Football Institute, run by the French Football Federation, in Vichy, central France. There, his status only continued to grow, and it was clear that he would have a long, successful career. 
However, as his professional reputation continued to grow and he was progressing well, his personal life took a hit. The divorce of his parents forced him to move to the border of France, close to Belgium, in order to live with his grandmother, but that didn't deter his ambition in football. Papin played in his younger years with INF Vichy before he joined Valenciennes, a team playing in the second tier in France for his first taste of senior football. 
In his first season, at the age of 21, he scored 15 goals and made a massive name for himself, attracting interest from various clubs across Europe. 
It was nearby Belgian outfit Club Brugge that would be the most committed to the deal and as they would come to learn, it was well worth it for both player and club. Papin joined the club in good form, winning the famous Toulon tournament, where he was top scorer as well, prior to joining up with his new team in Belgium. When he finally did arrive, he was unstoppable, only improving his gleaming attacking abilities and adding suave to his finishes. 
In his solitary season at the club, Papin spearheaded Club Brugge's charge to lift the Belgian Cup, scoring seven goals in eight appearances and beating rivals Cercle Brugge in the final. Overall in the season, he was also imperative to their failed title charge, finishing runners-up in the league to powerhouses Anderlecht only on goal difference.
His cup record was added to by his 20 league goals and five in the UEFA Cup, finishing the season with 32 goals in 43 appearances across all competitions. It was an exceptional record that further enhanced his status.
Such was his impact that he was voted as the club's greatest-ever foreign player in 2008 despite being at the club for less than 12 months. The most rewarding of all honours, however, was earning a place on the French squad that was to fly out to Mexico for the World Cup. 
"Bruges Was Where It All Started for Me. It Will Always Have a Special Place in My Heart as This Was Where My International Breakthrough Came" – Jean-Pierre Papin.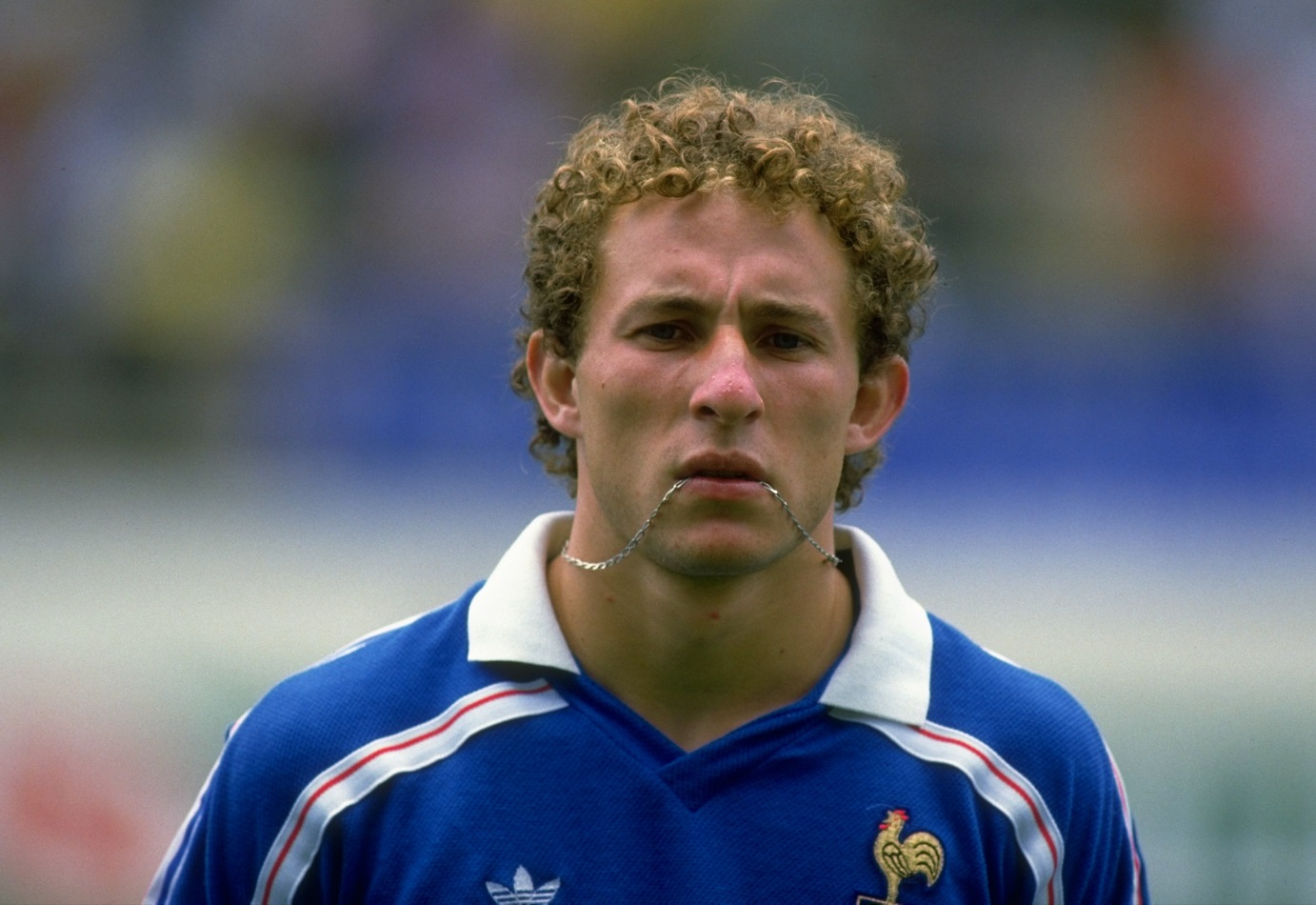 Photo: David Cannon/Allsport
Many were skeptical about this call-up. Seeing as France were European champions and with a good chance of winning the tournament, there was belief that Papin didn't play in a competitive league to be amongst this roster.
The 22-year-old was the youngest player in the squad and had the least caps for an outfield player – his one appearance for France came just three months prior to the finals. Coach Henri Michel stood firm on his choice, not only selecting the youngster, but also giving him a significant amount of time on the pitch to prove himself. 
Papin started all three group games, even scoring the winner in his World Cup debut – a late strike against Canada. However, criticism of him was rife. Although he scored the winning goal, he scuffed about six chances earlier in the game and calls to drop him grew. 
He played out the rest of the group games against Soviet Union and Hungary, but failed to impress before being replaced by Dominique Rocheteau for the knockout rounds. France reached the semi-finals before losing to West Germany, and it wasn't until the Third-Place play-off against Belgium that Papin would play again. France won, but Papin was uninspiring once again. 
The potential was there and looking at his record and his age, there was still belief that Papin could put this below-par World Cup behind him and get on with his vivid career. One man recognized that, and his name was Bernard Tapie, the controversial French businessman who had just purchased Olympique Marseille and was looking to make them a dominant force in domestic and European football. 
In a radical overhaul of the squad aided by vast funding, Papin was joined by the likes of Karlheinz Förster and Alain Giresse in a side that already included players like a few starring names. It was here in the south of France that the stars would align for the young forward.
He had a mixed first season, starting off really well but stalling in mid-season. Fans were often frustrated with his performances at the mid-way point of the campaign, and the typically unforgiving French crowd were quick to criticize the forward. 
He never let his head down, finishing his first campaign with 16 goals across all competitions and showing glimpses of what he's fully capable of. There was optimism from the staff, but he had to show that the club's decision to invest and keep faith in him was well worth it on the pitch. The next season saw further transfer activity as Abedi Pele and Klaus Allofs added to the team's firepower and the improved quality drove Papin forward to improve his own performances. 
Before the start of the 1987/88 season, he worked on his physicality, becoming visibly bigger and stronger and he added to his range. Perhaps this was the season that truly established him as one of the world's best. He would score all types of goals, no matter what range and what just as good with both feet as well as in the air, becoming a complete forward. His numbers would also improve, scoring 23 across all competitions and most importantly, he earned the adulation of the fans as well as the media.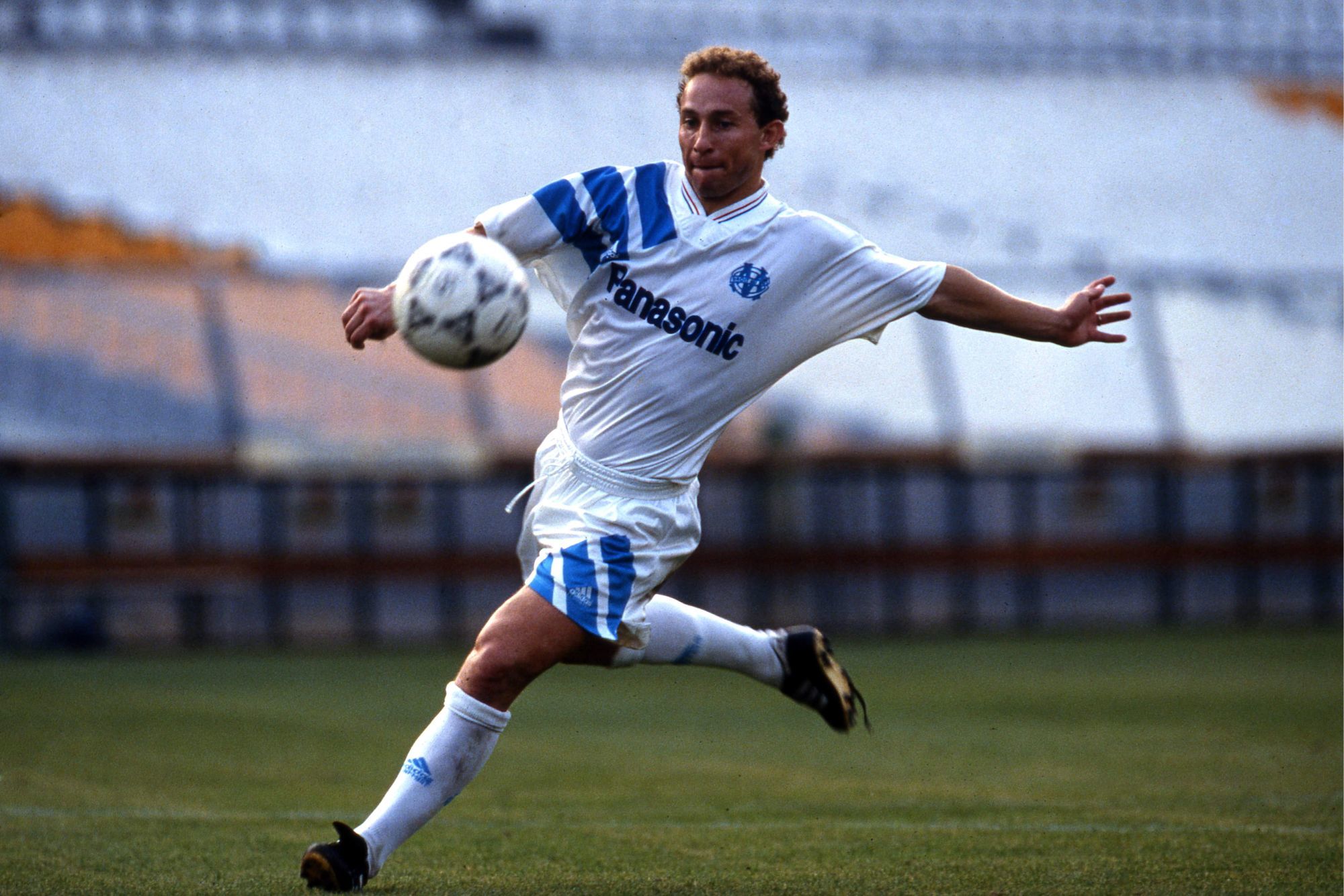 Photo: Alain Gadoffre / Icon Sport
The term "Papinade" was also created and popularized, referring to the eccentric forward's volleys and long-range efforts which were frequently celebrated by the Marseille faithful. Alain Pécheral, the journalist at La Provence who coined the term, spoke about it with amusement after having seen Papin score a stunning goal in May 1988 against Chamois Niortais in Ligue 1.
"The Papinade cannot be explained, [it] does not program, [it] does not teach. It is the man, his neurons, this amazing emotional relationship with the ball that allows the player to gauge, the trajectory, speed, the weight of the object, and instantly translate the angle of striking and the dosage thereof", said Pécheral. He was amazed by the sheer calm with which Papin performed his magic, and there was a lot more to come. 
Despite his growth as a footballer, Marseille constantly struggled to challenge for trophies. Tapie was determined to break that streak and so were the players and this combined to form a shared desire.
The next year, Marseille went all out to win the French double of the league and cup, with Papin's goal tally improving on the previous year. He even played a crucial role in the French Cup final against Monaco, co-incidentally, the team he was supposed to sign for before Marseille. 
His goals were excellent too, a true indication of his quality and evidence that he was one of the finest in the game. Against a strong Monaco team that included the likes Emmanuel Petit, George Weah and Glenn Hoddle and were managed by an up-and-coming Arsène Wenger, Papin tore them to shreds with his speed, tenacity and smart movement.
The first goal, coming as a result of getting the ball after a tackle showed his technical skill, dribbling past a Monaco defender, spinning him around twice and smashing it into the ball left of the goal. The second goal came due to his brilliant movement, which had so worked so often that season.
This goal was a leaping header that the defence and goalkeeper had no response to. The third, and undoubtedly the pick of the bunch, was great. He received the ball in the final third with his back to goal, charged past a defender and smacked the ball into the top corner, going in with the aid of a deflection off the crossbar. 
It was a wonderful trident of impressive goals that were praised the world over. Papin was the name on fans' lips, garnering the reverence of the football faithful – even the French President gave the forward a kiss during the trophy presentation, acknowledging his excellence.
Tapie, the man who brought Papin to the club and supported him with the resources to succeed was certainly proud, but he and Marseille didn't stop there. This was just the beginning of their dynasty in France and Papin was just warming the engine.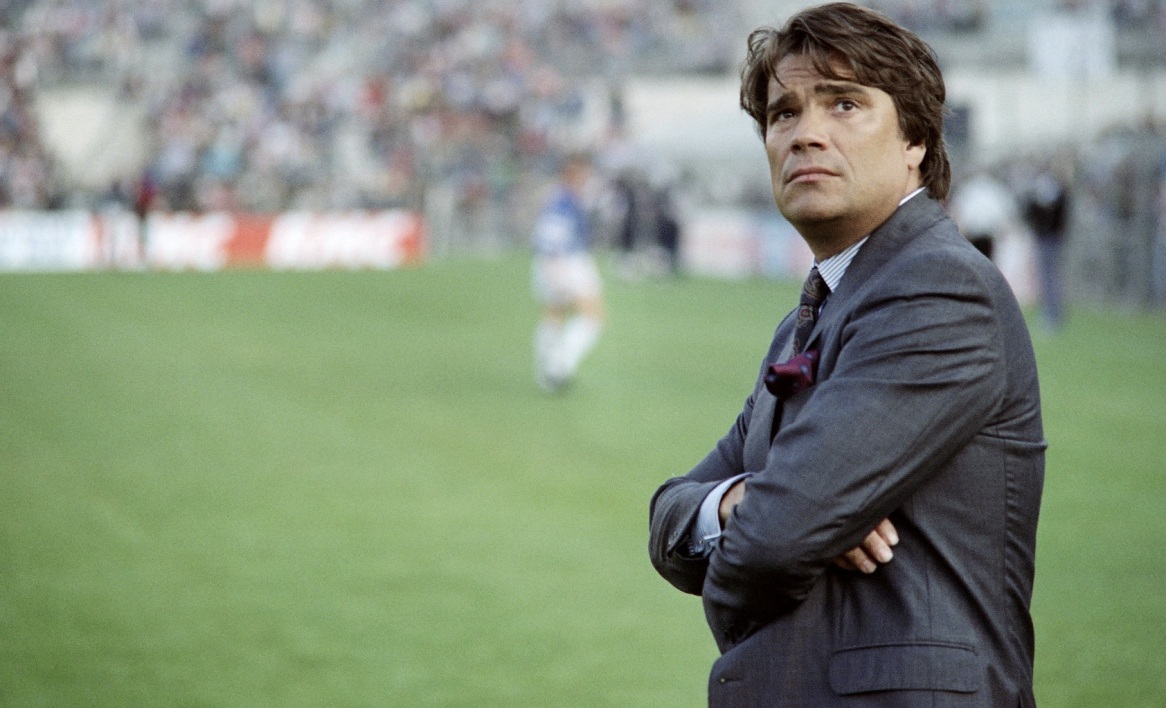 Photo: Jacques Demarthon / Getty Images
Marseille and Papin would shift their attention to the European Cup in the 1989-90 season. Their squad was improving and having excelled domestically, this was a good chance to do well in Europe. Amongst the squad, there was now Chris Waddle, Enzo Francescoli and Carlos Mozer, players with international experience who had the flair to compete at the highest level, and that only brought out more of Papin, who scored more Papinades.
Against Brøndby in the first round of the European Cup, the continental scene would see a trademark Papin goal for the first time with an aesthetically pleasing scissor-kick as the stranded Peter Schmeichel could only look on. It would be the start of the forward's love affair with the competition, as he would preserve his best displays for the European nights. 
Domestically, they were doing well too. In a tussle with Bordeaux for the title, they had strong challengers who were on top of the league until the winter break. Papin, though, was unstoppable, scoring 30 league goals that season – 12 more than the next player – and almost single-handedly carrying the title charge. He was consistent on all fronts and put in key performances throughout the season. 
In Europe, he was the top scorer as well, however, his team's fortunes weren't the same here. Papin found the net in every round – even the semi-final against Benfica, but unfortunately, it was the away goals rule that denied the French champions a place in the final against AC Milan.
Nonetheless, there was good progress made for the player and club. Papin had an improved record in each season, and Marseille had a good run in Europe and that was a good foundation for their collective future success.
While Papin's career for Marseille was only getting better with time, his spell with France was successful but without anything to show for it. His over record for Les Bleus stood at 30 goals in 51 appearances, almost a goal every other game – something most forwards can only dream of for their country.
However, he fell in between the "cursed" generation, the one that came between the grace of Michel Platini and the glory of Zinedine Zidane. Although he was supported by other great names like David Ginola and Eric Cantona, this elite crop of players could never win any silverware for the nation.
After finishing third at the World Cup in 1986, they failed to qualify for the Euros in 1988 as well as the World Cup in 1990. At Euro '92, they were knocked out in the group stages, while qualification eluded them at the World Cup in the United States. This was a bad period for the country, but Papin still had a few Papinades in his locker when donning the famous blue.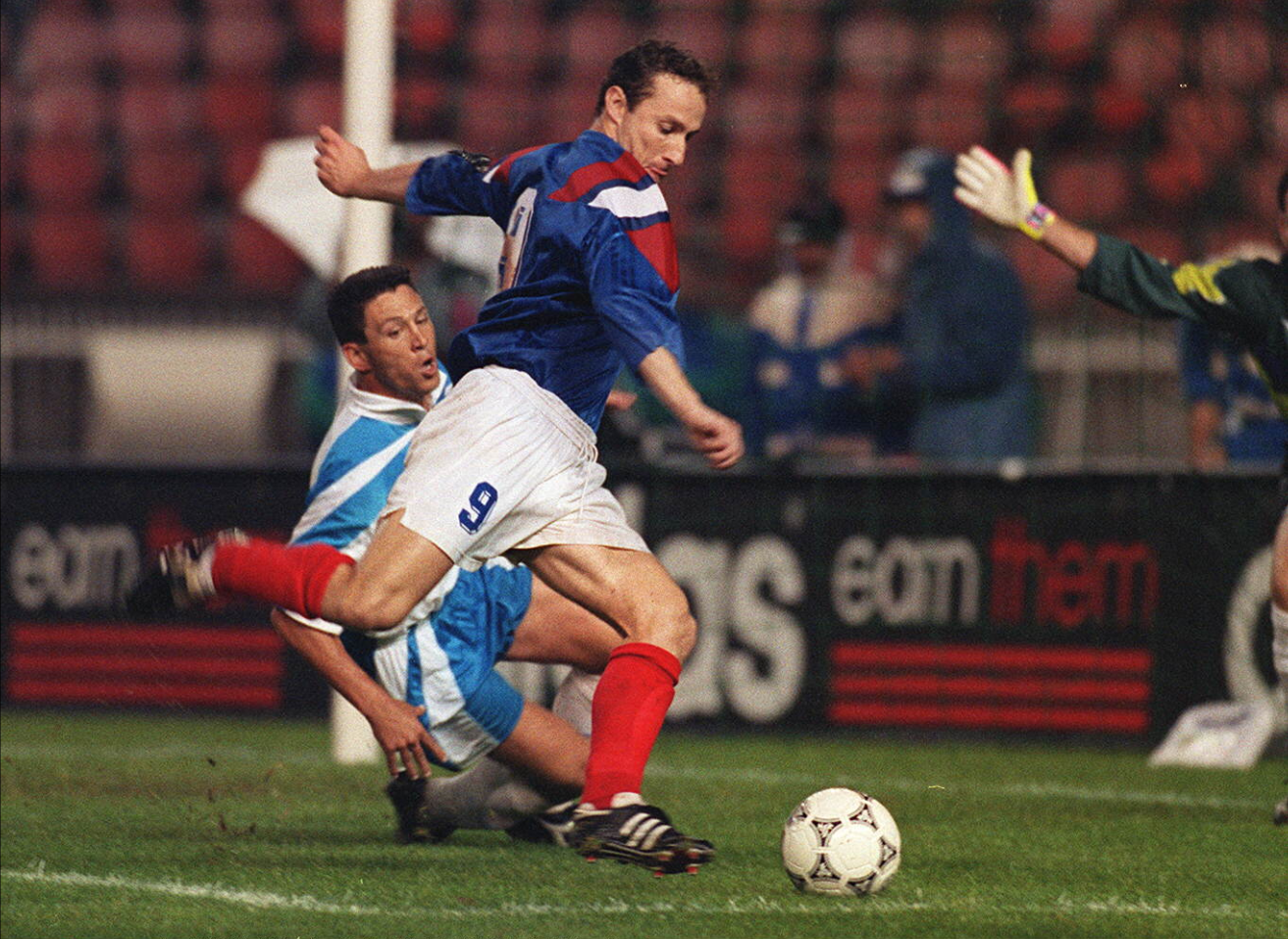 Photo: Sipa
One of the most famous ones came against Spain in a Euro '92 qualifier. Coming in from the right, a cross down that wing was deflected off a Spanish defender, but with Papin calm and calculated, he acrobatically volleys the ball with his back to goal and it flies into the net with spectacular precision.
Another such goal came against Czechoslovakia, where a ball came in from the left this time, and from a tight angle, another extraordinary volley flew past the goalkeeper and into the bottom right. Papin surely knew where the goal was, and such was his quality that he could score all sorts of goals. 
After the glory of the 1990-91 season, Papin didn't stop. His high level of performance continued. In the league, one of his best performances came against Olympique Lyon, where he scored four in a 7-0 thrashing, while in Europe, his good run continued.
His record of scoring in every round from the previous season continued, as Dinamo Tirana, Lech Poznań, the defending champions AC Milan and Spartak Moscow fell prey. This time, they did make the final and would face Red Star Belgrade in Bari. 
Papin and Marseille's wait for a European trophy would continue, however. In heartbreaking fashion, they would lose the ultimate match on penalties after a goalless draw. While they were overpowering in the league, with Papin finishing top scorer for a fourth-successive season, it was European glory that was eluding them for so long. 
For the forward, there was great on a personal level. Papin's great form that season, and overtime, had won him the Ballon d'Or in 1991, finishing ahead of other great names such as Lothar Matthäus, Darko Pančev and Dejan Savićević.
It said a lot about him that he would finish ahead of those great players, and while club football's most important medal still wasn't in his locker, there was no denial of his class and consistency. He became the third (and to date, the last) Frenchman to win the award and the first to do so while playing in France. 
The next year was a disappointment. Although the league was won and for a fifth year running, Papin was the top-scorer, Marseille's early elimination from Europe cast a shadow over their campaign. At the end of the season, he confirmed his move to AC Milan and an emotional Stade Vélodrome was in awe of their hero.
He's arguably the greatest player to don a Marseille shirt, one that was a trailblazer and set records like none other. It wasn't until the petro-dollars of Paris Saint-Germain came along that his feats were touched and the rise of Kylian Mbappé that one of his countrymen came close to his accomplishments. 
A world record fee of £10 million was paid, but Papin failed to replicate his Marseille form at the San Siro. Arguably the best forward in the world when he arrived, he started off well, despite competition from Marco van Basten and even finished as the top-scorer at the club in his first season – something that wasn't new to him.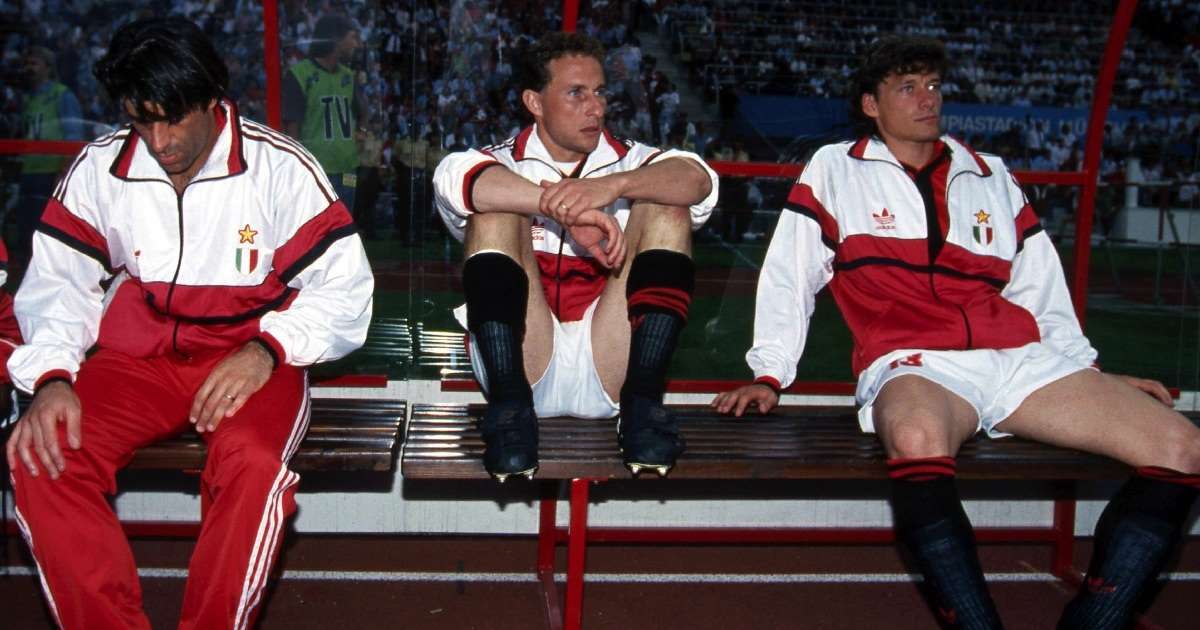 Photo: Icon Sport
In that season, however, there was a dramatic turn of events. Milan were doing well in Europe, but the European Cup still eluded Papin. They reached the final, but lost, co-incidentally to Marseille and the forward's wait would go on. The Olympiens were later embroiled in a match-fixing scandal, but a crestfallen Papin could not be contained. 
His time on the pitch was restricted in the following season. Milan won the Scudetto and even went all the way in the Champions League, but due to Papin spending much of his time on the bench, he was hardly delighted at the success. They beat Barcelona 4-0 in the final, and Papin did get his hands on the famous big ears, but there wasn't much joy for Papin, who had wished he had been involved more. 
After two years in Italy, he moved countries again, going to the Bundesliga to play for Bayern Munich, but his luck wasn't different there. Two seasons, a couple of goals and a few Papinades, but another failure to replicate the fire of his Marseille days.
Papin returned to France for his swan song in 1996 with Bordeaux and he did show some form of old, but it was clear his days in the sun were over. He would retire after a few years in the lower divisions as well as amateur football, before a short-lived and average foray into management. 
At his best, Papin was a scorer of the extraordinary, a player unafraid to take a risk and often, succeed when doing so. All his success was richly deserved, and he's well-respected wherever he played, for his professionalism and willingness to do better than his last training session was one of his key traits.
French football has given the world many great players, and Papin is one of the most underrated. There is no denial of his quality and for generations to come, his legend will be a benchmark for up-and-coming forwards.
By: Karan Tejwani
Featured Image: @GabFoligno / Icon Sport
This article was originally published on Football Chronicle.