Birmingham's Struggle for Acceptance: How Birmingham United Is Changing Grassroots Football
If anyone knows me, they know I will spread Birmingham propaganda at any opportunity. For too long this great city has been unnoticed. However recently, its inhabitants have been flying the flag high. With Jude Bellingham representing the West Midlands in Madrid and Jobe doing the business up north in Sunderland, Birmingham is becoming known as a hotbed of footballing talent. However locally, in the non-league world, Birmingham United is causing a stir and is looking to be the new flagbearers of the city.
Playing at Redditch Football Club (whether you count that as Birmingham is down to your geographical discretion), this club has made waves in the non-league world. After being taken over by Siraj Hussain and Rajab Noor last year, this club has gone through upgrade upon upgrade and with no end in sight to where it might go.
Sitting down with these two, their enthusiasm for the project shines through. Both Rajab and Siraj are FA coaches with Siraj working as a teacher as well as a coach for Birmingham City's youth academy. Rajab has been involved with football and the FA for many years and has been involved with Walsall and West Bromwich Albion as well. 
Both are entrenched in Birmingham's football scene and both stress about how so much talent in the city goes to waste. How they wanted to shine a light on underprivileged youth within the city and show off the diversity that exists within the melting pot. This compelled them to do the unthinkable. To put their money where their mouth is and buy a football club themselves. Their vision, their future, and their club. So far, they have represented Birmingham well in the club's players and backroom staff. All of them come from a variety of backgrounds but the love of football has bonded them together to play for this club.
What makes Birmingham United stand out is just how much progress they have made. They have rebranded the club totally, made a kit launch video, obtained a sponsorship, and have the savviest social media team in non-league. A big statement I know but look at their videos on Twitter or Instagram (bhamutd on both). Honestly, their new player reveal videos are unreal, with the signing of the "sauce" one of the most eye-catching ones.
People may think non-league is all about bad tackles, goalkeeping howlers and the odd wonder goal, but it is not all that, (More like 50% of it is that). The talent at Birmingham United is very high. The squad is a very young one with many players being between 18-22. You would think players of these ages would get bullied playing against fully grown men every week, yet you would think wrong. So far this season, they are hovering mid-table in 9th place. The previous season, however, was the real miracle.
With a few months to go, these young lads found themselves in the relegation zone. With a managerial change and an extremely high mental fortitude, they managed to drag themselves out by beating the top 6 opposition, with many of the young lads stepping up and showing age is truly just a number when it comes to football. You can view this on their unfiltered series on Instagram which goes into raw depth about how they overcame this. This level of insight into a club is something you would not get at any other club and is another reason why this club is different from many others.
The hours and grind put into this team behind the scenes are grueling. If you were to go down to Redditch and watch a game, you'd see Matt Canning and Mohamed Fathelrahman, the brains behind the social media operation run around the whole pitch constantly for 90 minutes, trying to capture every critical moment behind the game. To give you the best content and to truly show what it's like to be on the pitch. Off the pitch, the team is constantly looking for innovative ideas. My sources have told me to keep an eye out for the new kit launch video, it is something that many professional clubs would be jealous of.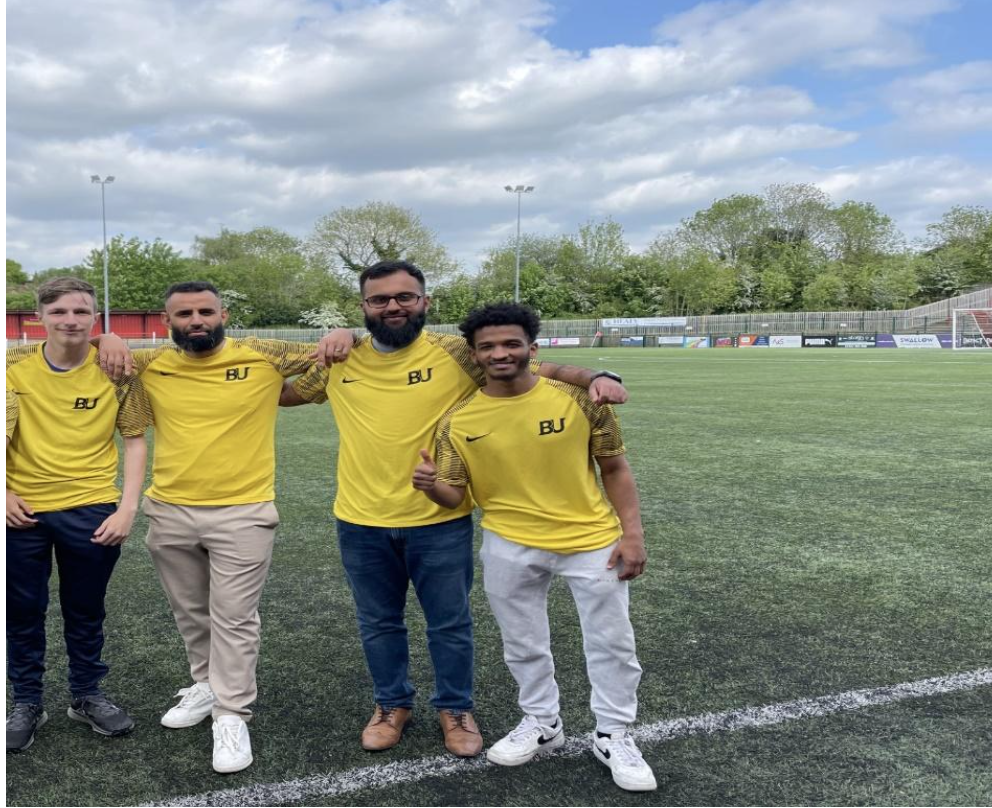 Matt Canning, Rajab Noor, Siraj Hussain and Mohamed Fathelrahman [bhamutd]
Both Siraj and Rajab work full-time jobs and manage to run this club all whilst running around and trying to better it each working day. They have given talent both on and off the pitch an opportunity to show off their skills and are still looking to do so. That's the aim of this club, it doesn't rest, it looks to improve and to get bigger and bigger.
So, the message is out there. You can get on board with this project and watch it soar or you can see it fly from afar. The choice is yours. All I know is that the revolution will be televised for Birmingham and Birmingham United is leading the way. Tom Brady may disagree but at the non-league level, United are leading the charge. With a YouTube channel incoming, alongside their Instagram, TikTok and Twitter pages, this will soon be a heavily recognised club. SE Dons and Baiteze may currently be the non-league content kings, but something tells me just like in the professional game, England's second city may soon take the mantle.
By: Abu Yasin / @abuy2j
Featured Image: Birmingham United