Nechells Athletic: A Birmingham Success Story
Birmingham, England's second city, (in my opinion first), is home to thousands of football clubs. The city breathes the nation's favourite sport. From Alum Rock to Northfield, on every corner you go, there are always some kids who are breaking the "No ball games" sign. Yet, the city is considered an afterthought when it comes to football. A surprise considering the likes of Jack Grealish, Daniel Sturridge and little-known Jude Bellingham hail from the city. Being a Brummie and tired of the disrespect, I decided to head down to my local team to shine a light on Birmingham's grassroots football. My local team is none other than Nechells Athletic.
Nechells is an area in central Birmingham, a stone's throw away from the city centre. I passed by it every day on my commute to college and played football with several talented people from the area. So, I was excited to head back to the area. Once off the 14 bus, I made my way to Heartlands Academy and onto the AstroTurf, where the team trains every Thursday 7- 9 pm. Once there, I met with Asif Hussain, the founder, coach, and the lifeblood of the club.
Photo taken from Instagram: Nechellsathletic
Asif Hussain's story is like many others in Birmingham. He was born and raised in Aston and has been involved in football since a young age. He played for his school team Aston Manor and went on to study multimedia technology at Birmingham City University. Here he played for the university and other various teams. He was an accomplished central midfielder, boasting numerous trophies in his house. Yet, like many other South Asians, his progress was stunted, often due to the racism that South Asians receive within the game.
Now, at 36, he is a night shift manager at DHL and is married with kids. Yet, he still finds the time to run the social media accounts of the club, Nechellsathletic on Instagram and Nechells Athletic FC on YouTube and Facebook. He runs training every Thursday and manages the team on the weekends. The love of the game can give you energy spurts that nothing else can.
Asif founded Nechells Athletic in 2020. I asked him about the inspiration behind the club and he told me, "Beforehand I was a player/manager at Sporting Sandwell. But it became untenable for me and the working conditions there became overbearing. So, a few others and I decided to break away and start a new club. In looking for a location, I was surprised to see that Nechells didn't have a club as there are over a thousand clubs in Birmingham, but it represented an opportunity for the area to get the representation it deserves".
Even though the area is close to the city centre, it is one of the roughest in the city. A 2011 population census showed that more than half of the children growing up in Nechells are in families defined as child poverty. The life expectancy and mortality rates are also worse than the average in Birmingham. Yet, Asif saw past this and saw how a club here could help the local community and showcase its talent. And thus, Nechells Athletic was born.
The club plays in the Birmingham and District AFA football league and will be playing in Division 3 next season after finishing 2nd and achieving consecutive promotions. The club has also its own kit and training gear. Massive leaps for a new club, but not a surprise due to the quality they possess. Walking onto the AstroTurf at Heartlands Academy, what struck me immediately was the camaraderie.
Often in grassroots, there's a high turnover in squads due to distance, work reasons, or wanting to play at a higher level. However, since Nechells have been around, they have had roughly the same squad. In turn, this leads to trust and comfortability with one another and complete trust in Asif as a coach. 
This family feeling also spreads to the volunteers who help. None of the coaches are paid of their own volition. They would rather any income go to the club than themselves. This selfless act helps to put on the sessions for the U-21 team for completely free. 
Asif added that "Having the sessions for free, gives the kids a chance to play football without having the issue of payment as a barrier to entry. Due to grants and our local sponsors, we can do so. Also, we only charge the adults £4 for the 2 hours of training. Anything to lessen the burden on the players and to reduce any barriers to them coming, we do so".
The youth team at Nechells United is very diverse and many come from the local area. The team is advertised via social media and open try-outs are often held. Whilst I was there a few players of the youth team were beckoned over to the adults to train with them, showing there is a direct pipeline between the two. I know it all sounds too good to be true, but via grants and sponsors, Nechells has provided a safe and fun environment for the youth. A few members of the U-21s have been sent to trials at professional teams but haven't yet been successful. But given the quality of coaching they are provided; it seems only a matter of time before one is signed.
From as far as he could remember, Callum Kennedy has been in love with the beautiful game. Since a knee injury forced him to stop playing, he has successfully turned his hand to coaching. From being a goalkeeper coach at 15, at 22 he is now a FA level 1 coach and is attempting to obtain his UEFA C course. He manages two teams and is the youth coach for Nechells United.
He also works for the NHS as an administrator, working from 6:30 in the morning to 4:30 in the afternoon throughout the week. Managing all these teams and his job is a struggle but for a football fanatic such as himself, it seems less of a struggle and more of a joy, especially in Nechells Athletic where he has taken on an important role.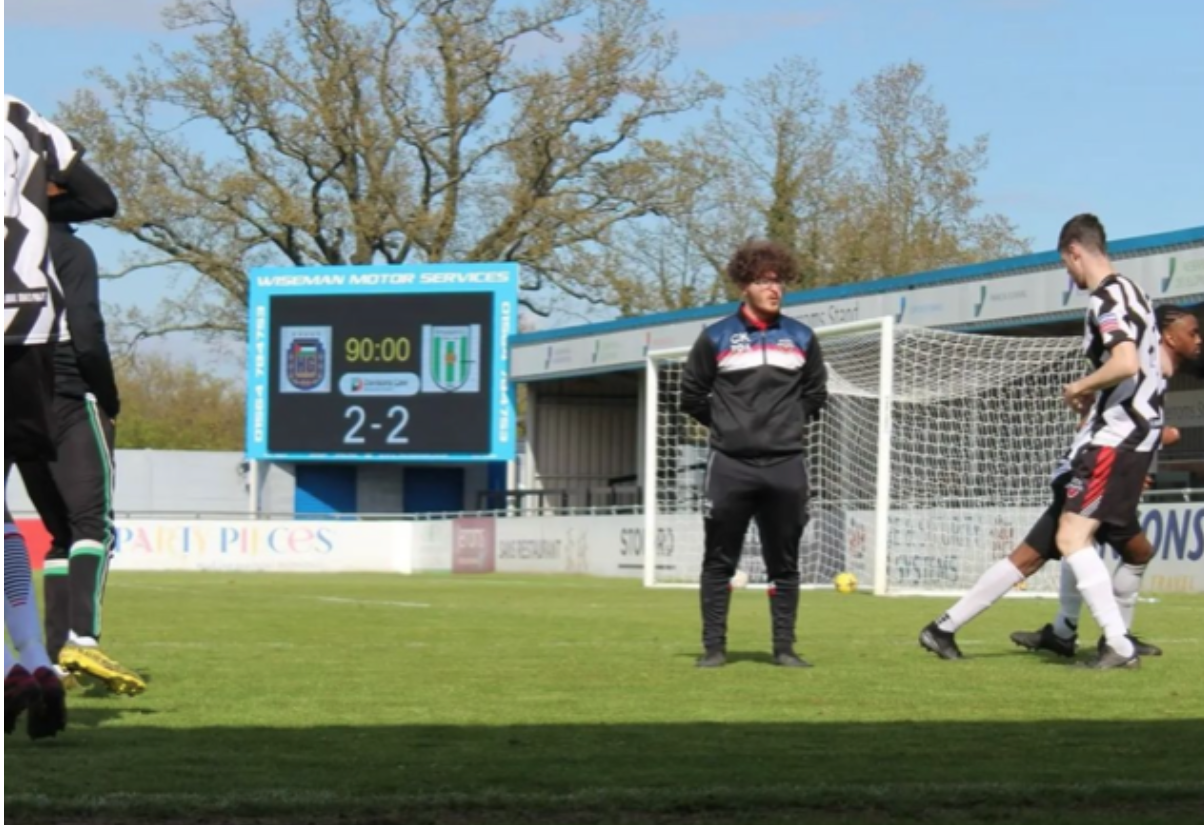 Photo taken from Instagram: football_manager_cal
He saw volunteering options for Nechells on the FA website and thought it was a great opportunity. Since then, he has led the U16 team to 2nd place in a charity football tournament in Coventry in aid of earthquake victims in Turkey and Syria. His ability to command respect from youngsters is to be commended, as he has taken a personable approach to them, treating them all as young adults and helping them improve.
He set up fun but educational sessions, designed to give the youngsters a lot of touches on the ball. He expressed this to me "At 12, 13 years old if not given enough touches, the kids would often drop their heads and become disinterested. They need to have a lot of touches of the ball, so they're actively engaged. At 15, 16 is where they understand the importance of off-the-ball movement. How this can help them and the team." Recognising this, he set up various coaching sessions to align with what age group needs and so far, it has paid dividends, with the youngsters fully engaged with coach Cal. 
Next season, the youth team at Nechells aims to get into the 6th division of the AFA Football League. Callum expects himself to be managing the side over the next few seasons. His version of success is not promotion, but the kids having fun. As soon as they step past those white lines, the outside world becomes a blur, and they can just enjoy themselves. I'm sure with this mindset and the enthusiasm that Callum has in coaching these kids, promotion is not just a long shot for them.
GAME DAY: Nechells Athletic vs Hopwood Swifts
When I went to observe training, Asif told me his aims for the club are to reach a semi-professional level and to have their own pitch. Lofty ambitions, however, what I saw vs Hopwood makes me realise that could happen sooner rather than later. I arrived at the Nechells Wellbeing Centre, where Nechells play their home games, around 1 pm, an hour before the game started. The sun was out, the pitch in a semi-lumpy state and Lil Baby was blasting on the speaker whilst the boys were doing their pre-game stretches. Good omens.
Curses, Gods and Fate: How Argentina Finally Broke the Cycle of Suffering
A few of the players I saw on game day were not in training on Thursday, so I was curious as to why. After speaking to them, I realised that life itself is the reason. Many of the player's shift patterns mean they cannot attend every training session and their availability is on and off even for matchdays. Even so, at the time of this match, Nechells were top of the league, which speaks about their depth and quality.
Looking around at the players, I saw a true representation of Birmingham. People of all ages and ethnicities come to play for Nechells. There is even a Colombian playing for the club. Jefferson the goalkeeper played in Colombia, and he doubles as a left winger as well. However, in this game, he merited his start as a goalkeeper.
The AFA Football League has 22 league games and only the top two get promoted at the end of the season. In a short season, every game matters, which is what Asif emphasised to the players. No matter what, do not treat Hopwood, who were below them, like they were a guaranteed win for Nechells.
The game started shakily for Nechells. They were not playing to their best and misplaced several passes, allowing Hopwood into the game. They almost gave up a few chances if it wasn't for the sweeper keeping of Jefferson (De Gea, please take note) and the centre-backs making a few last-ditched challenges. But then, Nechells took command of the game.
Like often at the grassroots level, there is only one referee and no linesman, so players off each team had to grab the offside flags and be substitute linesmen. Suspiciously, Hopwood's representative linesmen was a bit biased to one team and unfortunately for him, was situated on the side-line where Nechells's bench was. One specific decision of calling the ball out for a throw-in when it was yards in got the 'linesman' a lot of grief and afterwards was berated by the Nechells faithful for every decision. I don't think there were any more biased calls after that.
Before going out to Nechells Athletic, Jermelle Banner aka JB, their starting winger was their Player of the Month as he scored 10 in 4 games. In online clips, you could see he was prolific in front of goal, but it seems that he saved his best for this game. A corner was taken and out of nowhere JB rose and headed it near post for 1-0. This calmed down Nechells and helped them assert dominance over the game.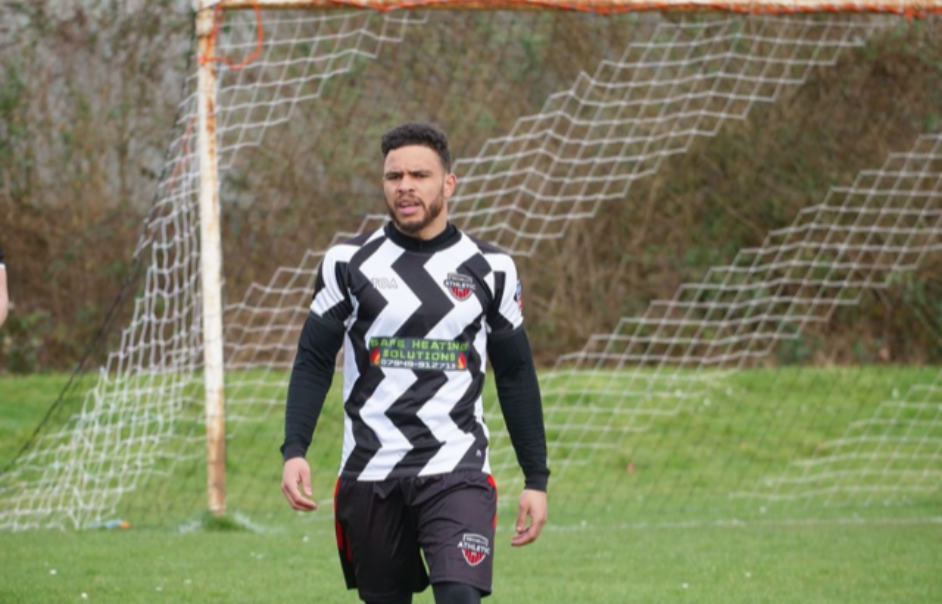 Photo taken from Instagram: jb_positivity
Mickz, the striker for Nechells, was asked by Asif to play for the club when Mickz played in a 6-a-side league in Castle Vale, which was run by Asif. Before the game he promised me he would get an assist, he did me one better by scoring the second. After some excellent combination play down the left wing, the ball was pulled back to Mickz in the centre, who then lashed it past the keeper giving him no chance and scoring his 9th of the season.
Hopwood then scored a penalty after a badly mistimed tackle by Nechells's defender, making it 2-1. But then JB scored one of the best goals I have ever seen. A long ball from the centre-back was controlled by JB on his chest. He then swivelled, leaving his man for dead, and with a bit of space rifles the ball top corner from 25 yards out, hitting the post and going in, converting his 22nd goal of the season. You can find this goal in all its glory and the match highlights in the below link.
Coming into halftime, the mood was jovial on the side-line. Asif let his team know they were lucky to be 3-1 ahead considering their poor start. However, it was clear to see that once they put their foot on the peddle, Hopwood stood no chance. The second half consisted of Nechells, keeping their foot on the ball and not letting Hopwood sniff a comeback.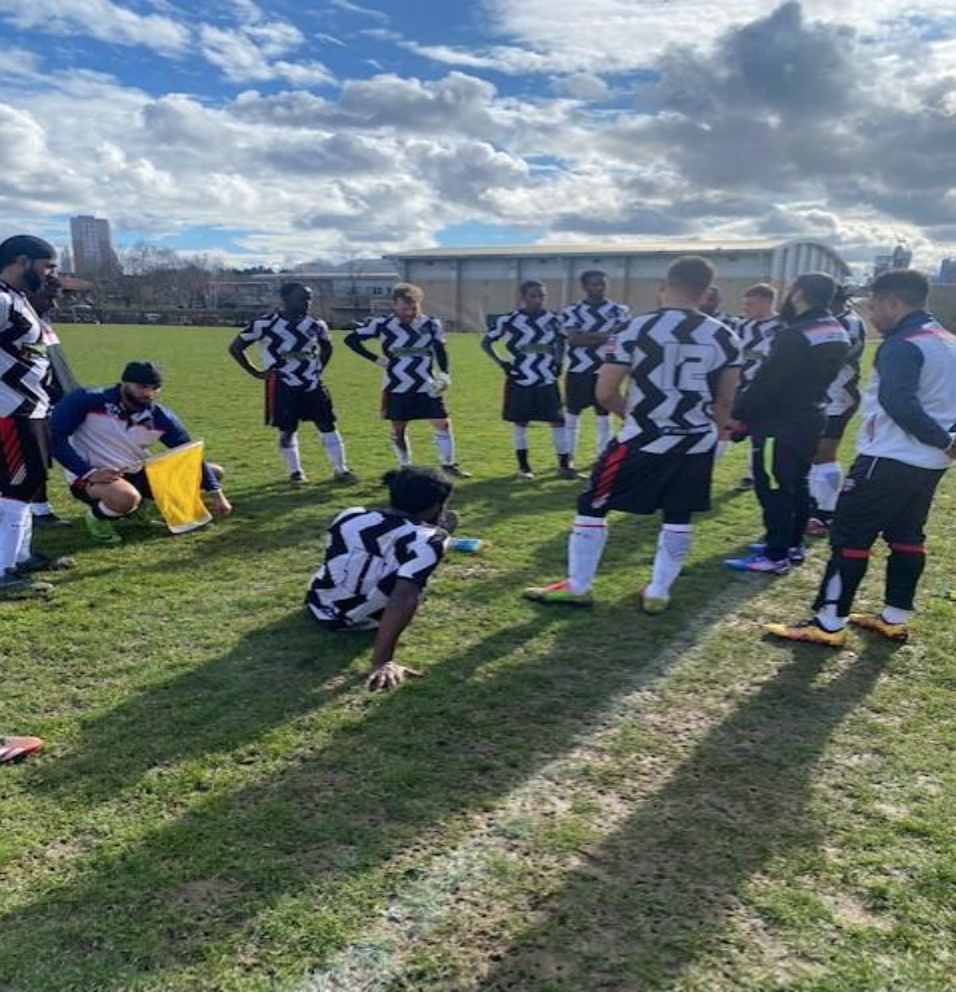 Asif's halftime team talk 
These hopes were then buried by a fourth for Nechells. A late run from Nechells's central midfielder Pius, was spotted and tucked away underneath the goalkeeper. Nechells could've scored more but alas, it finished 4-1.
Once the game ended, Asif dropped me near home, and I took the bus alongside Jefferson and conversed with the Colombian in my broken Spanish. Doing so allowed me to gain a sense of what this club means to him and the others there. This club gives these guys a release every Thursday and weekend. It allows them to have fun and play not alongside friends, but people they consider family.
As I said previously, having achieved consecutive promotions, the club will now be plying their trade in division 3 next season. I have no doubt they will continue their upwards trajectory and rise through the leagues. The club is also constantly looking for players for both their senior and youth teams and also coaches to join them, so if you're interested message them on their social media.
But the real success is how the club allows youngsters to prosper and gives them a place where they can enjoy the beautiful game without worrying about money. Amidst all the billions and narcissism, at least at the local level, football is still for the people and people and clubs like Asif Hussain and Nechells Athletic show that. My ultimate message is to support grassroots football and show support for your local club. In doing so, you are helping in more ways than one. 
By: Abu Yasin / @abuy2j
Featured Image: Nechells Athletic