Why Milan Decided to Stick With Stefano Pioli as Manager
AC Milan have decided to confirm Stefano Pioli as manager for next season, a choice that, quite frankly, no one expected. Ralf Rangnick was supposed to become the new manager, as heavily reported in Italy during the last months.
However, the deal has fallen apart for unknown reasons, most likely the fact that there wouldn't be enough time for the players to learn the system that the German coach would have tried to implement before the beginning of the new season.
"Stefano (Pioli) has shown he can deliver the vision of football we have for our club – exciting, progressive and passionate," AC Milan's CEO Ivan Gazidis said in the official statement.

"This is not a decision based on recent victories, but one based on how Stefano has built team spirit and unity of purpose, the way he has improved the performances of the individual players and the collective team, the way he has embraced our vision and the way he has represented himself and the club's values."
As of right now, AC Milan are on a 3-game winning streak, having won 7 of 9 league matches since the restart; only Atalanta (43) has managed to collect more points than the Rossoneri (38) in 2020. They can finish between 5th and 7th, but either way, they have secured Europa League football for the 2020/21 season.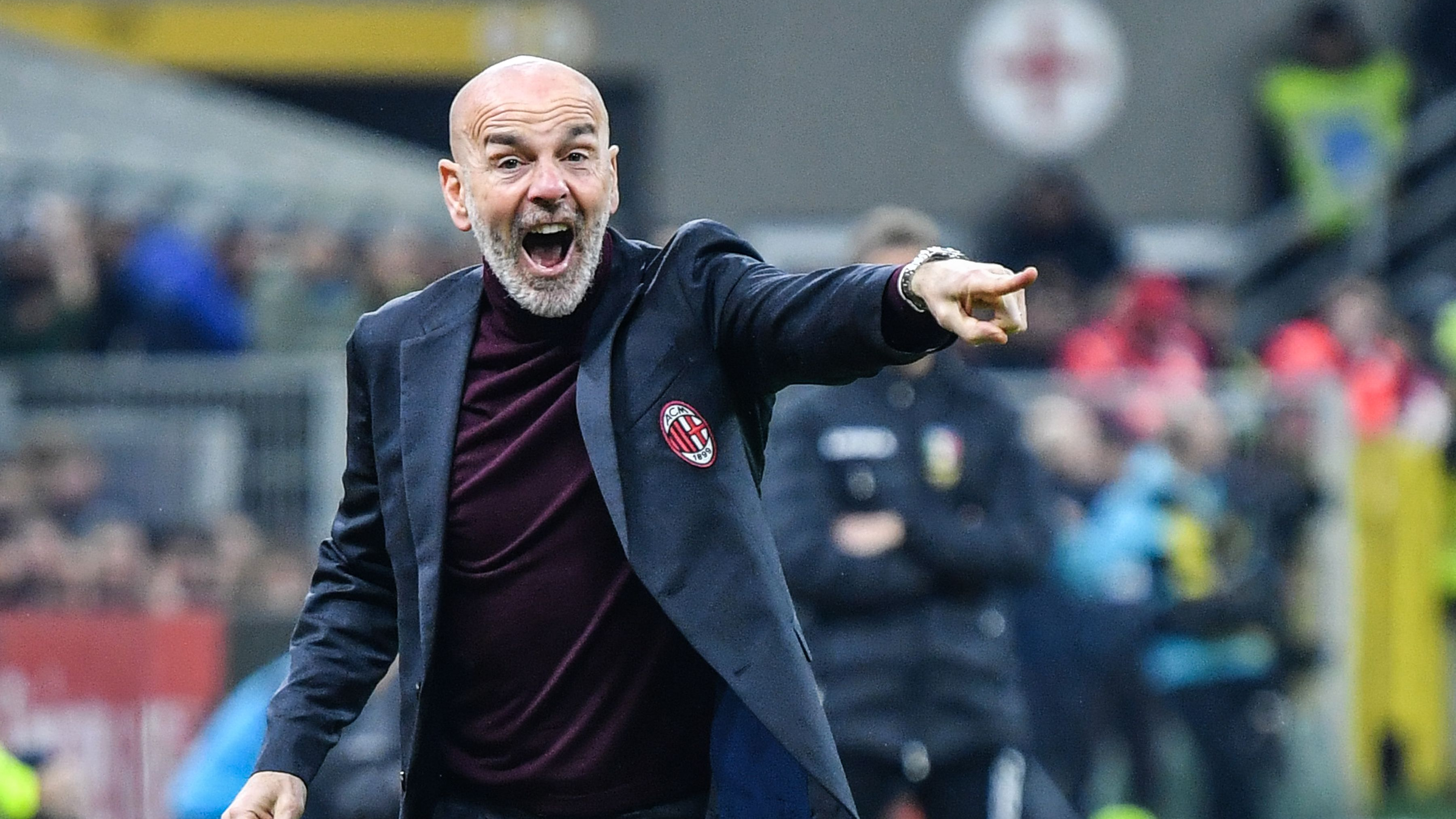 Photo: AFP via Getty
Over their next three matches, which will be against Atalanta, Cagliari and Sampdoria, Milan will fight with Napoli and Roma to avoid seventh place, which would see them play three preliminary single-leg matches at the start of the new season.
It's probably the best moment in recent history for AC Milan and it has a lot to do with the work done by Pioli. But how did he manage to create the exciting, progressive and passionate football described by Gazidis? The system that has been used in the past few games is the same that Pioli was trying to develop before the break, the 4-2-3-1. What has changed are the tasks for each individual player.
The biggest change came in the midfield where Franck Kessié and Ismaël Bennacer are playing much more defensive roles. Kessié, especially, is no longer free to run wild in the opposing half. His main job now is to keep his position and shut down potential counterattacks, pressing the opponents any time the team loses the ball in the opposing half.
The Ivorian has already found the balance in his style of play, realizing when it's the right moment to cut into the opposing box or shoot from long distance, as proved by the goals scored against Juventus and Parma.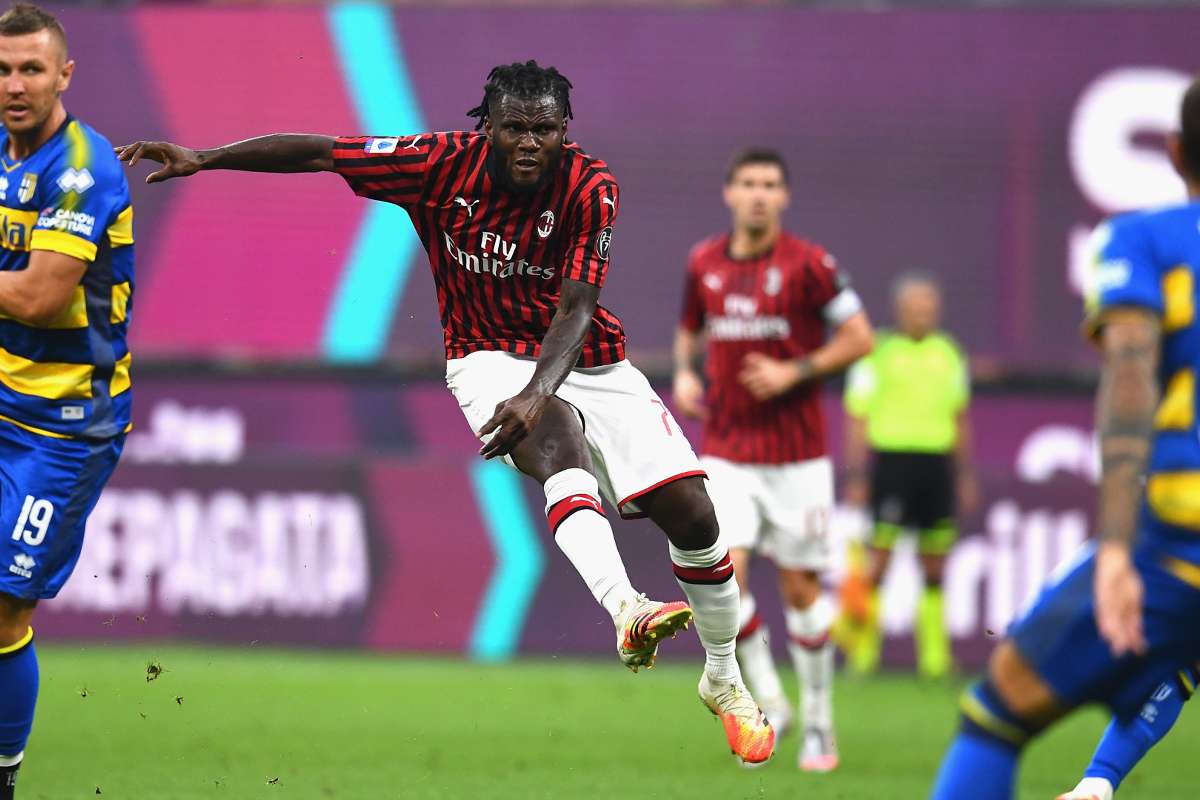 Photo: Getty
Thanks to his performances, AC Milan have become a far more solid team on the defensive side. Another reason for their improvement has been Simon Kjaer, the Danish defender who left Atalanta after only six months after struggling to adapt to Gian Piero Gasperini's high-pressing system.
At Milan, Kjaer is playing a more conservative role. He's the leader of the defense, the one who stays in position, guiding the teammates while his defensive partner Alessio Romagnoli plays more aggressively, trying to anticipate the opponent in every part of the field and progress the ball further forward.
Unfortunately for Milan, Romagnoli has picked a calf injury that most likely will force him out until the end of the season. With Matteo Musacchio and Léo Duarte also sidelined due to injury, Pioli has only one choice to partner Kjaer, Matteo Gabbia, a 20-year-old defender in his first ever Serie A season.
As for the full backs, Theo Hernandez on the left has licence to run free. His dribbles and overlapping runs allow AC Milan to play with an additional attacking piece. Defensively, he still commits some basic mistakes but it's a small price to pay for one of the best offensive left-backs in the world.
Photo: Getty
To compensate for his exuberant style, the right back often plays a more conservative style. Runs from Andrea Conti or Davide Calabria are much rarer, and happen only when the play develops on their side and the right winger (Samu Castillejo or Alexis Saelemaekers) cuts on the inside.
In this way, Pioli managed to give some balance to a system that otherwise would have been ultra-offensive. Today, AC Milan have the fifth-best defense in Serie A. 
Improvements for AC Milan haven't come only on the defensive side. The attacking is working perfectly too with 27 goals scored in the last 9 games. To put it in perspective, it's the first time since 1964 that AC Milan have scored more than one goal in 9 consecutive games. 
A lot of that improvement is due to Hakan Çalhanoğlu's performances. The Turkish international is by far Milan's most improved player since the restart. He's playing with a lot more confidence and Pioli has turned him in to a key player for his team.
Çalhanoğlu is the player tasked with conducting the counter attack anytime Milan regain possession in their own half. He can either run across the field, like in the second goal scored by Zlatan Ibrahimović against Sassuolo, or find the run of one of his team mates with a long pass that catches the defense unprepared, as seen with Ante Rebić's goal against Lecce.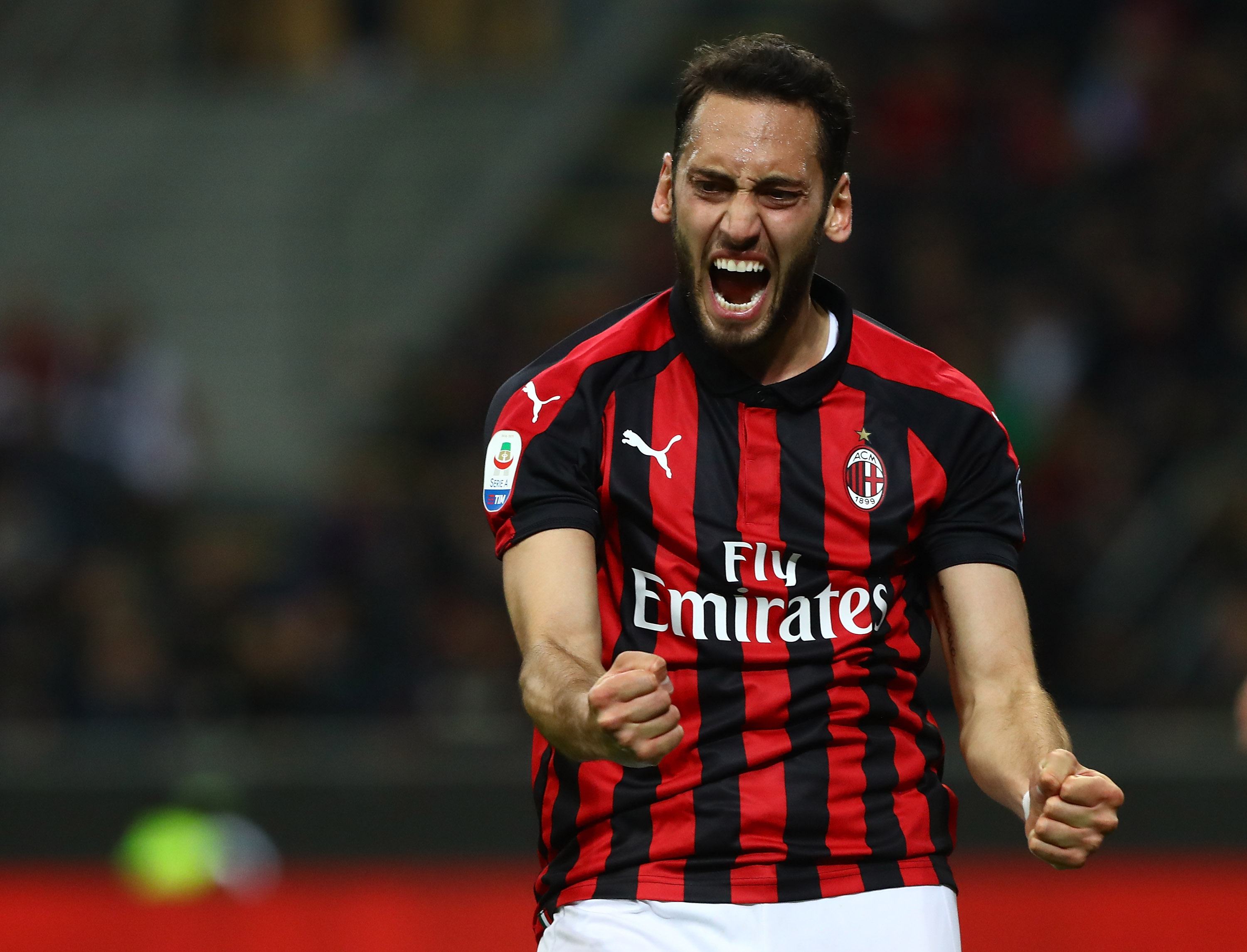 Photo: Getty
The Turkish international feels more comfortable when he doesn't have to think too much with the ball in his feet. The faster the team plays, the better he plays; he's a reactive player, not a proactive one. In his free role, he tends to drift around the pitch, especially to the left where he can either combine with Hernandez or cut back onto his right and try to shoot or cross.
He's free to move because that's what Pioli asks from all of his attackers. Ibrahimović, for example, occassionally leaves his number 9 position and drops deep. If he does drop deep, he will take Çalhanoğlu's place, who rotates on the left while Rebić moves to the center.
In other situations, Ibrahimović moves forward and then cuts towards the inside. In doing so, he forces two opponents to follow him, thus creating space behind him where the full back or the winger will receive the ball with enough space to cross.
Ibrahimović has proved that even at 39 years old, he can still make a difference in Serie A. Even after suffering several career-threatening injuries, he's still not afraid to fight against any defender on the halfway line to regain possession. With him on the field, Milan's defenders have the option to change the script and play a long ball to evade the pressure.
Photo: News Group Newspapers Ltd
Moreover, his mere presence has helped previously forgotten players grow in importance and regain their confidence. Ante Rebić had been reduced to a fringe role until the start of the new year, but he's found his Eintracht form thanks to Ibrahimović's arrival.
Excluding penalties, only Robert Lewandowski and Erling Haaland have scored more goals than him in 2020, with Rebić netting 11 goals since the start of the new year. The Croatian's skill set is a perfect marriage for Pioli's style of play; he's aggressive, he's quick, and he can play either as a striker, a winger, or as a 10. He stretches opposing defenses, allowing Milan to play more vertically, and most importantly, he's developing a killer instinct in front of goal.
Before the suspension of Italian football, Milan were in free fall. They had just lost 2-1 to Davide Nicola's Genoa and were mired in 9th place, with a Europa League berth looking increasingly unlikely. Gazidis had just fired chief football officer Zvonimir Boban after he publicly criticised the CEO for his pursuit of Rangnick.
The ex Arsenal chief executive had reportedly contacted Rangnick about the coaching job next season without consulting Boban or technical director Paolo Maldini. On February 29, Boban lambasted Gazidis's approach as "disrespectful and inelegant" in an interview with Gazzetta dello Sport. As a result, the Croatian was sacked with immediate effect.
Photo: AC Milan 
Milan have performed a complete 180 degree turn since the break, but it should be noted that despite this incredible effort, there is a good chance that they could finish in seventh place. Meanwhile, fourth place, the original target at the start of the season, is ten points away.
It's hard to tell if AC Milan have really improved and how much this situation is connected to other factors (opponents' bad shape, no fans allowed in the stadium, etc.). But what is true is that the board has taken a bold decision in confirming Pioli.
Pioli has helped rescue a Milan side that was on the brink of failure and made them beat to the same drum, but only time will tell if Gazidis and co. were right to choose Pioli over Rangnick.
By: Andrea Agostinelli
Featured Image: @GabFoligno