Marco Rose and the Art of Exceeding Expectations
After the end of the Bundesliga season, Borussia Mönchengladbach sporting director Max Eberl spoke to the media in praise of head coach Marco Rose: "He is a top coach. Unfortunately, if you look at it from our point of view, that makes him interesting for other clubs as well, of course – and I mean the top clubs," Eberl told Kicker.
"I can deal with such desires very well, but I wish that Marco will stay with us at Gladbach for a long time. He's a key figure, a stroke of luck for Borussia. We are very happy that we could convince him to join our club a year ago. He's a perfect fit for us, both as a coach and as a human being."
Eberl's fears are justified. Indeed, Rose is an excellent coach and should he continue to build on a positive first season of coaching in the Bundesliga, he will surely find himself at one of the bigger clubs in Europe. The 43-year-old Leipzig native, like many other coaches in Germany, Rose's teams always play a highly attacking, aggressive style of football and it has served him well in his career.
The fact that he had some incredible teachers during his playing days in Ralf Rangnick, when they were at Hannover 96, and Jürgen Klopp, when they were both at Mainz, also helped shape his philosophy and make him the coach he is today. 
But Rose's path to Champions League qualification with Gladbach is unique. His playing career exemplified values that he demands as a coach – those of loyalty and commitment to the cause, and it comes as no surprise that whatever team he manages, he achieves his goals and makes his players better.
His playing career started off at local club VfB Leipzig (now known as Lokomotive Leipzig) before moving to Rangnick's Hannover and Klopp's Mainz, where he also worked with current Paris Saint-Germain boss, Thomas Tuchel. 
It was under Klopp that Rose enjoyed arguably the greatest success of his playing career – promotion with Mainz to the Bundesliga. Rose was one of Klopp's most trusted players, and after a few near misses, this felt great for the pair. There's a famous video that displays his jubilation – coming off the team bus after confirming promotion, Rose, with his hands up high, looks at the awaiting fans and media and shouts, "There it is: Rose is a first-division player! Are there any objections? No? Okay!" before walking away to celebrate with his team. 
When it's time to celebrate, Rose is always ready to party, but when it comes to the job, he's always willing to learn and get better. After ending his playing career, he spent a season in charge of Lokomotive Leipzig in the lower divisions of German football, but in 2013, Rose was given a clearer path in management.
In the fourth division, there were doubts whether he would take charge of Lok, with some reports saying that he loved the club (having supported them as a child) and would stay on, even reportedly agreeing to work at half the salary as the club aimed at cutting costs, but that all changed when an offer came from Austria.
Ernst Tanner, who along with Rangnick was involved in reshaping the Red Bull Salzburg academy, brought him over and gave him the reins of the U-16 team for the 2013-14 season. 
This was different from the role he had in Leipzig. Adapting to coaching youth teams is a unique challenge – players have different levels of fitness, motivation and objectives, and it was a similar case for Rose. Perhaps this was even a better option for him than coaching in the lower tiers.
The chance to learn from great managers such as Rangnick and Tanner, who were overseeing the academy, and others such as Roger Schmidt, who was in charge of the first-team was a good opportunity for career growth. Factor in the new state-of-the-art academy they had opened – this was a sensible move.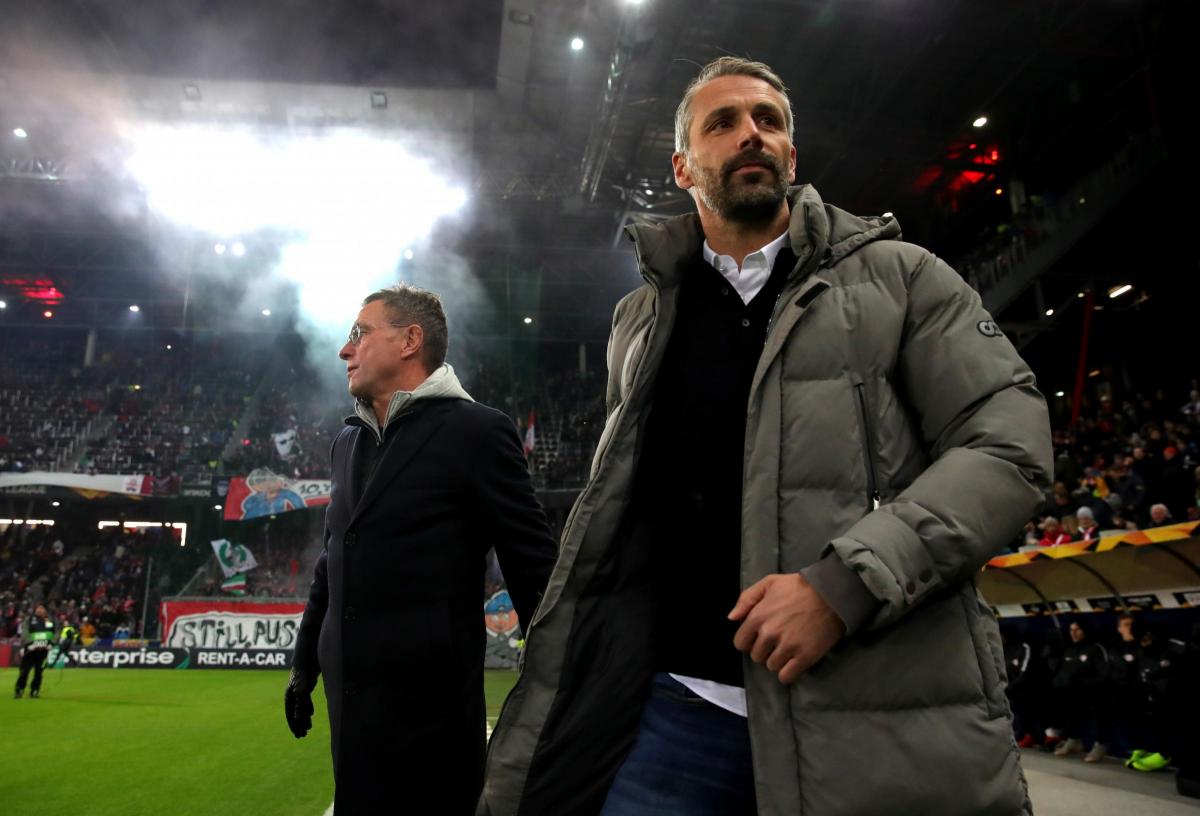 Photo: Alexander Hassenstein
Over the next few years, he progressed through the ranks and his quality was rewarded in faith from his bosses – they kept upgrading his role. Having started with the U-16s, he was bumped to the U-18s and U-19s later on, as the players were keen on working with him and management was keen on improving him. 
Crucial to this rise was the presence of Rose's backroom staff, whose opinions the German valued very highly. Alongside him were Alexander Zickler, Rene Aufhauser and most significantly, René Marić. The presence of Marić, who is still only 27 today, was interesting. The club took notice of him through his blog, Spielverlagerung, where he analysed the Red Bull Salzburg youth teams' games in a detailed and near-perfect way.
While those pieces – which are freely available on the internet to read – may have been too complicated for the average reader, from a coaching standpoint, it was perfect. Rose and Marić have since developed a strong bonding and worked together for a long time. 
The biggest achievement in Rose's development years was the success in the UEFA Youth League in 2016/17. Having won the U-18s league title in Austria, Rose's reputation was already gleaming, but this was a chance to prove himself on a grander stage against some of the biggest academies and youth set-ups in European football.
Austria didn't have the brightest reputation in continental club football. Not since the 1996 Cup Winners' Cup, where Rapid Wien reached and lost the final to Paris Saint-Germain, had an Austrian side gone that far. Austria Salzburg, prior to Red Bull's involvement, reached the final of the UEFA Cup in 1994, losing to Inter. Since then, they've not had much to shout about and there wasn't much expected from Red Bull Salzburg, despite having a strong team that included the likes of Hannes Wolf and Xaver Schlager. 
Salzburg's run in the Youth League that season was the culmination of years of good investment in the academy and positive recruitment. Entering the domestic champions path – the route for league winners as the senior team failed to qualify for the Champions League group stages – they dispatched North Macedonia's Vardar 8-0 on aggregate, before beating Kazakhstan's Kairat 9-1. 
The real challenge started in the play-off round when they beat a much-fancied Manchester City that featured the likes of Jadon Sancho, Tosin Adarabioyo and Brahim Díaz. Luck was on their side as they won following a penalty shoot-out and by now, there was a belief they could go far.
In the next round against Paris Saint-Germain, they really made everyone take notice. A 5-0 win in the single-leg match earned Rose plenty of plaudits. The Salzburg way of intense pressing and processing stern tactical information set them apart and all of a sudden, they were favourites for the competition. 
The locals paid attention too: ahead of their next match against Atlético Madrid, over 5,000 fans turned up, which was greater than the attendance the senior team accumulated the following weekend – this was a testament to the team's quality and showed that Rose was the right man to lead them.
In the quarter-finals, semi-finals and final, Salzburg dispatched Atlético Madrid, Barcelona and Benfica, three clubs who have heavily invested in their academies, while before that, PSG and Manchester City were on a similar trajectory. The win came as a shock to many, but a greater look into the coaching and investment shows that it was deserved.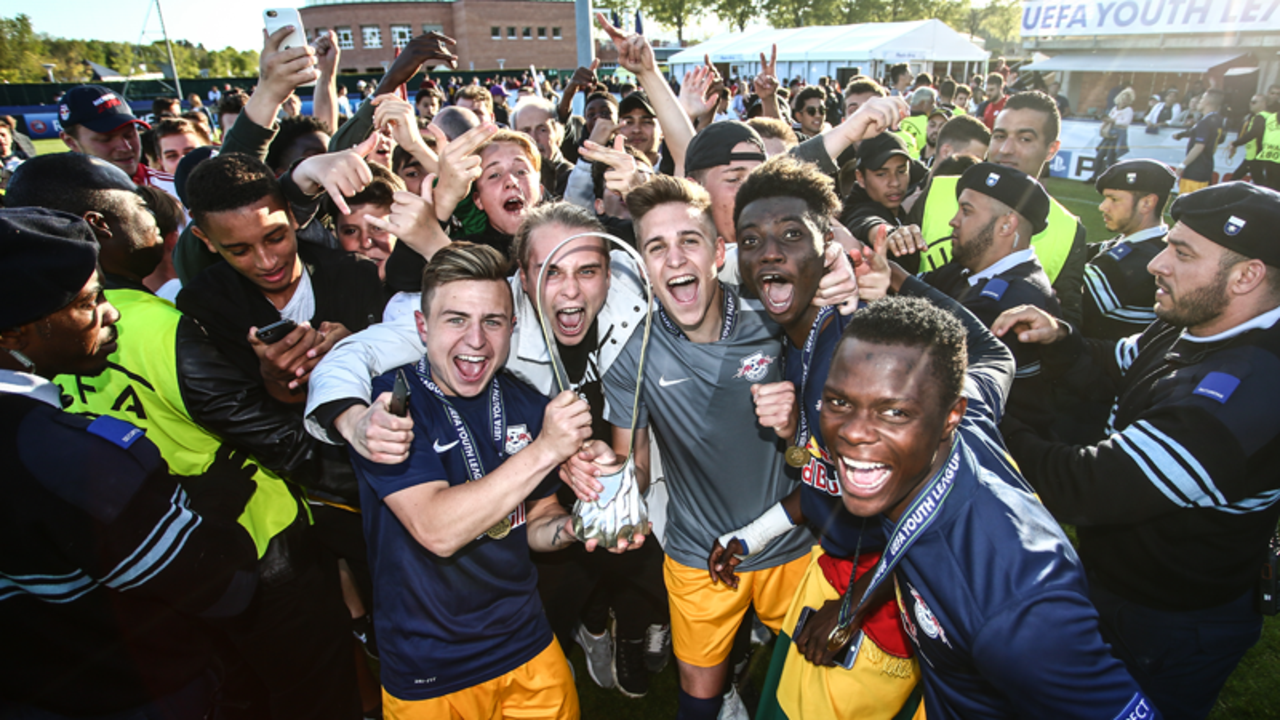 Photo: Red Bull Salzburg
Rose's team were far more superior in terms of their fitness, in terms of their tactical awareness and in terms of their experience. The team that started the final had over 140 senior appearances between them for Salzburg's feeder club, FC Liefering, in the second division of Austrian football. This meant that they had more experience playing against the physicality of older players and were able to handle younger ones more conveniently. 
After winning the Youth League, Rose's reputation was in even higher regard. Back in 2004, his former boss Klopp believed that Rose would make a great coach, and 13 years later, he certainly had all the makings for it. That year, after the head coach of the senior team, Óscar García, decided to leave his role, Salzburg turned to Rose, believing that his CV was enough to warrant a bigger job. The move was ideal for Rose as well: he knew the surroundings, the expectations of the club and could integrate his Youth League winners.
Just nine losses in 144 matches in charge of the youth teams was an excellent record and with Salzburg's senior team, he would continue getting better. In his first season, Salzburg won the league title, something largely expected given their strength relative to their rivals, but it was in Europe that the Austrians stood out.
After topping a group consisting of Marseille, Vitória and Konyaspor, Salzburg beat Real Sociedad in the Round of 32, with the late heroics coming from Takumi Minamino. Then, Borussia Dortmund were put to the sword as Valon Berisha's double sealed a 2-1 home win, which they held on to in Germany.
Nevertheless, it was against Lazio in the last eight that really put this team in the spotlight. After losing the first leg 4-2 in Rome and Ciro Immobile's goal in the 55th minute in Salzburg, Rose's team had to overturn a 5-2 deficit with about 40 minutes left to play in the tie. They did just that. Moanes Dabour struck first, and he was joined in quick succession by goals from Amadou Haidara, Hwang hee-chan, and Stefan Lainer. Salzburg won 6-5 and were through to face Marseille once again.
Against the French side, their run came to an end. A 2-0 away deficit was overturned at home, but a late controversial winner for Marseille sent Salzburg packing. Nevertheless, it was an impressive run in Rose's first season – despite their talent, this is about as far as an Austrian team can go in Europe.
That summer, many of the team's key players left, including Dabour, Wolf and Haidara. They still completed the league and cup double in 2018/19, but going far in Europe was a bit too much. It would also prove to be Rose's last season in the Salzburg dugout, as he would depart for the German Bundesliga. Former Salzburg coaches are known to do well there before crossing the border to Germany.
The first coach Rangnick brought to Salzburg was Roger Schmidt in 2012. He did great things with the team before leaving for Bayer Leverkusen two years later. Schmidt's replacement, Adi Hütter, broke records in his native Austria but left Salzburg after a season. He found his way to the Bundesliga with Eintracht Frankfurt via a three-year spell in Switzerland with Young Boys. Now, Rose was set to join the list with Borussia Mönchengladbach, as he replaced Dieter Hecking. 
In his first season, Rose exceeded expectations with Gladbach as his team were challenging the top of the Bundesliga. With Bayern Munich struggling initially and themselves, Borussia Dortmund and RB Leipzig pushing for the title, they fit in well with the best in Germany.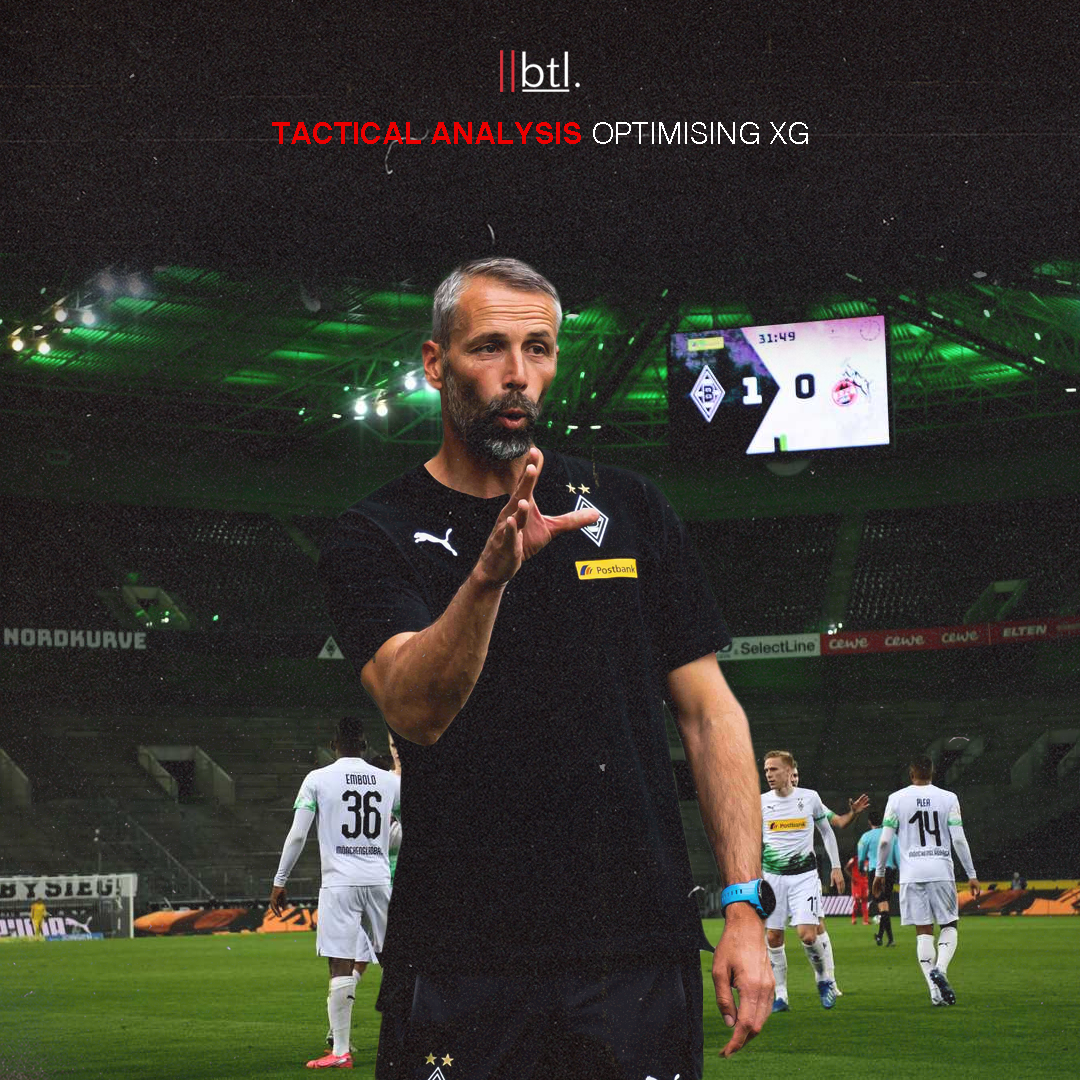 However, the slight drop in form pushed Gladbach a tad lower in the table, but they were still able to seal a return to the Champions League, which would have been the primary objective having suffered a few near misses in previous seasons. It's no surprise that his bosses and fans of the club are so happy with him, and with Rose in charge, Gladbach will go places.
"I don't think it makes sense to bang out bold goals," he says. "But I also don't find it motivating to always just say: we only watch from game to game. We express it differently: we want to win every game, regardless of the opponent. That might sound boring at first. But we want to have the confidence to do it: always play to win, very actively, whether against the bottom or the top of the table."
At 43 (or 44 when the season starts), Marco Rose will be one of the youngest coaches in the Champions League next season, but he has proven that wherever he goes, he can upset the odds.
At Salzburg, first with the youth team, he won a tournament that he was largely not expected to win and added more credibility to the club's strong efforts towards their scouting and youth teams; with the senior team, he reached the last four of a major European competition, beating some big names in the process. With Gladbach, he took the team to Europe's elite once again, and he certainly has a bright future in the game.
By: Karan Tejwani
Featured Image: @GabFoligno / Christian Verheyen