In an attic in Apeldoorn, the Netherlands, one can find an old box containing notes. These cover tactical writings related to the Dutch national team of 1992, when they were led by Rinus Michels at the European Championships in Sweden that year. The Dutch managed to reach the semi-finals that year, losing to Denmark in a penalty shoot-out. Part of that team was Peter Bosz and it was he who wrote those notes. 
Early in his playing career, Bosz made it known that he wanted to go into coaching after he hung up his boots. Michels was one of the few coaches who were part of these notes as the midfielder wished to learn from the best.
A playing career that saw him don the shirts of Vitesse Arnhem, RKC Waalwijk and Feyenoord, he took notes from all the coaches he played under, honing his craft and preparing himself for the second stage of his footballing education. 
"It is very difficult for me to throw things away, so I still have those notebooks from the 1992 European Championship in Sweden," says Bosz. "I didn't think I was good enough for the Dutch national team. I was in the team with Ruud Gullit, Frank Rijkaard and Marco van Basten and when Rinus Michels did his match discussions, he often really highlighted one aspect."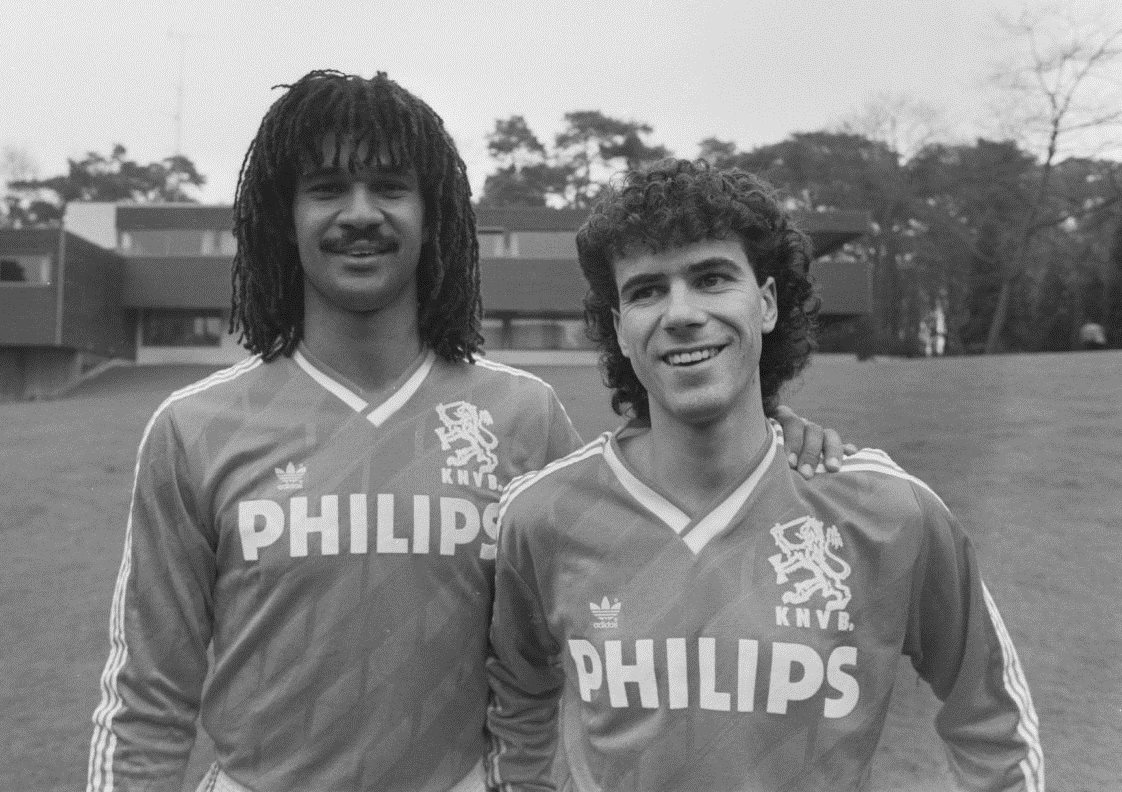 Photo: Nationaal Archief Fotocollectie Anefo
He continues: "For example, why the Italian defenders were so good. I thought this is the point! Immediately after such a meeting, I walked to my hotel room and wrote it all down, knowing that this would come in handy. I knew I was not good enough as a player, but maybe later as a coach."
Bosz's football career started off with local side AGOVV in Apeldoorn, before moving to Vitesse Arnhem for his senior career. In between playing football and making a name for himself in the game, Bosz spent time being a salesman: driving a company car to industrial estates and convincing them that buying fuel cards for their employees would be more cost-effective. Rather unsurprisingly, he wasn't very good at it. Football was his thing, selling products wasn't. Luckily for him, his talent on the pitch was enough to see him progress.
As a player, he got chances at some of the country's most esteemed clubs and from a young age, his mentality was always about winning. From staying away from his team-mates after a defeat, to refusing to shower after training, to practicing alone after a defeat, Bosz always set his heart out on victory and that desire carried him to having a fine career in the game. While he may look like a calm, composed figure in matches, he's well-known to have a fiery nature when things go his way – something many of his future players have confirmed. 
The midfielder hung up his boots after spells in Germany and Japan and immediately made a move to management. Just like his playing career, Bosz's coaching career also began with a short-lived spell at AGOVV where he won the amateur championship, before moving to De Graafschap, his first professional club. 
Relegation to the second-division was not the ideal start and in 2004, he found himself at Heracles Almelo – a club where he was able to set out his coaching philosophy. The second division was a more suitable environment for a young coach like Bosz, and he was able to make the best out of his talents there.
At Heracles, coaches and players were able to express themselves under Bosz. They often praised his tactical intelligence and his clarity in explaining his vision – that showed in the results. In his first season at the club, he led them to promotion to the Eredivisie and in his second, they finished in a respectable 13th place.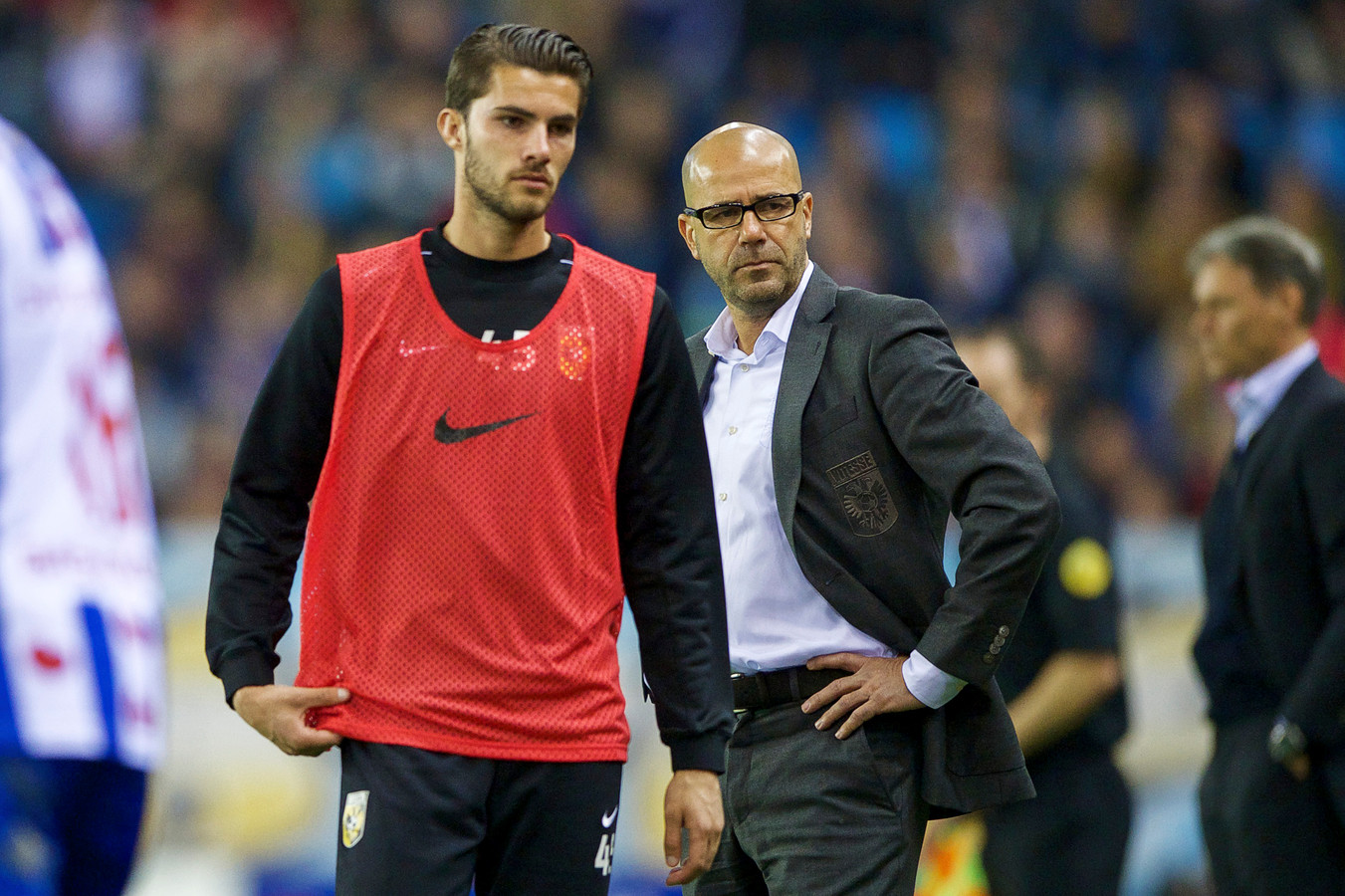 Photo: VI Images
With his attractive, attacking style, Bosz wanted his team to be brave, keep the ball on the ground and not always go for the easier option of hoofing the ball away when his team were under pressure. This was praised by many. 
Another aspect that stood out to the players was Bosz's unique half-time team-talks. In the notes that he took down during his playing career, Bosz learned the art of an impactful half-time chat, and he put that to practice when he went into coaching himself.
Wim Jansen, the former Feyenoord legend who was also a part of the Dutch national teams that finished as runners-up in two successive World Cups in 1974 and 1978, was another coach that stood out for Bosz.
From him, Bosz grasped the importance of calmness and patience, exemplified best by Jansen's team talks while they were both at Feyenoord in the early '90s. Bosz identified how staying quiet for most of the 15 minutes allowed players to gather their thoughts and understand where the game was to be won or lost.
Jansen often stayed quiet for about six minutes before uttering his first words – this helped his players be more attentive, and it was something Bosz thought would be useful for his own career. "Believe me: I have seen enough coaches who started talking at minute one until minute 13 in the break," says Antoine van der Linden, who played under Bosz at Heracles Almelo, to Tubantia. 
"You just don't know what was said in the first minutes [of the break]. Bosz briefly explains his analysis of the first half and what we had to do differently after the break. That was enlightening."
Bosz would leave Heracles in 2006 to return to Feyenoord, the club for whom he made over 150 appearances for as a player. This time, it wasn't as a coach, but as a technical director. With the ambition of being champions, Feyenoord made a host of top-level signings, bringing in the likes of Roy Makaay, Giovanni van Bronckhorst and Tim de Cler as they went on to win the KNVB Cup.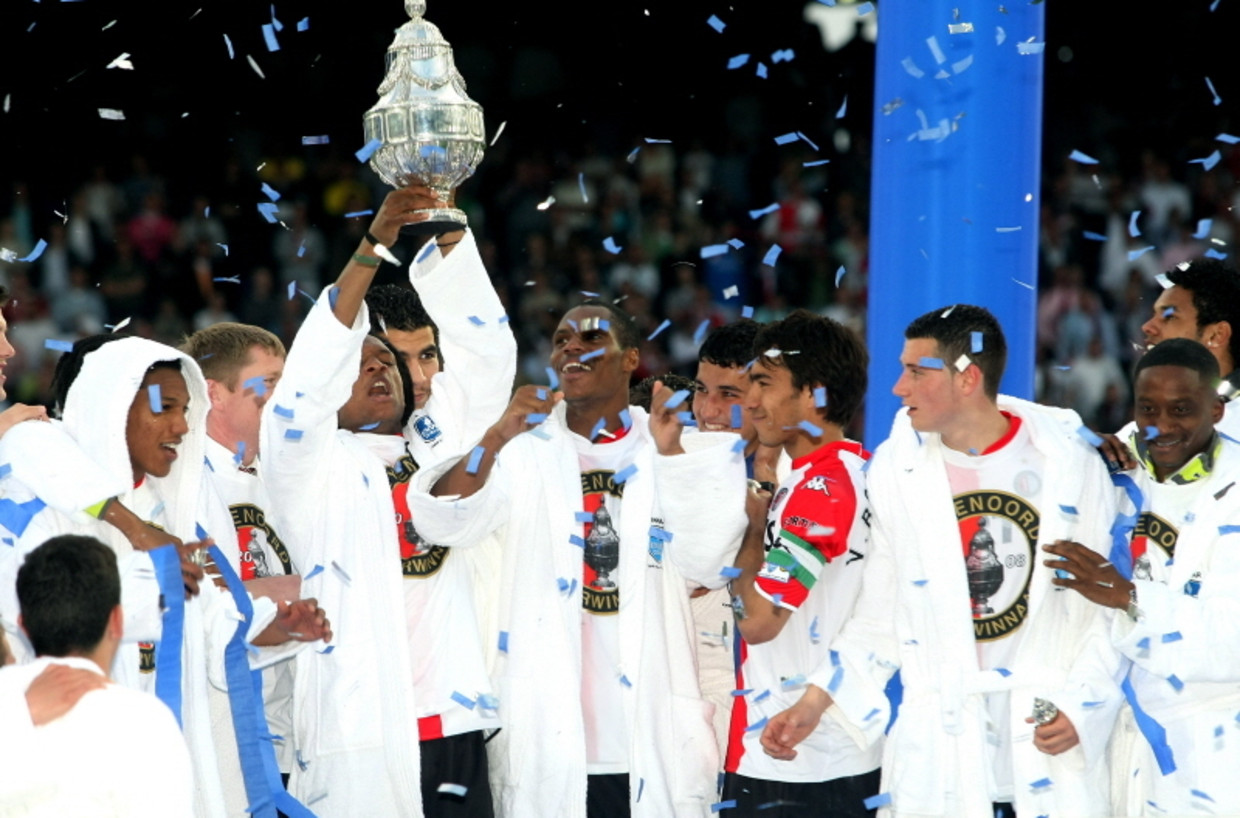 Photo: Volkskrant
The Eredivisie still brought along plenty of disappointment, as they were stuck fighting lower down the table. Two-and-a-half years later in February 2009, he would leave after coach Gertjan Verbeek was let go.
Heracles was Bosz's destination once again and this would be a more fruitful spell than the previous one. Now an established Eredivisie club, Bosz would elevate them with their exciting, attacking football.
The mentality of winning 3-2 rather than 1-0 was apparent over the next few years as Heracles were always keen on moving forward and getting the ball in the net. A few near misses cost them qualification for Europe, but Bosz was only getting better. 
At Heracles, Bosz also met Peter Blangé, the former Dutch volleyball player who starred for them at four Olympic Games. Blangé introduced him to data tools like SportVU, a tracking system that allowed coaches to monitor their players' physical performance, improve their insight, prevent injuries and create better training methods.
According to Bosz, it also helped him learn how to better his players' positioning and sustain compactness when defending. This was a tool Bosz used throughout his career.
Next came a move to Vitesse in 2013, who were sitting on top of the league in the early months of the season, before ending it in sixth.
It was at Vitesse where he was getting greater recognition for his work and after helping his side qualify for Europe, his reputation was improving. Working with him was Spanish coach Albert Capellas, who was previously at Barcelona during Pep Guardiola's successful first season where they won the treble.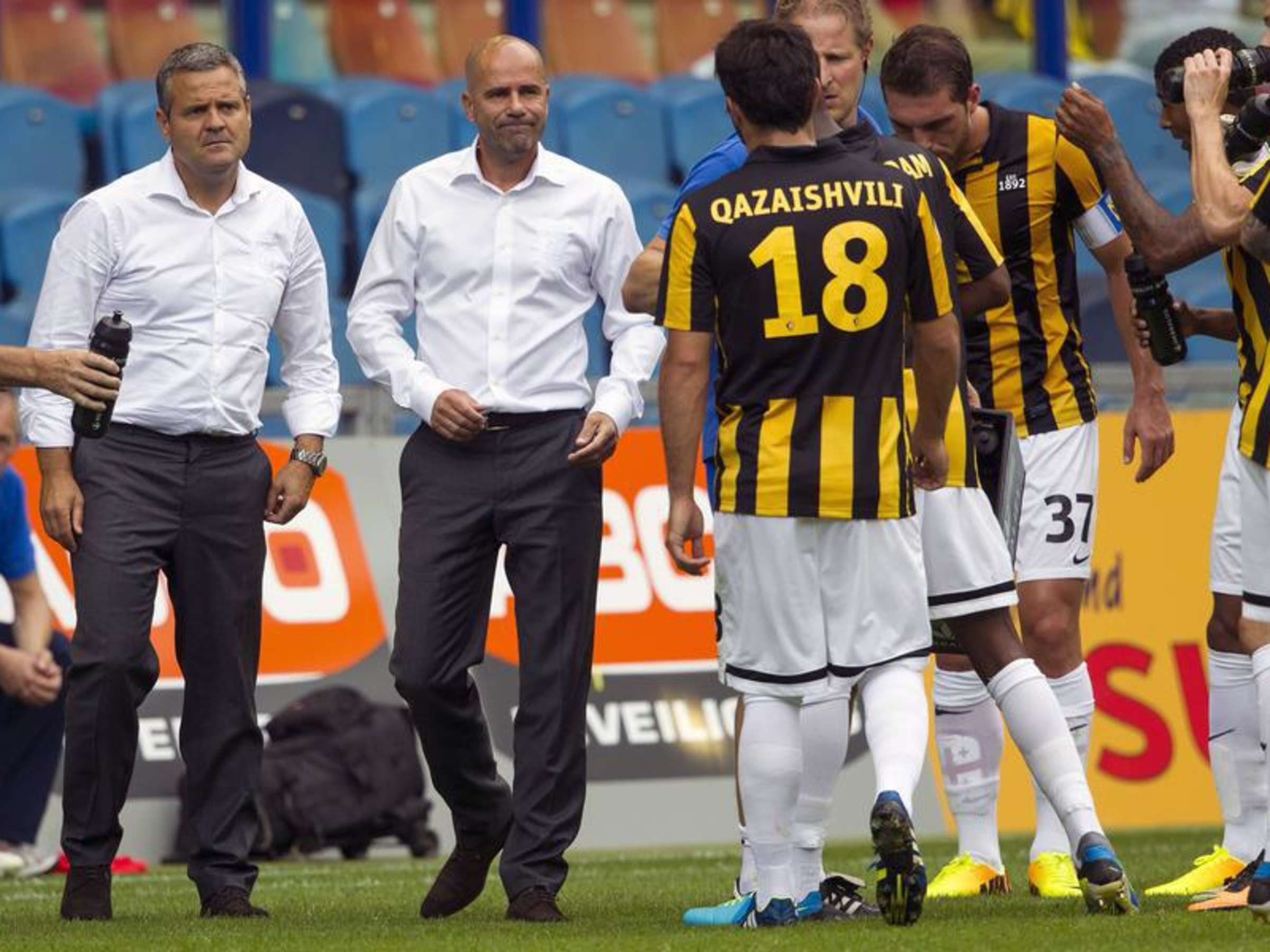 Photo: dpa
An admirer of Guardiola, Bosz often tried to style his teams in that way and it was often clear to see at Vitesse and at clubs later in his career. The quickness, compactness and counter-pressing were all of a very high quality at teams Bosz managed.
Bosz also credits Capellas with teaching him about the intricacies of positional play and how he never starts training sessions with a warm-up, instead, playing a small game with emphasis on positioning. The Dutchman believes the risk of injury without a warm-up is far less than many anticipate and a game is just as beneficial.
Speaking to Trouw about Guardiola, Bosz said:
"I don't have much time to read, but 'Herr Pep' [or Pep Confidential, by Martí Perarnau], about Pep Guardiola's first year at Bayern Munich, is the best book I have ever read. It's an inspiring book. The club [Ajax] bought that for everyone after I got so excited.

When Barcelona played, where Guardiola first coached, we would watch Barcelona with all the coaches on TV as often as possible… I have seen Albert Capellas at Vitesse. He was one of the assistants and had worked with Guardiola at Barcelona for many years. I learned so much from that man. It has made me a better coach."
Johan Cruyff was another of Bosz's idols, as he is for many in the Netherlands. Having played under Michels and praised Guardiola's teams during his career, it comes as no surprise that Bosz himself was keen on learning more from him and emulating the great Dutchman.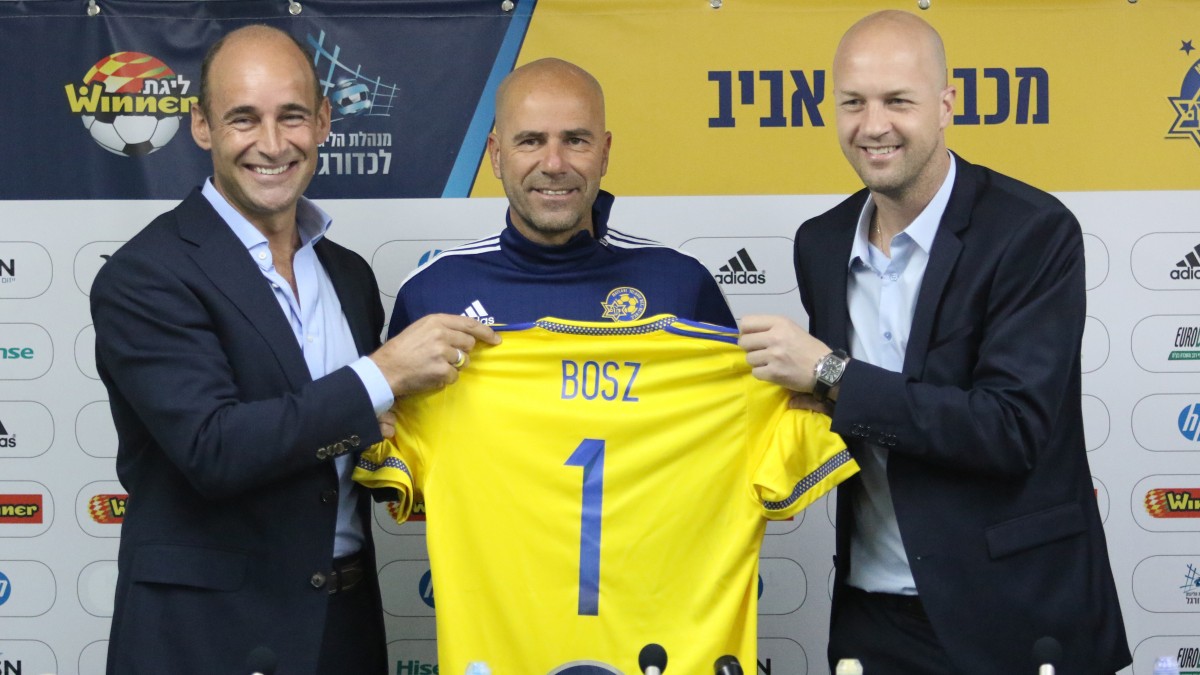 Photo: Maccabi Tel Aviv
That chance came in 2016 when Bosz made an unconventional move to Israel's Maccabi Tel Aviv, when Johan's son, Jordi, was the sporting director. While Cruyff Jr's playing career may not have been as prestigious as his father's, he was doing an excellent job as a director and bringing in Bosz as a manager was a big coup.
In his spell as Maccabi's sporting director, Cruyff won three league titles, and the arrival of Bosz was something he was greatly looking forward to. Cruyff: "I've been following him for years and have a lot of admiration for his work as a trainer. The club has approached him more than once to sign with us."
This good relationship also brought him closer to Johan. Shortly before his death, Bosz spent a week learning and talking to the Barcelona and Ajax legend where he later said he learned enough for 10 years by spending a week with him. Indeed, it was one of his heroes who had shaped his own football philosophy – the very philosophy that had brought him so much success and made him one of the Netherlands' finest coaches in this era.
Speaking to DW later in his career, Bosz only had positive things to say about Cruyff:
"Johan was a man who always thought and behaved independently, who had no fear and followed his path — even though there were setbacks. He was courageous, and he loved football and good players. I also go my way, which I believe in and of which I am convinced. I don't believe that you can be successful in the long run if you are constantly changing directions."
Bosz's spell in Israel was short-lived. In six months, Maccabi Tel Aviv painfully finished runners-up in both the league and the cup, but that didn't hurt Bosz's reputation too much.
There was a clause in his contract that allowed him to move to Ajax whenever they came calling and in the summer after joining, he was on the move back home, taking on the biggest job in his career. Whether Jordi himself influenced the move is unknown, but there certainly was Johan's influence in Bosz that made Ajax feel he was a worthy candidate.
His Feyenoord links meant that he would have to do that little extra to win over the supporters – and he did so in impressive style. By integrating the club's brilliant youngsters into the first team, playing in a way that was synonymous with the Ajax of old and reaching the Europa League final – Ajax's first continental final in over two decades – Bosz became a favourite. Speaking at a KNVB coaching conference, he was asked about his way of management, where he explained some key fundamentals.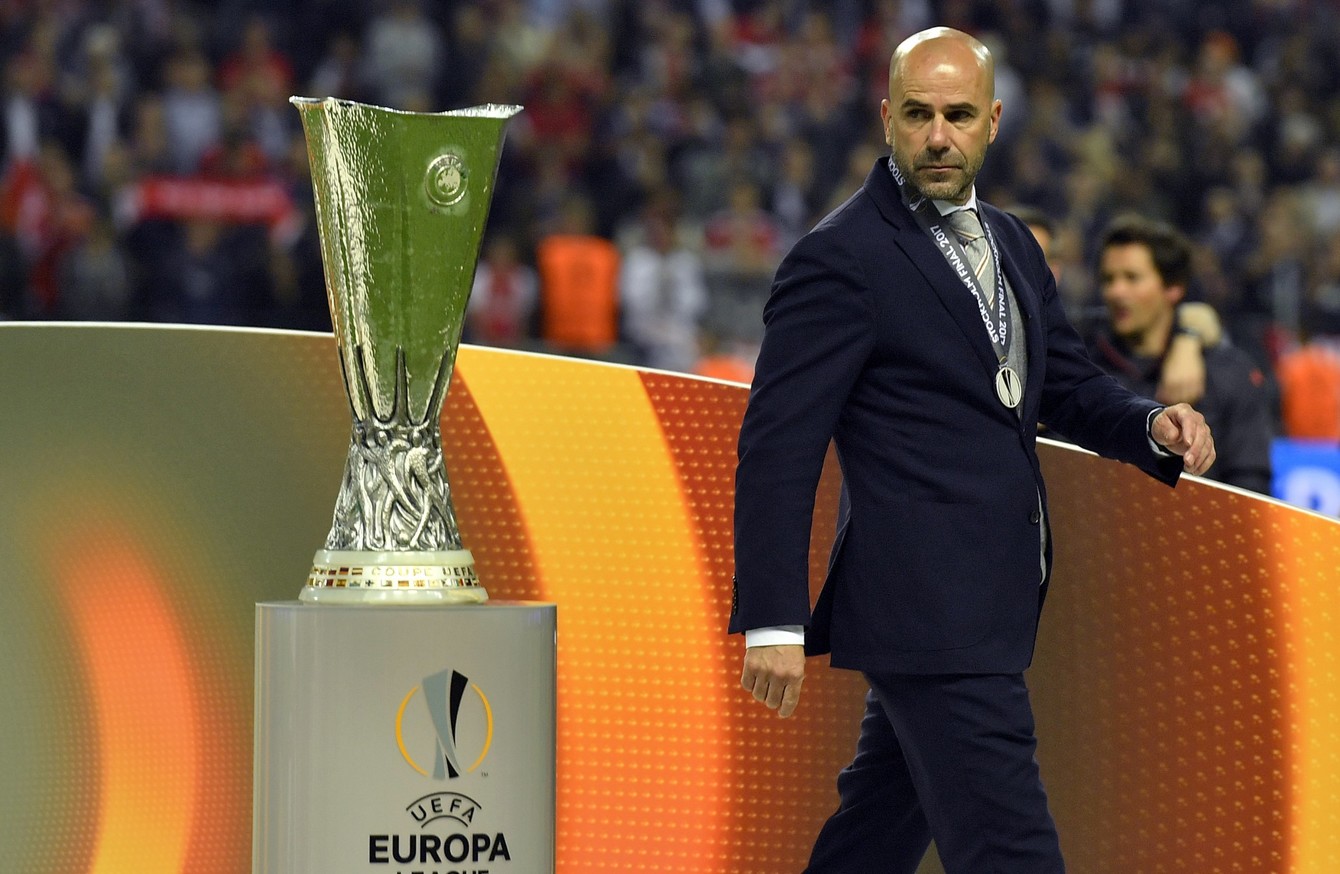 Photo: Martin Meissner / The42.ie
Bosz believed there was no single way to success for coaches and a lot depended on variables:
The culture of the club that you are presently working at;

The coaches you work with;

The players you have at your disposal.
Additionally, he also explained the key principles to his playing style which made him so successful at Ajax: 
High pressure on the opponents;

Compact play;

The five-second rule – recovering the ball within five seconds of losing it (something Bosz loved watching while Guardiola was the head coach of Barcelona).
Despite losing the Europa League final to an astute Manchester United in Stockholm, Bosz was chased by many across Europe. It was Borussia Dortmund who would get his signature, believing that he was the best fit for their own young team.
At Ajax, the likes of Matthijs de Ligt, Justin Kluivert, André Onana, Kasper Dolberg and more were all given an extended run in the first-team. In Germany, Dortmund had the same expectations having had players like Jadon Sancho, Alexander Isak and Christian Pulisic on the books. 
That spell, however, didn't go as planned. After a positive start where they were even five points clear of Bayern Munich at the top of the table, Dortmund's form fizzled out and by December 2017, just over six months after signing, Bosz was sacked.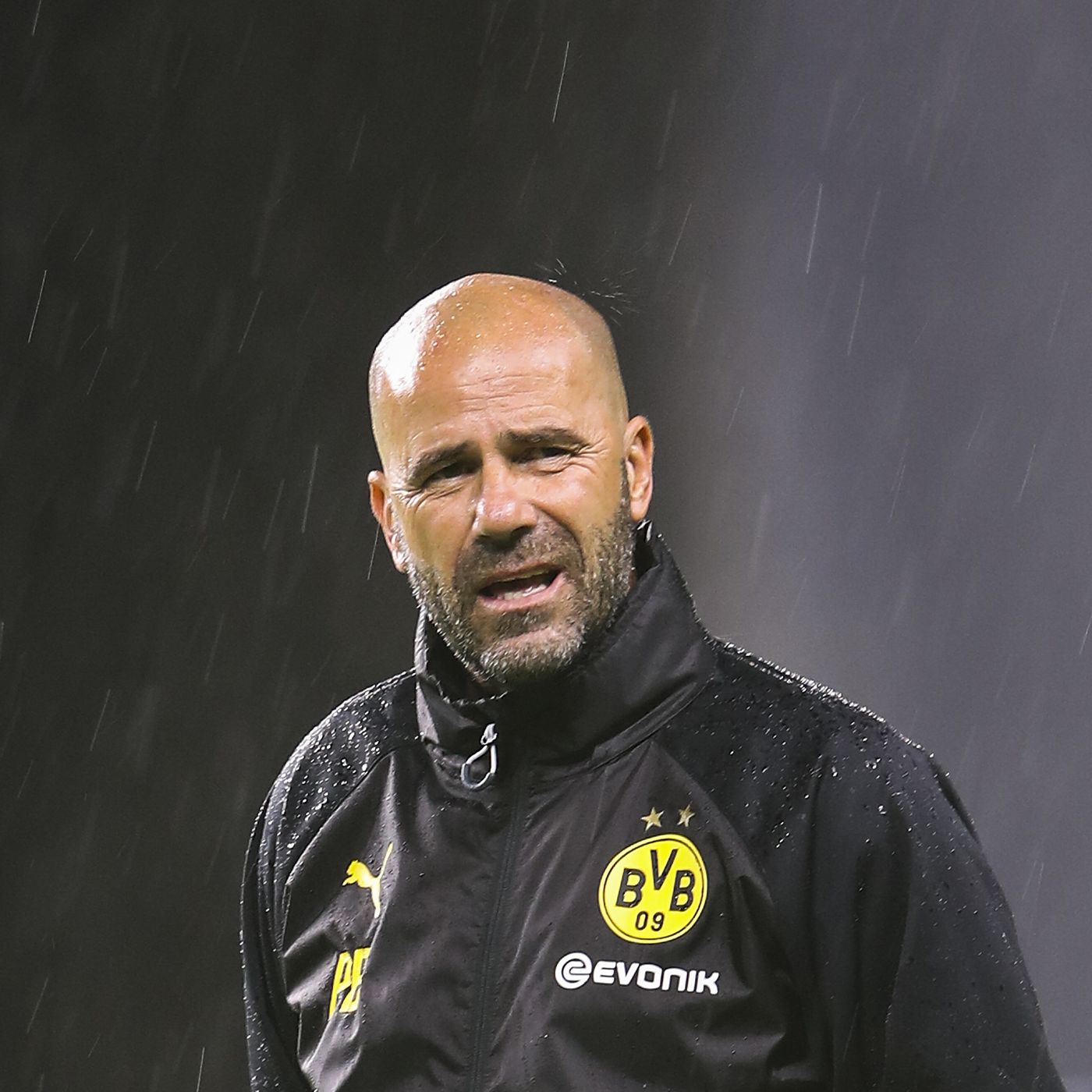 Photo: Lintao Zhang/Getty Images
Now at Bayer Leverkusen, Bosz has impressed once again. In his early weeks he told the media that Germany hadn't seen the real version of him yet, but after leading them to Champions League qualification in his first season (having been in ninth place when he signed in December 2018), he won over a few doubters. He continued his brand of attacking football and while it has haunted his teams at times, when it works, it's a joy to watch.
DW asked him why he preferred attacking football, despite making a name for himself as a defensive midfielder during his playing days, to which he replied:
"That's connected with emotions. I like to watch teams where something happens. Playing wide, playing backward, only playing long passes, that doesn't belong to the football that I love. I want to cheer when I watch football. It should be fun to watch. That also is why I try to let my team play in a way that the fans like."
Bosz redeemed himself at Leverkusen, getting the best out of some exciting players. Now, how far he can take them is something to look forward to. He is a coach that has taken his own path, learned from the finest and entertained many and those notes in his attic in Apeldoorn certainly played a part in shaping his career.
By: Karan Tejwani
Featured Image: @GabFoligno / Matthias Hangst / AFP