Thomas Tuchel: The Making of Paris Saint-Germain's Great Hope
In February 2001, Mainz, who were struggling in the second division of German football, made a tough decision and gave the coaching reins to an untested Jürgen Klopp, who formerly played for the club as a centre-half. This was a team on the wrong end of the table and giving the coaching job to a 33-year-old with little experience was a massive risk.
Fast forward seven years and this turned out to be an inspired call. Klopp left his role in June 2008 for the more fashionable Borussia Dortmund and he had a gleaming reputation: in his time there, it was widely regarded that he was arguably the greatest coach in Mainz's history, taking them up to the Bundesliga.
That gave the Mainz hierarchy to make more tough decisions in the future. If it worked out successfully once, it could certainly happen again. In his time there, Klopp laid the foundations for the future by stabilizing Mainz.
After leaving them for great success in Dortmund, his former club would go down the same route, giving the role of the head coach to an emerging Thomas Tuchel, a 35-year-old who had previous coaching experience with youth teams, in August 2009. His journey to this point was unlike Klopp's, but his impact was perhaps even greater than the now Liverpool coach.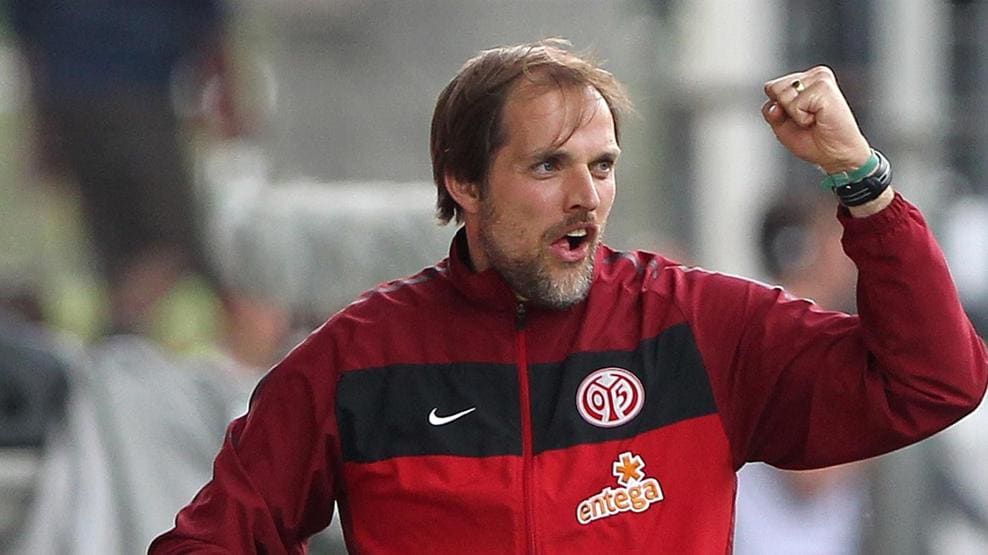 Photo: Getty Images
"We are not looking for a copy of Klopp, but someone who thinks like Klopp. If there are similarities to Jürgen Klopp, then I don't oppose it," said Harald Strutz, the club president. Indeed, they were looking for someone to carry on Klopp's good work and in Tuchel, they had the ideal man.
The road to getting the job at an ambitious Bundesliga club was one of heartbreak, learning and meticulousness and to aid his growth, Tuchel had the finest mentors – people who were shaping the future of German football. 
Like most coaches, Tuchel also delved into the craft following a playing career, but his was much shorter. A series of knee injuries halted his time on the pitch in his early 20s and he was forced to drop the dream of being a player after just 68 appearances across a four-year spell at SSV Ulm.
A defender in his day, he was coached by Ralf Rangnick, the developing coach who challenged Germany's tactical backwardness with his unique four-at-the-back and pressing ideas. It was at Ulm that the pair formed a good rapport. 
After leaving Ulm, Tuchel was a dejected figure, studying Business Administration and funding it by working as a bartender – something he hardly enjoyed. Ulm, meanwhile, were on the up while Rangnick would move on to better things, joining his hometown club, VfB Stuttgart. It was here that Tuchel approached his former coach with a view to reviving his playing career with the club's reserves. Rangnick accepted, but Tuchel's knee didn't. 
His injury problems persisted, and it was certain now that his playing career would have to end indefinitely. Then, Rangnick suggested he try his hand at coaching, and with the opportunity to still continue in the game that he loved, Tuchel followed his advice and went on a different footballing journey.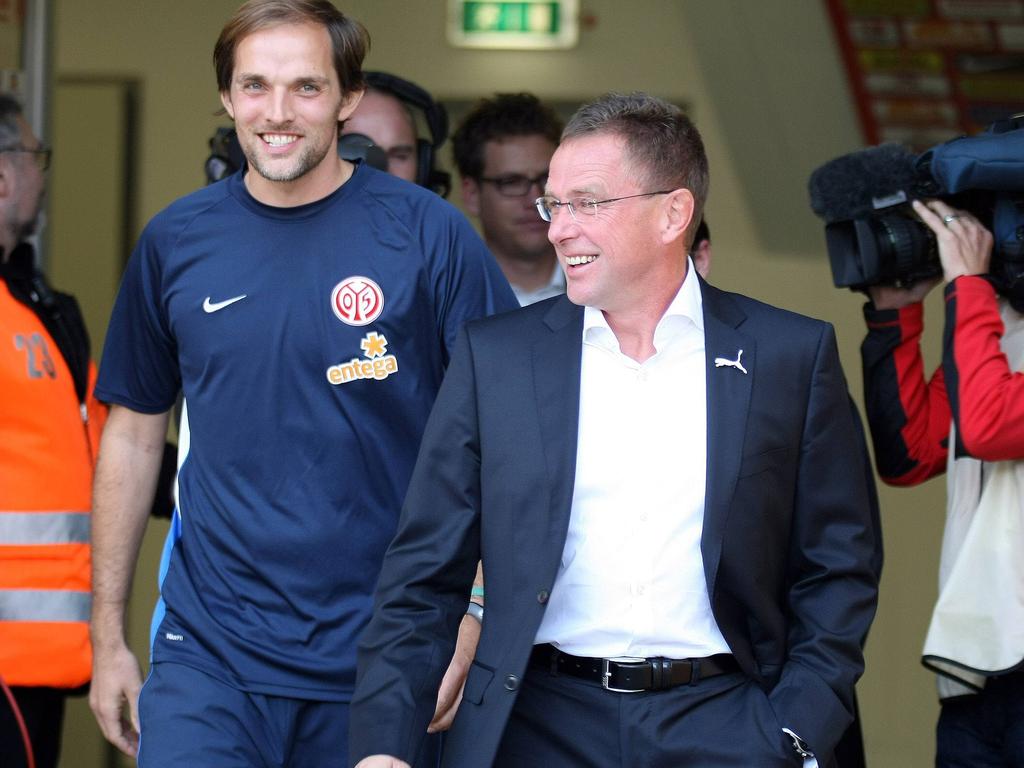 Photo: imago sportfotodienst
The Stuttgart school of coaching is unique, something that follows the teachings of Rangnick as well as his mentor, Helmut Groß. Rangnick himself was in his second stint at Stuttgart – the first was as a coach in the junior departments, where he and Groß set out the plans for how the youngsters should be playing. 
At a time where there were no manuals or textbooks for coaching, Rangnick and Groß designed their own teaching materials. It was from these manuals that Tuchel would learn, and it shaped his coaching philosophy – something that is evident to this day.
Tuchel spoke about his learnings in Stuttgart to Stuttgarter Zeitung:
"You can say that I am a staunch representative of the Stuttgart football school. Just as you are shaped by your parents' upbringing, you are shaped as a young coach here. In this respect I have dedicated myself to the Stuttgart school, which stands for offensive thinking, forward defense [pressing] and ball-oriented play. Of course, I continued to develop [after leaving] – but the basis was laid in Stuttgart."
At Stuttgart, Tuchel would go through the ranks, coaching the U-14s, the U-15s and then the U-19s, achieving substantial levels of success throughout. For Tuchel, this was fulfilling. He had history with the city, previously playing for Stuttgart Kickers before moving on to Ulm, but now that he was helping the next group of youngsters achieve their dreams, he was enjoying himself and his work.
Throughout his time working with young players, Tuchel emphasized the importance of respect, appreciation, punctuality and the right mindset with coaches and fellow players. Simple acts like greetings with handshakes and making eye contact in conversations were imperative – it was about more than just making good footballers. 
This was all taught to him by Hermann Badstuber, the father of former Bayern Munich defender, Holger. It was Badstuber who taught Tuchel the importance of building personalities, and Tuchel cites him as another of his mentors: "We got to know each other at Stuttgart. He has developed into a sporting father figure for me. He is largely responsible for the meticulousness of my euphoria for the coaching job – shaping me both personally and professionally."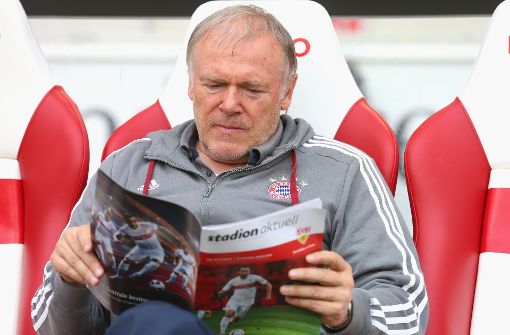 Photo: Getty
By 2005, five years after becoming a coach, Tuchel and his Stuttgart team won the U-19 Bundesliga and while all that was happening, he was taking in the learnings from his mentors and establishing his own philosophy. His mentality was clear: losing is not an option, his team has to give it their all, play aggressively and win the ball high up the pitch.
Doing this may ask a lot from the players, but it's the same for coaches as well, they need to adapt tactically, psychologically and technically – something Tuchel managed seamlessly. Soon after, he would move to Augsburg (in 2006) and complete his coaching badges before switching to Mainz in 2008, once again with the U-19s.
In the summer of 2008 at a pre-season training camp in Austria, he joined his team on a mountain bike tour and in a bid to motivate them, Tuchel buried a club badge in the mountains with the promise that they would dig it out only when they reach the U-19 Cup final. In June 2009, the team reached the final where they were set to face Borussia Dortmund.
With just a week between winning the semi-final and playing the final, he didn't want to make the team travel to Austria. Instead, he and fellow staff member Volker Kersting went down themselves and dug it out. Prior to the final, they showed the video of their trip, as Mainz would go on to win 2-1. 
Just a few months later, Tuchel got his deserved big break. Mainz, who had just been promoted back to the Bundesliga, gave Tuchel the main job with the first-team. Immediately, the comparisons with Klopp arose – a coach in his 30s with fresh ideas normally wouldn't have been the most exciting prospect, but for Mainz, they had seen this once before and the future was promising.
Tuchel delivered in his first season, as he steered the club to an impressive ninth-place finish. Featuring in the team were some exciting footballers, most notably, the young André Schürrle, who knew Tuchel from the time they were in the U-19s set-up.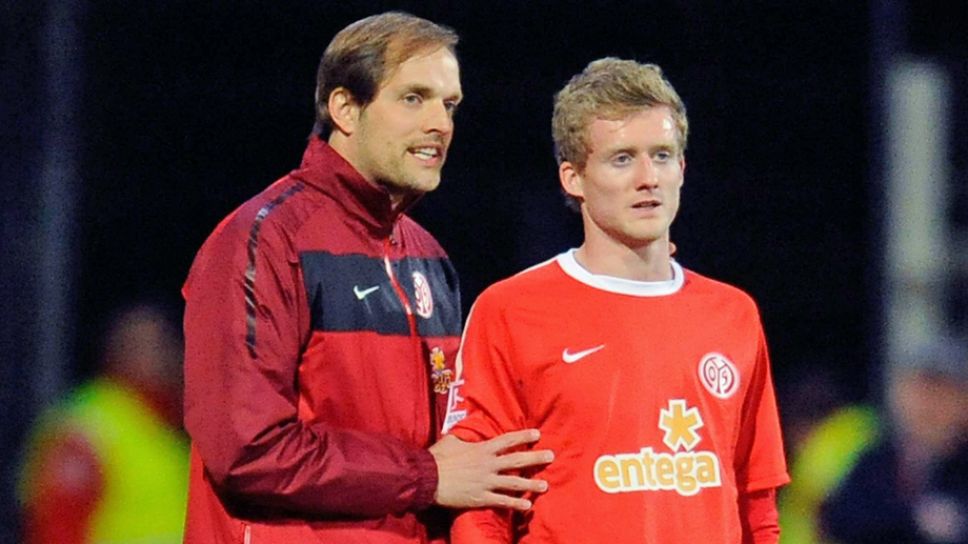 Photo: imago
The next season was even better, starting off with a seven-game winning run that included successes over Bayern Munich and Hoffenheim, coached by Rangnick. Known as the Carnival Boys in the Bundesliga for their presence in the carnival city, they were certainly giving the fans plenty to cheer about that season.
Lewis Holtby, who joined on loan from Schalke, and Ádám Szalai, who made his move from Real Madrid Castilla permanent, formed a good trio along with Schürrle and the three were the Mainz boyband – they celebrated their goals by playing imaginary musical instruments: one was the drummer, one was the guitarist and the last was the singer. 
The atmosphere around the club was great as well. Mainz ended up qualifying for the Europa League that season for the first time, something which certainly raised Tuchel's status in the city, and it was a fine achievement for an improving club. His good relations with the players and constant desire to relate with them better made him easy to work with.
Holtby once revealed that Tuchel turned up to negotiations for his loan deal wearing sports shoes, jeans and a v-neck sweater with a travel bag around his shoulder as he concluded the deal before returning to his holiday – something that only exemplifies his calm, composed nature. 
Tuchel even took inspiration from the glorious Barcelona teams under Pep Guardiola. It wasn't the talent of Lionel Messi or Andrés Iniesta that stood out to him; it was the hunger to win and these global superstars managing to keep their feet on the ground with one goal in mind:
"Their outstanding quality is their devotion and passion when it comes to winning the ball back in the opposition's half once they lose it," he said to The Guardian. "That's only possible with a huge amount of humility. It's not a given that stars at this high level are collectively committed to an idea and that no one takes the liberty of doing a little less of the hard work."
Combine that with his unique motivational strategies and there was a solid coach in Tuchel. In the build-up to the Bayern Munich game at the Allianz Arena that season, he altered the team's travel schedule at the last minute, which meant that Mainz would travel to Munich on the day of the game via a chartered plane and not stay in the city for the night before.
The club's reasoning was that there was a difficulty in finding hotels due to the Oktoberfest, but Tuchel suggested that he wanted to change the mentality and stimulus. Mainz won 2-1 – their first-ever win in Munich – and the €12,000 cost was well worth it.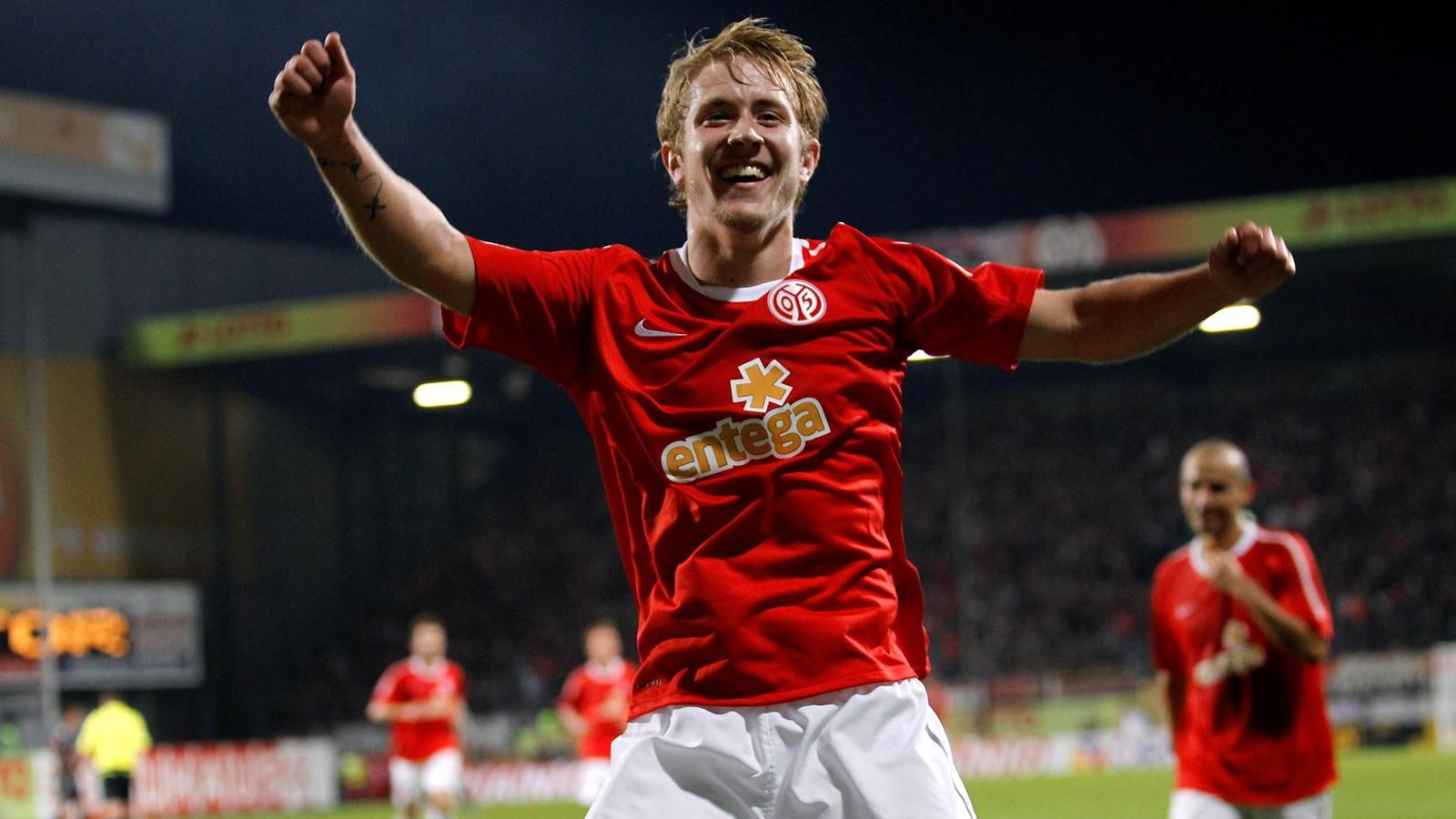 Photo: Reuters
Over the next few seasons at Mainz, Tuchel continued to build on his success. He left his role in 2014, eclipsing Klopp's record, averaging more points per game (1.41 compared to 1.13 for Klopp) and took them to the Europa League on one more occasion as they finished seventh in 2013/14.
Whether his legacy is bigger than Klopp's is a different debate altogether, but he certainly earned the right to be regarded as a crucial figure in the club's history. He left and took a sabbatical for a year, before replacing Klopp himself at Borussia Dortmund, as comparisons between the two only grew.
In that year-long break, Tuchel was still educating himself, understanding the importance of stats from Brentford owner Matthew Benham and then learning from Professor Wolfgang Schöllhorn, a famed sports scientist who indirectly influenced Guardiola. All of this helped in his job at Dortmund, who endured a terrible final season under Klopp – even battling relegation halfway through the campaign before ending it by qualifying for the Europa League. 
Tuchel's first season went well: he improved the team, not just on the pitch, but their standards off it. Employing new staff to construct a fair dieting plan was important, as Mats Hummels and Ilkay Gündogan pointed out, while the team were getting the results to back their performances. Fitness was a major factor that they had lacked in the previous season – even the club's bus driver, Christian Schulz, followed the new diet and admitted he lost eight kilograms. 
Refreshing the squad was vital as well. The names associated with Klopp's successes were replaced with new players, the likes of Roman Bürki, Gonzalo Castro and Julian Weigl all entered the picture as Dortmund finished second in the league. They took pride from the fact that they lost just four games all season while the attacking triumvirate of Marco Reus, Henrikh Mkhitaryan and Pierre-Emerick Aubameyang scored an incredible 85 goals between them in all competitions.
A year after that, he would win the DFB Pokal, the first trophy of his career, in his last game with Dortmund. Tuchel left his role after months of disagreements with board and players alike but his role in changing the culture was important. Once again, he had a better record than Klopp, albeit in a much shorter time and different context. Another sabbatical followed, before a return to management with Paris Saint-Germain.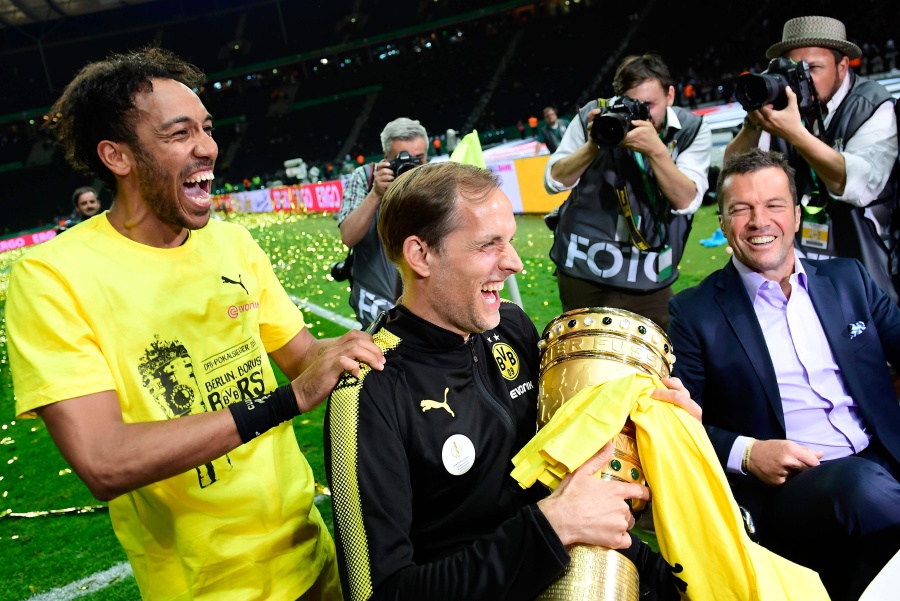 Photo: Tobias Schwarz / AFP Photo
Now, after a year of dominance in France, heartbreak against Manchester United and the never-ending desire of doing well in the Champions League, Tuchel and his PSG superstars have a week in Lisbon that could say plenty. Atalanta were deservedly beaten, although it took a while to get there, and RB Leipzig await.
Julian Nagelsmann, the current RB Leipzig coach and great friend of Tuchel, was doing his coaching badges when he first linked with the current PSG boss – it was Tuchel that gave him a gleaming recommendation and the pair have shared a positive relationship since. They've had similar paths in their careers: both played as defenders, both had their playing careers cut down by injury, both became coaches in their 20s and they're both protégés of Rangnick. 
For Tuchel, the Champions League is a must. He's delivered it all domestically and after about a decade of heavy investment, PSG need the biggest prize in Europe. The next week in Lisbon is crucial not just for the club, but for the coach as well.
They've wiped out questions of their poor mentality by getting to this stage for the first time in over two decades, now, they need to take the next step. The next week is the culmination of a long journey – from heartbreak as a player to a steady rise up the coaching ladder and now two wins away from being a European champion. 
Tuchel has succeeded Klopp at two jobs. Now, whether he can follow the Liverpool boss on the Champions League winners' roll of honour remains to be seen.
By: Karan Tejwani
Featured Image: @GabFoligno / Lisi Niesner / Reuters