Best of Both Worlds: England Must Alternate Ben Chilwell and Bukayo Saka at Euros
What most annoyed England fans about the Euro 2016 defeat to Iceland wasn't the defeat itself. England's second-round capitulation to the Scandinavian minnows was rightly seen as a national disgrace — fewer people lived in Iceland than in Leicester in 2016, to add bitter context. But what most hurt about it was that the writing had been on the wall all along. Roy Hodgson had not once shown anything like a commitment to a fixed formation, nor a distinguishable style of play, nor much preference for particular personnel. England looked totally amorphous at Euro 2016; they arrived in France with their fingers crossed. What was always bound to happen did.
The clichéd stock phrase that ran alongside that is: "He didn't know his best XI and stick to it. What did he think was going to happen?" Hodgson was criticised for this indecisiveness by top pundits, fans and journalists for a very long time. The point was only strengthened by the 2018 World Cup success of England under Gareth Southgate. He did make sure he was prepared for the tournament before boarding the plane with his players.
But a distinction must be drawn here. There is a key difference between a manager knowing their best players and a manager selecting the same players in every game. Consistency is vital in football — teams only build chemistry when their players have played together and learned each other's strengths and weaknesses.
But consistency isn't the most important factor for teams seeking to win major tournaments. Pragmatism is. The margins at the summit of international football are so tight that efficiency is pivotal. A manager must discover what maximises their side's talents. A synergy must be found between the individual players and the team's overall output.
All international teams that have won major tournaments in the 21st Century have been pragmatic. That isn't to say they played boring football (although, most did). It's simply an acknowledgment that tactical sophistication is needed to get a winning team over the line across the seven games that winning a World Cup of Euros requires. The rescheduled Euro 2020 looms for England and Gareth Southgate. The Three Lions' boss must do what it takes to give his side the best possible chance of winning that tournament — everything else must be an afterthought.
Knowing the best formation to play is vital. The '#SouthgateOut' movement has manifested largely from Southgate's decision to commit to the 3-4-3 system. Three centre backs help to shore up a leaky defence, but the almighty cost of such a decision is that the midfield four become a flat quartet, allowing no space for any of England's creative talents.
James Maddison, Phil Foden and Mason Mount all long to make a No10 role their own which now simply doesn't exist. It's not perfect (England's attacking output has taken a considerable hit as a result), but Southgate is being pragmatic. England are no longer exciting supporters, but the manager is seeing the bigger picture — winning a trophy would represent more-than-worthwhile deferred gratification.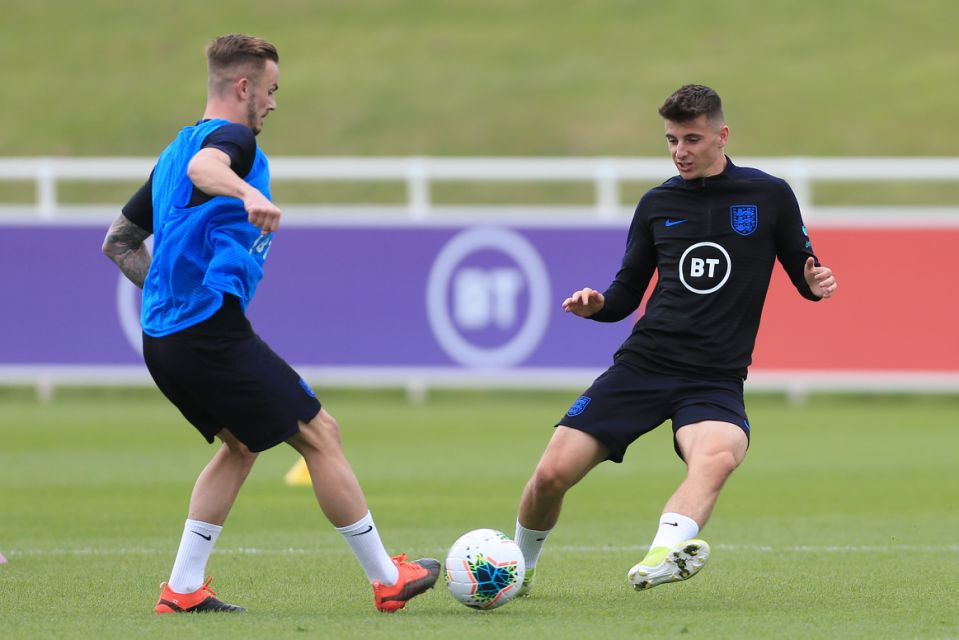 Photo: Simon Stacpoole/Offside/Offside via Getty Images
Southgate would be sensible to learn his 'best XI' in the March international break, ahead of the tournament this summer. However, unlike in Russia he shouldn't pick that XI 'come what may'. With England's right wing-back position so abundant in quality options, the left flank is seldom discussed. But in Chelsea's Ben Chilwell and young Bukayo Saka of Arsenal, the Three Lions have a couple of very capable — and very distinctive — options. The solution: England must alternate between them.
Would that represent indecisiveness of the same ilk as Hodgson in 2016? No. This would be a plan; this would show a pragmatic calculation in how to get the best out of the team.
Chilwell has become known as a very versatile player, able to command the left side of the pitch with defensive astuteness paired with total comfort on the ball when driving forward to join an attack. His set-piece delivery is also first-rate; he claimed three assists in a 13-minute period in England's qualification win over Montenegro in November 2019.
Like the more experienced England full-back Kyle Walker, Chilwell's athleticism and strength help him juggle both the offensive and defensive sides to wing-back play with ease. If anything, his positional awareness is better than Walker's, who has always experienced momentary lapses in concentration, often at considerable cost to his team.
Saka, meanwhile, is a converted winger-cum-forward. If you didn't know, it would be easy to tell just by watching him. The 19-year-old is able to hug the touchline and cross early into the box in order to take advantage of extra space during counterattacking situations. His attacking nous when less rushed is just as impressive for a player of such youth.
His eagerness to get in and around the box creates overloads for the opponents and offers an extra option for his teammates. He'll then often have the final say. Nine goals and 15 assists for Arsenal in fewer than 70 matches represent predictably high output, given his experience in youth football as an attack-minded winger.
Under a 3-4-3 system, the lack of a playmaker in the middle of the park creates a need for the two wing-backs to join in with the attack when facing compact low-blocks. International football — where mainstays can face microstates — often sees matches like this; one side is the obvious favourite, the other the clear underdog. England are more often than not favourites when they take to the pitch.
Their most recent match, a comprehensive 4-0 Wembley win — ironically over Iceland — back in November 2020, showed how effective Saka's movement off the ball can be against a packed defence. His overlaps provided an extra passing option whenever the left winger had the ball and allowed England to get in behind the defence. That is key to winning a mismatch-type fixture. England's group-stage matches against Scotland and the Czech Republic will likely play out in this way. Saka should start on the left in these matches. In a formation that lacks attacking invention, his crossing and movement could prove vital.
Against tougher teams who are more likely to match or even outdo them on the possession front, England need a left wing-back whose defensive positioning is assured, who marauds forward with the ball on the counter, and whose quality from set-pieces can fashion a chance at a difficult time in the game.
The obvious candidate for this role is Chilwell. England may well not have reached the inaugural Nations League finals in summer 2019 had Chilwell's excellent low free-kick not reached Harry Kane who was lurking and loitering at the back post to stab in the late winner against Croatia.
When on the back foot, England equally need Chilwell for his turnover play. Only one Chelsea defender has completed more Premier League tackles this season. For a wing-back, he is an aerial presence too, which could make all the difference when trying to defend an opposition free-kick or stop a ball over the top into the channel.
As was clear from watching Kieran Trippier at the 2018 World Cup or Ashley Cole at Euro 2004, top full-backs and wing-backs often shine the most in the toughest matches. When a game is on a knife-edge, the player will get to showcase their attacking prowess and defensive solidity in equal measure. This is true for Chilwell.
Plans are crucial. England and Gareth Southgate must be well-prepared as they attempt to conquer the continent this summer. Using the benefits and hiding the shortcomings of Bukayo Saka and Ben Chilwell is one way that England can stay ahead of the pack this summer. Playing most of their Euro games at Wembley is one thing; ensuring they win those games is quite another.
By: Dom Smith / @MrDomSmith
Featured Image: @GabFoligno / Soccrates Images – Getty Images / Pool – Getty Images
Dom is the creator of EnglandFootball.org.