Where is Bukayo Saka's Best Position?
Over the past few seasons, Arsenal have lacked the attacking guile from wide areas which their adversaries flaunt in abundance. While the interminable links to Thomas Lemar and Wilfried Zaha suggest the club have reportedly tried to resolve this issue, the Gunners appear to have stumbled upon one of their own in Bukayo Saka.
Saka made 38 appearances for the first team in all competitions and was a prominent fixture in both Unai Emery's and Mikel Arteta's plans throughout the season, playing as a no.8, left wing back, left back, left winger and right forward all to the standard of an accomplished Premier League player. In that time, Saka racked up 11 assists, more than any other Arsenal player despite occupying positions across the left flank under the tutelage of two different managers in his debut season.
While Saka has shown he performed well in a number of positions, identifying his best position (from an albeit small sample size) will give an indication of what to expect from the 18-year-old in seasons to come.
Left back/left wing back
In the modern game, full backs tend to be more involved in building up the play and are expected to be as skilled with the ball as they are without it. As we have seen from the likes of Aaron Wan-Bissaka, Ashley Young and Jesús Navas, this has coincided with the trend of wingers being used as full backs to take advantage of their attacking attributes whilst refining their defensive instinct.
A consummate dribbler of the ball with a cultured left foot, Saka possesses a repertoire of skills which very few players boast at his age. The England U19 international recorded five of his 11 assists from left back at a rate of 0.31 assists per 90. The only defenders in the league with more were Liverpool's Trent Alexander-Arnold and Andrew Robertson.
But while Saka provides Arsenal with the ability in the final third, his defensive contribution is not to be scoffed at. The 18-year-old made 4.19 successful pressures, 1.38 tackles and 1 interception per 90 from left back in all competitions, showing he can bear some of the defensive duties while showcasing the talent of an attacker from full back.
Saka also completed 1 key pass per 90 while registering 1.38 passes into the penalty area, the latter bettered only by Mesut Özil – a testament to Saka's creative talents from a wider and deeper position.
In a wing back role, his attacking proficiency is heightened given his licence to push up alongside the winger on his side to overload the channel.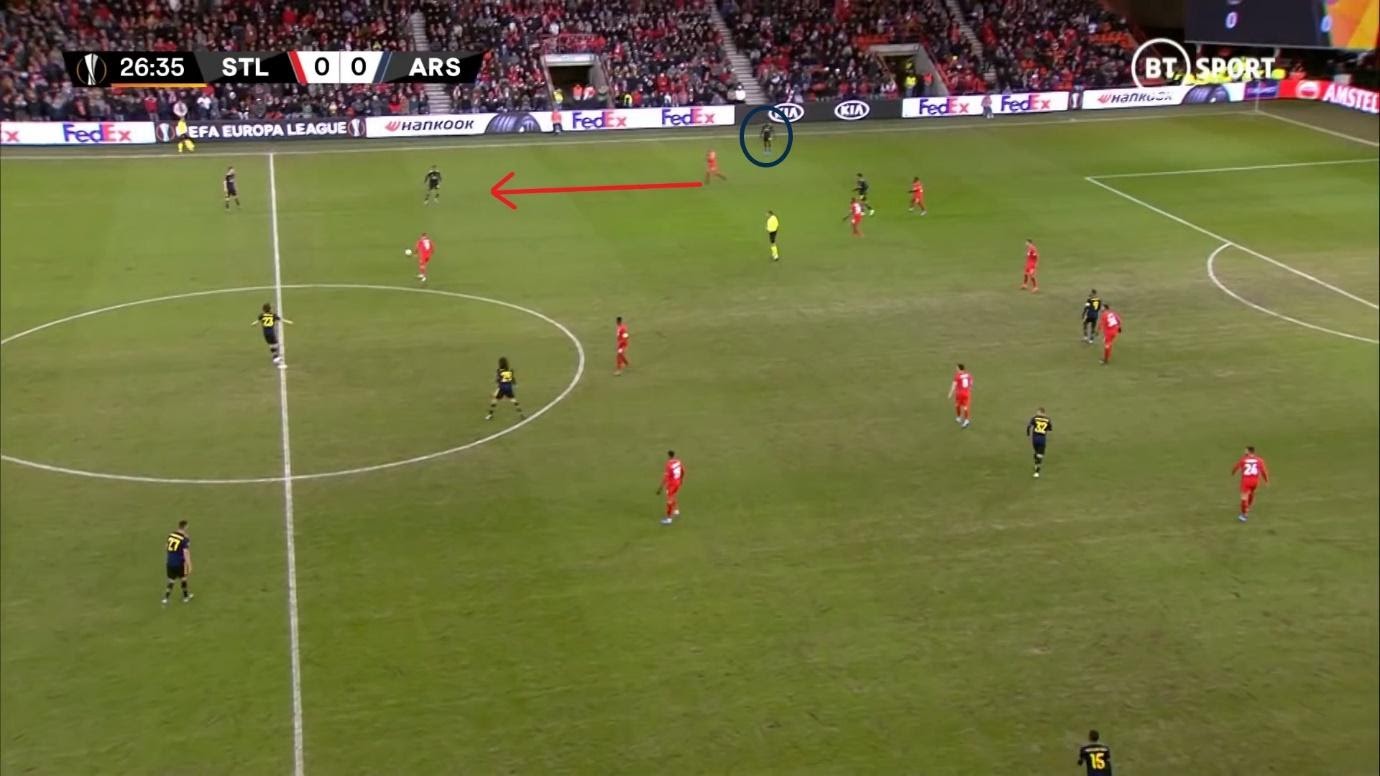 In his first game as a wing back against Standard Liège, Saka struck up some good combinations with the players ahead of him. As the above image shows, Saka (circled) pushed high and wide when Arsenal were in possession and was not picked up by an opposition player.
David Luiz played the ball to Joe Willock who drew the attention of Liège's right midfielder Mehdi Carcela, opening up the passing lane to Saka.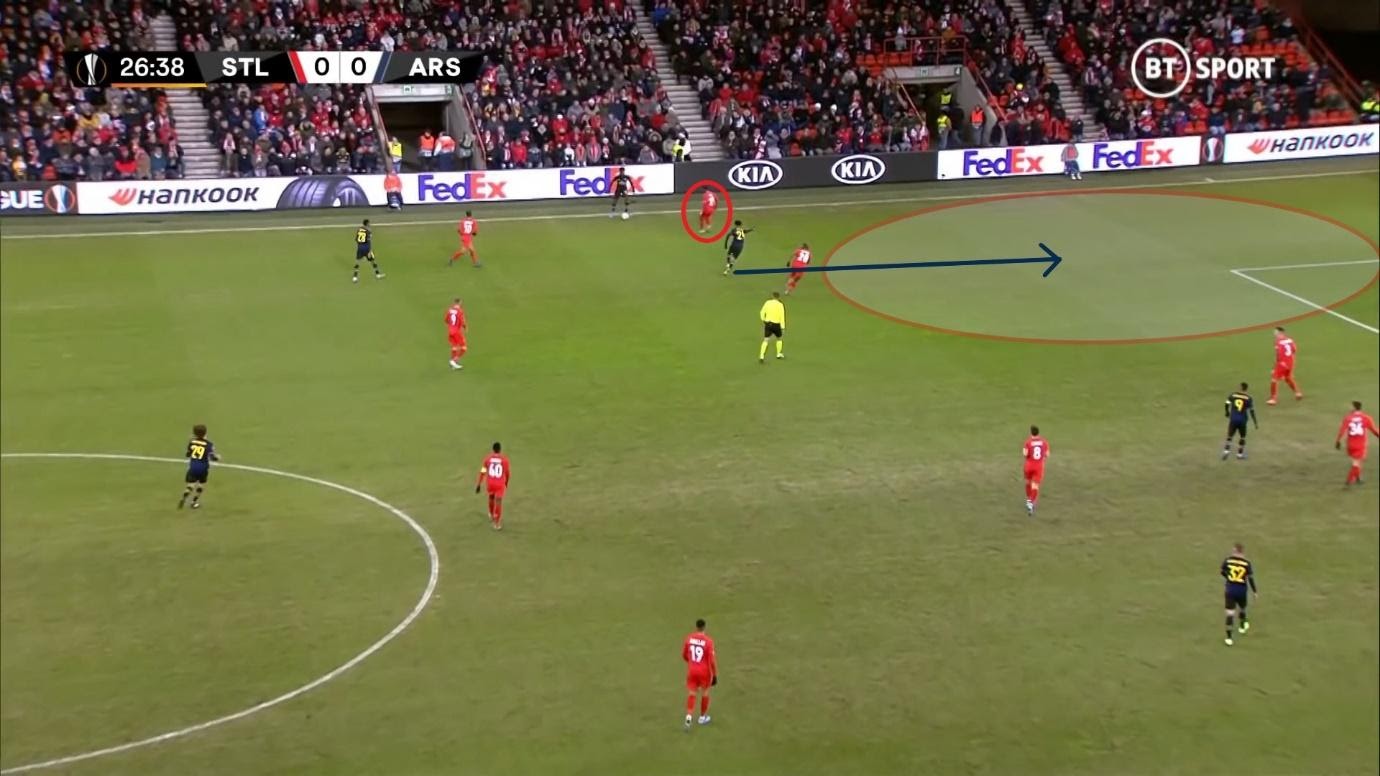 As Reiss Nelson was marked by both the right back (circled) and right central midfielder, Saka's sudden involvement forced the right back to commit and close him down but it was too late. 
This created a moment of hesitancy among Liege's defence as the rest of the back four did not close the space vacated by Nelson's movement, allowing a slick but simple interchange between Nelson and Saka to get into the opposition penalty box.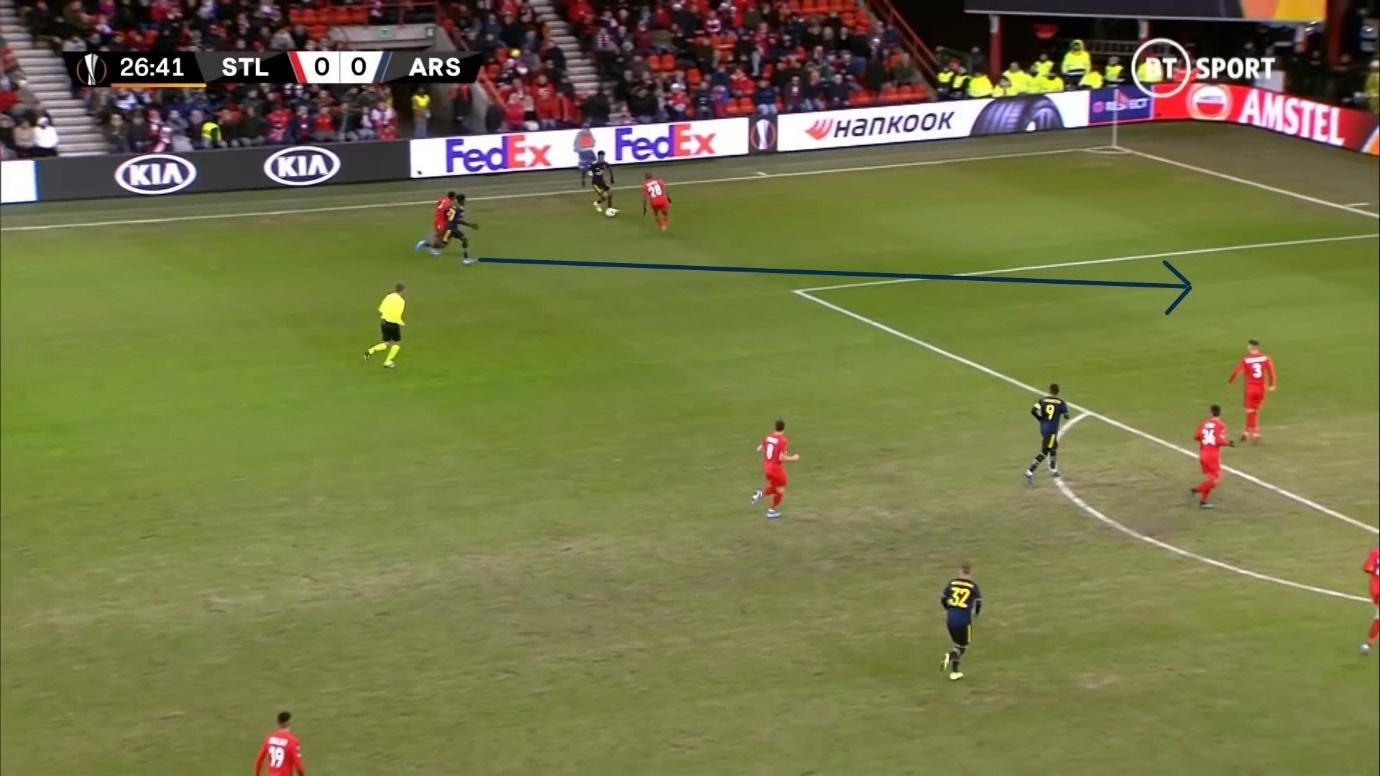 The combinations Arsenal were able to forge down the channels were a large part of how the Gunners attacked in a 3-4-3 both under Emery and Arteta. The wing backs in this system have to be as proficient in their own box as they are in the opposition's while possessing the positional discipline to know when to commit to the attack and stay back. 
These are skills which Saka has shown promising glimpses of and Arsenal have shown a preference to play Kieran Tierney as a left centre back in a back three.
If Arteta is to persist with his 3-4-3, deploying Saka as his left wing back is perhaps the best option for the position at the club. But the defensive duties of this role mean his attacking qualities are not as pronounced as they would be if Saka was played further up the pitch.
Central Midfield
As versatile as he has proven to be for the Gunners, central midfield is the position where Saka played the fewest minutes last season and only played there out of necessity. The 18-year-old played the final twenty minutes of Arsenal's first post-restart match against Manchester City as a no.8 to allow Nelson to come on and play in more advanced areas. 
But in his next game against Brighton, Saka started in a midfield three alongside Dani Ceballos with Mattéo Guendouzi as the single pivot. Interestingly, Saka still played more as an auxiliary left wing back in this position which did two things.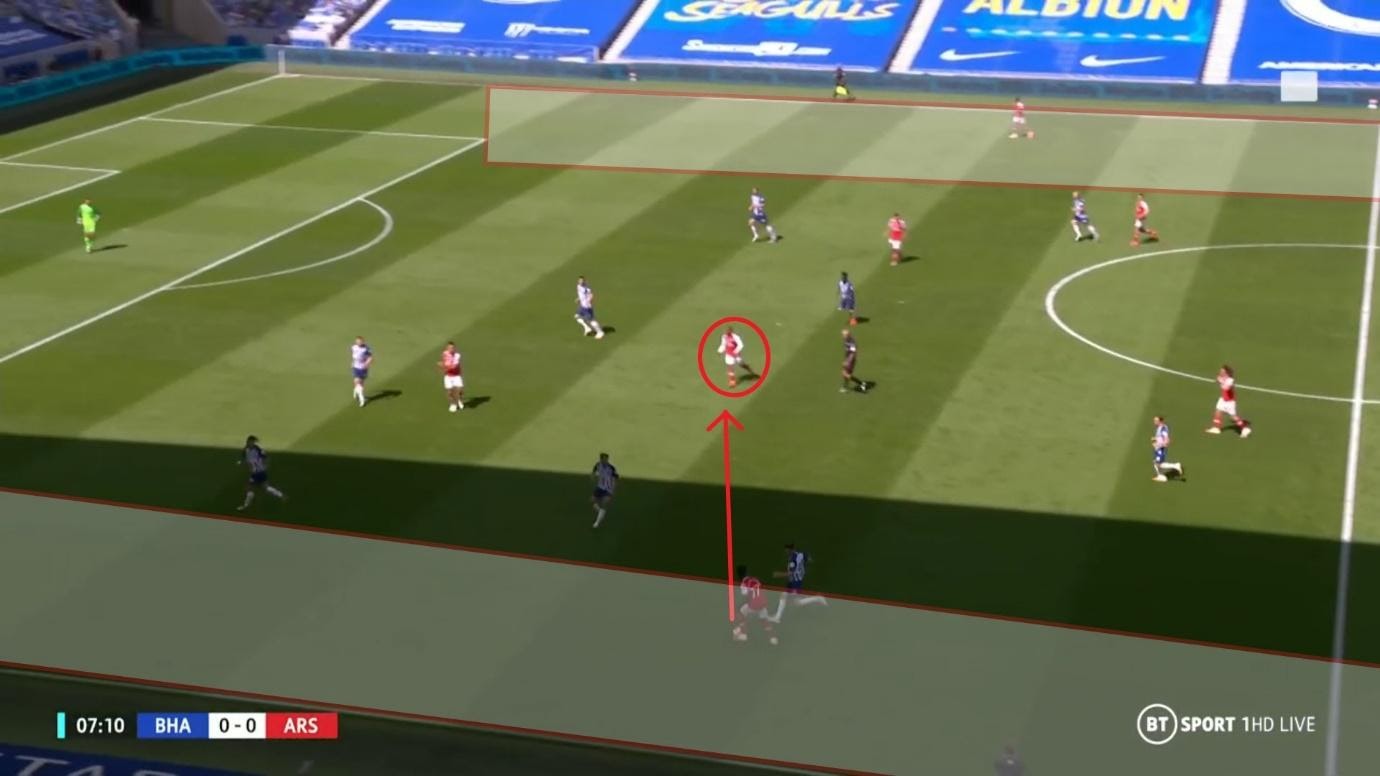 The first thing to notice is that Saka, as a penetrative ball carrier, provided an attacking outlet down Arsenal's left flank as Sead Kolašinac is not as suited to attacking down this side. Instead, the Bosnian sat back and formed a back three with Rob Holding and Shkodran Mustafi in possession which gave Saka the license to bomb down the left touchline.
The second interesting effect of Saka playing this way is that Brighton were very compact and quite narrow when they did not have the ball which did not give Arsenal much joy in building through the middle.
However, Arsenal's first major chance came largely through the ingenuity of Saka down the left. As the above image shows, Brighton's density in the centre of their half afforded Arsenal's wide players space and time to make decisions.
Saka's width momentarily disrupted Brighton's shape and forced Davy Pröpper to close down Saka with Pascal Groß, which opened up the passing lane to Lacazette (circled) dropping between the lines.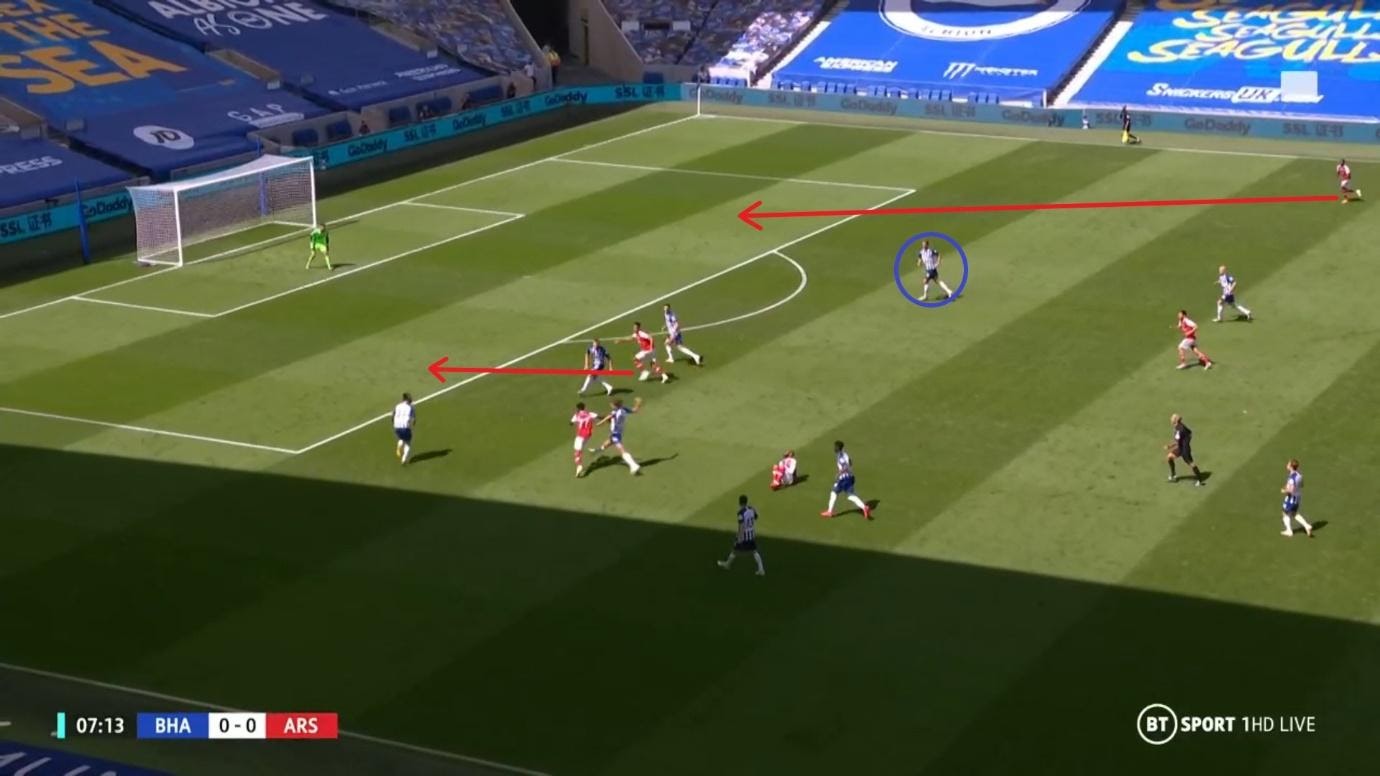 The Frenchman returned the ball to Saka who carried on his run between Brighton's midfield and defence, leaving opposition players scrambling to close the teenager down. This simple move undid Brighton's shape, made the defenders panic and opened up dangerous passing options to Pierre-Emerick Aubameyang and Nicolas Pépé on the far side with the Ivorian on Dan Burn's (circled) blindside.
Saka decided against passing to either of his teammates, cut inside onto his weaker right foot and delivered a curling effort which hit the woodwork. This passage of play was almost entirely borne out of Saka's ability to recognise space, exploit it and use his deceptive range of skills in the final third to fuel his decisions.
While Arsenal suffered defeats in two of the games Saka played in central midfield, his abilities in the position still showed signs of promise. Whether he led the counter-press after a turnover or linked up with other left-sided players, Saka did not look out of place on the left of a midfield three. But if Arteta wants to get the most out of his brightest prospect, perhaps playing him further up field would be the most logical way to utilise his already expansive skill set.
Winger
Saka was deployed as an attacker in 16 of his 38 appearances in Arsenal's first team last season, a role he has occupied for the majority of his footballing career thus far. His suitability to this position is also reflected in the stats, as the Ealing-born academy graduate recorded more assists, xA, key passes, shot-creating actions and successful pressures (all per 90) from a more advanced area.
While Saka has a wealth of experience as a forward, his exploits have mostly come down Arsenal's left. Despite this, one of Saka's best performances as an attacker came when he lined up on the right of a trio alongside Aubameyang and Lacazette against Leicester in Arteta's 3-4-3.
Saka's involvement in the game's opening goal typified all the qualities he brought to the Gunners in the final third.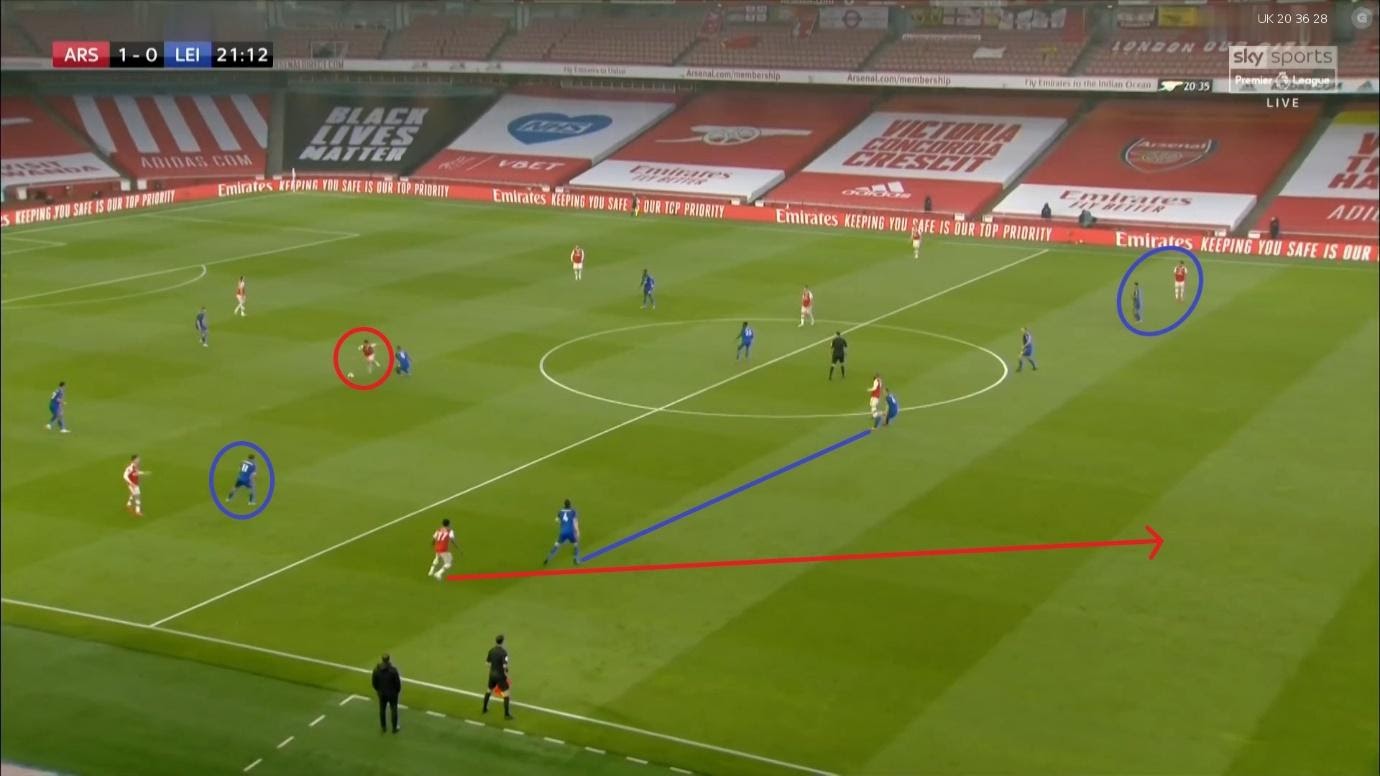 Marc Albrighton (circled), as left wing back, was caught further up the pitch blocking the passing lane to Héctor Bellerín. This caused Çağlar Söyüncü to mark Saka which created a gap in Leicester's back three. 
On the opposite flank, James Justin marked Aubameyang (circled) to create a back four and nullify the Gabonese striker's threat. Perhaps if Albrighton dropped back to make Leicester a back five in the defensive phase, Saka would not have found such space to manipulate.
With Ceballos (circled) on the ball, Saka recognised his Spanish teammate cutting back on to his right foot to shape a pass. This prompted the teenager to make a run beyond Söyüncü, who was already dragged away from his defensive partners.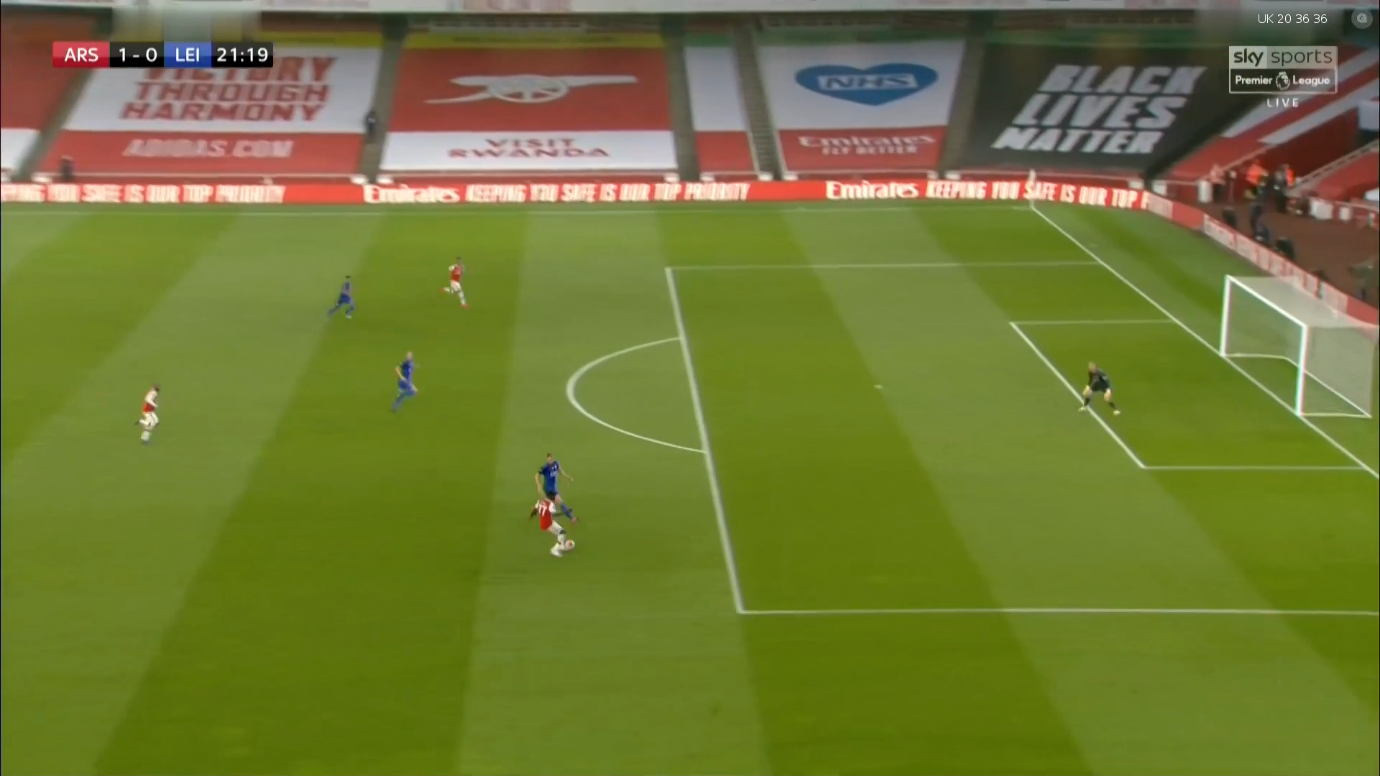 As the above image shows, Jonny Evans made up ground as Saka stood him up and it appeared that the initial force of the move had dwindled. But with Aubameyang making a run on the far side, Saka knew he had to act quickly to match the speed of the Gabonese striker.
In the commentary box, Martin Tyler was quick to remind viewers that Saka is left-footed as he sized Evans up. The former Manchester United defender took heed and sought to force Saka down the outside, almost daring the teenager to show what his right foot was capable of.
What followed was a quick check back onto his right side deceptive enough to floor an experienced top-flight defender and an inch perfect pass played at just the right time on his weaker foot all in the space of one north London second. 
The speed of thought and execution of all these things shows why Saka is so dangerous in the final third for Arsenal. The Gunners have lacked such swiftness from their attackers outside of Aubameyang and Saka should make a very welcome addition to whatever attacking line-up Arteta chooses to field.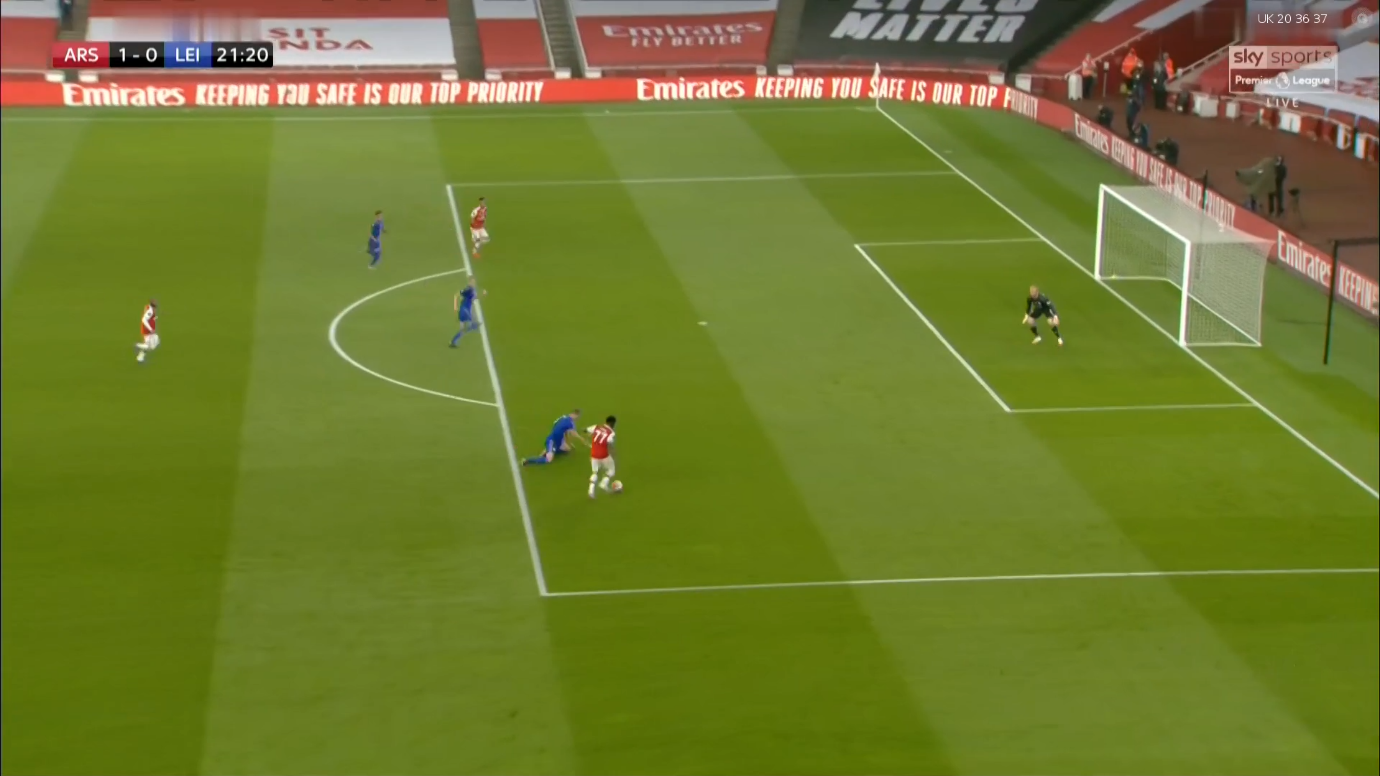 There was also an inescapable air of inevitability once Saka relinquished the ball in the move despite the fact the momentum appeared to dissipate when he received it. As he squared the ball, Lacazette was arriving in the box with his fists raised in jubilation before Aubameyang even added the final touch. 
Coincidentally, the last player to garner that same feeling of certitude from a slender scoring opportunity was Özil, after he orchestrated a slick move which led to Aubameyang walking the ball into the net in the same fashion and in the same fixture the season prior. 
This is perhaps the biggest testament to the creative quality Saka equipped Arsenal with when he played as a forward last season.
Conclusion
Full back is perhaps one of the more unglamorous positions and you only have to think back to Jamie Carragher's "no-one grows up wanting to be Gary Neville" zinger to see why. Yet before the eventual curtailment of the European Championships, there were serious calls for Saka to be considered as a left back option in Gareth Southgate's team despite being a winger.
The trend of wingers rebranding themselves as full backs exists in large part because these players lose the creative edge necessary to be a dangerous attacker – whether triggered by age, injuries or years in a pragmatic system. But Saka is a player whose creativity shows no sign of dwindling no matter which position he occupies and thus should be played further up the pitch where his creativity was best utilised last season.
By: Ahmed Shooble
Featured Image: @GabFoligno / David Price