How Do Tottenham Replace Harry Kane?
Even if Harry Kane fails to make a move to Manchester this summer, his intentions have been made clear; Kane is ready to prioritise success over everlasting loyalty to Tottenham Hotspur.
Perhaps Spurs will make a huge turnaround with Nuno Espírito Santo, and Kane does end up committing his future to the club he has been involved with for nearly 18 years. Yet now there is a real, acceptable possibility that a future without England's captain arrives sooner rather than later, one which Daniel Levy and Fabio Paratici need to already be planning for.
The question has arisen; How do you replace Harry Kane? Nearly everyone has a striker they suggest could come in place of Kane. Replacing him is not that trivial though.
What is Harry Kane?
As seen by the data below, Harry Kane's importance to Tottenham Hotspur cannot be underestimated. Last season Kane provided over 25% of Tottenham's goals and just under that figure for shots on target.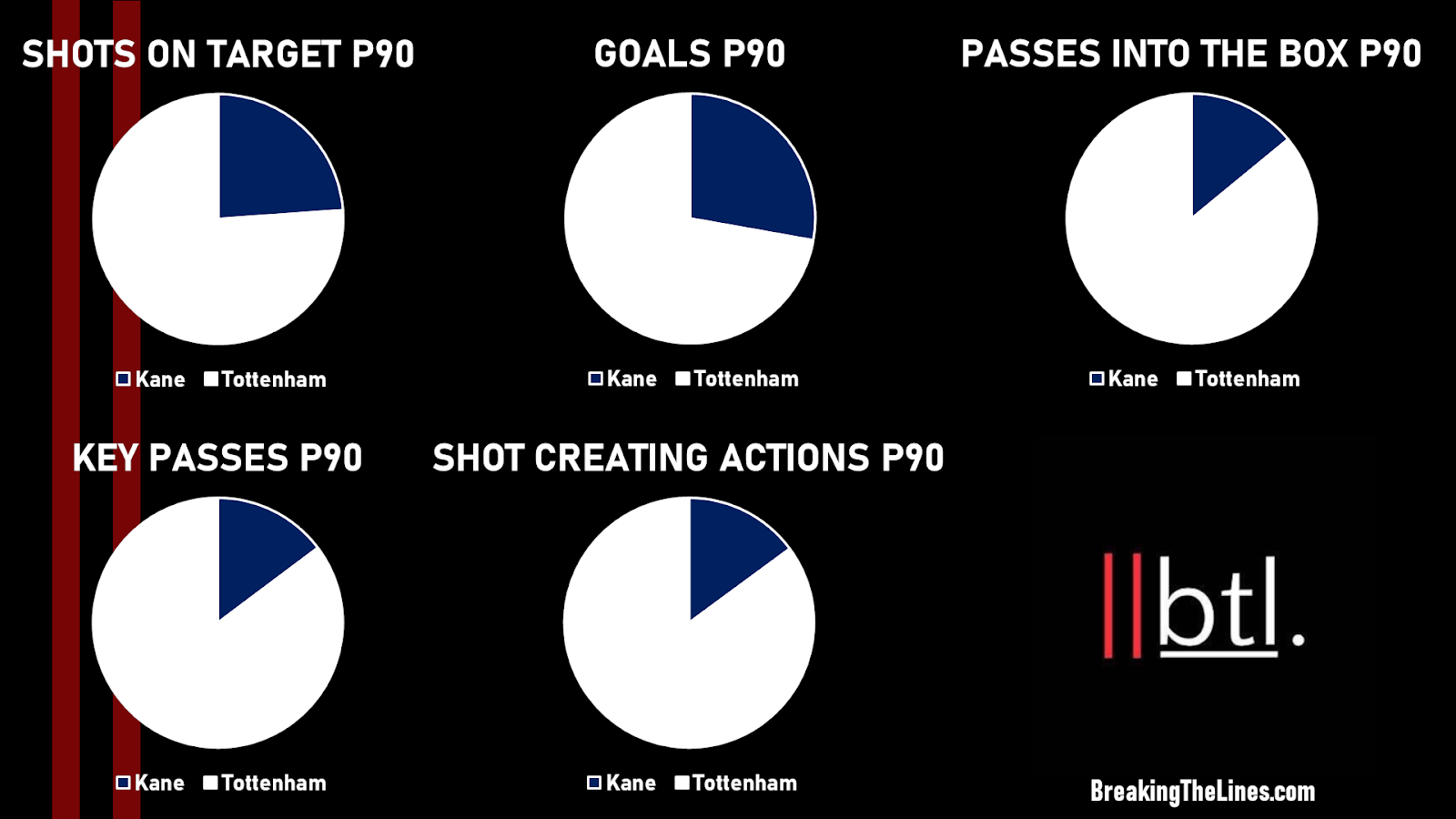 Pie Charts indicating FBREF contribution to each key Premier League stat from 20/21 season)
He also provided around 15% of Spurs's passes into-the-box, key passes and shot-creating actions. This isn't simply a case of replacing a striker; you are desperately filling a hole in the floor of Tottenham's goal-scoring and chance-creation departments. 
Now of course other players will be shifted around and given more of the ball, so Tottenham are not going to score 20-something-goals less next season. Yet that hole can't simply be filled by supercharging Heung-min Son. Or, by signing Lautaro Martínez.
Potential Targets
Is Martínez the Answer?
In recent days, rumours have emerged suggesting that Tottenham had agreed a fee with Lautaro Martínez of Inter Milan, but the Nerazzurri pulled back on the transfer after Chelsea submitted their offer for Romelu Lukaku. A myriad of journalists have claimed the deal is now off, while another sector suggests Inter's financial situation means Martínez is still on the market.
He certainly fits the bill for Fabio Paratici. Like Bryan Gil and Cristian Romero, Martinez is a Spanish-speaking player on the right side of 25 years old. Like Romero and Pierluigi Gollini, and the litany of other reported Paratici targets, Martínez plies his trade in Serie A. He won the competition for Inter, playing up front with Lukaku in a 3-5-2.
17 goals and 6 league assists is a nice tally, but questions have popped up as the rumours have grown stronger. Could he play as a lone striker? Could he perform outside of Serie A? Then most importantly, how would he do without one of the world's most dangerous forwards alongside him?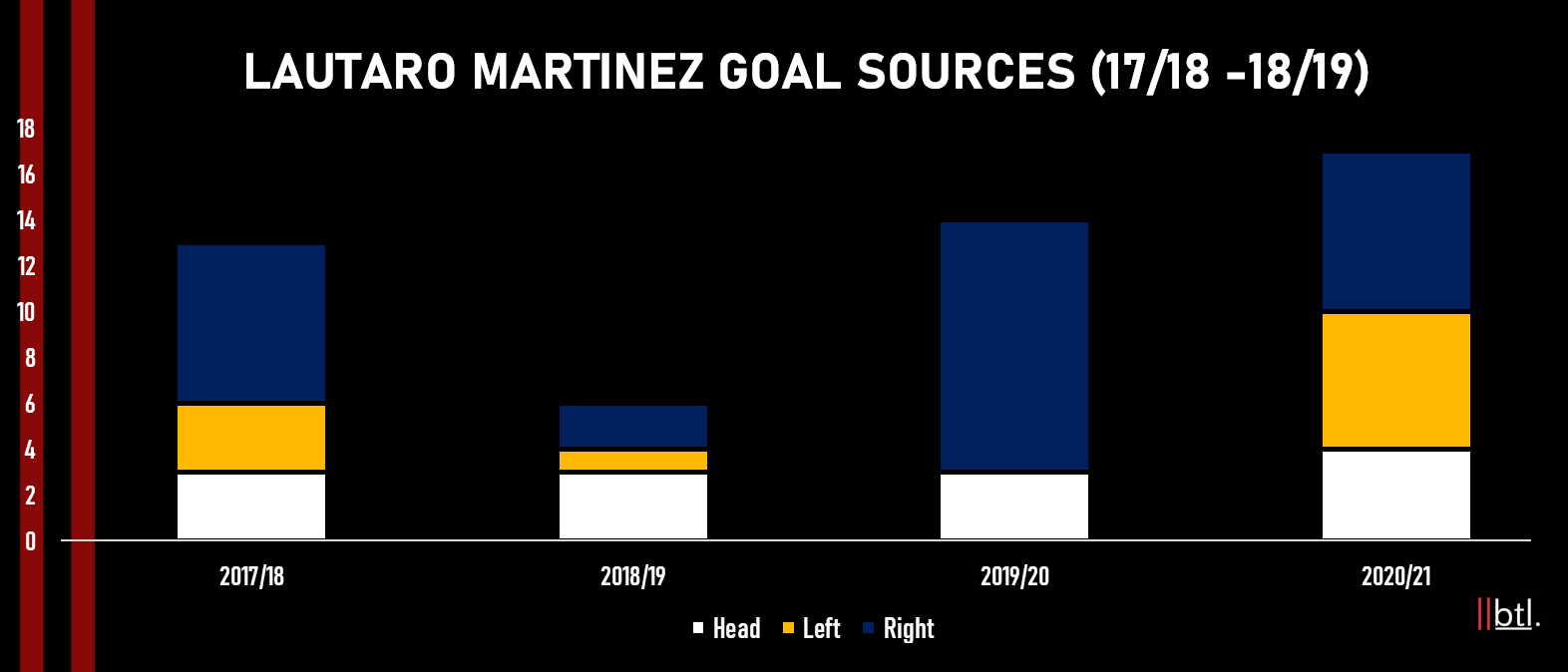 Martínez goal sources (Head, Left, Right) every season we have statistical access for (SofaScore)
Martínez's best goalscoring form came back in Argentina for Racing Club. He scored a goal every 137 minutes in the 2018 Liga Professional – nearly bang on Kane's output last season (1 per 134 minutes) – and this is the form that brought him to Milan.
Lautaro turns 24 later this month. While his shots-to-goal conversion has never been higher than an average 16%, the chart above shows Martínez' ability to score with both feet. He has also created 13 big chances for Inter since August 2019. While Kane has created 18, it's still a strong showing for Martinez. A short, smart finisher, hearing Radamel Falcao was Martínez's influential childhood idol doesn't come as a surprise.
Asking Martínez to come in as an immediate replacement for Harry Kane feels risky though. It's one thing taking on a little more responsibility as a sole striker, and another to replace one who was the icon for your new team. If he was coming in alongside another marquee signing, the pressure on him to succeed wouldn't be so intense, but Inter would likely demand a large fee.
The same would go for Dušan Vlahović, another Tottenham linked striker. Tied down until 2023 with Fiorentina, the 21-year-old is valued at £36 million by Transfermarkt and La Viola would likely charge closer to £50 or £60 million. Again, 21 Serie A goals is a fine haul, especially for a club as dysfunctional as Fiorentina.  The same problem arises though – you are searching for a direct Kane replacement.
Relying on a younger, relatively unproven player like Martínez or Vlahović is asking for a drop off in form. As seen at the start, you are not replacing England's captain; you are replacing 25% of Tottenham's goals and around 15% of creativity. Tottenham should chase multiple targets, not just one.
Finding Kane's Goals
If code red is announced, and Harry Kane is gone, Tottenham need goals. Not a prospect. Not a risk. Not a potential Harry Kane of the future, but a proven goalscorer in their prime who will not cost anything astronomical, to make sure Tottenham do not fall out of the battle for top 6.
Wout Weghorst would be an ideal target. The 29-year-old Dutch striker has scored 53 Bundesliga goals in 90 league appearances for Wolfsburg. At 6ft 6, Weghorst is fantastic at holding the ball. He is dispossessed only half as much as Kane per-90. 
Weghorst would also age well, with Tottenham still likely to see improvement in his output. He relies on very intelligent positioning and off the ball movement as well as clinical finishing, qualities that don't tend to be impacted by declining physical condition. The goalscoring is really something to behold too – rewatching his sumptuous, delicious chip away at Mainz last season still brings joy to the eye.
The issue with Weghorst is that he does very little ball carrying. He's more well rounded than a stereotypical target man, but the former AZ Alkmaar striker can't provide the creativity of Kane. As outlined though, creativity can be filled with leftover funds.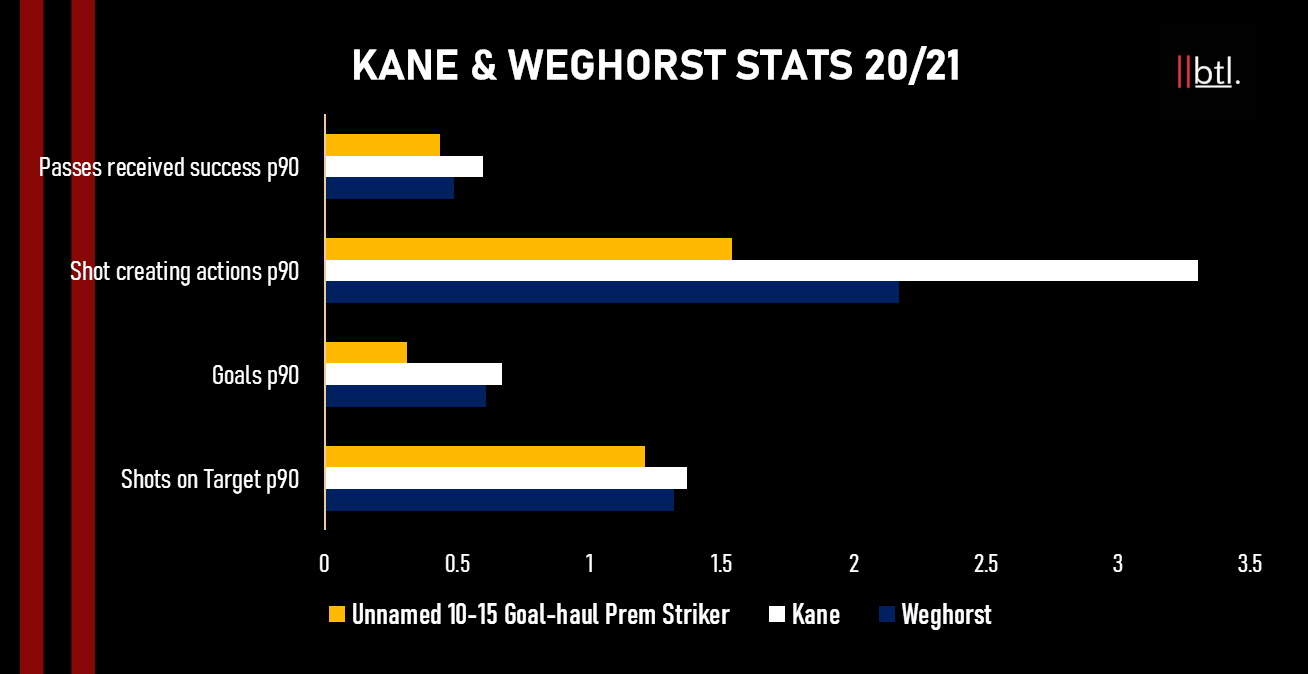 The stats showing Weghorst, Kane and an unnamed typical Premier League striker. (FBREF)
Wolfsburg have Champions League football over Spurs. However their new coach Mark Van Bommel only has managerial experience with PSV, so walking into a fiercely competitive Bundesliga and UCL baggage could mean trouble in nördlich Deutschland. In July, Wolfsburg also brought in Lukas Nmecha from Manchester City, a hungry talented striker who looks like a potential Weghorst replacement. 
Other players should be shortlisted for Paratici. Alexander Isak is a striker 2 years younger than Lautaro Martínez, yet converted goals at a better rate in a system more akin to Tottenham. Moise Kean is also a brilliant all-round forward, and he looks like a spare tool for Everton. Yet a player of Weghorst's profile would certainly be the best bet of dealing with a drop off post-Kane.
Distributing the Creative Burden
2021 would have been a great year to spend big on a young creative option. Christophe Nkunku and Domenico Berardi and more would fit the bill for Spurs, but would likely be too expensive. A creative option should be brought in but only after an attacker is secured, meaning Spurs have less funds to play around with.
One young, potentially cheap option considered was Matheus Cunha. The 22-year-old Brazilian moved from RB Leipzig to Hertha Berlin for £14 million in January 2020, and since then he has scored and assisted 23 goals in 39 games for Hertha Berlin. This may not sound like a lot, but Cunha was practically dragging Berlin through the league season, as they narrowly finished 2 points clear of the relegation zone. He remains an excellent pickup.
In Bryan Gil & Steven Bergwijn though, Spurs have enough young wide attacking talent. Paratici's aim is to support the progression of these wingers while making sure Tottenham have a reliable creative outlet if Kane leaves, and Heung-Min Son gets injured. Spurs should set their eyes on someone on the latter end of their prime years, experienced like Weghorst but not a complete roadblock for the younger contingent.
That player should be Nabil Fekir. Liverpool allegedly wrote him off for failing a medical with the club, citing his potential for severe knee injuries to abandon the move. Fekir argues there is no merit in their claim and to his credit since moving to Real Betis in 2019, he has missed just seven games through injury.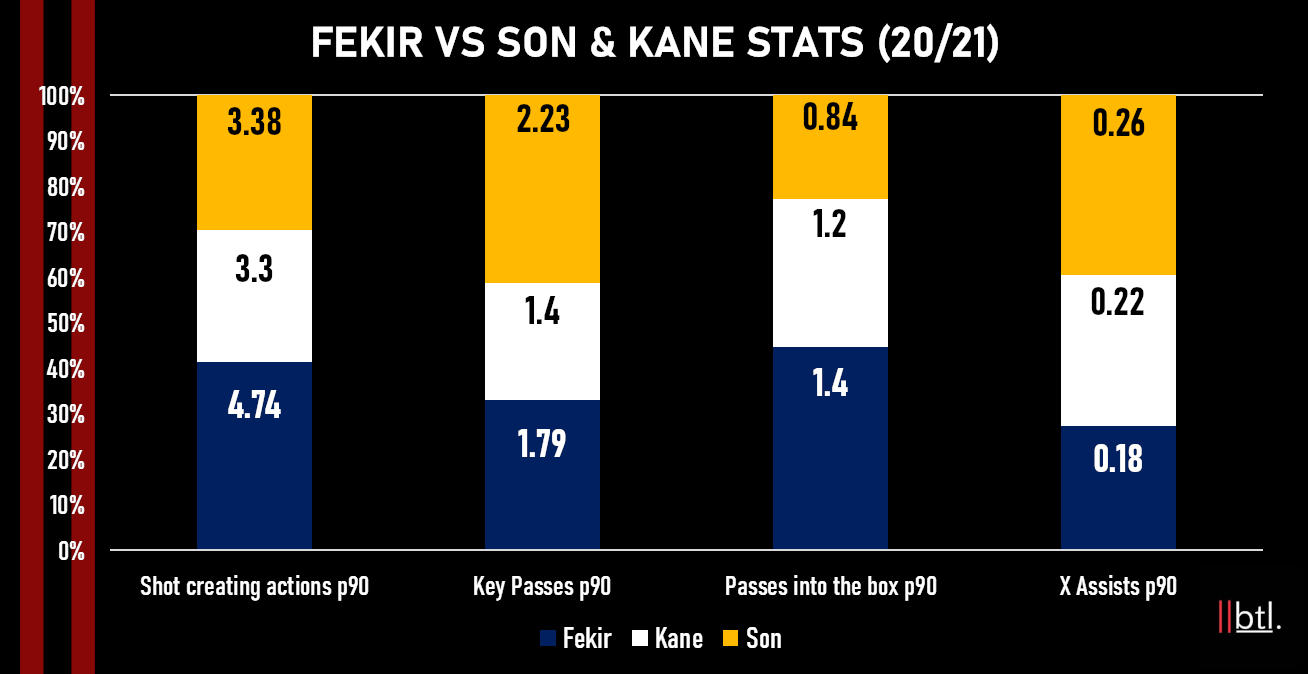 In that time has scored and assisted 21 league goals, 21.4% of Betis' goal output. In 20/21 he was second only behind Lionel Messi in La Liga for shot-creating actions. He had a sharp shot on him, and a cultured free kick in his armoury, which could go some way to replacing Harry Kane. He has proven himself in France and Spain, and though Betis are in the Europa League next season, Fekir has shown before his desire to play in England. 
With La Liga in financial struggles, Betis are unlikely to charge an exorbitant fee for the former Lyon midfielder. He would also slot in well with Tottenham's existing French-speaking contingent of Moussa Sissoko, Serge Aurier, Hugo Lloris, Tanguy Ndombele and Lucas Moura.
What is the Right Answer?
Replacing Harry Kane feels like a similar task that faced Daniel Levy in 2013; replacing Gareth Bale. Spurs tried to replace his output, of 36 goals and assists across all competitions, with 4 signings. Erik Lamela, Roberto Soldado, Christian Eriksen and Nacer Chadli all arrived to bolster attacking options, and as Spurs fans will remember, it didn't go so well.
Yet advocating for a gigantic signing to fill Kane's boots is a risky bid. Spending the money wisely on a number of players will help fill the raw output of Spurs's number 10, and it's a less risky gamble than blowing a chunk of the budget on Martínez or Vlahović. Let's not forget Tottenham are also in need of a new right back, and potentially another centre back. The long term replacement for Kane is important, but they cannot secure it without stabilising themselves in the top 6 first, and that should be the main priority. 
By: Alex Barker / @EuroExpert_
Featured Image: @GabFoligno / Soccrates Images – Getty Images / Marco Luzzani – Getty Images / Christof Koepsel – Getty Images