Is It Time for the Introduction of Stop Clocks in Football?
How much time is spent taking a throw-in? How much damn time is spent on that VAR decision that is just sooooo obvious it has made Steve Mcmanaman reach that irritant level of decibel in his voice 'I DON'T KNOW WHY HE'S TAKING SO LONG' How much time is spent by a player taking an extra roll on the ground as he has been fouled buying his team precious seconds?
Attempt to tally it up next time you watch a game and the results will be damning. We are led to believe that football games are 90 minutes long plus stoppage time, but for what duration are we watching football, you know with the ball in play and all. The match is stopped with the ball dead  for one of the following occasions:
– Free kicks
– Goal kicks
– Corners
– Substitutions
– Throw-ins 
– VAR Decisions
– Yellow and Red Cards
The Athletic reported during Italy's quarter-final win over Belgium for the last 21 minutes of the game, the ball was in play for a solitary eight minutes. This was a result of some of the good old, well exerted 'shit-housery', the game's dark arts.
In Italy's case, it was an expert level of how to see a game out, buying fouls, delaying free-kicks being taken and generally stretching the game out at every opportunity, never allowing Belgium to build any rhythm or an attack.  Brilliant for the team making the most of the minutes, devastatingly frustrating for a team to play against. It is an art form, a perfectly legal tactic to influence the game. 
Particularly in a time where austerity in the game is growing year on year, teams that don't have the most resources can rely on sitting deep and holding on to what they have to squeeze a point or even three in some cases.  There shouldn't be an issue with showing street smarts in football, what there should be an issue with, is managing the effective playing time to alleviate time spent on stoppages. 
There isn't a time limit on said stoppages either, incidences that occur in the game are uncontrollable and sporadic, anything from fans throwing objects to disturb a game (Marseille-Nice where the game was abandoned) to coaches being sent off, which most recently for Serie A in one matchday weekend was four. 
Now is the time in the piece to analyse the big, sexy data courtesy of Andy Forrester at AI Abacus and the CIES Football Observatory, the results are fascinating: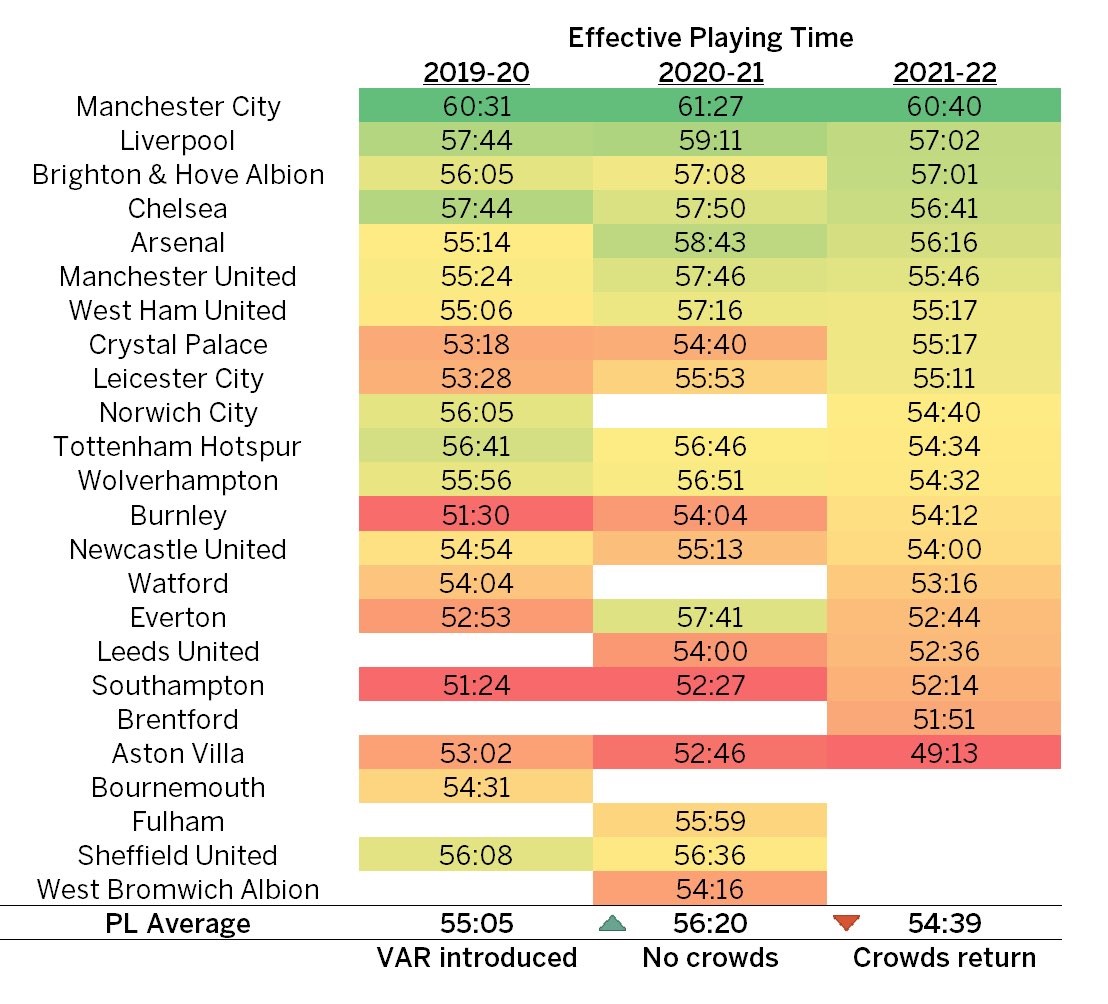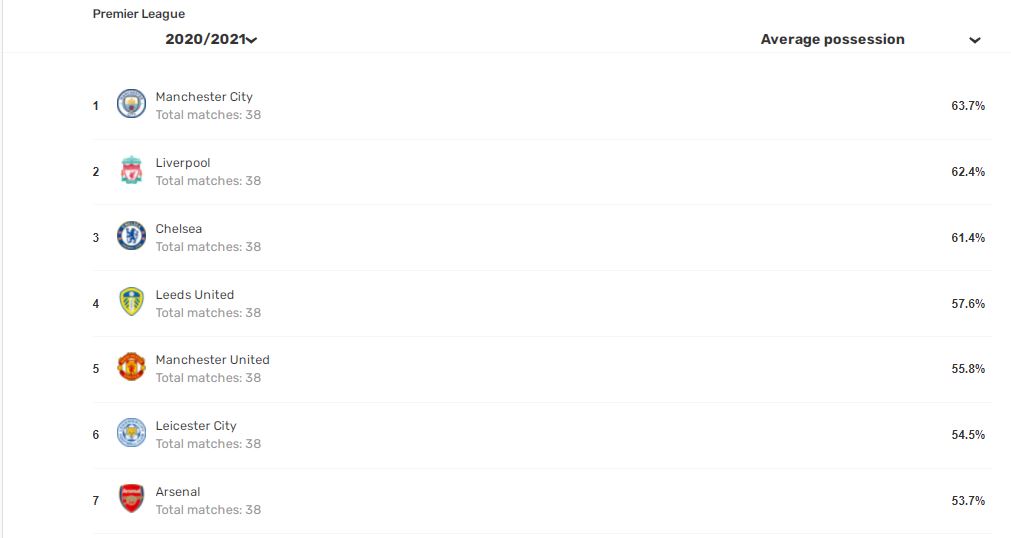 Immediately what sticks out is teams at the top (Man City, Liverpool, Chelsea) with a possession-based style of play have the most effective playing time. Judging by average possession in the season of 2020-21, five of the clubs who are in the top seven for most average possession also make up five of the top six in effective playing time. 
This suggests teams that have an onus on keeping the ball more have the least amount of stoppages in the league, perhaps because they spend many games of the season in possession trying to break down low blocks. Saliently, teams that press more (Leeds, Southampton, Brentford) with an identity of more high octane, intense style of play, are lower down on the list of effective playing time with Brentford clocking as low as 51:51 with approximately 40 minutes not being used in a game.
Playing in this manner means you are taking more risks, henceforth forcing the opposition into more reactive action and being proactive and urgent in searching for goals as a team which leads to more stoppages as it results in both teams participating in football sequences with a more intense need to intervene in stages of play.
Given the fact that football players are not always going to be correct in decision-making and execution with other aspects of the game being extremely dissonant and volatile, there will be more stoppages. The correlation in the data and a team's style of play are compelling, however obviously the most visible takeaway is the fact that the highest effective playing time of Man City in all three seasons of 60:00 means we are still losing half an hour of football per game.
As a side note, it is ironically hilarious that a Sam Allardyce-managed team in West Bromwich Albion had the least effective playing time during the 'COVID' no crowds season. In essence, we aren't watching as much football as we think.  To go further down the rabbit hole, here are some of the games with the least football in them over the past six seasons in the Premier League: 
40:44 Stoke v Watford 17/18
 40:47 Cardiff v Burnley 18/19 
42:16 QPR v West Ham 14/15 
43:12 Sunderland v Leicester 14/15 
43:28 Watford v Burnley 19/20
In the examples above neither of the games don't even touch a full half of football let alone anywhere close to the 60-minute mark. This isn't limited to the Premier League either; here is the average effective playing time for the top five leagues, courtesy of CIES Weekly Post 272 Football Observatory:
57 Minutes Bundesliga 
56 Minutes Ligue 1
55 Minutes Serie A 
55 Minutes Premier League 
53 Minutes La Liga 
With the introduction of VAR, a farcical amount of time can be further wasted. This isn't the football purist in me speaking either, you're reading something written by a self-professed Tony Pulis's Stoke aficionado. I'm the man that probably provides 25% of the views for YouTube videos like 'Rory Delap Long throw-in – Best of Mix'.
The Art of the Throw-In – An Interview with 'The Throw-in Coach' Thomas Grønnemark
Making time your ally whilst exacerbating your opponent's desperation to score is something I admire. However, there can be a case made for the introduction of stop clocks, stopping the play whenever there is a lengthy delay or at least for something like VAR. What could also be explored is stopping the time completely whenever the game is dead to not waste the clock ticking pointlessly. 
The men from the University of the 'shit house' can still do what they do, obstructing playing patterns and elongating the time which will disrupt teams, still engineering games so it is stop-start but the clock would follow in tandem.
Except when matches would be played it would be an equal amount of time for every team regardless of how many times Neymar wants to roll over after a challenge. Footballers can moan to the referee as much as they want or in rare cases streakers can invade the pitch (not that I'm encouraging that behaviour) without an implication of time being lost.
In some corners of the world, concerns are being raised about football becoming less appealing to the younger viewers where entertainment is more readily accessible and omnipresent. Stop clocks could aid in smoothing a game out and dialing down players' excessive skulduggery to moderate. At the moment we are watching football in a 'Jumbo' form of a crisp packet. The size of it says large but upon further reflection, it is anything but. 
By: Dharnish Sizlak / @DharnishSizlak
Featured Image: @GabFoligno / Robbie Jay Barratt – AMA / Getty Images