Tactical Analysis: Manchester City 1-1 Everton
With the significantly improved footballing performances from Manchester City since the appointment of Pep Guardiola, it is somewhat surprising that although the results he has achieved have been satisfactory, they have not been outstanding. The Citizens would face an Everton side in a similar boat, with new boss Ronald Koeman moulding Everton into a far more solid team, capable of achieving great results, though so far achieving just satisfactory. The match would see both managers looking to bag a good result and built upon their strong performances, with two perhaps clashing styles, the Juego de Posicion of Guardiola and the Everton side with a recently increased focus on defensive actions.
City lined-up in a 3-2-4-1 shape. Claudio Bravo was in goals. In front him we saw John Stones play a libero type role, flanked by Otamendi and Clichy in a narrow back three. Fernandimho and Gundogan were in front of the defenders in a dynamic double-pivot. Leroy Sane and Raheem Sterling played the game from right on either touchline, with Kevin De Bruyne and David Silva positioned in either halfspace in a double 10. Kechi' Iheancho was chosen ahead of Aguero (the Argentinian being on the bench) as the central forward.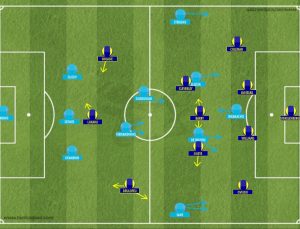 Lining up in a 4-3-3 sort of formation, Koeman seemed to have settled on Stekelenburg as his number 1 goalkeeper. Coleman, Jagielka, Williams and Bryan Oviedo were the back four utilised to protect him. Midfielders Tom Cleverley, Gareth Barry and Gana Gueye played as a trivote just in front of the backline. Gerard Deulofeu played as a left midfielder, with Bolasie in a role from the right which could be considered right forward, Lukaku the number 9.
Connective Double 10
With David Silva, and moreso Kevin de Bruyne, beginning an adaption in their playing style under Guardiola, it was interesting to see the pairing deployed in yet another role in this 3-2-4-1 system. Transitioning from typical playmaking 10's, to 8's with far more inclusion in build-up, it is apparent their Catalonian boss is willing to trust and place great responsibility on these two players in his team. Today their importance was no different, as they were deployed ahead of Fernandinho and Gundogan in a box midfield, as a double 10.
Differently to previous games under Guardiola, De Bruyne and Silva's main roles had been to create connections from positions higher up the pitch, rather than from deeper, moving into higher area, as they had previously been instructed to do with dropping movements. Today though, the pairs base positions were far clearer; high up in either halfspace, slightly behind Iheanacho's last line. From here, De Bruyne and Silva would look to make as many connections as possible with the wingers, in a number of different ways. The reasoning for selecting a midfield four, with two lines of two, was that it allowed the double-pivot of Fernandinho and Gundogan to make all the actions deep in build-up and the 10's could remain high in the halfspace. Also, by using a double 10, they would be able to use their halfspaces far more frequently, as they didn't have to occupy the centre so often as a single 10. By being positioned in the halfspace, connections with the wings were far more smooth and secure.
These connections with wings were carried out in a number of ways. The most common way was movements by De Bruyne and Silva, which didn't actually see them receive the ball directly as part of the connect, however, their movement opened a lane to create a connection from the centre to the wing. The movement commonly made was a diagonal movement from the halfspace. This movement could be made either diagonally inside onto the last line, or diagonally outside in behind the last line.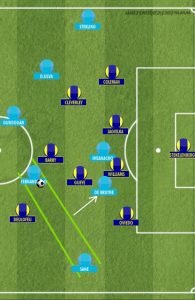 By moving centrally, Gana Gueye is forced to move away from the halfspace and prevent De Bruyne receiving in a dangerous space. This defensive movement then opens the diagonal lane to Sane. By opening the lane and providing Fernandinho with a clearer passing route, the pass is far safer and more likely to reach Sane, as well as the fact it doesn't need to be be a high pass, meaning Sane can take off and dribble at Oviedo immediately, rather than having to take the ball down and control it before dribbling. This millisecond gained was important, as it allowed Sane to keep the situation 1v1 against Oviedo, rather than giving Deulofeu the time to recover and support Oviedo defensively. By constantly being in 1v1 situations with Oviedo, which from the right-wing, Sane possessed immense qualitative superiority, City frequently created chances from here. Mostly commonly was Sane going past Oviedo on the outside with a fake inside, then as he was closer to the box, dribble infield and attempt a low driven cross.
The second way in which De Bruyne and Silva made connections with the wingers was more directly through them. Positioned high and wide in either halfspace, the 10's were the two closest players to the wingers. Simplistically and theoretically, this means the 10's are the players who can make the most efficient connections with the wings. Guardiola went by this logic. De Bruyne and Silva, rather than moving into the centre, where they would likely see far more of the ball, would wait patiently in the halfspace, making only small movements, never leaving the halfspace, in order to find an open passing lane to receive from. Though receiving the ball less, by receiving in the halfspace, De Bruyne and Silva could be extremely efficient with their usage when they did receive. They could make short horizontal passes straight to the wing as soon as they received. This was rather than the central midfielders or outer centre-backs having to make the pass to the wingers, which was typically a longer, more difficult pass. A player playing this 'basic playmaker' role in not uncommon from Guardiola. Quite often at Bayern Munich, when he adopted a wing-focus, Pep would deploy a 10 with little responsibility other than to play horizontal passes to the wingers.
'Route One'
As was expected, Everton spent much of the match camped in their own half in a compact block, attempting to prevent any City breakthroughs. This meant the majority of Everton's players spending much of the time focusing solely on their defensive actions and positioning. Lukaku and Bolasie however, remained high up the pitch around City's defence.
Putting light, yet mostly passive pressure on City's backline was the extent to which Lukaku and Bolasie's defensive actions went. Once their initial press was beaten, the pair would simply wait on the last line for any counter attacks.
With Lukaku and Bolasie waiting up the field, Everton rarely secured comfortable possession for a period time following success regaining of the ball. Rather than establishing a strong possessional structure, the Toffees rather looked for a direct high ball to one of the forwards almost instantly after winning possession.
These long balls weren't completely hopeful however, as very often we saw specific movement from Lukaku and Bolasie and an aimed high ball towards them. Rather than simply playing hopeful long balls, which typically have lower success rates than aimed passes, Everton targeted the left of Man City's defence with these high balls. With Lukaku (6'3) and Bolasie (6'2) doubling up on Gael Clichy, not exactly renowned for his aerial ability, Everton's high balls to these area had high success rates due to the numerical and qualitative superiority in these situations. Upon winning the high ball, Lukaku/Bolasie would look to flick the ball on in behind to utilise one another's pace.
The perfect example of this was when Everton broke the deadlock with a goal against the run of play. Bolasie and Lukaku moved over to overload the right. Bolasie then flicked on a long ball to Lukaku, who used his pace to get in behind and score.
Conclusion
Though frustratingly being unable to get the three points he would have so longed for, Pep Guardiola has much to take away from the game.
The chances his wingers are so capable of creating if provided with suitable conditions are something he will undoubtedly go on to use more throughout the season. Despite their lack of finishing touch, City would be pleased with their displaying of ability in creating chances against a tough, deep block.
The struggles his side had with defending long balls is another aspect Guardiola must analyse closest following the game. The isolation of his centre-backs when being countered is extremely risky, and one which has shown its potential to be very costly.
Writer: @boxtoboxcb
Photo: Sky Sports