What's Going Wrong With Steven Gerrard's Aston Villa?
Aston Villa's 2-0 loss to Bournemouth in the Premier League's opening weekend of the Premier League has already sparked debate on the tactical deficiencies of Steven Gerrard's side, and following a busy start to their transfer window and an impressive preseason, there are high expectations on Gerrard to produce the goods in his first full season in charge.
Those expectations will only be heightened with the massive financial powerhouse in Newcastle United quickly progressing under Eddie Howe and West Ham United solidifying themselves as the "best of the rest" in the last two seasons under David Moyes, and after defeat to the Cherries and a 2-1 win at home against Everton, Villa will be looking to pick up some consistency ahead of a busy fortnight that will see them travel to Crystal Palace and Arsenal as well as host West Ham and Manchester City.
When Aston Villa announced the signing of Boubacar Kamara, the entire footballing world stopped and pondered to themselves "how did Villa pull this signing off?" The capture of Kamara kicked off an encouraging window for the Villans, with Philippe Coutinho extending his loan to a permanent, the experienced defensive pairing Diego Carlos and Ludwig Augustinsson arriving from Sevilla – the latter on loan, and Robin Olsen was signed to a permanent deal. Villa's business so far represents a backing towards Gerrard, a backing that will come with expectations. 
A week before the season started, Villa announced the departure of highly rated England Euro U19 winner Carney Chukwuemeka to Chelsea – a transfer that was expected considering the interest in the player but is still a major blow to Villa, as they desire to keep Chukwuemeka was clear all summer.
Aston Villa pride the success of their academy with the likes of Jack Grealish, Jacob Ramsey and of course Carney Chukwuemeka and to see the latter leave for a relativity low fee, it shows that the club still have quite a way to go to show their attraction to promising players looking to play at the top level domestically.
Despite the transfer activity taking centre stage in terms of off-field activities, it's another departure that has gone under the radar that could prove detrimental to Villa's aspirations and that is Gerrad's former assistant Michael Beale who took the full-time manager's occupation at Championship side Queens Park Rangers.
Michael Beale – The New QPR Boss Ready to Transition From Assistant to Head Coach
Beale advanced via the ranks at Cobham, where he would coach under the stewardship of the likes of Carlo Ancelotti, Jose Mourinho and Guus Hiddink. He initially met Steven Gerrard in his role with Liverpool's under-23 side, and the two would team up again when he joined the Rangers' first team with Gerrard in 2018 and would follow him south to Aston Villa in November 2021 – with Gerrard, he was given the responsibility of planning training with specific sessions based on core principles set out by himself and the manager, before making the move into management with QPR in June 2022.
He is an excellent coach to divert first-hand knowledge of successfully executing a playing style with a new team, having played a key role in the Rangers' changeover from also-rans into title winners. Beale's departure has been heavily felt at the Villa Park club and it's understandable considering the tactical impact he had on Gerrard's sides. Let's delve into the tactical issues that Steven Gerrard's Aston Villa are facing and attempt to explain how these can be fixed and lead to a less impactive state on game performances. 
Defending Set-Pieces – Man-Marking 
One of the prevalent weaknesses of Villa in the last season and has carried into this season, has been their lack of authority in defending set-pieces and the specific system they use when defending set-pieces; man-marking.
Aston Villa fail to stick with their men and attack crosses with aggression which has led them to concede chances from set pieces week in and week out. Compared to zonal marking, man marking allows a sense of responsibility in the defensive situation that a player is in, but it's evident that many Villa players don't take pride in having that responsibility and they're made to pay. 
Villa are the 9th smallest side in the Premier League – 5′ 11.8″ (182.4cm)  and despite the likes of Tyrone Mings, Diego Carlos and Ezri Konsa all illustrating physically imposing defenders who can 'hold their own', Gerrard's side still struggle to deal with opposition set-pieces – being a bane in their defensive system. In the below image, Villa have gone man to man on Bournemouth…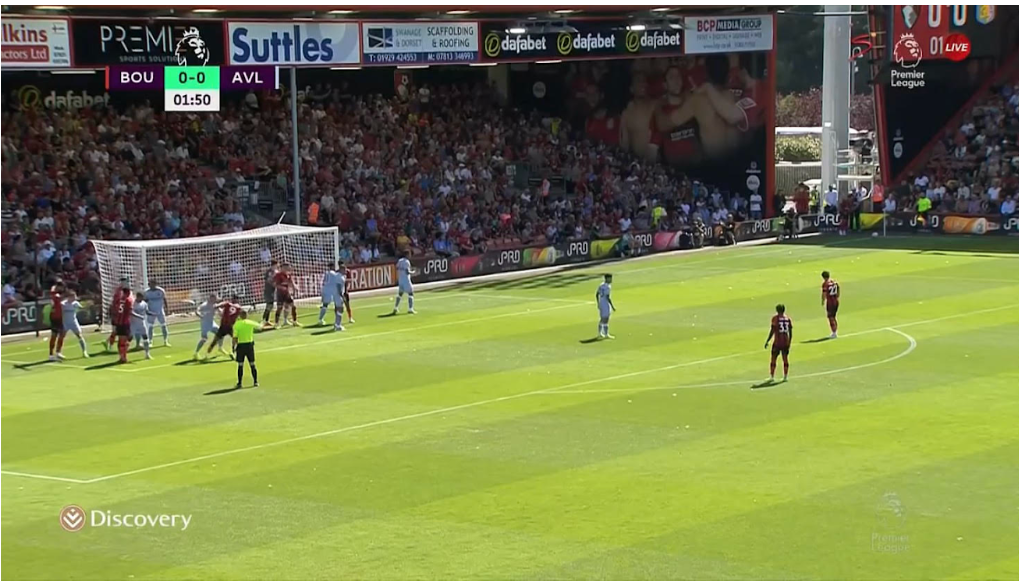 Bournemouth loft their corner kick to the back post where they've packed it with their "big men," but they win the initial aerial duel…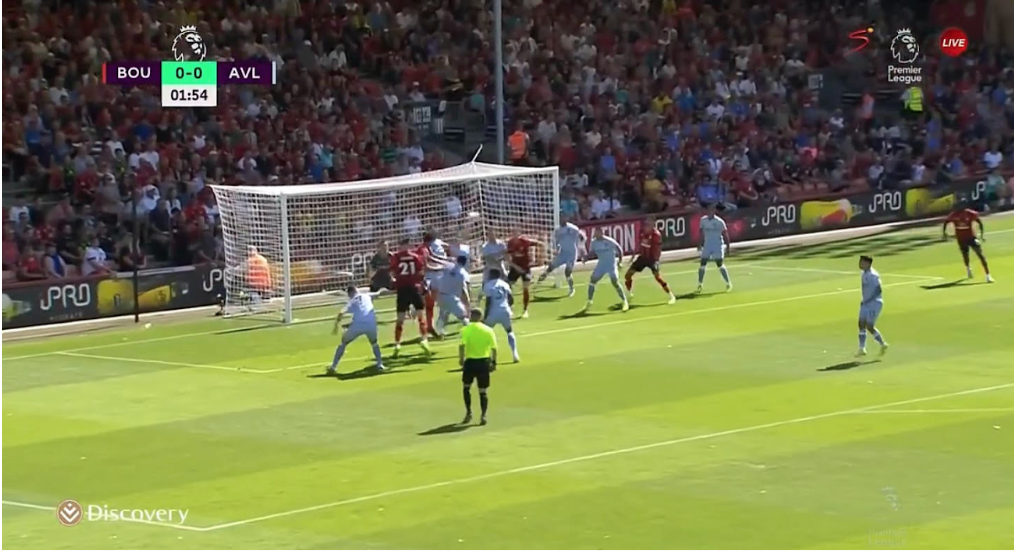 Villa lose the initial aerial duel and they don't react quick enough to the second ball, which Jefferson Lerma does and is able to eventually score.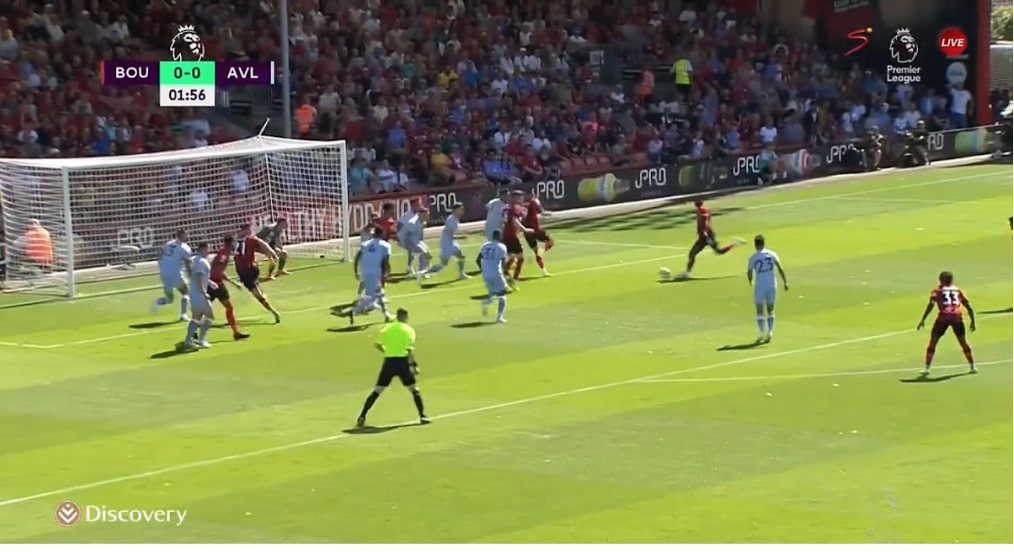 Lack of Creativity in Central Areas 
Aston Villa have usually played with a back four under Gerrardbut the middle structure has changed, with a narrow midfield three of Boubacar Kamara, John McGinn and Jacob Ramsey all behind an attacking midfielder in Philippe Coutinho or Emiliano Buendía and two strikers ahead of them, with the likes of Ollie Watkins, Danny Ings, Leon Bailey and Cameron Archer all filling in the two positions up top.  
A lot of Villa's progression and chance creation comes from the wider areas, with the full-backs offering the width in such a narrow formation. But this reliance on the full-backs being the main source of creation, leads to less pressure but when the ball is funneled back inside, Villa tend to struggle to create clear-cut chances. Despite having the likes of Philippe Coutinho, Emiliano Buendía and Jacob Ramsey all able to provide the creative spectacular, that's just not the case under Gerrard. 
Against Bournemouth, there was a consistent trend that was starting to become clearer as soon as Villa entered the opposition's final third and that there was a lack of cutting edge. Villa maintained control of the ball in the final third, but they frequently looked out of ideas as to how to construct any clear-cut chances. With 65% possession, Villa only managed 0.95 xG from 16 shots. 11 out of those 16 shots were attempted from outside the box, underlining how frantic and out of ideas Villa were.
This image highlights the lack of structure and the tendency for the 'creator' to drop deep due to the lack of progression through midfield — as seen with Philippe Coutinho.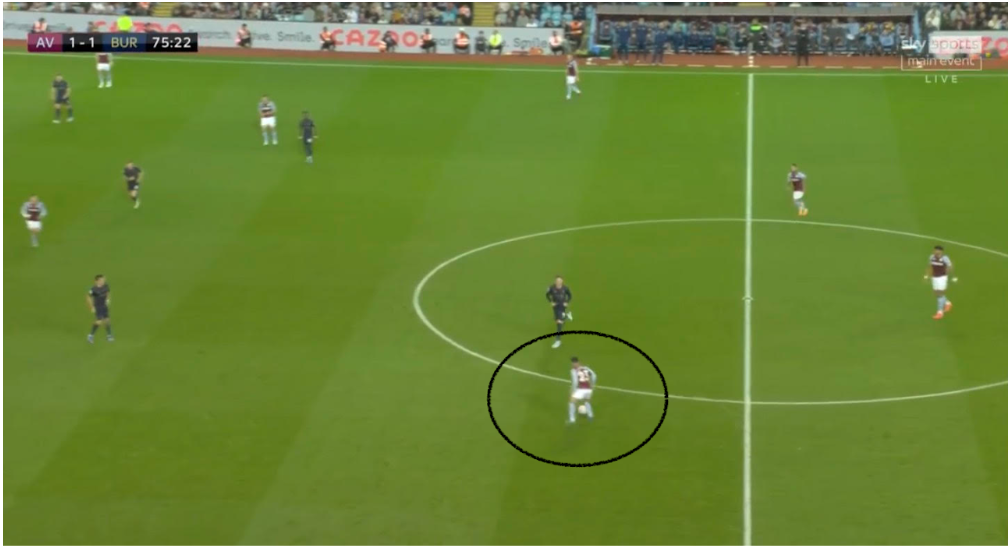 The following is almost a mirror of the previous image — Emiliano Buendía drops deep and as a player who is meant to be the most advanced creator, it's not ideal for him to be in the position he is.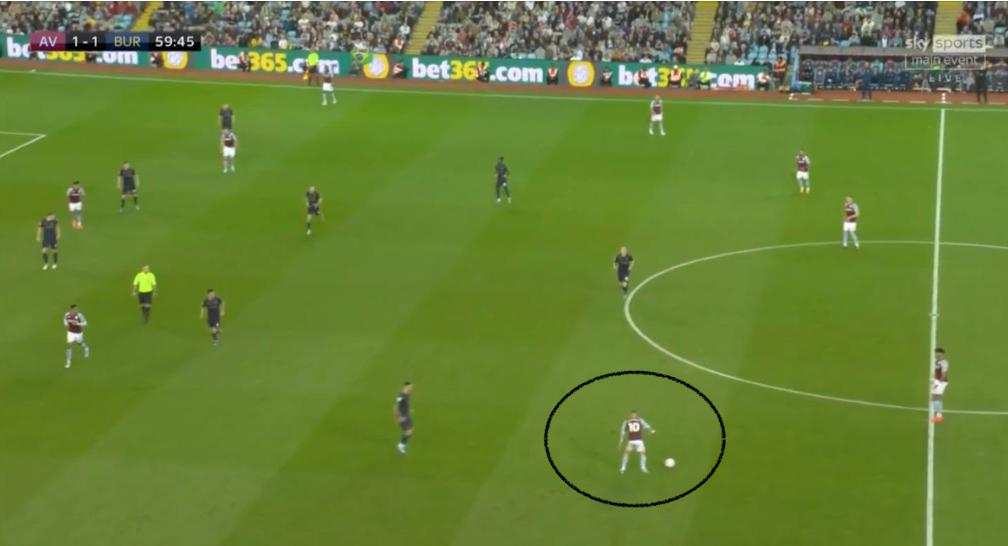 Gerrard knows in the system he plays, width is vital in progression and creation and when it's not clicking in midfield they tend to recycle possession around the back and then outside. The issue with their midfield creativity is more down to the profiles than to the quality. Getting players like Philippe Coutinho and Emi Buendía closer to the front two will be vital to solving any creative issues they have in the final third and little tweaks like that should see an upturn in chances. 
Ollie Watkins and Danny Ings' Dynamic in Attack 
One of the aspects that excited Villa fans about Steven Gerrard's appointment was the prospect of Gerrard getting the best out of underperforming duo Danny Ings and Ollie Watkins – the pair were often labeled "unplayable" together under former manager Dean Smith. But under Gerrard, at the time of writing the pair have started 11 games and have only contributed to 8 goals between them – highlighting the inefficiencies when pairing the two together. 
The image below emphasises the dynamics issue that Ings and Watkins have — the pair tend to occupy the same area (usually wherever the ball is), this leaves Villa quite predictable in their movement and attacking play. There's not much that needs solving but it's important for Gerrard to understand that Watkins and Ings are different players who can fulfill different roles in attack.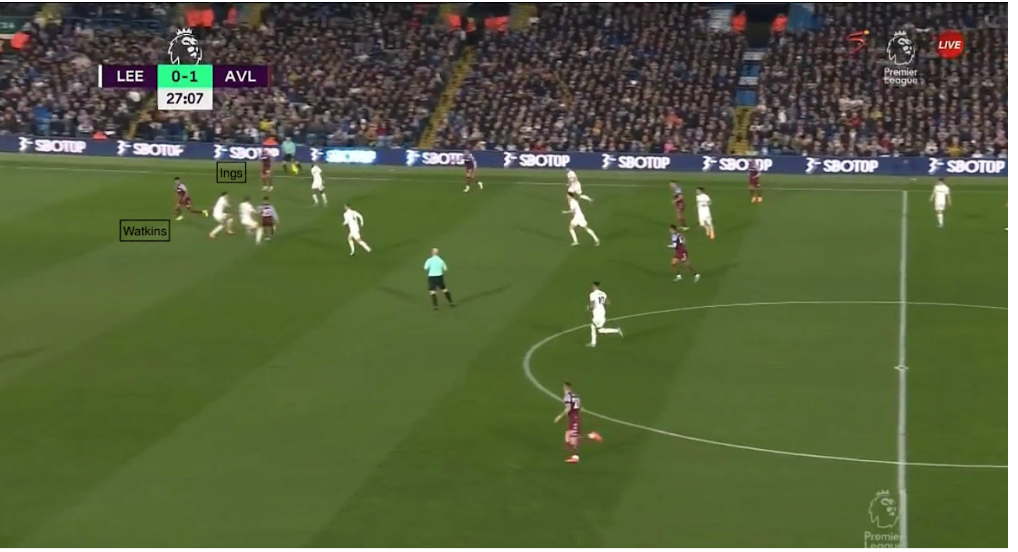 Conclusion 
If Aston Villa are to reach their aspired goals, they have to improve tactically as well as personnel. They were dispirited on the opening week of Premier League football, and while this may have come as a surprise, their stark performance against a low block was anything but a shock.
Villa perform better in attacking transitions, something that Bournemouth and many teams don't allow due to their knowledge of Villa's lack of positional play and creativity against deeper blocks, but if they don't improve tactically, the pressure on Steven Gerrard will rise, and Aston Villa fans should be looking over their shoulders instead of thinking about climbing up the table.
By: Raphael Adelugba / @xGConvertor0
Featured Image: @Juanffran / Neville Williams – Getty Images