Why Achraf Hakimi Has Been the Best Bargain in the Antonio Conte Reign at Inter Milan
It seems Real Madrid have lost another starlet in their ranks. Achraf Hakimi spent two incredible seasons on loan in Germany with Borussia Dortmund, but, instead of returning to fight for a first-team spot in the Spanish capital, the young Moroccan signed with Antonio Conte's project at Inter Milan. So far it has proven to be a big loss for Real as Hakimi is showing why he has been arguably the biggest right wingback prospect in the world. In a few years Madrid could be having big regrets about letting someone as talented as Hakimi leave Los Blancos, right now, it is proving to be that case.
For 11 years, Madrid was Hakimi's home. The 22-year-old's relationship with the Spanish capital is a peculiar one in that he has flourished into one of the game's brightest young defenders without ever really proving it at the Santiago Bernabéu.
Real Madrid collected €40 million for Hakimi, a fee that has prompted some criticism in the Spanish press. They claim his swift exit was the wrong move by the club and suggest that the fullback should have been given a chance by Zinedine Zidane, or even sold for a larger sum of money.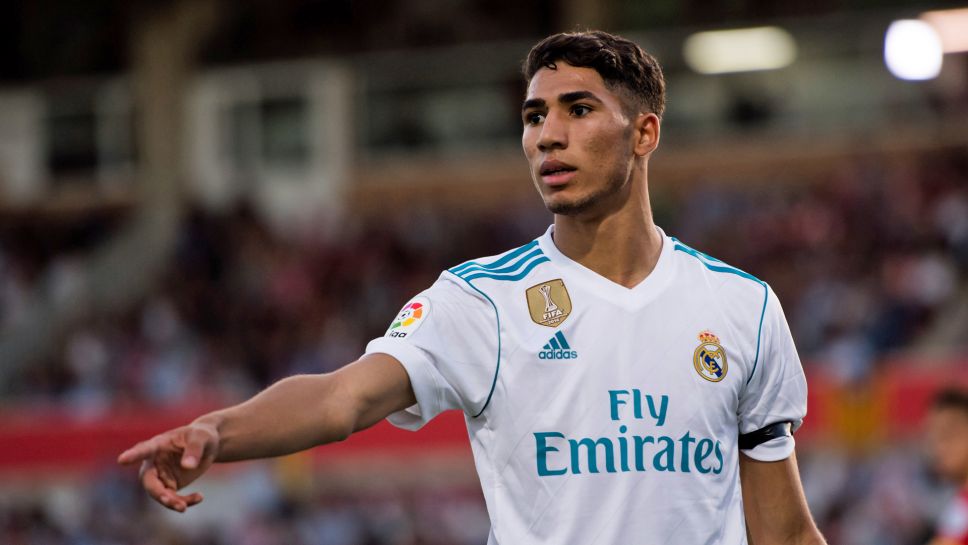 Photo: Francisco Leong – Getty Images
Knowing that his future wouldn't lie in the Spanish capital, many potential suitors showed an interest in the young defender. But, no one more than Antonio Conte, the head coach at Inter. Conte's system is perfect for a player like Hakimi in which allows him to play in his best position. Not many teams across Europe's big leagues play the Italian coach's trademark 3-5-2 formation. However, the majority of the teams in Italy use this efficiently, and now Inter are thriving under Conte in this system. 
 While Conte has managed to get the best out of players like Inter's profilic attacking duo of Lautaro Martínez and Romelu Lukaku as well as getting the best out of midfield pair Marcelo Brozović and Nicolò Barella – one of the club's best performers this season. Furthermore, this 3-5-2 formation has given Inter some deficiencies. One of which can be found in the right wing-back position, something that was missing last season and has been filled by Hakimi's inclusion. 
"Hakimi is a player with great potential, he was born to make the fifth in midfield having important offensive propensities. He needs to improve in defence, playing with three central players enhances his qualities," Conte told Sky Sport Italia. He is the important investment of this market, he must continue to work but he gave a good interpretation of the game. Let's hope this continues."
Conte has signed Ashley Young and Alexandre Kolarov to fill the other side of the five-man midfield during his time as Inter manager. But Young hasn't established himself as a certain starter and for Kolarov, since he moved from Italian rivals AS Roma, he is seen as more of a left-sided centre-half given that at his age he struggles to maintain that constant durability in attack and defence.
It was Zidane who actually gave Hakimi his Real Madrid debut, calling on the youngster when Dani Carvajal was injured during the second half of the 2017/18 season. His potential was clear and so a two-year loan move to Dortmund, a renowned finishing school for young talent, seemed ideal for the full-back's development. So it proved.
Now, though, it's Inter rather than Real Madrid who will benefit from that period of development. Deep down, Hakimi surely harbours disappointment that Zidane, the man who gave him his first chance at the Santiago Bernabéu, didn't want to keep him around. The upshot is that Inter, specifically Antonio Conte's Inter, might be an even better place to be.
Conte has implemented his system and style of play on this Inter side since his arrival in the summer of 2019. Last season, Conte's side were potential challengers to Juventus for the Scudetto following an impressive start to the season. But, as it seems to be the same scenario in Serie A, Juventus claimed the Scudetto as Inter's campaign ended in disappointment.
Nevertheless, a solid first season under Conte was expected and have carried that through into this season. Now Inter are worthy rivals for the league title, as are AC Milan and current champions Juventus. The investment made in the transfer window at the start of the season has shown that Conte's Inter are progressing in the right direction, and the signing of Hakimi has filled the void on the right-hand side. 
The Moroccan has been outstanding in his first season in Serie A after a coach as experienced as Antonio Conte reiterated that he needs players that suit his system whilst addressing their problems in the team. This is partly why Hakimi was signed. So far his signing has been one of the best pieces of business during the current situation of COVID-19.
Most will agree as to why other elite clubs didn't capitalise in last summer's transfer market and acquire Hakimi in their ranks. Inter are strong favourites to win the league title as they stand as frontrunners for the Scudetto. This is one of the best opportunities that Inter will have at winning the title after current champions Juventus have struggled this season under inexperienced manager Andrea Pirlo. 
Achraf Hakimi has shown great promise in his first season at San Siro and has managed to adapt quickly to his new surroundings. The young full-back will be imperative to Inter in the final stages of the season as they compete against their arch-rivals Milan and Juventus for the title.
By: Jordan Bright
Featured Image: @GabFoligno / Soccrates Images – Getty Images