Why Frank Lampard Should Be England's Next U-21 Manager
In the wake of their second straight disastrous U-21 European Championships campaign, England manager Aidy Boothroyd is facing stern criticism from the football world. With a youth squad containing an embarrassment of riches and players featuring in the Premier League on the regular basis, it was simply not good enough for England not to advance out of the group stages of the Euros. 
The time should be up for Boothroyd, whose tenure at the helm has seen a semi-final, followed by back-to-back group stage exits in an eerily similar fashion. With an absolute wealth of talent, it could end up being a great job for the next manager who comes in. Next in line must be able to guide youth, play good football and understand what it takes to rise through the ranks to the very top. I believe that man could be Frank Lampard.
Timing
As I write this, Boothroyd is still the manager and I'm sure there will be an extensive inquiry into the poor performance as a collective in the coming weeks. If there is ever a time to part company with the former Watford manager, it's now. In terms of his tenure of five years, it doesn't even compare to the longest-serving U-21 manager, Dave Sexton, whose tenure was 13 years from 1977 to 1990. Since then, the longest reign has been five years; Boothroyd has had his chance with three European Championships and failed to deliver.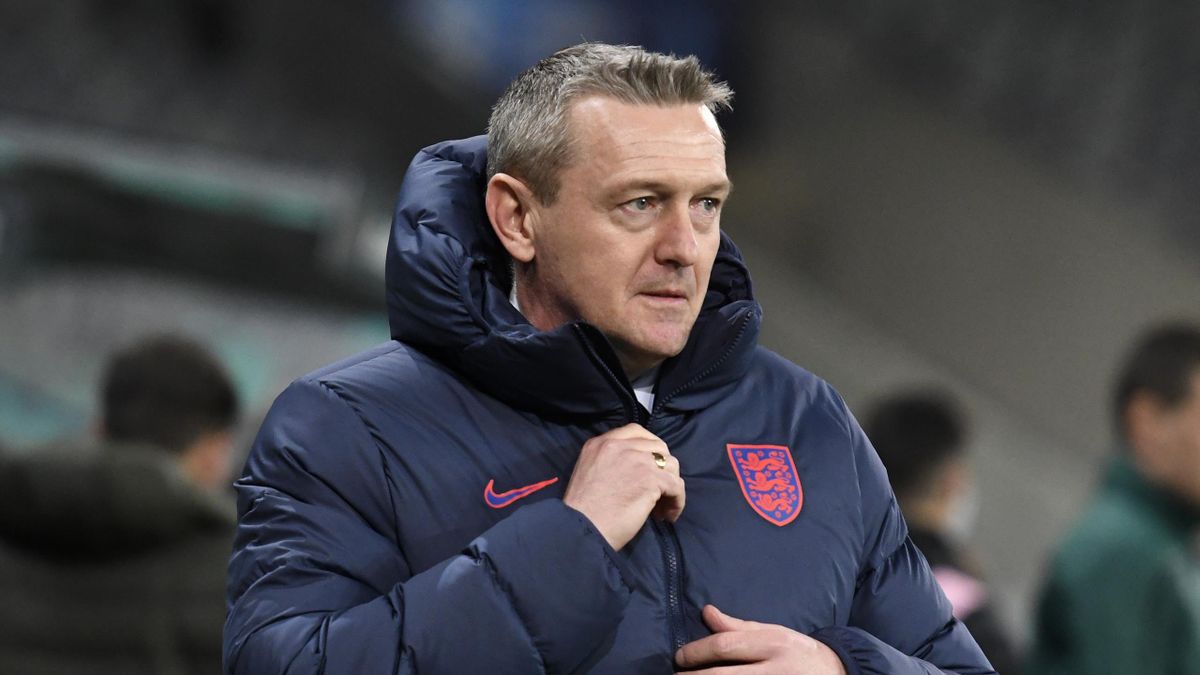 Photo: Getty Images
Since he parted ways with his beloved Chelsea at the end of January, he's been, understandingly, laying low during the pandemic affected season. Having skipped a step between Derby County and Chelsea, he will be looking for a project that comes somewhere between those two levels. Does being the England U-21 manager come in between those levels? If it does, it leans more towards the Derby level, but it's still a role where he can make a name for himself. After all, he's only a few years into his managerial career. 
The timing could be perfect for him to take a job that sees him managing England's youth, in a less stressful and demanding job than that of a Premier League club. He's probably unlikely to get a Premier League club in the near future, with someone like Eddie Howe more deserving of a chance at a Premier League club. 
Of course, it's a step-down but he's early in his managerial career and he needs some time to hone his ideas in a job where he can really make a difference. The goal is to do better in the European Championships and guide the talented youth to play at the best of their collective great potential.
Youth
Looking at the players that featured for England at this year's tournament included the likes of Callum Hudson-Odoi, Curtis Jones, Ben Godfrey, Max Aarons, Oliver Skipp and Emile Smith-Rowe. Players who have had Premier League minutes on a regular basis, plus there's a whole host of players in the squad I haven't even mentioned. 
Lampard worked well with youth at Derby, utilising Harry Wilson, Mason Mount and Fikayo Tomori to great effect. He did the same at Chelsea. However, this was mainly down to a transfer ban but nevertheless, he brought about the Premier League careers of the Derby boys plus Reece James, Tammy Abraham, Billy Gilmour and Hudson-Odoi.  He's worked with youth before and helped them to flourish at the senior level. In this job, he'd be required to get them performing at their own age group level. With a great set of players to work with, he could be in his element. 
Personal Goals
We don't know what Lampard wants to do next, I'm sure he wants to get out there and prove to everyone that he has what it takes to be a top manager. But for that, he needs experience. The issue is as an international manager, the load of work is substantially less than what he had at Chelsea. Working sparsely in international breaks and having to wait another two years for another Euros tournament might not be the role he wants. 
However, this could be the opportunity he needs to take his time and have a goal to work towards. The quality will be there, and his job will be to get back to where England were under Boothroyd at the beginning of his helm. Back-to-back group stage exits can't be followed by a third and Lampard will come in with that being the main goal. The issue remains, it is highly unlikely that a man who managed at the top level in the Champions League and Premier League will want to step down to managing only on occasion. 
After the tough end at Chelsea, this could be just what he needs to rediscover his mojo and confidence as a manager. On paper, he seems tailor-made to guide a group of young players playing for their country from a man who has captained his country. It could see both Lampard and England help other to bigger and better things. 
By: George Priestman
Featured Image: @GabFoligno / Chris Lee – Getty Images