Scouting Report: Max Aarons
"In my eyes he is not the young Max Aarons, he is just a special player and he has an unbelievable future. Max is outstanding in many topics. I can't praise him enough for what he has done since his first appearance. I know he has been labelled as one of the best young players in this league. Well I told him we can reject this label now because he is no longer one of the best young players, he is one of the best players," Norwich City manager Daniel Farke.
It's a glowing confession. Max Aarons has been magnificent since his debut in 2018. Hammersmith-born and eligible to play for Jamaica, the young right-back has found his home in Norfolk's capital. Farke's Norwich City side have averaged the most possession in the Sky Bet Championship this season (69%). On paper, it looks like a 4-2-3-1 system, but as with most modern coaching setups, there is a definitive fluidity in both attacking and defensive phases.
In the attacking phase, which for Norwich is more regular than most, it can look like a 4-2-4, or to a greater extreme a 2-4-4 formation, with the full-backs advancing into midfield roles. Farke has rarely deterred from this shape. I mean, why should he? The 4-2-3-1 gives unparalleled flexibility and an opportunity to exploit the opponent.
Aarons' rise to a prominent piece of Daniel Farke's orchestra has been nothing short of outstanding. It was at the start of December that Farke had gushed over the 21-year-old, but with a quote no different to that of a quintessential Football Manager player, he demanded more. He wanted Aarons' to have a greater influence in Norwich's end product.
"I think he can be more of an offensive threat for us. You watch some of our games now and the opponents go man-for-man on him."
Improving the Final Ball and Transfer Interest
Since then, Aarons has risen to become the most progressive defender in English football. No defender has had more touches in the opposition box this season than Aarons (71, as of 26th February), or more successful forward runs (97). Refining his already abundant attacking talent has made the Norwich machine even more efficient. There's no doubting that Farke's style of man-management has brought Aarons on a great deal.
Should Max Aarons Be Tottenham's Priority Signing at Right Back?
Sure, he'll want to register goals and assists, but 1.4 key passes per 90 is very good reading for a full-back. Norwich's left-back, Dimitrios Giannoulis, sits at 0.6 for comparison. nThere have been non-stop reports of a potential move to Premier League Everton, with Carlo Ancelotti reportedly taking a great interest in Aarons. 
For me, this would be the perfect move. Yes, you could argue that he will play top-flight football next season (with Norwich in the position they're in, it would be a catastrophe for them to not go up automatically), but Everton is still unarguably a step up. You just have to look at the quality Lucas Digne has brought to the other full-back position. The potential to maximise Aarons' attacking output in a team challenging for European places seems too good to turn down.
"As Stuart (Webber, Norwich's sporting director) says, there was an offer and we all sat down and spoke about it – which we did and decided it wasn't the best fit at that time – Max Aarons after their 3-0 win against Luton Town on Saturday.
Moreover, the Mason Holgate situation isn't quite working. Whilst he is defensively sound, Holgate most definitely lacks the athleticism and technical quality to play as the type of gung-ho full-back that Ancelotti requires. 
Technical Quality and Defensive Issues
Without trying to sound too exaggerative, you have to go right to the top of world football to find a player with a better 'drop of the shoulder' than Max Aarons. It's actually quite amusing to watch. He sizes up the opposition full-back with a sort of untimely casualness, but this is a trick. It sucks you in, it stuns you, it leaves you scrambling for a breath as he has blown past you again.
For the spectators, it generates unbelievable anticipation that not even the officials can ruin. Indeed, only Harry Toffolo (Huddersfield) has more touches in the opposition box than Max Aarons amongst Championship defenders this season.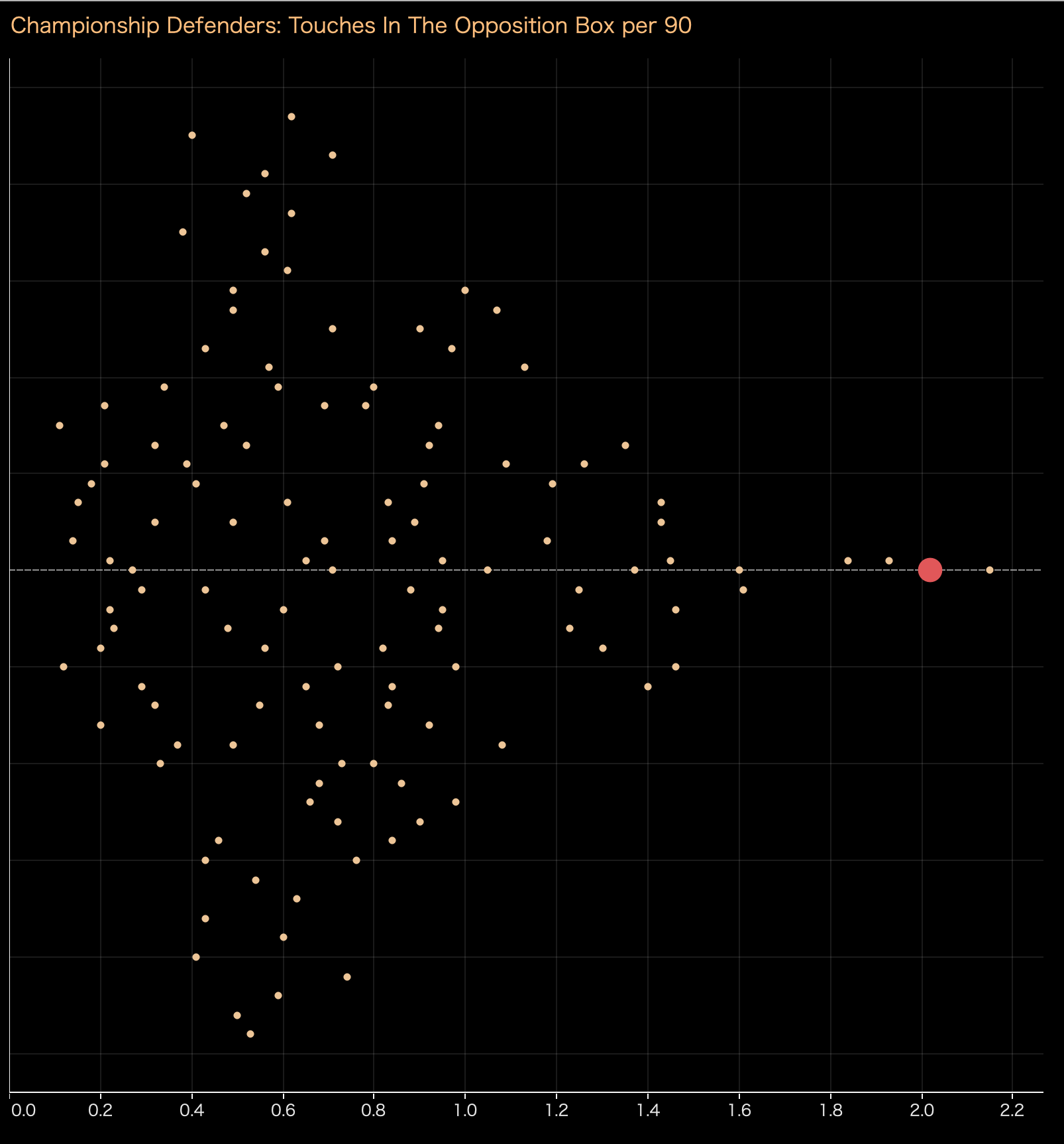 With the cadence of a 100m sprinter, his acceleration is outrageous, but here is where you have to give props to Aarons. Whether it's something he worked on personally or if he is under instruction from the Norwich coaching staff, the duality Aarons has on the ball, being able to take it in-field, as well as to the byeline, has driven his game miles ahead of anyone other full-back in the Championship. I would extend that to the Premier League, but I'm not sure what João Cancelo is doing at Manchester City is even fair.
It's easy to rant and rave about a full-back's outstanding attacking proficiencies; there are now plenty of the oxymoronic 'attacking-defenders' in football, as the greater focus on tactical setups has placed a larger demand on full-backs being involved in the team's build up play. We are a long way from Gary Neville. Despite this, defending is still a crucial part of their job.
Take Trent Alexander-Arnold for example. He is far and away the best attacking full-back England have ever had. His passing is that of a seasoned world-class midfielder and his crosses have drawn comparison to David Beckham. On the other hand, when you focus on just his defending alone, Trent is a naïve 22-year-old right-back, still trying to work out his body position, where to stand and how to deal with one versus one situations. Of course, he has improved on this and I still believe he will continue to progress, but the point still stands.
Trent Alexander-Arnold and Andrew Robertson: The Deadliest Full Back Duo in Football
Defending is crucial. It is where the minimal criticism of Aarons has arisen. I believe it to actually be incredibly harsh towards him: he's competent defensively, not outstanding. If I had to attribute where he is at in his development, I would describe him as being in the 'early Kyle Walker' stage. Better described as: 'relying on his pace', Aarons has the benefit of being able to recover incredibly quickly if he makes a mistake. 
Comparisons 
It's not always the case, but pace usually fades. Walker anticipated this and worked religiously on the technical aspects of defending. Luckily for him, his speed has not yet let up, and he has now emerged as one of the world's best right-backs. You can see similarities in Aarons. His body shape is not quite right, he leaves himself overexposed on the outside, perhaps as a subconscious inclination to his pace. When it comes down to it, if he wants to make the step up and play at the highest level possible, he will get found out.
Now that last paragraph seems incredibly harsh. Max Aarons, for me, is one of the brightest right-backs in world football. There are reasons Bayern Munich had him on their radar. England has a golden generation in his area of expertise, but Aarons is a lot higher up on the list than I think most people realise. Alongside Matty Cash at Aston Villa, he is the closest thing to a complete full-back. Aaron Wan-Bissaka is unpassable defensively, but has massively flawed technical quality. Trent, as discussed, is the reverse of that. 
I'm most certainly not saying that Max Aarons deserves a chance to start for England (by no means), but with the way he is progressing, I don't see why he won't be pushing for it within the next year. It seems as though he will decline the chance to play for Jamaica, which respectfully, I have to say is a great indicator of his mentality. Whatever he chooses, it's only a matter of time before he's competing with England's brightest stars again in the Premier League.
By: Tom Quartly
Featured Image: @GabFoligno / Nigel French – PA Images