Why Ole Gunnar Solskjaer Deserves Some Slack
Since his appointment as Manchester United manager in December 2018, Ole Gunnar Solskjaer has consistently utilised one attribute to his benefit whilst being at the helm, delivering when no one expects him to. An appropriate embodiment of his entire tenure. Solskjaer was never supposed to have the job in the first place, originally bought in on an interim basis to change the toxic mood left by José Mourinho, he forced the Man United board to rethink their decision after rejuvenating United's young team, peaking in that infamous comeback win against PSG. 
Although, perhaps United announced their change of heart too early before the season ended, as United went off the boil towards the end of the 2018/19 season finishing 6th, not winning in their final five games. Since then, Solskjaer has frequently dealt with consistent chirpings of him not being good enough for the job. At every wobble for United, the heat is cranked up, with the knives and pitchforks out for the Norwegian on radio, TV and social media screaming how 'the PE teacher' needs to go.
The weight of the sheer uproar can be felt whenever United lose a game. Just as the ripple is felt with any football club in 2021, but with United it is a little more gargantuan as one of the biggest clubs in the world, eyes are naturally more engaged. Trepidation of Sir Alex Ferguson leaving has been consolidated, United have never reached the lofty heights they hit under Sir Alex which was always going to be difficult. 
I can highlight two main pressure points where you convincingly felt Solskjaer was about to be dismissed. In the 2019/20 season United lost 2-0 to Burnley in January, the toxicity in the stands swelled as they were booed off the pitch having won only nine times, losing eight and drawing seven. 
The Red Devils were losing almost every three matches. Buoyed by the terrific signing of Bruno Fernandes swiftly after the loss, Ole and United turned it around going fourteen unbeaten and winning eleven, eventually getting their act together to finish 3rd. More crucially, with Fernandes in the team, green shoots of recovery began to appear in some of the football played, at times, sparkling counter-attacking football.
Secondly, Ole was under the microscope heavily at the beginning of this season, when United were playing at an alarmingly poor level. Still nursing a summer hangover from playing an extended edition of the latter stages of the Europa League in Germany, in November, United drably lost to Arsenal at home meaning the Red Devils lost half of their first six league games. One of those three defeats included a humiliating 6-1 thrashing against Tottenham at the hands of former United manager José Mourinho.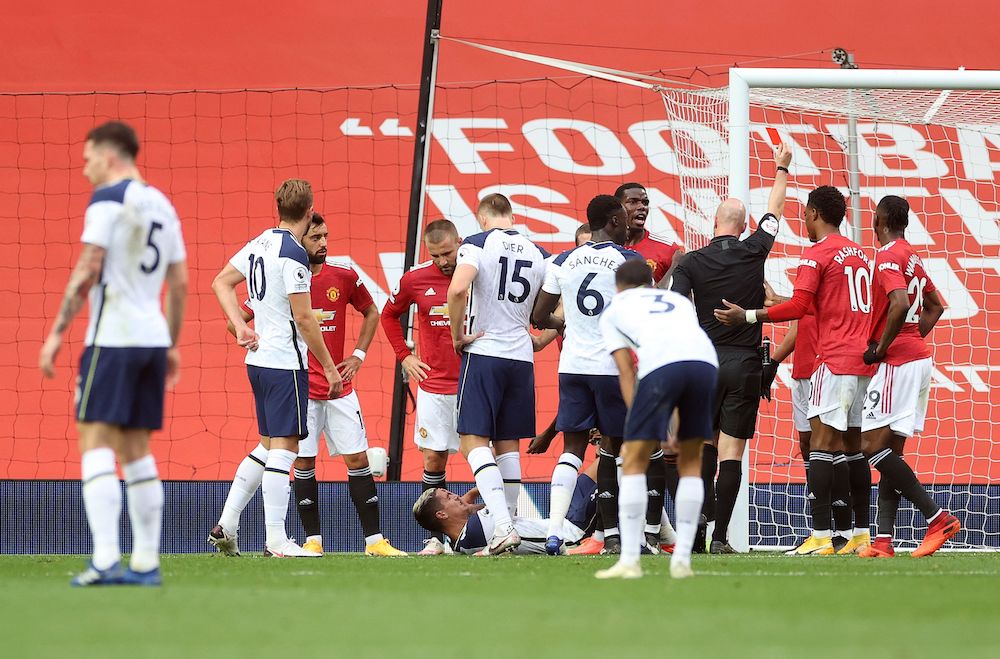 Photo: Carl Recine/AFP via Getty Images
Since then, almost symmetrically as the previous season, United recovered to rack up ten wins in fifteen in the league, having lost once and even be mentioned as having a shot at an opportunistic title in a manic season. Frankly, it is high time we commend the job the former striker has done thus far. It is worth dissecting how Solskjaer has gone some way to pick up the pieces from messy divorces with David Moyes, Louis van Gaal and Mourinho to steady the ship:  
Getting Rid of Deadwood
Solskjaer succinctly set about clearing acquisitions left from previous reigns to get the team and squad he felt he needed to fit his ethos with admirable ruthlessness. Serie A and namely Inter Milan, turned out to be a popular destination for players deemed surplus to requirements, as United offloaded nine players, seven of them now plying their trade in Italy.
United fans pined for a clear out of the discombobulated years since Ferguson left, clearly, it was high on Solskjaer's agenda. Boldly, Solskjaer also got rid of players who were highly rated around Europe, the expensive Alexis Sánchez disaster finally saw him leave and Ander Herrera was sent to PSG for pastures new.
The bravest of all sales though was Romelu Lukaku, selling one of the best strikers in the world was a risky statement of intent in setting his sights on making Anthony Martial and Marcus Rashford the main attackers so United could play at a quicker, more mobile pace. As a result, Martial and Rashford repaid the faith shown in them delivering their best seasons in 2019/20 with 17 goals apiece in the EPL.
In the 2019/20 season, Solskjaer still had to deal with lengthy injuries to both and a mysterious long term absence of Paul Pogba. Although Martial has dipped in form this year, Rashford looks an essential performer under Solskjaer. Previously, Rashford was constantly tipped as having huge 'potential' but since Lukaku's sale, Rashford's form is a reward that Solskjaer has reaped. It has been under the Norwegian manager that we have seen Rashford at his most formidable.
Understanding the Players
With an average age of 24 last season and 25 in the current one, United have one of the youngest squads in the league. It is a squad Solskjaer has man-managed with perseverance and understanding of the tender age his squad have, whilst dually dealing with the responsibility of playing for a club like Manchester United.
The dark cloud vigorously exuberated from Mourinho resulted in mutiny, perturbing some of the younger members of the squad in his 'tough love' approach where Mourinho traditionally favors working with seasoned professionals.  From lambasting players publicly or his whiny press conferences, Man United was an unhappy workplace. 
The contrast under the Norwegian is significant. Luke Shaw, frequently the bunt of Mourinho's ramblings, is now resurgent and undroppable. Fred has been revitalised, looking skilled in the number six role, the question marks of why United signed him previously have dispersed. Solskjaer's resolve has been tested with off the field incidences for players such as Harry Maguire and Mason Greenwood. In both instances, he has protected his players and publicly backed his captain after a night in jail abroad made the headlines; Maguire has improved since the early stages of the season.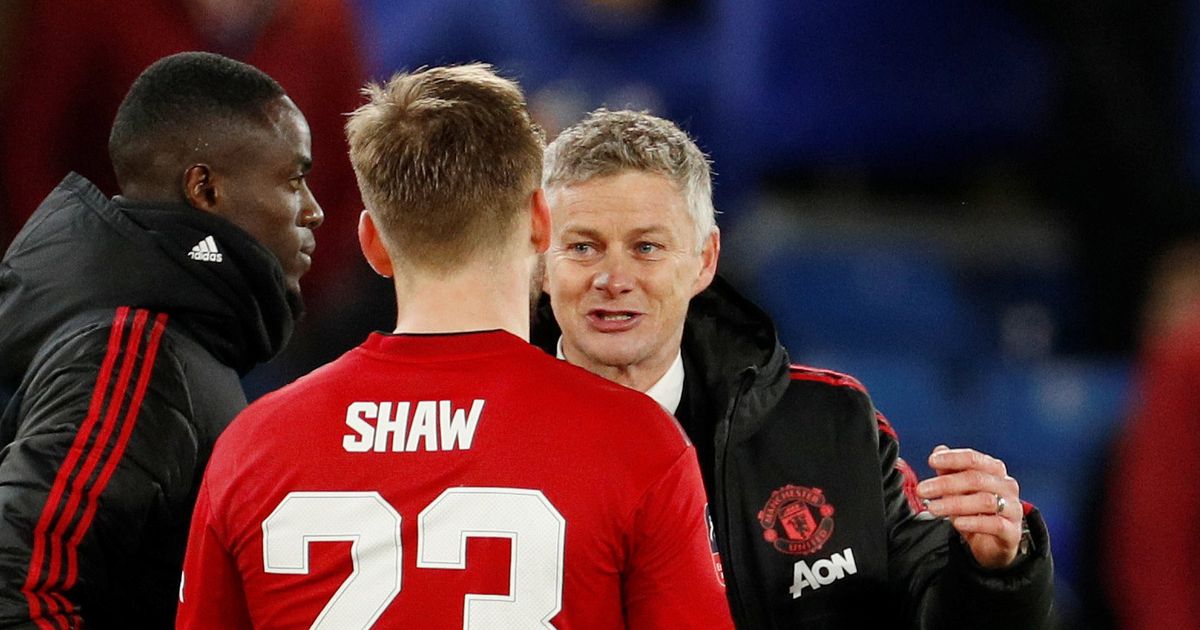 Photo: Action Images via Reuters
Then of course there is the superstar saga that has engulfed the club pretty much since the player's arrival, Paul Pogba. United have had to deal with the fact that their best player has been trying to conduct an exit for the best part of the last three years. Rather than be reactionary to Mino Raiola's taunts of Pogba leaving on the eve of a massive Champions League game to Leipzig, he has calmly bedded Pogba back in who is now performing like the Pogba United love, taking the ball on playing with fervor, scoring goals and also doing the needed handy work to trackback.
David Moyes was visibly estranged at Old Trafford since day one, Van Gaal had an air of the scary headteacher and under Mourinho, a capitulation ensued after a prolonged battle he seemed to be having with everyone.
Perhaps because Solskjaer has the guile of what it means to play for United he empathises with the players the most. He was previously a regular member in the starring cast that dominated English football, now he is morphing into the director and knows the club inside out. The players have bought into what he is doing and look more harmonious than ever.  
Changing the Mentality
Gary Neville summarised the 0-0 draw at Anfield in mid-January the best on Monday Night Football, comparing United to a golfer going for par on a hole when a birdie was possible. The fact that United came away with a draw at the champions and there was still a feeling of regret, spoke volumes of the positive mentality change. Before the Arsenal draw and Sheffield United loss at Old Trafford, United were winning ugly, not overwhelming teams but simply winning, grinding out wins when it mattered vs Burnley, Wolves, Aston Villa and Fulham. 
Tactical Analysis: Manchester United's First Half of the 2020/21 Season
There was more of a jovial attitude to United going top of the league before, the amazement of 'Wow we are top' but with those, title credential wins coupled with the frequent comebacks this year, it shows this team is building character and trying to draw inspiration from the teams Ole played in. Even with the slight dip in form in the last four games, there is more of a reaction from the players and manager that United should be better, getting back to aiming for the top like they used to. Solskjaer's grimace at the final whistle on Sunday told a thousand words, he wanted more.
A common gripe that has dogged Man United since post-Ferguson is how laborious and mundane they have been to watch, the previous gung-ho, swashbuckling style of football they were accustomed to has evaporated.  Although United can be accused of still stuttering and turning in drab performances against teams that sit deep, palpably the best football played since Ferguson has been under Solskjaer. Fluent, one-touch counter-attacking led by Fernandes pulling the strings and attackers running in behind, just like the mentality, Solskjaer has appropriately evolved the tactics of United.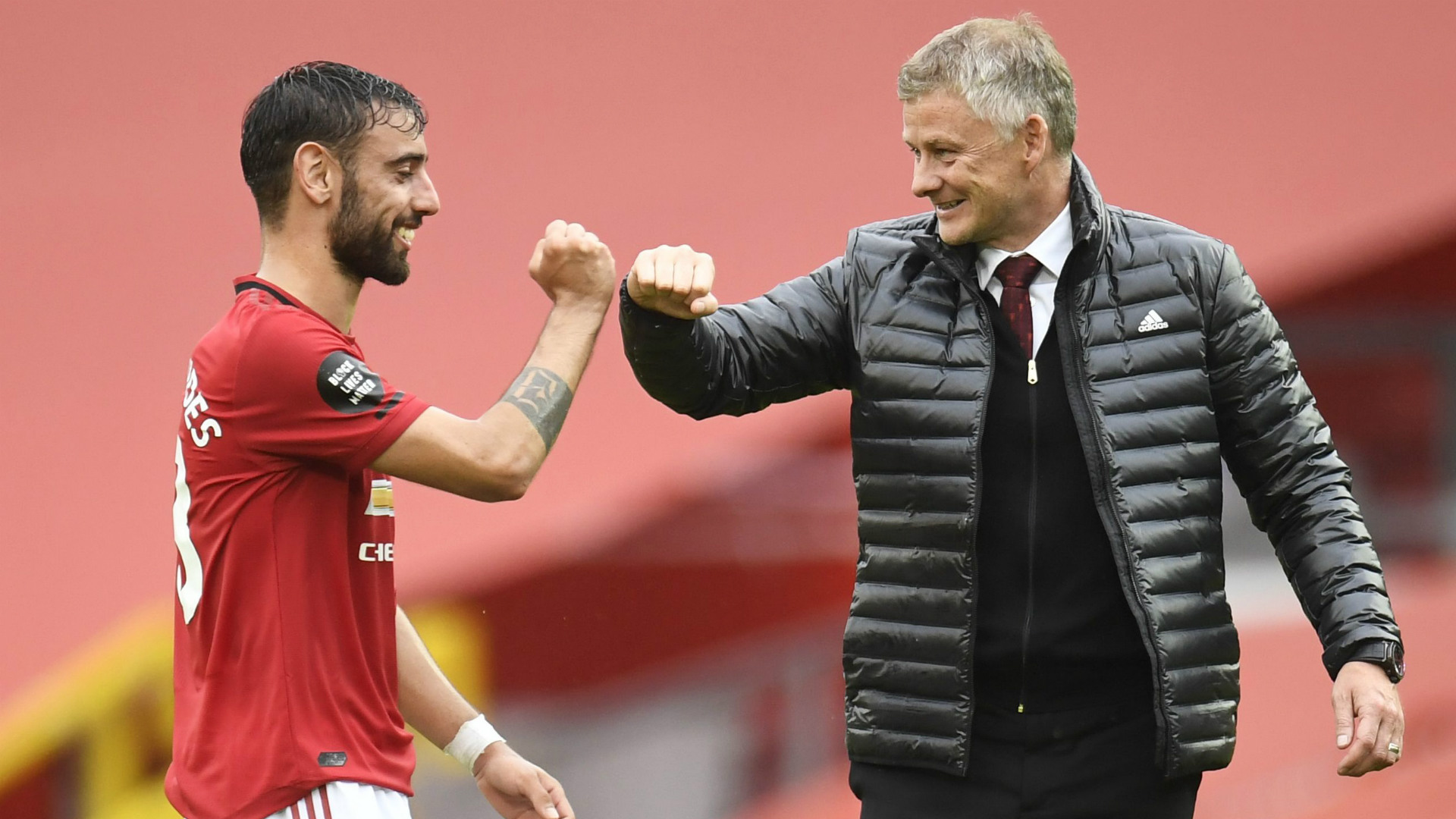 Photo: Getty Images
Additionally, for a manager who is routinely mocked as having no tactical nous, he seems to have learned from the Tottenham debacle. Realising the hard way that the settled team of lockdown success needed more defensive security, he has interchanged with the midfield pivot of McFred (Scott McTominay and Fred) which provides more of a defensive blanket when dealing with attacks. He has frequently tinkered with the squad this year, exploring options, keeping players fresh, thus far it has worked as United have no injury problems.
Caution must be exercised; United recently showed they are still capable of amateur lapses in concentration with the loss to Sheffield United. The loss was spookily reminiscent of the defeat in Turkey against İstanbul Başakşehir where they began their tumble out of the UCL, a tournament they really should still be in. They are heavily over-reliant on a player in Fernandes who plays with audacity and irreverence and the Pogba situation is still in limbo, and injuries are inevitable going to occur at some point this year.
The defence is still capable of looking nervous more often than imposing, and you could argue we have seen United improve during COVID-19 where football is bereft of fans. Jamie Carragher raised a good point mentioning that United look happy to be where they are, as City and Liverpool will improve next year, and the idea of them not being ready for a serious title challenge may be true in a season where they quite possibly have their best shot.  
The poor game management against Everton where United will be baffled at how they didn't come away with three points, shows this team does not quite have that ruthless guile to sense when a game needs to be killed, the way champions do. Neville described them as an 'odd bunch' they play in moments and are an extremely eccentric team, but in such a turbulent season perhaps a 'roll with the punches' eccentric style is what is necessary.
Despite this, in two and a half years, United look formulated and it seems like a plan is coming together as opposed to previous reigns that looked more esoteric. Solskjaer has still had to deal with the Glazer ownership just as the previous managers did, reluctant to spend and along with Chairman Ed Woodward conduct themselves in an impotent manner in the transfer market. Unlike previous managers, Solskjaer is not moaning in the press but instead remains a calm, company man carrying out his job.
A Season in Red: How Ole Gunnar Solskjær Turned the Tide at Old Trafford
Solskjaer is an easy target because of his managerial CV which is used as a stick to beat him with. A successful title-winning stint in Norway and relegating Cardiff isn't held in merit in European football when managing Man United. Maybe he is a reliable punching bag for critics because there is a sense of bafflement and surprise at him doing well.
Surviving the pressure cooker of appearing unqualified and unsuited at Manchester United has been an admirable feat. Solskjaer has made a habit of passing high-pressure acid tests, something Sir Alex Ferguson frequently did. If Solskjaer truly was as bad as the footballing world make him out to be, he would've faltered by now but on the face of it in his two full seasons in charge United have clinched 3rd, getting to three cup competition semi-finals, and currently sit 2nd in the Premier League three points behind Man City.
Though an unlikely title challenge may be a step too far, the Solskjaer naysayers can't help but give credit for the way he has conducted himself at United. Just like Solskjaer forced the board's hand to give him the job, he has forced everyone to not have any choice but commend his tenure. The 'PE Teacher' is running a class we can't help but admire.
By: Dharnish Iqbal
Featured Image: @GabFoligno / Matthew Peters – Man Utd