A closer look at Real Madrid's young Brazilians
Ever since the departure of Cristiano Ronaldo, Real Madrid haven't quite lived up to their supporters's lofty expectations. Sergio Ramos, Gareth Bale and Luka Modrić are all approaching the end of their time in the capital, while the signings of Luka Jović and Eden Hazard have failed to click thus far. However, there is hope for Los Blancos going forward due to the four Brazilian starlets they have at their disposal.
The route between Brazil and Madrid has been a well-trodden pathway throughout the years. Ronaldo and Roberto Carlos were two fundamental pieces of Florentino Pérez's first Galáctico side of the early '00s, whilst Marcelo and Casemiro played vital roles in Real Madrid's Champions League three-peat from 2016 to 2018. As Los Blancos look to move on to the next generation, four of the Canarinha's brightest talents make up Madrid's young spine.
Born on July 12, 2000, Vinícius Júnior grew up in the football-mad location of Rio de Janeiro. His parents were destitute and struggled to put food on the table, relying on Vinícius' uncle, Ulysses, for financial support. At a young age, he would walk to Sao Gonçalo (an impoverished suburb of Rio) to play football on a pitch which was adjacent to the polluted waters of the Guanabara Bay.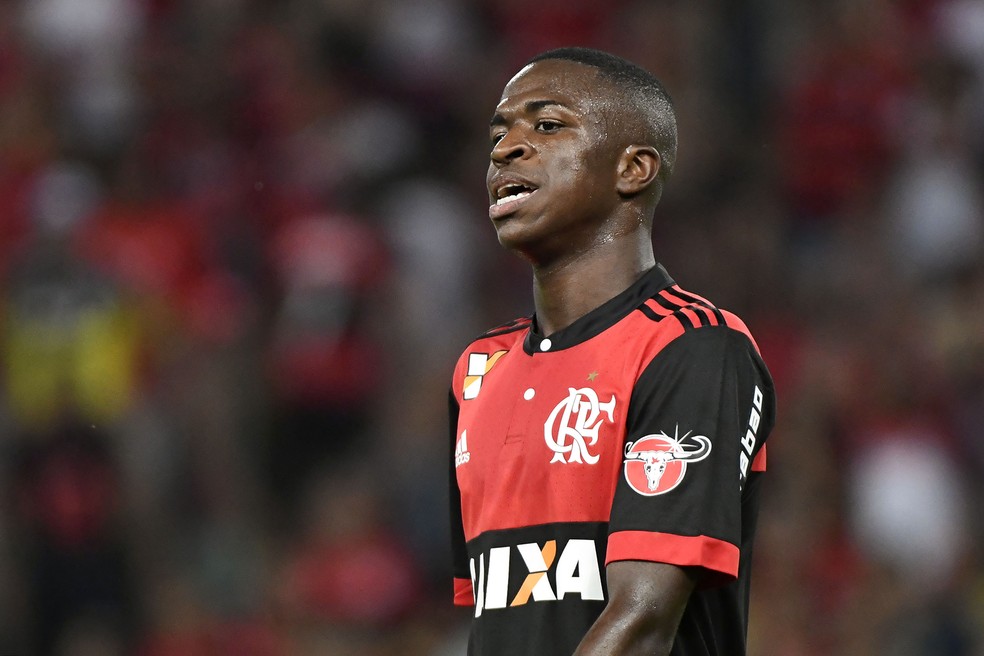 Photo: Agência Estado
It was here that Vinícius fell in love with football and learnt the 'chapeau' skill move, igniting his love for futsal. When he was just 7, 'Vini' registered for Futsal team Canto do Rio in Niteroi. However, after a few years, his parents could no longer afford to pay for his journey to training, and he began to live with Ulysses, whose house was closer to the Canto training ground.
Vinícius began to rise through the ranks, seeking to emulate his idol Robinho, who had left Santos at a young age to join Real Madrid. His father recognised his talent as a potential footballer, rather than a Futsal player, and took him for trials at the Flamengo academy in 2009.
Flamengo initially rejected him, advising him to come back in another year. Vinícius was distraught and wanted to pursue a career in Futsal instead, but his father persuaded him to stick with football. In August 2010, Vinicius was accepted into Flamengo's academy at the age of 10.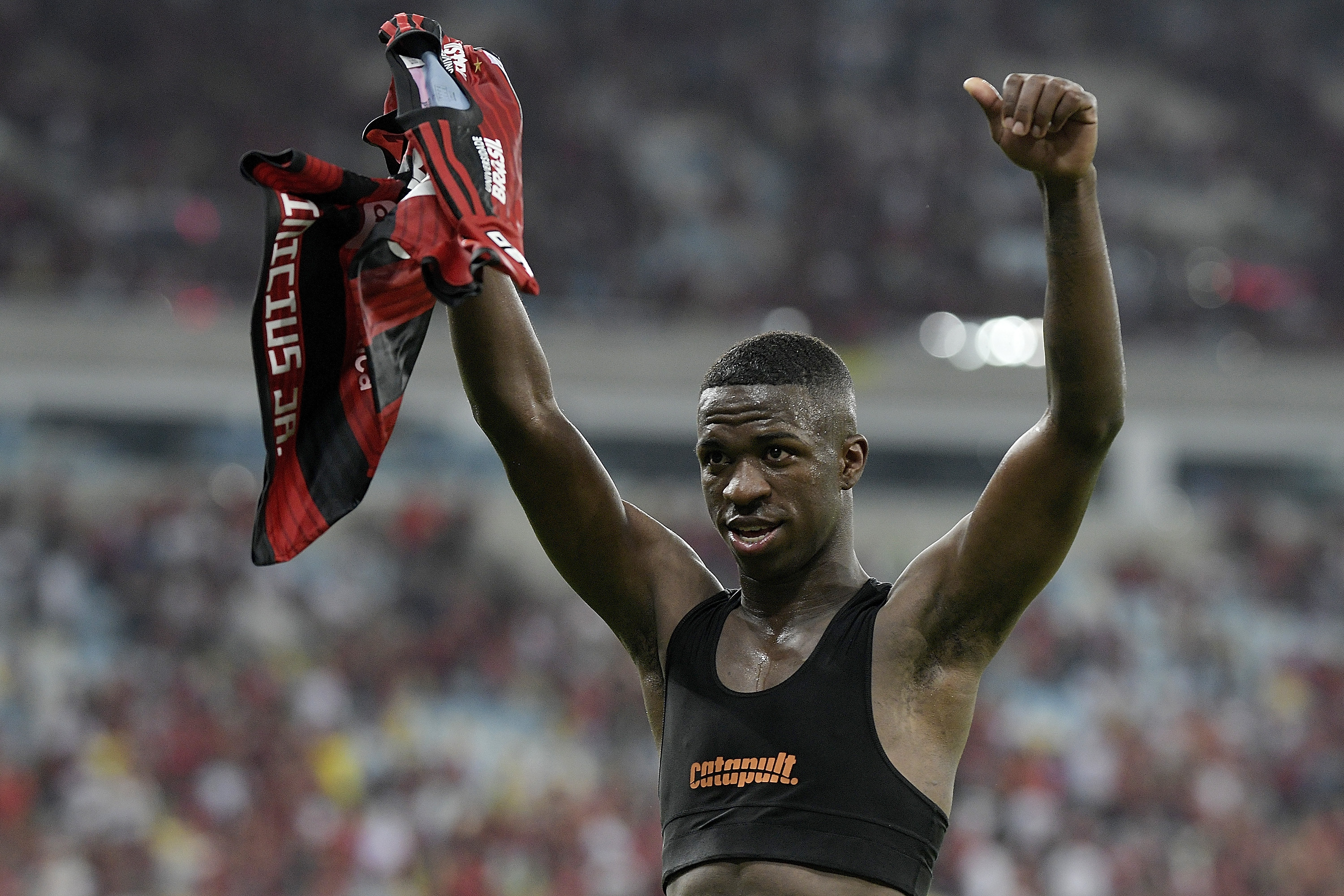 Photo: Alexandre Loureiro / Getty
In order to support his son's career, Vinícius's father left home to seek a better job in São Paulo, whilst his mother relocated to join her son at Ulysses's house. Upon registration to the academy, Vinícius insisted that he was a left-back, but after a while, it became clear to the coaches that he was an attacker due to his immense trickery and speed.
He continued to advance through the Flamengo ranks and made his professional debut for them in 2017 at the age of 16. Due to his small stature, he was described as "like a ball boy who had run onto the field when no one was looking" by ESPN's Tim Vickery, but he soon began to demonstrate his sky-high potential.
Just two days after his professional debut, Flamengo raised his release clause from £30 million to £45 million, and he lived up to this valuation at the South American U-17 Championship, scoring 7 goals and leading Brazil to win the tournament for the 12th time. He won both the Golden Boot and Golden Ball award, attracting a plethora of interest from European clubs.
While Barcelona were interested in the youngster, they refused to meet Flamengo's release clause, allowing Real Madrid to swoop in and sign him. The transfer became effective on Vinícius's 18th birthday, and on 20th July 2018, Real Madrid officially presented him after much speculation. Vinicius was slowly bedded into the side, putting in notable performances on the left flank against Melilla in the Copa del Rey and against Real Valladolid in La Liga in his debut season. 
Vinícius uses his explosive acceleration and dribbling to advantage, running at defenders and showcasing an impressive combination of power and strength for a player who is still just 19. While his finishing ability must improve — 7 goals in 59 appearances is not good enough for a club of Madrid's stature — he has contributed 15 assists, and has shown signs of improving in front of goal this season.
This year, he scored the first goal in a 2-0 victory against Barcelona, an instance of his instinctive movement and killer instinct. Former Argentina international José Luis Calderón sees him as 'different' and 'daring' and suggests that he 'has a spark that could be used by any team.'
Photo: Gonzalo Arroyo Moreno / Getty
Rodrygo was born on January 9, 2001 in São Paulo to parents who were just 17 at the time. Unlike Vinícius, Rodrygo grew up in a middle-class family, and started his football journey in his own living room rather than a dusty field next to polluted water.
At the age of 9, he was spotted by a Santos scout who invited him for trials, where he would soon be accepted into the academy. From then on, Rodrygo played football and Futsal on his father's insistence that Futsal would improve his technical game.
In 2017, a 16-year-old Rodrygo was called up to the first team by then manager Dorival Júnior and soon made his Copa Libertadores debut, becoming the youngest player to ever appear in the competition.
Photo: Paulo Whitaker / Reuters
His remarkable dribbling skills attracted the attention of Real Madrid, who signed him in June 2018 for £40.5 million, before loaning him back to Santos for a season. In his first season in Spain, Rodrygo was expected to play for the club's Castilla side, but after Eden Hazard's injury and Luka Jović's struggles to find form, the teenager was thrust into the first team by Zidane in September.
He has made 17 appearances for Los Blancos this season, scoring 7 goals. Most impressively, he scored a hat-trick in the Champions League against Galatasaray in a 6-0 win.
A traditional winger, Rodrygo's game centres around hugging the touchline until he receives the ball and even then, he stays out wide. This contrasts him to the likes of Gareth Bale and Isco who constantly look to drift inside to gain possession and have more influence. Instead, Rodrygo stays out wide, hugging the touchline and only cutting inside once on the ball and being supported by a full-back.
Photo: Getty
Whereas Neymar came from Santos as a player purely focused on attack and who had to put in a lot of work to improve the defensive side of his game, this is not such a concern with Rodrygo. He is far more rounded in style than Neymar was, and he looks to press high and defend from the front by intercepting passes and pressuring defenders deep in their own half.
As the likes of Bale and Benzema start to be phased out, Zidane will look to incorporate Vinícius and Rodrygo into the same front line, and they could form the basis of Madrid's attack for the next 10-15 years.
Reinier Jesus had only been 18 for two days when Real Madrid paid £25 million for him in January 2020 to sign him from Flamengo. The son of the popular Futsal player Mauro Brasilia, Reinier was the top goal scorer at the U-16 International Football Championships in 2018.
Photo: Reuters
He made his first team debut for Flamengo in July 2019, scoring 6 goals in 15 appearances in his debut season at the professional level. Reinier has stated how Zidane was pivotal in his development as a footballer, as he studied the Frenchman's graceful movement in order to improve his game.
Reinier is a versatile and dynamic player who can play a central midfielder or a number 10. He astutely reads the game, spearheading attacks and transitioning the ball to the striker and wingers. Like his aforementioned compatriots, he has exceptional close control that allows him to beat the defender, and his clever off-the-ball movement helps support his team-mates whenever they attempt to create overloads. 
While dribbling into the box is his bread and butter, Reinier has created some fine goals with diagonal crosses into the penalty area. He still has plenty to improve on, but the Brasilia-born playmaker has the potential to replicate his successful attacking partnership with Flamengo's Bruno Henrique and Everton Ribeiro with Vinícius and Rodrygo. Reinier has already made a few appearances for Real Madrid Castilla (coached by Raúl) and if he continues at his current rate, it'll only be a matter of time before he's starring for the first team.
In August 2018, with his São Paulo contract running out, Porto snapped up Eder Militao for just £7 million. Eight months later, they sold him to Real Madrid for £50 million, the Brazilian defender's commanding performances in Liga NOS and the Champions League for the Dragões causing Los Blancos to snap him up well before the summer transfer window had even opened.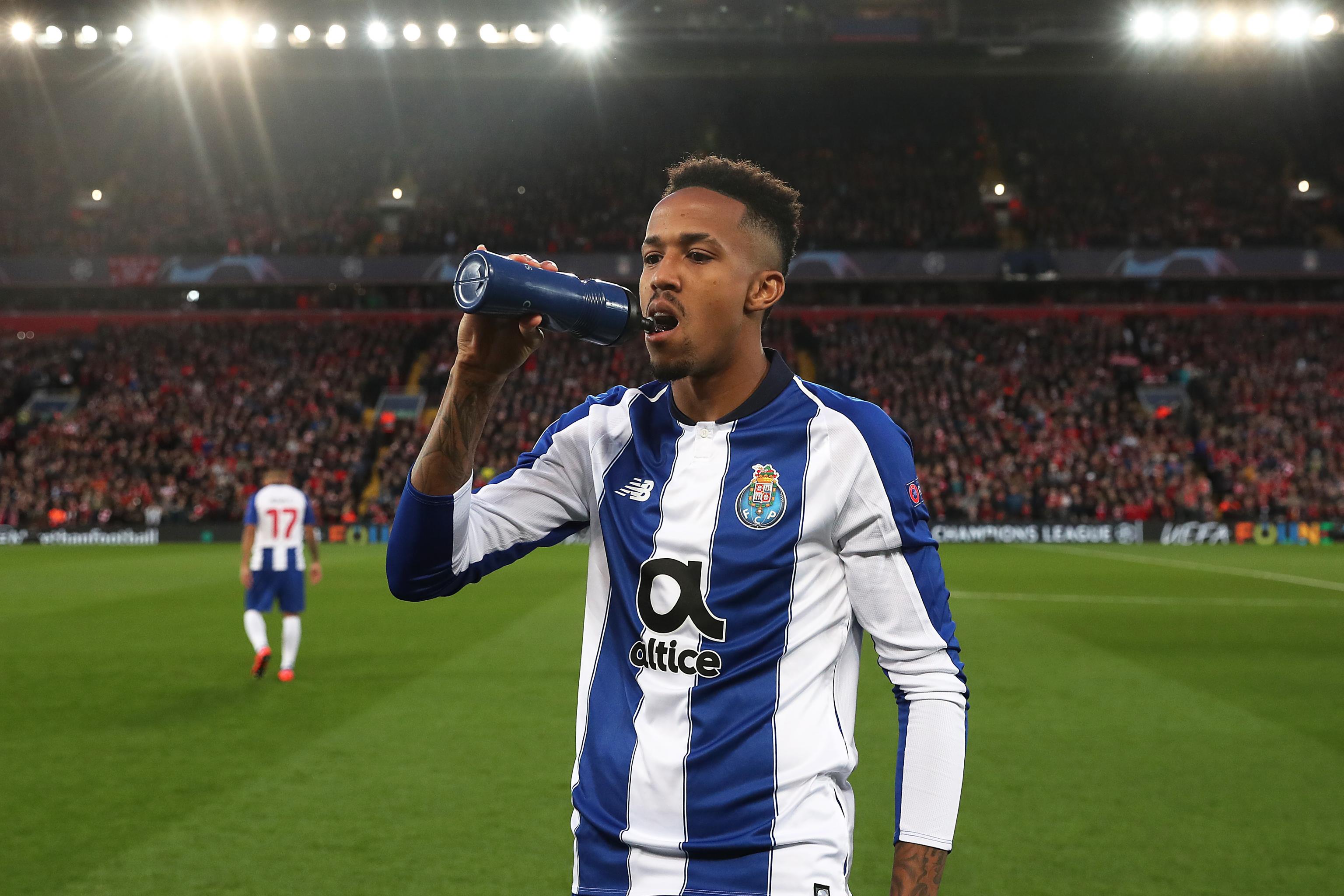 Militão is a tall, elegant, technically gifted centre back who can also play right back and defensive midfielder. While he has played just 9 games in La Liga this season, it's likely that he'll become a starter upon the departure/retirement of Sergio Ramos.
In an interview with Bleacher Report, former Real Madrid defender Ricardo Roca said that Militão was 'everything you look for in a defender,' praising his versatility in particular. One of Militao's main assets is his anticipation; he gets into very intelligent positions which allow him to intercept the ball and break up passes.
Opposition managers have picked up on the fact that he learns the preferred foot of each attacker during the first five minutes of every game. This knowledge allows him to position himself correctly so as to cut off the attacker's options with their preferred foot, drawing them further and further away from the goal.
While his first season in Madrid hasn't been great, Militão is still a promising defender who will play a vital role as Los Blancos look to phase out Ramos.
Photo: Eric Verhoeven / Soccrates / Getty
Since missing out on the signing of Neymar to Barcelona in 2013, Real Madrid have made a concerted effort to buy some of the most promising Brazilian youngsters in football. Not all of them have worked out, like Lucas Silva and Danilo, and perhaps some of the players on this list will fail to nail down a starting spot in the capital too. But Vinícius is already proving to be a key player for Los Blancos at the age of 19, and if Reinier, Militão and Rodrygo can follow his lead, then the future of Real Madrid will be bright — and Brazilian.
By: George Grieve
Photo: @GabFoligno