Alex Grimaldo: The Spanish Left Back Making an Impact in Benfica
As Benfica's magnificent campaign under Roger Schmidt rolls on, with just one defeat in seventeen and four points above second-placed Braga, As Aguias have blessed the Primeira Liga with some stand-out performers this season like Enzo Fernandez, Florentino Luis, Rafa Silva and Goncalo Ramos. However, while the attackers and midfielders grab the headlines, this has been a campaign built on the solidity of Benfica's defense. Nicolas Otamendi, Antonio Silva and Alex Grimaldo have provided the runaway Primeira Liga leaders with a strong foundation for their attacking flair to shine.
With Champions League holders Real Madrid in pursuit of a long-term left back replacement for Ferland Mendy, rumors have already begun circling over Alex Grimaldo's future beyond this season under Schmidt. Despite this, Grimaldo's contract reaches its end in June of this year and Grimaldo there has been reticence from Grimaldo to sign a new deal for quite some time now. And while Bayern Munich and AC Milan have expressed an interest, Real Madrid certainly feel like the most likely option for Grimaldo, a product of Barcelona's La Masia academy. 
Recently, Spanish football has developed quality players at left back. With an emphasis on their capability to launch an attack as well as provide defensive cover for the central defenders, and in the absence a traditional number nine, the left back has to make runs from deep positions to serve as auxiliary wingers in deeper periods of sustained pressure.
They are often used to supplement the attack for wingers who naturally invert as strikers for this style of football to thrive. Spain has produced quality left back such as Jordi Alba, Jose Gaya, Alex Moreno, Juan Bernat, Sergio Reguilon and Marc Cucurella who all fit into the category of technically sound, tactically disciplined full backs. 
Alex Grimaldo was born in Valencia in 1995; he is 27 years old, 171m tall and has a body mass of 69kg (5-6½, 152lb). He began his football career in 2006 at the Atlético Valbonense of Valencia in 2006, starting as a playmaker in the central midfield; He joined the prestigious Barcelona Youth System – La Masia – in 2008 and honed his skills there as a left back.
He made his debut for the Barcelona B team in the youth game against Cartagena in 2011; Barcelona B won by 4 goals and Alex Grimaldo became the youngest player in the Segunda at the age of 15 years and 349 days at the time.  In 2013, Grimaldo sustained a knee injury that left him out of the remainder of the Segunda season only to return in January 2014, helping the team to secure third position. 
As his progression at Barcelona B extended to 2015, Grimaldo was touted to be a replacement for Jordi Alba but the expectation did not make its reality as he did not get the chance to feature for the first team. In December of 2015, Alex Grimaldo's contract was not renewed as his contract had expired; following the expiration, Grimaldo was sold at the rate of € 1.2 million to Benfica who had just been champions of the 2014/2015 season.  In this deal, Barcelona had the right to a percentage of the future sale of Alex Grimaldo. 
Grimaldo made his debut for Benfica in January 2016 at Taca da Liga, coming as a 62nd-minute substitute for Silvio in the 6 goals triumph against Moreirense. At the end of the 2015/2016 season, after making just two league appearances, Grimaldo won the first of his three league titles with Benfica. Subsequent to this, Grimaldo cemented himself slowly into the Benfica starting eleven. His number of appearances per season increased year on year and reached its zenith in 2018/19 when he played all of Benfica's 34 league games in a campaign they concluded by beating Porto to the title by just two points. 
Importantly, Grimaldo has directly contributed to 72 goals in all competitions in his seven years at Benfica – 51 of those being assists – and is still performing to a very high level this season under Roger Schmidt. For example, only Braga's Ricardo Horta has more key passes per 90 (2.8) than Alex Grimaldo (2.4) and Grimaldo has made more accurate crosses this season in the Primeira Liga (29) than any other player. 
Not only has he played a crucial role to Benfica's season thus far in a creative sense, but also his possessional play has been excellent, he makes around 58 passes per game in the league and perhaps the technical roots of his game which he honed at La Masia, has served him very well when playing in a possession-based system.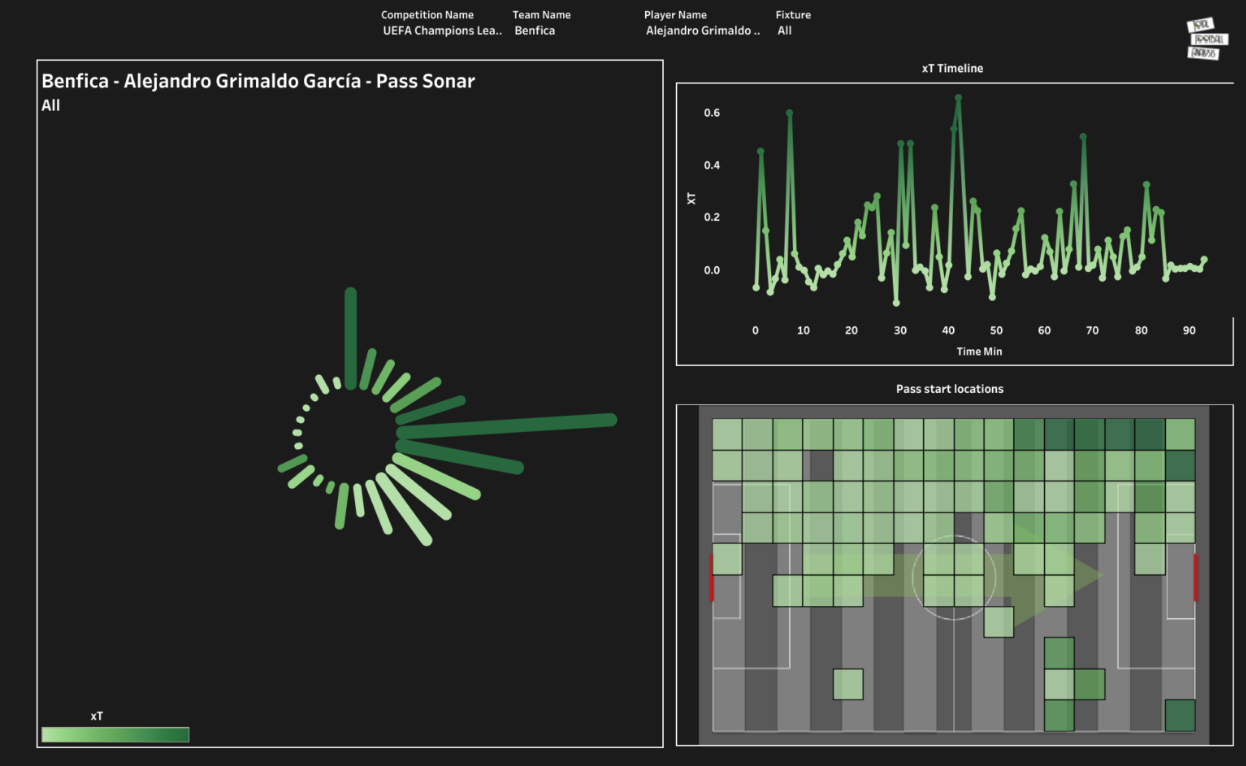 By possessing exemplary technique on the ball, Alex Grimaldo has an inordinate ability to spring out passes from deep that can advance play for his side in a way we tend to only associate with Trent Alexander-Arnold. With his play and passing ability, he can switch the play, playing a long pass that can be received by a teammate irrespective of the distance.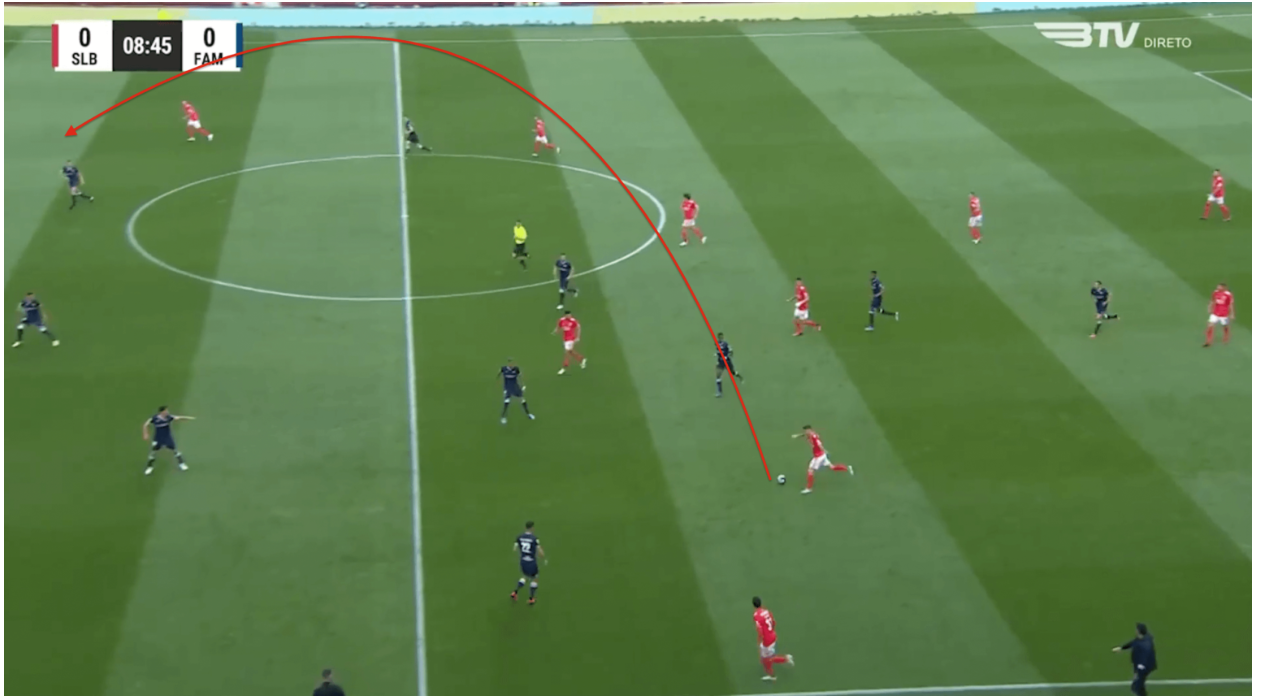 Alex Grimaldo has made an average of 5.11 progressive passes per 90 for Benfica; his passing accuracy was estimated at 79.3% making passes that dissect the defensive line. He has averaged 104 passes from short range. This passing dissection shows the capability of Alex Grimaldo and his ability to open up gaps despite operating from the left back position. With these qualities, he has the capability to dictate the tempo of the game.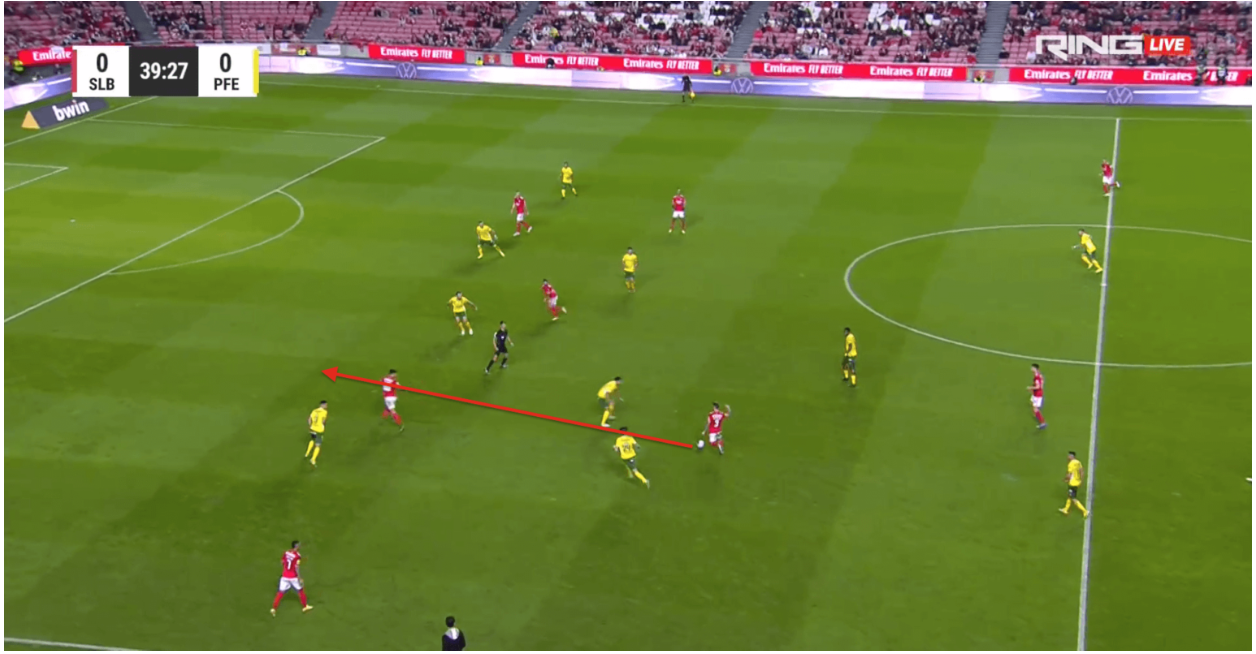 Off the ball, Alex Grimaldo is an individual who has the capability to beat the press with a well-timed run and the ability to cover his defensive track. He has a good recognition and understanding of off-ball movement and the capability of creating a press. 
All of these factors measure up to the makings of a solid defender. Grimaldo has made a total of 57 interceptions, and many of the interceptions have been made inside his penalty box. Other than this, he has made 67 recoveries, 20 of them inside the opposition's half. 
Crucially, he and Benfica still have the rest of this season to conclude. And Grimaldo is as eager in his yearning for the Primeira Liga title this season as anyone in this Benfica squad. While his future is still hanging in the balance with his deal expiring in just six months, he will certainly be looking to add to an already stellar season by sealing his fourth league title with the Eagles.
By: Ogunniyi Abayomi / @OGUNNIYIABAYOM1
Featured Image: @GabFoligno / Carlos Rodrigues – Getty Images