Florentino Luis: Benfica's Midfield Anchor
Under the stewardship of German manager Roger Schmidt, Benfica are emerging as one of European football's most exciting teams. From resurrected luminaries like Rafa Silva, Joao Mario and Alex Grimaldo, to the unearthed gems like Goncalo Ramos and Enzo Fernandez, Schmidt is refining the talent that he has at his disposal at As Aguias. 
As a consequence, Benfica has emerged as one of Europe's finest teams this season, topping their Champions League group featuring Juventus, Maccabi Haifa, and Paris Saint-Germain — the only other team in Europe besides Benfica with an unbeaten record. While questions of Benfica's consistency have lingered, their dismantling of Juventus in the Champions League this season has caught the attention of neutrals from all around the world to the competitive edge Benfica are quietly cultivating under Schmidt. 
While their attackers tend to garner all of the plaudits, Benfica's defensive output this season has been just as essential to their superb start to the campaign. Nicolas Otamendi, Antonio Silva, Alex Grimaldo and Alexander Bah have all shone this campaign, marshalling what is, statistically, the Primeira Liga's best defense. 
Enzo Fernandez – The Future Of Argentina and Benfica's Midfield?
Crucially, part of connecting their dynamic attack and solid defensive structure is Florentino Luis. Anchoring the midfield for Schmidt's side, Florentino has proved an intrinsic piece of the puzzle to Benfica's carefully crafted set-up. 
Who is Florentino? 
Born in Lisbon to Angolan parents, Florentino Luis began his football career as a futsal player for Tercena in 2007 at the age of 8. Much has been said about the significance that futsal holds in developing the speed of thought and technical skills that are proving vital in a game that is becoming increasingly tactical. 
In addition to this, many have cited futsal as playing a huge influence on Florentino's development. His biggest skills as a player are his tactical and positional sense, his technical ability and his ball-winning ability. All of these, are hugely important to the game of futsal, given its high intensity and need for players to make quick decisions about positioning, whether they are in or out of possession. 
Florentino joined the Benfica academy in 2010 and marked his first team debut in 2019 against Nacional in the Primeira Liga, coming on as a substitute in a 10-0 drubbing of the Madeira-based side. The 2018/19 season would see Florentino build on a promising display shown in last summer's U-19 Euros where he led Portugal to glory, with the midfielder breaking into the team alongside fellow academy talents Joao Felix and Ferro and playing a key role under new manager Bruno Lage.
He experienced his first taste of European football against Galatasaray as Benfica defeated the Istanbul side in the round of 32 and he also scored his first goal in the league for Benfica in a win over Moreirense. In his first stint under the tutelage of Lage, Florentino helped his club clinch their 37th league title, marking a considerably impressive rise in the 2018/19 season for Florentino where he progressed from a youth player into a first-team player.
However, despite the progress that had been made in terms of Florentino nailing down a starting position for Benfica, it wasn't enough for then-manager Lage to remain in charge after leading the club to the championship. After a disappointing season, he was sacked and replaced by Jorge Jesus.
Fork in the Road
After Lage had been let go and replaced by Jorge Jesus, Florentino's place in the team was placed under immediate threat. He failed to impress Jesus in pre-season, prompting Florentino to head out on loan to Monaco.
Things didn't exactly get off to a flying start at Monaco either, as he made just two starts for the club before the Covid-19 pandemic hit and his club finished third, with the Portuguese midfielder struggling for playing time behind Aurelien Tchouameni. Subsequent to this, Florentino joined La Liga side Getafe on loan, but this move proved problematic for a few reasons.
Firstly, Getafe were fighting an uphill battle as they had just lost their manager Jose Bordalas, who had parted way with the club after a stellar five years and joined Valencia. Secondly, their new manager, Quique Sanchez Flores, opted to go with Mauro Arambarri and Nemanja Maksimovic in the midfield double pivot due to their physicality and the rigidity they provided. Florentino would register just eight starts in Spain's top-flight as Getafe narrowly avoided the drop and finished 15th.
Renaissance Under Schmidt
As Roger Schmidt's arrival at Benfica coincided with Florentino's return from Getafe, a good first impression was required, and Florentino quickly delivered, convincing the German manager to entrust him with the role of Benfica's midfield linchpin. This would see Florentino go from the fringes of the first team to a starting spot in the double pivot, with the likes of Adel Taarabt and Julian Weigl being offloaded to make way for him in the eleven.
It's no coincidence that Benfica's transformation from back-to-back third-place finishes to an undefeated start to the campaign has came at the same time that Florentino has been incorporated into the starting line-up. He is as combative and hardworking as he is tactically razor-sharp. This season, he has held down a role as the holding midfielder in Schmidt's side, serving as cover to the creative fulcrum of the Benfica team.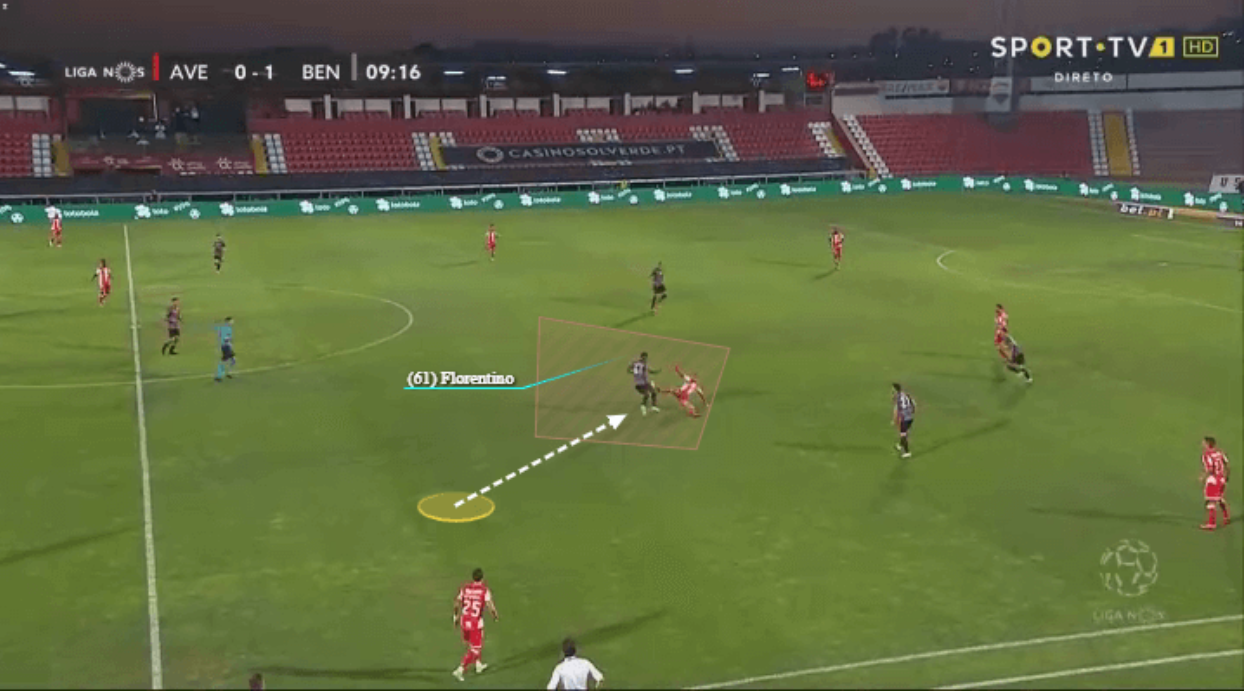 Along with his defensive abilities, he is also known to have the ability to to launch attacks with his interceptions and quick passes. This, along with an excellent ability to distribute the ball, illustrate his importance to Benfica's system, with the Portuguese midfielder playing a similar role to that of Sergio Busquets at Pep Guardiola's Barcelona.
Florentino is also an aggressive presser of the ball, which, combined with the ability to time a tackle to perfection and recover the ball immediately, makes him a vital asset in Benfica's midfield. This is evidenced by the fact that Florentino has the second-most interceptions per 90 (2.3) in the Primeira Liga this campaign. A big part of his game is his ability to sustain attacks after winning the ball back in the opposition's half as Benfica engage their counter press. 

These statistics serve to highlight Florentino's defensive strengths. The above figures are comparing Florentino's numbers with the players in similar positions from Europe's top five leagues — he is in the 99th percentile in interceptions and in blocks, and he has completed 93% of his passes over the past year. He possesses a positional intelligence of knowing where to receive the ball, cover the space and attack the space, and he excels at analyzing his passing options and picking the smartest choice in the build-up. 
'What has changed for Florentino?' people may ask. What has been the catalyst for this transformation? Quite simply, it's having a manager who is willing to entrust him with the responsibility of being the midfield anchor. To all intents and purposes, he is deemed as essential to what Schmidt is fostering at Benfica. One man's trash is another man's treasure, one man's squad player is another man's indispensable cog in midfield.
At 23 years of age, Florentino Luis has bounced back from his disappointing loan spells at Monaco and Getafe and emerged as a vital force in Benfica's midfield. He has formed a dazzling partnership with Enzo Fernandez, played a key role in Benfica's rise to the top of the table and their undefeated start to the campaign, and he could be set for a maiden call-up to Portugal's senior team in 2023.
By: Ogunniyi Abayomi / @OGUNNIYIABAYOM1
Featured Image: @GabFoligno / Gualter Fatia / Getty Images