An Analytical Look at Chris Smalling's First Season in Serie A
After 10 years and 323 appearances, it appears that Chris Smalling's time at Manchester United is set to come to an end in the coming days. The 30-year-old center back, who was shipped out on loan to Roma last summer following the purchase of Harry Maguire and Axel Tuanzebe's return from his loan spell at Aston Villa, looks set to complete a permanent move to Roma.
Smalling had divided opinion in the United fanbase since his arrival from Fulham in 2010, but upon joining the Giallorossi, he became an instant hit in the Italian capital. Roma manager Paulo Fonseca said in April, "He's fast, nearly unbeatable in one-on-ones. He has a great ability to read the play and anticipate. He was very important for this club. If possible, I would like him to stay."
While at loan at Roma, Smalling played in his natural position as a center-half. His role did change over the course of the season however, as he saw minutes at both right and left center-half in a four-man back line, while also featuring multiple times as the central man in a five man back-line, but he consistently impressed on account of his leadership skills and versatility, even wearing the captain's armband on several occasions.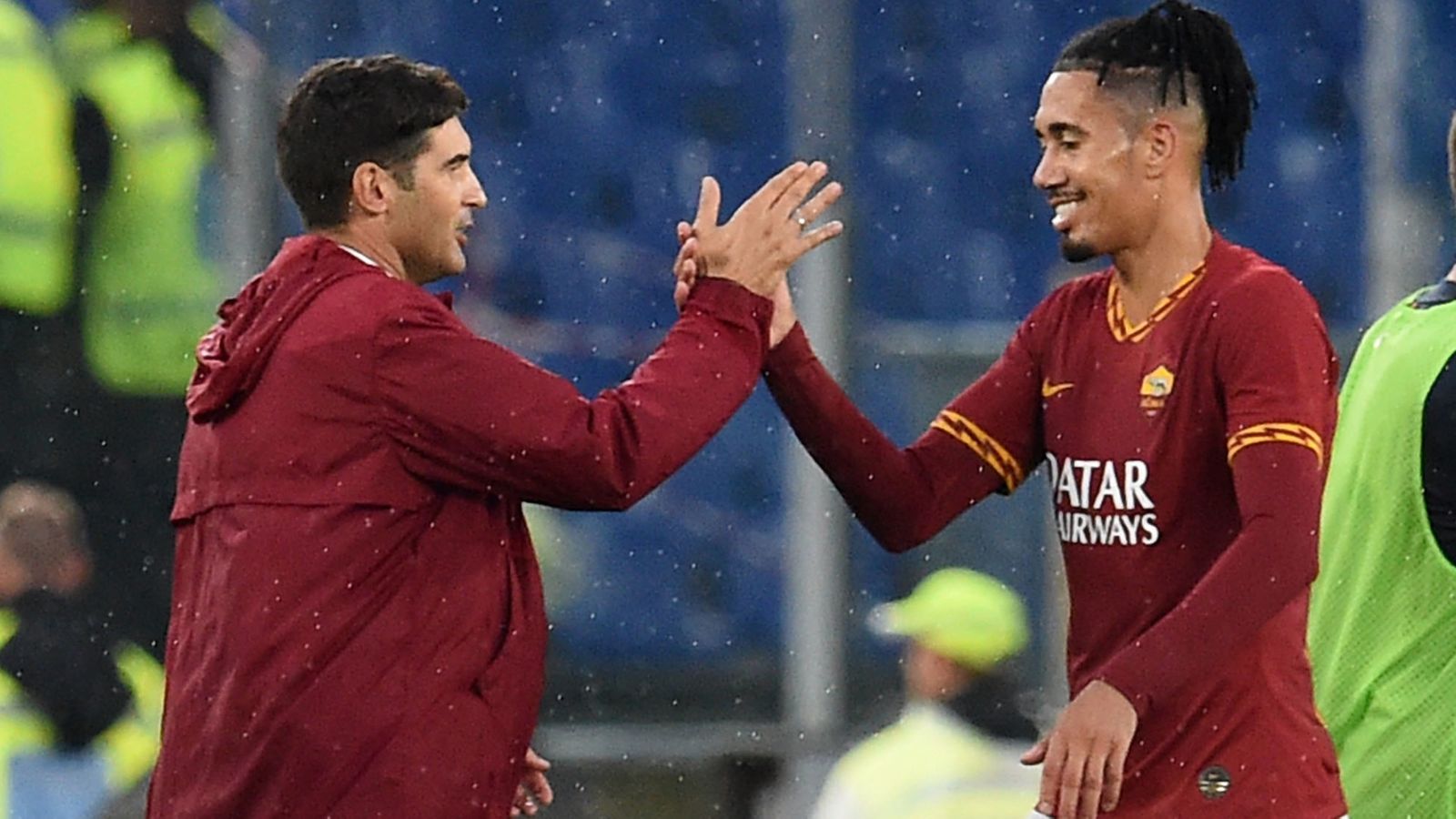 Photo: Getty Images
Smalling, whose current deal at Old Trafford expires in 2022, has agreed to personal terms with Roma according to DiMarzio, which would tie him to Roma for the next three years. Roma have reportedly proposed a loan with an obligation to buy for €12 million, well below United's reported asking price for £20 million.
Nevertheless, with Roma in need of defensive reinforcements following the departure of Aleksandr Kolarov, and with Maguire, Tuanzebe, Eric Bailly and Victor Lindeløf ahead of him in Ole Gunnar Solskjaer's pecking order, it appears a matter of when, not if, that the two sides reach an agreement. Let's take a look at Smalling's debut season in Italy and why Roma are so desperate to complete a permanent transfer for him.
In Possession
Smalling has never been known for his skills on the ball; on the contrary, his strengths have always lied in the defensive phase of the game. Whether due to a change of scenery or a new system, his career passing accuracy percentage of 85% was leapfrogged in Serie A by an impressive 90.7% passing accuracy. The majority of his passes were between 5 and 25 yards, and these types of passes had a 93.1 percent completion rate.
Looking at data from Smarterscout, we can dig a bit deeper into his underlying passing numbers. Smarterscout uses an advanced algorithm which measures a player's playing style. The dimensions are ranked on a scale of 1-99 with 99 being the best. Using Serie A as our benchmark league, Smalling is rated at 86 in Link Up. The Link Up Style Rating is roughly defined as "Any other pass which does not bring the ball at least 10 meters closer to the center of the opponent's goal." This is a clear indicator of not only the simple types of passes which Smalling often plays, but also his ability to execute them well and keep the attack ticking.  
If we look at the flip side of Smalling's relatively impressive passing numbers, we can see even more of the story. Despite his extremely high passing percentage, he only attempted 0.16 through passes per 90 minutes this season according to Wyscout. Another knock against his passing ability is his lack of accuracy further up the pitch where there is less time and space, as he completed just 75.9% of his passes to the final third.
Smalling is not a particularly progressive attacking player with the ball at his feet, averaging just 0.42 progressive runs per match this season according to Wyscout. In the build up phase, he usually plays the safe pass as touched on above, instead of breaking the first line of pressure by dribbling. However, at times when cutting out the opposition attack, he will attempt a progressive run further up the pitch.
While he is capable of beating the initial press, he often runs out of ideas or is unable to see the runners ahead of him due to lack of vision. The following sequence happened on multiple occasions this season; first he does well to win the ball which was played into the space in front him and bring it down under control.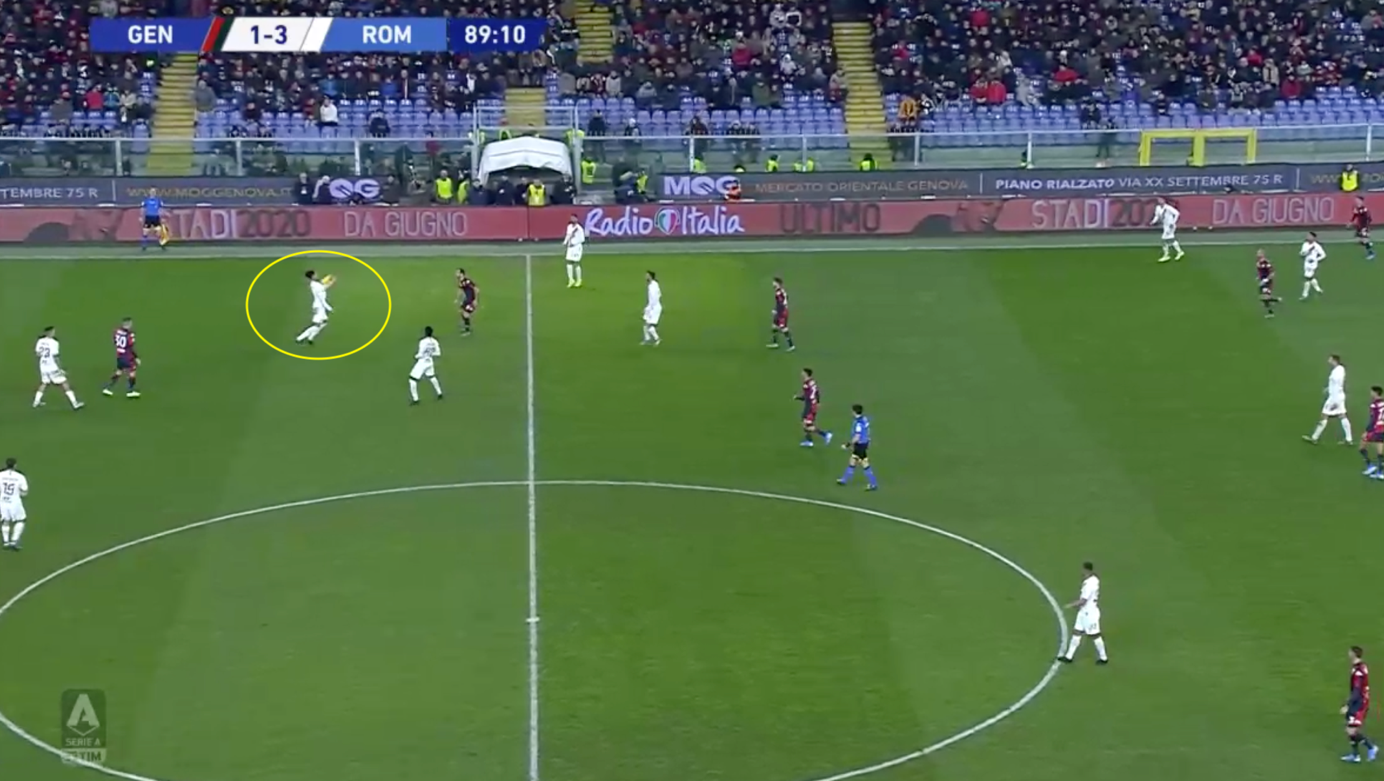 After beating the initial press, he splits the next line of Genoa defenders by dribbling past them, using his speed and physicality to maneuver his way through the opposition.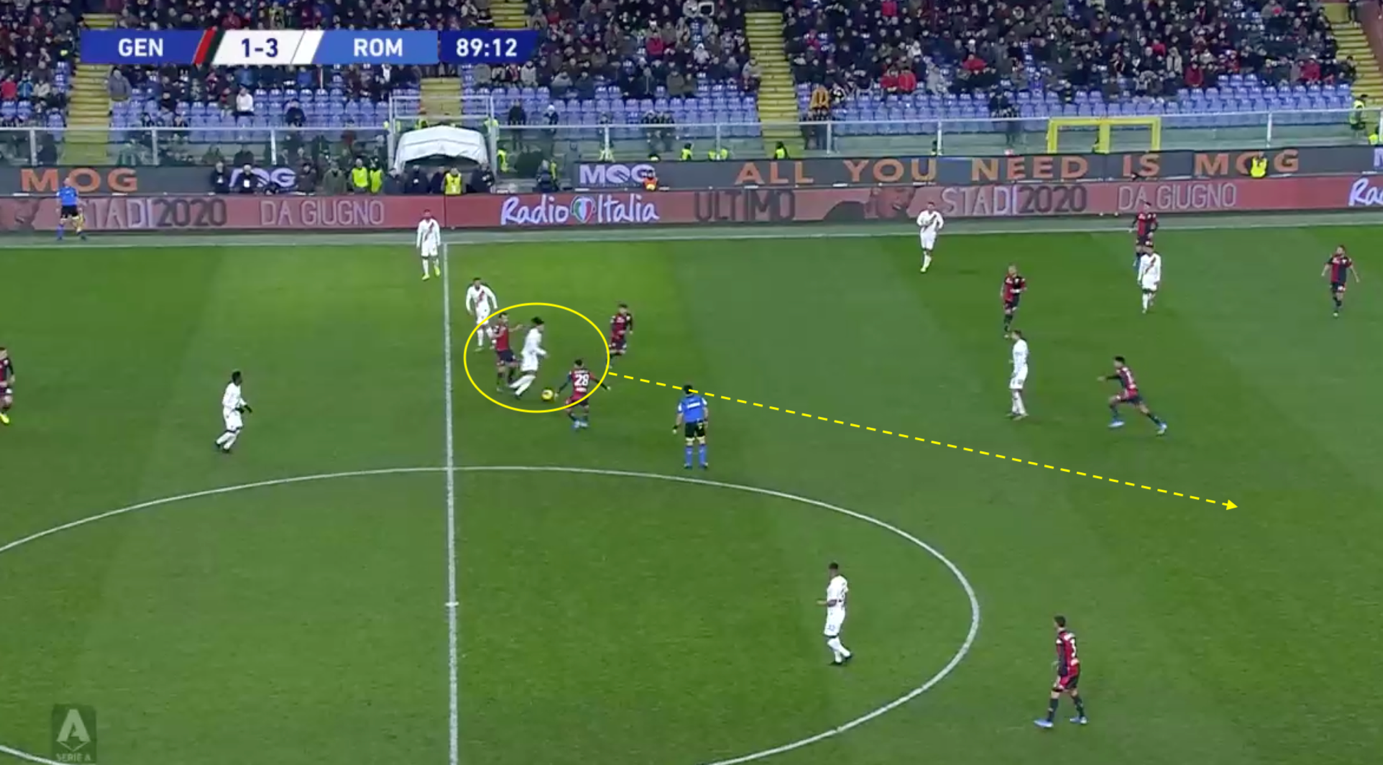 After doing well to break free into the space ahead of him, he has a wonderful  opportunity to play Edin Džeko through on the left. Instead he chooses to continue his run with the ball towards the right and ends up being challenged by his opponent, only to lose possession for a Genoa goal kick.
Another crucial element of Smalling's abilities is his dominance in aerial duels. While central defenders are expected to be relatively dominant in the air, he was able to take his aerial prowess to another level last season under Paulo Fonseca. Smalling had the third highest Aerial Duels Success Percentage in the entire league according to Wyscout, winning 70.99 percent of them.
He also rates extremely well in Smarterscout's algorithms. While this rating is adjusted based on position, Smalling is rated a perfect 99 in Receiving in the box by Smarterscout, which tells us that he has a knack for getting on the receiving end of a pass into the area.
Combine this with his 88 rating in Smarterscout's Aerial Style Rating, it's easy to see that he is an attacking force when targeted in the opposition penalty area. Below is an example where he stayed far up the pitch after a set-piece and was eventually able to get on the receiving end of a cross at the back post.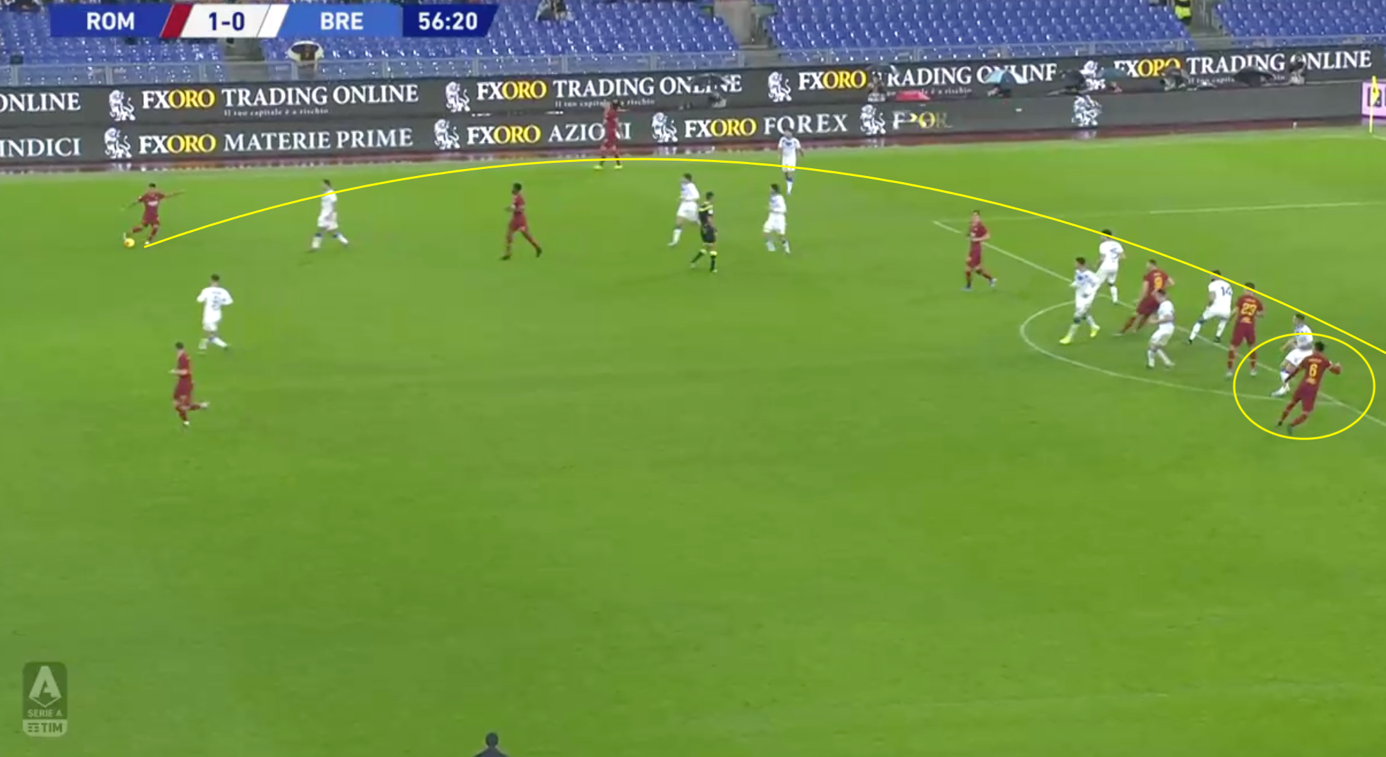 After a piece of smart movement, he is able to lose his marker and nod a header into the path of Gianluca Mancini, who scored the second goal following Smalling's opening goal.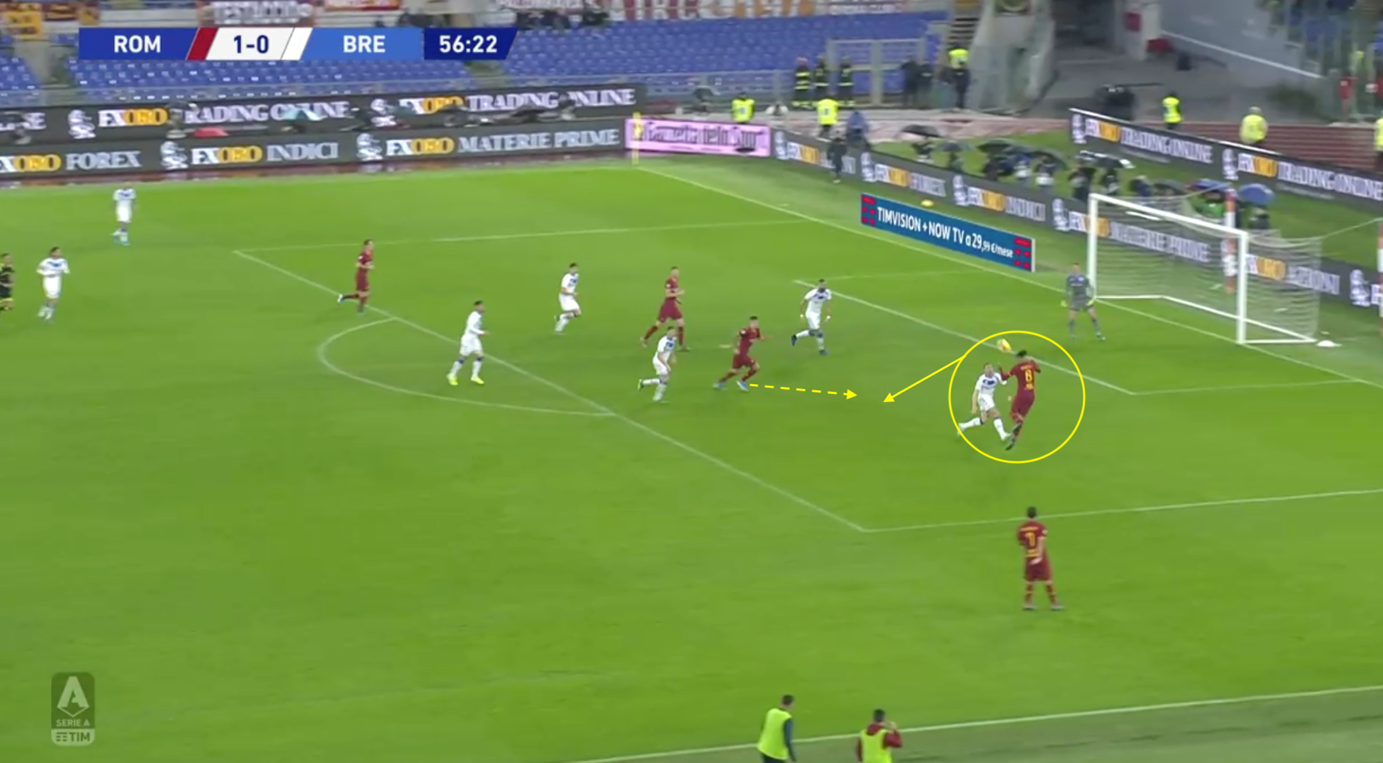 Out of Possession
While his defending style may look unorthodox at times, he does well to get the job done off the ball, using his body to win the ball and nullify opposition attacks. According to statistics taken from Wyscout, Smalling won an incredible 72.22% of his Defensive Duels in the 2019/20 season. Only four other central defenders had a higher success rate.
He is also rated kindly by Smarterscout in their Duel Ratings  category, called Ground Duels Out of Possession, where he achieves a solid 79. Below is a sequence where we can see his tenacity and speed come to life in a vital challenge.
In the first image, we can definitely ask questions about the positioning in the back four, but here the focus is on Smalling's reading of the game, recovery pace, and strength in the challenge.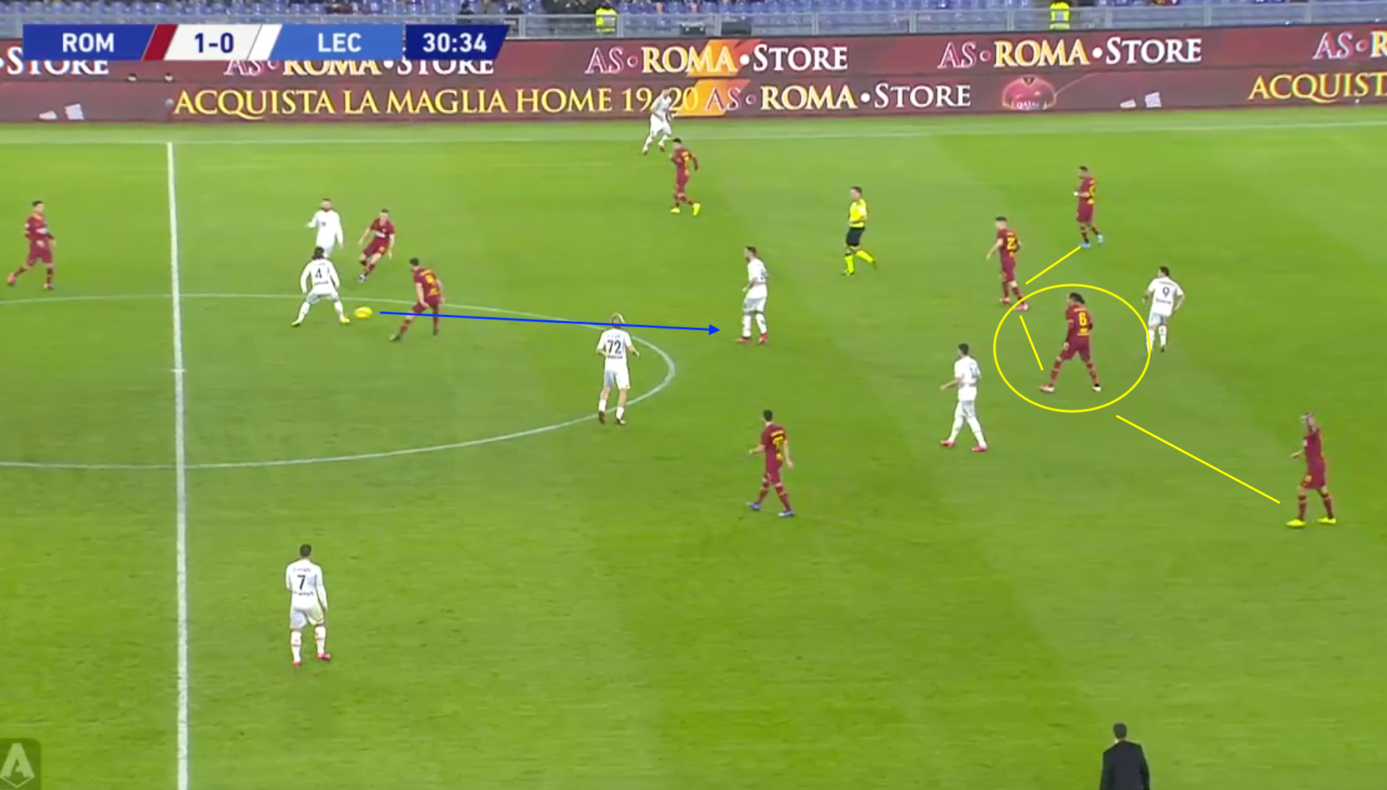 When the initial pass from Lecce's Jacopo Petriccione is played between the lines to Marco Mancosu, Smalling's defensive partner Gianluca Mancini is forced to make a decision. He decides to leave the back four to pressure the ball and not allow Mancosu to turn and face the goal.
In turn, this forces Smalling to react quickly and cover the vacated space behind Mancini, which is also occupied by Gianluca Lapadula, who is on his way towards goal with a clever run in behind. The quick up, back and through combination played by Lecce opens up the Roma defense and puts them into a great scoring position, as seen below.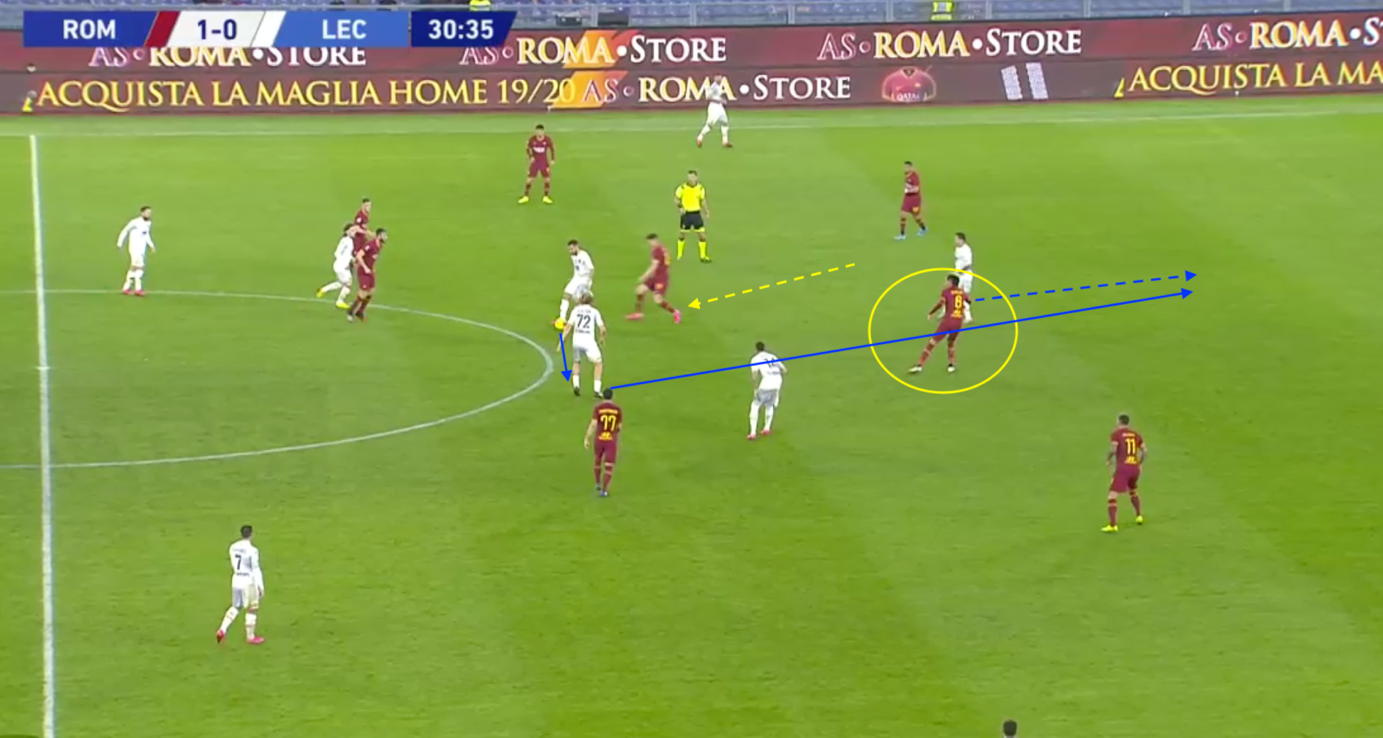 Smalling was able to detect the danger early and take a step back into the space, and this quick reaction combined with his good recovery speed allows him to reach the ball and win the defensive duel pictured here.
Smalling also does an exceptional job when it comes to 1v1 defending, having been dribbled past just three times over the course of the season per FBRef. This was the fewest amount of times amongst all defenders with at least 1,800 minutes played.
In the below example, Smalling is playing in the middle of a back three, with Mancini and Kolarov as the outside center backs. Early on in the match, Smalling finds himself isolated with SPAL forward Marco D'Allesandro.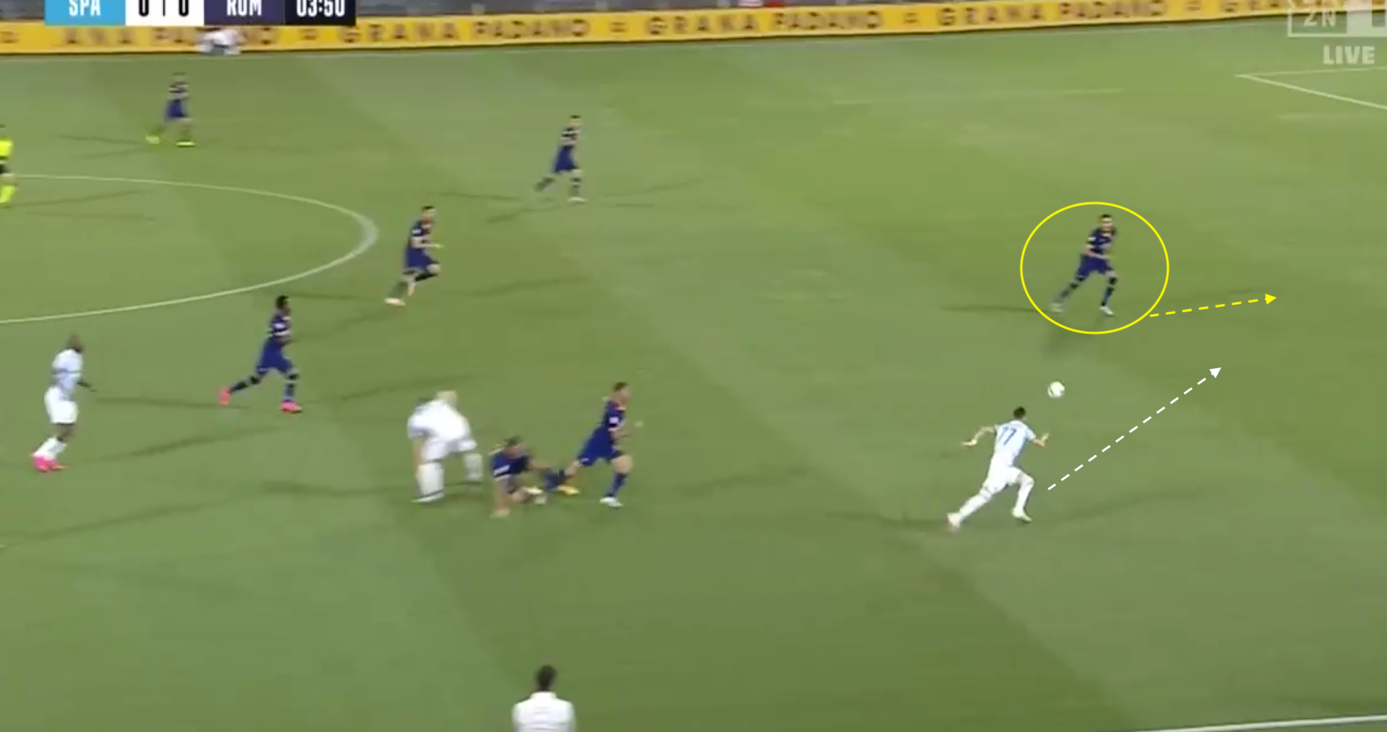 Smalling does a great job of cutting out the angle towards goal and blocking D'Alessandro's ideal shooting option.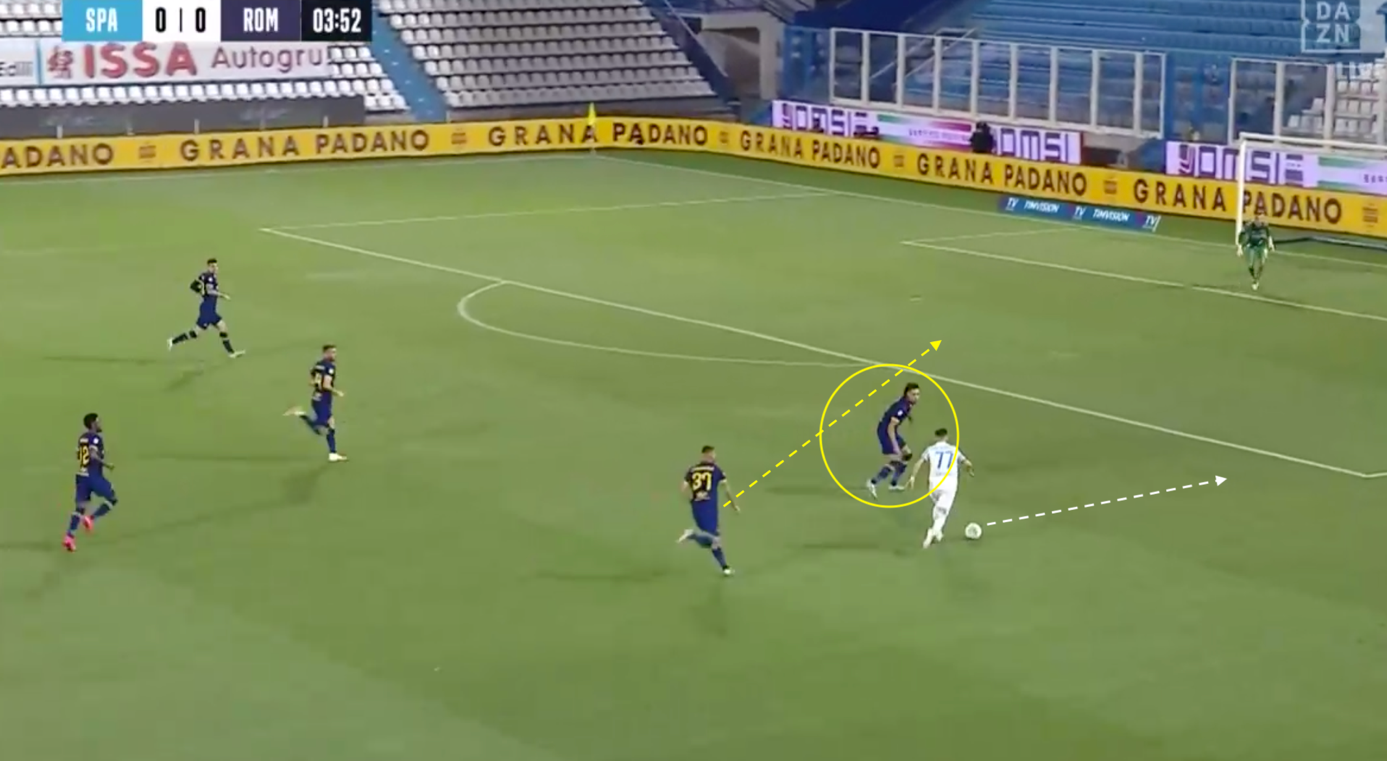 As he backpedals towards the penalty box, he is able to turn his shoulders and adjust his body positioning, enabling him to delay D'Alessandro without engaging him. This forces the SPAL striker away from goal and towards the touchline, while also allowing time for the left center half, Kolarov, to drop in behind him to provide support.
In the end, D'Alessandro attempted a tepid cross, which Roma goalkeeper Pau López comfortably collected.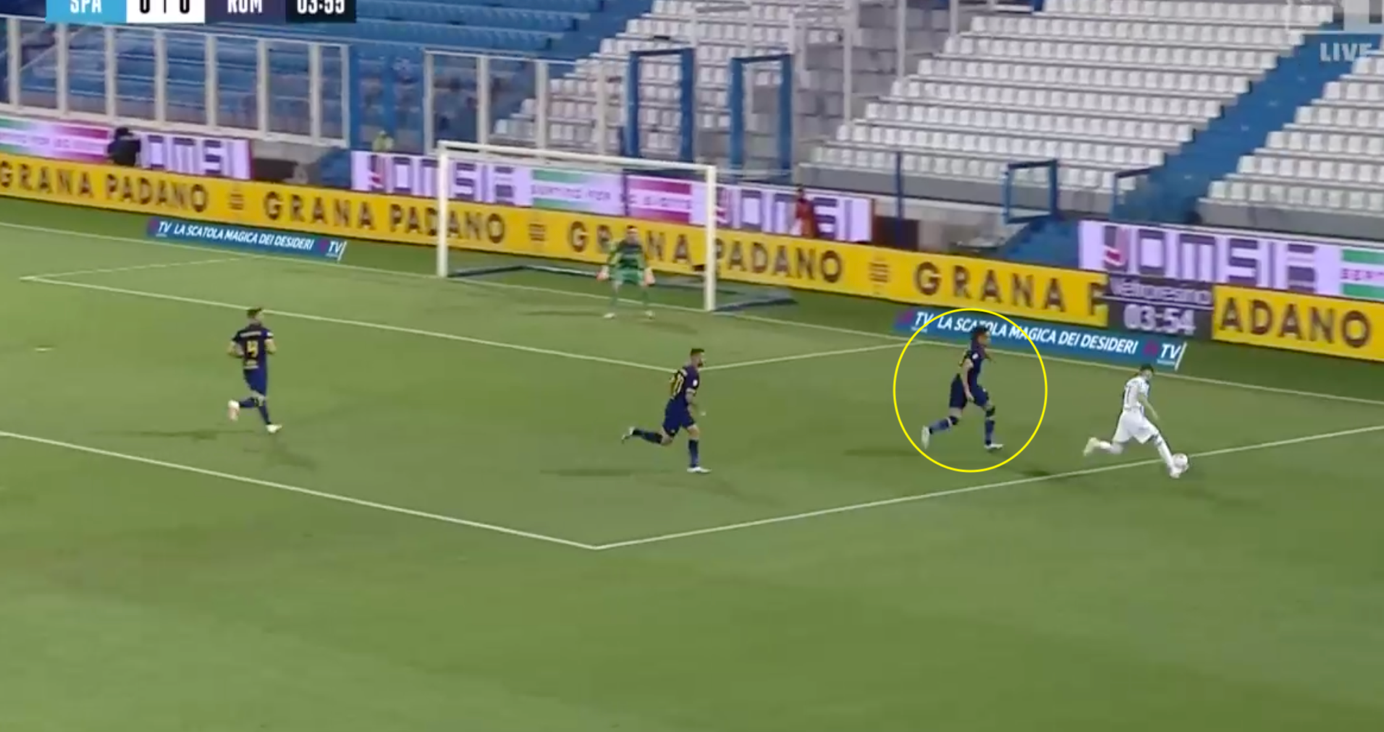 Apart from his aerial fortitude in the opponent's box, Smalling also performed well in aerial duels in his own half. Smalling ranked ninth in Serie A for Aerial Duel Success in Own Penalty Area, winning a respectable 66.67% of his challenges.
He also does well in other defending actions in his own penalty area, and according to Wyscout, he led the entire league in Shots Blocked with a total of 33. In addition, he also had the highest number of Shots Saved with two, defined as shots which were on target.
Overall Impact
While one season in Italy at the age of 30 has not completely transformed Chris Smalling into a new player, it does appear that the move abroad has had a positive impact on his overall performances and his confidence. He has always had the raw ability to defend in most situations where he is the first defender, but with age and new experiences, he seems to have improved his reading of the game and his defensive positioning, as well as becoming a better second and third defender.
His decision making has improved both on and off the ball, leading to a more complete and comfortable defender. He finished the season with a total of three goals and two assists in league play, a solid return for a central defender. He also obtained a few accolades along the way, being ranked as the second best center back in the league by the Wyscout Index, as well as getting a spot in the WhoScored Serie A best XI, with an average match rating of 7.0.
The former Fulham man is still not an elite ball progressor, but he also isn't a huge risk for a team that attempts to build from the back. He is capable of finding the open players and executing the simple passes, as well as making smart decisions with the ball.
With Smalling reportedly closing in on a permanent deal to Roma, there is the feeling that this is the best move for all parties involved. Manchester United will get a respectable fee for a 30-year-old fringe player, Roma will bring back an experienced defender who has proven to be a leader at the back for them, and Smalling will get regular playing time at a club that is pushing to return to the Champions League.
By: Eric Laurie
Featured Image: @GabFoligno / DeFodi Images