Antonio Candreva's Renaissance at Sampdoria
Throughout his football career, Antonio Candreva has played for multiple clubs and developed a reputation for being a hard-working winger with the ability to occasionally contribute among the goalscoring. 
After four seasons with Inter, which were marred by inconsistency and erratic form, the former Italian international joined Sampdoria in September 2020 in a loan deal for a season with an obligation to be bought outright for €2.5 million.
It seemed that his career was slowly coming to a close, but in his second season with the Blucerchiati, the 34-year-old looks like a revitalized footballer. During the 2021/22 Serie A campaign, he has scored seven goals and provided seven assists as well.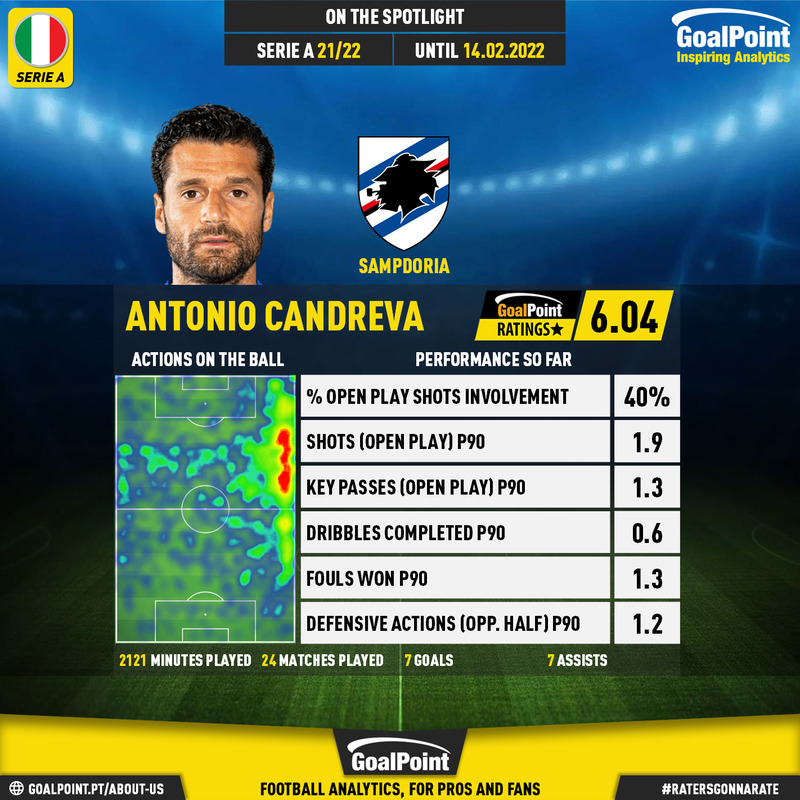 Photo: Goalpoint / @_Goalpoint
According to GoalPoint, Candreva has an open shots involvement of 40 percent, and he averages 1.9 shots in open play, 1.3 key passes, 0.6 dribbles completed, 1.3 fouls won, and 1.2 defensive actions in the opposition area per 90. 
Candreva has been an important part of Sampdoria's attacking play this season. During Roberto D'Aversa's tenure as coach of La Samp, the veteran played as a right midfielder in the 4-4-2 formation, while D'Aversa's replacement Marco Giampaolo has fielded him as a mezzala destra or right central midfielder in the 4-3-1-2.
Even at his age, he runs tirelessly on the right flank and he is also dangerous on the ball. When he was at Inter, Candreva had problems with over-hitting crosses and blasting shots wide or horribly high over the bar.
Throughout the 2021/22 season with Sampdoria, he has been more precise with his crossing and shooting, which has improved his direct involvement in his team's goals significantly.
As the heat map illustrates, the 34-year-old has been prominent in the opposition half, looking to wreak havoc on the right flank. He will still drop back whenever it is necessary and help Sampdoria right-back Bartosz Bereszyński, with whom he has developed a fine understanding with on the right side of the pitch.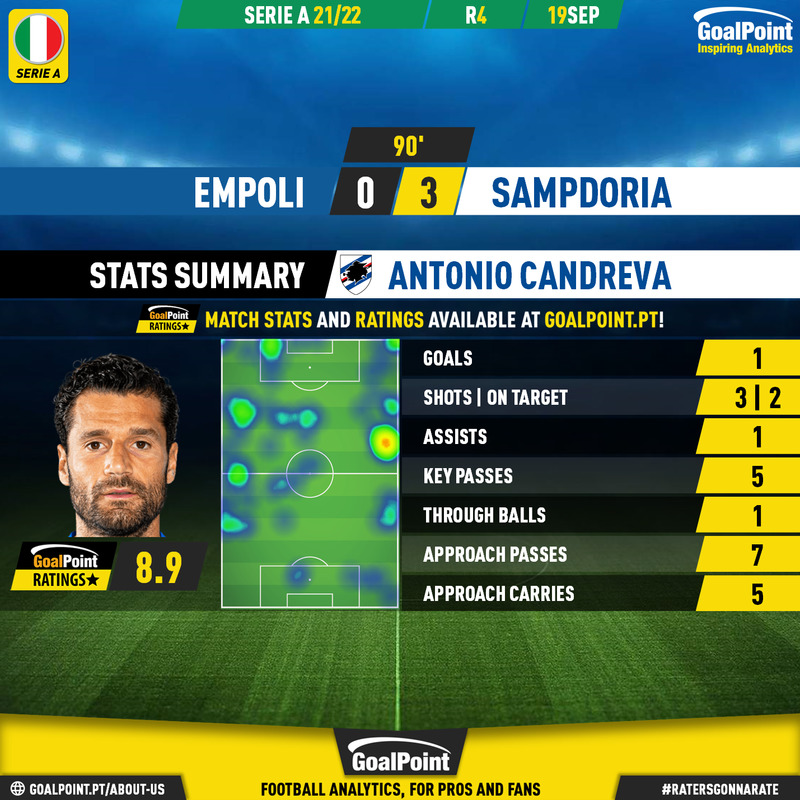 Photo: Goalpoint / @_Goalpoint
Candreva has also featured on the left flank as well as central positions from time to time. Although he does his best work on the right-wing, he has demonstrated that he can make an impact in other parts of the pitch.
One of his best performances this season came in the 3-0 victory away to Empoli in Week 4. Although he started on the right side of the pitch, Candreva eventually had a free role of the game. One minute he would be cutting in from the left wing, the next minute he would be dribbling down the middle of the pitch.
He made seven approach passes and five approach carries, highlighting his ability to lead Il Doria's attacking play. He also made five key passes, but most importantly, he assisted in the first goal for Francesco Caputo with a chipped pass and he scored the sealer with a powerful bending shot.
Looking at the heat map for this particular fixture, he would be active in different pockets of space. These areas would usually be on the wings but there were a few occasions when he was present outside of the are like when he supplied the assist for Caputo.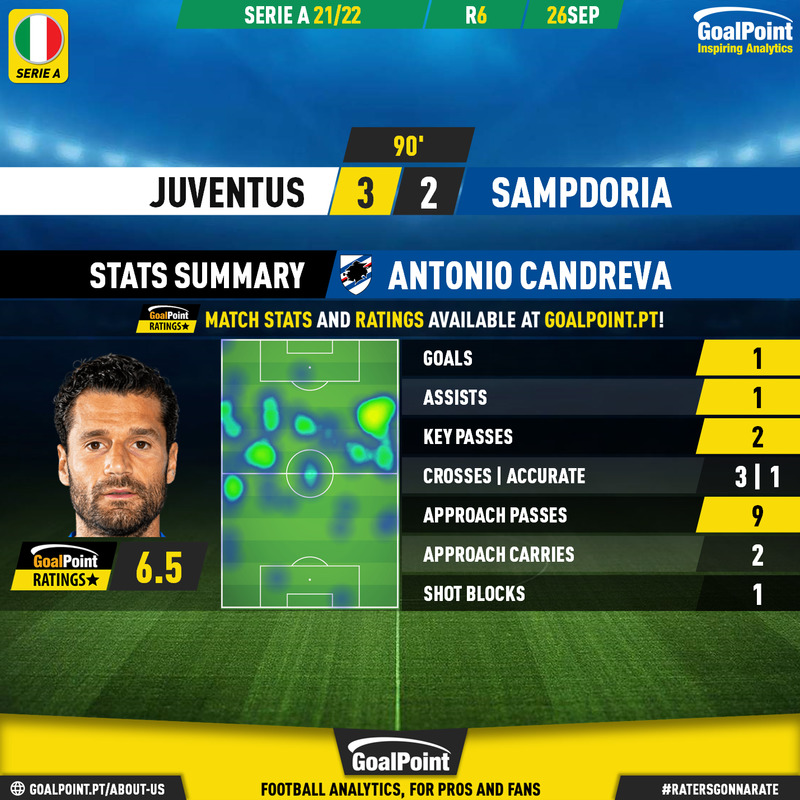 Photo: Goalpoint / @_Goalpoint
In Week 6 of the 2021/22 Serie A season, Sampdoria travelled to Turin to play Juventus and lost 3-2 to the Italian giants. However, Candreva tried his best in the hope that the Blucerchiati could bring an unlikely point back to Genoa. 
Against Juve, he relied on his passing than on dribbling to bring the ball forward. He registered just two approach carries, but he was still able to make nine approach passes.
He made two key passes, but crucially, his corner created a goal for Maya Yoshida and then scored a goal which could have inspired a late comeback.
Candreva was often in the opposition half in this game as the heat map illustrates. Although he had a great presence on the right flank, he was still involved in the play across the midfield. 
He did have some moments in which he dropped into his own half and the graphic shows that he was on the left flank when this happened.
This was likely due to the performances of left-back Nicola Murru and Fabio Depaoli, who played out of position as a left midfielder. Both players struggled against the Bianconeri and someone with Candreva's skill, experience, and energy had to help them out.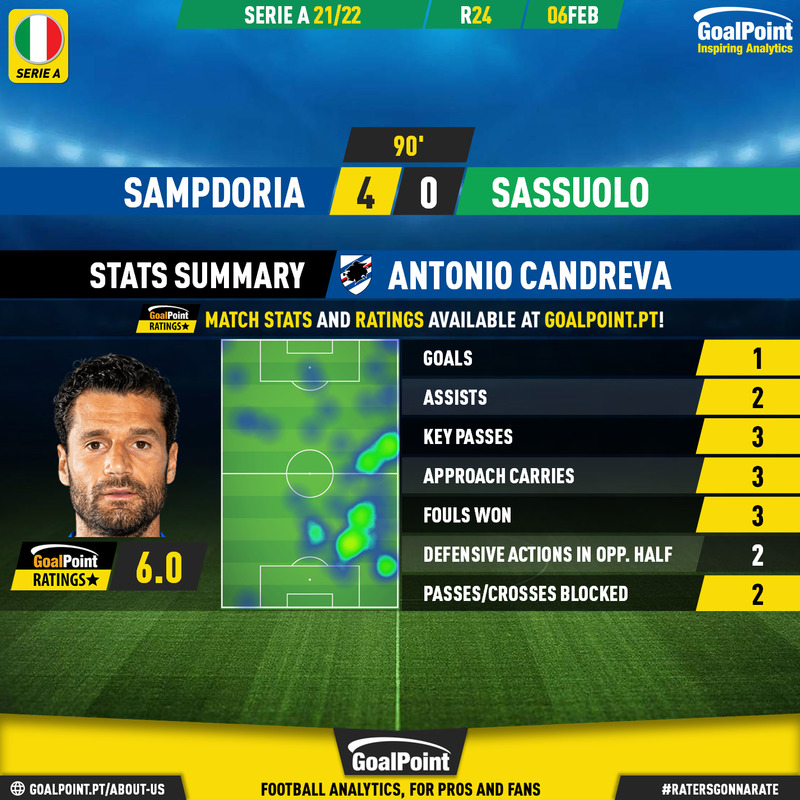 Photo: Goalpoint / @_Goalpoint
In January, Sampdoria decided to sack D'Aversa and the board decided to bring back Marco Giampaolo for a second spell with the Doriani.
This meant a change in formation and football philosophy for the squad. While D'Aversa used the 4-4-2 like his predecessor Claudio Ranieri, Giampaolo has used his preferred 4-3-1-2 while also occasionally switching to the 3-5-1-1.
Candreva has operated as a right central midfielder under Giampaolo but his impact has remained the same. Giampaolo earned his first victory in his second spell in charge of Samp in Week 24 of the Serie A season, winning 4-0 at home to Sassuolo. 
The Neroverdi dominated possession and Sampdoria decided to play in a deep defensive block, but the Blucerchiati were slicker with the ball at their feet and demonstrated greater shooting accuracy.
The deep defensive block is a reflection of Candreva's positioning the game against Sassuolo, where it is shown that he spent more time in his own half than in the opponent's one.
The heat map is also a reflection of his change in role. Although he is on the right side, his positioning is more inward than previously, where he would have been close to the boundary.
Despite his positioning throughout the game, he still had a major involvement in Sampdoria's goals, providing two assists and sealing the victory with a chipped penalty. His assists for Francesco Caputo and Andrea Conti displayed his ability to spot teammates at the far post and produce a superb ball to them.
Candreva will turn 35 at the end of February but he has not shown signs of slowing down. In fact, his teammate Fabio Quagliarella is a great example of how a player can still produce top football even when other players their age are declining or about to retire.
With Quagliarella showing signs of wear and tear, Candreva is showing that he can become Sampdoria's next talisman.
By: Vito Doria / @VitoCDoria
Featured Image: @GabFoligno / Nicolò Campo / LightRocket