Ben Davies Is Antonio Conte's New Successful Experiment in Tottenham's Defense
When Antonio Conte became the manager of Tottenham Hotspur, there were always going to be immediate winners and losers. It was a guessing game. Who was the Italian going to favour? Who was going to be shunned? 
After five Premier Leagues games, these questions are starting to get answered. The biggest winner, so far, is Ben Davies. Under Nuno Espírito Santo, he was a back-up left back. Arguably, he was even third choice (many wanted Ryan Sessegnon to begin getting more minutes).
The Welshman has played every single minute under Conte in the Premier League, fitting into the left-centre half position in the back three. Not only has he worked his way back into the first-team, but he has also been one of Spurs' best players. Davies appears to Conte's latest experiment.
It is clear why Conte has immediately taken to Davies for the left-centre back role in the three-man defensive system: he is left-footed. It may sound simple, but this creates a much better balance in Spurs approach play. A right-foot, left-foot combination essentially splits the pitch in two.
Antonio Conte's Biggest Tactical Problem at Tottenham: He Has Defenders That Aren't Comfortable on the Ball
This also helps in a defensive sense, a left-sided centre-back will regularly be dropping off to his left shoulder, and should he chase a wide man down the line will be looking to block/tackle with his outside foot which is a lot more natural than if someone right-footed was doing so.
Davies is the only left-footed player that can play centre-back for Spurs and he often plays in this shape for Wales which may be why he has adjusted to this role so quickly. 
Position/Role
This role comes with responsibilities. Firstly, the relationship must flow between his left-wing back partner and centre-back partner. This has mainly been with Eric Dier and Sergio Reguilon, both of which he has established a good partnership. In terms of Dier, depending on the situation – he must effectively shut off that inside channel within the half-space. 
While doing this, Davies must make sure the opposition's wide players are taken care of. Whether that be Reguilon shifting in to make a back five or Davies coming out to attend to him. 
In an offensive sense, due to the fact that he is left-footed: he can create angles to fizz passes into more offensive players like Heung-min Son, Harry Kane, or even a centre-midfielder. This is extremely useful when Spurs are trying to hurt teams in transition.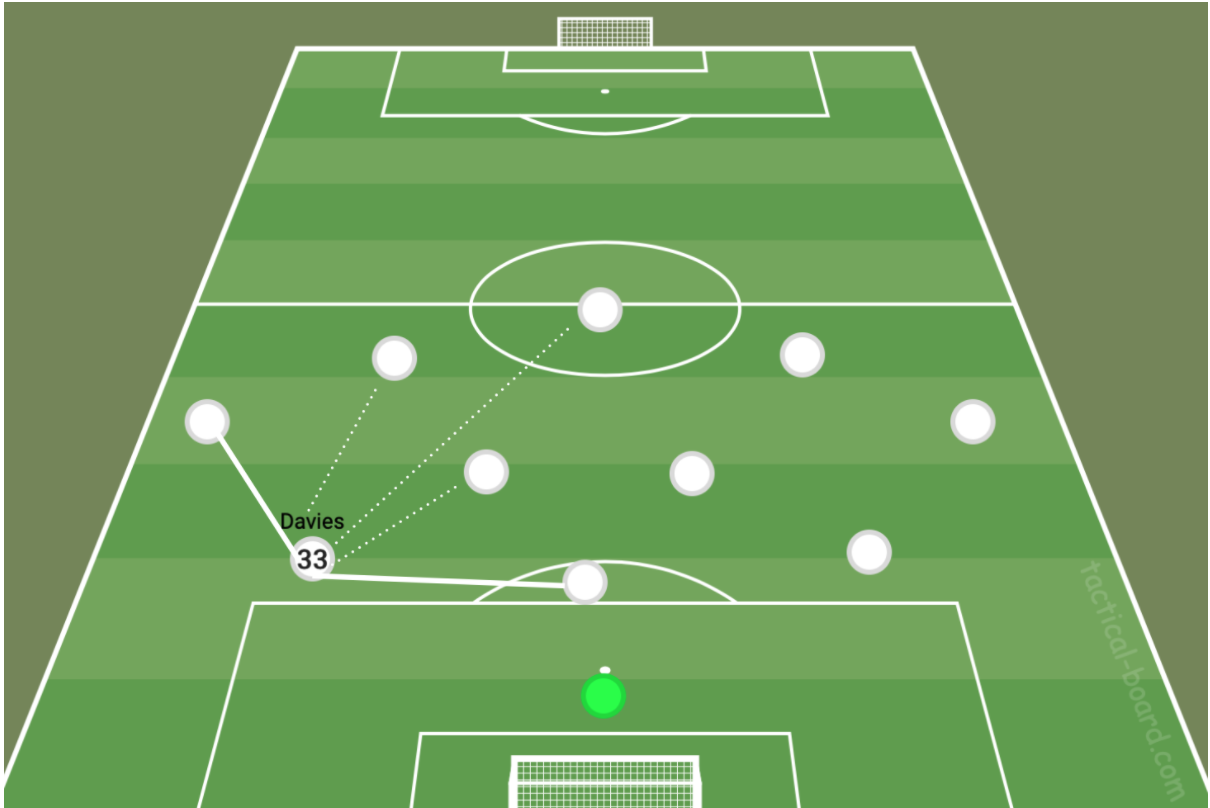 Defensive Duties
On Sunday, Davies had his toughest task of the season. A task that many defenders in the world can't successfully complete: stop Mohamed Salah. The Egyptian is the most in-form player in the world right now; he has 24 goals and assists in the Premier League in December.
Conte had a simple yet effective plan to stop him: make sure Davies doubles up with Ryan Sessegnon (left-wing back for the day). Below, the ball has been passed to Salah beyond Sessegnon (he pressed onto Trent Alexander-Arnold). Davies has shuffled over to monitor him……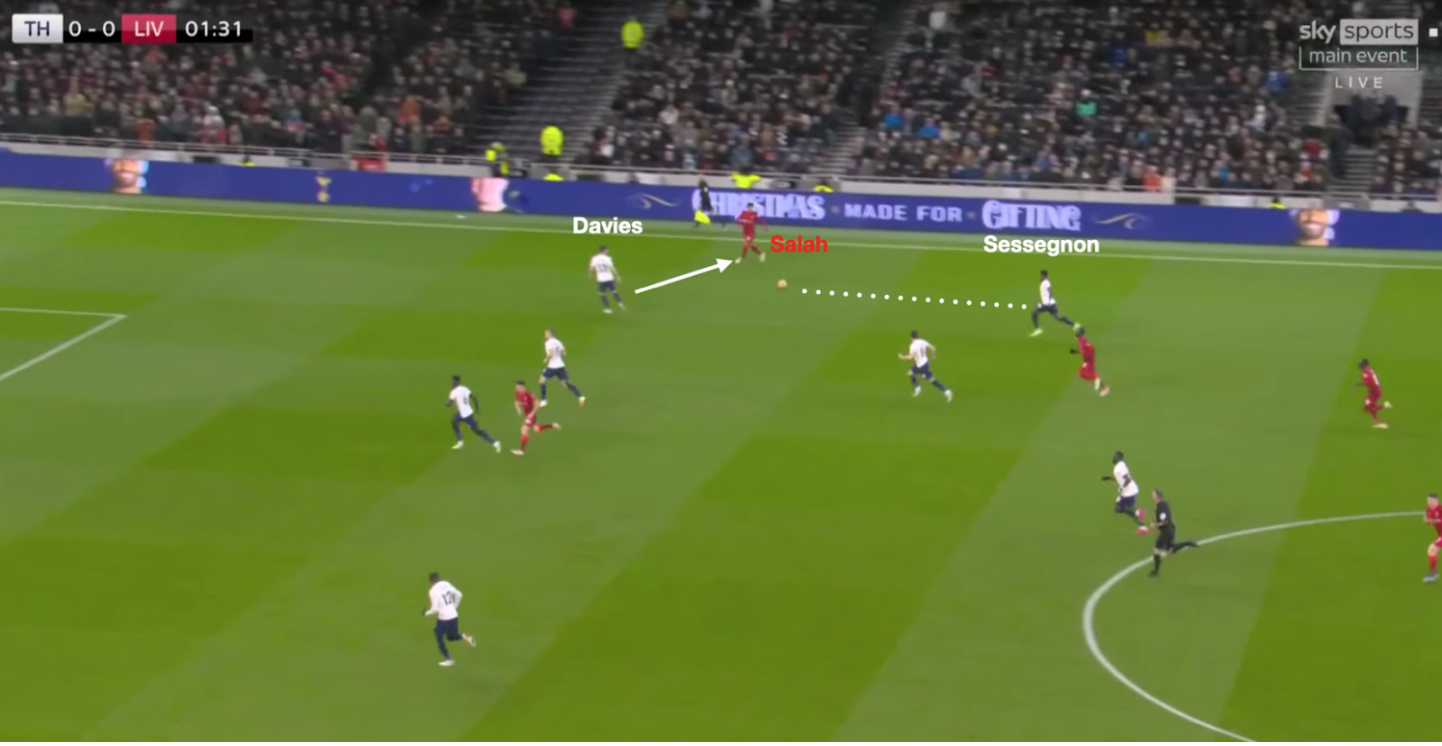 He holds Salah up well, which gives time for Sessegnon to come in and create a wall of white around the Egyptian which makes it near impossible for him to enter the box.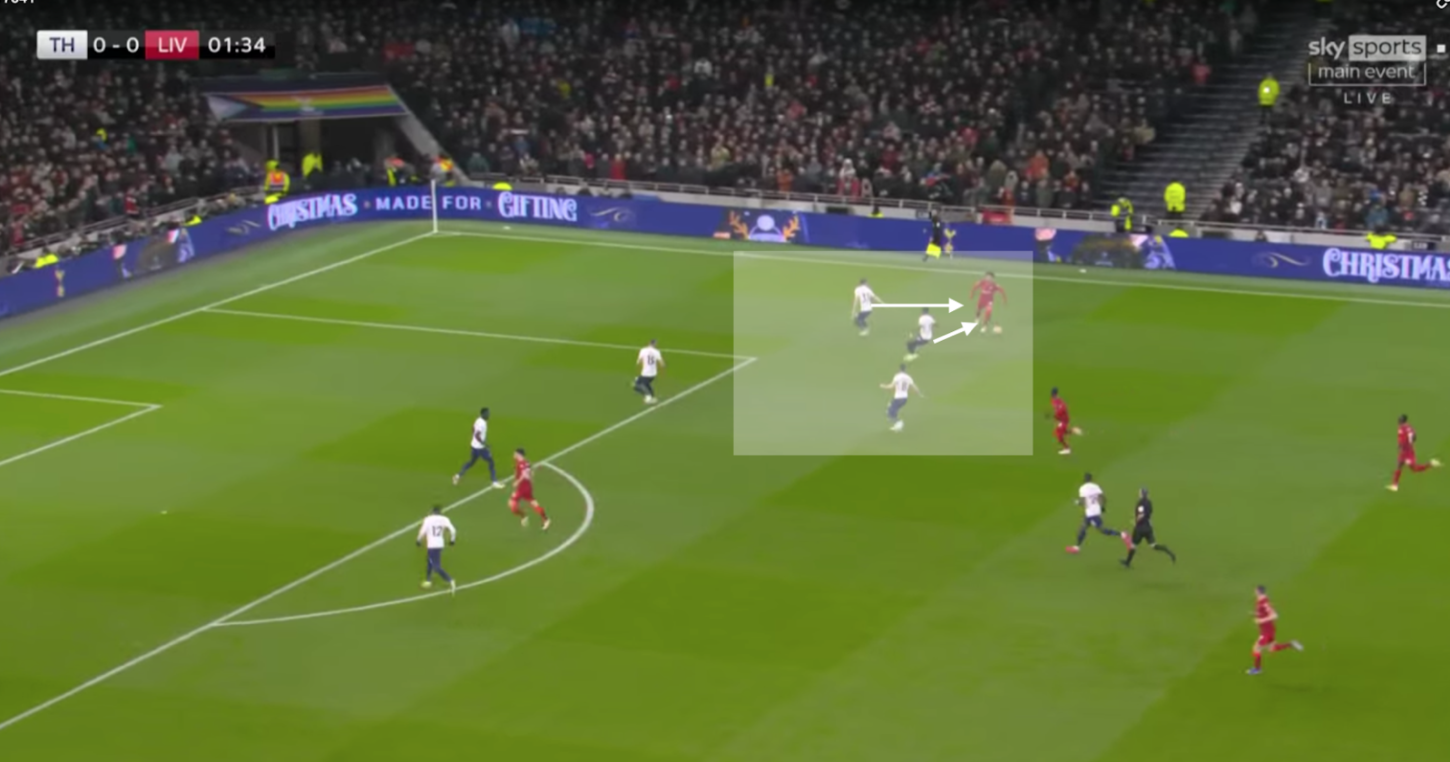 They did this well all afternoon, Davies' positional sense, especially in defensive, was fantastic and really gave Sessegnon the platform to have a good performance both offensively and defensively. When Spurs get pinned back and have to defend their box, they will form a flat line of five with the wing-backs shifting in.
As mentioned before, Davies is comfortable in these situations. In the photo below, he is checking his shoulder making sure that he has Salah in his sights. While doing this, he must make sure he is within ten yards of Dier as he can't allow a gap to form n the box as that will likely be exploited. 
Another element is that Conte wants his centre-backs to be aggressive in defending space in front of them. If there was to be a Liverpool player in the space highlighted, Davies would go out to attend knowing he is backed up behind. 
It requires trust in the system and players around you, something that Conte has installed into Davies quickly. The Welshman's defensive work has been good and was extremely impressive against Liverpool, who are one of the best offensive teams in the world.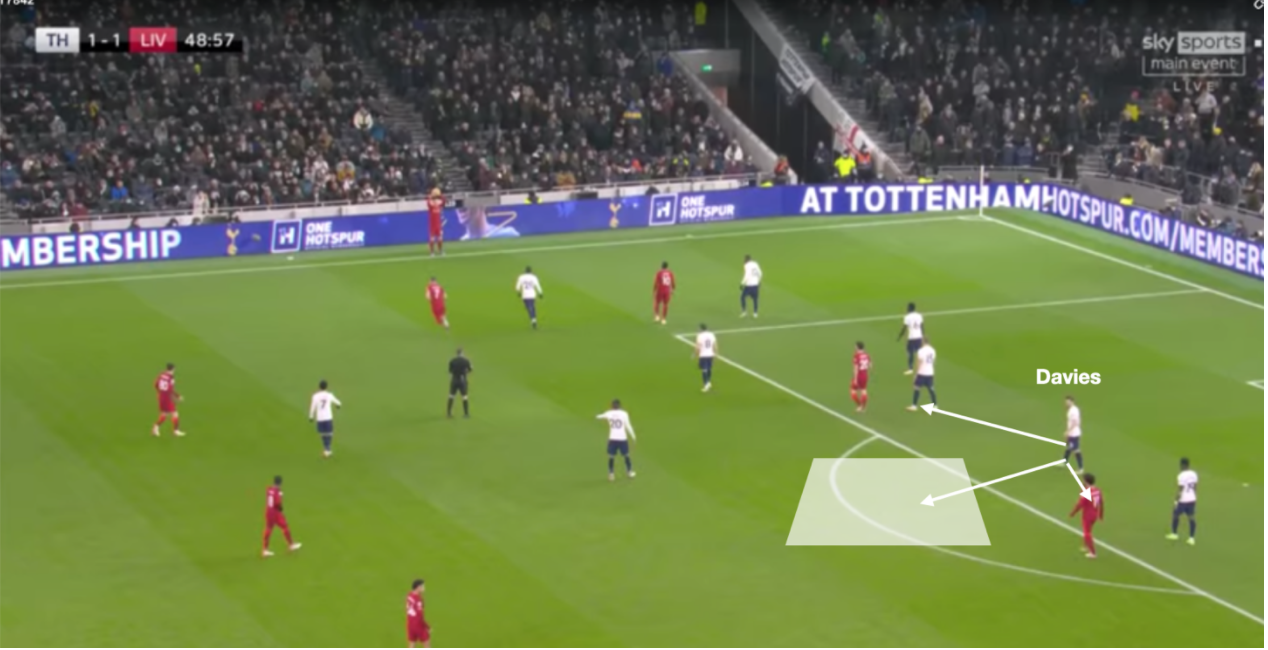 Davies seems extremely comfortable in a defensive sense. It seems to maximise his strengths and minimize his weaknesses. 
Underlapping Runs 
Another key theme of Davies' return into the Spurs squad, perhaps surprisingly, are his underlapping runs into the box. These patterns mainly come with the domino effect shown below. Reguilon (or Sessegnon) keeps the width by almost hugging the touchline. This obviously demands attention. 
Elsewhere, Son locates himself into more central positions to be in close contact with striking partner Kane. This also demands attention due to Son's obvious abilities. This, if done right, means that a gap in the half-space opens which Davies attacks, making an underlapping run.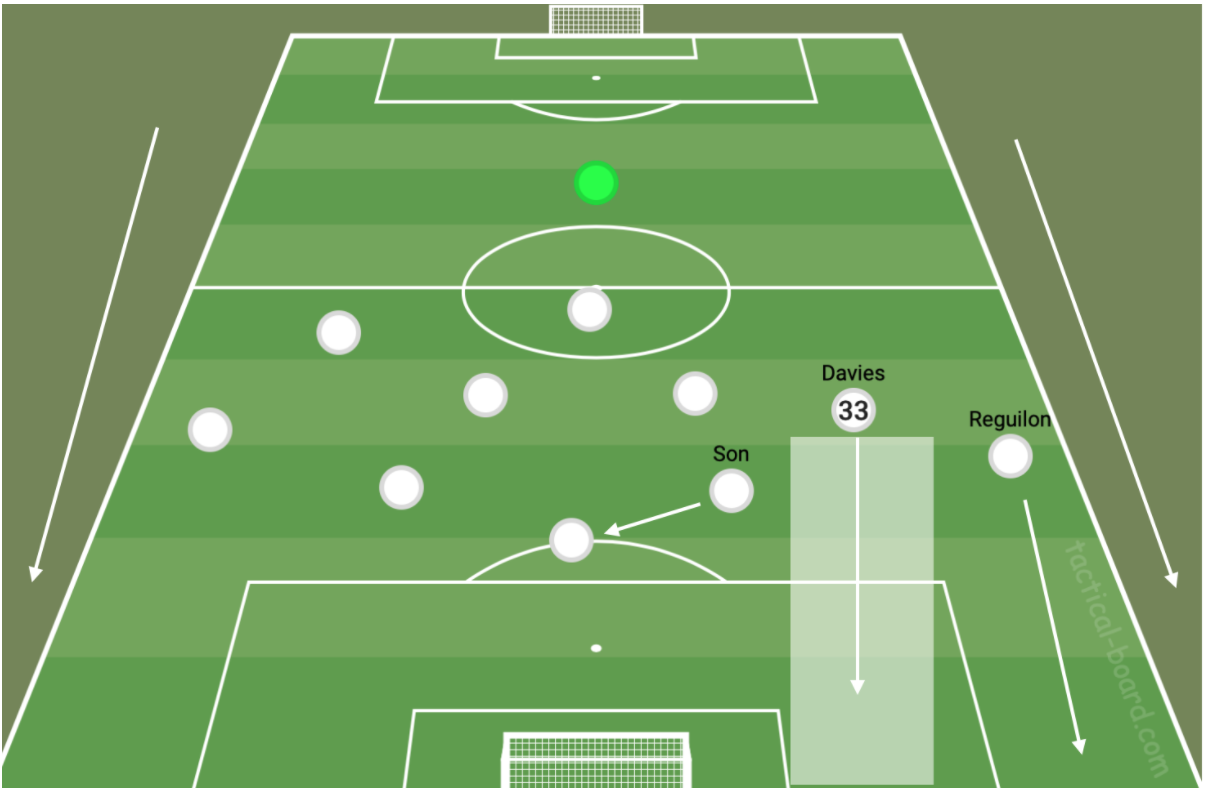 This is an example of this very pattern resulting in a goal against Norwich.  After playing the ball to Oliver Skipp, he runs into the vacated space as explained above (Sessegnon width and Son central).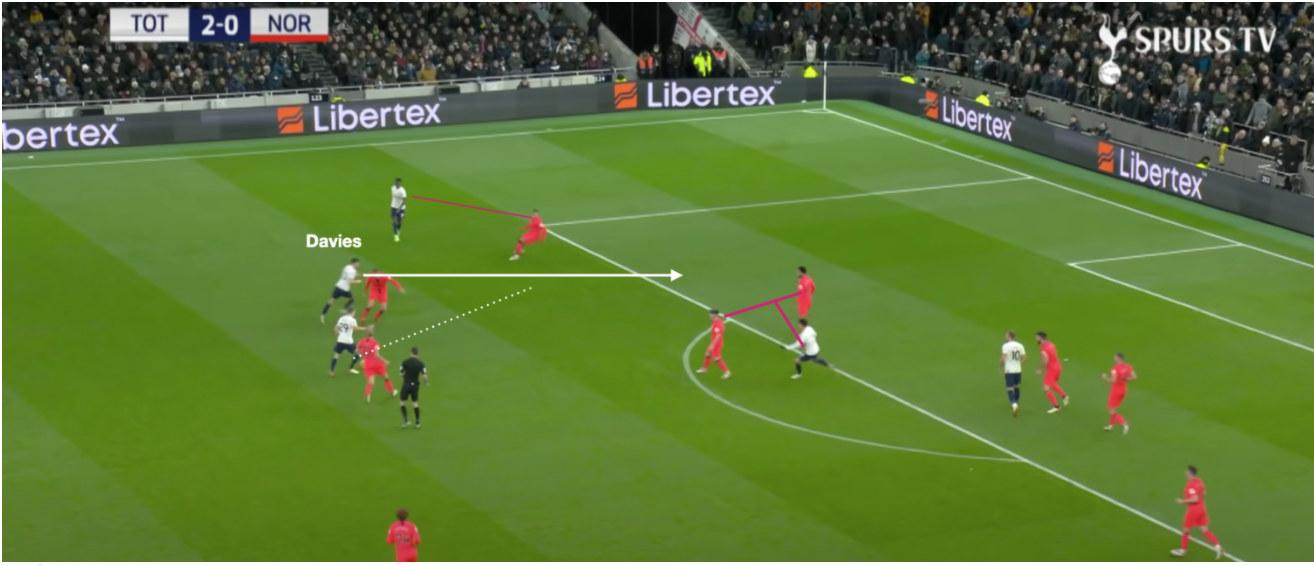 After a good return pass from Skipp, Davies makes his way into the box. This unlikely runner causes panic; immediately Norwich surrounds him which leaves Son in space: a recipe for disaster for any team. Davies does indeed tee up Son who fires home to put Spurs 3-0 up.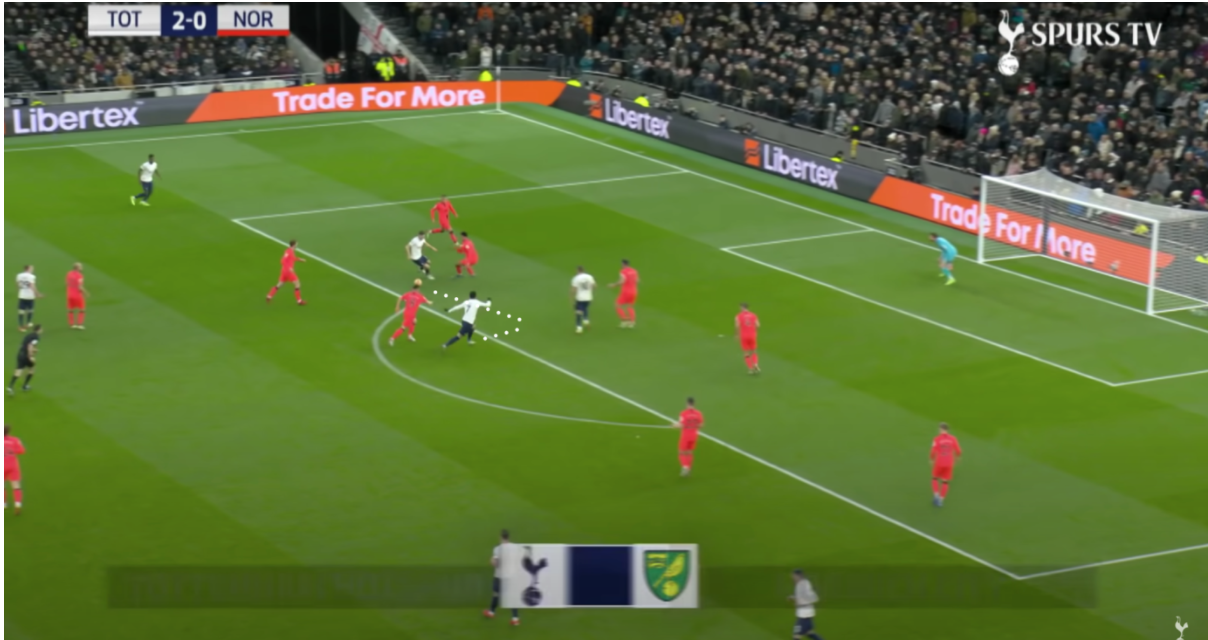 Here is another example of a similar movement which leads to a goal against Vitesse: 
Conclusion 
It's early days, but Ben Davies has certainly been impressed under Antonio Conte. His defensive work has been sound, which was highlighted when he and Ryan Sessegnon effectively shut down Mohamed Salah.
His work in an offensive sense has caught everyone by surprise. It shows Conte's commitment to maximising the resources that he already has by the fact he allowed Davies to replicate Alessandro Bastoni's role as an overlapping/underlapping centre-back. Slowly but surely, Conte is working his magic once again. 
By: William Furness / @w_furness1
Featured Image: @GabFoligno / Tottenham Hotspur FC