Antonio Conte's Biggest Tactical Problem at Tottenham: He Has Defenders That Aren't Comfortable on the Ball
Ball-playing centre-backs: a staple for modern football teams. Unfortunately, it is not a luxury that Antonio Conte has inherited at Tottenham Hotspur – a problem that has been evident in both of Spurs' first Premier League games under him. 
This is not a new issue, but it is certainly becoming incredibly evident now there is a big demand from it by the manager. Under Jose Mourinho and Nuno Espirito Santo, there was not a huge emphasis to build-up using the centre-backs: it was a lot more direct and basic in the first phase (with little overall success under Nuno especially). 
Now, with Conte – a manager that wants his three centre-halves to carry the ball up the pitch and start attacks – it is clear where he needs to work his magic on a Spurs defence that doesn't currently have the attributes to fulfill this demand. 
There was no better test for this claim on Sunday when they faced up against Marcelo Bielsa's Leeds side, a team that are renowned for an aggressive man-to-man pressing system. A system that requires good confident ball-carriers to break through it.
In the first half, Leeds put the issue on full blast. Marcelo Bielsa's side went into the break with a deserved 1-0 lead; Spurs created nothing with a measly 0.07 XG to their name. In the second half, Spurs were much better at playing through Leeds' aggressive man-to-man press which then, to the surprise of no one, led to them creating more chances and winning the game. 
But, too often in recent times, that improvement in the second-half hasn't happened. Let's look at the issue. Firstly, Leeds' press was very good, so any side would have found issues playing through it: credit must be given to them for highlighting Spurs' main issue in possession.
The pattern below happened multiple times. Japhet Tanganga is on the ball in his own half, being pressured by the lively Joe Gelhardt, who is trying to shut down passing lanes with his curved run. 
Now, immediately as Tanganga received that ball, his body language is not confident. He doesn't look like he wants the ball, he shells up and immediately, two seconds before the pass, you know he will roll it back to the safe and easy option in Eric Dier, who is the spare man. 
There was no attempt to try and make a progressive pass or carry the ball past Gelhardt which then disrupts Leeds' man-to-man structure (the main way to play through Leeds). It may seem harsh bringing up this isolated incident, but this is a very common sight. Tanganga is not alone in that criticism, you can name any Spurs defender and they fit the bill.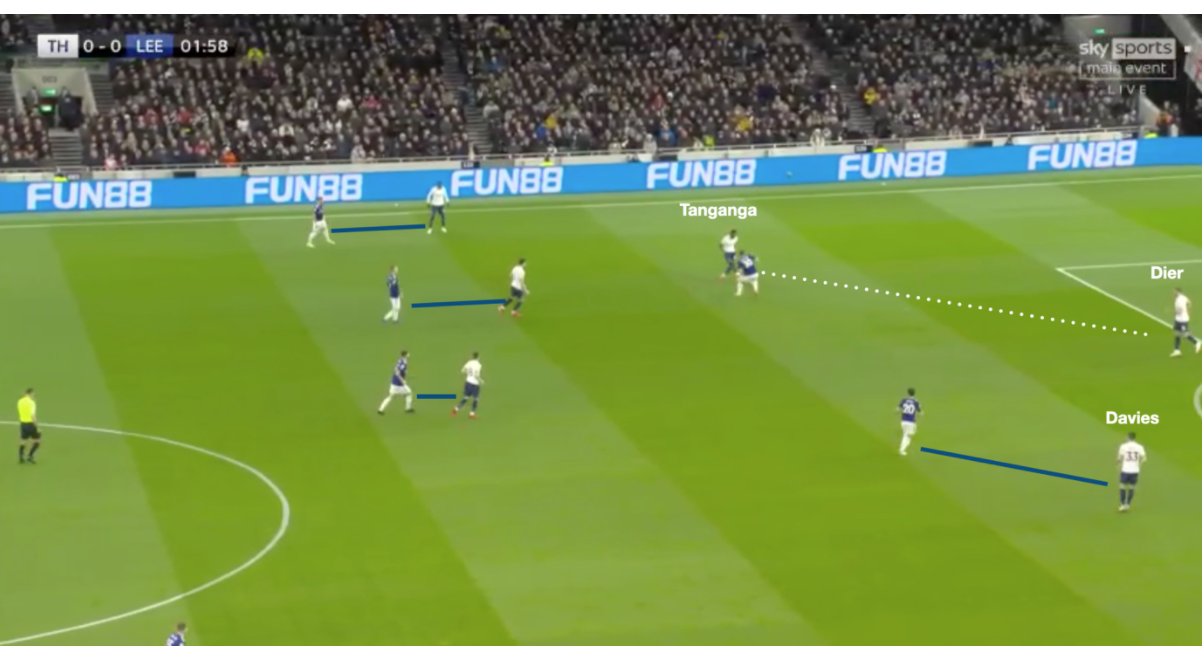 That resulting pass led to this situation below. Eric Dier takes one touch which, because of how it bounces off his foot, makes it obvious that he is immediately thinking of playing a long ball before even assessing his options around him. Ben Davies is now the free man as Daniel James left him to chase Dier, while also cleverly bending his run to make that pass harder. 
However, the space now open is clear: if Dier was confident in his ability he could stride out and find someone there then to progress the ball. The same goes for Davies; if he truly wanted the ball, he could show himself deeper to make the pass easier, and then stride in.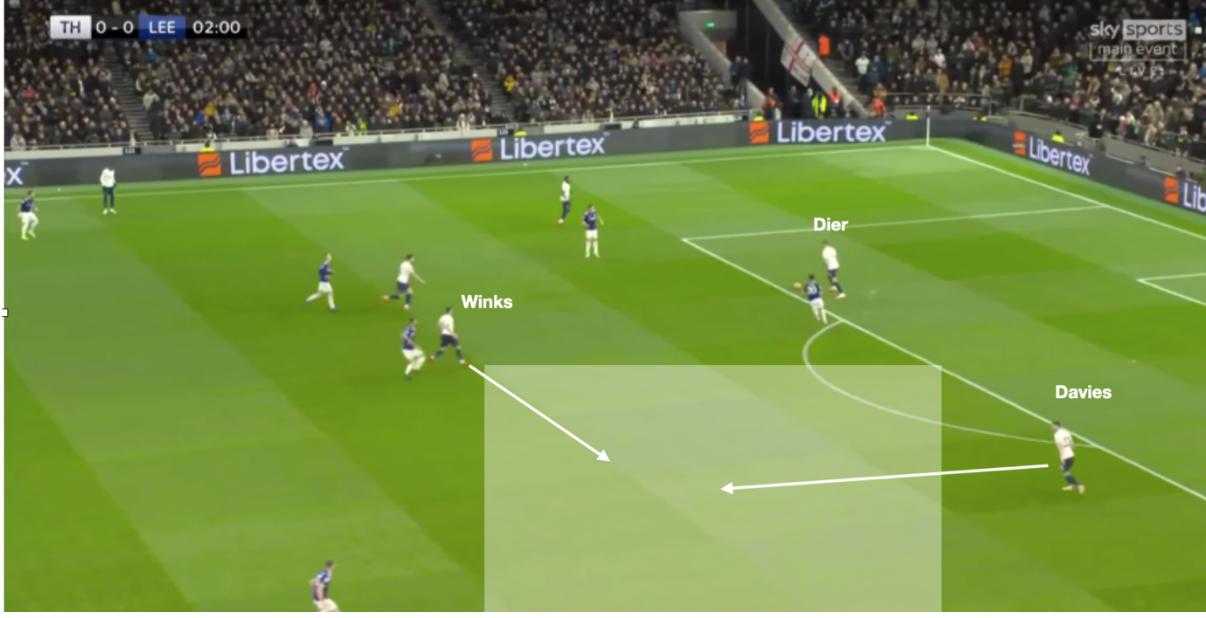 The midfield pivot also should take some attention. Harry Winks and Pierre-Emile Hojbjerg both aren't brilliant ball-receivers when under pressure. They are both offering themselves in front of the press, but that action is useless as if a ball is played to them with their back to goal while being pressed heavily from behind, a dangerous turnover is very likely. 
Winks, in that example, could make a good decoy run which opens up a passing avenue through to the more dangerous offensive players. Despite being pressed well, no one in the photo above looks like they are comfortable with receiving a pass – which constantly led to hopeful long balls in which Leeds gathered the ball again. Here are a few more examples of times Spurs went long: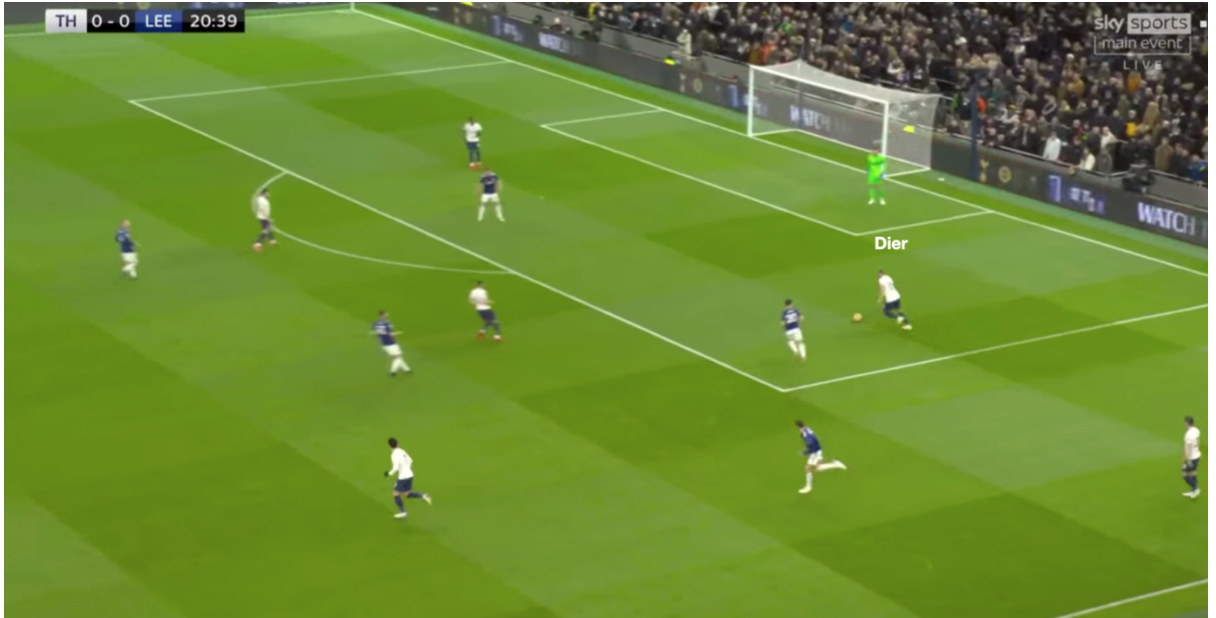 The argument may be that going long and direct was Spurs' game plan to bypass the Leeds press entirely. But it did not come across this way. Every long ball was usually turned over into the opponent's possession. Spurs' offensive players aren't good at back to goal work, nor were they in positions to win second balls off each other. 
This pattern is a common sight with Spurs. They often can't get enough rhythm or progression in their passing sequences which forces them to eventually squander the ball or take the lazy option of trying to go direct. As much as this halts Tottenham in an offensive sense, it also hurts them defensively.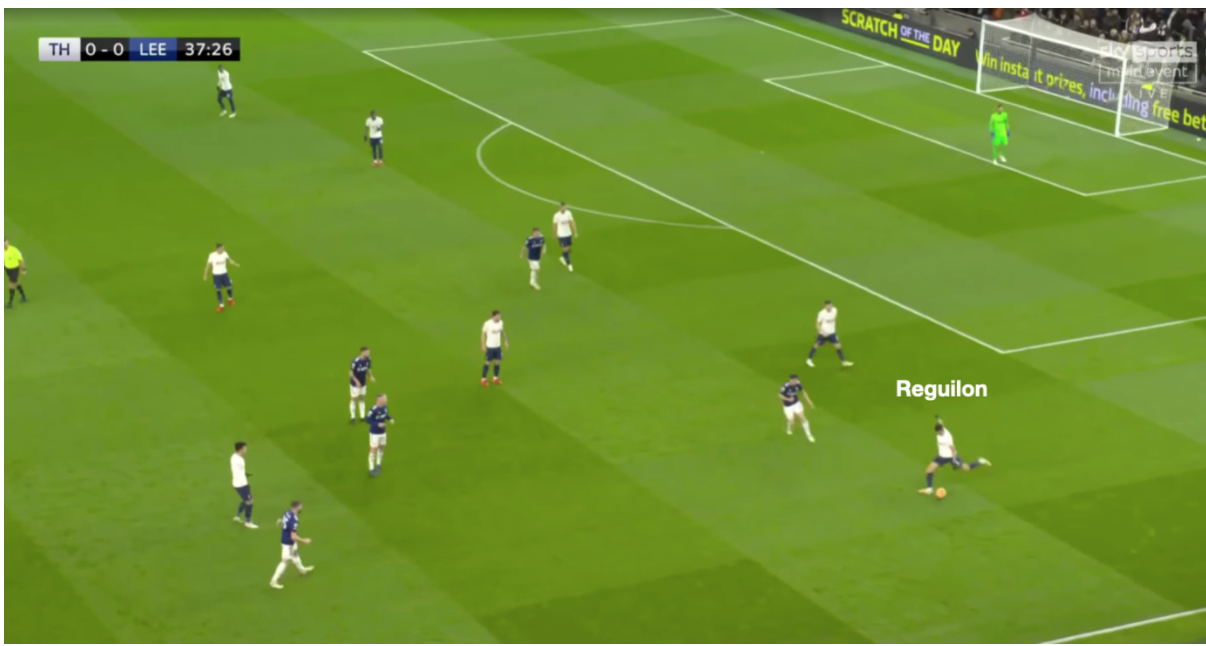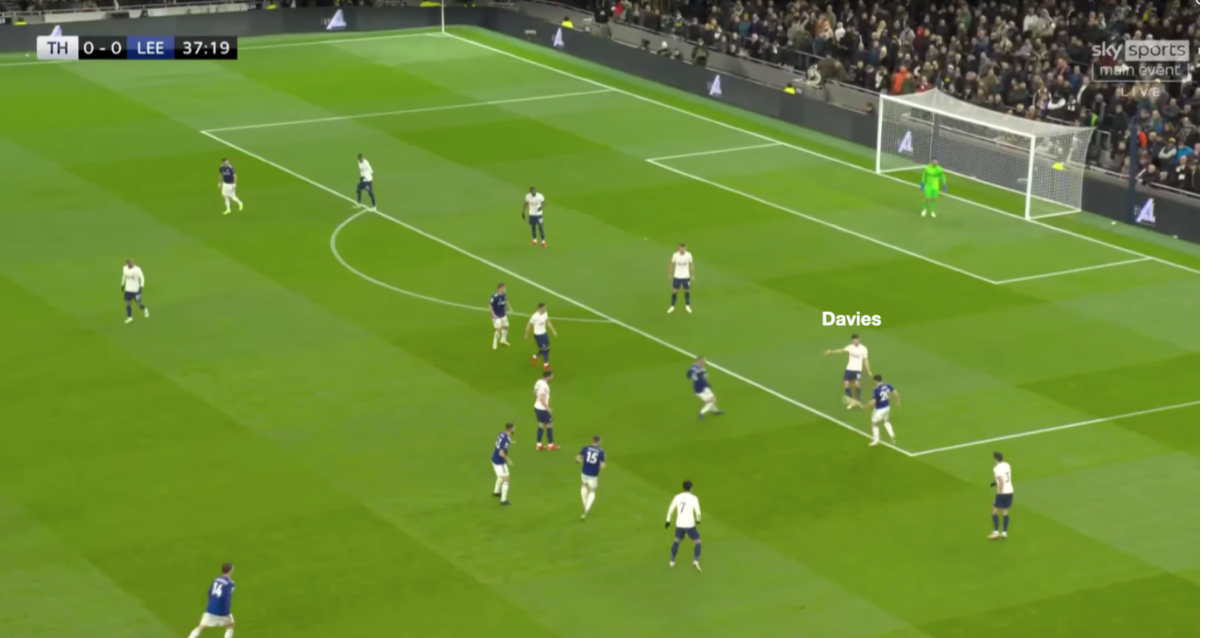 Due to the lack of good possession, the ball keeps being turned over to the opposition. Even if Spurs are generally defending their box well, the territory will always stay with the other side, meaning the backline are constantly having to work and move. Mistakes will happen. Cracks will show. 
To balance out the criticism, Eric Dier did step out of defence from time to time and try to pick out passes. However, most of these passes were Lucas Moura and Harry Kane showing themselves with their back to goals: not comfortable or good positions. 
But it was refreshing to see from Dier – which leads to a more general question. Is this coachable? Or is this just defenders with limited ability on the ball? Possession can't be overly coached: it should be a natural byproduct of a working system and drilled in principles. So, maybe it just needs time. 
Disregarding their ability in possession, what can be coached is how they approach these situations. Embrace the ball. Don't fear the pressure, back your ability. Conte can do this, and he must if he wants to get Spurs back on track.
Most would be shocked if Antonio Conte would allow this theme to continue beyond January. The Italian will still be the first person knocking on Fabio Paratici and Daniel Levy's door demanding that they dip into their resources to fix this tactical issue. 
By: William Furness / @w_furness1
Featured Image: @GabFoligno / Ryan Pierse – Getty Images  / Julian Finney / Getty Images