Ben White: Arsenal's Jack-of-all-trades in Defense
£50 million for a 23-year-old defender with only one season of top-flight football seemed like a lot of money at the time. Marcelo Bielsa was keen to sign him after Ben White played every minute in their promotion-winning campaign together at Leeds a few seasons back and was unsuccessful with a £25 million bid. A year later, Arsenal succeeded with a bid double the amount. White's transfer at the end of July 2021 was only delayed due to him representing England in the Euros, so it seems like Arteta was convinced that White was his guy. 

He has featured primarily at RB this season, which has coincided with Southgate not including him in the England squad for the last set of fixtures before the World Cup starts in November, raising some eyebrows amongst fans and pundits. His omission from the camp is baffling as he has arguably been one of England's best-performing defenders since the Euros, starting every game this season for a club sitting top of the table.
What are his main qualities?
Ben White is a versatile player, capable of playing multiple positions. In previous seasons, he featured at RCB in a 3, centre of midfield, as well as WB. Although he has started the season at RB, he was primarily deployed at RCB in a 4 for the Gunners. The combined heat map for the last three seasons shows he predominately features on the bottom right quarter of the pitch, which gets pushed up slightly when in possession due to the high line.
Under Marcelo Bielsa, Graham Potter & Mikel Arteta, he was a regular for three managers, each with a defined style of play. He played in multiple positions for all of them, successfully identifying what was required of him in each role and able to put that into practice. He understands and reads the game well and is positionally sound, which is surprising for someone who did not grow up a football fan or regularly watch the game, as a child or even now, outside of work-related analysis.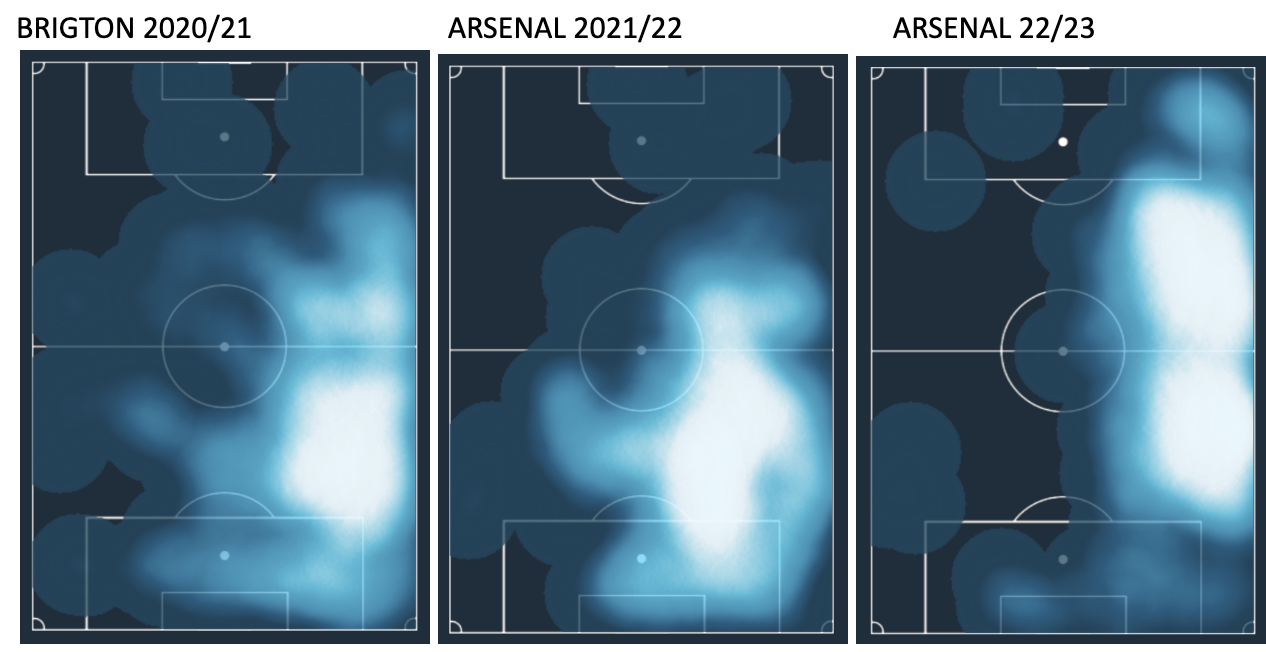 Within ball-playing systems, the CBs and the GK are required to contribute to the attack, as it often starts at the back or is recycled by going back to go forward, and White is one of the best CBs at getting the ball up the pitch. He ranks in the 70s (percentiles) for progressive passes, carries and dribbles in the last year, averaging 4.2 progressive passes p90, and is able to go on marauding runs, dribble out from the back and break the first line of the press before passing to one of the creators in the team.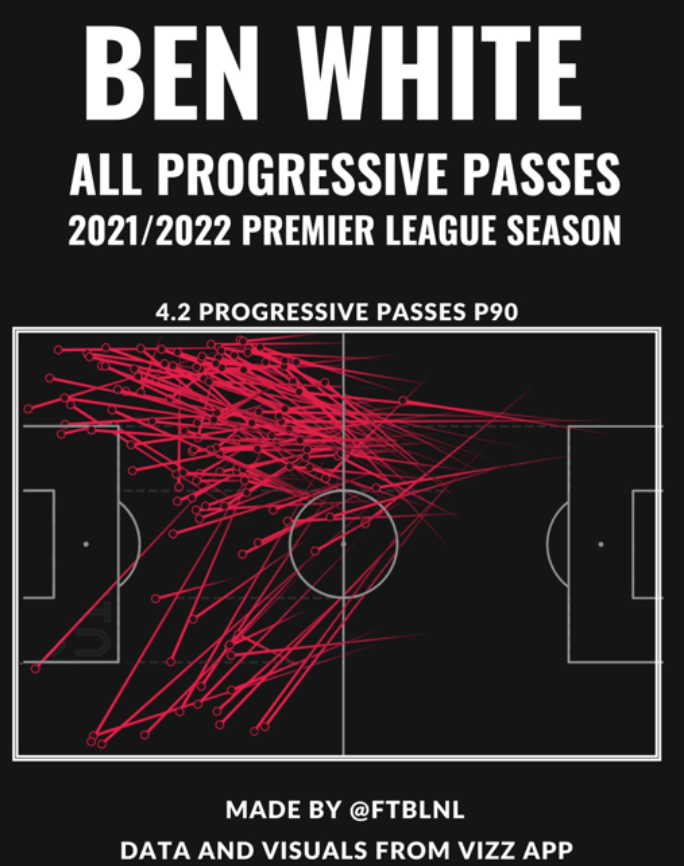 By: @FTBLBL
Defensively he is sound and has an impressive recovery pace. He is solid in 1v1 situations, as evidenced by the opening game against Crystal Palace when he managed to contain Wilfried Zaha, who has gone on to be one of the season's standout players. 
Considering the disastrous start to his Arsenal career at Brentford away last season, where some wrote him off as not physical enough to thrive as a CB in the league, White has a decent duel success %. Last season in the league, White contested the most ground duels out of all top 6 CBs, 136 with 58% success, and was more dominant aerially, winning 61% of his 102 duels.
In comparison to other top 6 CBs, only Cristian Romero and Gabriel Magalhaes contested 100+ ground duels with a better win rate (64%, Romero. 70%, Gabriel). Aerially, only Joel Matip (68%), Harry Maguire (73%) and Virgil Van Dijk (77%) contested 100+ aerials duels with a better win rate. 
He may not be at the level of Van Dijk, Rudiger and Matip, with their win %'s around the late 60s/70s, White's stats should improve over time however as; both he and Arsenal continue their upward trajectory, with Arsenal become better at dominating possession, similar to City which in turn leads to less duels needed, and with White becoming a better defender as he approaches his prime.
His price tag of £50 million is often quoted against him, but it is starting to look like a bargain in the grand scheme of things. Consider the amount paid for his peers: Lisandro Martinez (≈£60m) & Wesley Fofana (≈£75m). Additionally, Brighton are tough negotiators to deal with, particularly CEO Paul Barber, who forced Chelsea to part with some serious cash for  Marc Cucurella & Graham Potter this summer. A portion of the inflated £50m figure is also due to the English tax, which boosts the homegrown quota, opening another spot in their squad for foreign players.

His Best Position 
Alongside Takehiro Tomiyasu as RB, Ben White's best position would have to be RCB in a 4, alongside a more dominant centre back at LCB, which on current form would be William Saliba. Gabriel has been Arsenal's best defender since Laurent Koscielny, so it would be harsh to drop him, especially considering how strong the partnership with Saliba has been, but White's ability on the ball means he must be a starter in that backline.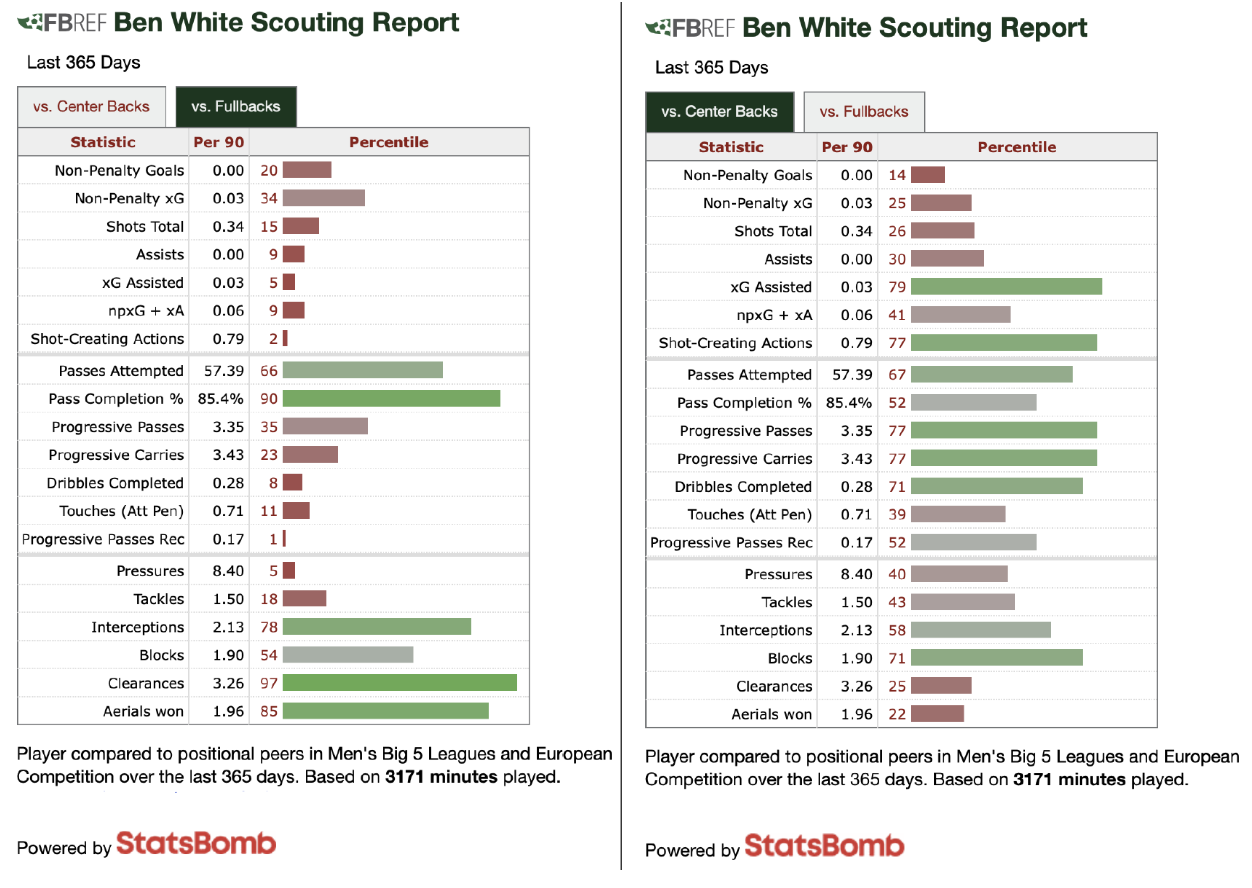 White's biggest flaw would have to be his crossing, which is highlighted by his run at RB this season; he has a 9% crossing accuracy, from 11 crosses, which drops to 6% in his PL career. To put that into perspective, the worst in the league this season is Renan Lodi with 6.3% (min 10+ attempts).
So far this season, he has created one big chance, but he has not registered a shot on target. Out of 75 games in the top flight, he has 0 G/A and averaged 11 shots a season prior to this season with a 23% accuracy. It seems crazy to bring up G/A when it comes to discussing FBs, but their ability to contribute in the final third is crucial nowadays, and if White continues to play RB, his offensive output should be considered.
He has improved his overlaps and crossing ability and will only improve at that, but overall, he would support the team more in a CB role. As evidenced by the above, he ranks highly for offensive stats when compared to CBs and offers better defensive stats than most FBs, but at RB he doesn't affect the game as much as fullbacks like Joao Cancelo and Trent Alexander-Arnold.
When you see the contributions of other top-class FBs, it is an area he lacks heavily, and one which he will be criticised for in the future, the longer he plays RB. The modern FB, especially in Arteta's system, is seen as another attacking outlet in the opponent's half and encouraged to take up more unorthodox positions in periods of possessional dominance, and Tomiyasu is a better attacking option at RB, even if he is a  defensive-minded player.
Tomiyasu is a threat aerially, and two-footed, so able to deliver quality balls in the final third from multiple angles. His injuries last season may be one of the reasons for his stuttered integration back into the team, but a return to full fitness and playing alongside White, will bring the best out of both young defenders.
Both are taller than the average FB and are players that can play both RB and CB roles, with Tomiyasu playing as a CB when on international duty for Japan. This gives both players the freedom to step out, in attack and defence, with the knowledge that their defensive partner can play both roles and cover for them in the worst-case scenario. 
At CB, White also adds the ability to progress the ball and get it to the attackers further up the pitch, quickly and effectively, which comparatively the Gabriel/Saliba partnership doesn't do as quickly or often enough. White is not as good in the opposition boxes in corners, which is an area where Gabriel/Saliba thrive, but adding Tomiyasu to the mix balances this out.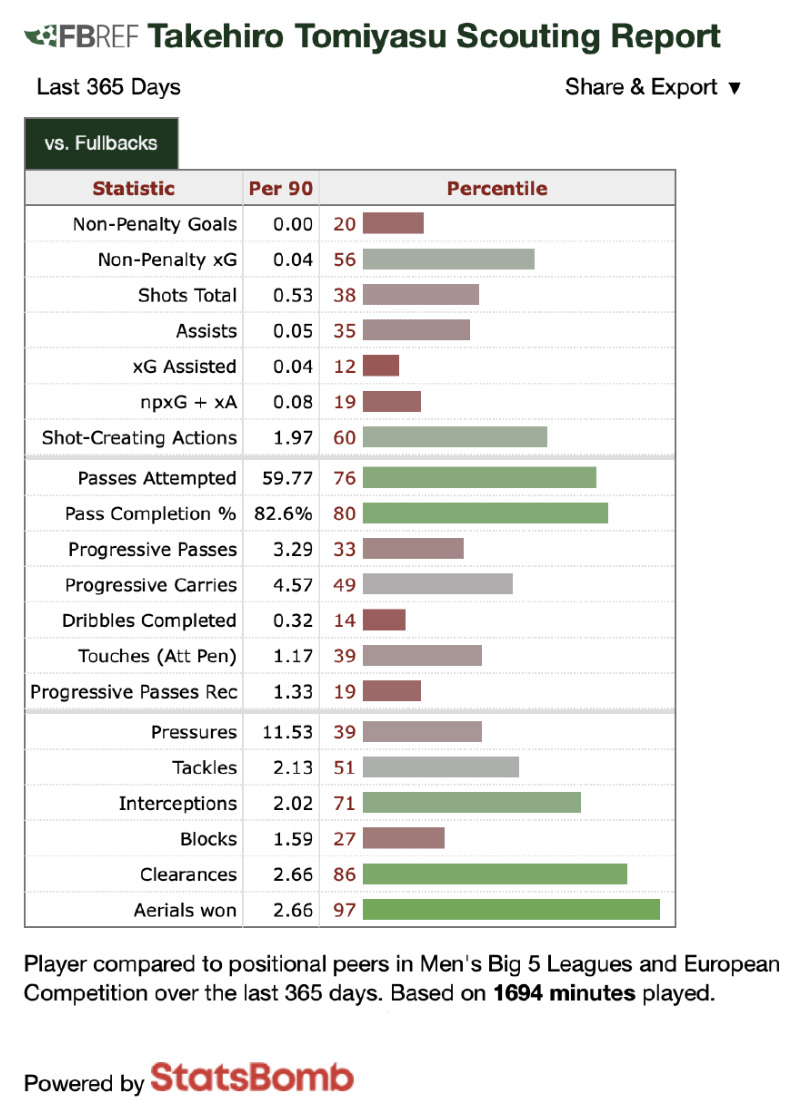 White's Chances of Making England's World Cup Squad

Gareth Southgate's latest England squad doesn't necessarily mean White's seat on the plane to Qatar is gone, but the writing may be on the wall. Southgate is a staunch fan of players he has previously worked with; in his selections, form is considered, but international form is prioritised over club form. But no matter how good a servant these players have been, on and off the pitch, unfortunately, it didn't lead to a major success for England, so he must either tweak the system or personnel. 
After the disastrous Nations League campaign, it is all but confirmed that England will line up with 3 at the back, with the inclusion of 12 defenders out of the outfield 23, a good indicator. Ben White should be one of the main contenders for the RCB role, alongside Reece James. As good as James and White are going forward, it would be criminal not to find a way to get Alexander-Arnold in the starting XI, in an RWB role. For all his defensive issues, the Englishman is exceptional offensively.
He ranks in the 96-99th percentiles (at FB) for; shots, assists, Shot-creating actions, pass attempts & progressive passes, so he is the best option England have on the bench to aid the toothless attack. White lacks the high duel success rate or aerial dominance to stake a claim for the middle CB spot, which only leaves the RCB spot, a role both White and James have previously played, under Thomas Tuchel and Graham Potter.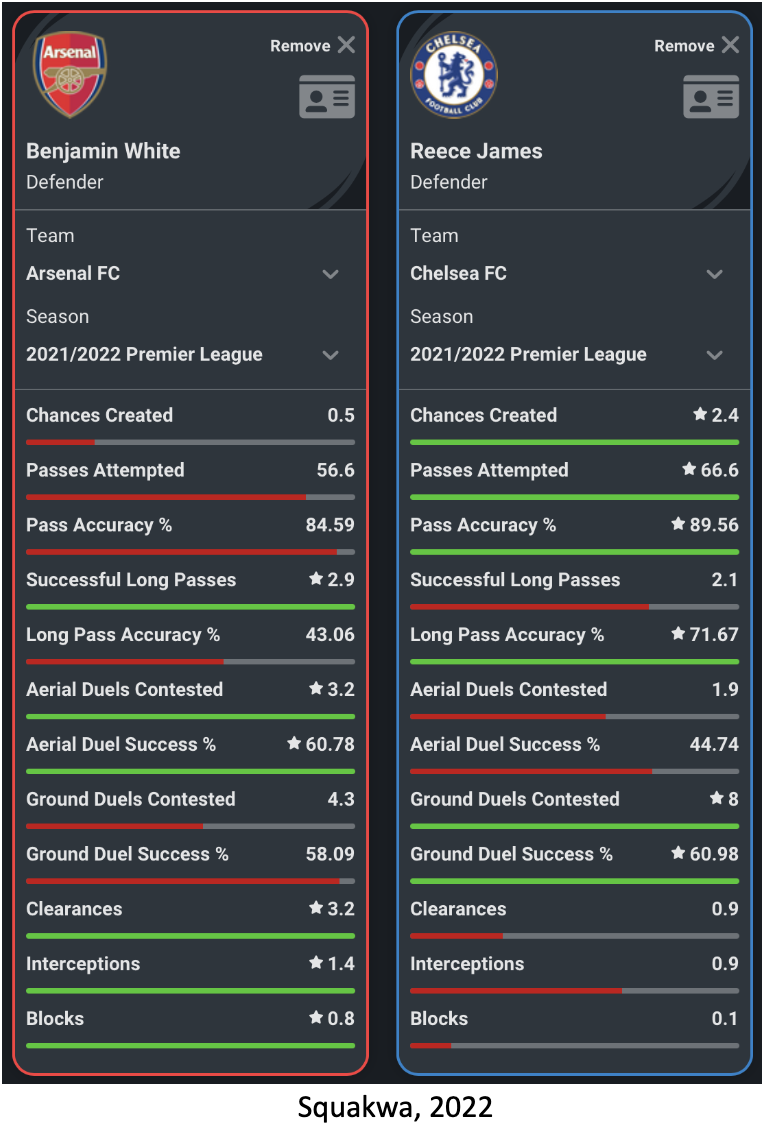 Both players are good on the ball, rapid and have a good defensive/offensive balance. James may have more offensive contributions, but White is defensively more secure, especially with his awareness. Both are versatile and allow Southgate to make different kinds of substitutions when things may be going wrong. 
As good as a White/James and TAA combination would be on the right, Southgate does lean on the more experienced players more than others, which is ironic, as he was lauded for his work with the youthful 2018 WC squad, which was the joint second youngest in Russia (26 years old, the same age as eventual champions France). 
John Stones, Harry Maguire, Kyle Walker and Kieran Trippier all started in the 2018 World Cup semifinal and 2020 Euro final, England's last match at each tournament, and all 4 defenders are nearly guaranteed a spot in England's squad for Qatar. But with Walker and Trippier suffering injuries — both of whom are on the wrong end of 30 — and Maguire's struggles for form, a changing of the guard may be necessary.
The younger players such as White/Tomori/James/TAA, are progressive players who would be an upgrade on the 2022 version of Maguire, Walker and Trippier. They may lack experience of playing in the big games at the finals, but how would they get it without starting? They are all playing regularly for top European clubs, and staying relatively injury-free, so the time to start integrating them is now.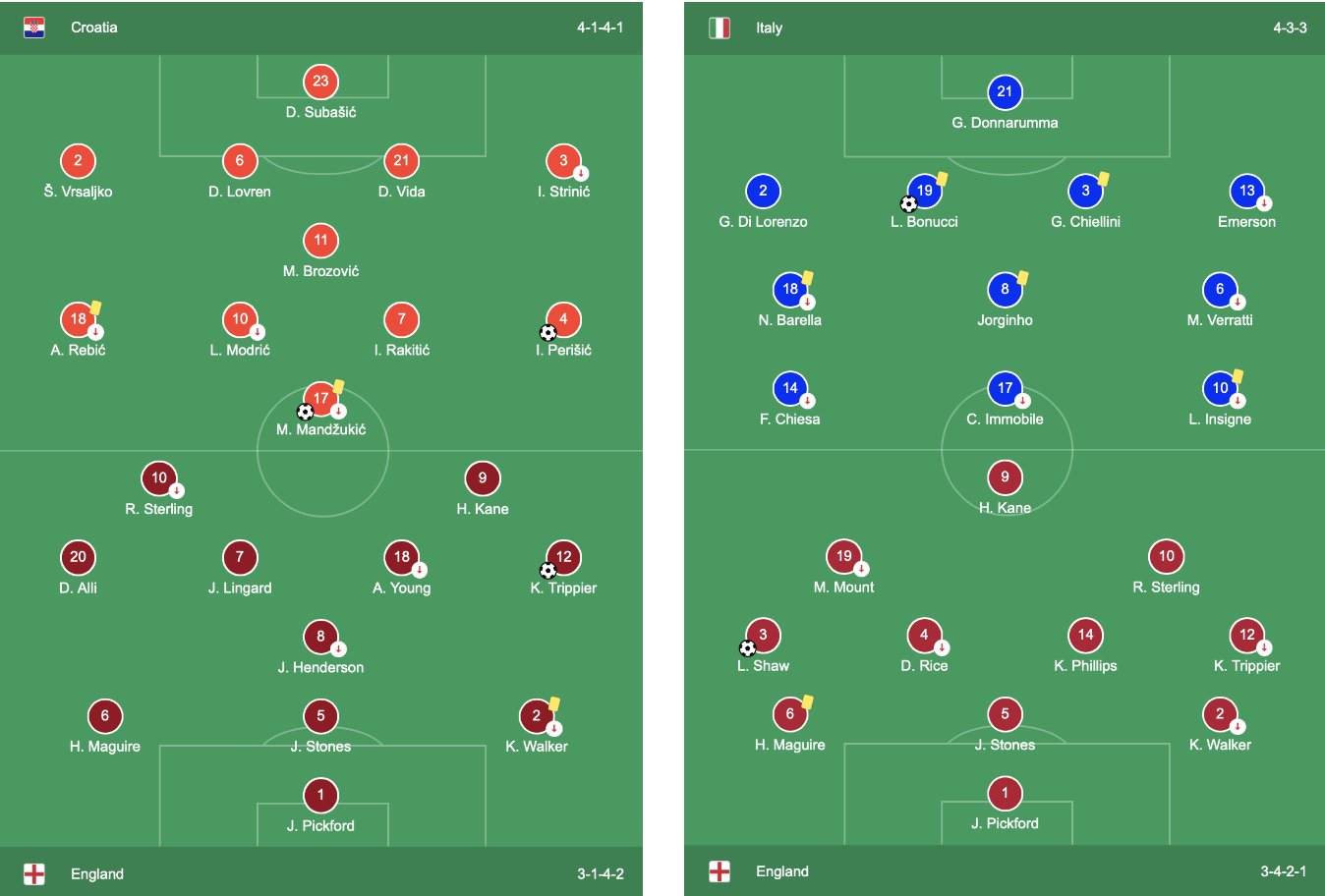 Gareth Southgate needs to be brave to get anywhere near winning the Jules Rimet trophy, and if Ben White and Arsenal continue their good form between now and November, it will be hard not to include him in the final squad. Even if not in a starting role, he would improve the overall quality of the squad and provide competition for places, which can only be positive for England.
By: @Az20283
Featured Image: @GabFoligno / James Williamson – AMA / Getty Images