The Granit Xhaka Conundrum
If I were to choose a movie to describe Granit Xhaka, it would have to be the Clint Eastwood classic, The Good, The Bad and The Ugly (1966). Love him or loathe him, since his transfer to Arsenal, Xhaka has been a mainstay in the starting XI but not short of critics. When he arrived in 2016, he was seen as the tough tackling midfield general Arsenal so badly needed for several years, albeit with his unwanted habit of getting into the referee's book. 
Starting the season with a 100% record, the Gunners look good, really good. However, with the transfer window still open, most fans would argue that the LCM is the position that Arsenal need to strengthen most moving forward to continue their upward trajectory and start challenging for the big trophies.
Arsenal have pursued Youri Tielemans for much of the window, but with that window closing on Thursday, this deal doesn't look to be any closer. They have also signed Fabio Vieira and Albert Sambi Lokonga, who are both capable of playing that role, but it is Xhaka who has the manager's backing. So, what does he bring to this young Arsenal side in his new-found role, and is he a good fit?
The Ugly
Let's start with the obvious: the biggest reason for the division amongst the Gunners faithful is the incident in the 2019/20 season against Palace. With the game level at 2-2, captain Xhaka was substituted for current fan favourite Bukayo Saka around the 60th-minute mark.
However, instead of hastily leaving the pitch, he decided to walk off instead of jog, which was met with a chorus of boos, to which Granit replied with a middle finger and an "f-off." He has since admitted that he could have handled it better.
Oleksandr Zinchenko: What the Ukrainian Jack-Of-All-Trades Can Provide Mikel Arteta's Arsenal
Of course, for some fans, the damage has already been done, but other factors should be considered. This game was at the latter stages of Unai Emery's ill-fated spell in charge. A portion of the fans boos and frustrations would have been directed at the club as a whole and the poor situation they were in, with Emery being relieved of his duties a couple of months later. 
The Bad
Discipline
Xhaka has received five red cards in six seasons at Arsenal, four of which were received in the Premier League – the joint-most in the division in that timeframe. In fact, he has two pages on the suspensions & absences section on Transfermarkt!
After his red card against Burnley in 2016, the first of two in his debut season, then manager Arsene Wenger was questioned on Xhaka's tackling technique and said, 
"I think he's not naturally a great tackler and in his decision-making, I think he is quite intelligent on the pitch. But it's more the way he tackles that is not really convincing. He doesn't master well the technique of tackling." 
This summary may still be relevant in 2022, highlighted by his sending off against City on August 21. On the face of it, it wasn't a straight red card challenge; studs were down, not too high and there was minimal contact with Joao Cancelo, an 'orange' at most, but it sure looked like a straight red with his technique, and the reaction of Cancelo forced the referee into a decision. 
Let's compare him with Rodri, who looks like he was enrolled in the Sergio Ramos dark arts academy at a young age. In the reverse fixture on New Year's Day 22, he went in two-footed against Gabriel Martinelli and off the floor; the result? No card.
The main reason would be how he sold it to the referee, as Rodri jumped into the tackle instead of Xhaka sliding into his. Rodri is also known for his tactical fouls but has a clean reputation amongst refs, which may explain him receiving no red cards in his city career.
In an interview with ESPN, one of Rodri's firsts since joining City, he did admit that he is "learning new things, how to go, when to stay, when I have to do a tactical foul, when I have to jump". This is clearly something that Pep works on the training ground with his team and something Arteta should note.
The red against Liverpool in the Cup (Jan 22) is also mind-boggling. When you look at the stills, his foot is in Jota's chest, and you start to wonder how a professional footballer can get into that situation. But after watching the scene where various players discuss the incident in the AoN documentary, you would have to agree with Xhaka; it was a clear red card, but he should have never been in that position, covering for both the LCB and LB simultaneously.
There is no doubt that Xhaka's reputation precedes him, and referees are more inclined not to grant him the benefit of the doubt. Does that mean he's being targeted? The red card against Burnley in 2020, where he grabbed Ashley Westwood by the neck was deserved, but there is a case to argue that he is often unfairly treated.
This sparked a debate amongst fans on Twitter, after the game against Villa last season, in which he received a yellow card at the end of the first half. The referee signalled that it was for an accumulation of fouls, but that was in fact his first foul.
The Underlying Stats Behind Arsenal's Progress Under Mikel Arteta
Surprisingly, Xhaka has never received a red card from two yellows, instead all straight reds. One could argue that it's a testament to his awareness once he picks up a booking; on the flip side, you could argue how he should have learnt his lesson after the first few straight reds and should adapt his game accordingly. Either way, he could find solace in the fact that Patrick Vieira has 10 red cards in his Arsenal career, and we still cheer his name to this day. 
Lack of Mobility
Xhaka's lack of pace and mobility is another major weakness in his game and probably the main reason that Arteta doesn't play him as the lone 6. This is summarised perfectly by the comical goal conceded against Burnley on March 21.
Arsenal attempting to play out from the back leads to the situation where Bernd Leno plays a lousy pass to Xhaka who is under pressure, and in an attempt to pass to the RCB, he plays the ball across the goal, and it cannons off Chris Wood straight into the net. There were two other options in the CM positions to pass to, but Xhaka's lack of mobility didn't enable him to turn his body quickly enough to play those options. 
Moreover, Xhaka has made 9 errors leading to goals, the highest figure by any outfield player in Premier League history. The new role at LCM does attempt to minimise this risk by playing him further forward, giving him less defensive responsibility and the freedom to make more offensive contributions, however, this is still an area which makes him somewhat of a liability.
Reliance on Left Foot
Xhaka has a peach of a left foot but is he too reliant on it? All 11 league goals have come from his left foot, and in the recent win over Fulham, only one of his 58 passes was with his right. This reliance may not be an issue against lowly opposition but could be an area open to exploitation when coming up against teams who press intelligently and as a unit, such as Liverpool. 
The Good
Leadership/Presence
Now let's get to the good because there is plenty of it. First and foremost, Xhaka is a leader and has led flawlessly everywhere he has been. He has been a favourite of all managers he has played for, perceived and trusted as a leader, holding the captain's armband at Borussia Monchengladbach (at age 22), the Swiss national team and Arsenal, albeit briefly. 
Although he was stripped of the captaincy at Arsenal, he is still seen as the unofficial leader and it's clear that all the players respect him. He also echoed this sentiment in an interview with The Player's Tribune, "Obviously, I am not captain of Arsenal any longer…But I can promise you that I will still act like a captain, even without the armband. That is possible."
The decline of Dele Alli should serve as a stark reminder to all younger players that football can be an unforgiving sport, which is why the need for elder statesmen such as Xhaka is necessary for a squad as young and raw as Arsenal's.
One thing all fans can unanimously agree on, and perhaps the reason why Xhaka has remained a favourite of all managers he has played for, is his positive attitude and application in training and matches. This spirit is undeniable and provides the youngsters with a minimum standard required to be successful at the club, something which Arteta demands and which players such as Ozil and Aubameyang, unfortunately, didn't provide. 
One common criticism of Arsenal in recent years is their soft underbelly and tendency to get bullied on the pitch, Troy Deeney's 'cojones' jibe from 2017 comes to mind. However, these teams seem different, they seem like they are ready for a battle every time they step onto the pitch, and in Xhaka, Arsenal have a player who is ready to fight for the badge.
In a recent interview with Sky, Patrick Vieira mentioned Xhaka as one of his favourite players to watch, and you can see why. Standing at 6'1, he offers the height and physical presence required in the English league, winning 6 out of his 7 aerial duels so far this season (85.7%). He is averaging fewer tackles, interceptions and blocks, due to playing higher up in the field but is far more successful in his duels, winning 64%.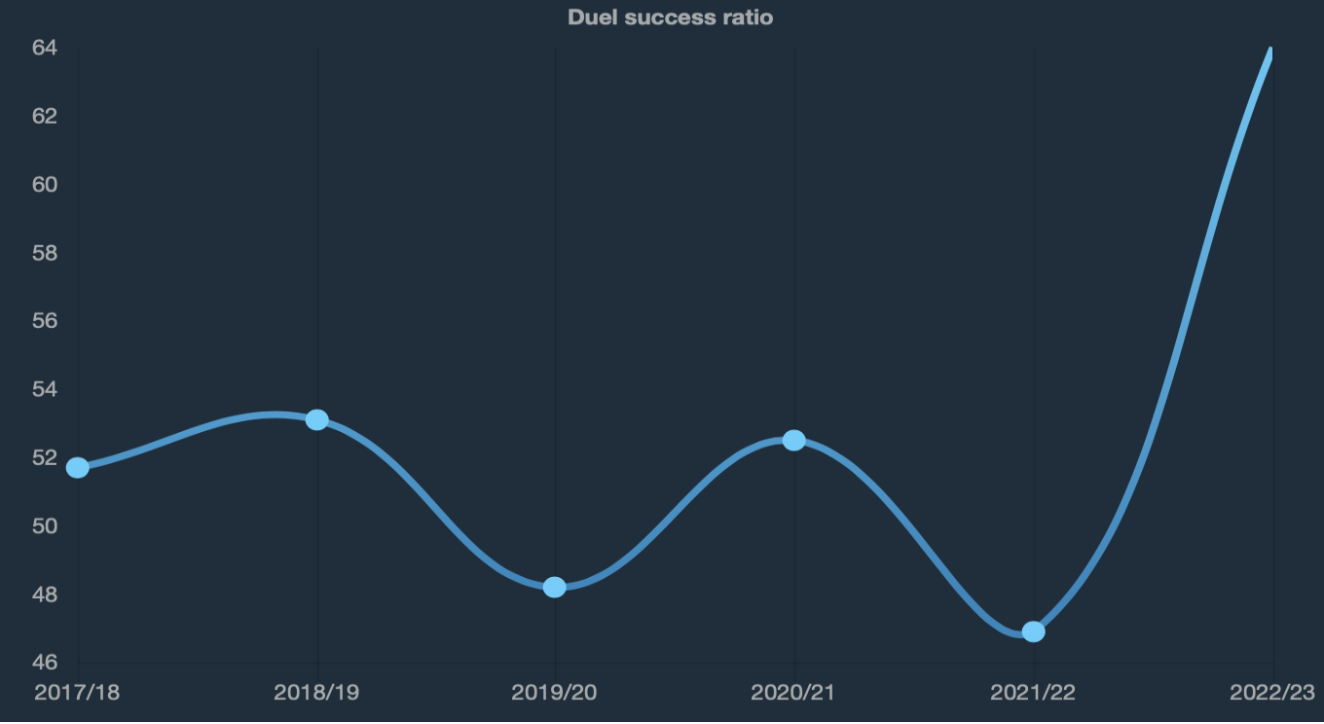 Photo: Soccerment
Ball-striking Ability
Not seen as a great goal scorer, but a scorer of great goals, often from a long distance, Xhaka's free kicks against Chelsea and Palace come to mind, whilst the third against United last season was nominated for goal of the month. He has started the 2022/23 season on fire, and in 4 games has achieved, 1 goal, 2 assists and 8 key passes, proving he is on course to make this season his most productive for the gunners.
Additionally, Xhaka's wide range of passing ability is a good fit for the system, with the wingers playing high and wide, always ready and willing to make darting runs in behind. He can play balls in between the lines and pinpoint diagonals with ease. The assist for Martinelli against Leeds away last season is a good example, with Xhaka playing an inch-perfect through ball, which Martinelli duly finished.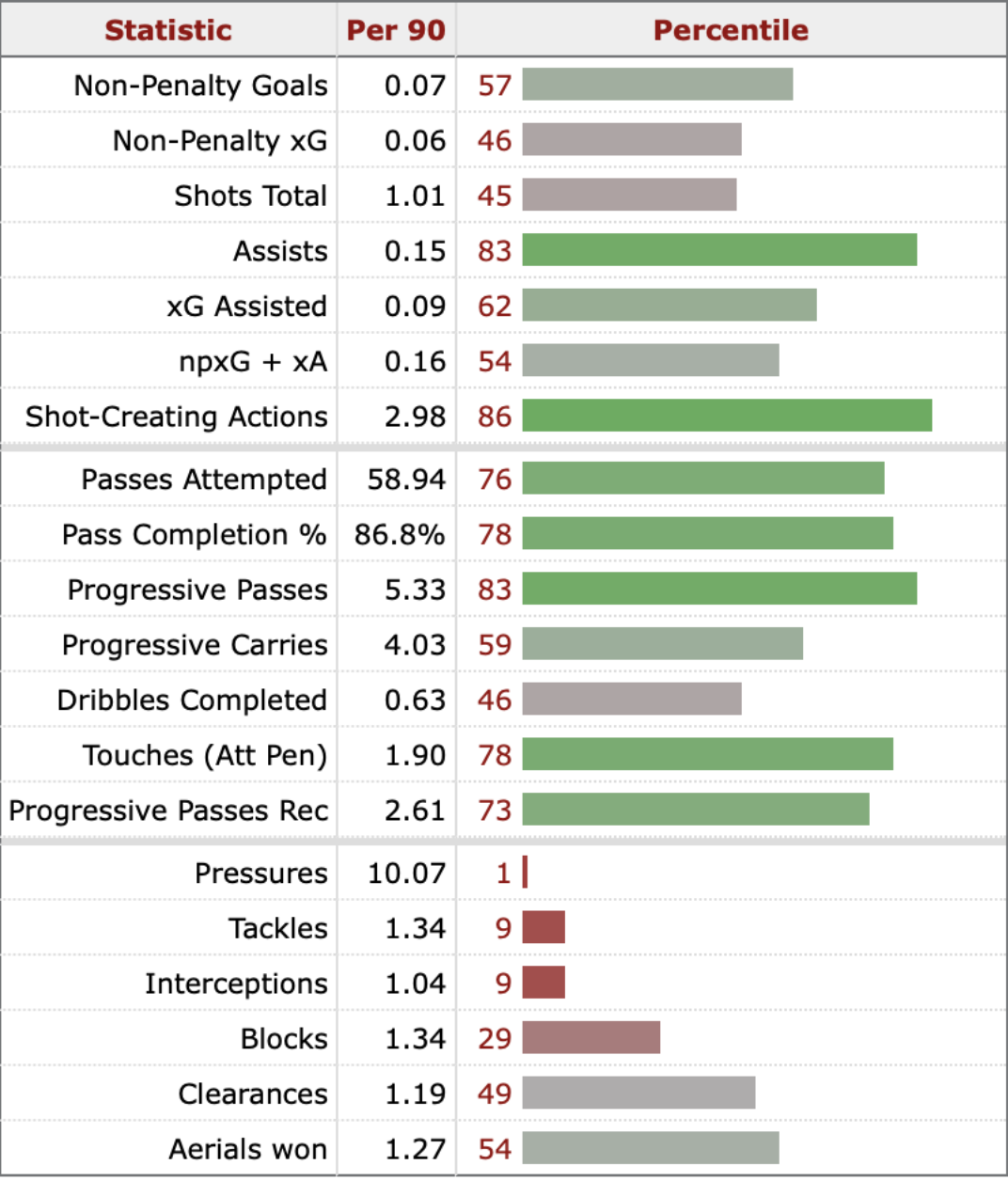 Photo: FBRef
The cross-field pass to Saka/Odegaard is one we will see multiple times throughout the season, with Xhaka more than capable of executing this pass. This switches up the attack when there's not much space ahead on the left-hand side and shifts the opposition defenders over, allowing Martinelli/Xhaka/Zinchenko space to run into if Saka/Odegaard decide to reciprocate the pass received.
Football IQ
As mentioned earlier, Xhaka's lack of pace is his main weakness, but he more than makes up for it with his football IQ. The fluidity of Arteta's Arsenal requires players with high football intelligence and positional awareness to occupy the free spaces around them, in defence and attack, bamboozling the opposition with their movement and striking when they see an opening. Xhaka does this well, slotting into positions vacated by the LB/LW and always providing an outlet to the man in possession. 
In the LCM position, Xhaka has been a revelation. He has the freedom to play his game without the sole responsibility of shielding the back 4. He can commit to challenges, which as a combative midfielder, is well within his nature, with Thomas Partey ready to sweep up if needed.
Additionally, this complements the new boy Zinchenko's game and creates openings for youngster Martinelli. Zinchenko starts at LB but drifts into the deep-lying playmaker role; Xhaka's great awareness allows Zinchenko to do so as he can deputise in the LB role or push higher up and create overloads in promising situations.
These three players move in relation to each other, constantly shuffling back and forth, creating triangles and, more importantly, working for each other. Xhaka is overall averaging 2.98 shot-creating actions per 90, ranking in the 86th percentile compared to his positional peers, highlighting his efficiency and the rationale behind playing him further forward.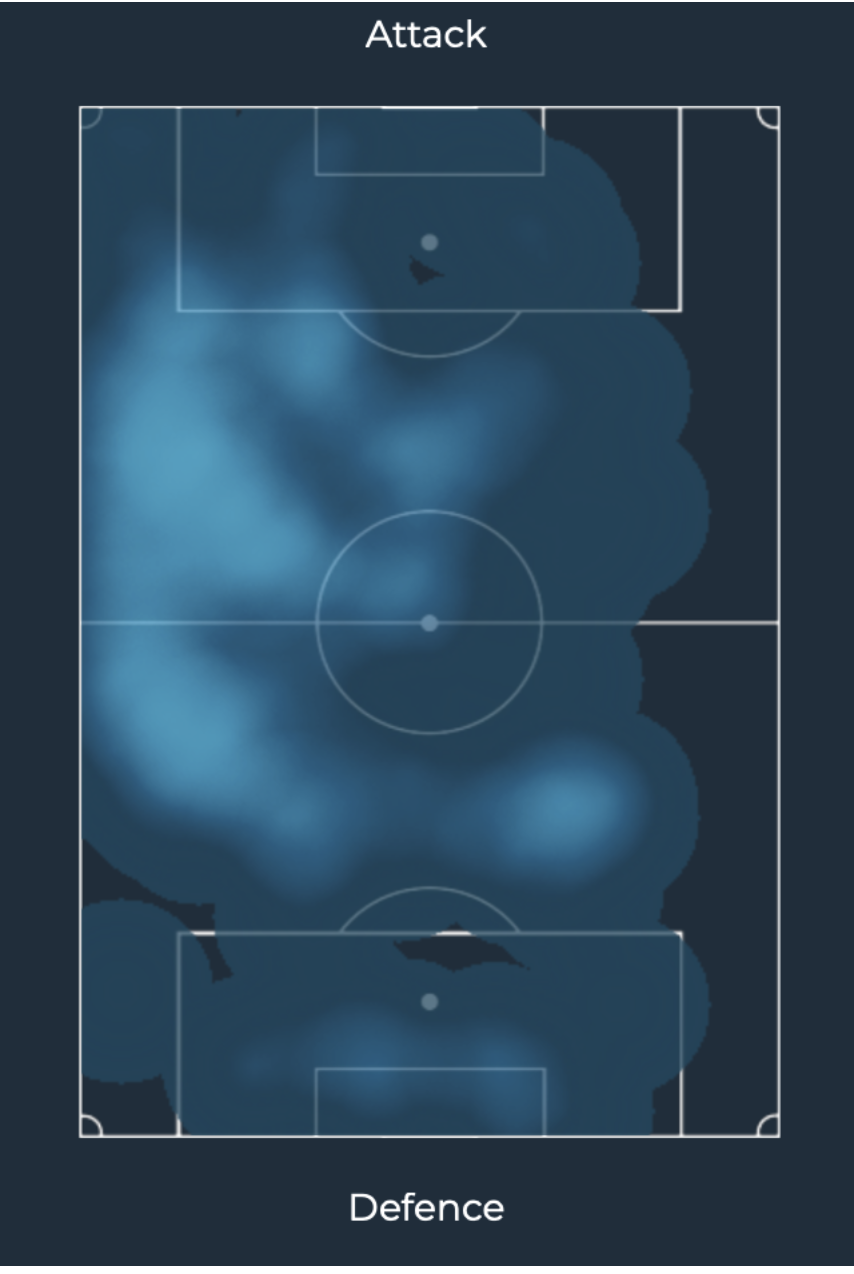 Xhaka's 2022/23 heat map [Soccerment]
Additionally, in his time under Arteta, he has often filled in at left back, which is alien to him and his lack of pace would usually leave him exposed. However, his positional awareness and good reading of the game allows him to do a job in that role.
Furthermore, one characteristic of Arteta that highlights his potential to become an elite coach, is his willingness to switch systems/formations when the game is not going their way. In Xhaka, he has a team player who has the tactical nous to play multiple roles, which allows Arteta to prioritise other substitutions in other areas.
Technical Ability
Xhaka is also a technically sound footballer, good in possession and works well in tight spaces, able to find the right pass. His assist to Gabriel Jesus in the win over Leicester this season is a good example, a simple pass in a tight space, but easy to overhit, and Jesus's genius takes over with a sublime finish. 
He is not averse to nutmegging an opponent either, which is the ultimate disrespect in football, and I'm all for it! In the win over Chelsea, at 1-1, he had the composure to meg Marcos Alonso on the edge of his box, which kickstarted the counter, leading to a goal. Is it a fluke? Surprisingly no, he has done this on many occasions, most recently in the Emirates cup, en route to Eddie Nketiah scoring the 6th. Don't be surprised if he pulls it out of the bag this season!
The remontada of Xhaka could possibly turn out to be one of Arteta's biggest legacies at Arsenal, his departure was expected, with Roma ready to pull the trigger last summer. Most fans, as well as Xhaka himself, would have been happy with the transfer, but Arteta thought otherwise and it seems to all be working out, with Xhaka finally enjoying his football again; have a look at his face whenever he scores, pure joy and elation. 
He is playing some of the best football of his Arsenal career right now as they sit at the top of the tree, albeit after four games. There may be other players who offer more defensively or offensively, but the combination Granit Xhaka possesses, in addition to the intangible factors such as his football IQ and leadership qualities, make him the perfect LCM for this young team at this moment in time.
The 29-year-old Switzerland international has made over 250 appearances for the Gunners, around 200 of which are in the league, but will he be seen as an Arsenal legend when he hangs up his boots? Trophies may be the currency to determine this.
By: @Az20283
Featured Image: @Juanffrann / James Williamson – AMA