Bernardo Silva: The All-Purpose Midfielder
Manchester City are quite simply on fire. 20 wins in a row, a 12-point lead at the top of the Premier League table, a spot in the Carabao Cup final and a two-goal first-leg lead in the UEFA Champions League's Round of 16 represent a brilliant time at the club after a slow start to the season.
Many factors have been key to this turnaround – Pep Guardiola's new system above all – but one of the most important ingredients in the recipe for such success is world-class players at the top of their game. City certainly have a lot of those right now, but if there was a top five being made, the Portuguese trio of João Cancelo, Rúben Dias and Bernardo Silva.
The full-back has revolutionised his role by playing in the inverted position from either flank, while the summer signing from Benfica has transformed the Manchester City backline from a lousy excuse for a defence to one of the best in the world.
Bernardo Silva, however, has not been a headline-grabber this season. He has played about 300 fewer Premier League minutes than Cancelo, a number which goes close to 600 in relation to Dias. He just has two goals (one fewer than John Stones) and three assists, while languishing in 34th-place in the Premier League according to WhoScored's statistical ratings. Those ratings can admittedly often be misleading, though, and this is a pristine example of that.
Although the stats may not tell you this, Silva is one of Manchester City's most important players right now. The work he does on, and perhaps more importantly off the ball is absolutely crucial to their current style of play, which surely would not work without him.
If you need statistical proof, the Portuguese midfielder was not dropped for a single Premier League or Champions League match from matchday 14 until the Champions League Round of 16 first leg, while only failing to complete the full 90 minutes twice in that spell. Silva has played a variety of roles despite usually starting on the right of midfield, so let us try to break them down.
Winger
Before we take a look at the multitude of roles he has fulfilled in Guardiola's new system, let us quickly take a look at his work as a winger. Since the statement 3-1 win over Chelsea where the Catalan manager pulled out his new system, Silva has only featured in a wide role once – against Crystal Palace.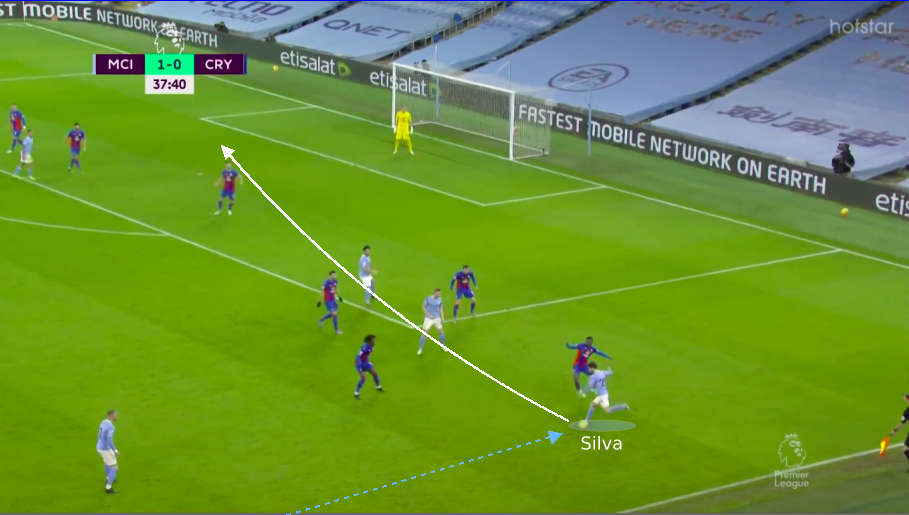 In this match, Silva started off on the right and did normal winger things such as holding width and crossing, as you can see here.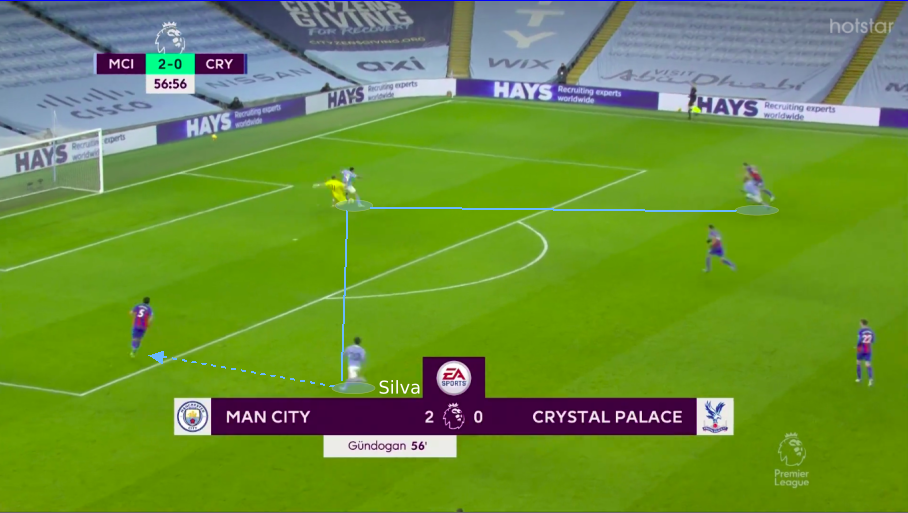 Displaying his versatility, Silva switched to the left in the second half. He played a role in a three-man press involving the striker and the other winger. However, as aforementioned, he has only played in this position once in Manchester City's new system, so now let us move on to the roles which he has been assigned more often:
False Nine
Given the various injuries to their strikers in the last few months (and, at times, Guardiola's tactical decisions), Manchester City have often employed a false nine. Kevin De Bruyne, Riyad Mahrez, and Silva have all been tried out in the role, with the Portuguese international being preferred when all three were on the pitch together against Arsenal.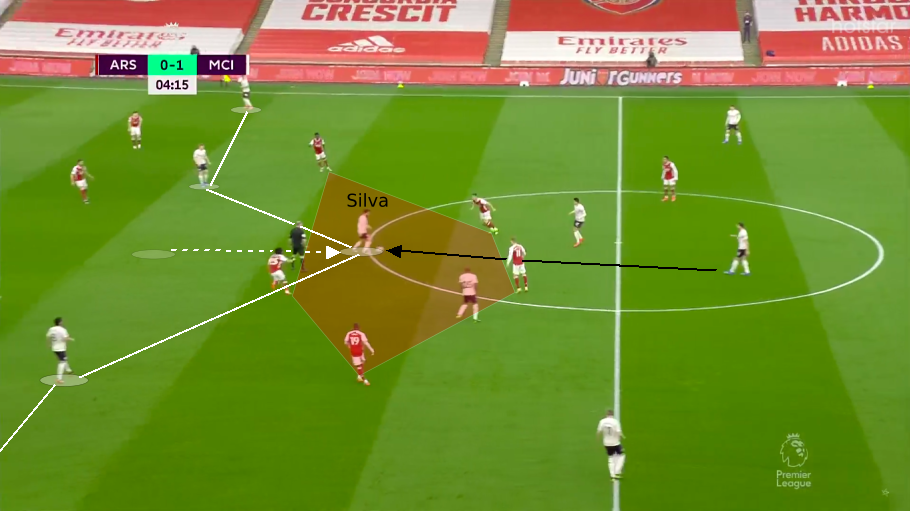 City typically use a front five in possession under this new system. As the false nine, Silva is asked to drop slightly behind the line into pockets of space to help progress the play centrally, while the two midfielders and wingers stay forward.
In certain cases, Silva drops all the way into midfield from the false nine role, leaving a front-four to go forward as the two actual midfielders are up front, while an inverted full-back (usually Cancelo) joins him.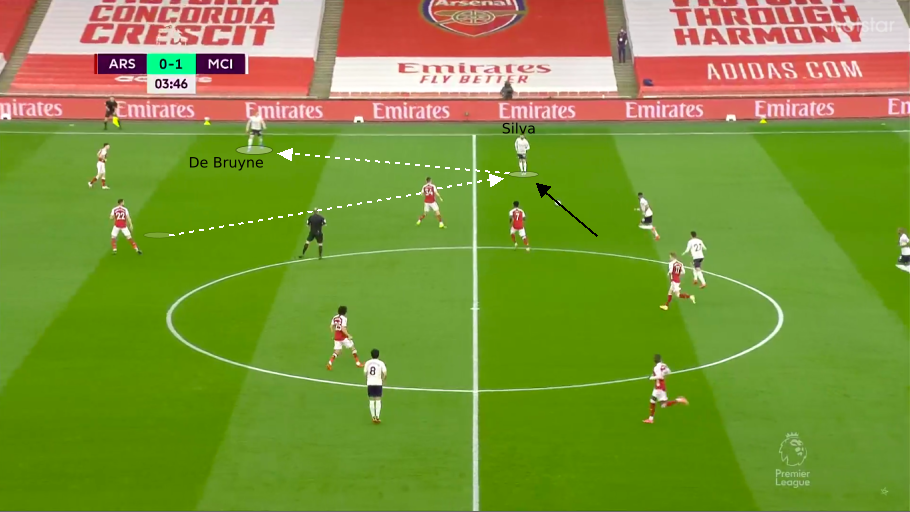 He often drops deep too, freeing up a midfielder (usually De Bruyne) to push forward.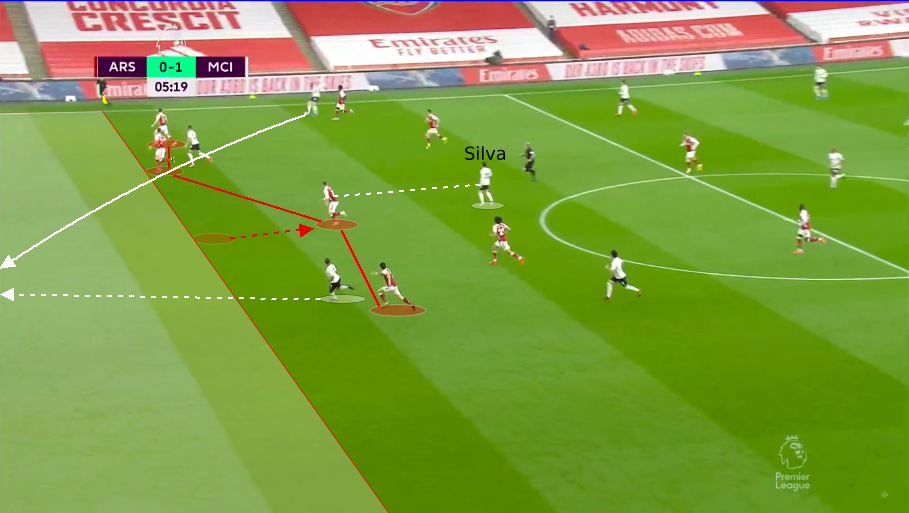 The Portuguese midfielder can keep staying slightly behind the front line in the attacking phase as well, just like a typical false nine. By doing this, he drags opposition centre-backs out of position, opening up space in behind the defence for his teammates.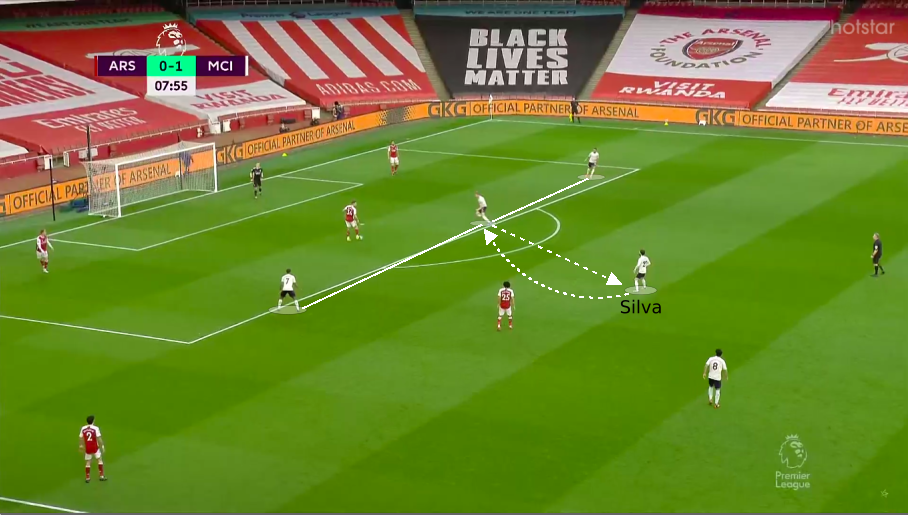 City initially pressed in a 1-3 in this system against Arsenal, with Silva staying behind the front line, which again involved a positional exchange between him and De Bruyne.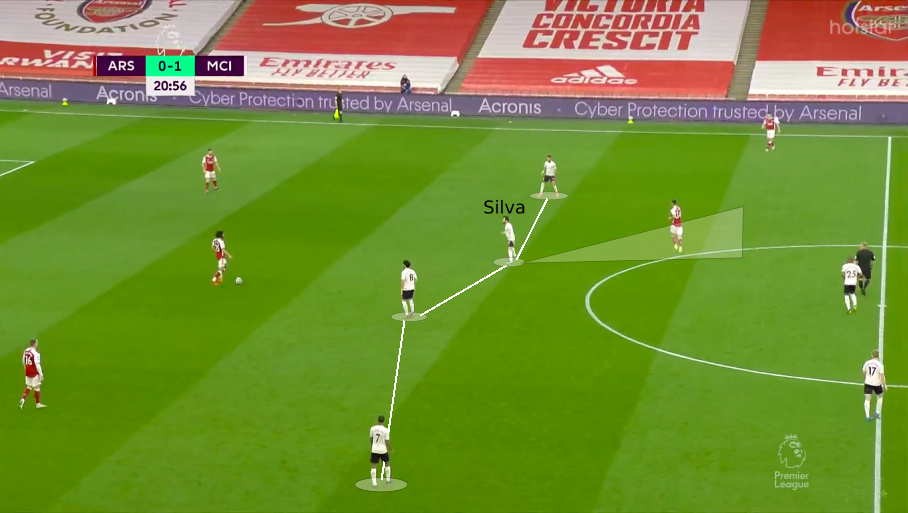 However, they soon reverted to their typical front four press. Here, Silva's role is to keep the opposition central midfielder in check, and not to press the ball.
Pseudo-False Nine
The term 'pseudo-false nine' seems to be a clear case of tautology, but it is notably different from the pure false nine. With Guardiola, nothing is impossible, so Silva has been used in such a role too.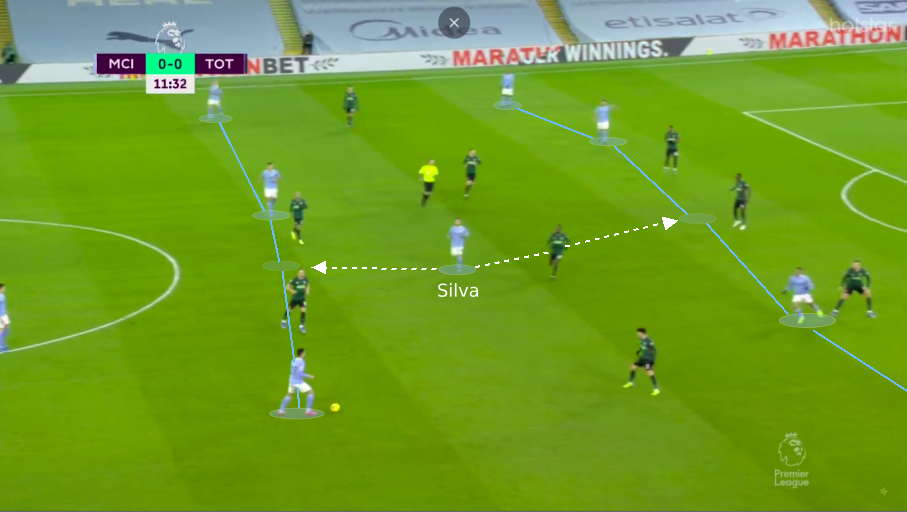 The best example of this role came against Tottenham Hotspur when Silva was the right-sided midfielder on paper with Gabriel Jesus being the recognised striker. However, in possession, the story was quite different, as you can see here. Silva played in a very central position, drifting between the midfield and front line.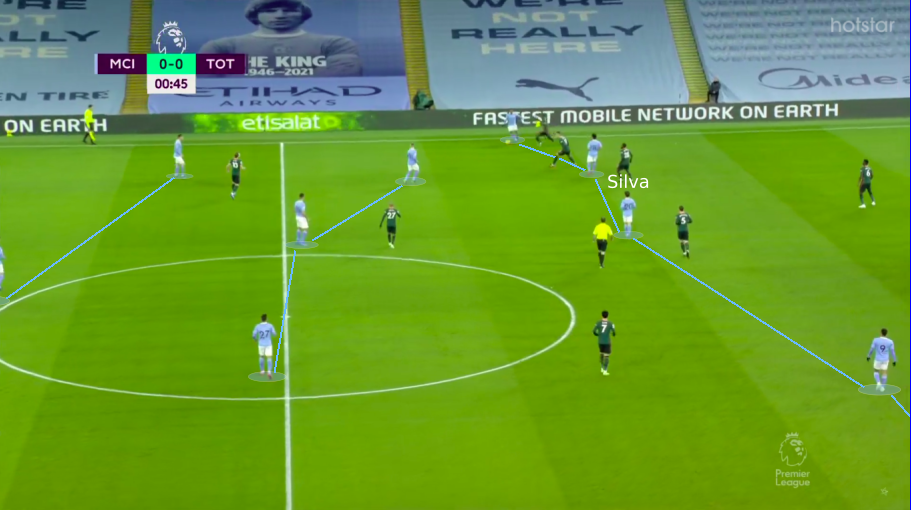 Here is an instance of Silva joining the front line.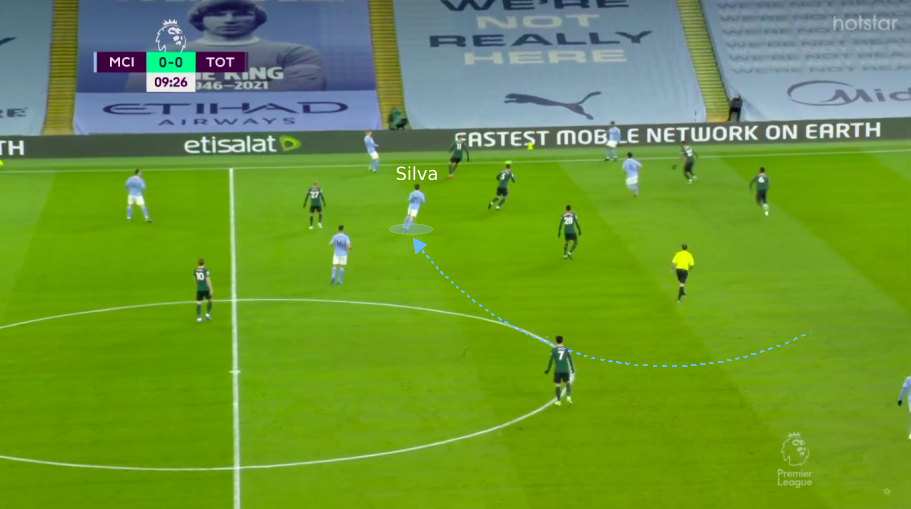 Here he is dropping into midfield against Tottenham.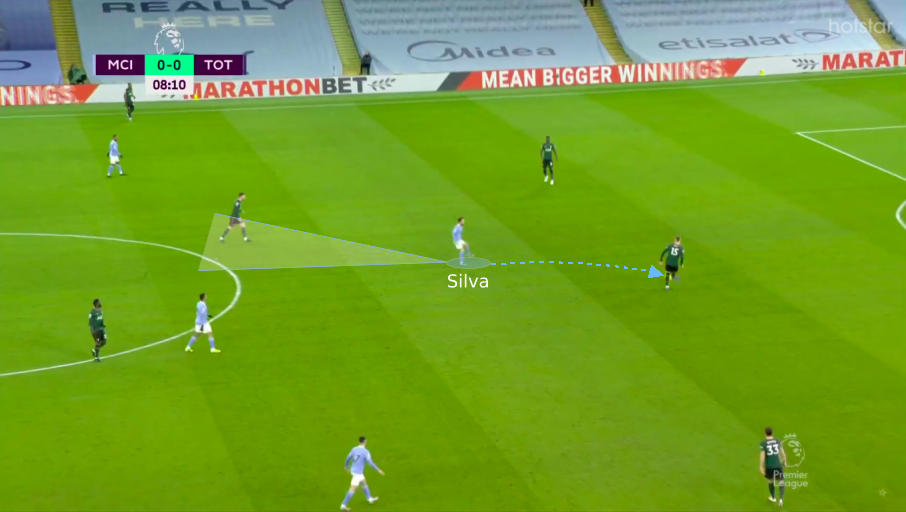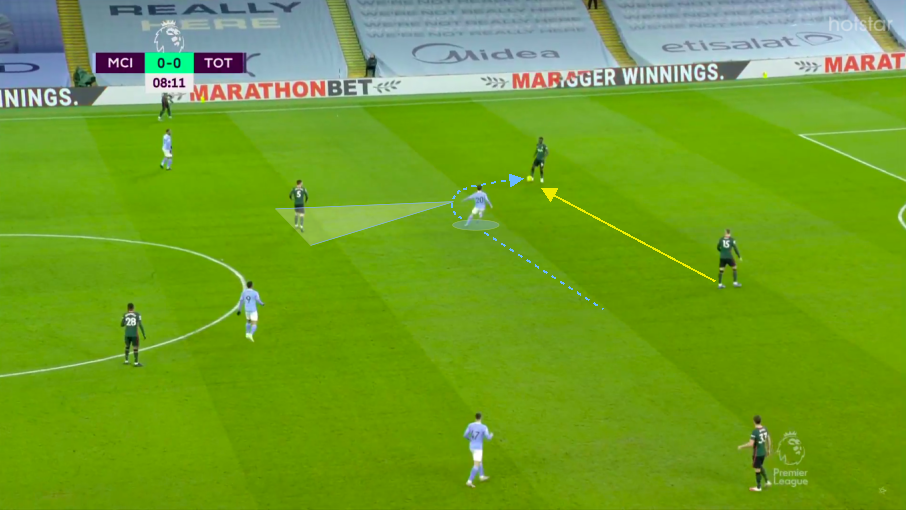 Silva was the leader of the press here, as he chased the ball while keeping one of the two opposition holding midfielders in his cover shadow. The next role that Silva has played was fairly similar to this one, but there were a fair few notable differences of course.
Attacking Midfielder
Bernardo Silva's latest role was seen in the Champions League tie against Borussia Mönchengladbach when he was deployed behind Gabriel Jesus (the striker) in a 4-2-3-1.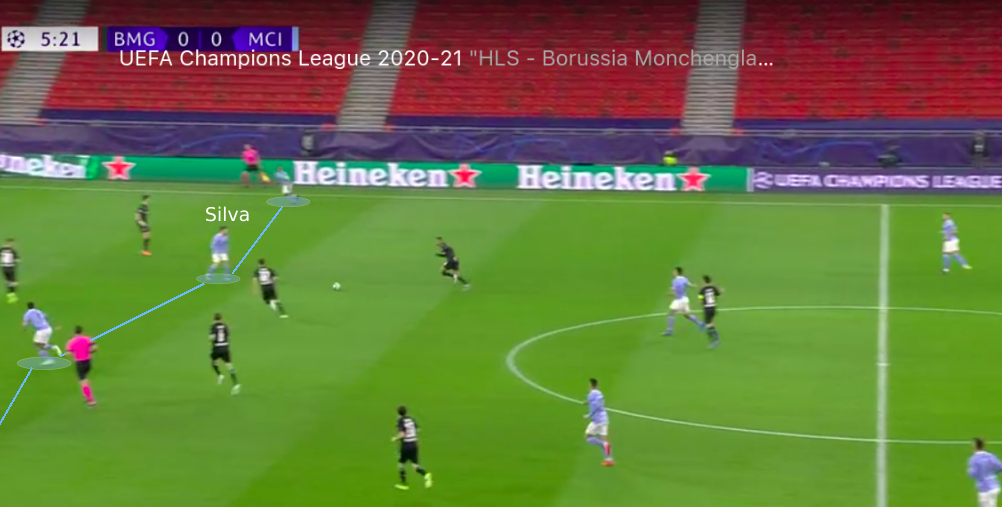 Here, he stayed on the right of Jesus in the front line, rarely dropping deep as he did against Tottenham Hotspur.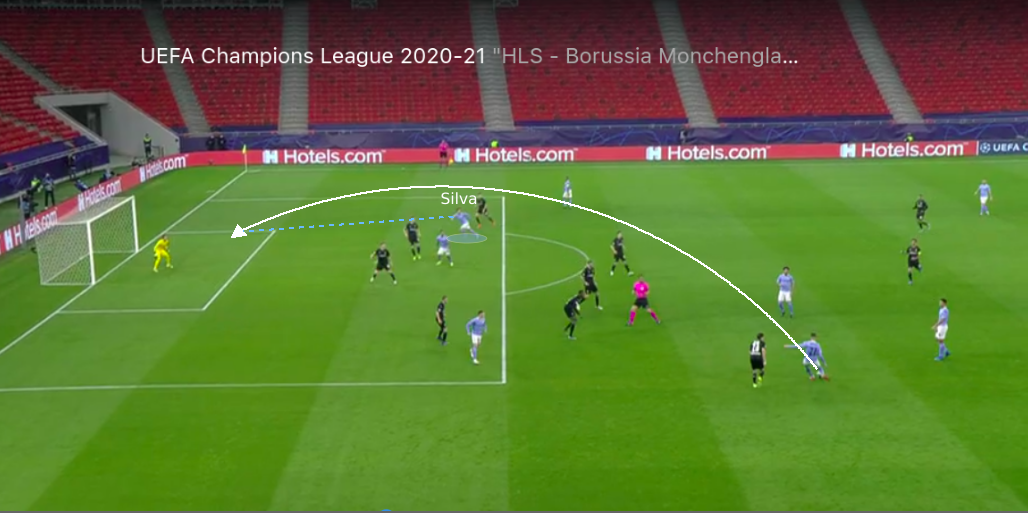 He had the license to get into the box here, which he used brilliantly for both of his side's goals by attacking in-swinging crosses towards the back post.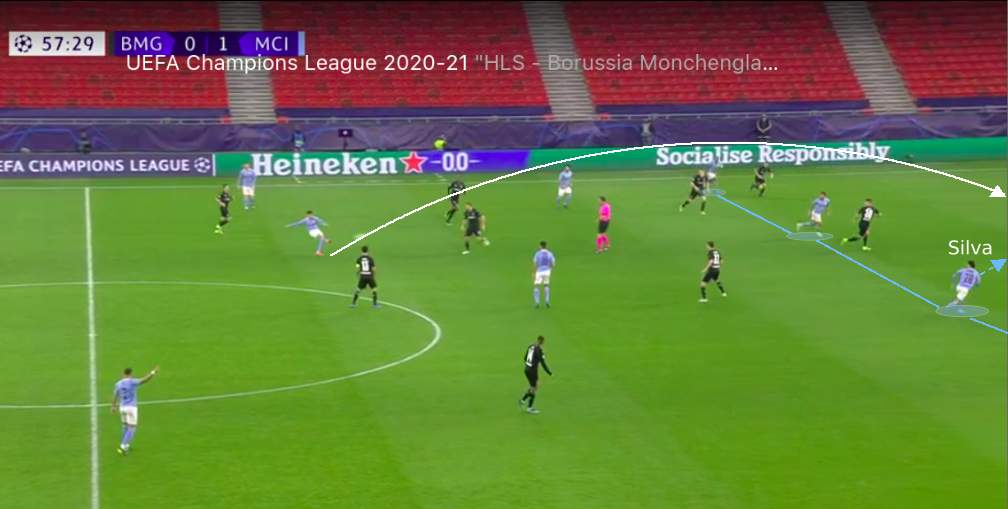 Since Manchester City were only using a front four in this match, Silva was effectively playing as a second striker alongside Jesus.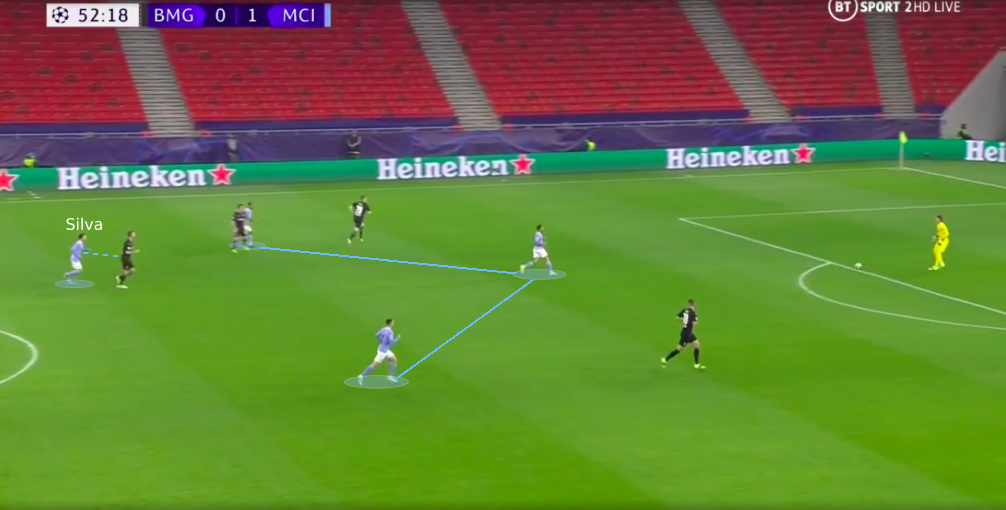 As it was in the initial stages of the match against Arsenal, Silva's role in the press here was to stay behind the front line and mark an opposition holding midfielder. After all of this, though, Silva can still function in his original position.
Central Midfielder
When Manchester City signed Bernardo Silva from Monaco on May 26, 2017, for a fee potentially rising to €70 million, he was a number 8 by trade. Although his best position at the moment is up for a huge debate, he can still play in central midfield to good effect.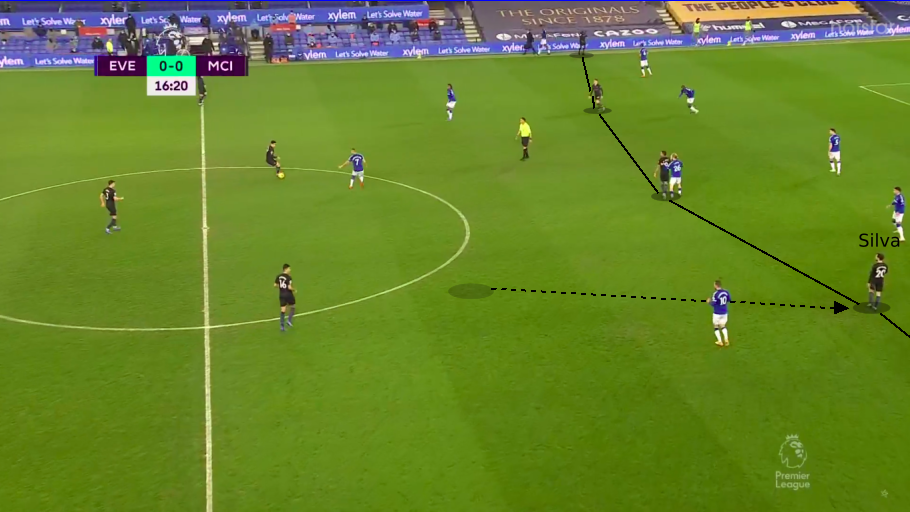 From here too, he pushes up to the right of a front five in possession but does not get as far forward as he did in the attacking midfielder role.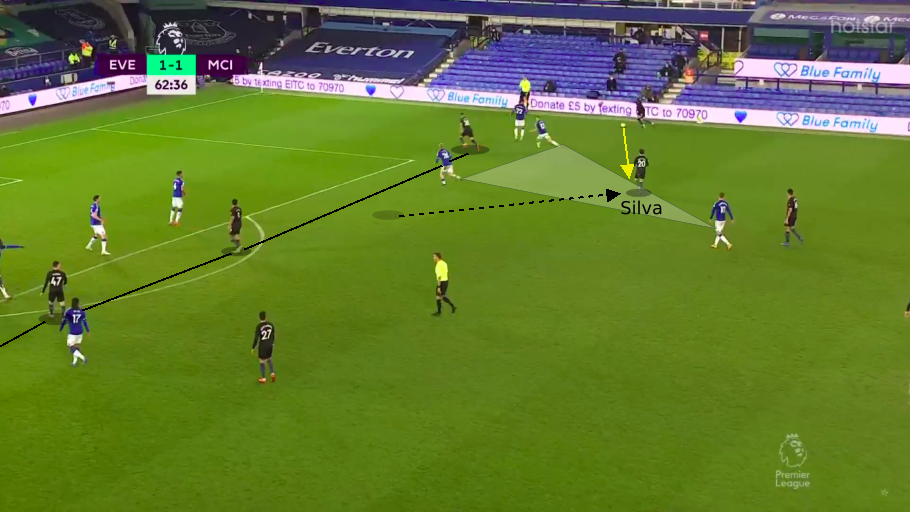 Therefore, Silva drops into pockets of space behind the front line quite often, as he is doing here.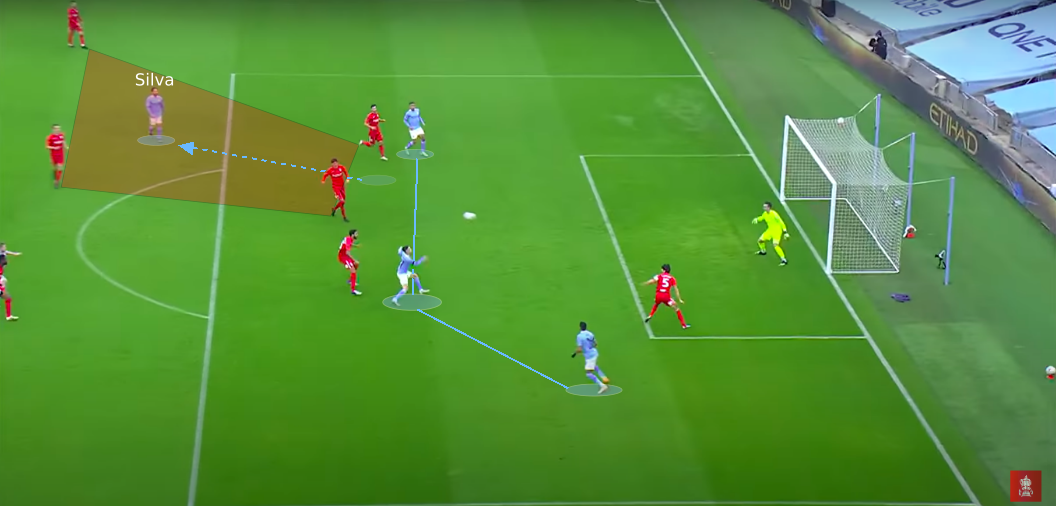 He can do so on the left of midfield too, as seen against Everton.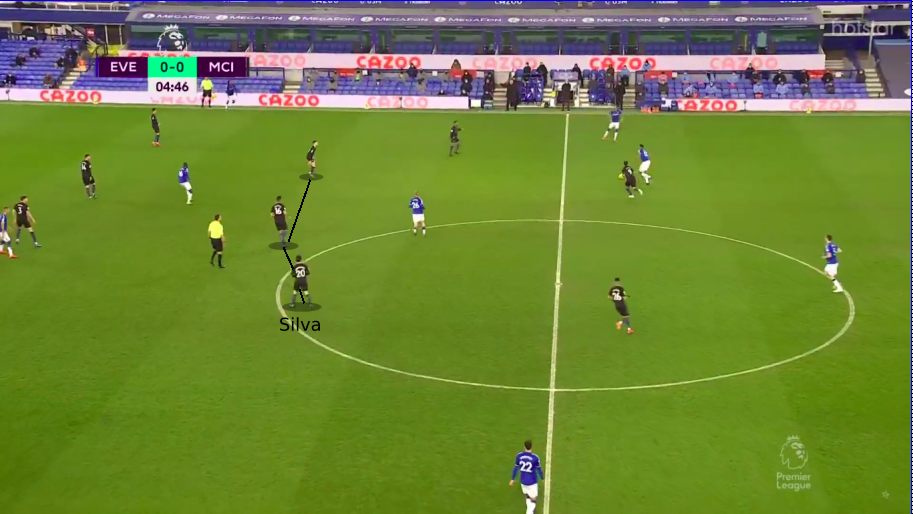 The 26-year old defends in a midfield three, unlike his positions in a front four or just behind a front three. That is not all for Silva's roles, though – there is more.
Pseudo-Fullback
Silva's versatility knows no bounds – he can even work as a fullback both in and out of possession. A major contributing factor in this is Cancelo's role as an inverted fullback.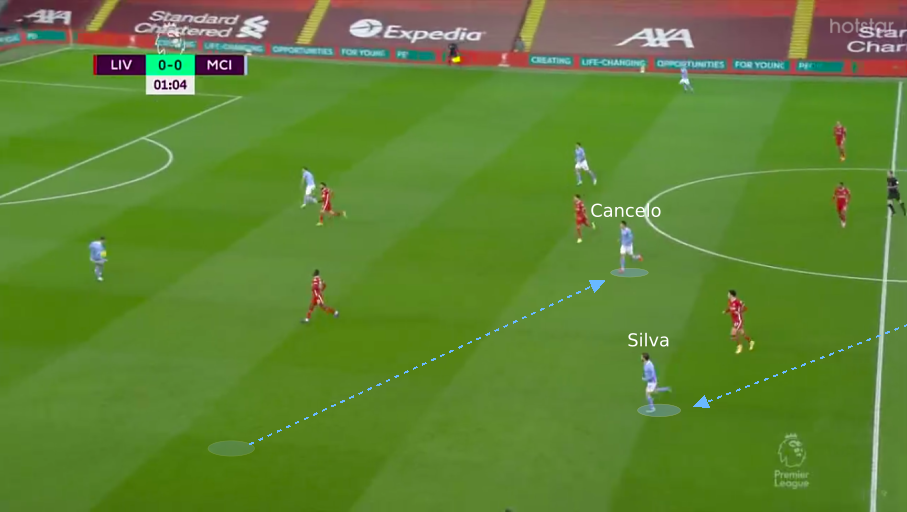 The best example of this role was visible in Manchester City's clash against Liverpool. You can see the positional interchange between Silva and Cancelo quite evidently here, as the latter has tucked inside while the ex-Monaco man is positioned wider.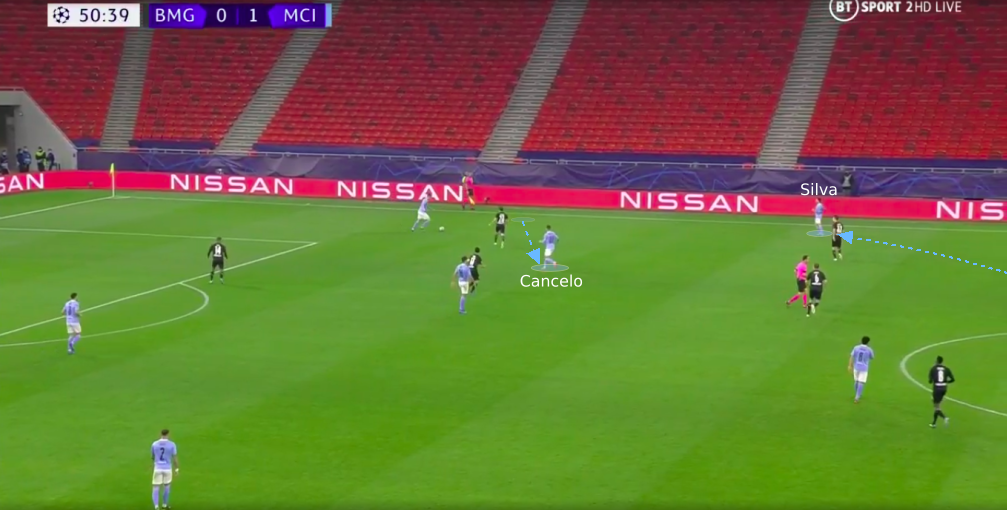 He was simply showing off at this point, but there was a period in the Gladbach match when Silva played a similar role on the left flank.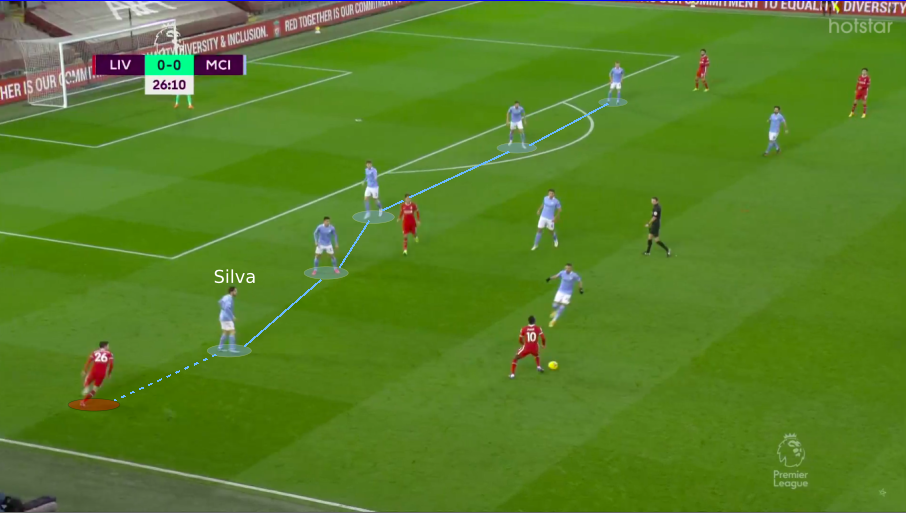 The Liverpool match was the best example because Silva operated as a sort of a wing-back out of possession too. In the first half, his task was to mark Andrew Robertson, the advancing opposition left-back, which is why the Portuguese international was often spotted in positions like this one. It would be great to keep going, but we're running out of outfield positions for Silva to operate in, so until Guardiola deploys his next crazy invention, this list should be complete.
Conclusion
Words probably don't do justice to Bernardo Silva's brilliance this season, so we will try to let his heat map for this season do the talking.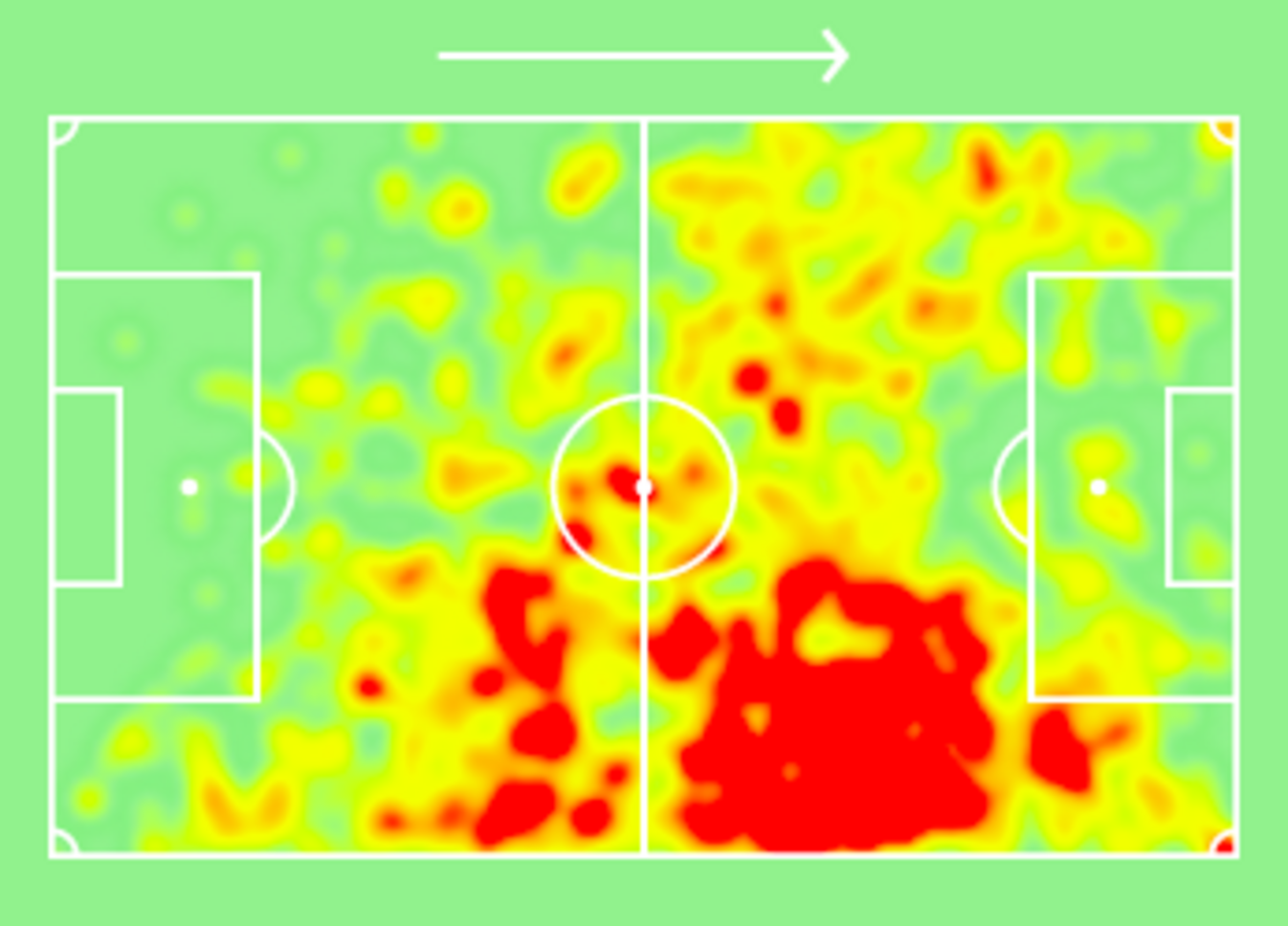 Photo: SofaScore
The main takeaway from this heatmap is that Silva is pretty much everywhere. The globs on either flank can be attributed to his time as a winger, while the yellow mass around the edge of the attacking third in the centre has probably been created during his work as a false nine or attacking midfielder. Of course, the centre of the pitch is pretty well-covered, but there is a huge red formation on the right due to his frequent forays into the right-back role.
There are some relatively small patches on the left of the defensive third too, meaning that Silva has played every single outfield role except centre-back. We can't possibly put that past him on this evidence either, although considering the fact that City have three world-class players in that position right now, it is hard to see him getting a run in there soon.
With all of that discussed, there is no doubt that this is Bernardo Silva's best season in a Sky Blue shirt, and perhaps across his footballing career. The fact that he is essentially five top-tier players packed into one makes him an absolute steal for €50 million, but he has undoubtedly gone under the radar this season.
Silva has been consistent, versatile and adaptive to his coach's demands throughout this season, but you don't see him make any major headlines. Perhaps that is yet more testament to his brilliance, though, as his work may seem pretty ordinary and even invisible to the untrained eye, but ask anyone who watches him closely on a day-to-day basis and they will absolutely start raving about him, which is just how it should be.
By: Neel Shelat
Featured Image: @GabFoligno / Matt McNulty – Manchester City
Stats courtesy WhoScored and Transfermarkt.