Bilal El Khannouss: Morocco's Teenage Diamond in the Rough
Name: Bilal El Khannouss
Position: CAM/CM
Height: 5'11/1.81M
Age: 18
The World Cup has often been a great platform for countries and players to showcase their talent on the biggest stage of them all and this year's edition was no different. Although one or two of the bigger stars are always bound to eventually lead their team to glory and secure their place amongst football's immortals, there's always a handful or more unknown virtuosos that make you take notice.
This year's dark horses were a massive surprise, as they emerged in the form of sleeping African giants, Morocco, who rose to the occasion at what seemed to be the perfect time in Qatar. The Atlas Lions managed to rewrite the history books by becoming the first ever African nation to reach the semi-finals of the competition, ultimately heading out at the hands of 2018 Champions, France (in a penalty shootout).
This remarkable run was in large part thanks to the brilliance of their manager Walid Regragui and his relentless entourage of players. The 47-year-old Moroccan masterminded an amazing tactical plan that was centered around defensive discipline, conceding an inconceivable two goals throughout the course of the tournament.
At the forefront of the exemplary effort were star right back Achraf Hakimi and midfielder Sofyan Amrabat, with the latter earning massive plaudits across social media platforms due to his fireman-like style of play. The Fiorentina stalwart was constantly extinguishing opposition attacks all over the pitch at ease, winning possession more than any other player.
As much as they will probably be remembered for being industrious and hardworking, the Northern African country has also churned out the more flamboyant talents like Hakim Ziyech and Sofiane Boufal, who are both elite dribblers, fashioning an exceptional balance on both sides of the ball for Regragui's men. In the hopes of building on this foundation they have set for themselves, Amrabat and crew will no doubt be looking to rebuild and set their eyes on the future. One such name to likely headline the new generation will be Bilal El Khannouss.
Born in Strombeek-Bever, Belgium, Bilal was one of 14 Moroccan players born outside the country, more than any other team at the spectacle in Qatar, providing an eclectic mix of different characters from growing migrant communities in Europe, with a collective goal in mind. Finding eligible players in countries like Belgium, France, Germany, Italy, the Netherlands and Spain is now a structured exercise, as opposed to the haphazard system when the first foreign-born Moroccans competed for the national team at the 1998 World Cup in France.
"The players are approached very early in order to attract them to the Moroccan side. We never force things, it's an honest discussion with the player and his family," explains Noureddine Moukrim, a youth coach in Belgium who scouted for Morocco for nine years. That was precisely the case with El Khannouss, who had represented Belgium at U15, U16 and U18 level before switching allegiance to his motherland in 2022, initially playing for the Moroccan U20 and U23 sides.
Morocco 1-0 Portugal: Morocco's Structure and Courage; Portugal's Missing Component
On the 10th of November 2022, he was named in Morocco's 26-man squad for the World Cup, in due course making his international debut on 17 December 2022 in the World Cup third-place playoff against Croatia. Thanks to that he became the youngest player from Maghreb to play at the World Cup (18 years and 221 days), breaking the previous record set by Nabil Bentaleb.
The youngster began his youth career at Belgian powerhouse Anderlecht in 2009, gradually progressing through the age groups before moving to Genk in 2019. During the following couple of years, he continued to impress and shine at that level, playing for the Genk U19 team consistently before finally being promoted to the first team, making his debut on 21 May 2022 in a league fixture against Mechelen.
Genk would waste no time in offering the starlet his first professional contract a month later, tying him down to a deal until 2026. Bilal has since gone on to make 17 appearances (starting 16 of them) for the Blauw-Wit this season in the Belgian Pro League as a pivotal player for the league leaders, who sit six points ahead of the team in second at the halfway point of the season.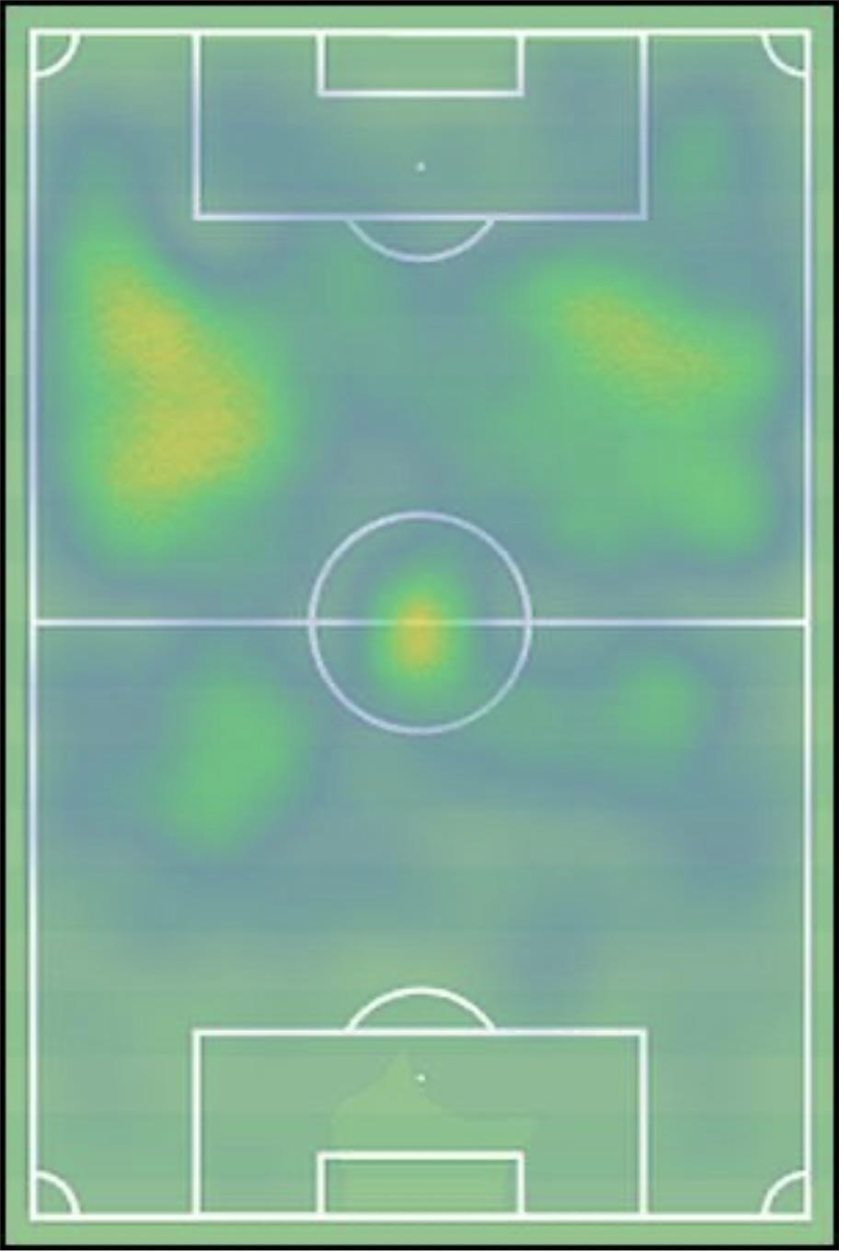 Heat map by Wyscout
At 18, El Khannouss is now regarded as one of the most exciting talents in the Jupiler Pro League and it's easy to see why. Blessed with excellent 1v1 dribbling skills, tremendous ball control, and an ability to shift from one direction to the other in possession, he has it all really. He is most effective when played in the advanced playmaker role as he likes to orchestrate the play with his passing ability and creativity in the final third (an average of 4 long balls per game at an impressive success rate of 71.9%).
El Khannouss sees the game differently compared to most,  illustrating a cleverness with his off-the-ball movements, great vision, and passing ability in turn linking up the team's midfield and attack with ease and effectiveness. Moreover, he possesses good pace, coordination, and flair. These traits enable him to change the rhythm of a game with his progressive runs and penetrative passes at any time, making him a nightmare for defenses. 
El Khannouss creates a big chance with a silky first-touch pass
Even though he is still so young, Bilal is a cultured passer with a proclivity for breaking the lines with intricate vertical balls. His range is superb and goes hand in hand with his excellent vision. So far this season he has managed to create 18 chances for his teammates, whilst completing an average of 39 passes per 90 with a pass success rate of 79.3%.
If need be, El Khannouss can also be deployed in the number 8 position as he is tactically astute to add to his technical capabilities. He often intelligently positions himself between the lines, displaying great composure and ball retention skills when pressured – protecting the ball and shielding off his makers.
"In the academy of KRC Genk, we encourage the players in games to play the teammates in with lots of pressure from the opponent in the back so that they find solutions to get or play out of pressure. Yes they will make mistakes at times but that's part of their development; teach and improve the details", explained Michel Ribeiro, the first team and top prospect's individual and technical coach.
It's a skill that not many midfielders his age have. It also helps massively that he can operate quite comfortably with his weaker left foot. An extraordinary quick thinker when on the ball, he usually chooses options that are unexpected by the opposition showing his stellar football IQ and high level of spatial awareness.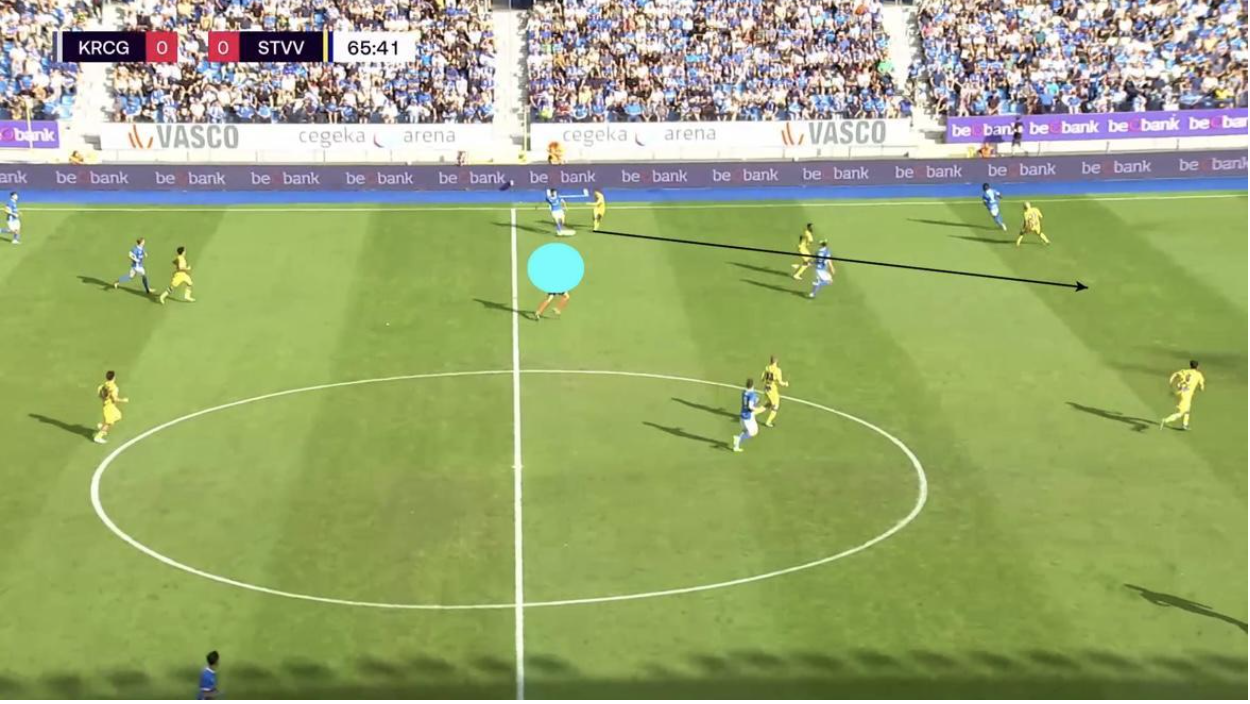 El Khannouss shows his fantastic vision and creates a big chance with a superb penetrating pass
Defensively, he is also very active in initiating the press and does not hesitate to track back when needed. He typically wins possession in the final third 2.7 times per 90. To go with that, Bilal has a tackle success rate of 54.5% which is very good considering his position and age. This is most times a beneficial asset to kick-start counterattacks with his defensive effort helping in retaining the ball. Although at times he fouls frequently, he fouls smartly, obstructing the opposition's momentum, interrupting counterattacks or preventing dangerous transitions.
An aspect that could enhance his game is the precision of his mid and long-range shooting skills. Furthermore, as he matures he will need to be more decisive with his passing and his shooting likewise in the last phase of play. Lastly, as he grows into his body and in stature we could well see his physical prowess and ability to win aerial duels improve vastly.
It hasn't taken long to hear the first comparisons to former Genk academy graduate, Kevin De Bruyne, who is considered to be the biggest talent to come out of their academy. "Bilal is a pleasure to watch and during my 8 years at the club, I have rarely seen such a talent at KRC Genk", once stated Dimitri De Condé, who is the club's technical director, and has watched both talents grow before his eyes amongst others.
With a lot more to come, Bilal El Khannouss is well poised to make himself a household name in world football if he can consistently progress his game for Genk and perform at the level he has started the 2022/23 campaign. According to Transfermarkt.com, he is valued at around €4.50 million, making him one of the club's most valued assets. Europe's elite clubs will no doubt be keeping close tabs on him. With that being said one can only hope that the young starlet continues to grow in every aspect and go on to reach his potential, which is undoubtedly immense. 
By: Vuyo Reggie Ndebele / @RegaloJnr
Featured Image: @GabFoligno / Visionhaus / Getty Images