Boubakary Soumaré's Rise to Leicester City
Boubakary Soumaré is a name that most football fans might not be so familiar with in 2021 but the footballing world is starting to gauge an understanding of a player who was so pivotal to Lille's rise to French dominance.
The 22-year-old French midfielder has been linked with moves to English giants such as Arsenal, Manchester United, and Tottenham even so that a surprisingly failed move to Newcastle was on the brink of completion only for the midfielder to reject the Geordie club as the move didn't seem ambitious to Soumaré but when Leicester approached the player in February he was distended to be a Premier League player in the summer.  
Background
Boubakary was born in Noisy-le-Sec in France in 1999 and is of Senegalese descent. In Bobua's (childhood nickname) early footballing years, he was enrolled as a youth player at Paris FC (2006-2011). Soumaré quickly settled into the Paris FC youth set up, and was known as a player who could do everything and usually a level above the others around him according to his U13 coach Marc Moesta and was eye-catching from a young age even though he was described as reserved and shy character.
It was clear he's talent needed a bigger stage and so when his parents approved of their son moving from Paris FC to PSG after a successful trial, he continued to develop with the likes of Mattéo Guendouzi being part of a successful U19 team winning the Championnat National U19. 
He stepped up to the Paris Saint-Germain B team only making 8 appearances meaning he just wasn't ready for the first team with the likes of Javier Pastore, Julian Draxler and Marco Verratti occupying the midfield spots at the time. He was growing impatient with the lack of opportunities to be blended into the first team and it was Lille and their world-renowned sporting director Luís Campos who grabbed the opportunity to take a highly talented gem from the clutches of Paris Saint-Germain and Soumaré joined Lille in 2017. 
Ever since these career landmarks, he's established himself as one of the first names in the team sheet in Christophe Galtier's Lille, playing mainly either as a left-sided number 8 in a 4-2-2-2 or in the left side of the double pivot in a 4-4-2. He excels at many different attributes, both on and off the ball, making him an extremely desirable profile in the modern game.
Role in Galtier's Lille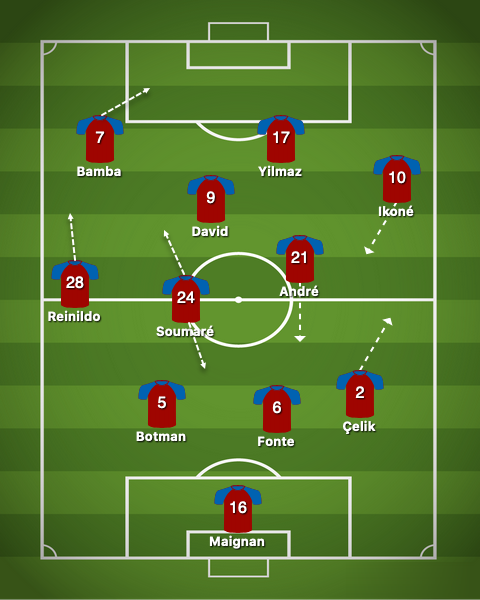 Soumaré operates as the more advanced midfielder in the 4-4-2, alongside André, a classic lone 6. He can be described as a quintessential "box-to-box" midfielder, who has many responsibilities in the direct build-up and ball progression, as well as stepping into the final third in attack.
André stays deeper than Soumaré during the buildup to allow for vertical passes between them. During each possession, Soumaré is the more creative outlet looking to progress the ball with passes to play to players moving ahead of the ball, while André remains further back to maintain a sturdy shape in case of possession loss. 
Galtier builds up from the center backs of José Fonte and Sven Botman. One fullback, such as the right-back Mehmet Zeki Çelik, will stay back initially to form a back three while the other fullback pushes high up the pitch.
Lille, however, is not a long-buildup team. Galtier favors moving the ball up the pitch relatively quickly. He wants to get the ball near the opponent's box as opposed to keeping it near Lille's. Soumaré's starting position, who himself moves to the left-side midfield channel, just inside either half.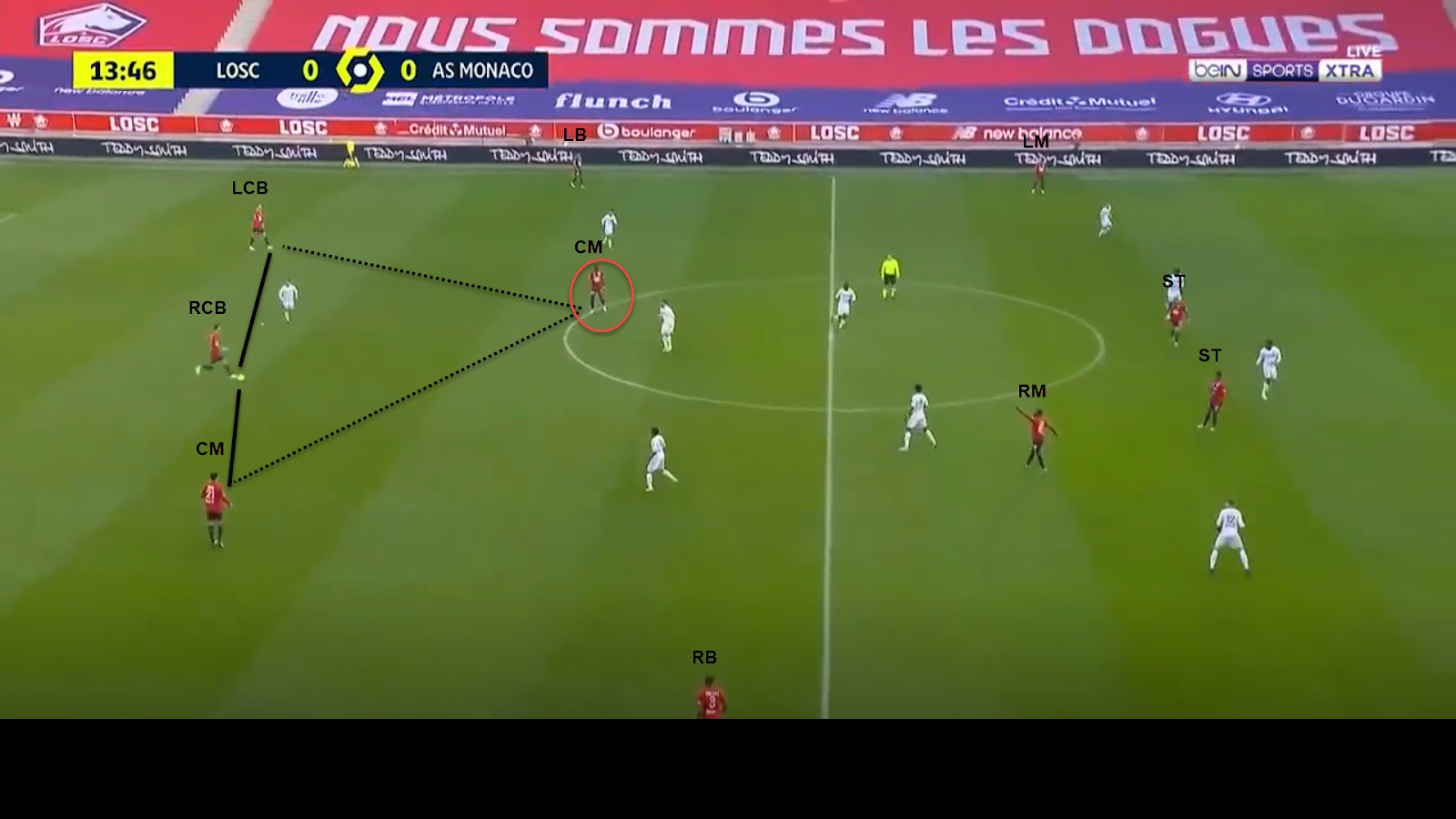 Lille's shape in build-up
 Lille's progression of the ball is mainly quick and direct and through the flanks despite this Soumaré progressive passes of 6.6 per 90 is relatively high and shows that he gets himself in positions to receive the ball and progress the ball.
His role in the build-up is mostly to alleviate pressure by receiving the ball in central and wider areas, before the ball gets played back out wide. He excels in that role technically, due to his excellent ball retention and technical security. He averages an immense 5.97 progressive carries per 90, by combining his close control and dribbling it allows him to shift the ball quickly. 
Despite his role limiting him, he possesses excellent technique in his passes, and can easily break lines with his forward passing, bringing variety in Lille's build-up process. He is very reliant on his right foot when passing (uses it 82% of the time), however, his overall shiftiness on the ball erases that concern, and makes him an adequate tool in the first phase.
The impressive thing about his ability on the ball is his confidence. It's rare to see such a young player be so crucial to a team's tempo with his personality, aura and talent. He may be shy and reserved off the pitch but that isn't the case on the pitch as he doesn't shy away from responsibility, the opposite in fact, he is sometimes over-eager to get on the ball. In this instance, he's dropped into space in his common left halfspace just halfway into the opposition to receive the ball.
As he is about to be pressured by the opposing CF tracking back, he shifts the ball from his left to his right to see the options he has, his body orientation shows he is going to pass to Yilmaz or André to his right, but he instead looks up and sees the run of Lille right back Djaló and prepares to knock a long horizontal ball to him. His awareness of developing situations around him makes him a desirable player in possession and allows players to make runs knowing he will be able to find them.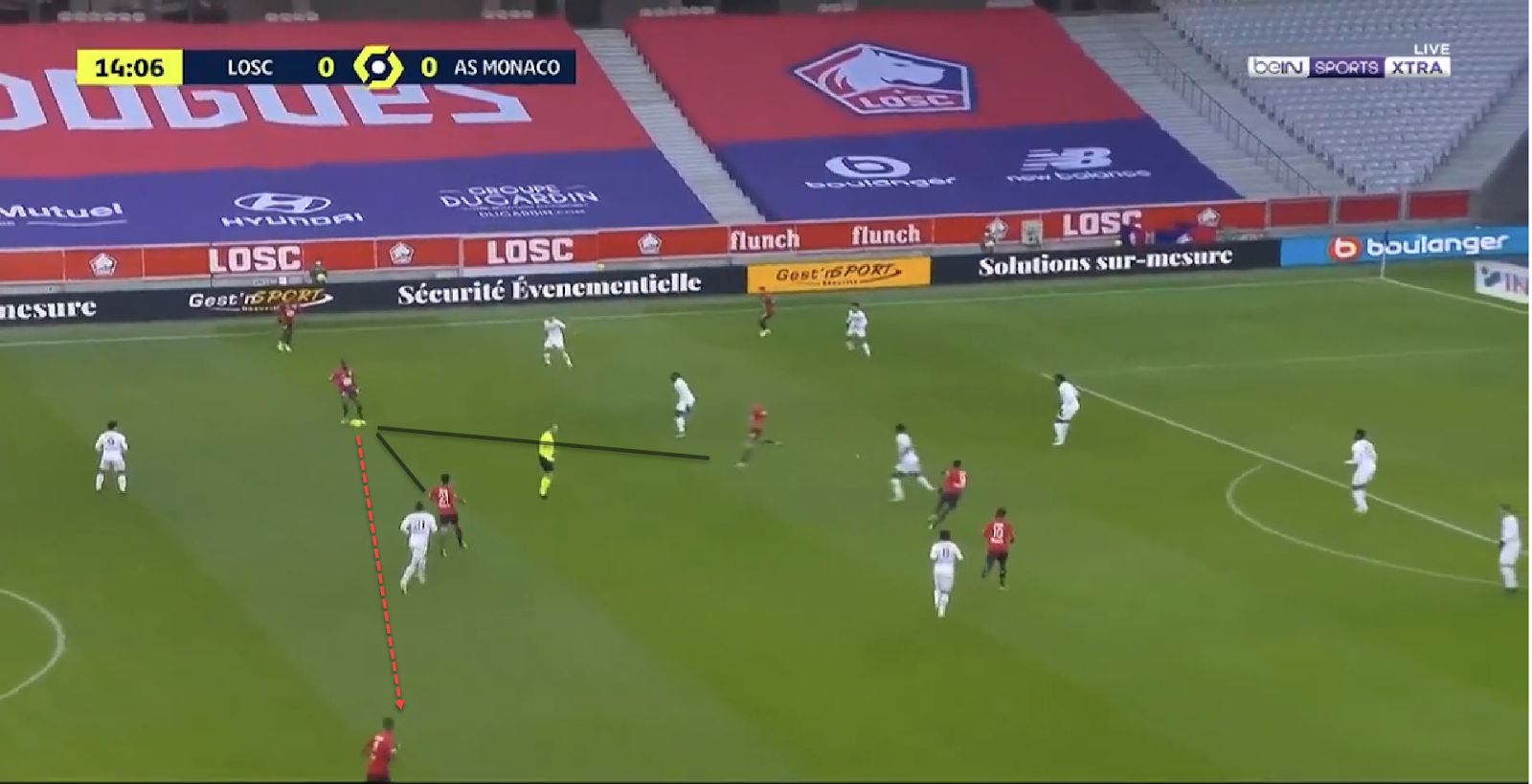 Once he sees the run from Djaló and subsequently makes space for him to execute the pass he spots the right back in space on the right-hand wing and finds him with a beautifully placed lofted pass that puts him in a position that he can take the Monaco left back to the byline.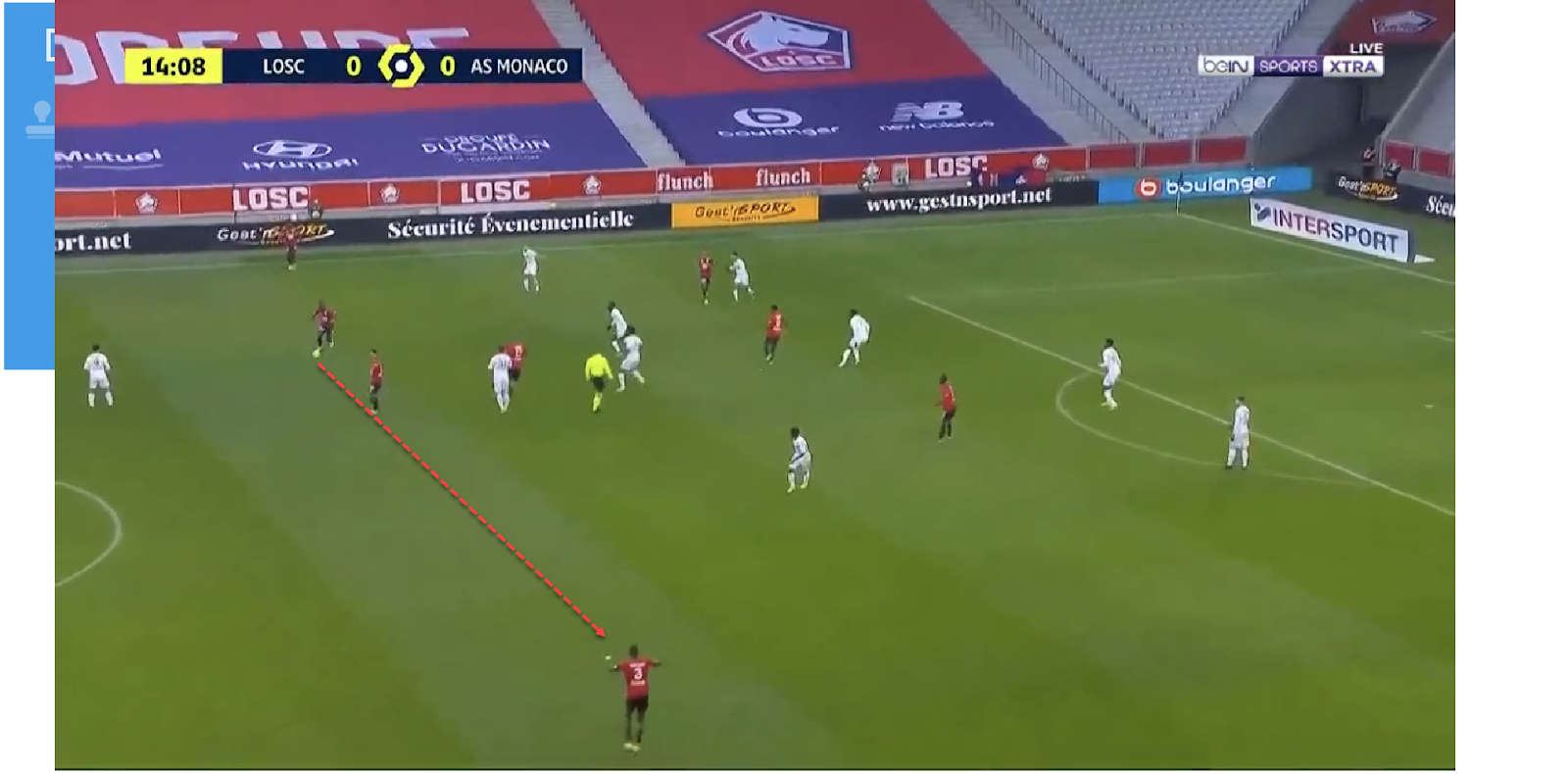 Passing in the Final Third 
Soumaré is involved in Lille's attacking play as stated. He profiles as a supporting 8, operating slightly behind Lille's quadrant forward line. He will occasionally drift out to the left half-space of the midfield as it is not occupied with the left-back usually Reinildo Mandava or Domagoj Bradarić always overlapping and offering width, but as of now, he is mostly adept at connecting the play to the forwards as a midfielder. While his creative stats are very average at this point (0.08 xAssists per 90 & 1.36 shot-creating actions per 90), he has great potential as a deep-lying playmaker.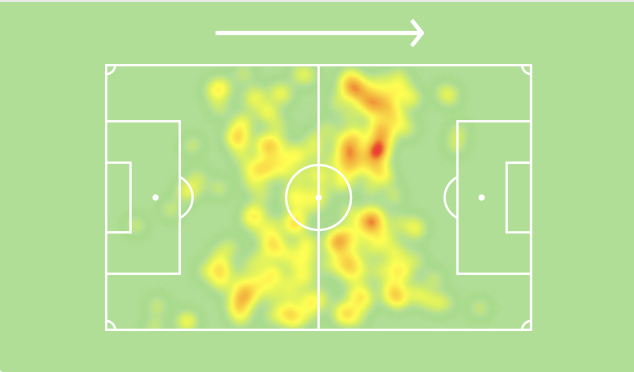 Photo: SofaScore
There is no clear right half-space forward presence for Lille. The RM Jonathan Ikoné naturally comes inside to support the strikers, and so we'll see either the RB Çelik make underlapping runs into that space, or Soumaré will occasionally step into that space. Soumaré's creative potential is very evident in the below possessions.
Soumaré averages 52 touches on the ball per game showing his clear impact when he receives the ball. Here he receives the ball in the middle of the pitch and immediately spots Domagoj Bradarić making a run in behind Celtic's right side with the right back pulled in too much, who he then finds with a beautifully weighted pass. His vision is one of the most underrated parts of his game.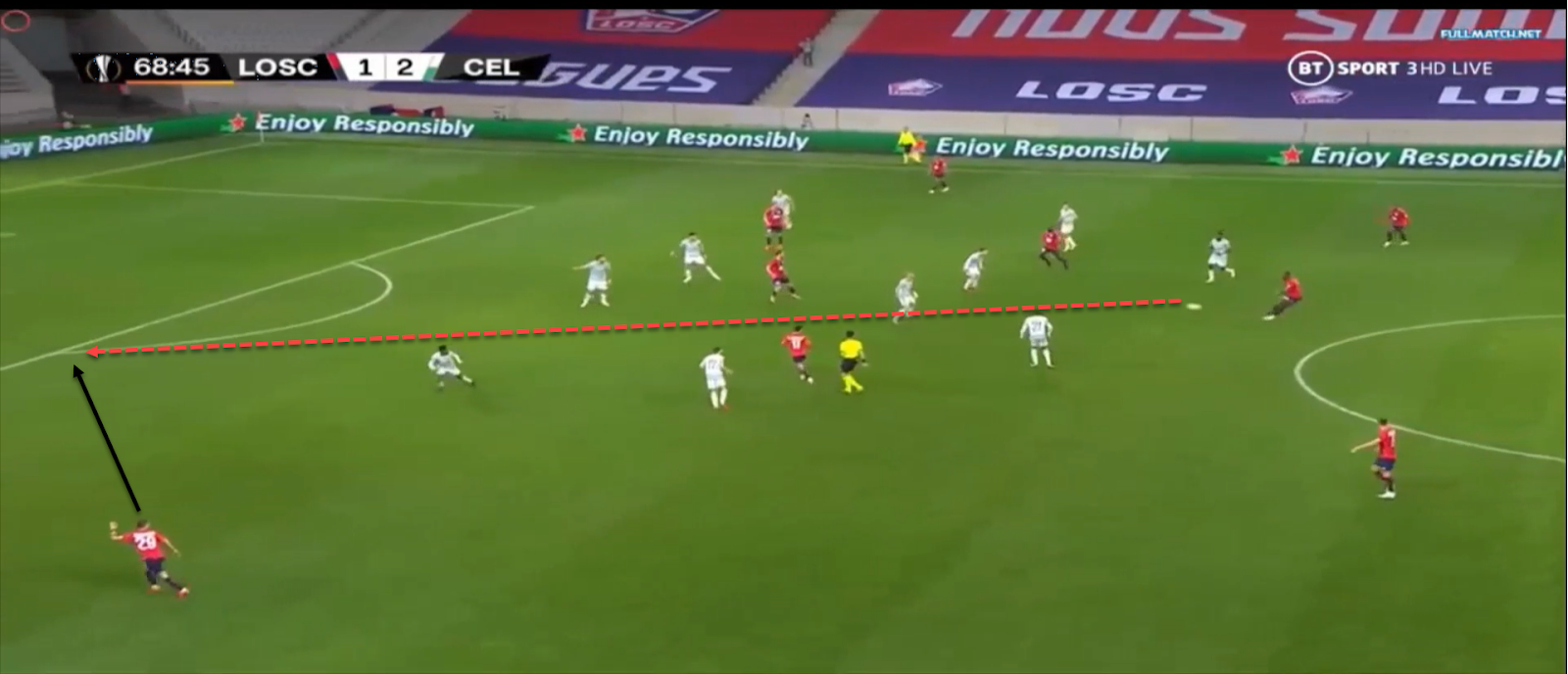 Here is a video analysis of Soumaré's passing. These clips show his purpose when passing, he finds himself occupying midfield spaces and it shows how he can find passes in the tightest spaces. When in possession himself: His job is to progress the ball, either by carrying it himself, or moving it on to the more creative, attacking players in the front four.
Broadly, Soumaré progresses the ball in one of two ways; line-breaking passes direct to the feet of an attacker dropping off, or switches of play into space out wide, most often for an overlapping full-back:
Tackling 
An intriguing part in Soumaré's development as a footballer is his unique physical profile at 22 years old. He is a very athletic and mobile presence, who stands at 1.88 metres (6'1"), and has extremely strong upper strength and long legs which helps him to dispossess opponents and win the ball for his team.
First of all, his long legs combined with his reactions, means he can get to the ball quicker than most others, and results in some nice one-touch passes to avoid a duel, or when tackling with a respectable average of 1.36 successful tackles per 90.  
In the example below, we can see his body positioning when performing a tackle against the Lens midfielder. He faces sideways which ensures that even if he loses the duel he can quickly turn to ensure he can quickly track back the player if beaten.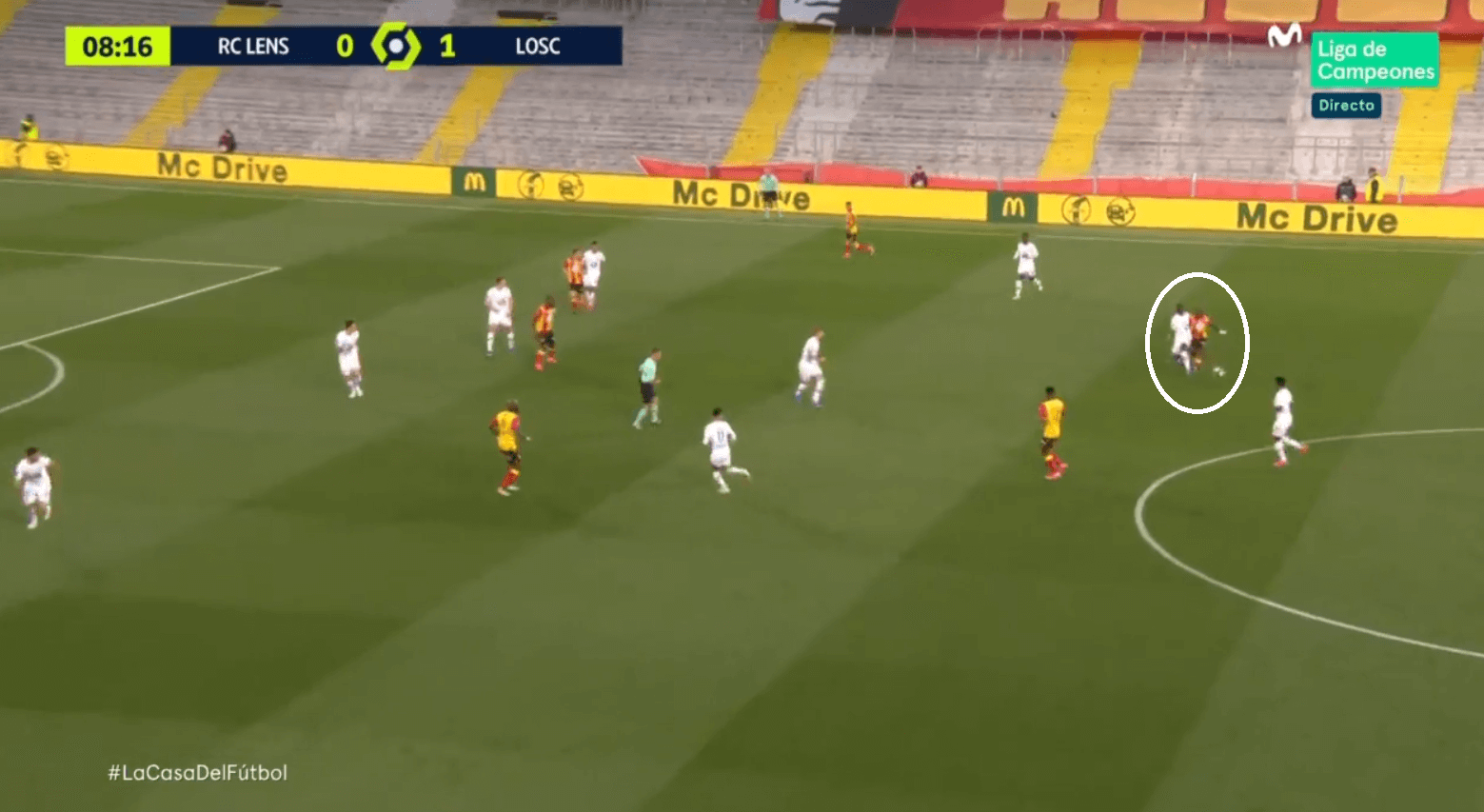 Again here is a video analysis of Soumaré's tackling. These clips show how he tackles and intercepts. When out of possession, Galtier's Lille defend in a 4-4-2 flat mid-block. Soumaré is a crucial part of the defensive structure, as he blocks space in the left side of the double pivot.
He also has the responsibility of stepping up at times and executing pressing traps, in order to disrupt the opponent's build-up. He is generally good at blocking space, and is intelligent at knowing when to commit in the press, however, he has shown some lapses of concentration. 
Conclusion 
The most impressive thing for me is that while he is so raw as a footballer, he is yet very complete, an extremely rare and impressive mix. He could easily develop into a great 6 or box-to-box 8. The addition of Boubakary Soumaré to Leicester City would certainly make the Foxes fans thrilled and they could potentially have one of the best and complete midfield departments in the leagues.
The addition of Soumaré gives Brendan Rodgers a unique dimension to his midfield and this addition would certainly be helpful if Leicester were to challenge for the top 4 this season again. Once again it looks to be another success story for the Leicester recruitment department, and it's going to be interesting how Soumaré develops in England.
*Data used in the piece is courtesy of fbref.com and game footage was taken from Full Match Sports* 
By: Raphael Adelugba / @RaphaelAdelugb0
Featured Image: @GabFoligno / Sylvain Lefevre / Getty Images