Bruno Guimarães: A Cheaper Alternative to Eduardo Camavinga?
The transfer market has seen some crazy times, and with the emergence of young talent around the world big teams are not afraid to spend the big bucks to get the player they want. Last year, the eyes were focused on Kai Havertz, a 21-year-old German attacking midfielder who played for Bayer Leverkusen and joined Chelsea Football Club for £71million. This year, the eyes are now focused on Erling Braut Haaland, a 20-year-old Norwegian striker who plays for Borussia Dortmund. 
Despite that, interest has spiked over the rumoured prodigy Eduardo Camavinga from Stade Rennais. While the interest surrounding the central midfielder is justified, as we will explore in this scout report, not much is mentioned around cheaper alternatives, such as Bruno Guimarães from Olympique Lyonnais. In today's report, we will analyse both Camavinga and Guimarães, then we will compare each of them statistically and see whether the latter is a rational alternative.
Eduardo Camavinga
Born in a refugee camp in Angola in 2002, Edouardo Camavinga's family moved to Fougères in France when he was only two years old. He practised judo for some time as he had not really developed much of an interest in football, but his mother made him focus on football as he kept on breaking things at home. She even signed him up to a local club named Drapeau de Fougères at seven years old. In 2013, he joined Stade Rennais after successfully completing his trails, but shortly after joining, his parents' home burnt down.
His father showed him the remains of the house and told him: "You are now the hope of the family. It is you who will raise it up" (he was 11 then). This motivated the Frenchman to pursue a career in football and rise through the ranks. By December 2018, at 16 years old, he signed his first professional contract, and made his professional debut in the First Team almost four months later. He would also break age, game time, goal and assist records at club level.
Tactically speaking, Camavinga is seen as a box-to-box midfielder. He likes to occupy the half spaces in midfield, especially whenever gaps in the play are visible. In transition, he will identify weaknesses and run into free space, to help his team beat the counter press. His attacking IQ is also shown through his passing intelligence, where he scans the pitch and adjusts his body positioning.
His composure allows him to quickly assess the situation around him, to make sure that he can not only break the opposition's press but also make the right pass. His press-resistance ability is also on full display with his physicality and dribbling skills.
Despite playing in a deeper role last season, he still drops deep to help with the build-up; but there are cases where you will see him maintain his positioning between the opposition's midfield and defensive lines, at it allows him to focus on making line-breaking passes. Regardless of where he positions himself and whether he has the ball or not, he always looks to dictate the tempo of the game in pockets of space located between the lines.
However, some negatives are noticeable, one of which is that there are times where he might not run into the free space, because he likes to play it safe. Also, despite being touted as Casemiro's heir last season, playing in a more advanced position has seen his defensive productivity decrease and struggle to cover the gaps, when his team does not have the ball. This shows that while he has switched to a new role, there are some confidence markers that need solving and that can partially be solved through maturity.
Bruno Guimarães
Born in Brazil in 1997, Bruno Guimarães started his football career playing futsal for Helênico. Later, he joined both CFZ do Rio and Audax Rio, two clubs that are in the Rio de Janeiro state. In 2015, he joined a professional club in the São Paulo state named Grêmio Osasco Audax (or Audax), where he also made his professional debut at 17 years old.
In May 2017, he left the Série D side for a team in the top-flight named Athletico Paranaense, first on loan and then permanently from March 2018. Despite being quite often on the bench, he started more regularly from July 2018 under new manager Thiago Nunes.
Not only did the young Brazilian win the Copa Sudamericana in 2018, but he also won the Copa do Brasil in 2019 and was named in the league's Campeonato Brasileiro Série A Team of the Year. By that point, many clubs were interested in the Brazilian midfielder, such as favourites Atletico Madrid, Benfica, and Flamengo. But it was Olympique Lyonnais' influence that persuaded him to leave Brazil for Europe, and he officially signed for the French club in January 2020 for £18m.
Tactically speaking, Guimarães is seen as a mixture of both a deep-lying playmaker and box-to-box midfielder. He can play from a deeper position and constantly seeks to play quick forward passes, especially accurate long-balls, which he does by noticing where his teammates and opponents are before receiving the ball.
This allows him to not only have more time to assess the situation and pick out passing options quicker (including for goalscoring opportunities), but also be press-resistant by retaining possession intelligently. His energetic, off-the-ball movement is quite visible when he attempts to make progressive passes, which is vital for any team that wants to play fast counterattacks.
Also, depending on who initiates the attack, he is not afraid to roam forward when required and progress the ball with it, by dribbling past his opponents, drawing them in (which offers space for his teammates to exploit) and positioning himself between the ball and his opponents (which draws fouls for his team).
In terms of defending, he likes to press aggressively in the opposition's half of the pitch (especially when his team starts the high press) by attempting to quickly recover the ball, which shows how efficient he can be as a counter-presser. However, that last part shows a flaw to his game: he can sometimes be too eager to win possession back for his team, which in turn can lead to being dribbled past and leave gaps for the opposition to exploit.
Statistical Comparisons
After comparing both players' style of play, I decided to look into the passing, dribbling, defensive contributions and chance creation statistics of both players, to analyse how each player has performed in the 2020/21 season in Ligue 1.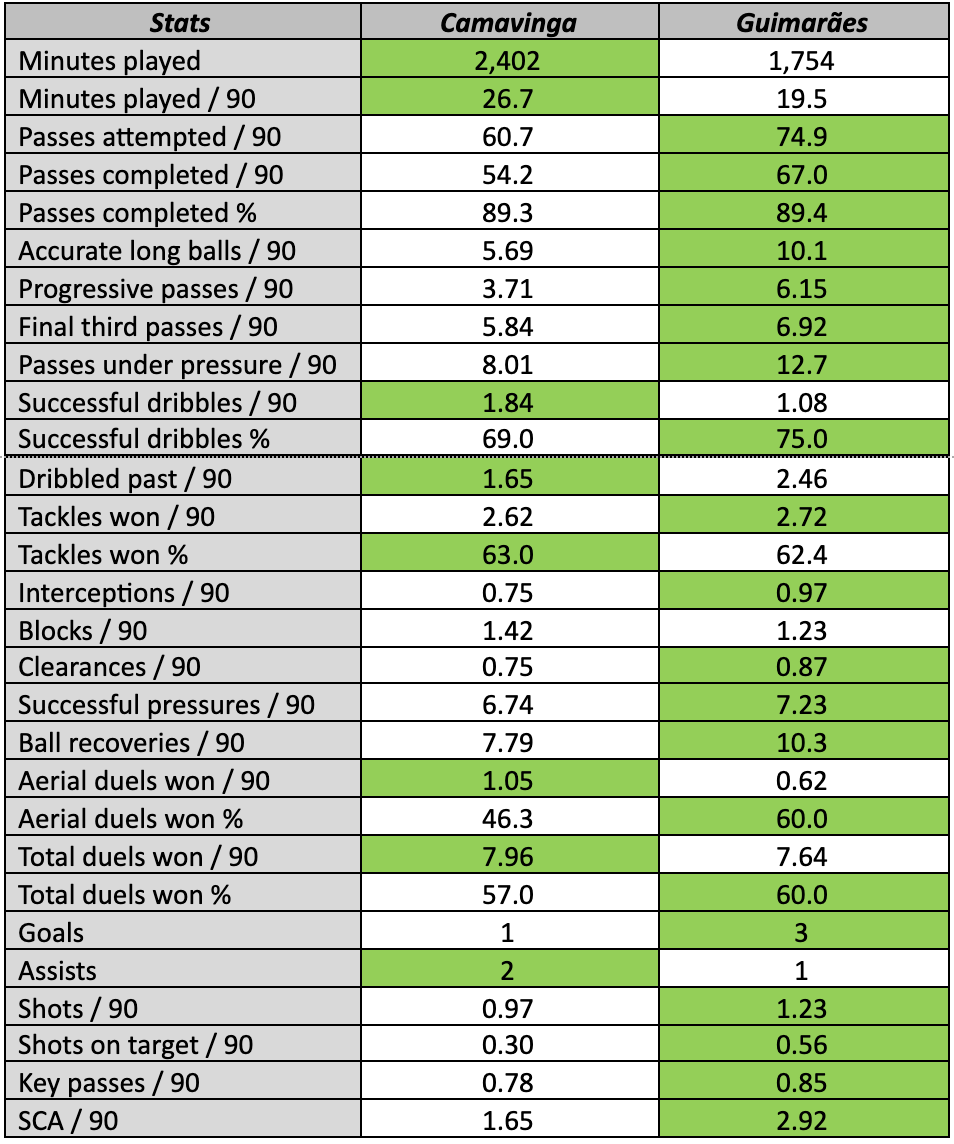 [All statistics were used from FBref and SofaScore]
Note that the statistics shaded in green show that one player is performing better than the other on a specific statistic. What is interesting to see in this analysis is that, even though Edouardo Camavinga is being touted my major European clubs, the fact that Bruno Guimarães is not being linked to a move away from Lyon shows how underrated and underappreciated the Brazilian is.
Despite playing around 650 minutes less than the Frenchman, it's remarkable how Guimarães outperforms Camavinga in most statistics. The successful dribbles per 90, tackles won percentage, aerial duels won per 90, total duels won per 90 and assists: those are the only statistics where the 18-year-old performs better than the 23-year-old.
Conclusion
While their journeys to the top-flight of European football are different, both Eduardo Camavinga and Bruno Guimarães share similar styles: they both likes to drop deep and venture forward, have a high IQ, press-resistant, and use their ball-carrying abilities to attempt to take on their opponents in possession. However, the Frenchman prefers to dominate the half-spaces while the Brazilian is happy to venture into any space available to exploit.
However, the 18-year-old has shown some flaws to his game that result from a lack of maturity and (sometimes) a lack of confidence, while the 23-year-old does show some unnecessary eagerness to win the ball back and the expense of his team's defence. Overall, based on the statistics and similar styles of play, Bruno Guimarães is a rational alternative to Eduardo Camavinga.
Despite that, it is fair to say that both players should be on the elite clubs' radar: Camavinga has one-year left on his contract, so Stade Rennais had to lower the previous year's asking price of €80m to €50m, to avoid losing the Frenchman on a free transfer; while Guimarães' current club Olympique Lyonnais are in financial difficulties after failing to qualify for the Champions League, so they could be motivated to sell the Brazilian should an offer come in. This also means that Bruno Guimarães is a cheaper alternative to Eduardo Camavinga.
By: @cfcalex98
Featured Image: @GabFoligno / Johnny Fidelin / Icon Sport / Matthieu Mirville / Icon Sport