Callum Hudson-Odoi: Chelsea's Underused Spark
Over the last couple of years, Chelsea's youth academy, Cobham, has shown itself to be one of the best, if not the best, centers of production for today's rising stars. The list of Cobham graduates within the last couple of years is well and truly is a star-studded cast.
Featuring various players who have established themselves as mainstays in Chelsea's first team and have played significant roles in their recent Champions League win (Reece James, Mason Mount, Andreas Christensen), prospects who have broken onto the scene this season (Tino Livramento, Armando Broja, Marc Guéhi), and well-established footballers who have broken into their national team set-ups (Declan Rice, Fikayo Tomori, Tammy Abraham), the ceiling of many of these Cobham products knows no bounds.
Callum Hudson-Odoi is another one who has broken through from Cobham and is playing at Chelsea. However, rather than being a regular starter like James and Mount, he has been frequently reduced to far more of a fringe role.
The talent is visible with Hudson-Odoi, and though he has struggled for consistency to an extent during his time with the first team, he has made a positive impression both on managers and fans when he plays.
When there were rumors surfacing over a potential move to Bayern Munich both in 2019 and 2020, Chelsea fans on social media expressed a strong desire to retain the young winger, believing that his sky-high potential was untapped. 
Whatever the Position, Constant Threat
Since he made his debut, Hudson-Odoi has been described as someone who is perhaps best on the wings where he can beat his marker and whip in crosses or take threatening shots, but since Thomas Tuchel's appointment, he has been deployed on both wings as well as the wing-back position. His 21–22 season heat map indicates that he has played across the right flank.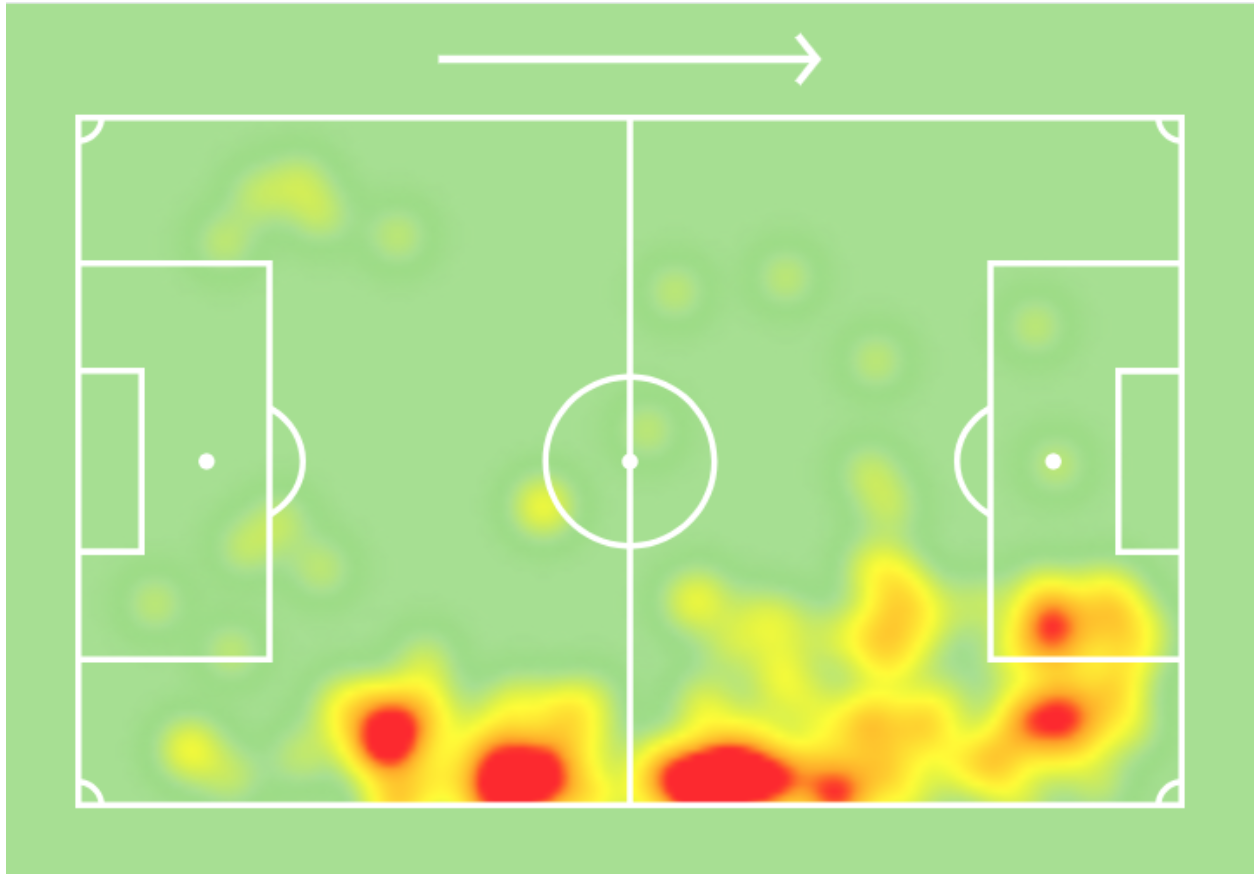 Photo: SofaScore
Hudson-Odoi has been deployed in a variety of spots on the pitch, many of which aren't his best position, but he has maintained a very high threat pretty much wherever he has played.
Expected Threat (xT) sheds light on Hudson-Odoi's fearsome attacking skill, with this metric ranking Hudson-Odoi as the best in the Premier League in actions with medium xT per game, top 5 in open play xT from passes and carries, and top 10 in open play xT. One of the most threatening footballers in England when in possession.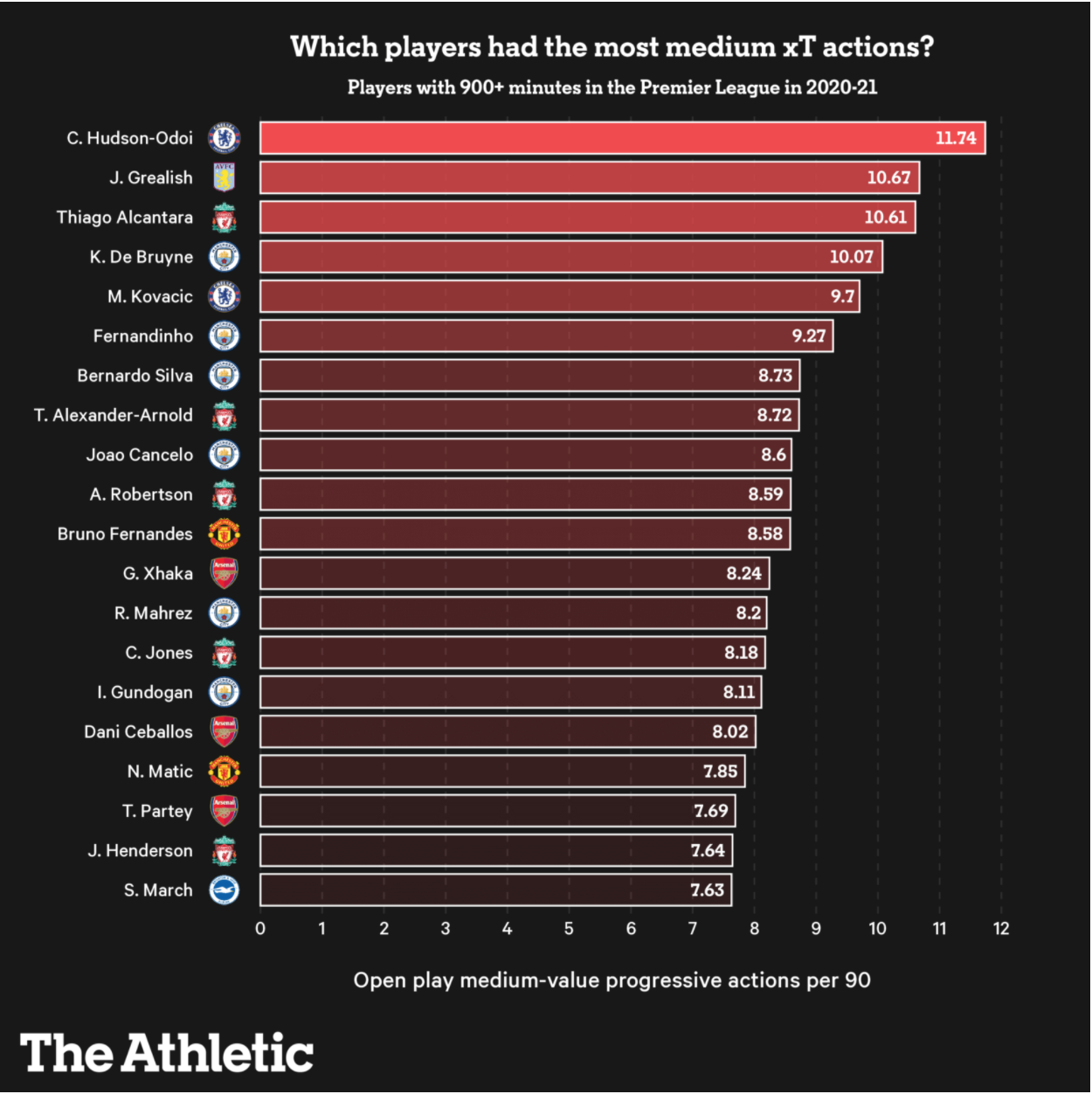 xT coined by Karan Singh. Graphic from The Athletic.
Progressive Ball Carrying
Following the validation of his threat in attack, the next logical question to ask about Hudson-Odoi would likely be how his creativity is displayed. What is he best at? What does he contribute to Chelsea when he plays? To put it concisely, Hudson-Odoi is an ELITE ball carrier, ball progressor, and creative force.
The fact that he's a player who is able to collect the ball and progress it into threatening positions so often, a skillset sorely lacking in a Chelsea team stale in attack, makes his frequent omissions from Starting XIs even more baffling. As the visualization below shows, he is by far Chelsea's best and most penetrative ball carrier.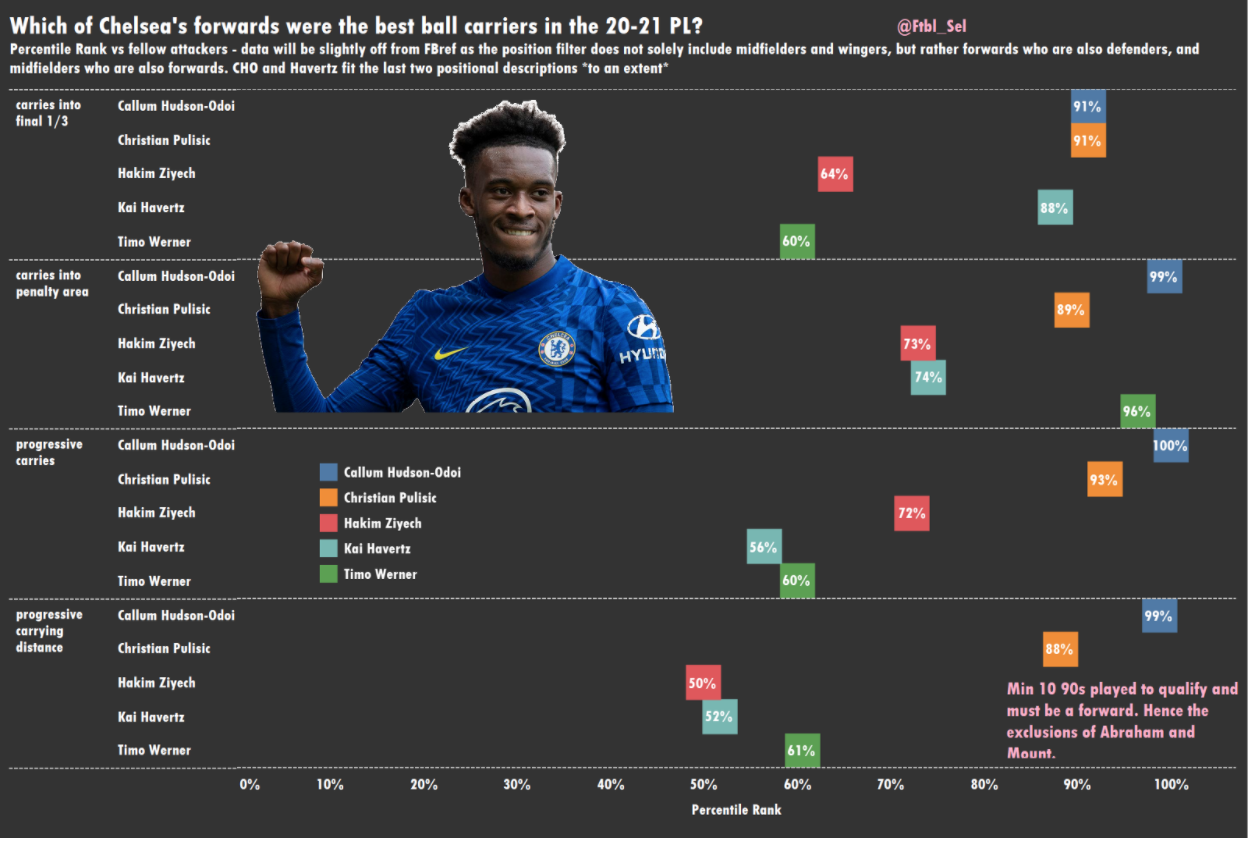 Visualization made by author.
Above we can see Hudson-Odoi's carrying numbers compared with those of his Chelsea teammates. Additionally, in the 2020–21 season, Hudson-Odoi was among the best in the Premier League in progressive carries per 90, signifying his propensity to always look to move forward when in possession, rather than be someone who dwells on the ball for lengthy stretches without trying to progress it.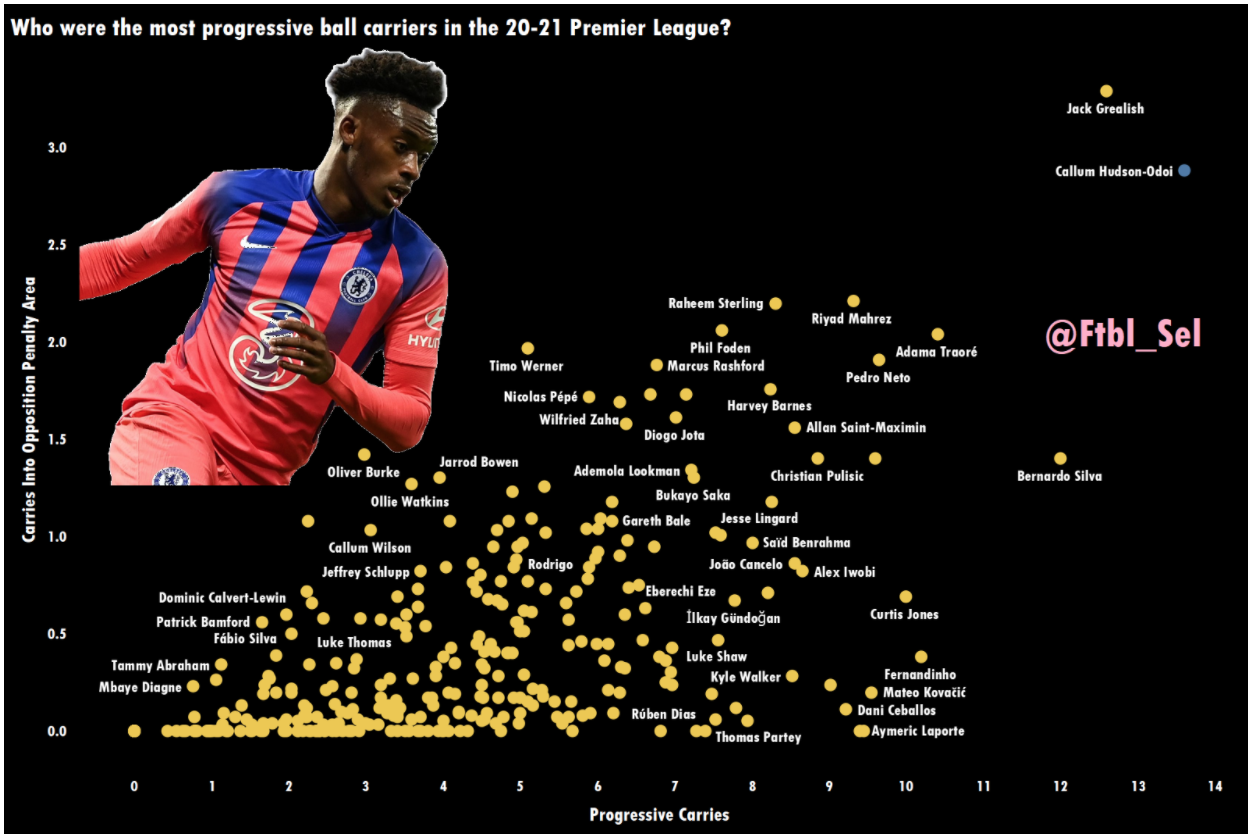 Visualization by author. All data from FBref. Minimum 12 90s played to qualify for eligibility on plot.
A Relentless Creative Force
Callum Hudson-Odoi usually makes something happen in attack when he plays for Chelsea. Whether it's a delicious cross fired into the box, a nasty bit of skill leading to a great chance, or a goal himself, he has a tendency to impact football games. However, when taking a surface-level look at his relatively low career goal and assist numbers, one might think this is not the case. 
Take a look at Chelsea's 1–1 draw against Burnley. Callum registered neither a goal nor an assist but accumulated an incredible 1.49 xA [Understat] while making 5 key passes and creating 3 big chances[SofaScore]. In addition, Hudson-Odoi had 8 shot-creating actions[FBref], further testament to his ability to be ever-involved in his team's attacks, playing a big role in the construction of most of them. 

Above is his pass to Reece James in the 6th minute of the same match; the awareness to immediately turn and exploit open space is a great skill to have, especially for creative players like Hudson-Odoi. 
This Burnley game is just one of a collection of Hudson-Odoi creative masterclasses without a goal or assist. His underlying creative numbers over a large sample size, the 20–21 and 21-22 Premier League seasons, speak for themselves.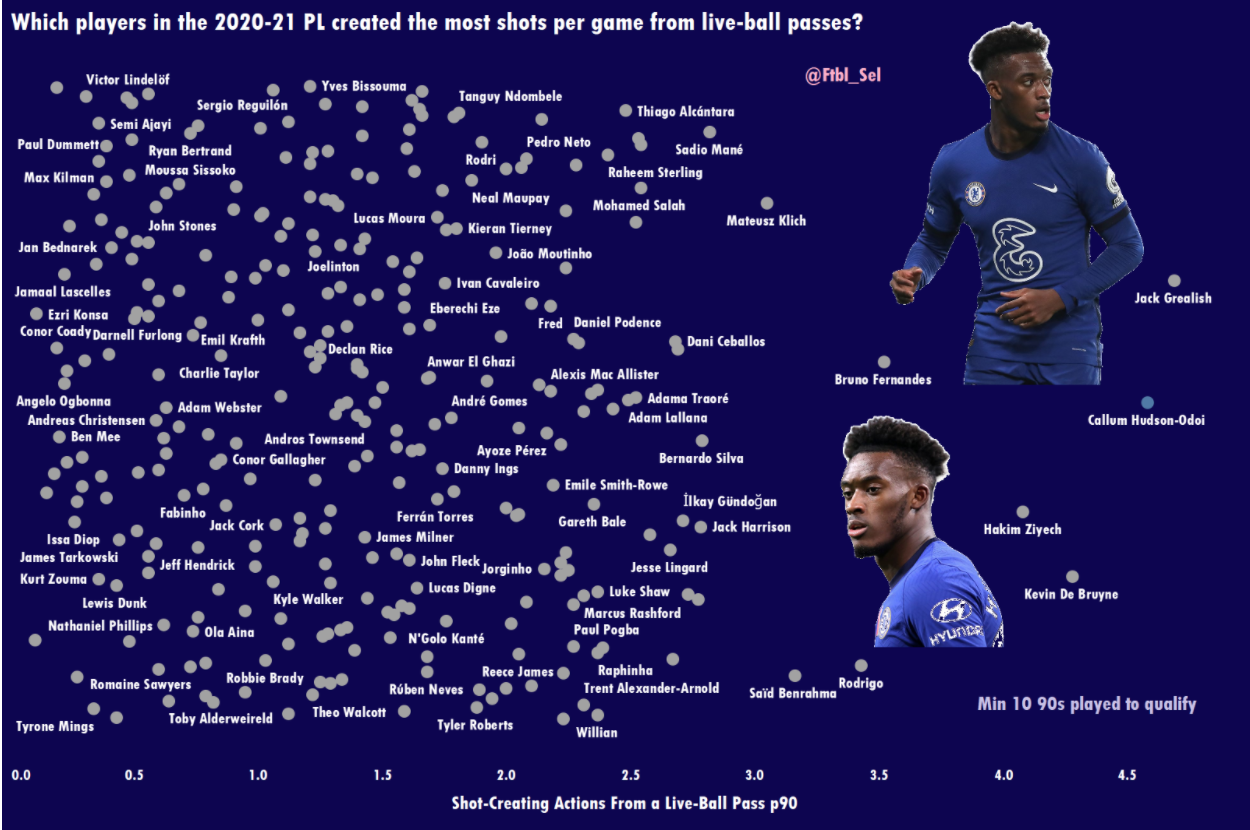 Viz made by author. Data from FBref.
As seen above, he was second only to then Aston Villa captain Jack Grealish at creating shots from open-play passes in the 2020–21 Premier League season. Despite his sporadic playing time over the course of the campaign, it's clear that Hudson-Odoi is one of Chelsea's most creative forces.
In fact, when comparing shot-creating actions across Chelsea's creators from the 2021–22 Premier League campaign so far, Hudson-Odoi is comfortably ahead of every other Chelsea player whose role is to create for the team.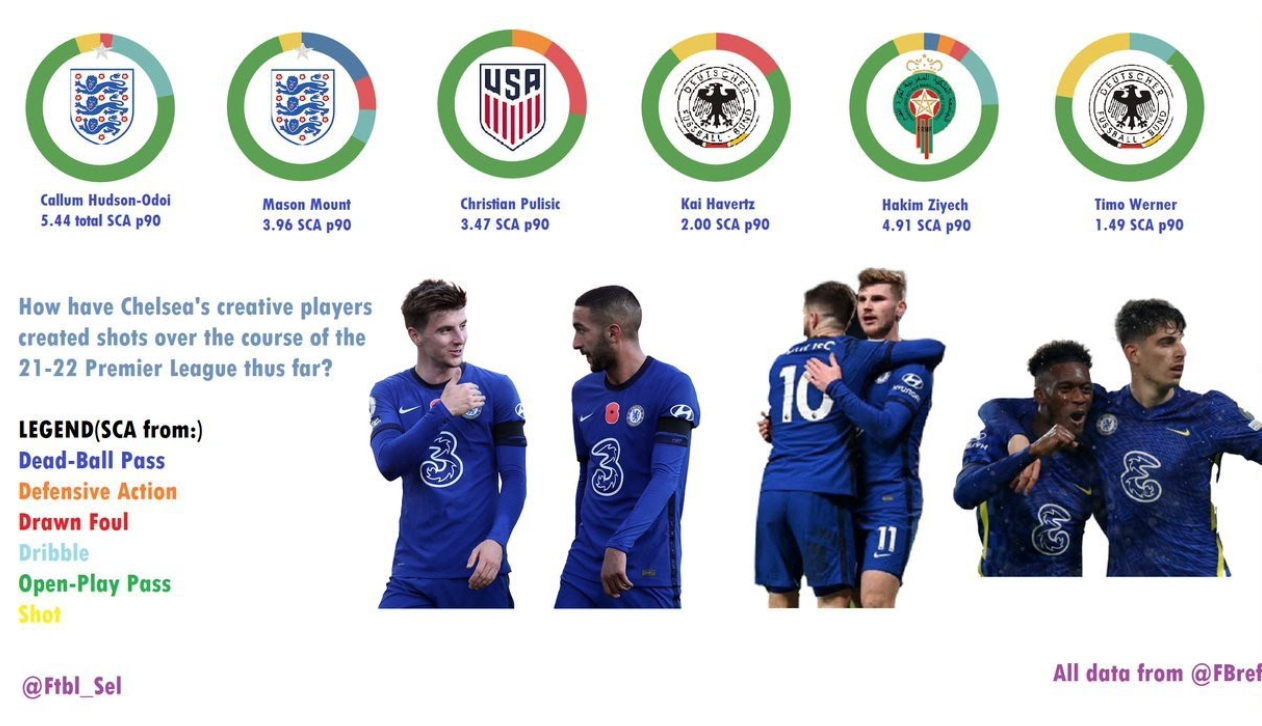 Viz made by Author. Min 5 90s played to qualify and must be a "creative" player.
Callum Hudson-Odoi is an incredible creative force and has to be utilized much more by Thomas Tuchel, both for the benefit of the team, and for the benefit of the underperforming £97m striker Romelu Lukaku. With Hudson-Odoi's relentless chance creation and ability to find teammates in shooting positions, Lukaku is bound to thrive with Hudson-Odoi starting with him.
Hudson-Odoi's incredible chance-creating ability can be quantified with his very healthy Key Pass p90 count. With a key pass being synonymous with a chance created, Hudson-Odoi ranked 5th across all Premier League players for chances created per 90.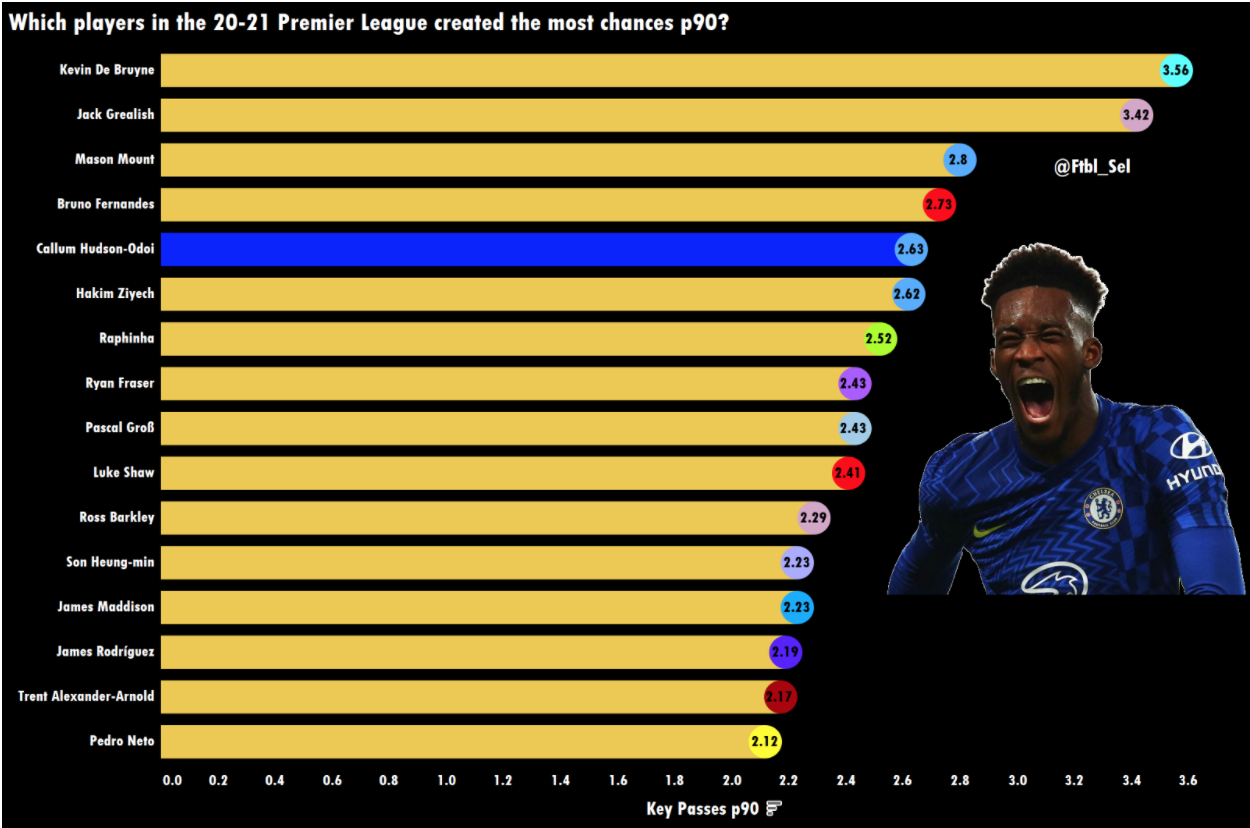 Visualization made by author. Min 10 90s to qualify. FBref data.
Cobham has been world-class at churning out excellent footballers over the past couple of years, and Callum Hudson-Odoi has everything in his locker to add his name to the list of recent world class players the Chelsea academy has produced.
With his constant drive to progress the ball, an incredible eye for his teammates, and his relentless creative power, Callum Hudson-Odoi is ready to take the next step and blossom into what we all know he can become.
By: Anirudh Iyer / @Ftbl_Sel
Featured Image: @Juanffran / Jonathan Nackstrand – Getty Images