Armando Broja: Cobham's New Kid on the Block
Much can be said about Cobham. For those that don't know what Cobham is, it is a secret lab somewhere in West London that churns out elite-level footballers at what seems to be an abnormal rate. In all seriousness though, the plaudits cannot be directed in one singular direction. The coaching staff, infrastructure, club and players themselves all deserve equal praise. 
The long lineage of Cobham players that have burst on the Premier League scene is rather remarkable. Champions League winners of Mason Mount, Reece James, Callum Hudson-Odoi, Tammy Abraham and Andreas Christensen are those most famous within Chelsea circles.
However, a new crop is coming, deciding to test their hand at first-team Premier League football are Tino Anjorin and Marc Guehi, who left the club in a youth exodus this summer. However, one Premier League breakout star hasn't left. Armando Broja is making waves in the Premier League as the next generation of Chelsea youngsters to dominate the Premier League. 
The young Albanian moved to Southampton following a successful loan at Vitesse Arnhem where he netted 10 times in 21 starts. I've often said the centre forward position is a 28 or 30-year-old's position, it's arguably the most unforgiving position on a football pitch.
The rue of a crowd as you miss chances, the berating of your coach as you aren't reading the pressing triggers, the frustration of your teammates as you lose the ball are all burdens, heavy ones at that.
Reductively, the weight of the result rests on the forwards, they're most often tasked with putting their side ahead. What makes Broja so good, as the common meme of Pep Guardiola makes rounds in your subconscious.
Firstly, Broja as many of his Cobham predecessors before him is a physical phenomenon. He stands at 1.91 metres with long powerful legs and a gait that allows him to accelerate and decelerate instantaneously. His large quadriceps and broad shoulders allow him to act as a focal point if that's what his role requires.
However, his speed and more importantly willingness to run in behind with angled runs off the shoulder or between a pair of centre backs means he can serve as a more traditional striker. Broja's tendency to be involved in play varies, he's comfortable with limited touches, but equally as comfortable dropping deep and connecting play to wait for a cutback.
Broja's physical qualities make him an all-round forward, winning 4.27 aerial duels per 90 which place him in the 88th percentile. Broja has the physical and technical traits needed to be a star, and he's learning how to hone them.
His performances yet again received rave reviews from the Chelsea faithful who want to see the Albanian given the chance to play next season. Chelsea have average odds at +525 to win the Premier League according to the sportsbooks from SportsBettingDime.com and with his return, they want to improve those odds and be even more competitive for Manchester City and Livepool which are leading the season.
Broja netted his third Premier League goal recently from a total xG of 2.41, now, this is a small sample size but one that still has value. I argue that though it is a limited sample size, it paints a picture that is apt in describing Broja. He has a cool head, which is one of the necessary traits for forwards not named Jamie Vardy.
Too many times, forwards who move at frantic paces translate that proclivity in front of goal. Broja is not one of those forwards, versus Brighton he sat down Shane Duffy not once but twice, once to create space for a clear sight at goal and second a bit of flair to chop it back on his right foot for a 'trivela' finish.
His calmness, and tendency to know what he wants to do is a very rare cognitive and technical feat. The ability to speed the game up physically when bursting to pass an opponent but slow it down when setting sights at goal is invaluable, not uncoachable but certainly has some intrinsic feats.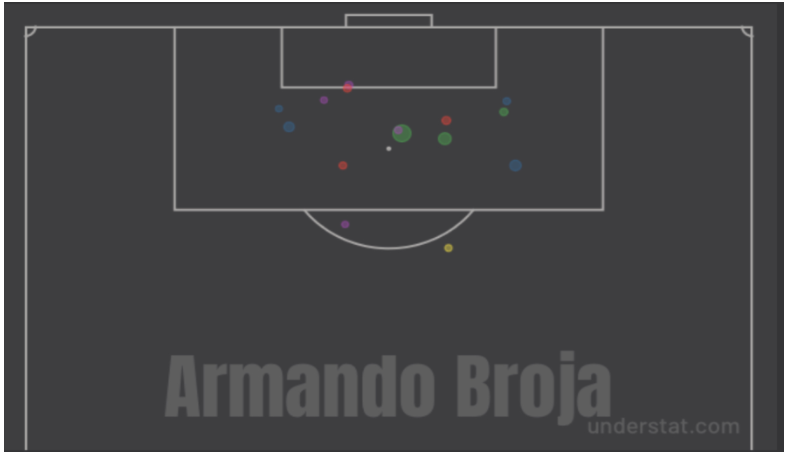 Broja, at just 19 has much to learn, namely his ball retention in the final third which, as Timo Werner has learned is anything but straightforward. Being able to have the technical and physical quality to evade opposition and circulate the ball in their final third is a rudimentary part of football from grassroots to the very upper echelons of the game.
Secondly, his willingness to be involved in all passages of play, though a lot of that is a systematic requirement based, if he wants to become the all-round centre forward we know he can be, his willingness to drop deep and help progress the ball can use refinement.
Thirdly, his pressing. Pressing has been an integral part of football, with German coaches such as Thomas Tuchel, Jurgen Klopp and Julian Nagelsmann coming to the fore. Broja is a willing presser which is a good start and he is effective at harrying opposition, evidenced by his 20.97 pressures per 90, but his body orientation can use refining.
Ideally, your body is always oriented to block the passing lane, taking a mental image of where the easiest passing angle is and shutting it down. Thankfully, Broja has time on his side, and will improve in this regard under one of the Premier League's most intense pressing sides under Ralph Hasenhuttl.
In conclusion, as Armando Broja settles into the Premier League, there's no doubt he'll show improvement game by game. Netting 3 times in 480 minutes at 19 is no small feat. As Southampton's organic chemistry improves, so will Broja's output. Keep an eye out for him, after all, it would be foolish to doubt Cobham.
By: @Mxdiano
Featured Image: @GabFoligno / Ryan Pierse – Getty Images