Chris Kouakou: Ivory Coast's Intriguing Midfielder
Chris Kouakou was born on 15 December 1999 in Ivory Coast, a country renowned in footballing circles for producing legendary players like Didier Drogba and Yaya Toure. Kouakou left his homeland in January 2018 at just 18 years of age to join the prestigious Tunisian club CS Sfaxien. During his time in Tunisia, he has developed into one of their best players. 
In Kouakou's first half-season at the club, he only played in three matches. The following season (2018/2019) his appearance tally was still quite low playing just eight Tunisian Ligue Professionelle 1(Tunisia's top division) matches but he did manage to feature in five CAF Confederations Cup games. 
In the 2019/2020 season, Kouakou featured more heavily starting 14 league games and making a further four appearances off the bench along with a solitary appearance in the CAF Confederations Cup. Last season (2020/2021) Kouakou appeared in 10 league matches, alongside two CAF Champions League fixtures, six CAF Confederations Cup matches and three Tunisian Cup games. Kouakou has not yet represented Ivory Coast at any international level.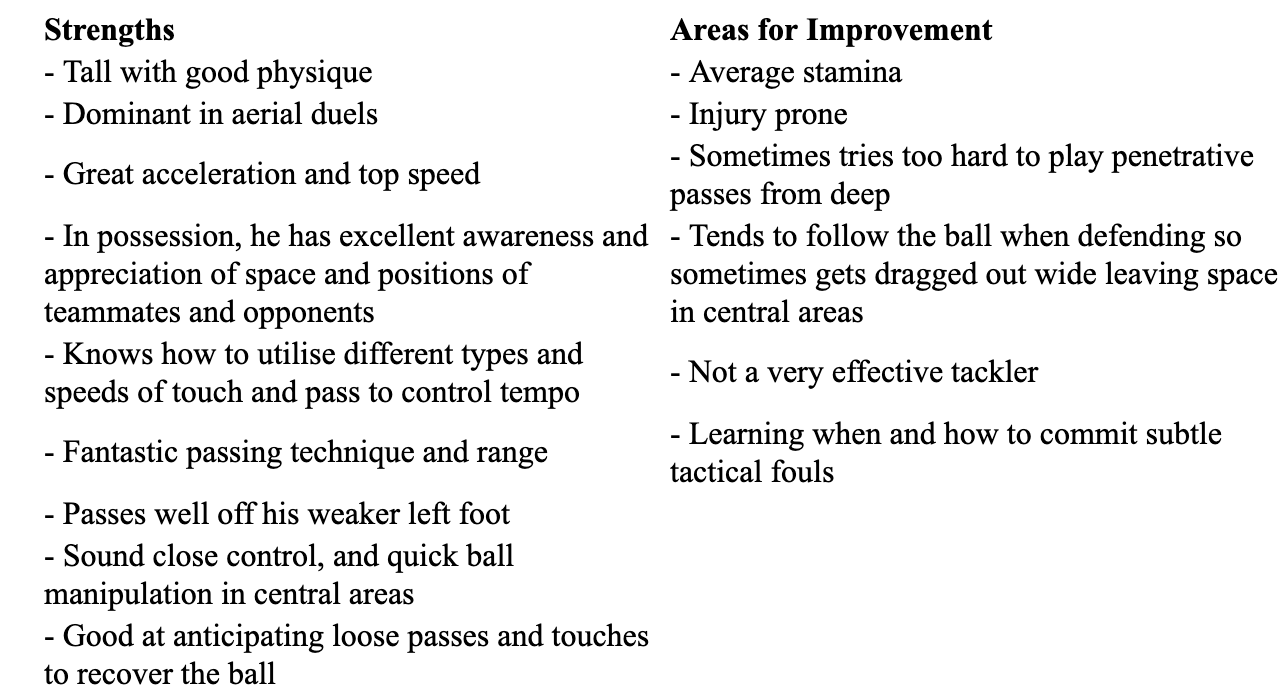 A detailed analysis of Kouakou's profile, his potential and two clubs he could move to next is set out below.
Position
Since Kouakou made his breakthrough at CS Sfaxien he has been deployed most as a defensive midfielder in a 4-3-3, 4-4-2 or 4-2-3-1 formation. Although at times he has also been used as a central midfielder and even an attacking midfielder on occasion. As he is usually deployed as a deep-lying midfielder the focus will be on his role in this position.
In this defensive midfield position, whether that be in a 4-3-3 formation where he is the deepest of the three midfielders or in a 4-4-2 or 4-2-3-1 formation where he plays in a double pivot it appears that Kouakou has been tasked with the dual role of being the team's primary deep-lying playmaker and ball winner. 
In possession, it appears Kouakou is expected to try and slow down and speed up the tempo of his team's build-up play using his close control, ball-carrying ability and passing range. Alongside, playing incisive passes from deep that his attacking teammates can exploit.
Out of possession, it looks as if he is required to offer protection for his defenders by moving across the pitch laterally to reduce the danger they face. While also being expected to position himself to latch on to loose passes and heavy touches of opponents in the midfield and defensive thirds of the pitch. 
Physical Attributes
Kouakou is around 1.85m tall and has a solid physique. This makes him a noticeable figure in the centre of the pitch. These characteristics alongside his spring help make him a dominant force in the air. When long balls are launched into his vicinity, he usually towers above opposition midfielders to win the header. 
Despite Kouakou's solid build he can still fill out his frame even more and add extra lean muscle to make him more powerful. He can do this with a specialised weights regime designed to add lean muscle to his upper body and legs in a controlled and gradual manner. This would aid his game as it would give him extra strength to not only hold off opponents when pressured, but also make it easier for him to unbalance opponents in possession when he is tussling for the ball with them. 
Après un bon travail de Firas Chaouat, le milieu Chris Kouakou ouvre le score pour le Club Sportif Sfaxien (1-0) contre Mlandege Football Club. 🦊🔥 #TotalCAFCL pic.twitter.com/LVymGfjLz4

— ETTACHKILA (@EttachkilaTN) December 5, 2020
One of Kouakou's most impressive physical attributes is his speed and acceleration. He accelerates very quickly from a standing start or slow jog and when he reaches his top speed he gallops effortlessly across the pitch making him difficult to keep up with. This was particularly noticeable when he drives past opponents with the ball in the middle third and on occasions when he makes vital recovery runs to help his team defend a counterattack. 
In terms of Kouakou's stamina, this appears to be a weaker aspect of his physical profile. It was evident in the games reviewed that at times he struggled to make the necessary recovery runs to help his defence. In fact, he sometimes looked laboured when passes were made past him into opposing players in advanced positions and he had to turn and run back to help defend. He therefore needs to work on his stamina. He can do this by implementing a conditioning programme focused on improving the speed and intensity of his recovery runs. 
A concern with Kouakou is his injury record since he joined CS Sfaxien. In the past three seasons, he has been a valuable member of the squad and usually starts when fit. However, in each of the last three seasons, he has missed at least 10 matches due to injury. Last season, in particular, he struggled with injuries including a long spell out injured between mid-January 2021 and mid-April 2021.
It is difficult to know why he picks up injuries frequently and he certainly needs to improve his injury record in the future. Maybe it relates to the training methods, the intensity of Tunisian and continental African football, how his body functions, his diet and lifestyle or a combination of these factors. It is therefore hard to pinpoint how this can be improved without having more detailed information about him. 
Tempo-setting Qualities
Kouakou can set the tempo for his team enabling them to control matches. He uses his excellent awareness alongside his understanding of the speed of touches and passes required at any given time during matches to do so. His awareness and appreciation of where the space is, and where his opponents and teammates are stationed is evident when he receives the ball.
You can see he has already scanned the surrounding area with quick glances of what is in front of him and in his blind spots over his shoulders before the ball is passed to him. He is therefore aware of the passing options available, where the nearest opposition players are located and where the space is to exit pressure if needed. As a result, this helps him retain possession and control the game from his position.
📸 Chris Kouakou, le milieu ivoirien du @CSSofficiel pic.twitter.com/BiH3KRrePi

— ETTACHKILA (@EttachkilaTN) January 2, 2021
In a recent Tunisian Ligue Pro 1 match against Esperance de Tunis he displayed his awareness and understanding of where the opponent was and where the space was he could exploit, perfectly. He received his ball with his back to play in the centre of the pitch. An Esperance player sought to close him down from the left side and win the ball, but he already knew the player was closing him down and that there was space he could turn into on his right side.
He then took a touch and shifted his body weight towards his left side and then spun quickly with the ball in the opposite direction. This movement dumfounded the pressing player allowing him to escape the pressure and turn and face the play with space to drive into. 
In parallel with Kouakou's awareness is his understanding of the type, direction and weight of touches and passes helps him set the tempo. He is good at slowing down the tempo when needed as he knows when to take a few slow touches and make simple sideways and backwards passes while his teammates move into positions to receive the ball and he identifies forward passing options.
He combines this lowering of the tempo with a sudden increase in tempo by receiving the ball and making a quick first-time sideways pass to a teammate as well as a rapid and purposeful untracked forward run to offer an option to receive the ball back again in a more advanced position. This lowering and sudden increase of the tempo is a great way to break the opposition's midfield lines and inject unexpected speed and verticality into the build-up play.
Another way in which Kouakou speeds up the build-up play is his use of "around the corner" passes. As he receives the ball, instead of making a backwards or sideways pass to keep easy possession he will either take a few touches, turn slightly to his left and then play a disguised pass around the pressing player into a more advanced teammate or he will position himself to play the disguised pass around the pressing player first time.
This takes the pressing player out of the game instantly breaking the opposition's midfield line and increases the tempo of the attack as these types of passes must be executed with speed and precision to find their target.  Importantly, Kouakou also helps set the tempo by recirculating possession in deeper areas. He usually receives the ball and passes after taking a few touches or first-time.
He then moves into another position to offer a passing option, receives the ball and then moves it on again relatively quickly as his team gradually move forward up the field. This means he is rarely caught in possession and helps maintain the flow and construction of the build-up phase. However, he understands how to control the game so does not release the ball quickly all the time, instead of knowing when to hold on to the ball and scan the field before playing a pass and when best to move the ball on quickly. 
Sometimes Kouakou tries to force attacks instead of retaining possession. In turn, attempting more difficult passes which sometimes result in the loss of possession for his team. This is where he can improve his tempo setting ability because it is vital as the team's primary deep-lying playmaker that he does not upset the rhythm of the build-up and keeps control of the match throughout.
He can improve this by staying calmer especially when his team needs a goal and only trying the more incisive passes when they are executable rather than forcing a hopeful forward pass when the likelihood of it arriving at a teammate's feet is very slim. 
Passing Ability
Kouakou has an impressive passing range especially with his preferred right foot but is more than capable of passing with his weaker left foot. He regularly produces accurate right-footed passes that are drilled or floated with the top of his foot; curled, whipped and floated with the inside of his foot; and curved with the outside of his boot.
He can also play these passes over varying distances from central areas which is impressive. With his left foot the passes are more basic and less frequent but no less accurate. He usually uses the inside of his foot to send curved passes from central areas to the flanks or in behind the opposition's centre backs.
Sur une passe de Chris Kouakou, l'attaquant Firas Chaouat redonne l'avantage au CSS (2-1). #TotalCAFCL pic.twitter.com/5AhRfIOxWe

— ETTACHKILA (@EttachkilaTN) December 5, 2020
The most eye-catching pass that Kouakou delivers is when he receives the ball in a deeper central area, identifies a teammate on the left wing on the shoulder of the opponent's defender and uses his right foot to whip the ball with the requisite weight, fade and dip over the last line of the defence for his teammate to run on to.
This pass instantly transitions the team from the build-up phase to the attacking phase which destabilises the opposition's defensive structure. Another of his best passes is his "around the corner" disguised pass which is described above. 
Close Control and Ball Carrying
Kouakou carries the ball impressively from deeper positions into the middle third. His mix of sound close control, excellent speed and good strength mean that he can glide past multiple opponents in straight lines through the middle of the pitch. In doing so this takes opponents out of the game, thus breaking the opposition's attacking line whilst also helping shift his team upfield. 
In addition, Kouakou has good close control when closed down by opponents in central areas. In these situations, he can manipulate and shift the ball away from pressing opponents and into an area where he can deliver a pass to a teammate. He does this swiftly while retaining his balance effectively.
Kouakou's close control and quickness of footwork in tandem with his strength, awareness and his understanding of the type of touches required based on the scenario. This makes him a difficult player to dispossess. 
Defensive Positioning
This is an area where Kouakou can improve. He tends to follow the ball which results in him getting drawn into wider areas when the ball is out wide and leaving gaps in central areas that can be capitalised on by the opposition. He then proceeds to try to win the ball via an interception or making a well-timed tackle on a player receiving the ball in that area.
Whereas he should be shuffling across into a slightly wider area but still relatively central and only make an interception or tackle when the ball is played centrally, or an opponent moves with the ball towards the centre. At the same time, he should be positioning himself to block central passing lanes and be ready to cover for his wing-back teammate if the ball is played behind them. 
Kouakou should also be thinking of the second phase of play i.e., where the ball could get moved to next by the opposition and how he should position himself to limit the opponents' ability to play the ball into dangerous central areas in front of or behind the defence. In the matches reviewed such thinking does not appear to be evident in his defensive positioning.
Chris Kouakou et le Club Sportif Sfaxien prennent l'avantage. #LP1 pic.twitter.com/woqJPBwTo9

— ETTACHKILA (@EttachkilaTN) August 16, 2020
When the ball is in wider areas, Kouakou therefore needs to hold his central position more, be more cautious in his attempts to intercept passes and make tackles and think about where the ball is likely to go next and adjust his position accordingly. Taking these actions will help him reduce the spaces for opposition players to find teammates in dangerous central areas when they have possession on the wings and in the channels. 
Tackling and Interceptions
Kouakou is not a dogged ball winner who has a high tackle volume. Rather he is more of an interceptor. Preferring to hover near where the ball is and springing forward to pinch the ball off an opponent when a loose pass or touch occurs using an outstretched leg.
There are certainly situations where Kouakou does attempt tackles but his tackle output per match is low. When he does attempt a tackle, he will try to nick the ball from under the opponent's feet using an outstretched leg rather than commit to a firm, tough tackle. 
It was visible in some of the matches Kouakou played such as against Club Africain in the Coupe de Tunisie and the home fixture versus Olympique Beja that he did not adopt the best approach when going in for tackles. He had a tendency to make himself smaller, attempt the tackle head-on and charge towards the opponent too quickly. In combination, this sometimes made it too easy for opponents to maneouevre past him or find a teammate with a forward pass. 
Kouakou can improve how he tackles by:
maintaining a wider stance as he engages in a tackle;

adopting a more side on position which will make it easier for him to use his outstretch leg to win the ball and reduce the chances of running straight into the opponent and committing a foul; and

approaching the opponent at good speed but not top speed so that he can decelerate easier and adjust his position to tackle if the opponent tries to move the ball in a different direction. 
Defensive Mentality
Kouakou shows real aggression and determination in aerial challenges. If a high ball is coming his way, he will use his strength to displace opponents and place himself in the best position to win the header. If he is struggling to get into the right position, he will bump into the opponent he is challenging for the ball with to offset their jump. This sometimes leads to fouls being committed but this is not a problem as the fouls are commonly committed in non-threatening areas. 
Nom: Kouakou
Prénom: Chris
Poste: Milieu de Terrain
Age: 20 ans
Nationalité : ivoirienne
Club Actuel : Club sportif sfaxien
Situation administrative : sous contrat au 31/12/2022https://t.co/XG1kS9svschttps://t.co/OIEijBaJ8d pic.twitter.com/jaGW3puS2Y

— Scouting & Management (@SidaliKhaddoudi) July 4, 2020
In contrast to the aggression and determination Kouakou displays in aerial battles he does not show much aggression and intensity in his tackling. As explained above he prefers to pinch balls off opponents rather than perform aggressive tackles. It would be advisable for him to show the same level of aggression in winning aerial balls in his tackling as this will make him a tougher and more effective tackler. 
Another area for improvement in his defensive make-up is knowing when to commit tactical fouls. There were occasions in the matches watched when his positioning to make a tackle was flawed or he had been unable to win the ball after making a tackle. Instead of ensuring the opponent does not pass him by getting close and pulling their shirt, barging into them, tripping them up or dragging them back, he just let them carry the ball past him towards the defence without any challenge.
This left the defence vulnerable. He therefore needs to be smarter in these situations and commit a subtle tactical foul using a trip, block or slight nudge to unbalance the opponent. This may not lead to a yellow card but will prevent a dangerous attack from manifesting. 
Long-term Potential
Having watched Kouakou closely over various matches it is clear he has great quality. If he continues to develop and address his flaws, he could become a valuable deep-lying midfielder at a club in Europe's top eight leagues. 
Potential Future Clubs
Kouakou has the experience and quality to take the next step in his career. Despite his injury issues he has become CS Sfaxien's best midfielder and one of the best midfielders in Tunisia. Having performed excellently in the Tunisian Ligue Professionelle 1, the CAF Champions League and CAF Confederations Cup. 
He should move to a club where he will be given the opportunity to make an immediate impact. With his characteristics and adaptability, he should be able to solidify a starting slot providing he is given the requisite opportunities.  So, let's take a look at two clubs that would suit Kouakou for his next move:
1. Stade Brest
Stade Brest avoided relegation from Ligue 1 last season by only six points last season: They will not want to be in such a position next season. To finish higher in the league this season they will need to do some more smart recruitment to improve their squad. 
Having analysed Stade Brest's squad, they are light in defensive and central midfield options. They lack a more defensive-minded midfielder who can dictate the play from deep and provide some thrust and verticality with their passing and ball carrying. A player who can provide these qualities and would probably be affordable as they are likely to cost between £500,000 and £1,000,000 is Kouakou.
His passing range is fantastic, he knows how to control the tempo and is adept at playing more direct passes in behind the opposition's midfield and defence to initiate quick attacks. Mixed in with some good defensive and physical characteristics, this sets him apart from their current midfield options. 
Even though Kouakou is more used to playing in a 4-3-3 and sometimes in a 4-2-3-1 formation for CS Sfaxien whereas Stade Brest commonly adopted a 4-4-2 formation last season, he has the physical and technical attributes to play in a midfield two.
In fact, playing as part of a two-man midfield rather than as a single defensive midfielder in a 4-3-3 formation could help mask one of his flaws, which is getting drawn too far wide when defending leaving excessive space in front of his team's defence for opponents to exploit. 
A move to Stade Brest would be the perfect step up for Kouakou. He would be joining a team where he could start immediately and regularly. This is vital for a young player like him, as he can improve rapidly by playing consistently. Alongside this, he would be training with and playing against better players which would also speed up his development. 
   2. Arminia Bielefeld
Arminia Bielefeld narrowly avoided relegation, finishing in 15th place in the Bundesliga (Germany's top division). They had been promoted from the second division the year prior. They will be aiming to consolidate their position in the Bundesliga and finish closer to or in midtable this season.
After a review of Arminia Bielefeld's squad it is apparent that they need to strengthen in the defensive and central midfield positions. They preferably need a deep-lying midfield player who is best sitting behind the ball, dictating play from deep and helping initiate quick counter-attacks with progressive, vertical passes between the lines and in behind the opposition's defence.
The perfect player to fulfil this role is Kouakou. These are areas he excels in along with having good aerial prowess and great size, strength and speed. The attributes he possesses indicate that he could slot in nicely in a deep-lying double pivot in a 4-4-2 formation or as one of three deeper midfielders in a 4-3-1-2 formation.
The two formations most utilised by their manager. An added benefit of targeting him is that he would be easily affordable and significantly cheaper than similar level players playing in decent European leagues. It is entirely feasible that he could be signed for between £500,000 and £1,000,000. 
If given the opportunity to play for Aminia Bielefeld, Kouakou should make the move. Although they are a small German club, they are playing in the Bundesliga and have been competitive since their promotion in 2020. He would therefore get the opportunity to test himself against top players and if he demonstrated his undoubted quality fast track his career. 
It would not be an easy transition for Kouakou from playing in Tunisia to Germany as the level is higher and he would be playing for one of the weaker teams in the Bundesliga rather than the second-best team in Tunisia's Ligue Professionelle 1.
It may take him a couple of months to adjust to not only the increase in quality technically, tactically and physically but also to a new lifestyle, language and culture. However, in consideration of Arminia Bielefeld's current midfield options, once he has finished adapting, his quality should shine through, and he should be able to earn a regular starting position. 
By: Daniel Ajuh / @Daniel_Ajuh
Featured Image: @GabFoligno / Club Sportif Sfaxien