Diego Carlos: Sevilla's Brazilian Leader in Defense
After being signed from FC Nantes, Diego Carlos has shined when playing for Sevilla. So far, he has won a Europa League, helped the team get into the Champions League, and is fighting for the LaLiga title this season. 
He is a powerful centre-back and, at 28 years of age, is still at his peak, shown by his value of €45 million in Transfermarkt. Carlos is a strong, quick centre-back who handles himself well with the ball, as well as having good defending characteristics. We will analyse all these factors in this analysis, with the help of data from FBREF.com.
In Possession 
Like many modern centre-backs, Carlos is comfortable on the ball. Since Sevilla generally like playing out from the back, he needs to be prepared to act safely on the ball with accurate passes. He does so as he can make passes through the middle to break lines or even with long passes.
In fact, he has an 89.6% pass completion which places him in the 77th percentile, not being very impressive. However, if you take into consideration that most of his passes are medium or long passes, then that is a very respectable percentage.
To be exact, he tries 33.69 medium passes per game with a 95.6% completion rate, and even more noteworthy, he makes 18.24 long passes with a success rate of 76.5%.
Since he is one of the centre-backs with a higher tendency to make long passes (he is in the 97th percentile for this), it is understandable that the percentage of success is not that great as long passes are unpredictable and don't entirely depend on just his passing quality.
To have a better idea, other centre-backs might have a higher success rate for long passes, but because they make a lot less than Carlos during the game.
In essence, we can say that he is a good long passer and that he has the passing ability to break lines. Below, we see an example of this.
Sevilla is pressed intensely and he is in a delicate position to receive the ball. Nonetheless, he calmly makes a pass through the middle to a teammate.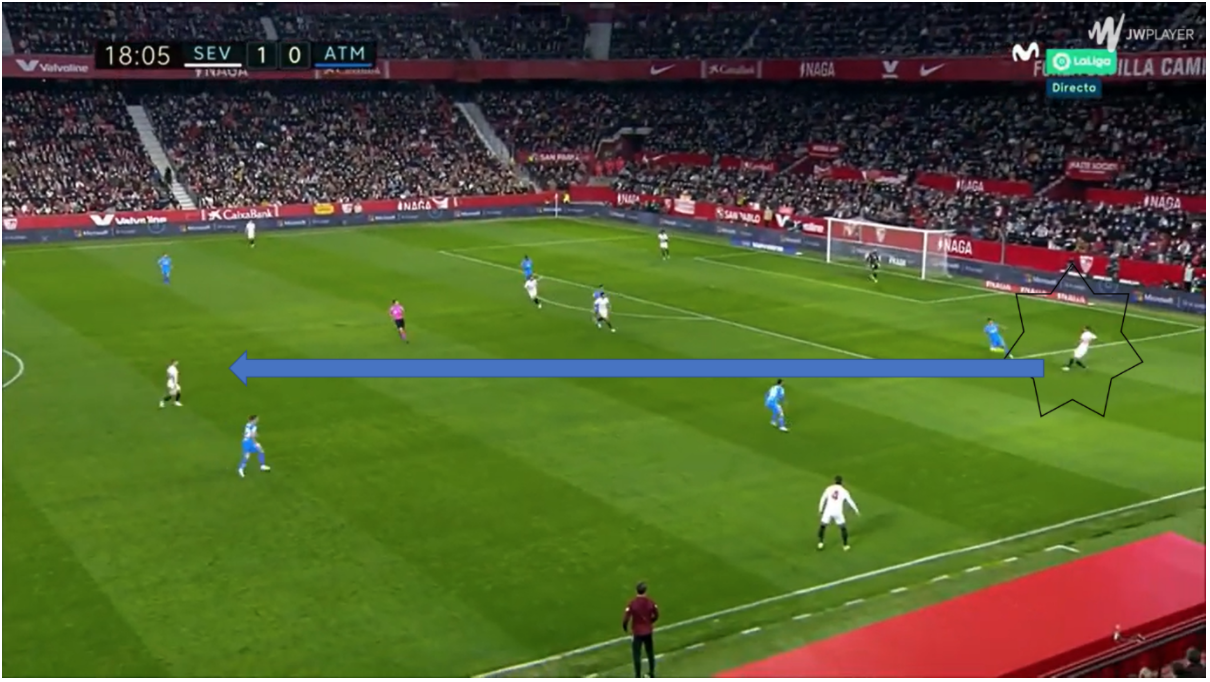 Moving on to the long passes, it is clear that Carlos relies heavily on these, even more than passes on the ground through the middle.
Since the Sevilla manager Julen Lopetegui must have seen that he does well in this area, they have decided to exploit it. Moreover, it means that they have both options to build up. They can either build up the normal way or be more direct with a long pass. 
In the image below, we can appreciate how once again he is being pressed, but he manages to make a long ball to the striker, who dropped his position knowing he was going to receive the pass.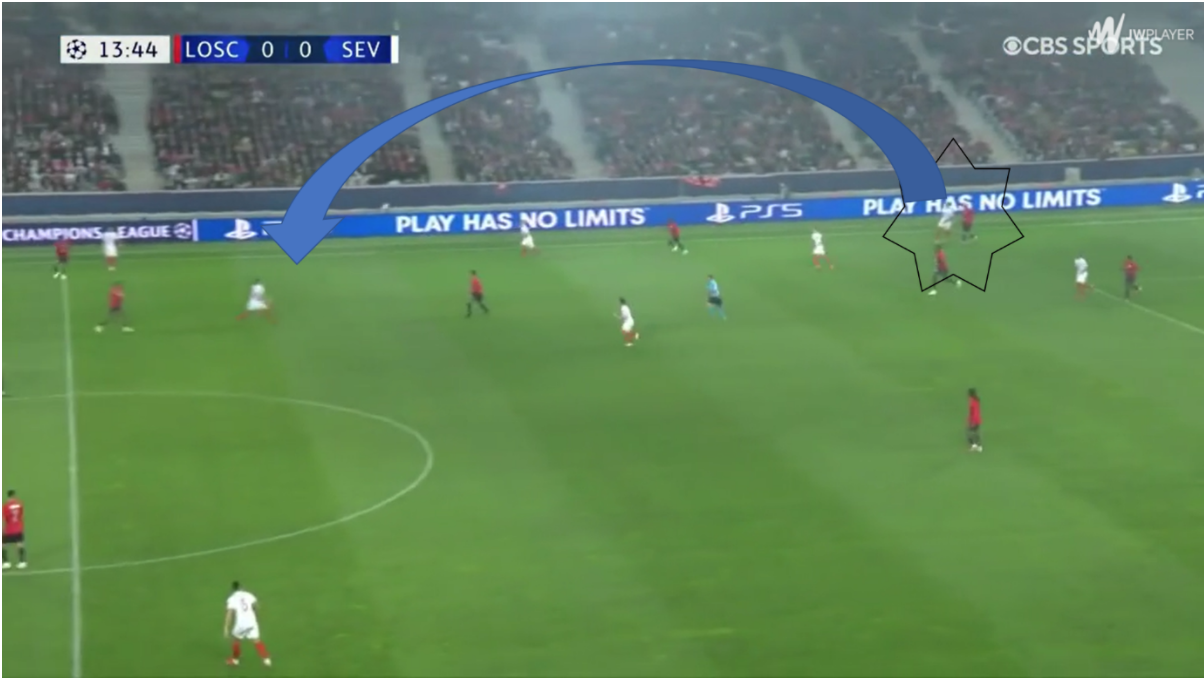 Connected to this is the fact that he switches the ball quite often, making 3.26 per game (98th percentile). He usually does this when the opponent team has been drawn to one side and so that side is too dangerous to play in.
Therefore, he switches the ball to find open space. It helps that Sevilla's left-back Marcos Acuña thrives on the wing and is almost always open on the wing.
In the example below, we can see how Lille's 4-4-2 has been drawn to one side of the field. With Carlos switching the ball, it leaves the left-back in open space and obligates the opponents to quickly shuffle the whole team across.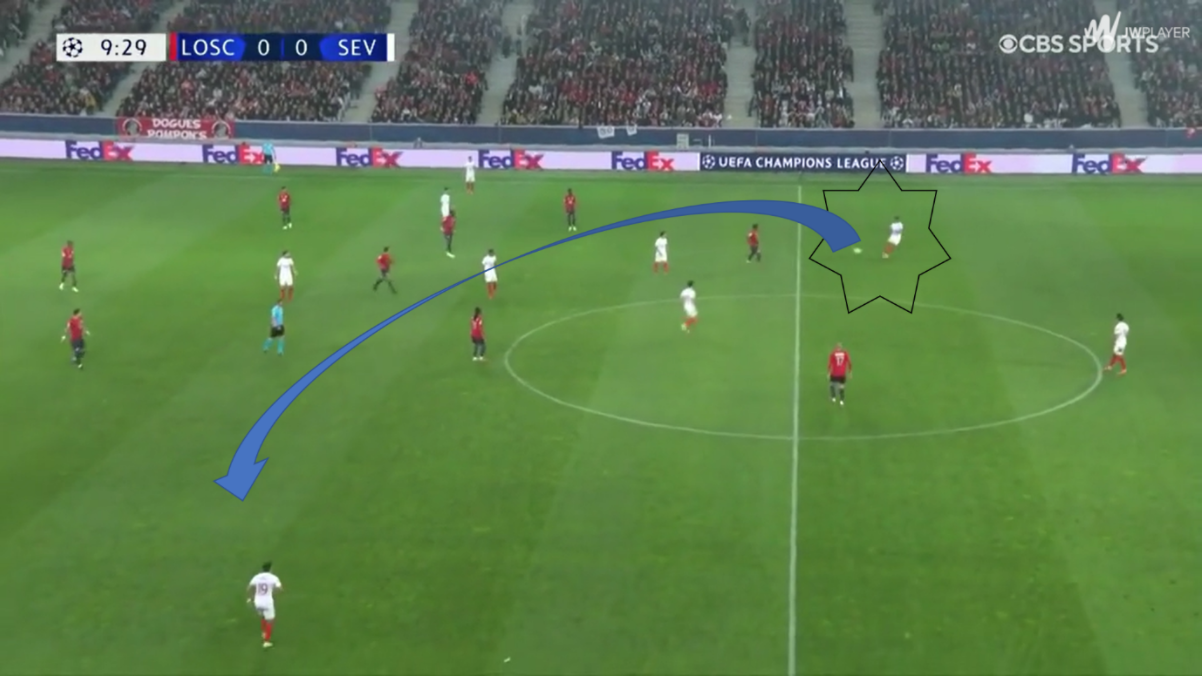 Defending
Being a tall and physically strong player, Carlos has no problem fighting with strikers for control of the ball. To show his physical prowess, in the example below he is fighting for a header with the striker.
He simply puts himself behind him and due to his size and strength, he does not allow the striker to move and he does not even need to jump to win the header. This was also shown against Jonathan David, one of the in-form strikers of Ligue 1.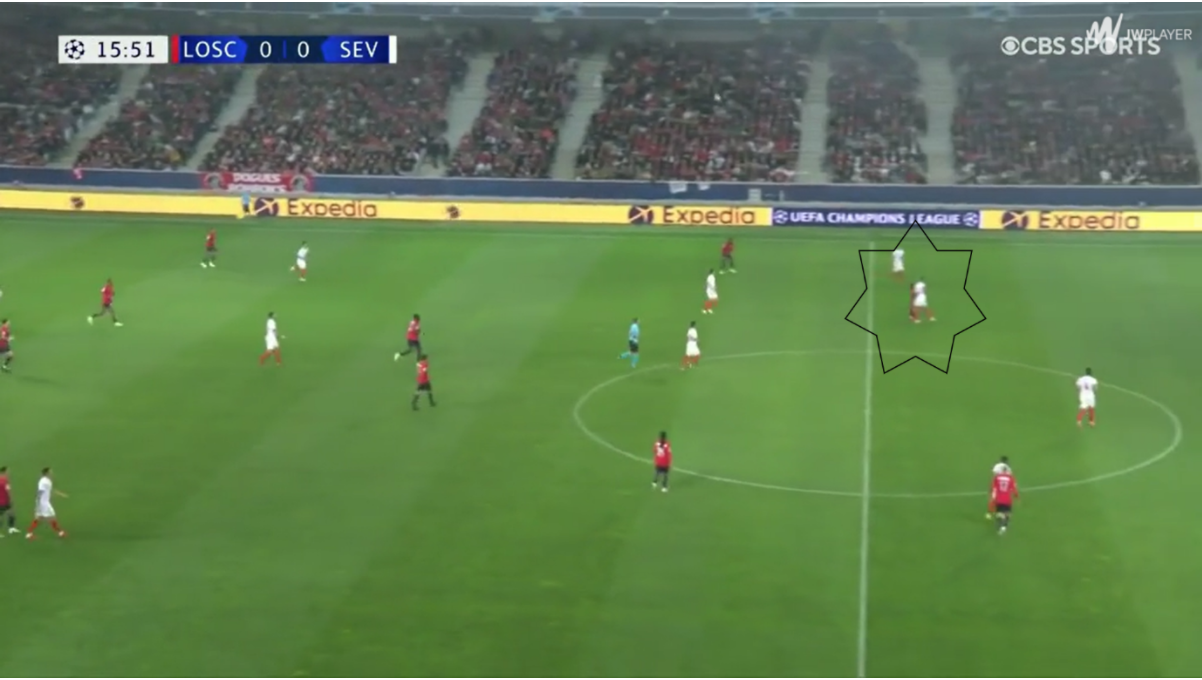 Moreover, he is a smart player who can anticipate what is going to happen. He can read what the opponent will do and take advantage of it. For example, in the sequence below, we see how the striker is controlling the ball and Carlos is coming from behind. 
Instead of directly going to the duel, he lets the striker control the ball, knowing it is a tough pass to control. Therefore, in the second image the striker controls it too far from his body and Carlos comes from behind to snatch the ball away.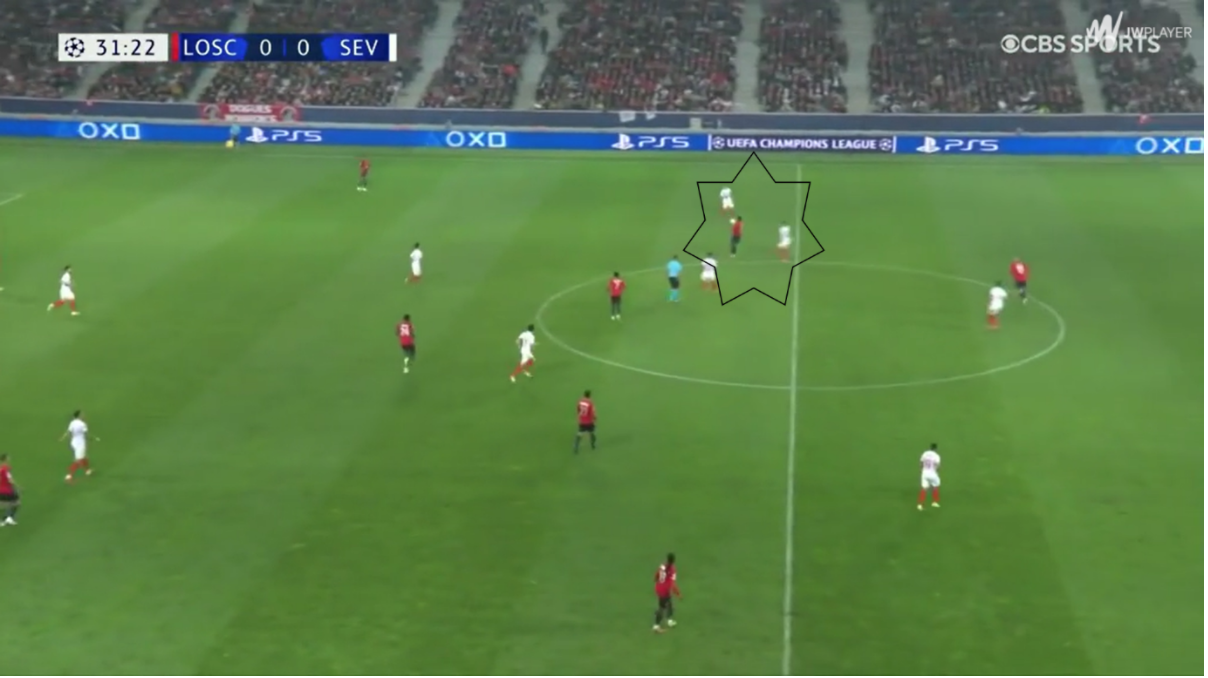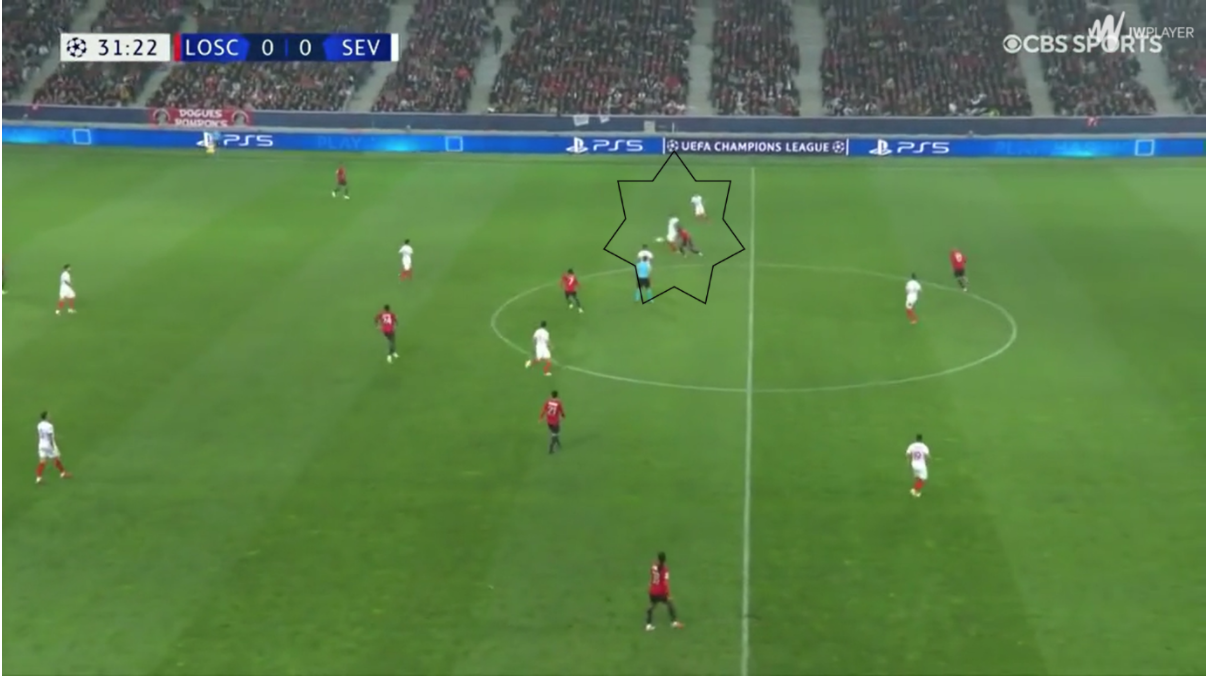 Another example of this is shown below, where he reads how the opponent will pass to the striker in the area. Doing so, he intercepts the ball and clears it.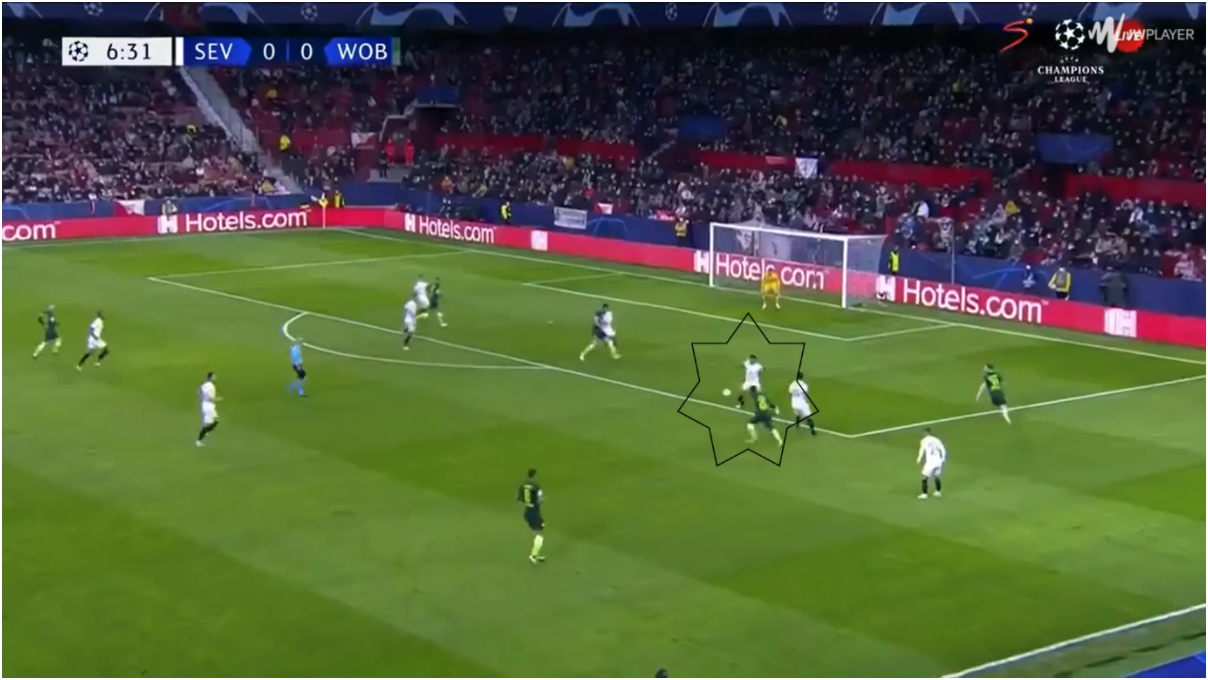 Furthermore, he is an aggressive defender. With this attribute, it can help him but also penalise him. In the first example below, the striker has controlled the ball in the area but with his back to the goal.
Carlos is right there with him once he controls and is constantly close to him, pushing him within the boundaries of a foul and making sure he does not turn around.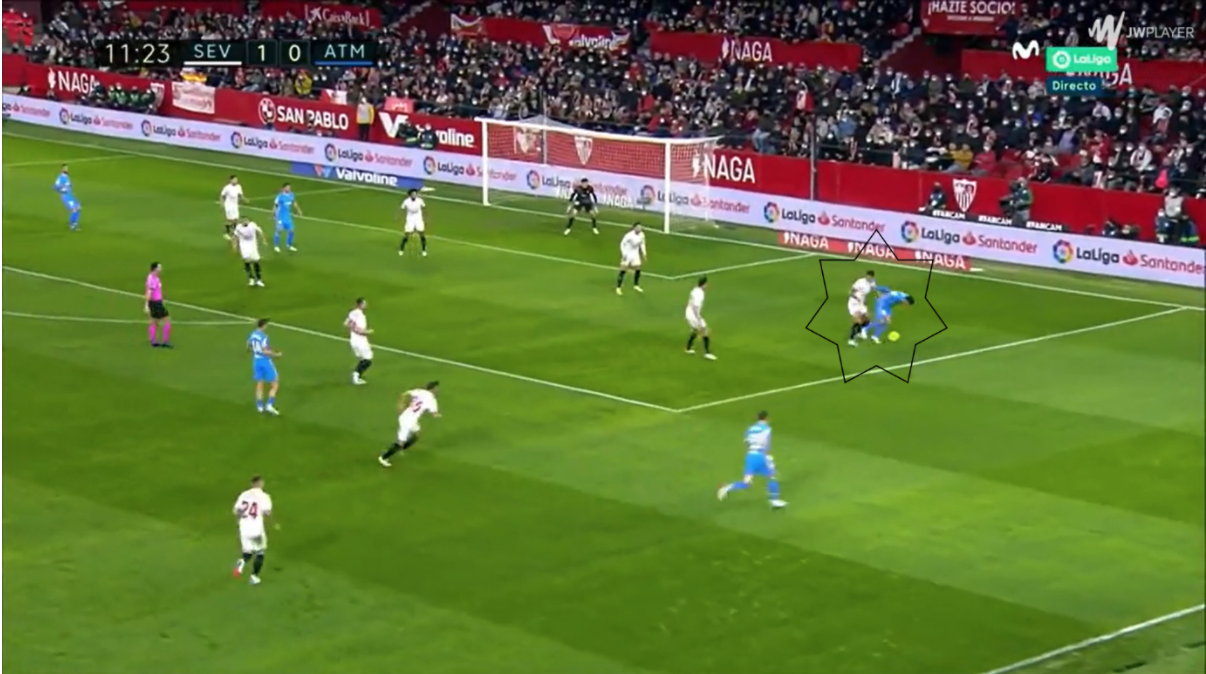 The second example is in the game against Lille in the Champions League. In the first image, he is in a 1vs1 against the striker, who goes to the left. Carlos quickly adapts to this movement and does a slide tackle which takes the ball away from the striker, disabling the danger.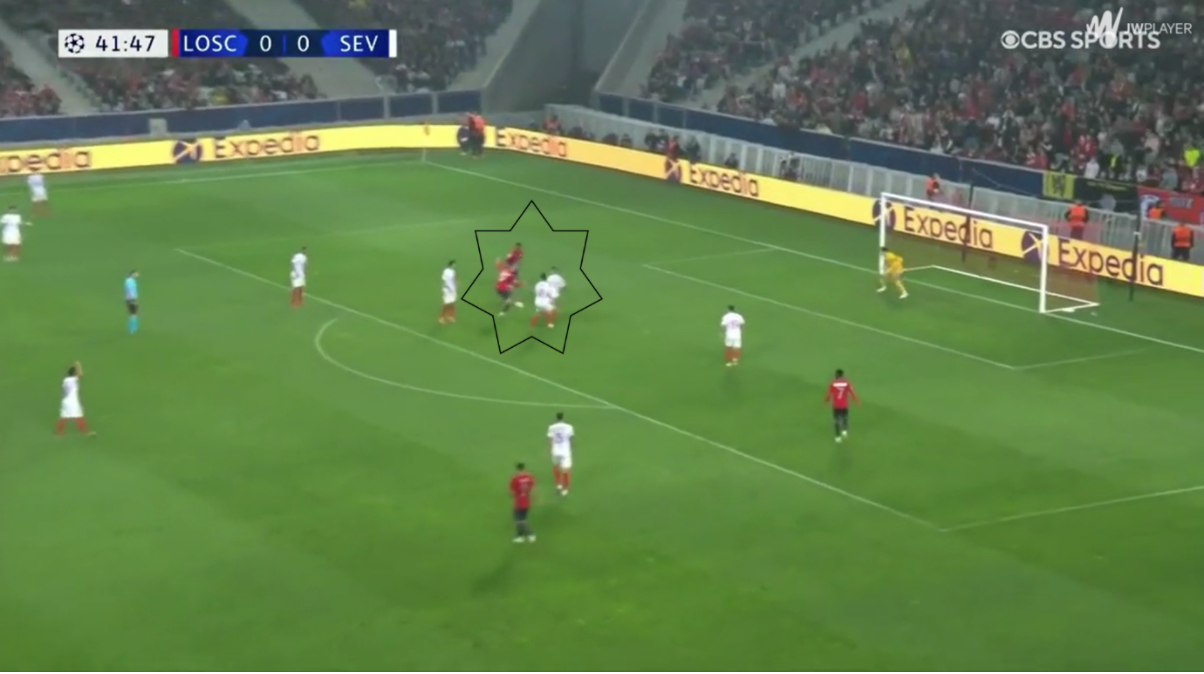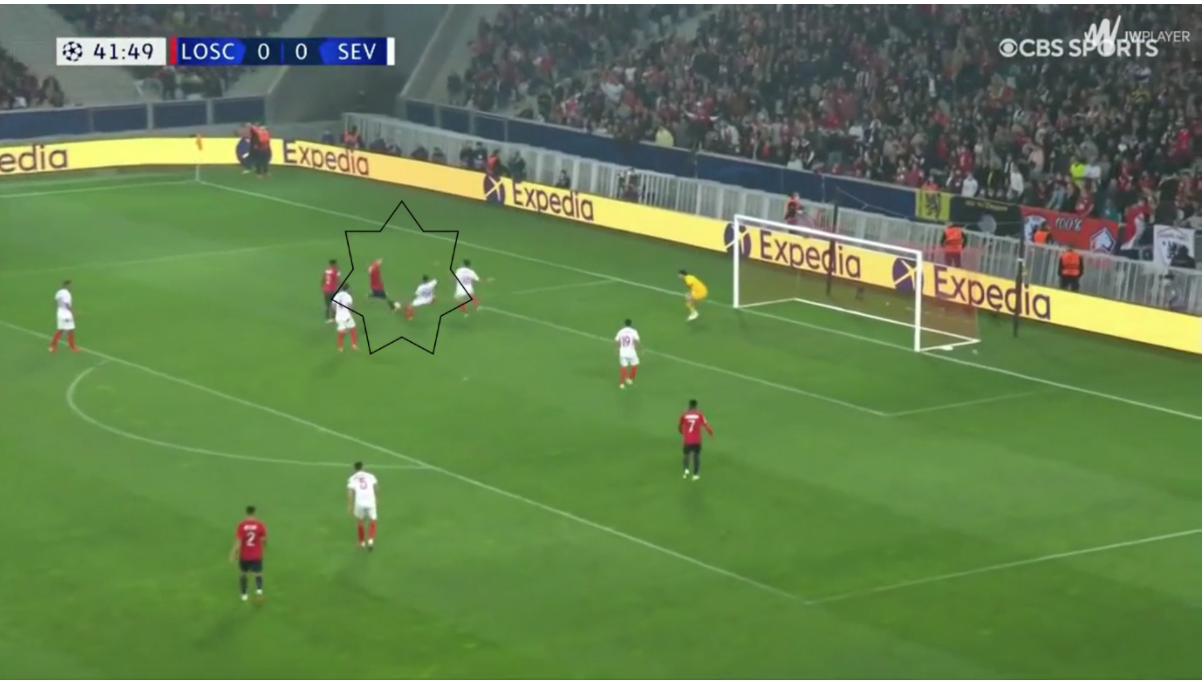 Another example is shown below. Once again, he puts his foot in to steal the ball but the attacker is skilful and goes past him. 
Seeing as he is an aggressive defender, he manages to recover his position and tackle the opponent before he shoots.  However, it was a dangerous situation that could have been avoided completely had he been more secure in defence.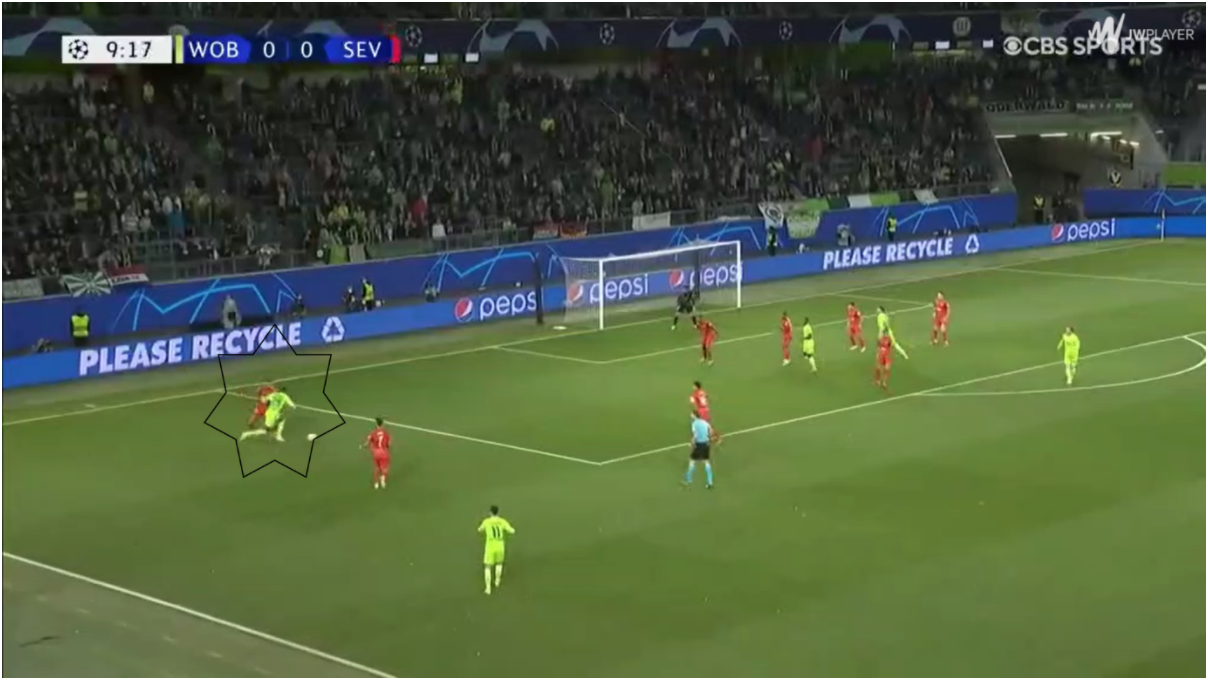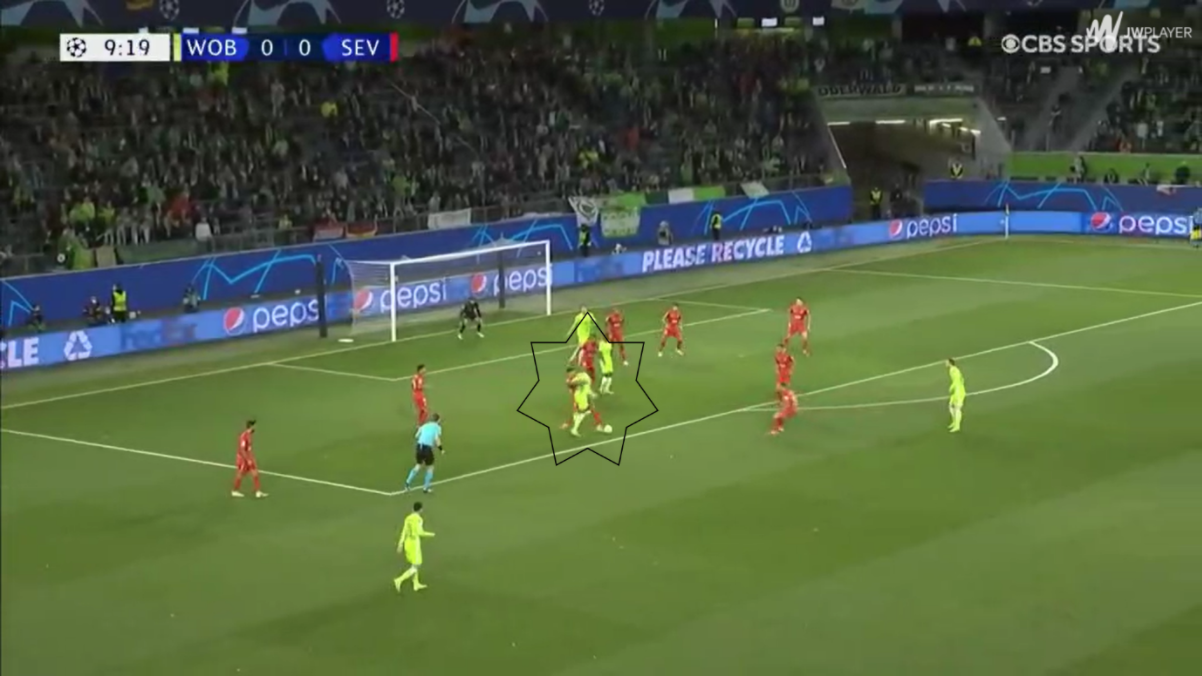 Conclusion 
Overall, Diego Carlos presents some impressive physical characteristics which are great for a centre-back as he is tall and physically quite powerful. He is not afraid on the ball and actually does well, putting emphasis on his long balls which help the team play out in a more direct way.
Moreover, he presents some good defensive abilities like aggressiveness and anticipation but needs to improve in his 1vs1 situations and defensive positioning, as sometimes the attackers get the best of him.
By: Jaime Fernandez Valencia / @jaimeferva
Featured Image: @GabFoligno / NurPhoto