Player Analysis: Javi Galán
Javi Galán is, at least statistically, one of Europe's best dribblers, and the fact that he is a left-back makes it even more surprising.
He began to shine in LaLiga at SD Huesca but when they got relegated, Celta Vigo managed to pick one of the best performing left-backs of the league. It has been a fine signing as he has carved out a starting spot in Eduardo Coudet's team.
Galán is a brave left-back who likes to dribble and progress play but he also does not forget to defend, protecting his team at the same time. However, he is prone to taking risks which sometimes hurts his team. We will analyse all these matters, using data from FBREF.com.
Defensive Skillset
Before we go into the traits that set him apart as a left-back, we have to delve into the basics that make a good left-back. That is the defensive side of his game. Galán has a good balance between his attack and defence as he does not just focus on one of them and does well in both.
Don't Stop Them Now: How Rayo Vallecano's Feel-Good Tale Has Made a Neighborhood Dream
Even though he is short (172cm), he is a very quick player and physically strong. This makes beating him in a dribble hard, which is proven by how he is dribbled past only 1.37 times per game, placing him in the 14th percentile.
A great example of this is shown below, where he manages to get the ball off one of the most in-form strikers in the world, Karim Benzema.
This happens while he is going backwards as Benzema was advancing towards him. However, as soon as Benzema tries to dribble past him, Galán lunges in and steals the ball effectively. 
Moreover, he makes 3.68 tackles per game, winning 2.25 of these per game. These successful tackles place him in the 99th percentile, showing he is one of the best at this.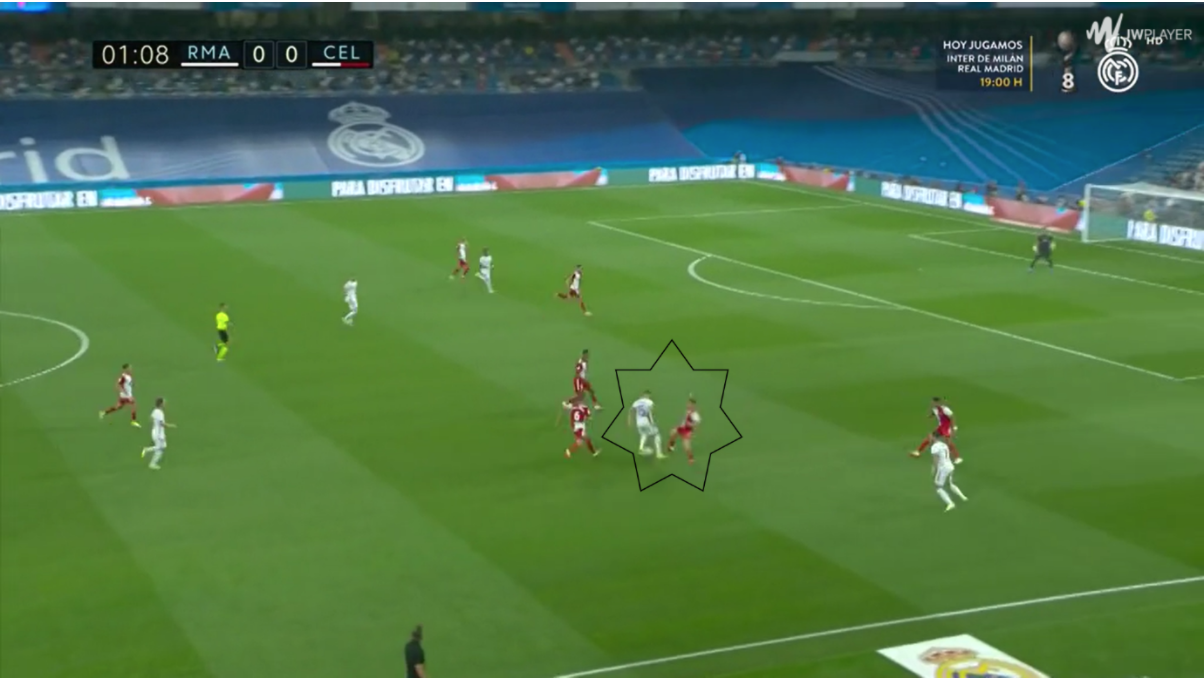 Another great aspect to have as a left-back is to have good awareness. This is especially crucial when defending against crosses as you have several players in the area.
For the left-back, it is tricky because they usually have to look at the ball on the other side, as well as be aware of the movements of the attacker who is normally behind him.
Below we see a sequence where this is shown. Casemiro has the ball on the opposite side and Dani Carvajal is making a run in behind.
Galán was aware of this and anticipated it, as we can see how he is moving as soon as the ball is hit. This awareness leads him to get to the ball before the Spanish right-back and clear it.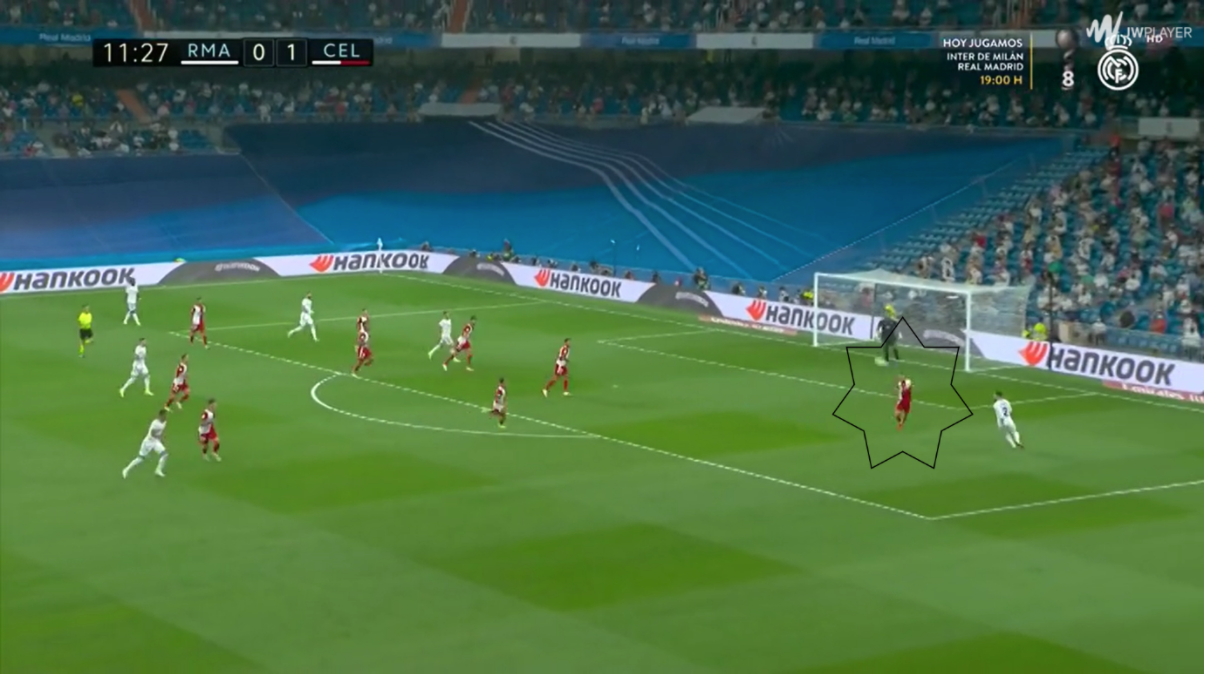 A specific example to show how Galán's amazing acceleration helps his defending is shown below. In a cross that was going slowly, Galán was expecting Celta's centre-backs to clear, and we can see how Galán is standing still and watching because of this. 
However, the centre-back misinterprets the speed of the ball and misses, leaving an open chance for Benzema in the area. Immediately, Galán reacts and thanks to his explosiveness, he manages to get there before the Madrid player and defend against a clear goal opportunity.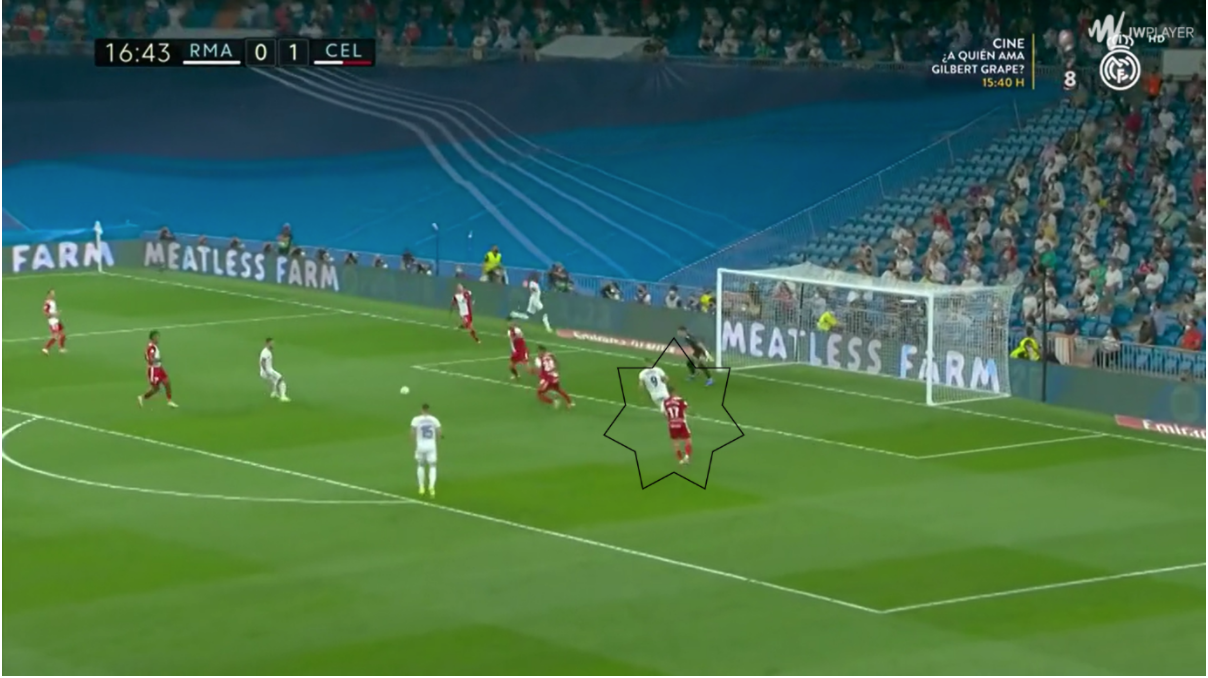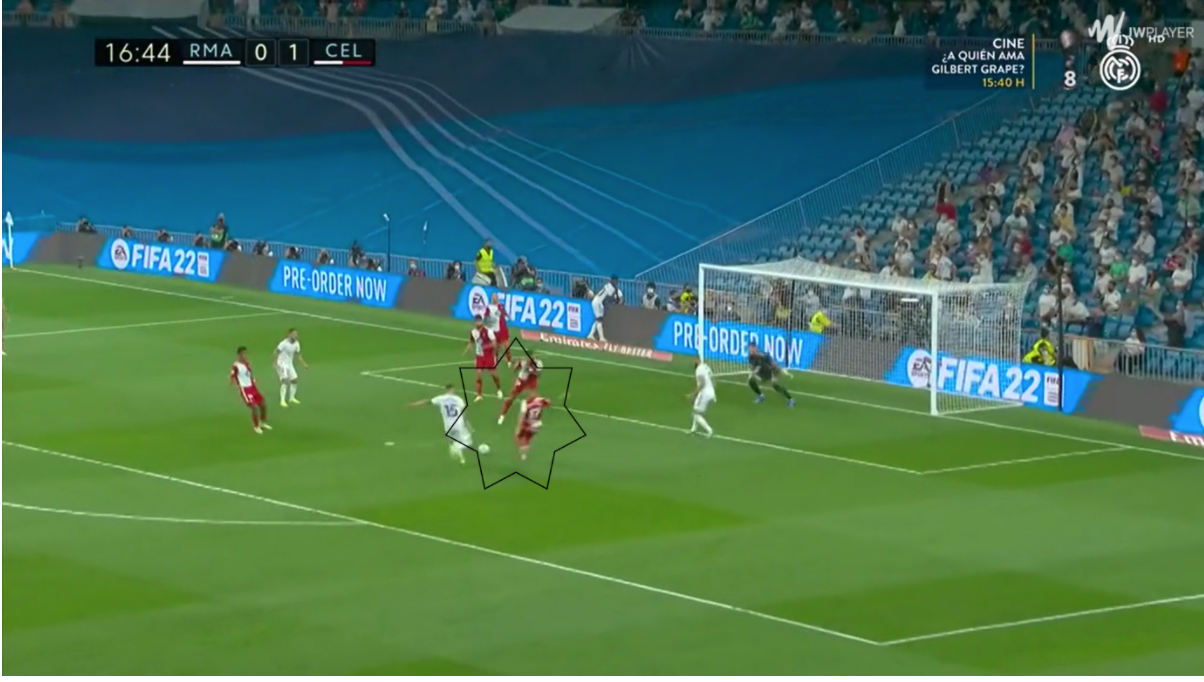 Galán is brave in attack but also in defence, as he is not afraid to go out and follow his marker if he goes down to receive the ball. Therefore, he makes 17.86 pressures per game, with 5.82 of these being successful.
Seeing as the pressures are primarily in the defence and midfield parts of the field, this makes sense but he should look to increase his percentage of successful pressures, which stands at 32.6%.
In the image below, we see how he has left his position to chase Madrid's right-midfielder up the pitch so that he does not get the ball comfortably.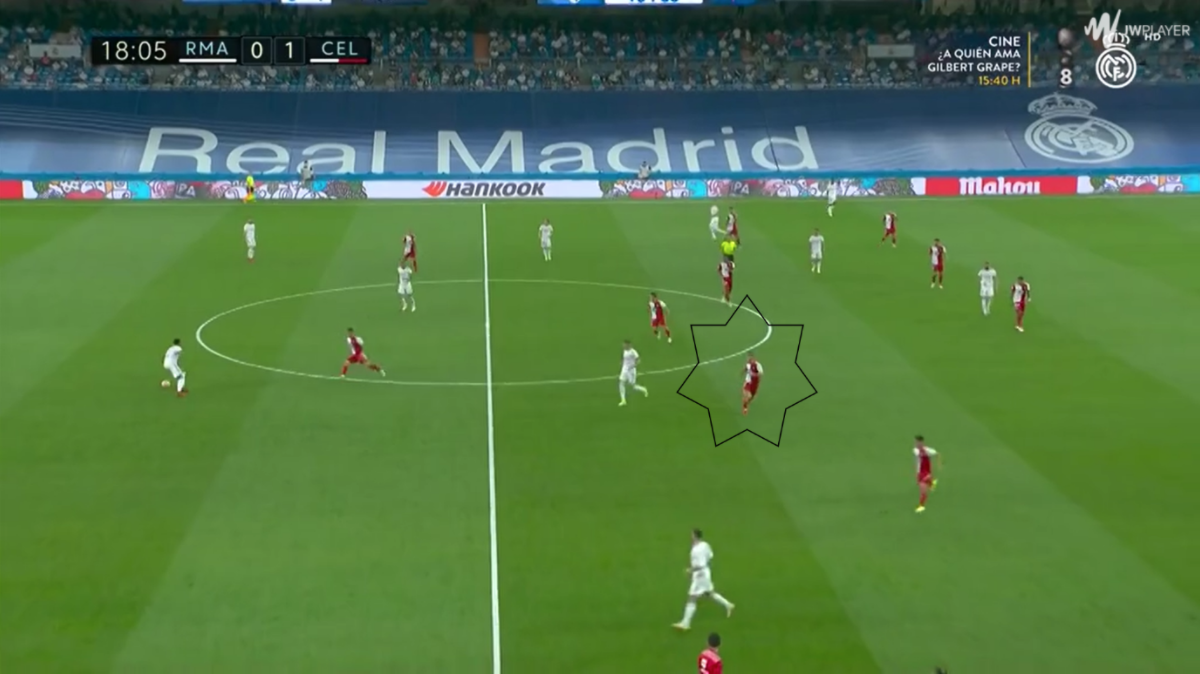 Attacking Skillset
Now we will talk about Galán's characteristics which make him unique in La Liga. He is a great progressor with the ball at his feet.
He is not afraid to dribble past opponents in order to get out of a tricky situation. In fact, he attempts 3.3 dribbles per game (95th percentile) and has a success rate of 70.8% (95th percentile).
Furthermore, he makes 6.9 progressive carries per game (89th percentile) and carries the ball an average of 268 yards per game (91st percentile). All of these stats prove how he is comfortable on the ball and he prefers to progress the play with the ball at his feet rather than passing it. 
Here, we have an example. When on the wing, he decides to cut in and gets past his opponent, as seen in the first image. Then, in the second image, we see how that has made him attract another opposing player to him, but he passes the ball out wide.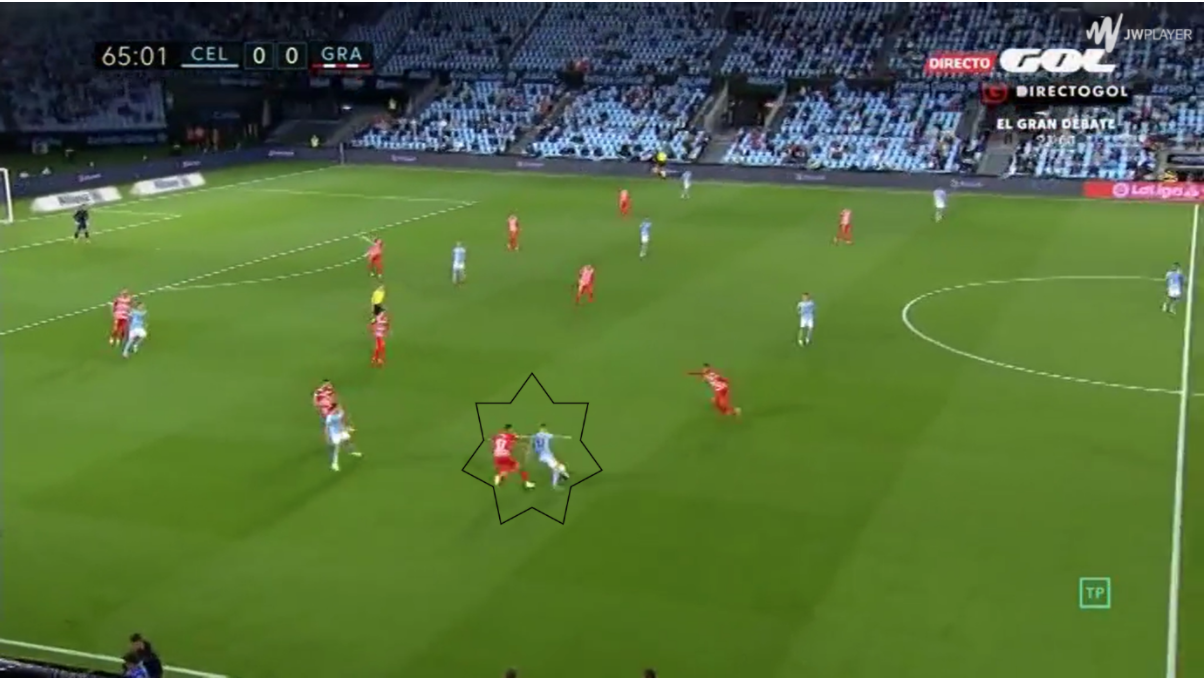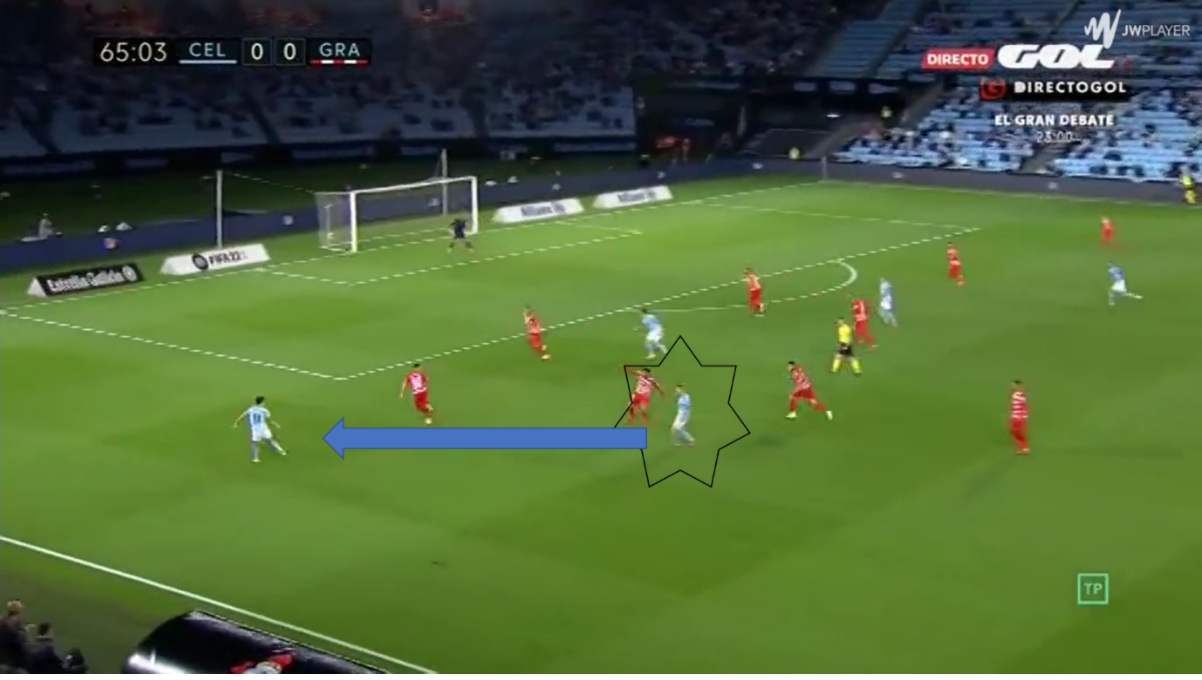 Another example is shown below. Once again, he cuts into the middle and fakes that he will pass it, only to nutmeg the opposing midfielder. By getting rid of two players, he is starting a transition and makes a dangerous through ball to a teammate.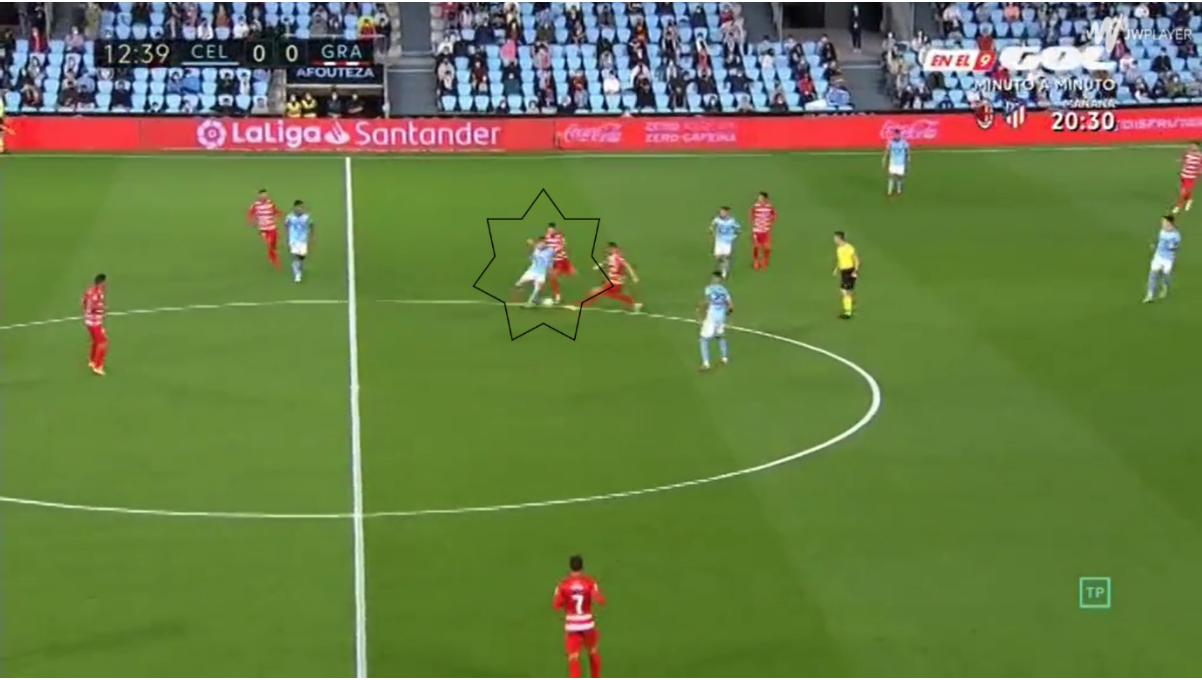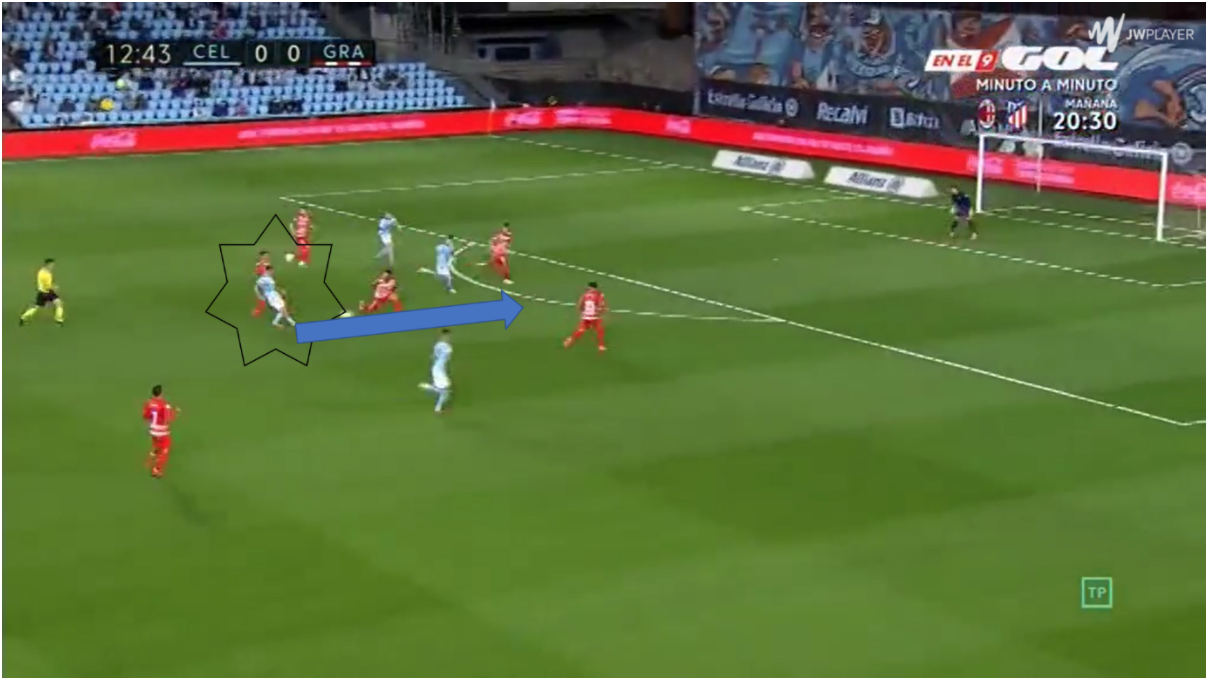 Nonetheless, progressing the ball is only good when done successfully. There are times when he decides to carry the ball, but loses it in a dangerous position.
These types of losses are worse because they are in their own half and they catch their team disoriented and out of position as they were concentrating in the attack. That is why counter-pressing is so popular nowadays.
In the example below, he tries to dribble in his defensive third and loses the ball. Galán needs to decide better when it's the right moment to progress the ball and when to clear the ball or play it safe.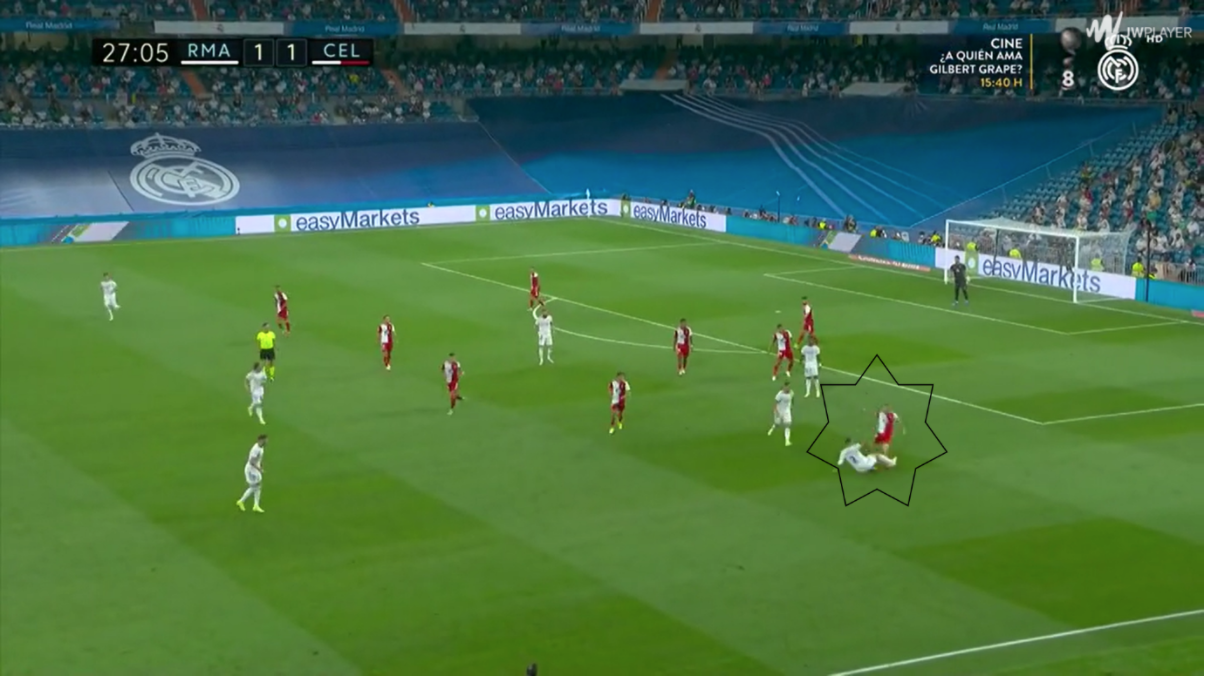 Moving on to other offensive characteristics, he reads spaces well and knows when to attack them. His team makes the left-winger come inside to draw his marker and leave space for Galán.
Galán running into these spaces is effective as he usually has time to shoot or put in a cross. This is connected to this is the fact that he makes 3.13 crosses per game, placing him in the 84th percentile.
In the image below, we see how the left-winger has drawn the attention of the right-back, which leaves space for Galán to come into. He receives the ball and manages to take a shot, which will lead to a goal due to the rebound. 
Galán can be quite dangerous for Celta when the opposing winger does not defend much or is prone to forgetting about his marker.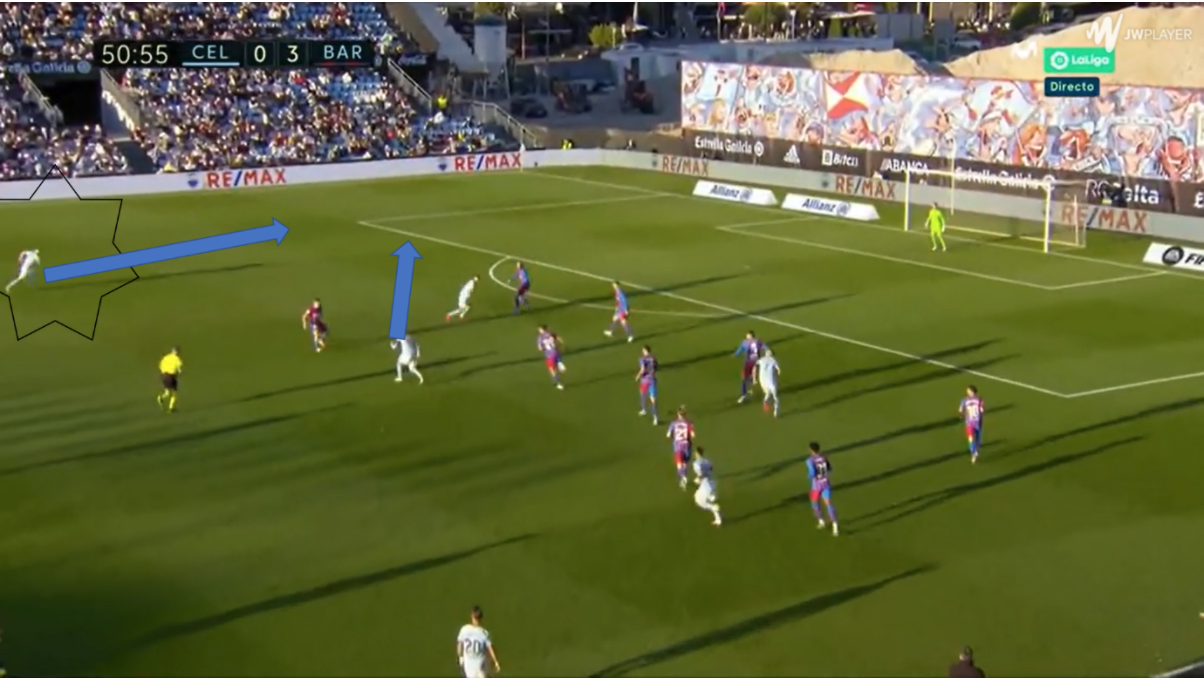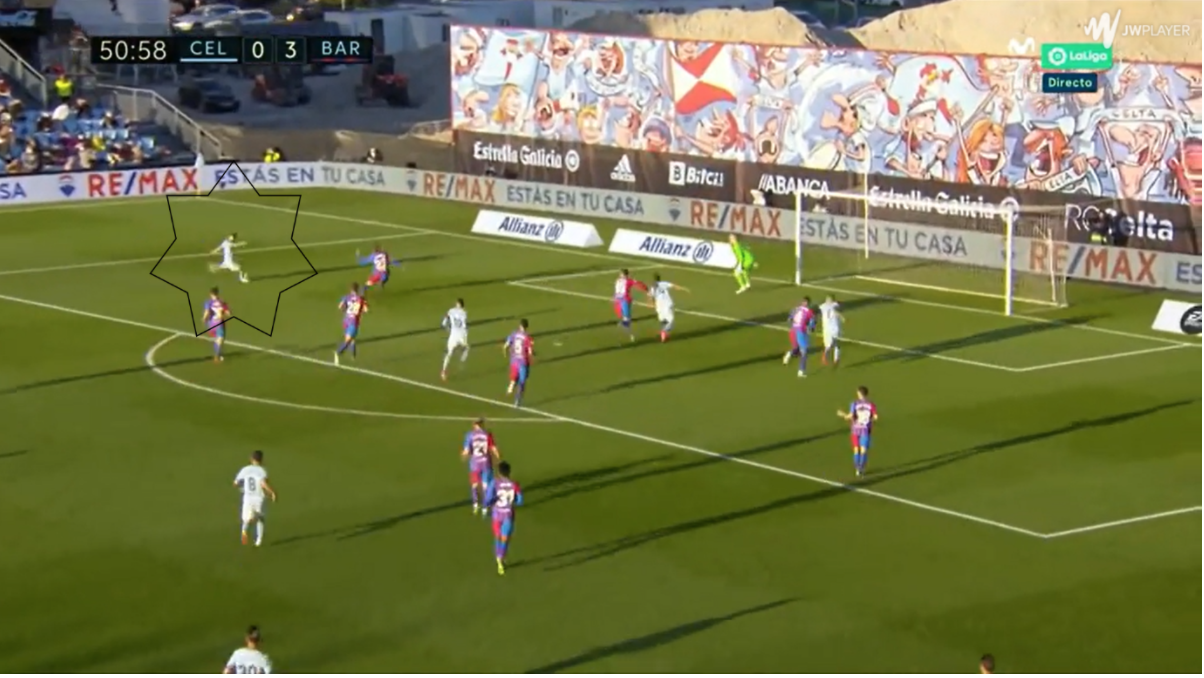 Conclusion 
Overall, Javier "Javi" Galán Gil is a brave player who is not afraid to take risks with the ball, which is rare in a defender. However, his progressive carries can either help the team or lead to a dangerous attack from the opponents if they recover. It is clear that Galán needs to make better decisions in this aspect.
I believe that he would play better as a wing-back, seeing as he would receive the ball higher up the pitch and have more freedom to carry out his dribbles, which are successful at a good percentage. Lastly, it is important that he does not forget about his defending, where he also helps out the team.
By: Jaime Fernandez Valencia / @jaimeferva
Featured Image: @GabFoligno / Rafa Babot / Getty Images