Dušan Vlahović: Fiorentina's Serbian Sharpshooter
Of course, there is a certain Norwegian number nine with the world at his feet who is and will be the talk of the town when it comes to the transfer market for a few windows to come, like a stretched out Netflix series, the Erling Haaland saga will go on as he is paraded to elite club after elite club by his super-duper agent Mino Raiola.
There are however apt alternatives for clubs stricken by the COVID-19 pandemic, one of which has emerged from Serie A this year at Fiorentina, leading the line is Serbian Dušan Vlahović. Taken from Partizan Belgrade where he made his debut at the paltry age of 16 becoming Partizan's youngest ever player, La Viola quickly snapped up the Balkan prospect in 2018.
After a year of getting used to a move to a big club in one of Europe's top five leagues at such a young age and garnering somewhat of a reputation of squandering too many chances, Vlahović is patently blossoming with 21 goals in the league this year, cementing his place as the go-to man in Fiorentina's attack. 
In the modern game, having a traditional centre-forward poacher who eats, sleeps and selfishly drinks goals is not such a regularity anymore. The tactical overhaul of the game means teams opt for a more mobile, energetic and versatile attack where attackers sole purpose isn't just to score goals but also press from the front, cut in from the wings and be a key cog in build-up play, forwards are now routinely used as more than just the classic 'strikers' of the past. 
We have seen a goal scorer like Sergio Agüero be largely on the periphery as Man City romped to the Premier League title without a recognised striker, Jürgen Klopp's Liverpool success hinged on three brilliant forwards working hard and pressing opposition as a necessity rather than use cold-blooded predators in front of goal (perhaps Mohamed Salah has molded that more into his game now). Patrick Bamford is the most salient example of the modern-day striker playing in a delightful Marcelo Bielsa team where a forward's ability is needed off the ball just as much as on it.
It is refreshing then, to see a player of Vlahović's ilk rolling back the years like the stupendous Calcio number 9's of yesteryear. No doubt for Fiorentina fans of a certain age it brings back memories of the likes of Luca Toni or Gabriel Batistuta who both wore the number nine jersey. The player Vlahović reminds me of the most though is Ruud Van Nistelrooy, that instinctive finishing, the penalty box being his playground, the guile of anticipating where the ball will drop being at the right place at the right time on purpose, to be predacious inside the box is a skill Vlahović possesses as the Dutchman did.  
Style of Play
Often in games, you see defenders attempting to tussle with him constantly getting tight to him with his back to goal only to have him shrug them off. Defenders press up the pitch as he receives the ball in his own half as Vlahović uses them as a springboard to take a touch and swivel away, handing them off to bring the ball forward.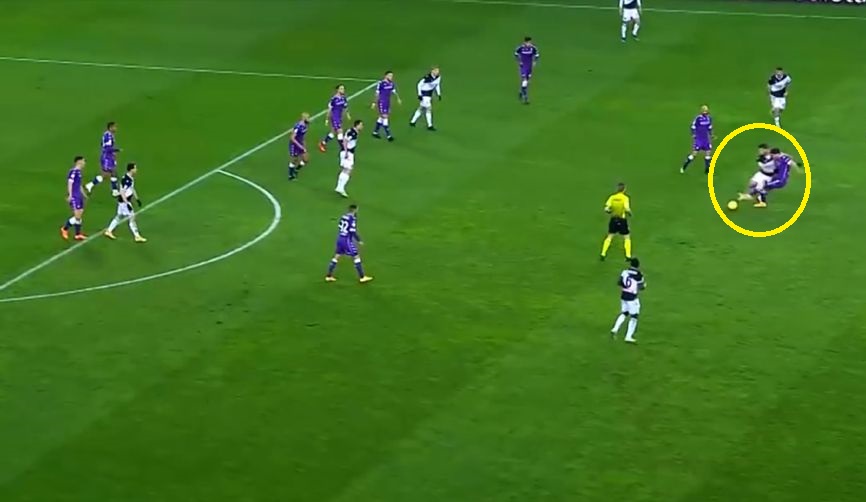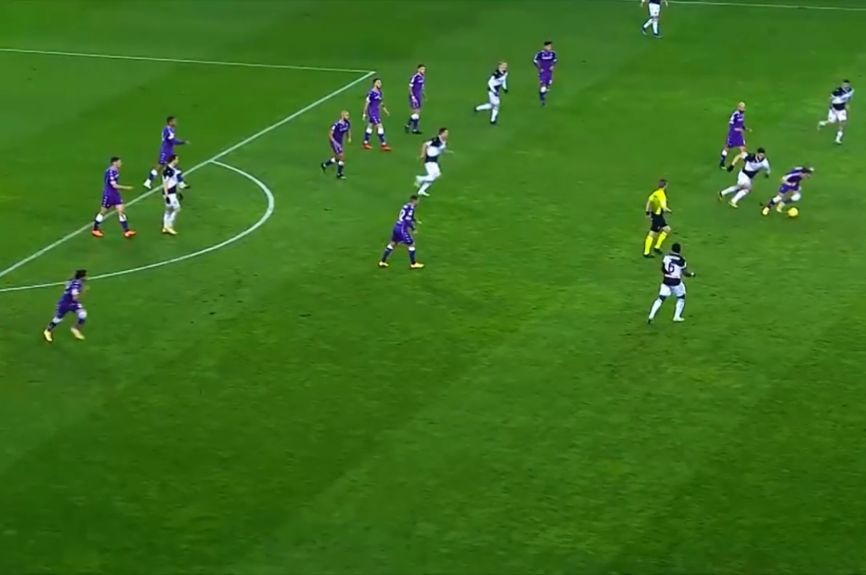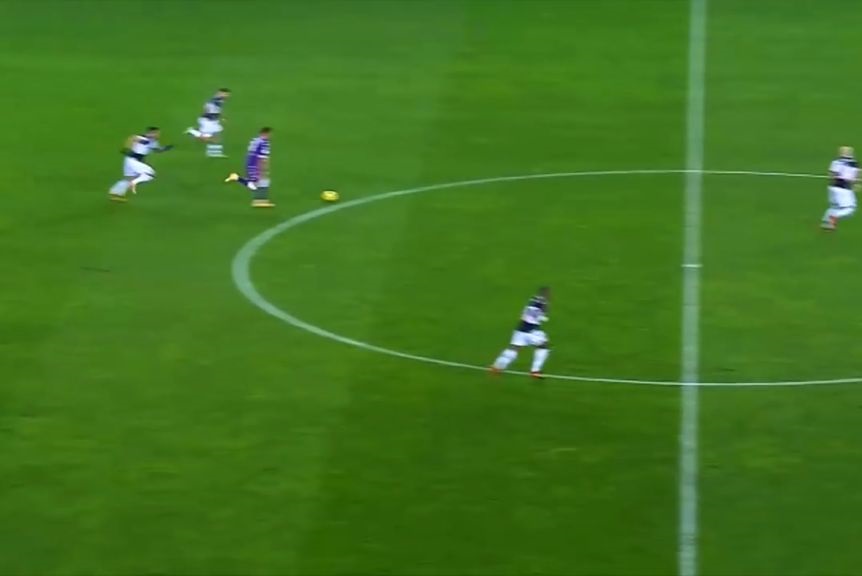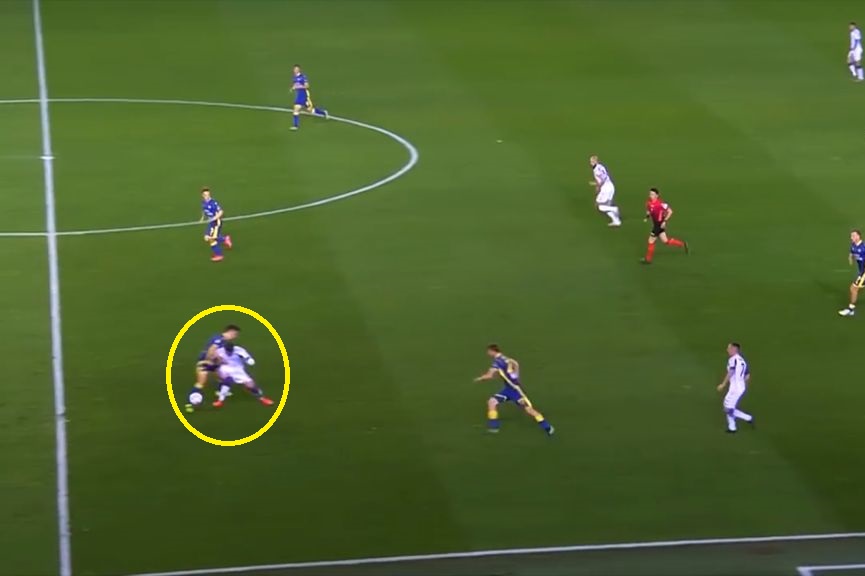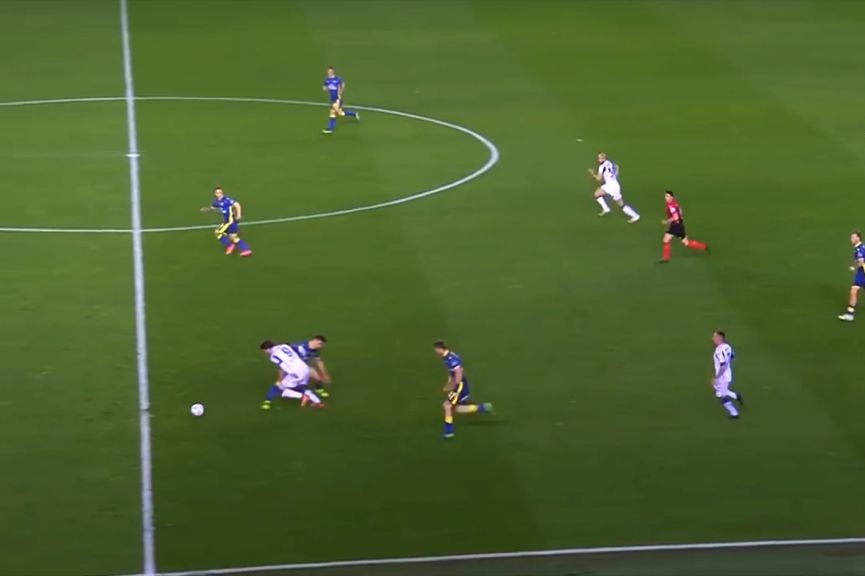 Defences in Serie A have not figured out that he takes a liking to defenders pushing touch tight on him as this is where he showcases his strength in holding the ball up which leads to advancing Fiorentina up the pitch. Especially in a team where he is trusted to be the spearhead of the attack, as Fiorentina commonly defend in a low block, drawing defenders to deep positions where he picks up the ball and driving past them benefits the team as Vlahović loses his marker and then can either take the ball further or spread the play wide.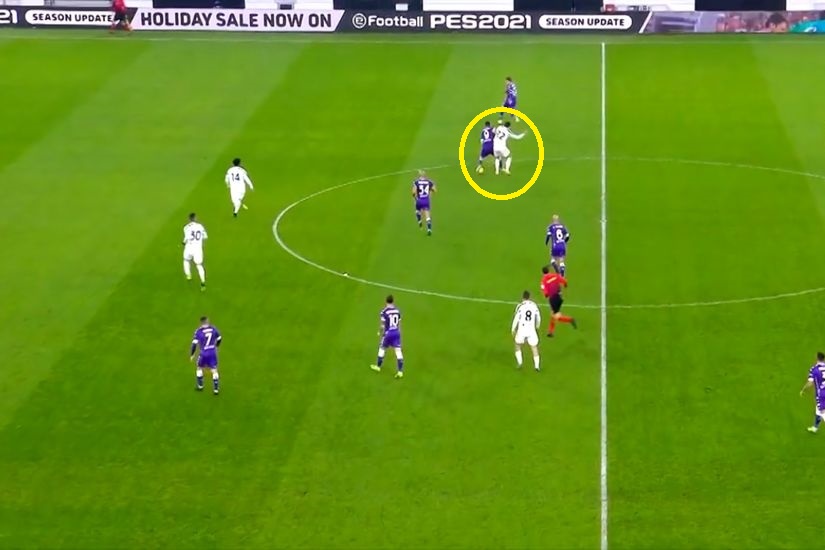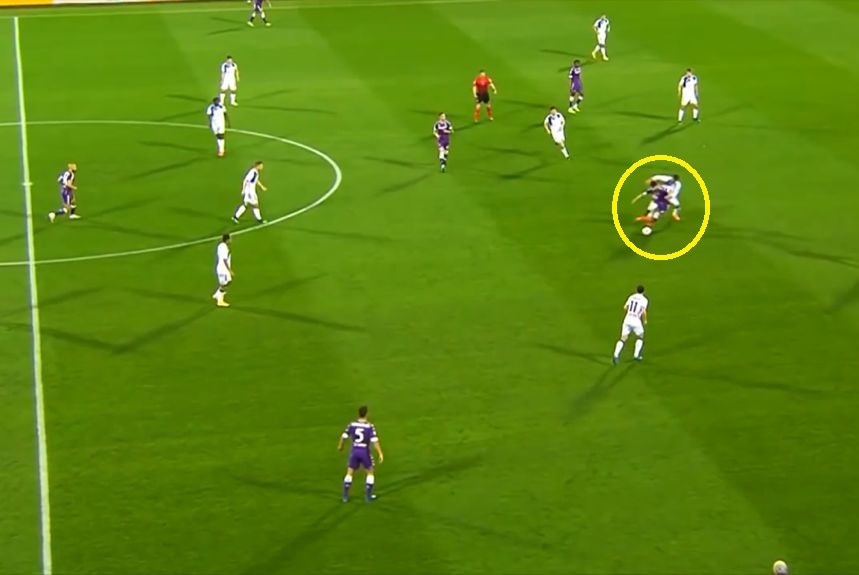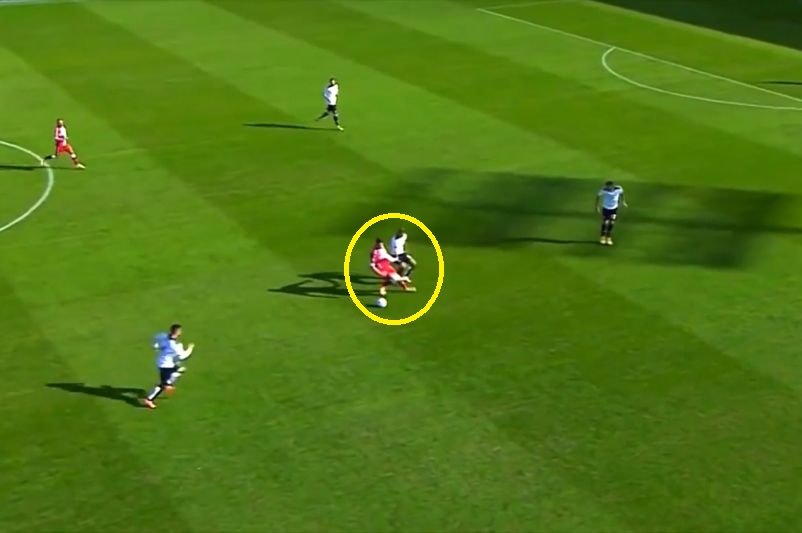 Van Nistelrooy, though palpably remembered for being one of Europe's most feared goal poachers, repeatedly showcased a brilliant ability to hold the ball up as a target man when opponents were attacking, in particular navigating the ball through pressure from challenges and finding a teammate normally out wide to the sound of cheers at Old Trafford. Strikingly, Vlahović shares this trait as well as the same sniff for goal inside the penalty box.
The former Manchester United striker only scored once outside the box for the Red Devils and out of the 21 league goals from the Serbian this year only one has been from outside the box, a spectacular drive vs Benevento.  But just like 'Van Gol' as he was affectionately known in Spain what does it matter how scant the goals are from outside the box when you can expertly score from inside so well?
The box is Vlahović's ally in picking off opponents, the area he knows more than any other on the pitch like a general luring an enemy to fight a war on a battleground he knows all too well. In his brilliant form this year, Vlahović seems to know exactly where the ball is going to be, on many occasions this year it falls to the Serb. 
He has an anticipation of where the ball is going and wastes no time gliding through chaos to get to the ball first to score. There is a cunning ingenuity to his game in finding goals by quick reactions to goalmouth melees in the box, there are plenty of players in there, however, Vlahović is the player to envisage what happens next.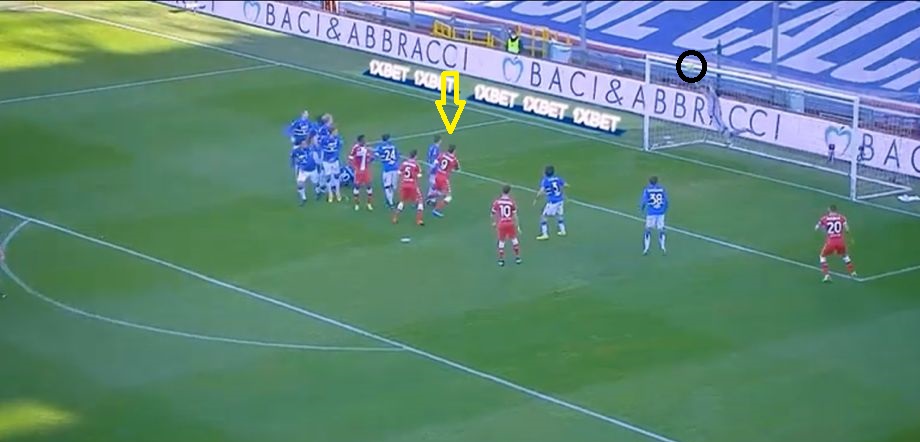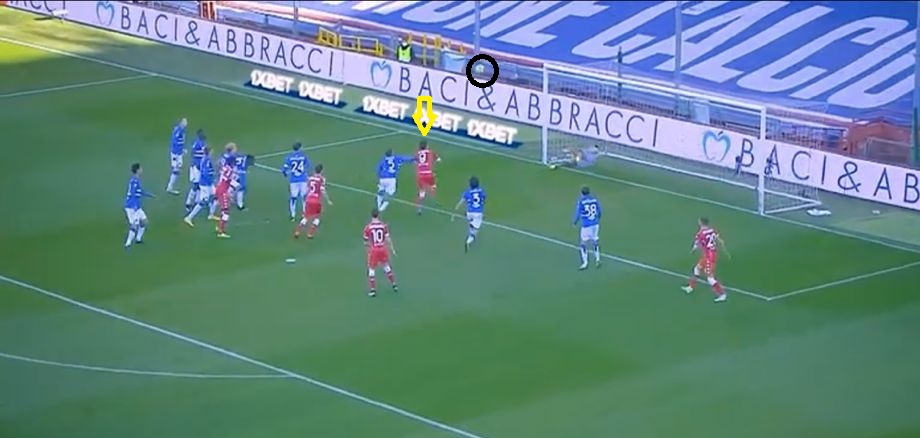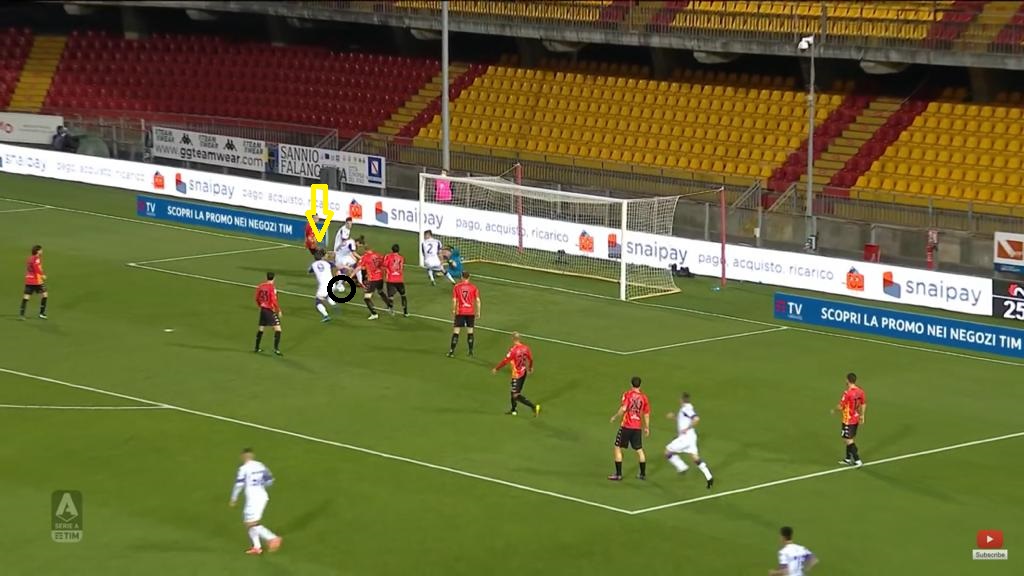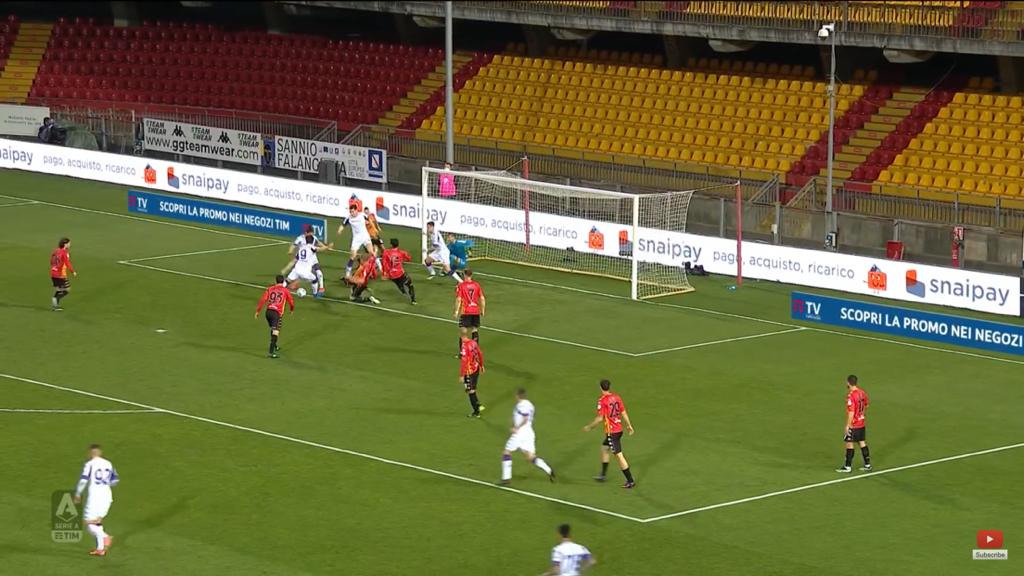 His goals this season don't vary much, bar the six penalties and as mentioned the solitary outside-of-the-box effort. Cool one on one finishes, low and hard shots into the corner from crosses, and a shark smelling blood-like ability to react to loose balls. He has grown into the season and is a player oozing confidence upping his comfortability and awareness in the box.
As the ball from the left comes in, he judges the pace of the cross to quickly check his run and take a step back lining up a shot arrowing into the corner. He has established himself as the leading attacker for La Viola honing his knowledge for how to receive chances from teammates, which is why his goals appear as though they have such wise craft to them.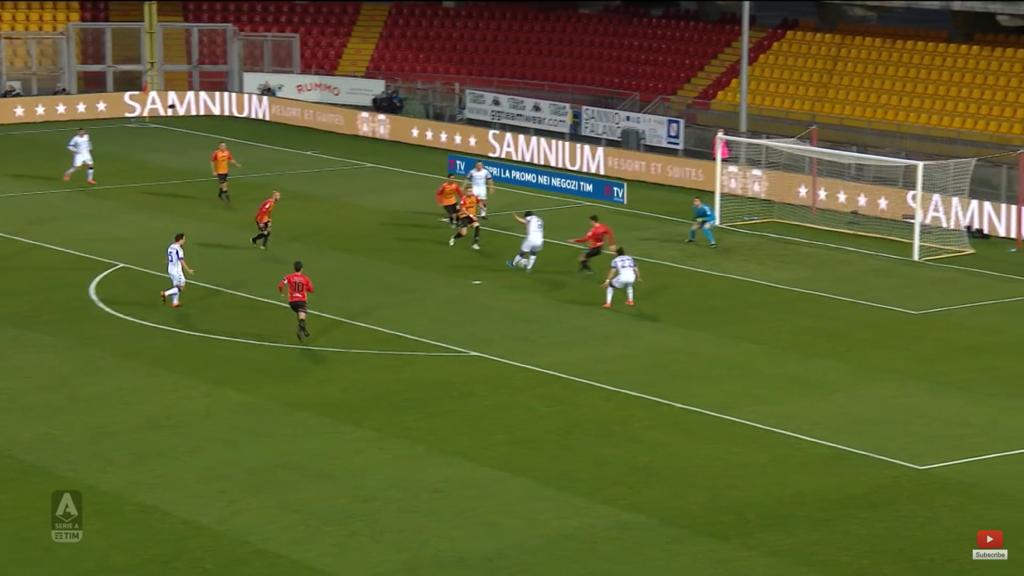 Current Fiorentina boss Guiseppe Iachini, who must be a shoo-in for the coolest suit and cap combo in football, was sacked in November 2020 then rehired in March of this year after Cesar Prandelli spoke of a 'dark cloud of distress' looming over his decision to leave, but it was under Prandelli that Vlahović began to show his quality as a regular starter.
Since a penalty that he scored vs Sassuolo on matchday 12 he has scored in 15 of 25 games, it seems as though the relief of scoring a penalty spurred him on as his belief swelled, from which you can see in sublime finishes such as vs Napoli or a cheeky panenka penalty vs Juventus, Vlahović's realisation of being the lynchpin of the attack was built on his ever-growing faith in his own ability goal by goal.
What the Stats Say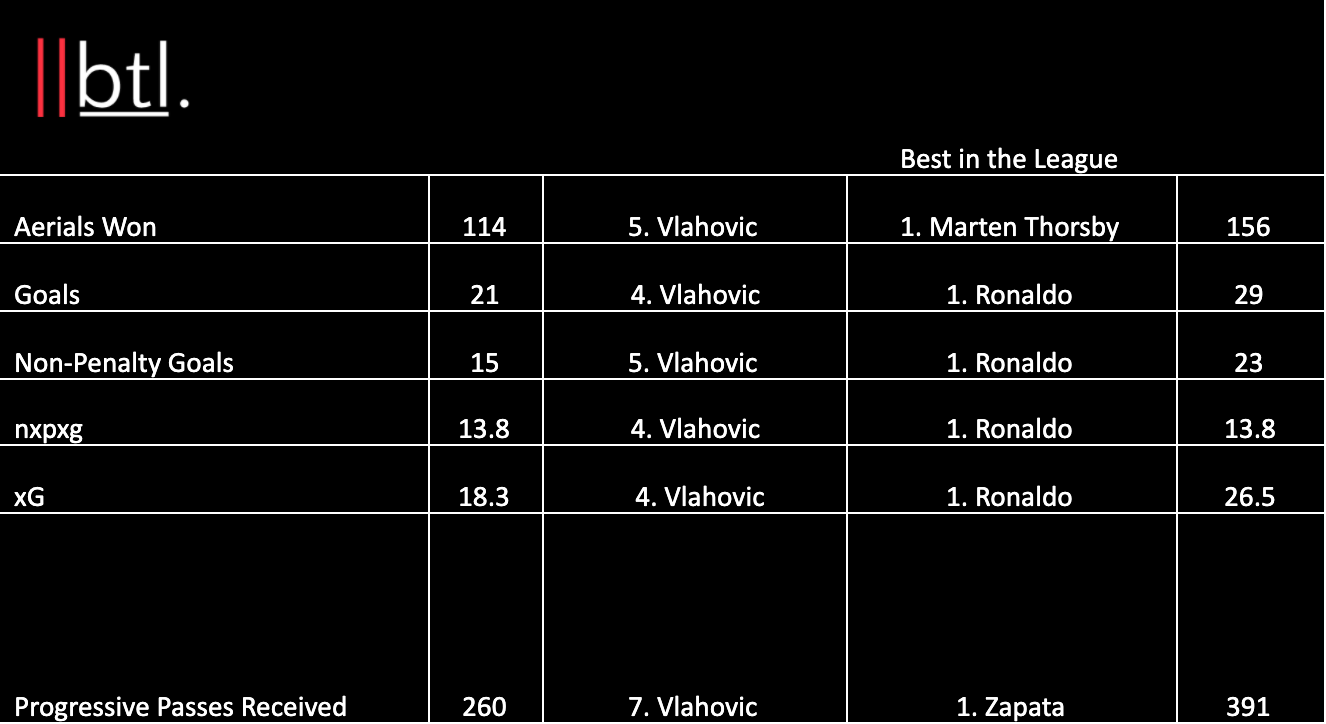 Above are some crucial statistics where Vlahović is in the top ten of the league, showcasing his importance at Fiorentina. Some intriguing insights into the stats are the fact that he is 5th in Aerial duels won but has only won 43% of his aerial duels, meaning Fiorentina are certainly recognising the opportunity to utilise him in the air whether it be for flick-ons, goal kicks or even crosses, if he could up his aerial duel win percentage to say 60% with the number of aerial duels he competes in it would make him a more dangerous attacker. 
He is outperforming his xG from 18.3 to 21 goals, as well as being 7th in the progressive passes received section saliently highlighting that the progressive passes during Fiorentina's attacks look for Vlahovic. Coupled with the fact that in the top ten of the goals, non-penalty goals and expected goal metrics all have forwards playing for the top six teams in the league except Simy Nwankwo of Crotone and João Pedro of Cagliari who are also anomalies here. Like Vlahović, their attacks rely more on one player rather than the other big clubs who are better equipped to find goals from different avenues as the quality of their attack is better. 
Conclusion
At 21 years of age, Dušan Vlahović is proving that he has no problem in carrying the lofty responsibility of being the vanguard at an illustrious club that should really be doing better than mid-table. There could be possible suitors in the future, perhaps a bigger club in Italy beckons or a move abroad. Milan are reportedly interested in signing the Serbian striker in the wake of a knee injury to Zlatan Ibrahimović, although Fiorentina are looking to tie him down to a two-year extension until 2025 and increase his annual salary to €3 million, whilst protecting their asset with an €80 million release clause, per Calciomercato.
If Erling Haaland is akin to a fancy, overpriced restaurant where you have to wait in line with everyone clambering for a seat to get a taste of some quality food, Vlahović is that local charming eatery with no-nonsense good food at a more reasonable price. Whilst Daniel Levy and Michael Zorc will be demanding a king's ransom for Harry Kane and Haaland this summer, Rocco Comisso may have no other choice but to allow his striker to depart for a relatively modest sum. 
By: Dharnish Iqbal
Featured Image: @GabFoligno / DeFodi Images