Enock Mwepu – Brighton's Midfield Computer
Zambia have produced two of Europe's most exciting young talents – Patson Daka is the one many football fans have become familiar with thanks to his goalscoring exploits, but it's his Zambian footballing brother Enock Mwepu who is gaining the recognition of Premier League fans lately. Mwepu is still very much unknown by many – arriving from one of the world's most elite feeder clubs in Red Bull Salzburg in the summer. 
Brighton & Hove Albion have been a revelation so far this season – sitting 6th in the league and 3 points off the Champions League. Mwepu has been key to Brighton's form in recent weeks – slotting into the Segull's midfield seamlessly, and despite only playing 258 mins (6 games) in the Premier League, he's shown the ability that was on full display in Austria. 
Background 
Born in the capital city of Lusaka on January 1, 1998, with a younger brother Francisco who is another one of the shining lights of Zambian football plying his trade at LASK Linz, Mwepu's game was developed on rocky and dust-filled terrains with a ball made of plastic and rubber.
His footballing IQ and sharpness for tight spaces were matured on Zambian pitches. His childhood wasn't a pleasant one but it taught him the lessons that he applies to his life to this day on and off the pitch.
Patson Daka: The Youngster at the Forefront of Zambia's Football Revolution
Mwepu joined Kafue Celtic who sharpened his skills, and in 2013, Airtel Rising Stars allowed him to showcase his talent. Mwepu then began to shine in a highly talented Zambian U20 team that won the U20 African Cup of Nations which was held in Zambia to earn a spot in the U20 World Cup. He was then snapped up by Zambian Super League side Power Dynamos.
From there, he joined Red Bull Salzburg in 2017 and after a brief loan spell at  Liefering, he established himself as a vital cog in the biggest side in Austria. Then manager Jesse Marsch revealed – "He [Mwepu] gives us a  certain control and desire in midfield and we are a better team with him in it".
Position, Tendencies, and Skills
In the modern game, midfielders can be divided into the 3 positions – defensive midfield (DM), central midfield (CM), and attacking midfield (AM). However, sometimes players can even fit in more than one of these categories, and the modern-day midfield has a limitless list of specialised roles within these midfield positions which has become ever more important to a team's formation and this is probably the best way to evaluate the profile of player Enock Mwepu is. 
Mwepu played in multiple positions for Salzburg, playing on the right of a 2 in 4-2-3-1 as well as a right-sided CM in a 4-4-2 and at the base of midfield in a 4-2-3-1. He played most of his football on the right-hand side as an advanced player – with a restless pressing and ball-winning role.
For Brighton, he has occupied a similar position as he did for Salzburg – on the right of a 2 in a makeshift 4-2-3-1 or 4-1-4-1. The Zambian has an extremely high energetic, intense playing style and has been likened to a more versatile Yaya Touré. Endowed with the sobriquet 'the computer' from a young age due to his calculated passing and ability to read the game.
Mwepu's heatmap 20/21 [Sofascore]
Defensive Monster 
As mentioned above, Mwepu's key strengths are evident in the defensive side of his game. Even though he's spent most of his professional career in a more advanced area of the pitch, his defensive stats are up there with some of the best defensive midfielders in Europe.
This is apparent in his exceptional statistical metrics (courtesy of FBRef) where Mwepu ranks in the top percentiles for virtually every defensive metric, emphasizing he's an aggressive and energetic play-style defensive player, as seen in the graphs below.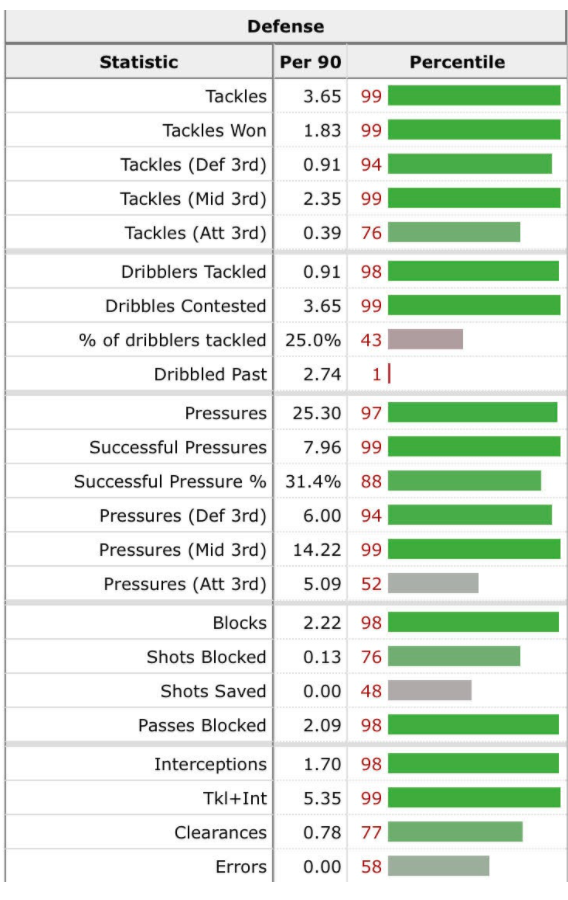 Photo: FBRef
Defensively, he's been a powerhouse in the top 1% for AMs in Europe's top 5 leagues for the following stats: pressures, successful pressures, tackles, dribbles contested, ball recoveries, and tackles+interceptions with 5.35 per 90 and 7.9 successful pressures per 90 — he's got nothing short of elite defensive output.
Because of the style his team plays in (Brighton are the most aggressive pressing team in the league ranking first in all pressures team stats), Mwepu's defensive embodiment is mostly seen as the pressing game and he does it at an elite level. His actions enable his side to orient the press as he is frequently the first player pressurizing the opposition or one of the first players initiating the press.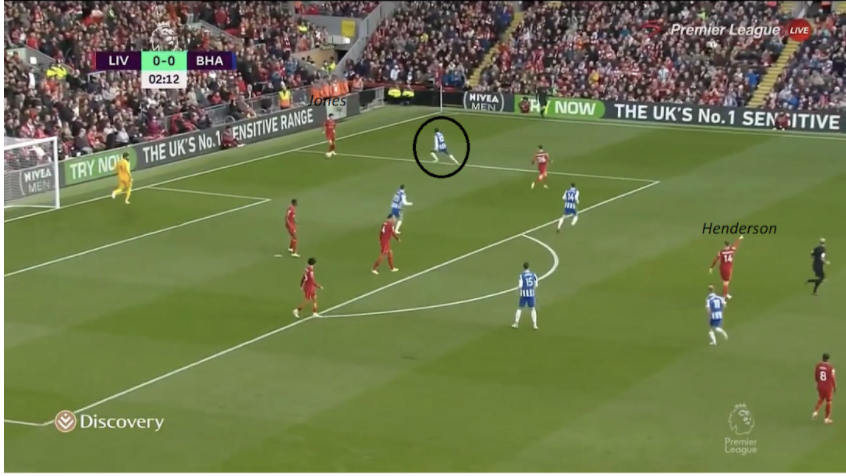 In this image, Mwepu's presses Curtis Jones high up the pitch while Liverpool look to build out from the back, and he also closes down the passing lanes towards Andrew Robertson. As seen at the bottom of the image, Jordan Henderson is pointing in the direction to tell Jones where to pass, but he can't because Mwepu is shadow pressing that angle and reducing Jones' passing angles. These situations happen often and his body orientation is one of his greatest strengths when pressing.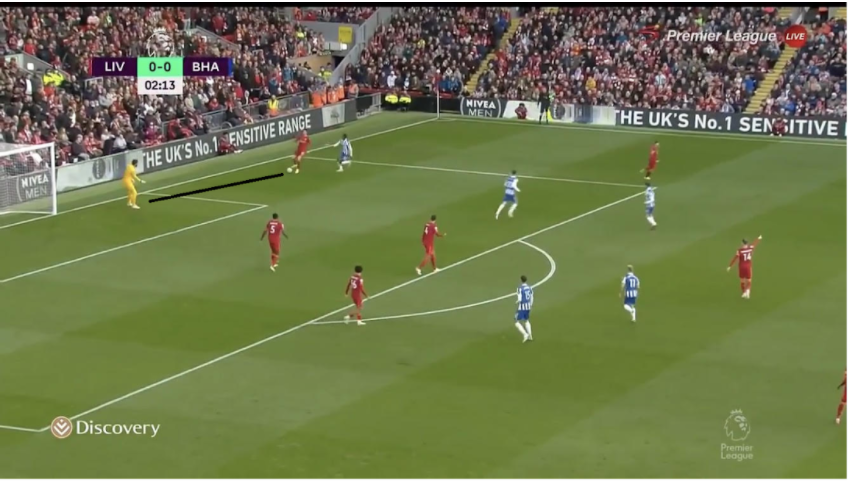 As we can see, the pressure from Mwepu leads to Jones passing it at an uncomfortable angle to Alisson and putting Liverpool in a dangerous position.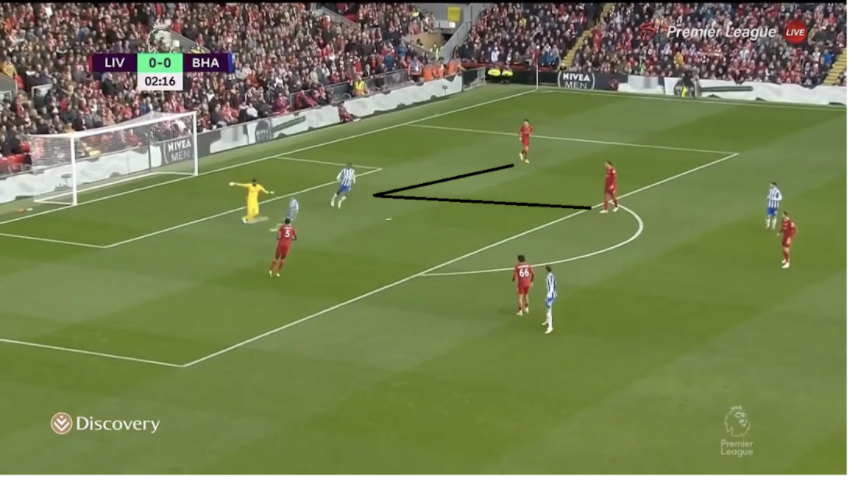 Mwepu continues his press and once again shows his intelligence in his pressing by cutting off the simple passing lanes to the 2 players behind him and forcing Allison having to clear the ball out. The image also highlights Brighton's excellent man-marking pressing system in the attacking third.  
Attacking Movement – Off and on the Ball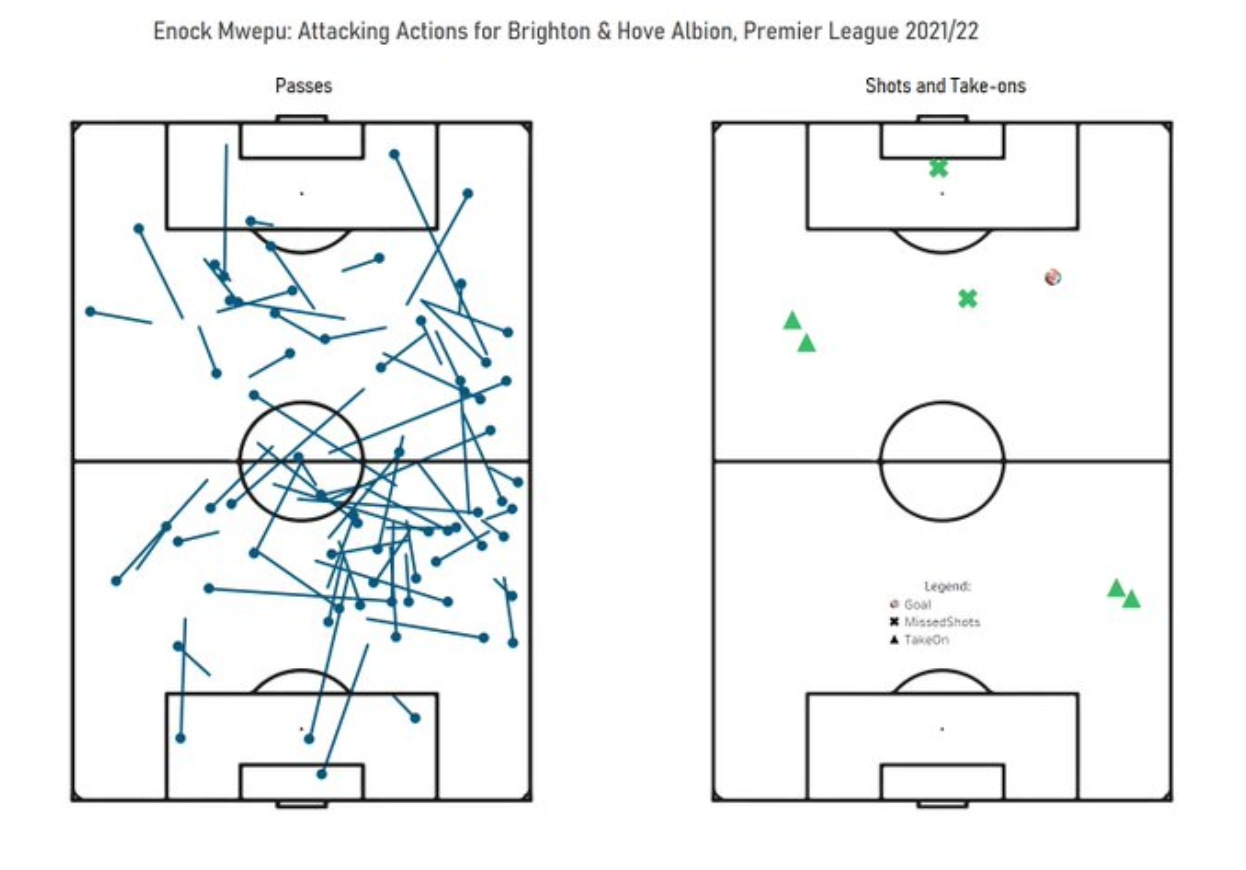 Mwepu's attacking actions 21/22 [@exceedingxpuns] 
Firstly on the ball, Mwepu is also a surprisingly good ball carrier, completing 1.8 dribbles and carries into the final third, per 90 – most impressively ranking in the top 3 % for successful dribbles %, 4.9 progressive carries, and he is only dispossessed 1.04 times per 90.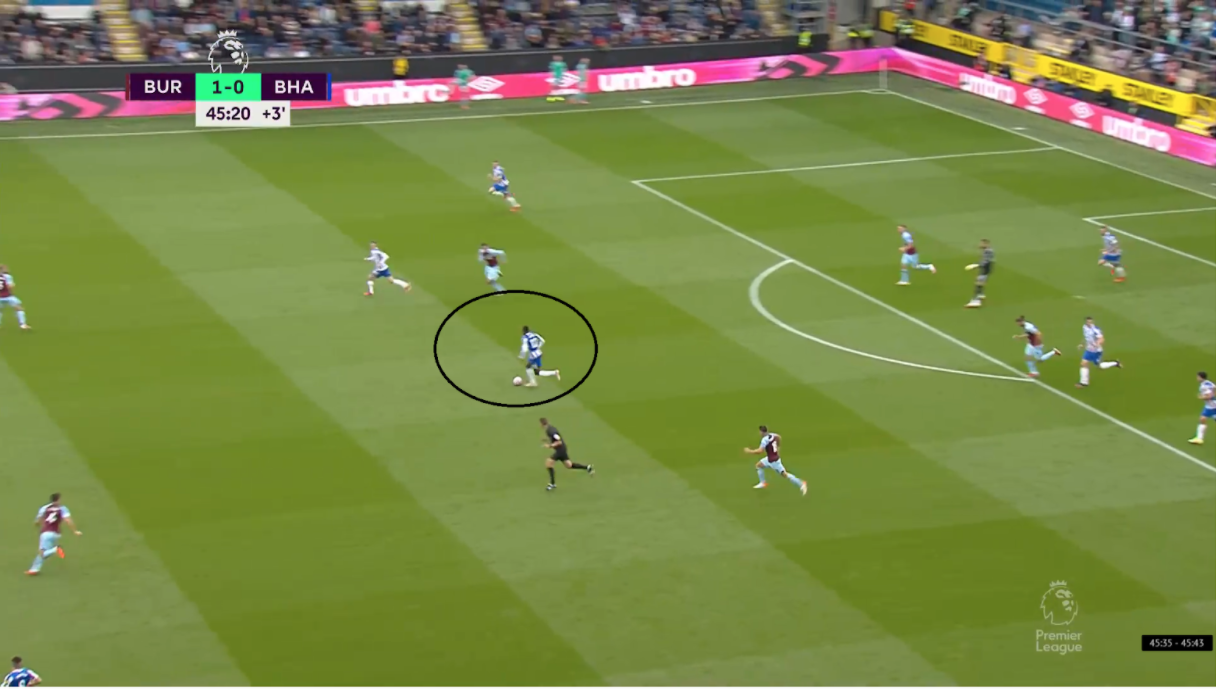 In the image above, we can see Mwepu driving with the ball from a deeper position – this is a position we see him often operate at Brighton on the ball. He excels in that role technically due to his excellent ball retention and technical security.
Combining his close control, dribbling, and long legs, which allows him to skip past challenges and pressures, he is very comfortable at receiving the ball facing his goal, an action which is usually considered risky, but not for him, due to his overall 'press resistance'.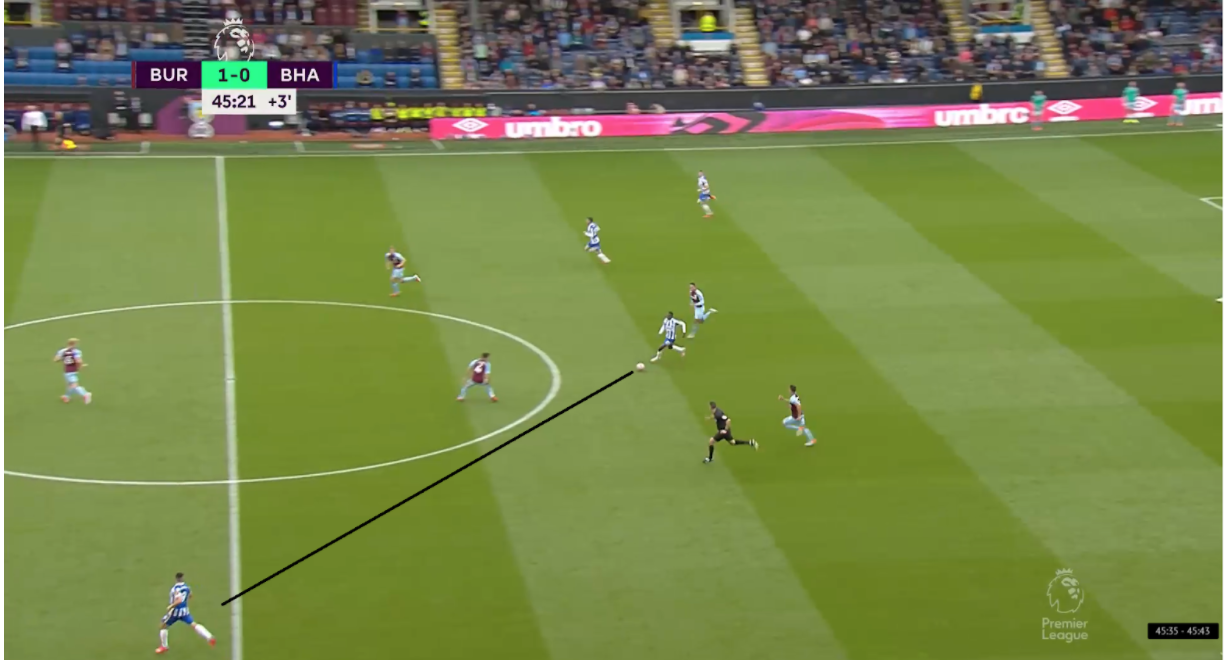 By showing the confidence he has on the ball, he naturally attracts players towards him. In this instance, 3 Burnley players look to close Mwepu down – this leaves Neal Maupay left open out on the left and Mwepu has the vision to see the unmarked player and the decision-making to execute the pass out wide in transition. 
Enock Mwepu is a player gifted with great physical characteristics and an excellent sense for the game which allows him to be included in all parts of the action around the pitch. His abilities make it possible for him to be a useful midfielder in both boxes with responsibility in both possession-based attacks and transitional ones. 
Off the ball, one of his main strengths is his movement in possession when his team has the ball. He relieves a lot of space with his movements and, at the same time, provides his teammates with a vertical progression option through the lines. He mostly positions himself in the higher half-spaces but with a clear intention to pull himself to the flanks and supply his side with wide possibilities, characteristics that are linked with a typical Mezzala.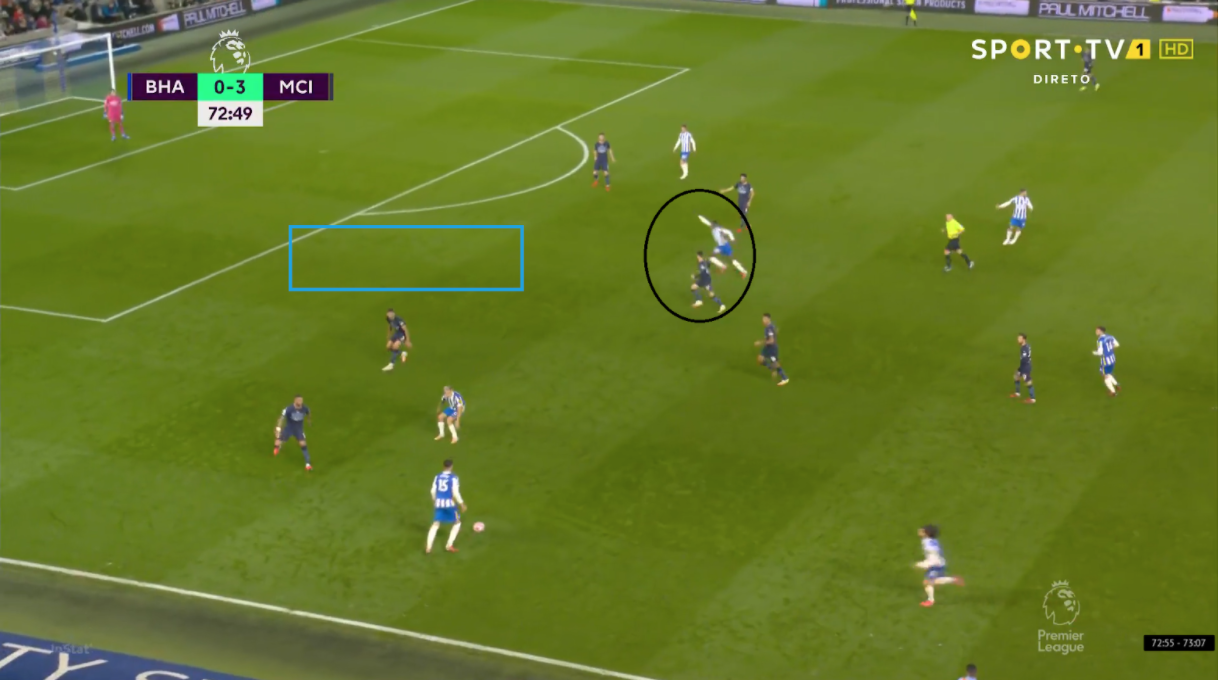 As we can see in this image, most of his runs happen from the central areas and are aimed out wide to free up space in the zones for others to come for the ball and drag defenders out of their positions. That is the main intention with his movement, showing intelligent positioning to receive the ball high up the pitch. 
Conclusion
Enock Mwepu is certainly one of the next footballing stars coming from the continent of Africa. His mixture of skills makes him stand out as the future heir to Yaya Touré and the player who will probably be one of the most industrial players in the league. Equally as impactful in and out of possession, defensively and offensively. Mwepu looks like another intelligent Brighton signing and an exciting future awaits such a versatile, cultured player.
By: Raphael Adelugba / @RaphaelAdelugb0
Featured Image: @GabFoligno / Shaun Botterill – Getty Images