Evanilson: The Young Brazilian Striker Making a Name for Himself in Portugal
Evanilson is the latest Brazilian to be making his mark on football in Europe. The twenty-two-year-old has enjoyed something of a breakout season at Porto helping the club secure the league title with fourteen goals and four assists to his name.
With the summer transfer window in full swing, Evanilson is the latest player to be linked with Manchester United, rumours of a 55-million-pound deal have been speculated. Using data and video from Wyscout this piece will take a closer look at how the Brazilian has become so pivotal to Porto recently.
Biography
Name: Francisco Evanilson de Lima Barbosa
Age: 22 Years
Club: Porto
Nationality: Brazilian
Position: Forward
Height / Weight: 183 cm / 80 kg
Preferred Foot: Right
Evanilson started his career in the famed Fluminense's youth setup, in order to get some first-team experience he was sent out on loan to Slovakian team Šamorín in 2018. Upon his return to Brazil, the young forward found himself back in Fluminense's under-20 squad.
Sékou Mara: The Latest Gem to Emerge from Bordeaux's Academy?
After working hard and putting in some standout performances he was promoted back to the senior squad. He very quickly fell out of favour as he wasn't considered to be one of the brightest young starlets at the club. With this in mind, Evanilson signed a pre-contract agreement with Tombense, however, he would remain on loan at Fluminense.
The Fortaleza native would never make an appearance for Tombense as in September 2020, Porto came calling. The young forward had scored seven goals in 16 appearances while on loan at Fluminense, enough to convince the Portuguese giants to place an €8.8 million bid. 
After initially finding first-team opportunities hard to come by, Evanilson forced his way into Sergio Conceição's plans and never looked back. According to Wyscout, Porto have used three formations this season, 4-4-2, 4-3-3 and 4-2-3-1. In the 4-4-2 formation, Evanilson would line up in a front two with Mehdi Taremi while in the 4-3-3 and 4-2-3-1 formations he would act as the lone striker.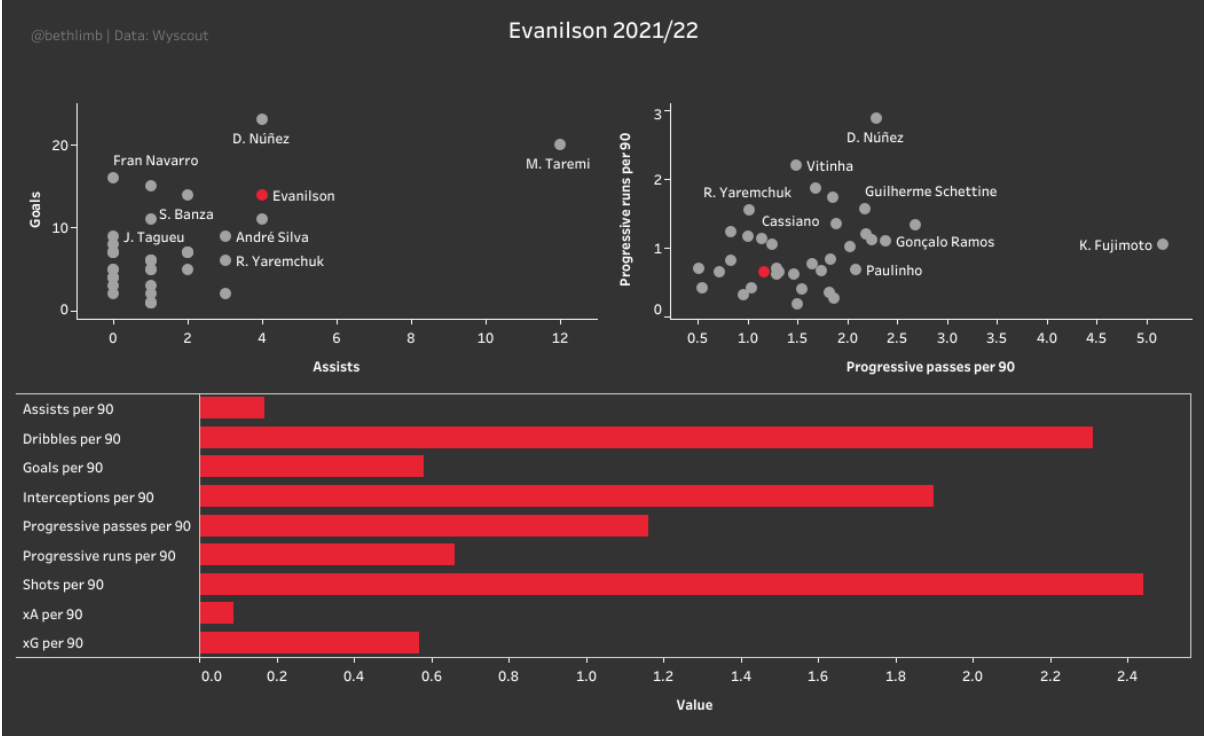 Assessing Evanilson's attacking output for Porto, one thing that is apparent immediately is that he shoots mostly from inside the box. This is very beneficial to the team as it means he is more likely to hit the target, this is supported by the fact that he has an xG per 90 of 0.57 which places him in the top five for this metric within the Primeira Liga.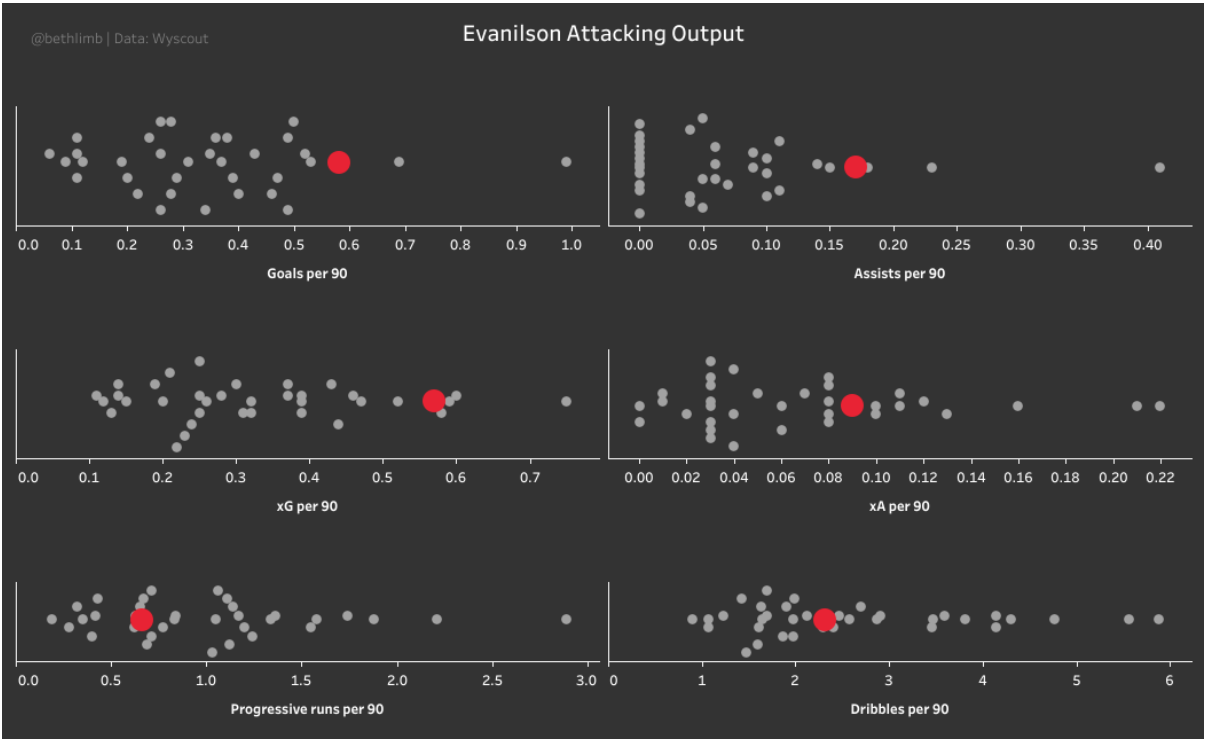 A noticeable trait of Evanilson is that he is often very quick to get a shot off once he has received the ball. This can be very effective in catching the opposition off guard however this trait does also mean that he doesn't always look up and assess his options which can lead to teammates who are in better positions often being missed. 
Evanilson averages approximately 56.46 successful actions per 90 which equates to 44%, which is somewhat concerning as you would expect players in the more dominant teams (Porto, Benfica, Sporting) to have a much higher success rate. One reason for this could be a lack of thought to some of his choices on the pitch. This is an area that would require improvement if he were to move to a T5 league club. 
In terms of being a creator, Evanilson is averaging 0.17 assists per 90, with an xA per 90 of 0.09. He is clearly outperforming his expected output in this metric which clearly demonstrates his ability to bring fellow teammates into play with goal-scoring opportunities.
With the Brazilian registering few progressive runs and dribbles per 90, it is clear that his role at Porto does not require him to be a ball carrier. He is required to ensure he is in the right place at the right time, similar to a typical goal poacher.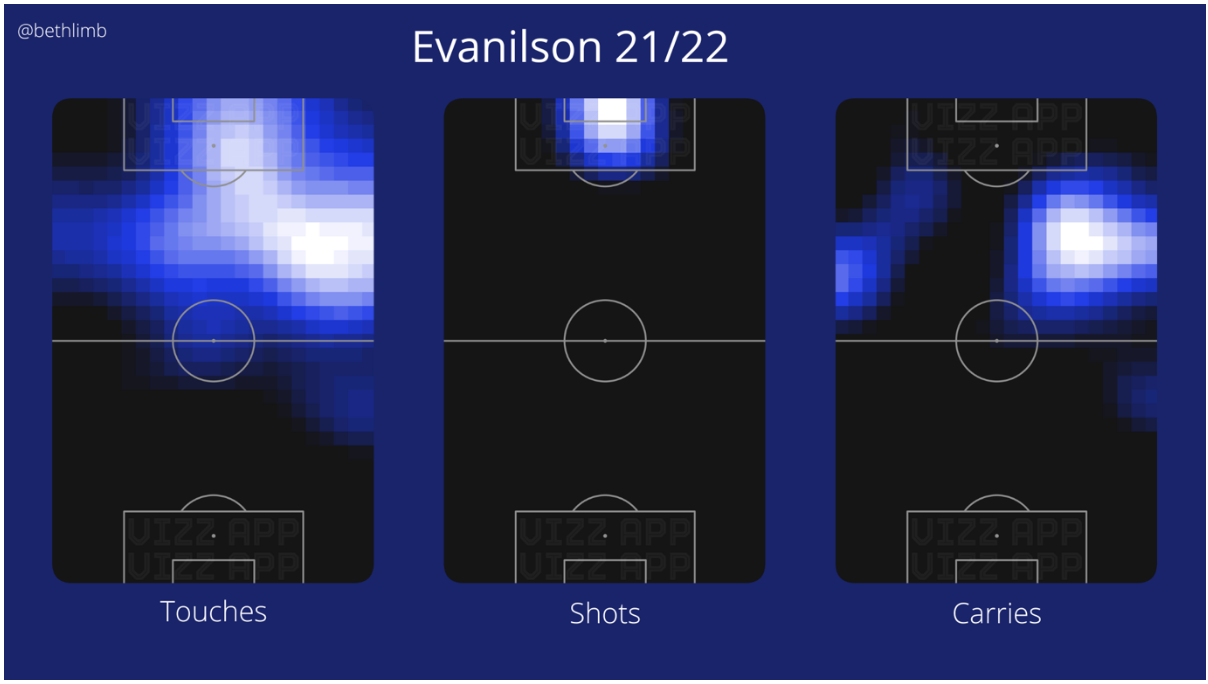 As the above heat map demonstrates, Evanilson touches of the ball are in either central attacking areas or on the right-hand side. He tends to drift out wide on occasion to create space for the on runners from midfield. When he receives the ball out wide, he will mostly look for a pass to a teammate as opposed to carrying the ball into the box.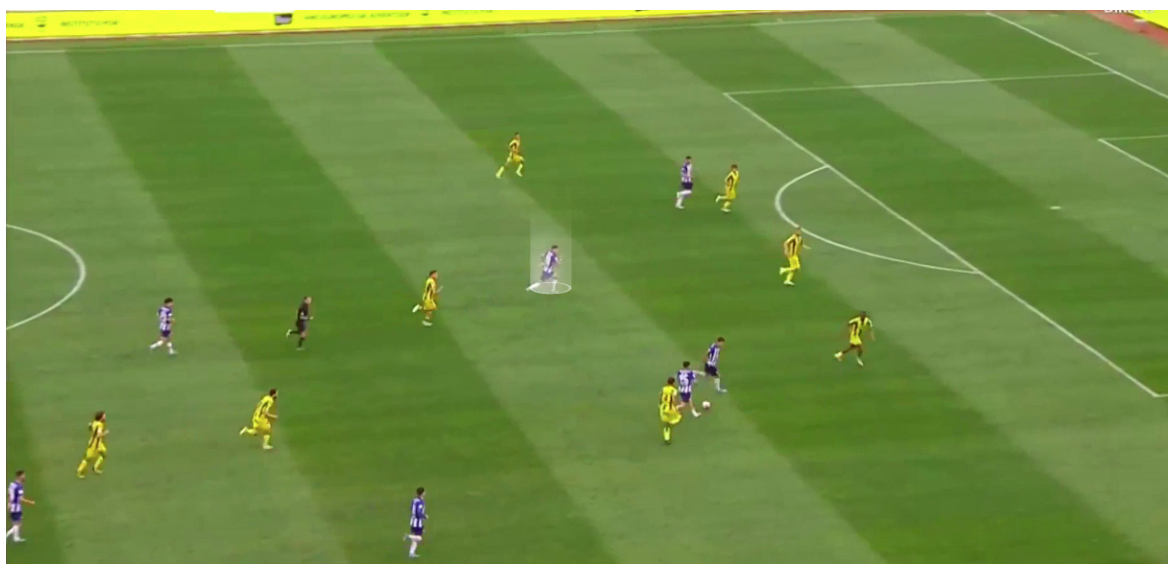 Evanilson has a great ability to make runs in between the lines of the opposition. He is very aware of his position on the pitch and is able to demonstrate good aptitude in knowing when to stay on the shoulder of the last defender and when to drop back into zone 14 and further back.
In the above image, Evanilson has allowed Porto's midfield runners to get ahead of him which has forced the opposition defenders to drop back and in turn, created space for him to receive the ball and have time to assess what to do next.
In the image below, Porto are attacking down the left side and Evanilson shows his intelligence in creating space as he alters his body position to get on the blind side of his marker and ensure that his teammate has the potential to reach him with a ball into the box.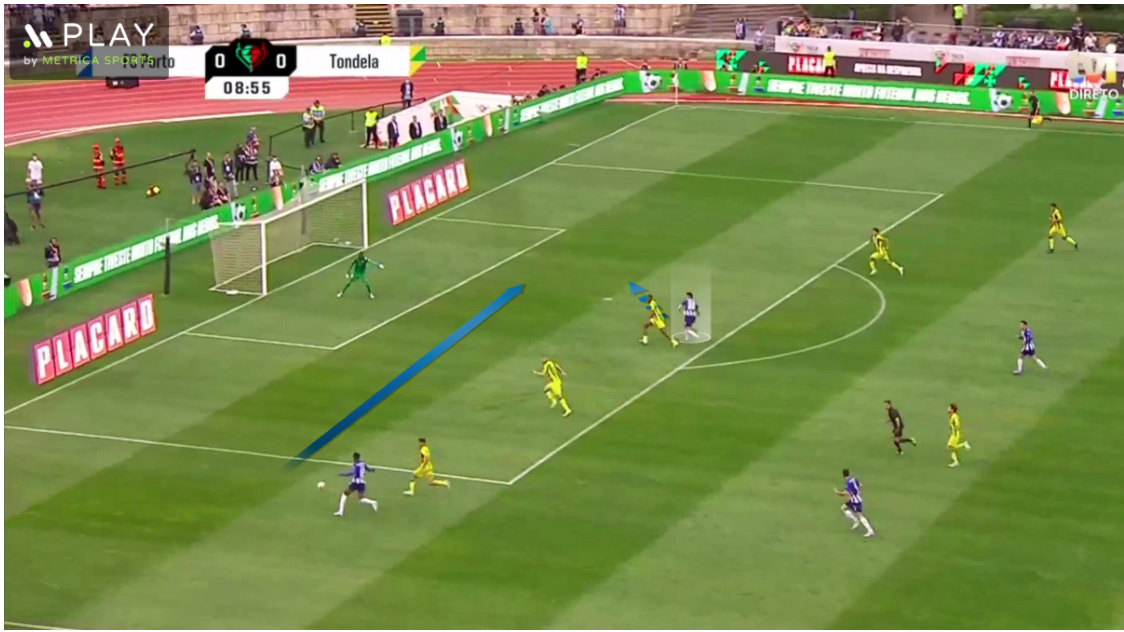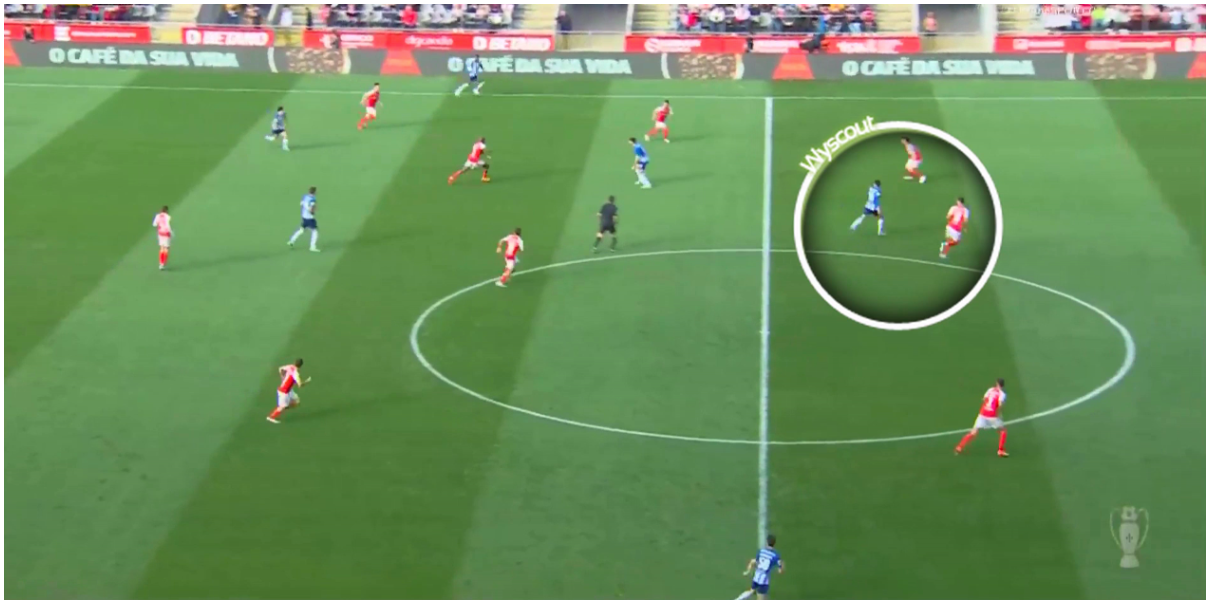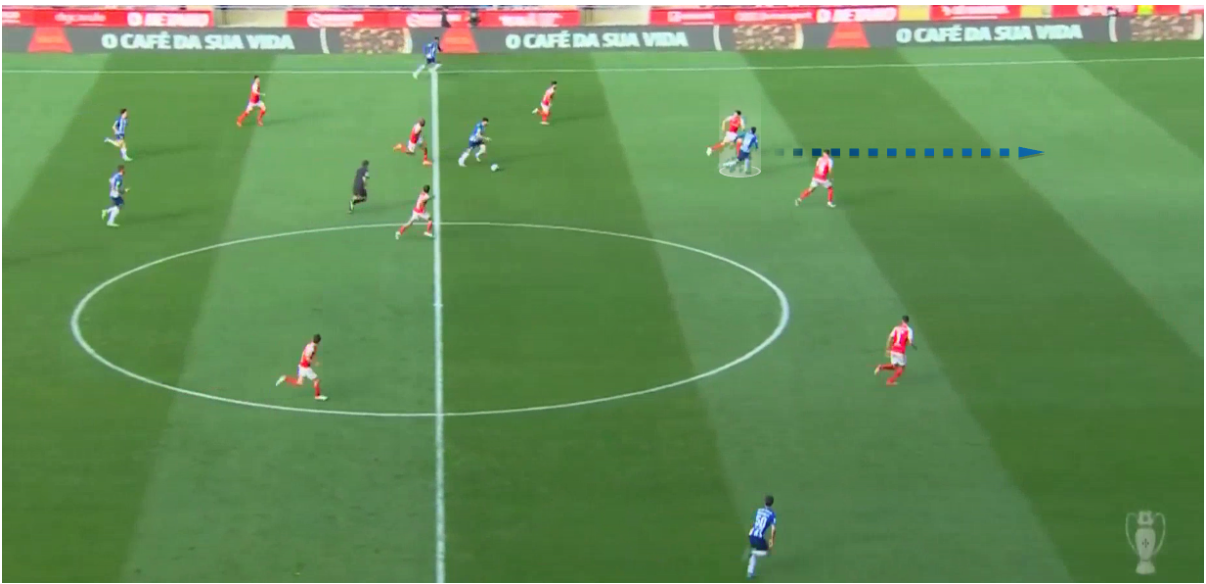 The Brazilian forward is often scanning the play behind him as seen in the above images. This allows him to play on the shoulder of the last defender and make runs behind the opponent's defence. He will often make these runs to create space for fellow teammates, a testament to his understanding of the game and willingness to work off the ball.
Evanilson's ability to create pockets of space for himself and others is an element of his game to be greatly admired. He has a great ability to force defenders into difficult situations with a simple step back or by slowing his run which means they must decide to whether to press him or stay in their defensive line and mark the runners.
This ability to drop off shows that Evanilson has the potential to play an integral part in any build-up play. At Porto, Taremi is the player who more frequently can be found dropping back which very often leaves Evanilson higher up the pitch ready to run in behind. This does not mean Evanilson cannot successfully link up with teammates and contribute to the attacking build-up, rather that it is a tactical decision by Conceição. 
Overall, Evanilson is certainly a bright spark in football. He has proven himself to become a key part of Porto's team and has shown great willingness and desire to improve when dropped to the B team. Of course, as with any young player, there are elements of his game that require improvement, but on the whole, Evanilson has the potential to go far.
Another season in the Primeira Liga would likely serve him better in terms of development than a move to a top five league. The 22-year-old Brazilian striker is one to watch and will undoubtedly go on to make a name for himself in world football. 
By: Bethany Limb/ @bethlimb
Featured Image: @GabFoligno / Quality Sport Images / Getty Images