Sékou Mara: The Latest Gem to Emerge from Bordeaux's Academy?
Bordeaux have experienced a rather torrid time of late. Once a stalwart of Ligue 1 and Champions League regular, the club endured relegation to Ligue 2 after a dreadful 2021/22 campaign. Bordeaux have now suffered the ignominy of being relegated to the Championnat National due to their financial troubles. The club is likely to appeal the decision over the coming weeks as they believe it to be 'brutal'.  
A bright spark of Bordeaux's season has been the emergence of Sékou Mara, the young striker has broken through into the first team. He is predicted to be the next star of French football, with great talent and immeasurable understanding of the game.
Under The Lens: How Jonathan Clauss Became a Driving Force in Lens' Sensational Return to Ligue 1
As expected, the club are anticipating a mass exodus of players since the relegation. Whether Mara will be on that list remains to be seen, he has many suitors including Monaco and Lyon.  This article will highlight the key aspects of Sékou Mara's game and why the sky is the limit for this young man. 
Biography
Name:
Sékou Mara
Age:
19 Years (30/07/2002)
Nationality:
French
Contract Expires:
30/06/2025
Height / Weight:
183cm / 80kg
Preferred Foot:
Right
When comparing Mara to fellow top five league forwards, he performs very well, especially for one so young. He scores highly in shots, goals and goals-xG suggesting he is something of an all-around finisher.
A high rating of goals per xG demonstrates that he is a clinical finisher, very capable of taking the chances presented to him. His shots are mostly from inside the penalty area as per the graphic from Understat which shows that Mara is a very intelligent forward who is able to put himself in goal-scoring positions.
The Paris-born 19-year-old finished the season with six goals to his name, often playing as a lone striker in a 5-4-1 formation which Bordeaux used 35% of the time.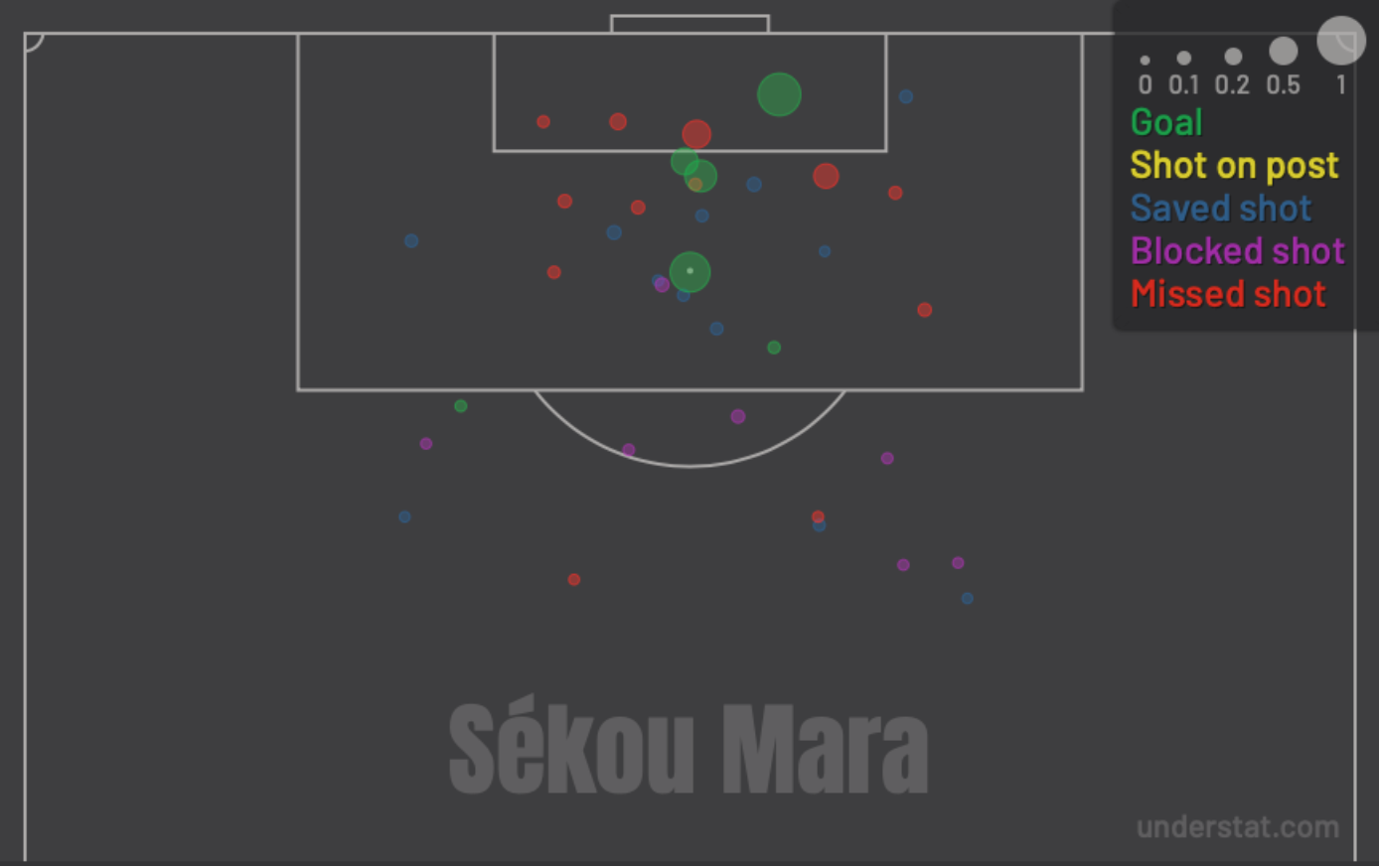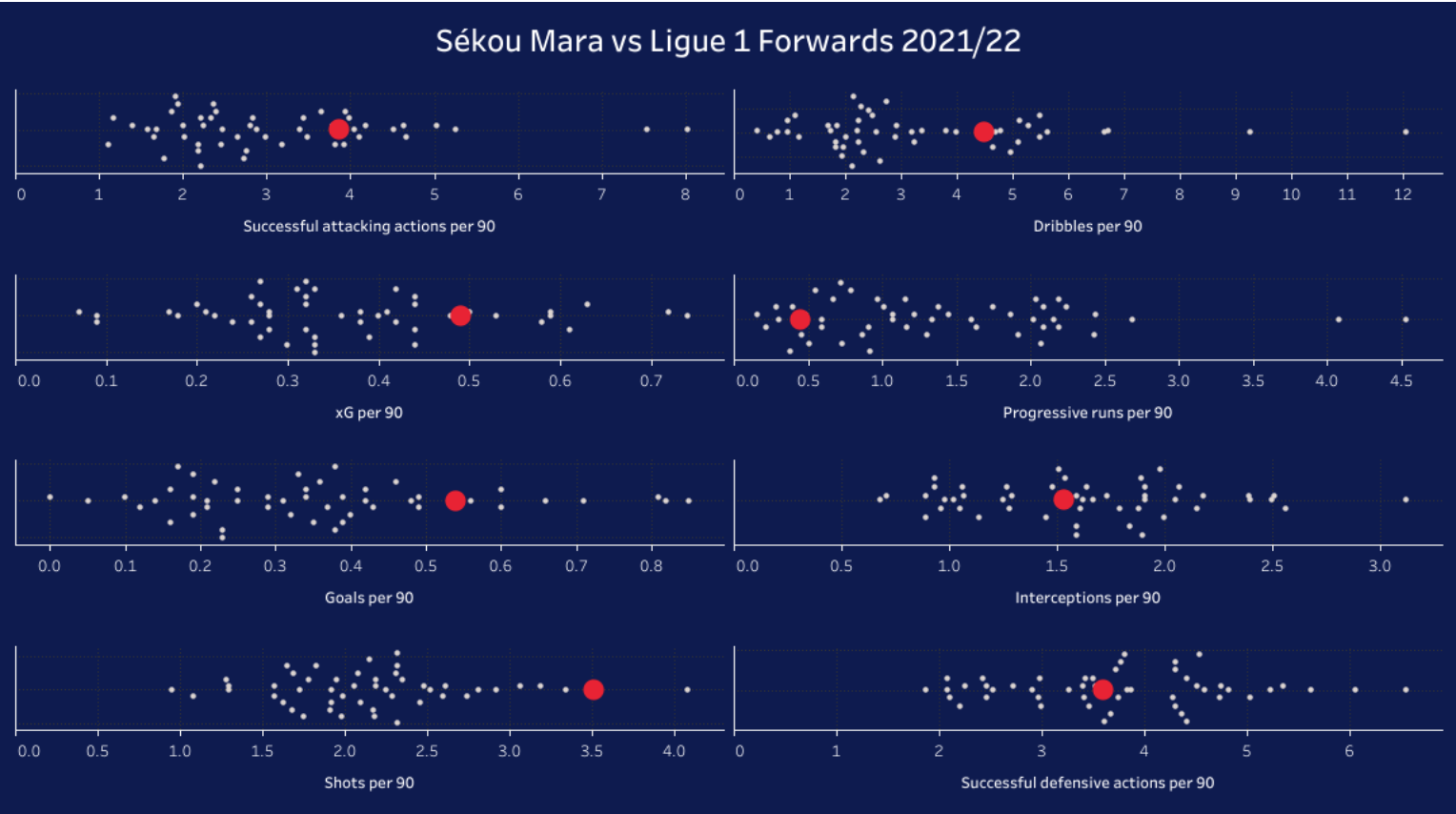 Mara's six goals were from an xG of 5.41 which validates there was a very slight overperformance and that the young striker is capable of scoring from low percentage opportunities. When comparing him with his Ligue 1 peers, the above graphic shows that Mara is up there with the top forwards in the league. In terms of shots per 90, only Kylian Mbappe ranks higher than him.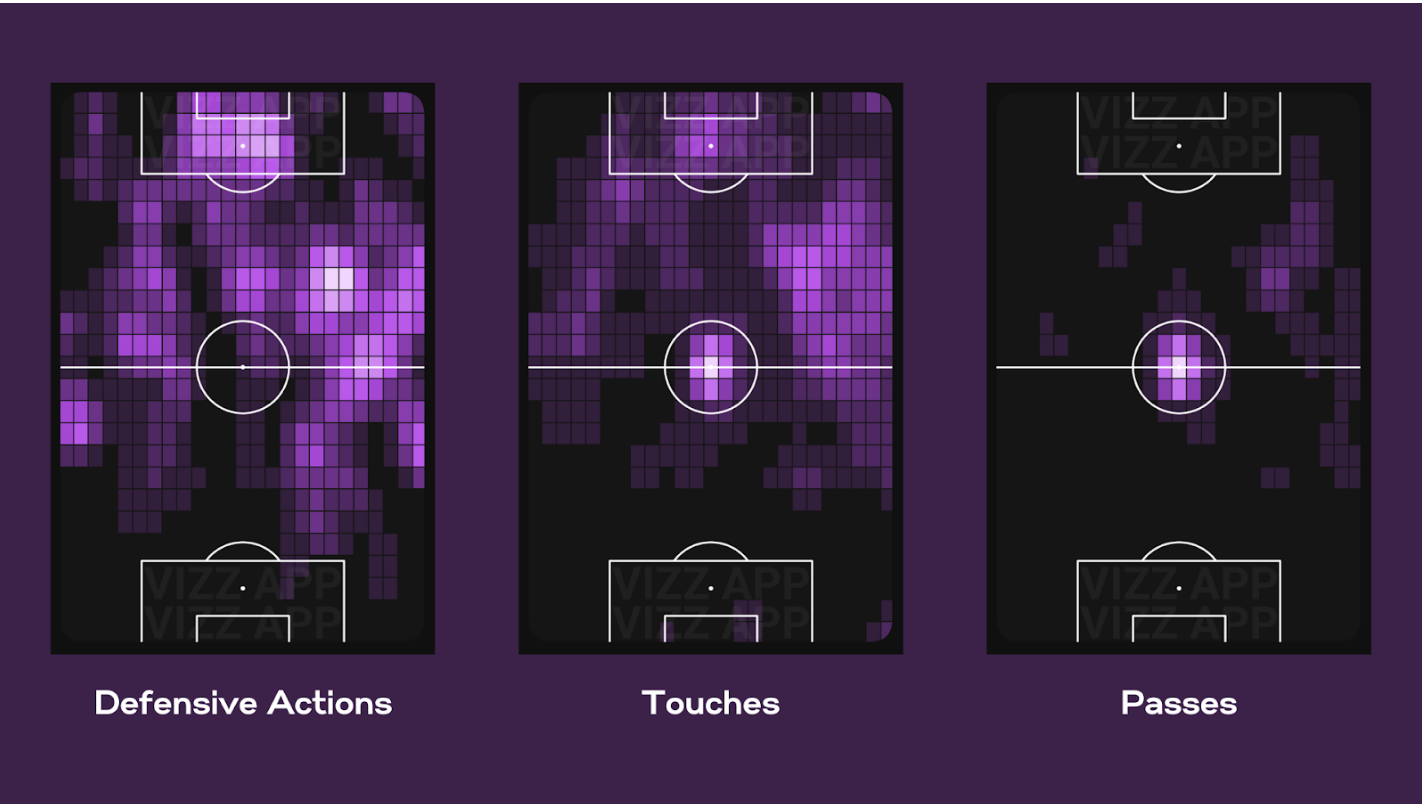 Looking at his heatmaps, it is clear that Mara likes to drift out onto the right wing more often than not. However, he is extremely mobile on the pitch and his defensive work cannot be overlooked.
He is happy to defend from the front and engage in a pressing game whilst also tracking back when needed. He averages 3.6 successful defensive actions per 90 which show his work ethic and his willingness to defend for the team.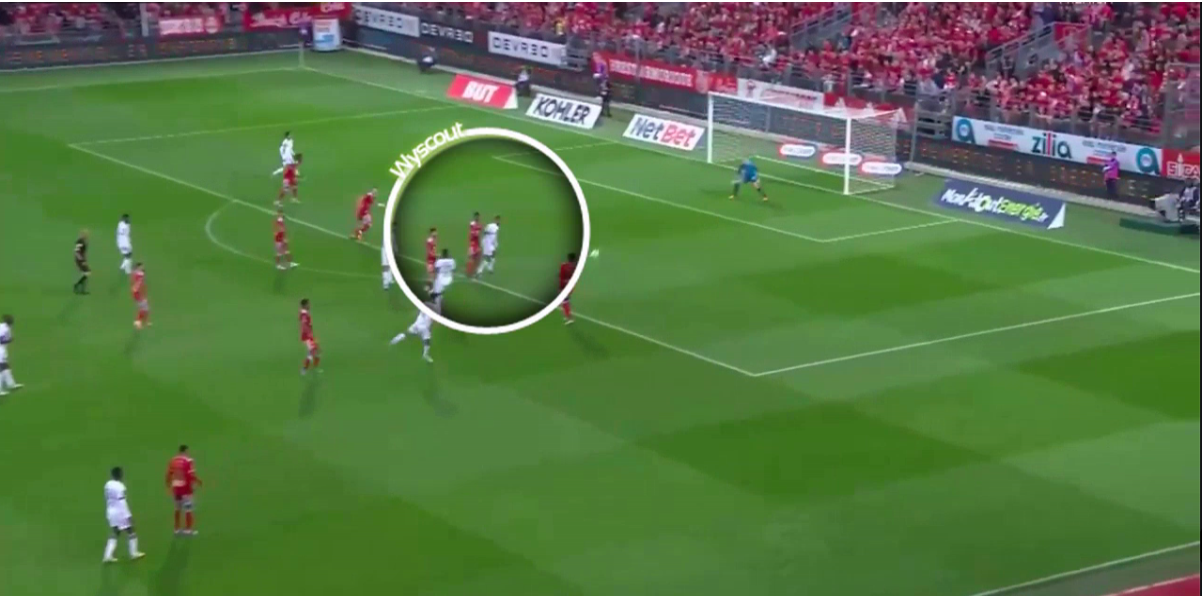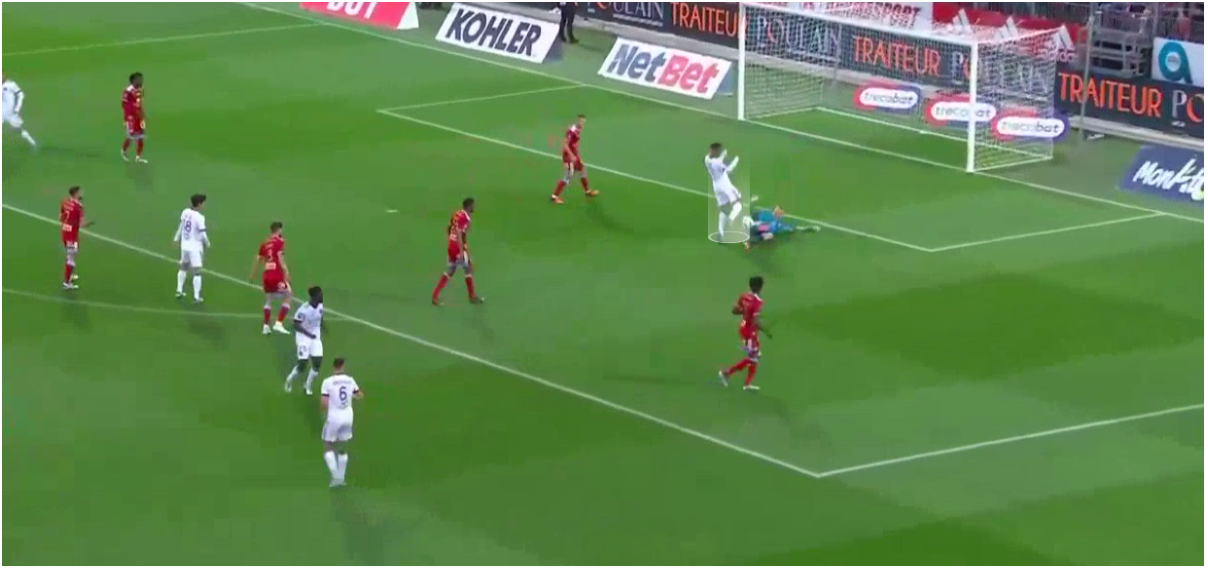 The images above demonstrate Mara's goal-scoring instinct, as his teammate takes a shot from the edge of the area, he doesn't stand around ball-watching. The young forward can be found following the ball 'just in case' the keeper makes an error. In this case, that is exactly what happened, and he is ready to pounce on the dropped ball and is rewarded with a goal.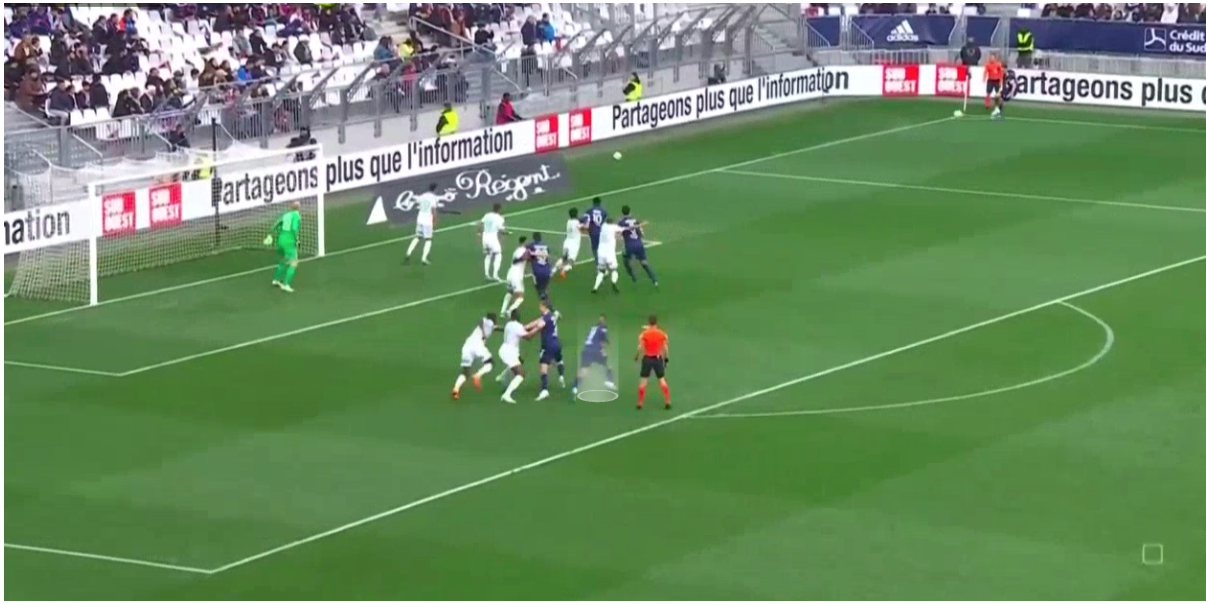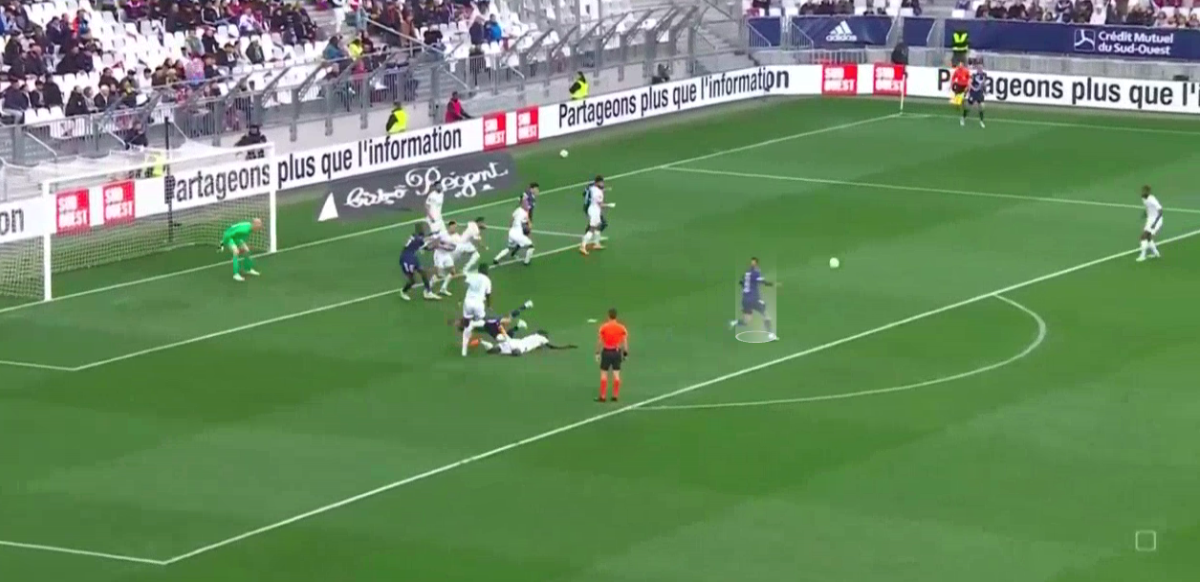 In this well-worked set-piece situation, Sékou Mara shows excellent movement to lose his marker and create space. This again leads to a goal for Bordeaux. It is this great ability to evade his marker that is somewhat reminiscent of a young Thierry Henry. 
In the image below, Mara finds himself surrounded by two opposition players, he executes a quick drop of the shoulder and is able to generate half a yard to get a shot away. He is not shy in shooting from outside the area, though most of his goals are from inside the 18-yard box, Mara has immense confidence and is happy to have a go from distance.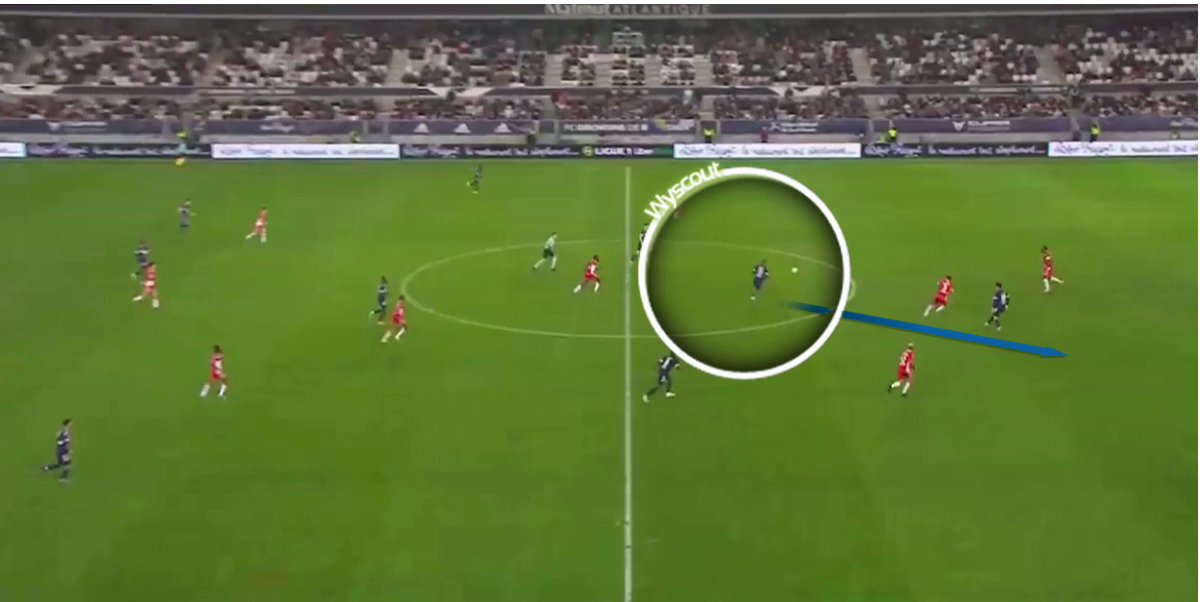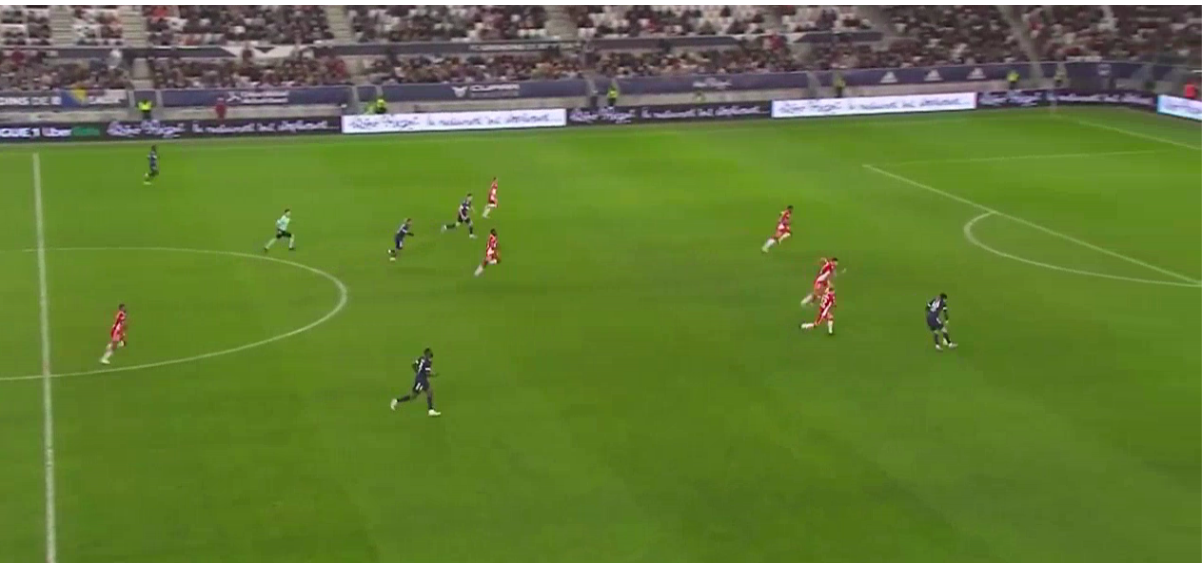 Both the above and below images display Mara's ability to play defence-splitting passes. In the images above, he takes up a central position and is able to see his teammate making a run further ahead. Mara executes a perfectly weighted pass, taking three defenders out of the game and giving his teammate a clear run into the opposition penalty area. 
In the images below, Mara has drifted out onto the right wing as he often does. This generates space for the Bordeaux midfielders to make forward runs. Mara is able to hold up the ball well while assessing his passing options.
He then demonstrates that he has the ability to play an inch-perfect pass behind the opposition defence. It is this passing ability and understanding of how to create and then exploit spaces, which shows that Sékou Mara is much more than just a goal scorer.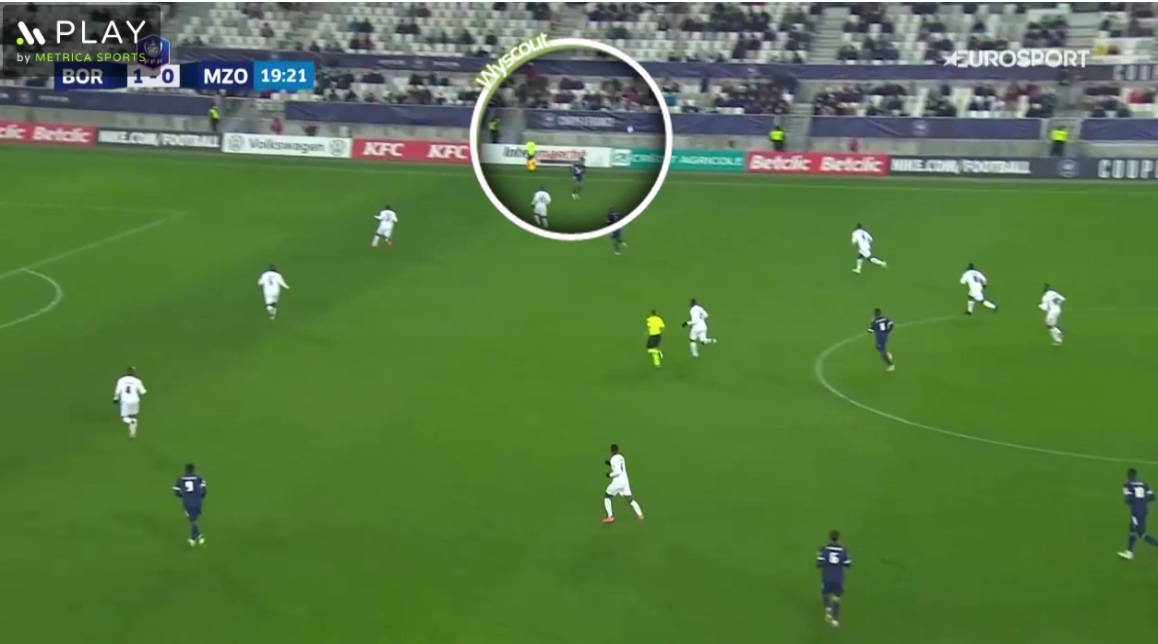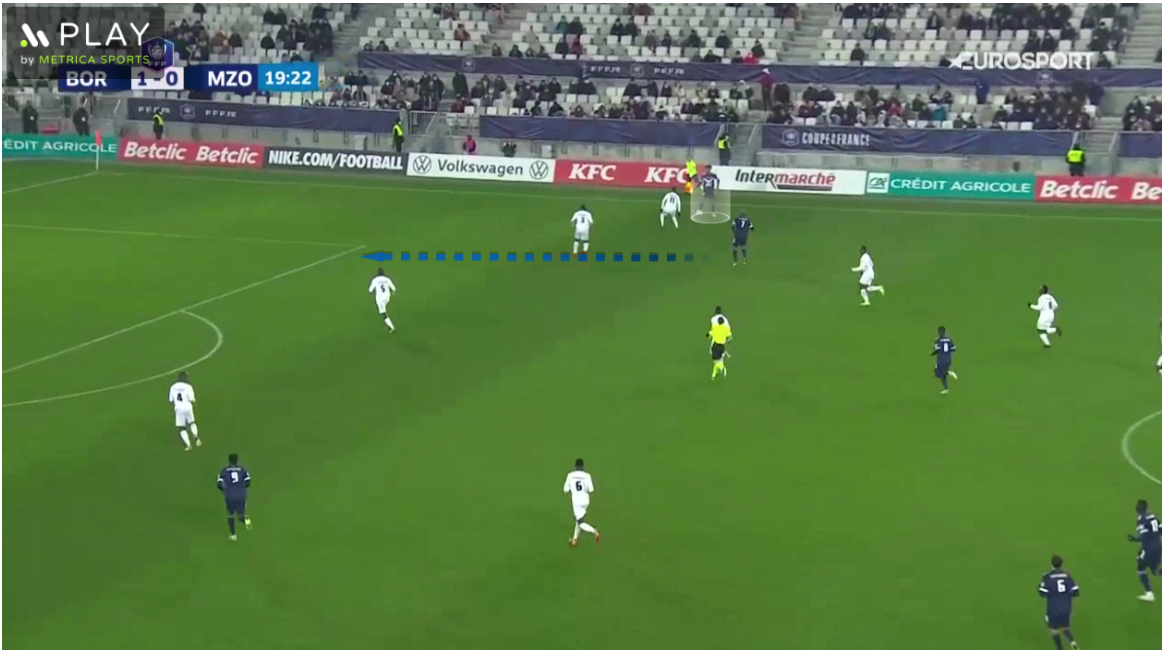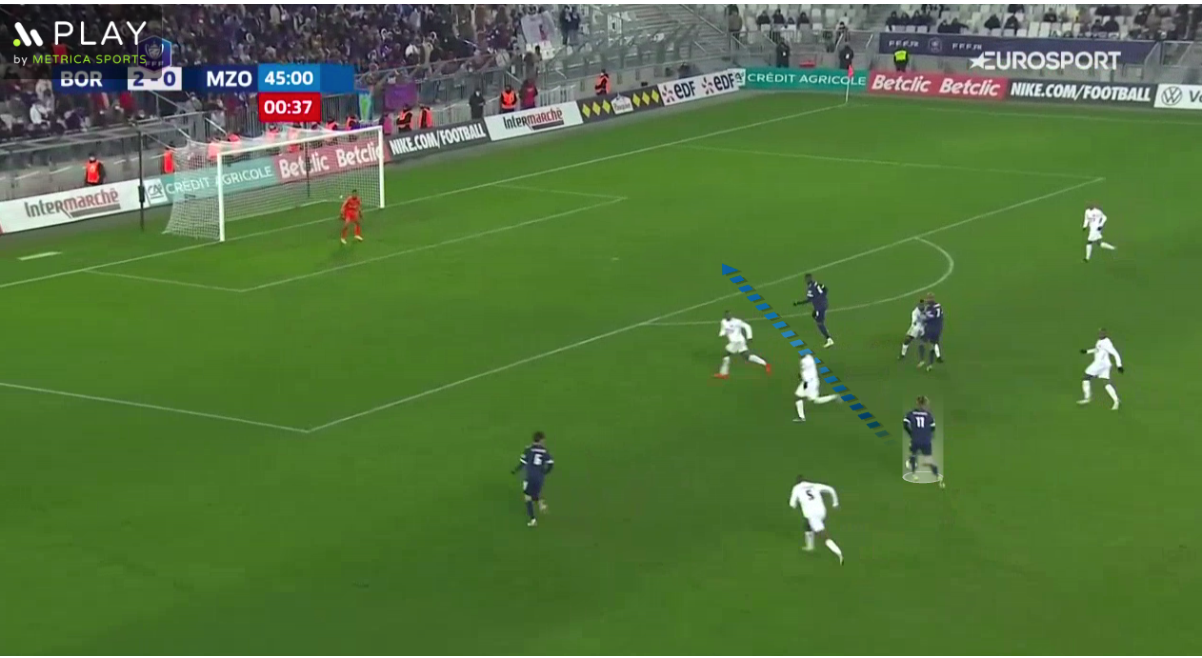 In the above image, Mara has managed to lose his marker and create enough space for him to play a through ball to a teammate once again. The young forward demonstrates a maturity beyond his years with his reading of the game and ability to know when to pass the ball and when to use his close control and excellent dribbling aptitude to take a player on. 
Understandably Sékou Mara is vying for a move away from Bordeaux due to their relegation, however, the club have placed a €15 million price tag on him which may be slightly off-putting. Should one of the many interested clubs be willing to meet Bordeaux's desired price or there be a successful negotiation, it is safe to say that they would be investing in a quality player for the future.
So far throughout his career, Mara has shown a good attitude and willingness to learn and improve. If he continues on this trajectory there is no reason why he cannot go on to become one of the most important players for France.
He has excellent goal-scoring abilities, fantastic vision, and passing capability and is more than willing to work defensively which suits the high-pressing style of play we are seeing throughout Europe in recent years. Wherever Sékou Mara goes next, he is one to keep an eye out for as he could well be the future of French football.
By: Bethany Limb / @bethlimb
Featured Image: @GabFoligno / Scoop Dyga / Icon Sport