Federico Chiesa: Church by Name, Savior by Nature
Italy vs Austria, 27th July 2021. The clock nears the 80th-minute mark without a goal to show. Increasing doubts fills the stadium, as it would seem the next goal wins the game. Italy's nonchalant approach showed the calm and belief in their system. Nevertheless, Marko Arnautović's offside goal was a false alarm that needed to be addressed – A change was imminent.
Having played with and coached a goalscorer by the name of Chiesa in the past, Mancini seemingly defaulted to another from the bench. On comes Federico Chiesa into the fray in the 84th minute, with the nation hoping he would emulate his father's goalscoring instincts, despite only scoring one solitary goal prior.
And he did exactly that. In the 95th minute of extra time, Chiesa showed composure to bring the ball down and knock it past a defender, before lashing it in with his left. He slides down the edge of the pitch, raising both arms high above his head and looks up the sky, embracing his nation as he evoked the memory of Enrico Chiesa's greatness for the Azzurri. Déjà vu indeed. Enrico Chiesa is the past, Federico Chiesa is the present and very much the future.
Federico Chiesa: A Shining Light in Juventus' Nightmarish Season
This analysis will cover the Italian's performances with his club and country this season. All figures below are based on performance per 90 minutes played, according to StatsBomb via FBref.
Chaos in Motion
Throughout his career at Fiorentina and Juventus, Chiesa has been utilized in many positions. The Italian has played on both wings as a winger and wingback, as well as deputizing up front. His versatility has proven to be useful to the coaches and clubs he served, but the constant change in positions has also stalled his progress for a while in Florence. 
This season, Chiesa has largely been utilized across the front three, with the majority of his minutes as the right winger for club and country. He normally receives his passes in wider areas or at the right half-spaces, before dribbling past defenders, linking play with his strikers centrally. 

In possession, Chiesa combines blistering pace with composed dribbling to burst past defenders with ease. Being technically gifted allows him the freedom to craft his way inwards or outwards depending on the situation. This very often leaves defenders for dead as they struggle to anticipate the chaotic and unpredictable energy exuded by the winger. 
It should also be noted that Massimiliano Allegri and Roberto Mancini employ a similar 3 at the back system in possession, to offer solidity in defence and facilitating build-up from deep. For Juventus, it is Danilo who starts ahead of the more offensive Juan Cuadrado at right back, whilst Giovanni Di Lorenzo is Italy's first choice right back due to his defensive solidity.
This would mean that Chiesa is often isolated on the wings, with few overlapping runs occurring ahead of him (If they do occur, it is normally one of the midfielders who roam wide, leaving space infield for Chiesa to drive into). This makes it much more impressive to see him beat defenders constantly with little to no help.
Out of possession, is perhaps where Chiesa's most underrated attribute shines through – his work rate. The never-ending chaos he exudes amplifies without the ball. It epitomizes the grit and determination of Italy with his constant endeavor to win the ball back. 
Perhaps the goal that best describes Chiesa's playstyle, is his equalizer against Spezia. Chiesa's pass was blocked, and the ball is seemingly running out of play, with the Spezia defender being the favorite to regain possession. Even if it looked like a losing battle, Chiesa never gave the ball up and chased the defender, and eventually winning it back just by the edge of the pitch.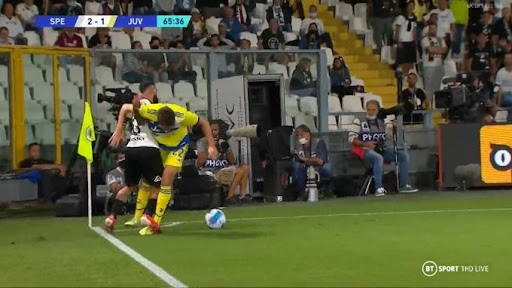 He carries the ball to the penalty area, dribbling past another defender in the process and passes the ball to Álvaro Morata. The Spaniard's effort was unfortunately blocked, but the on-running Chiesa picked up the loose ball and nutmegged another defender before slotting it past the keeper.
Through this goal, we can see his work rate and defensive acumen in winning the ball back, whilst having the agility and pace to glide past defenders with ease, and an appetite for a shot. All of which will be discussed in the following sections.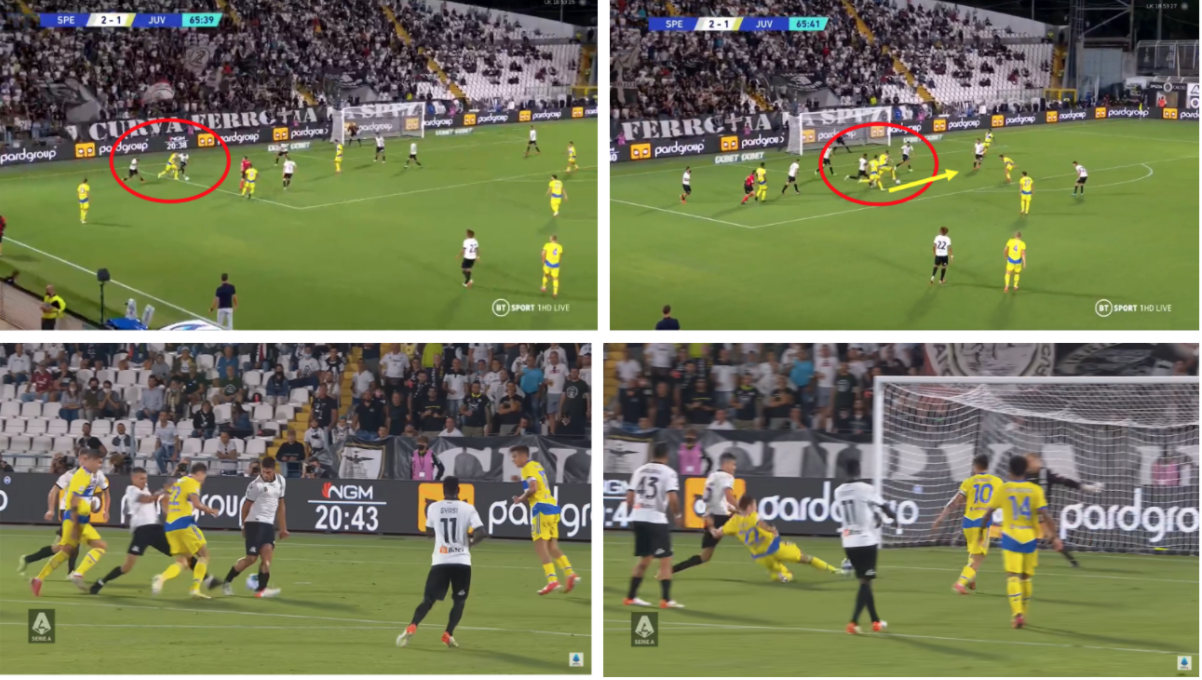 Dribbling Hazard
Chiesa's greatest weapon in his arsenal, has got to be the exhilarating pace coupled with technical proficiencies, making him a great 1v1 dribbler. When Juventus are in possession, Chiesa would drift wider to receive the ball, isolating himself with the fullback, knowing full well he's got every chance of beating any defender with speed and trickery.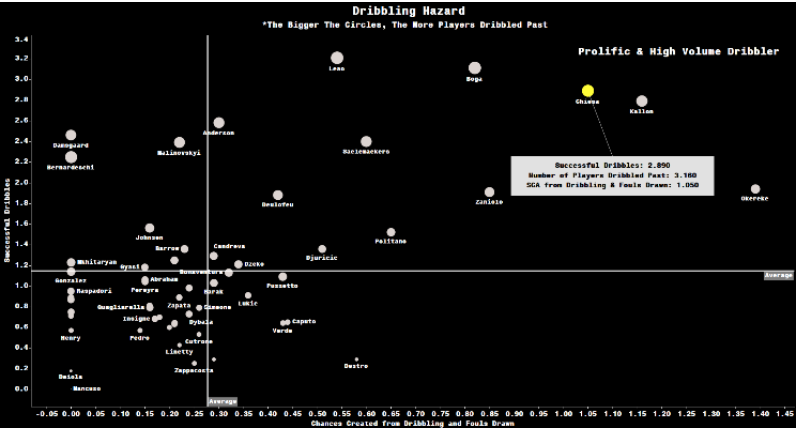 When compared with other forwards in the league, Chiesa ranks amongst the best dribblers in the league. With 2.89 Successful Dribbles and 1.05 Chances Created from Fouls & Dribbles per90, this not only makes him a high-volume dribbler, but a prolific one. The winger has also dribbled past 3.16 players per90, with only Jérémie Boga (3.28 per90) and Rafael Leão (3.39 per90) beating more defenders.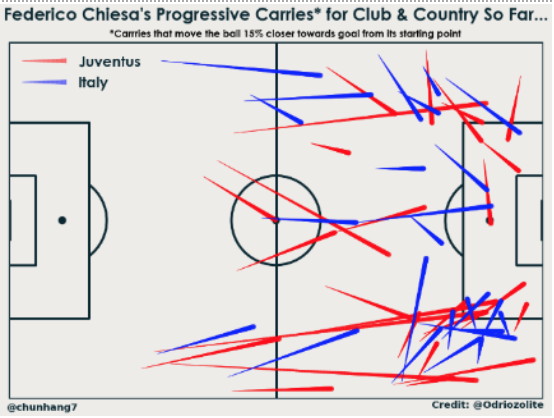 His tendency to beat players and carry the ball up the field is heavily utilized by his club & country, as the squad's ball carrier. His Progressive Carries Map shows a player that is able to carry a ball from deep, spearheading attacks as the team transitions from one end to another.
For Juventus, Chiesa is seen more of a direct ball-carrier with constant runs to the by-lines before pulling the ball back for the striker, more akin to a traditional winger; His role for Italy is slightly altered, as he is seen to be tasked in carrying the ball infield from wider positions, possibly looking to have a shot himself, or even play closer to Ciro Immobile.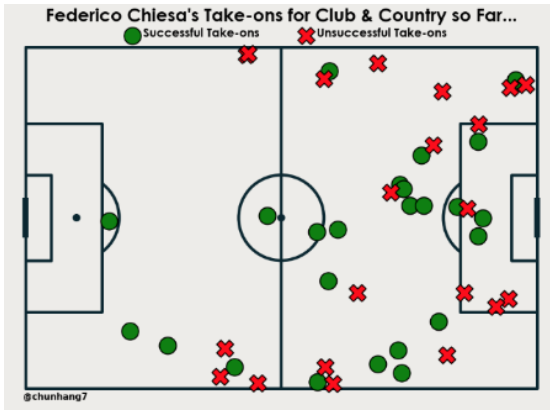 His take-ons map also shows an interesting reading. We can note that Chiesa is perhaps best utilized on the right flank, rather than the opposite. Despite having a great left-footed strike, Chiesa remains predominantly right-footed as he dribbles, which could explain him experiencing more joy as a direct outlet on the right, rather than an inverted winger on the left. Chiesa's take-ons around the centre of the pitch (Zone 14) also tells of a technically proficient player, capable of manipulating spaces in congested areas. 
Chiesa's goal against Bulgaria illustrates not only his more offensive role with Italy but his dribbling expertise. As the winger receives the ball out wide, isolated with two defenders trying to impede him. He dribbles past both with ease and drives infield. He combines well with Immobile, completing the one-two with a brilliant left-footed strike past the keeper.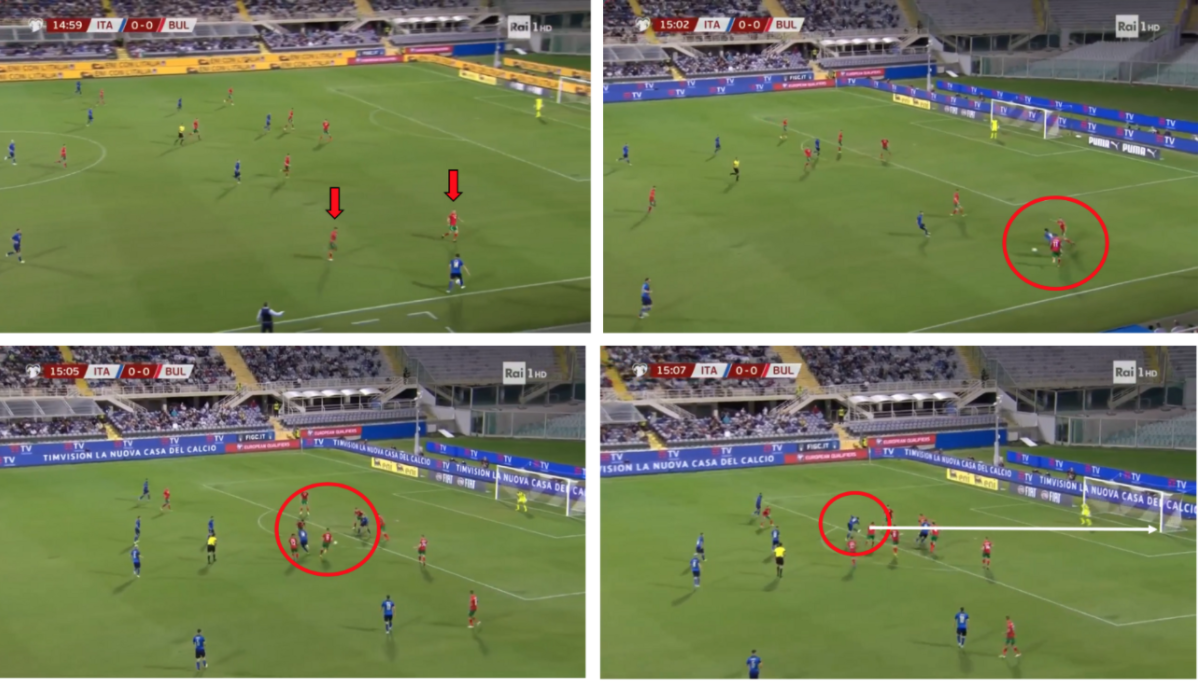 Penalty Box Threat
Though not normally a player credited with playmaking prowess, Chiesa's threat as he runs with the ball normally frees up spaces for his teammate near the attacking third. Hence, when Chiesa releases his passes, the recipient is normally offered more time and space to conjured up a shot.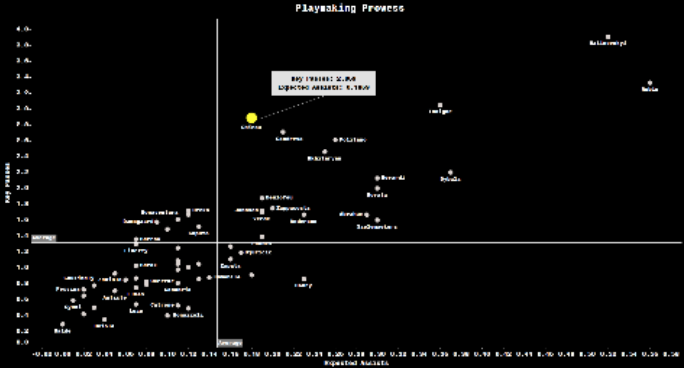 This season, Chiesa has accumulated 2.869 Key Passes per90, with only 0.187 of which expected to be scored, otherwise known as Expected Assists. Despite a higher volume of Key Passes generated, the Expected Assists number is only just above the average of 0.147, signifying those shots have come from deeper areas of the pitch.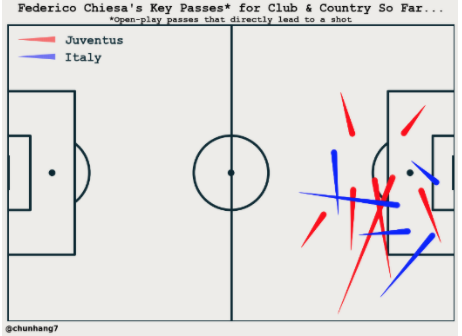 Chiesa's Key Passes Map proves this with the majority of his passes for Juventus are laid outside the box, where the chances of scoring are significantly lower than passes into the box. Interestingly enough, the majority of his Key Passes for Italy has been in the penalty box, signifying a more offensive and direct approach.
The location of the passes were also made within the half-spaces, meaning Chiesa must've carried the ball to these spaces, attracting defenders onto him, before laying it off to a free teammate. Just like what he does here, for Paulo Dybala.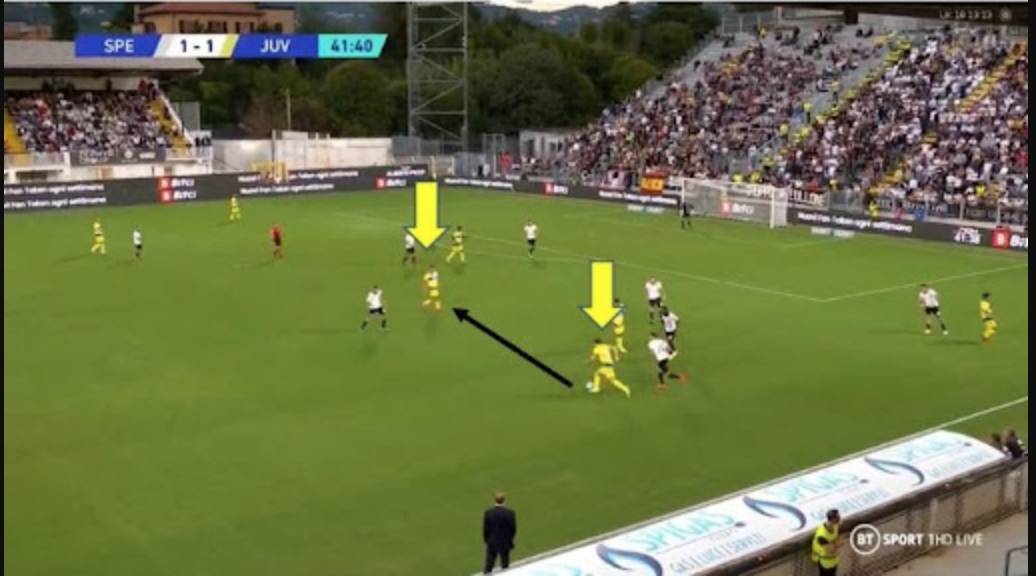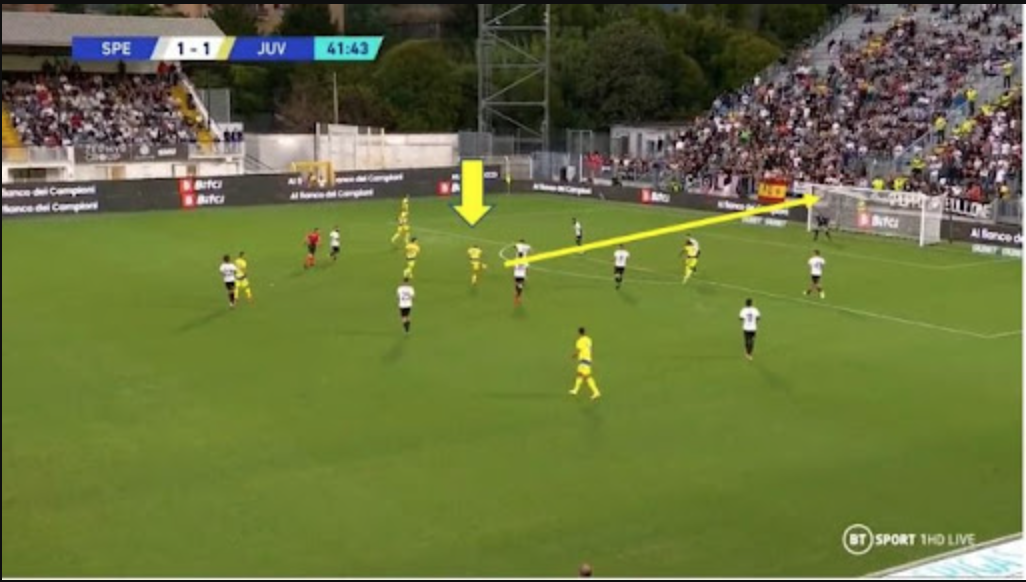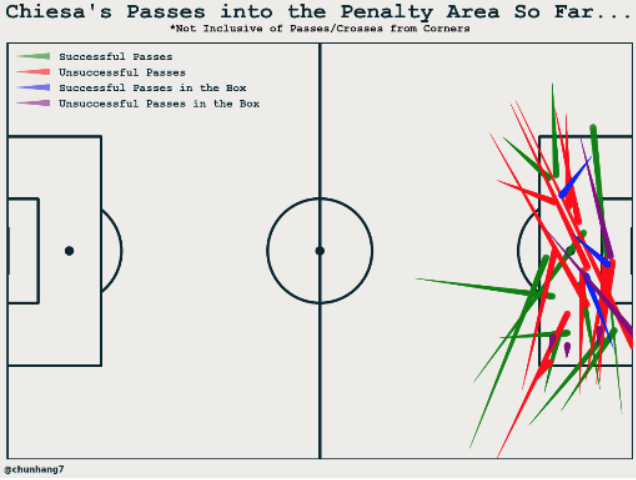 A further look into Chiesa's Passes into the Penalty Area shows a player that is much more comfortable on the right flank compared to the left. Having a right-footer drive to the byline opens up an opportunity for simple cutbacks or low crosses which has been Chiesa's preference.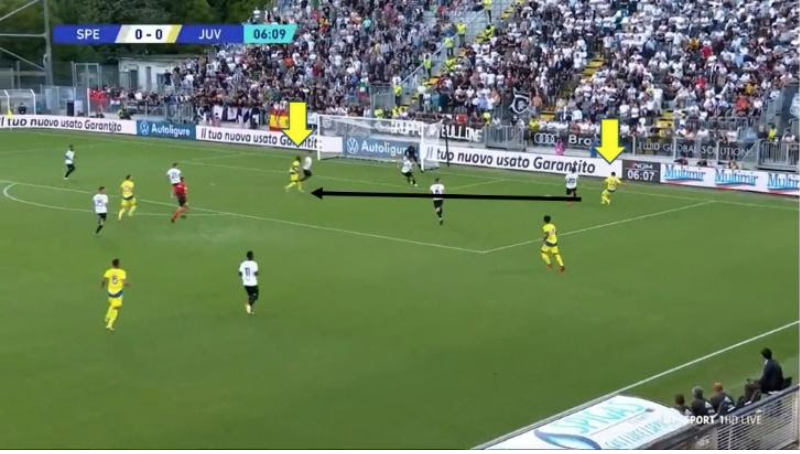 True Defender
Italy has always been a sacred place for defenders to flourish. The art of defending, contoured with tenacity, has evidently been rubbed into the Bianconeri wingman.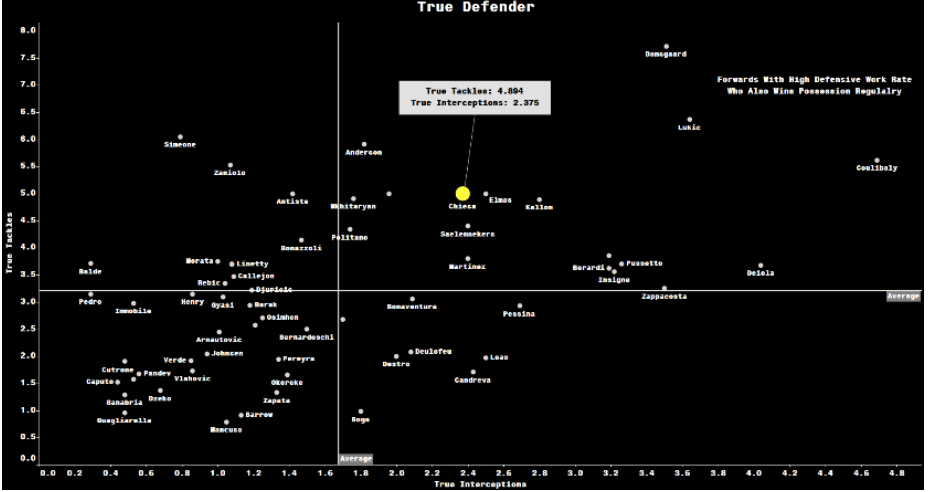 This season, Chiesa has accumulated 4.894 True Tackles (Tackles + Fouls + Challenges Lost) and 2.375 True Interceptions (Interceptions + Blocked Passes) per90. This places him in the quartile with other forwards with a high defensive work rate, who also regains possession regularly. Considering Juventus are a ball-dominant side who doesn't lose the ball as often, Chiesa's numbers show a player eager to win the ball back instantly, and not afraid to put a foot in.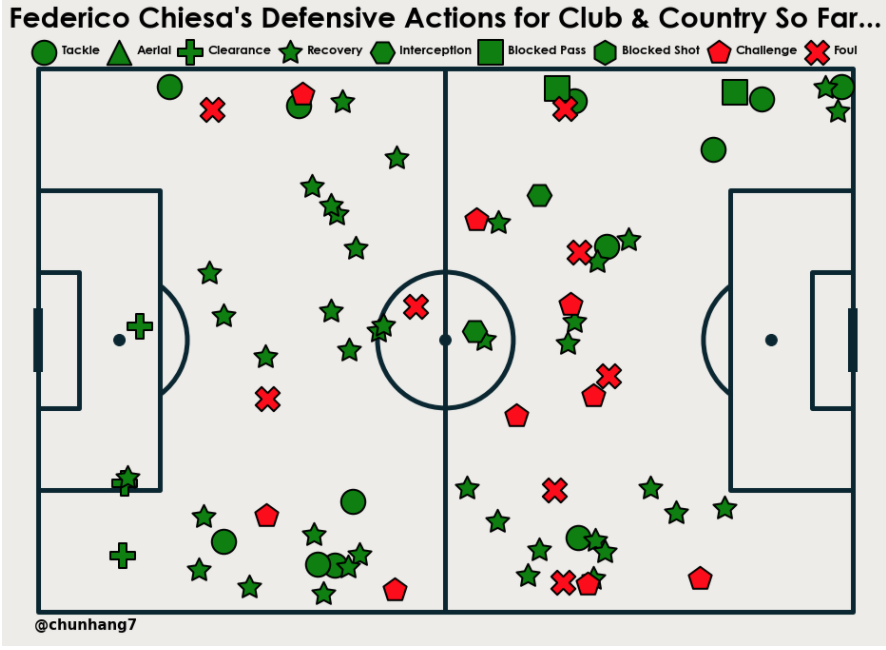 Despite standing at 5'9 ft, Chiesa's grit has seen him battle it out with the toughest and biggest of defenders and come out as the victor in the end. His Defensive Actions Map sees him recover and regain possession mostly in his own defensive half, endorsing his high work-rate and defensive responsibilities upheld for the Old Ladies. Upon losing possession of the ball, Chiesa would track back in an attempt to atone for his error by winning the ball back. As seen in the examples below: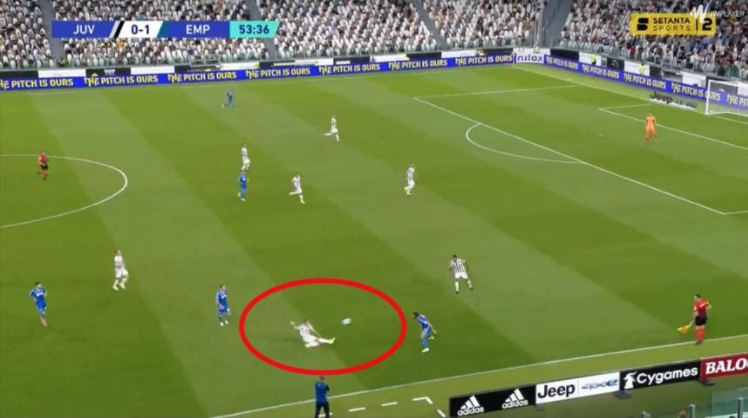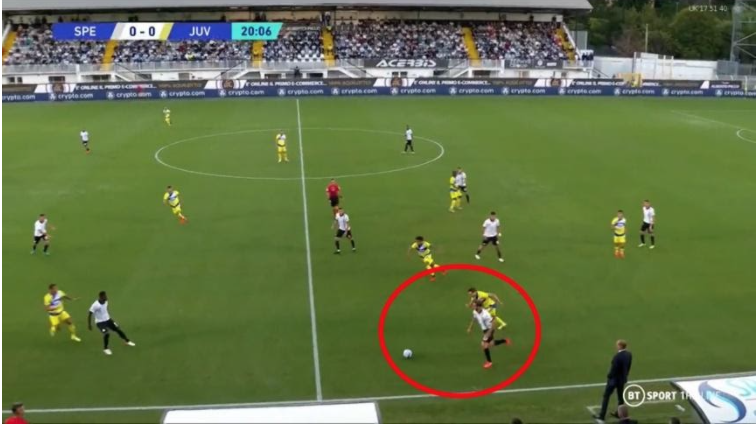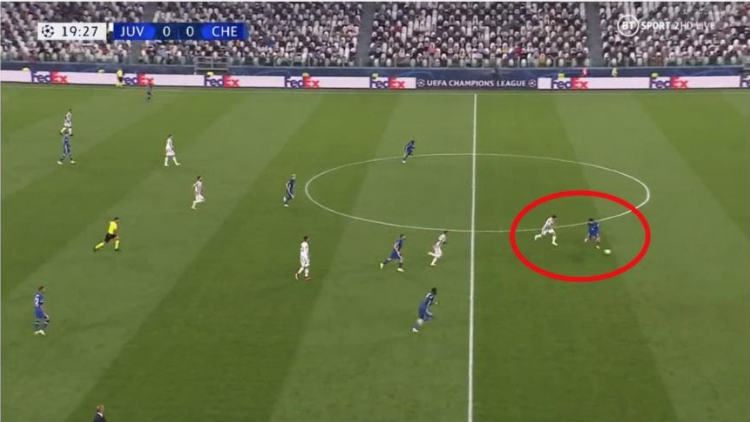 Shooting Deficiencies 
Being the son of a striker who made a name for himself by scoring 139 goals across 380 games in Serie A, you'd expect Federico to inherit his father's goalscoring genes almost naturally. The winger has shown great technique in both feet but has generally been rash in the final third with poor finishing on occasions.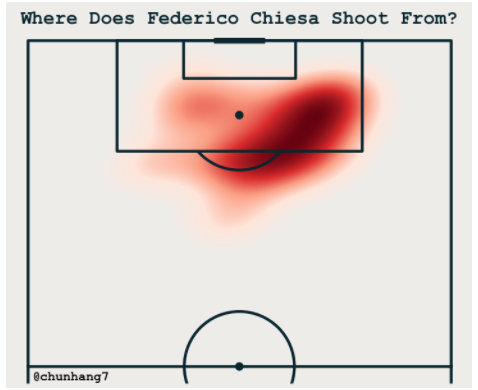 Part of the reason could be due to his positioning when attempting a shot. According to his Shooting Heatmap this season, Chiesa has been shooting regularly from outside the penalty area, which brings about a lower percentage of scoring. He also frequently shoots from the right of the penalty area, but the angle may have made it difficult for Chiesa, especially when the shooting position favors a left-footer.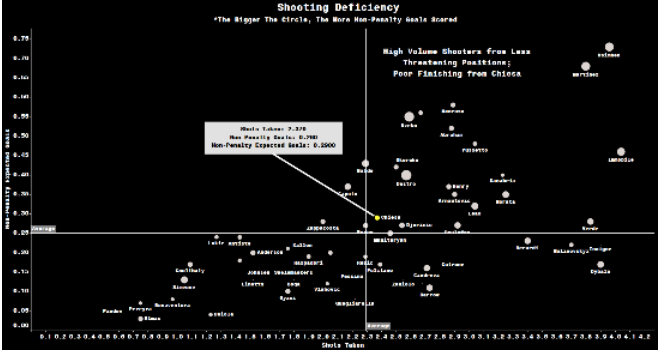 The underlying number also shows a poor return in the number of goals scored this season. Chiesa has accumulated 2.37 Shots per90 this season, but only generating a modest Non-Penalty Expected Goal (NpxG) return of 0.29. Despite having an above-average NpxG per90, this is mainly due to the sheer volume of shots taken. In other words, Chiesa has been attempting a high volume of shots from positions that has a lower chance of scoring (i.e., outside the box).
Not to mention, Chiesa only averages 0.27 goals per90, which also shows he is underperforming in his goal returns by -0.02. This is likely due to poor finishing from the 23-year-old. Chiesa has never been the most prolific of attackers but taking a page out of his father's guide in scoring, may elevate his game much further and provide him the recognition and media attention he deserves. The following are just a few of the screengrabs of Chiesa's missed opportunities throughout the season.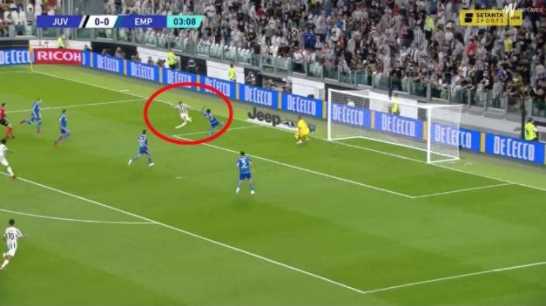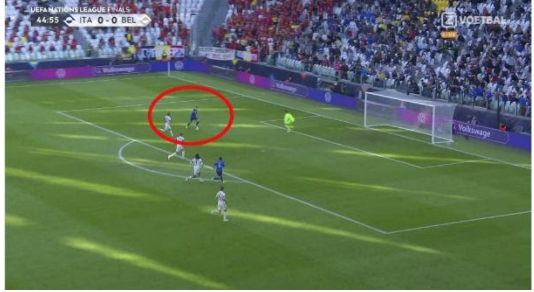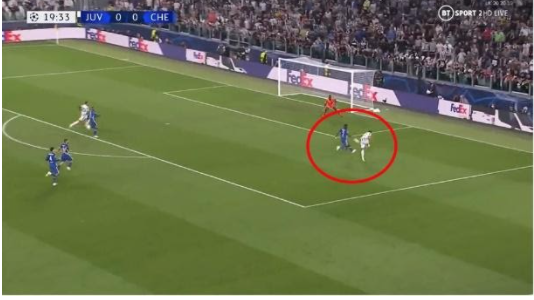 Church By Name
The Vatican Palace may be placed in Rome, but Turin has been the holy grail of Italian football for the past decade. Now, they have a church at the center of the village, blessing its every game with lung-busting runs and tantalizing dribbles. Perhaps now more than ever, Juventus may need Chiesa to rise as their savior.
Federico Chiesa has been the embodiment of determination and grit throughout his career. From struggling in the youth teams to international stardom in 10 years, Chiesa's story taught us to never stop dreaming. As Chiesa turns 24 later this month, the next phase of development may be to deliver on the potential and promise shown, to become one of Italy's greatest forwards.
By: Lee Chunhang / @chunhang7 
Featured Image: @GabFoligno / CPS Images – Getty Images