Filip Djuričić's Second Youth at Sassuolo
When Filip Djuričić arrived at southern Italian club Benevento in January 2018, it seemed that his career was at the crossroads.
It wasn't long ago that Djuričić was on the cusp of signing for Manchester United, only for work permit issues to scupper the deal as the young Serb would have been forced to join United's fleet of loanees. He ended up joining Heerenveen, where he impressed enough for Benfica to fork out €6 million for him in 2013. However, he failed to convince manager Jorge Jesus, and was subsequently loaned out to Mainz, Anderlecht and Anderlecht, before joining Sampdoria on a permanent deal in 2017.
The Serbian's development continued to plateau in Liguria, and came as little surprise when Sampdoria decided to loan him out to relegation dwellers Benevento midway through the 2017/18 season. What might have been seen as a low point in Djuričić's career back then can now be looked at as a blessing in disguise; It was at the Stregoni where he met Roberto De Zerbi, his current coach at Sassuolo.
"I don't know what would have happened to my career if I hadn't met De Zerbi," Djuričić told La Gazzetta dello Sport in October. "De Zerbi is the best coach I have ever had; he sees things differently to the others. The peace at Sassuolo helps me a lot. They are a serious and organized club."
Sassuolo has emerged as a surprise title contender in the early stages of the 2020/21 Serie A season, and the Neroverdi are in second place after seven rounds with 15 points, just two points behind AC Milan. The attacking philosophy of De Zerbi has been a fundamental part of how the team plays and Djuričić is an important creative outlet. Before he was diagnosed with COVID-19, the Serbian midfielder had scored three goals and provided one assist in five league matches.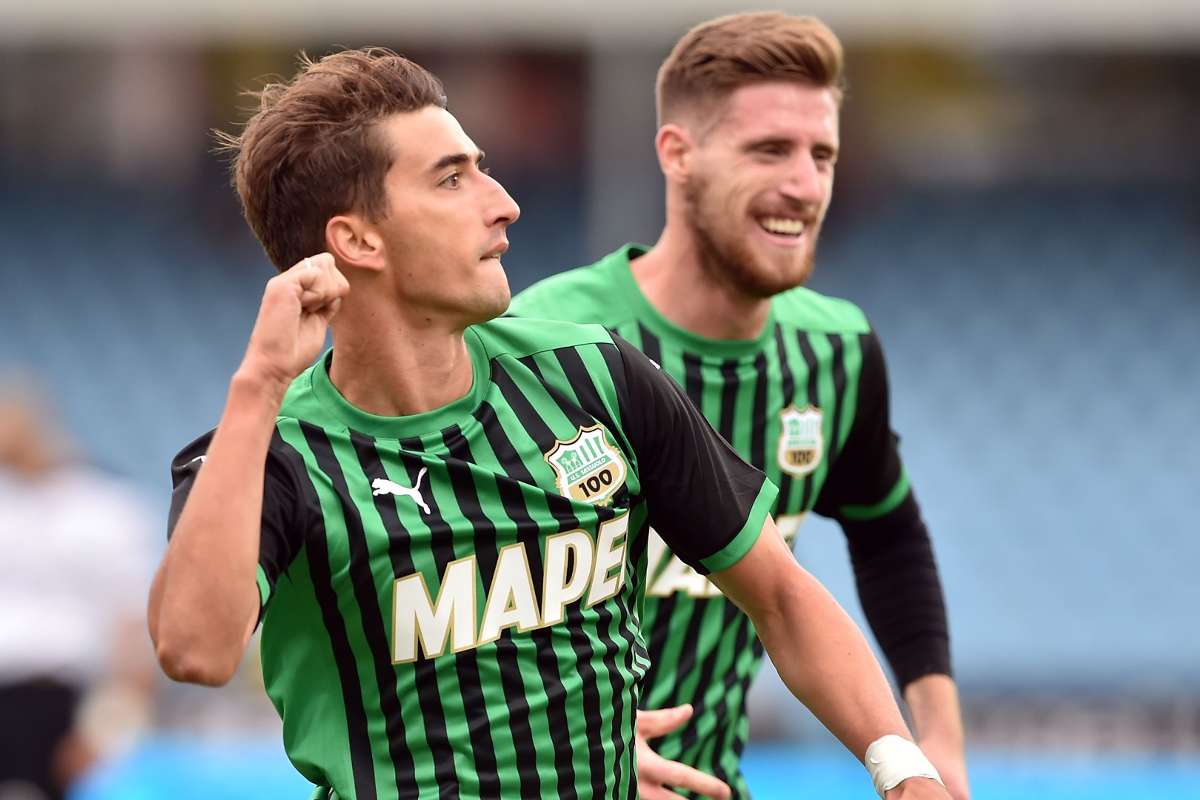 Photo: Getty Images
Although the 28-year-old's statistics are impressive, they do not do justice to the influence he has on Sassuolo's play. Whether he plays in the middle of the attacking midfield trio in the 4-2-3-1 formation or on the left side, he has an innate ability to link up with his teammates and open up opposition defenses.
De Zerbi had difficulties trying to find an ideal position for Djuričić as far back their time together at Benevento. The Serbian would be tested on the left side of midfield trio in the 4-3-3 formation, operate in the hole in the 4-2-3-1, or be positioned on the left-wing.
In his first season with Sassuolo, the former Stregoni midfielder would be put into those positions and he was also tried as a false nine, but the consistency was still missing. After playing 23 Serie A matches in 2018/19, scoring twice and providing one assist in that season, Djuričić went on to make 29 league appearances in the following campaign, scoring five times and assisting in another six goals. 
Djuričić was often played as an attacking midfielder, but occasionally played on the left wing if Jérémie Boga was not available. The Neroverdi scored 69 goals during the 2019/20 Serie A campaign, but they were leaky in defense too, conceding 63 times.
Defensive frailties have not been a great concern for the Sasol coach and he has confidence in the attacking threat his team boasts. Striker Francesco Caputo scored 21 goals in the Italian league, Boga and Domenico Berardi would dazzle on the left and right-wing respectively, and the mercurial Djuričić was in the middle providing additional flair.
Unfortunately, Boga contracted COVID-19 so he was not able to start the 2020/21 season. Grégoire Defrel would start in the attacking midfielder role and De Zerbi decided to move the Serbian to the left flank. It is in this role in which Djuričić has thrived and it is also evident that he enjoys operating from the left-wing. 
"With Sassuolo I play on the wing," he said to La Gazzetta dello Sport in the aforementioned October interview. "On the left, to enter and shoot with the right. In other teams, I moved behind the strikers, a more difficult role. The pressing, the way we play behind the lines, the short passes and two touches. Each step has its own logic."
Even with Defrel getting injured and young striker Giacomo Raspadori starting in the attacking midfield role, Djuričić continued on the left and performed admirably.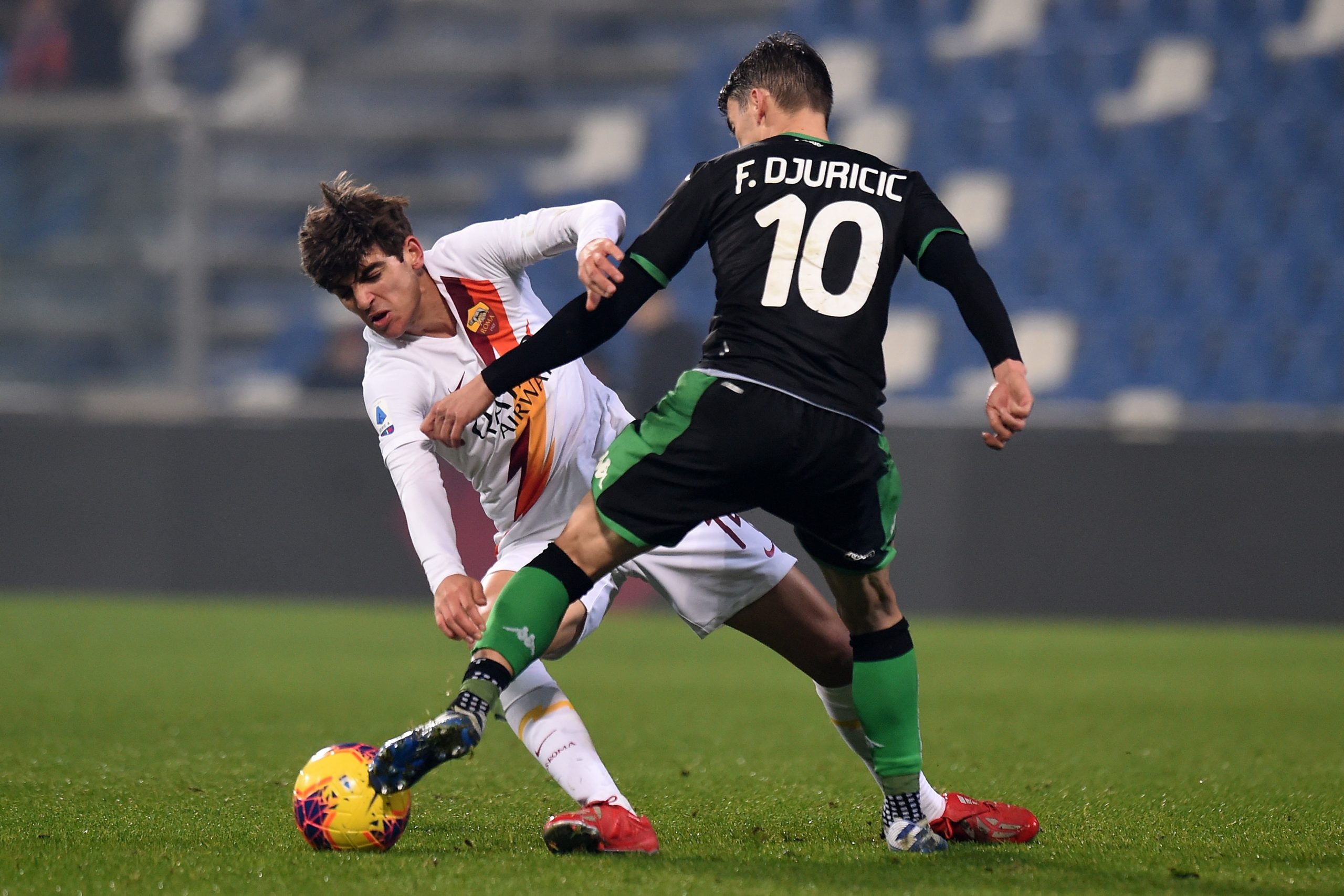 Photo: Tullio M. Puglia/Getty Images
Whether it was maneuvering in tight areas, performing tricks, finding teammates in unlikely positions, or getting into a position to score himself, the mercurial Serbian had the freedom to express himself in the best way possible.
Unfortunately on November 3, Sassuolo released a statement on its website that Djuričić along with teammates Lukas Haraslin and Federico Ricci had contracted COVID-19. It meant that the Serbian had to miss out on the 2-0 victory away to Napoli and the 0-0 draw against Udinese. Although the Neroverdi coped without him against the Partenopei, his creative talents might have made a difference against a pragmatic Zebrette side.  
On November 16, Sassuolo provided some positive news, revealing that Djuričić had recovered from the Coronavirus and he had returned to training with his teammates. With Boga back in the team and back on the left-wing, it is likely that the 28-year-old will be playing as an attacking midfielder again. It remains to be seen if it will impact on the Serbian's form but having both Djuričić and Boga in the same team is a problem that De Zerbi would want to have.
His form with Sassuolo has earned Djuričić recalls to the Serbian national team, which he had not earned since 2016. He made a substitute appearance in Serbia's 3-2 win against Luxembourg in a Euro 2020 qualifier in November 2019 and he has featured in the Orlovi's UEFA Nations League B matches in September and October.
He also featured in the Serbians' extra-time victory against Hungary in the European Championship qualifying play-offs but his Coronavirus diagnosis meant that he was not able to feature in their penalty shoot-out defeat to Scotland on November 12.
An unlikely loan move to Benevento provided the Serbian midfielder with a much-needed twist of fate. With a coach like De Zerbi that values his talent, Djuričić is finally flourishing.
By: Vito Doria
Featured Image: @GabFoligno / NurPhoto